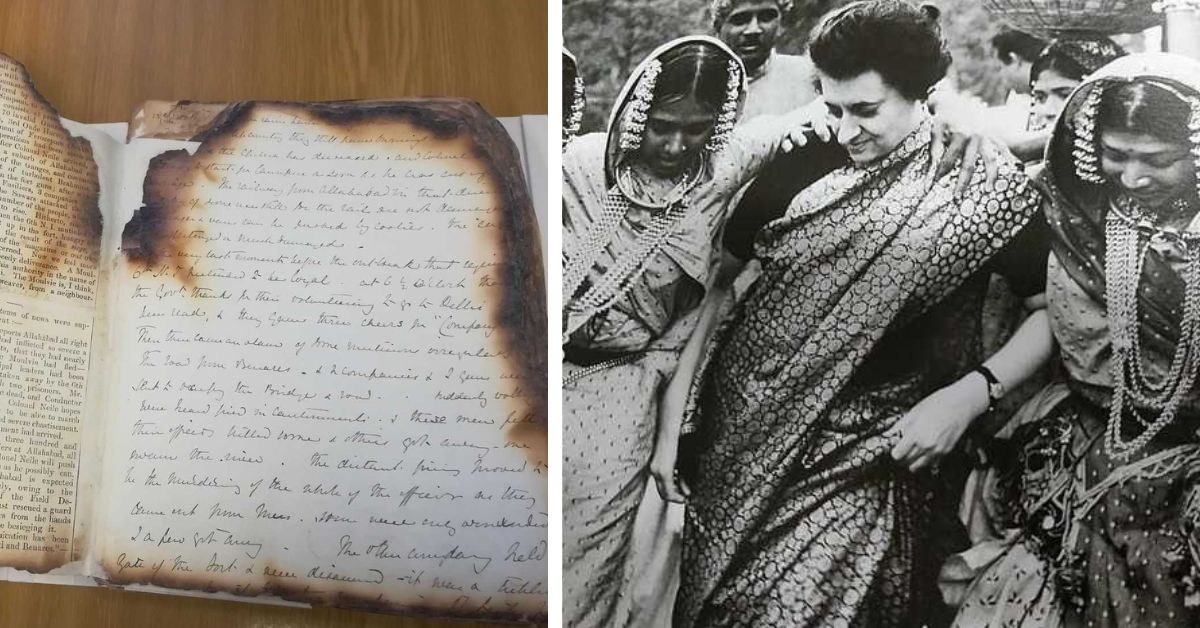 Museologist Deepthi Sasidharan gives us a glimpse of her archival repository with 7 rare and historical items from across India's history and the stories behind them.
Reigniting the past is a wonderful doorway into how history shaped the world. Deepthi Sasidharan, a Mumbai-based professional museologist, has always believed in this mantra. Her work offers compelling insights into the stories of pre-Independent India and the evolution of culture through the ages.
"I was always intrigued by stories that come alive when they are related to historical objects," says Deepthi, now in her forties. "When you step into a museum, things become special only once you know the story behind them."
With a Master's in Museum Study under her belt, Deepthi was in New York on a scholarship when she felt a burning desire to do something more. In retrospect, she says that was precisely the moment Eka Archiving Services — an initiative that works across museums, archives and art spaces to provide them with strategy consulting and design — was conceived. It was formally launched in 2009.
Over its 14-year lifespan the collective has undertaken 90 projects, published books, assessed collectables that have come down through generations, worked with historical collections, and even conducted project communication drives for corporates.
Alongside has been evolving Deepthi's love affair with pieces of history that have a story behind them. Here, we take a look at some rare fascinating and thought-provoking stories and pictures that she has come across during her work.
1. The Jezail ammunition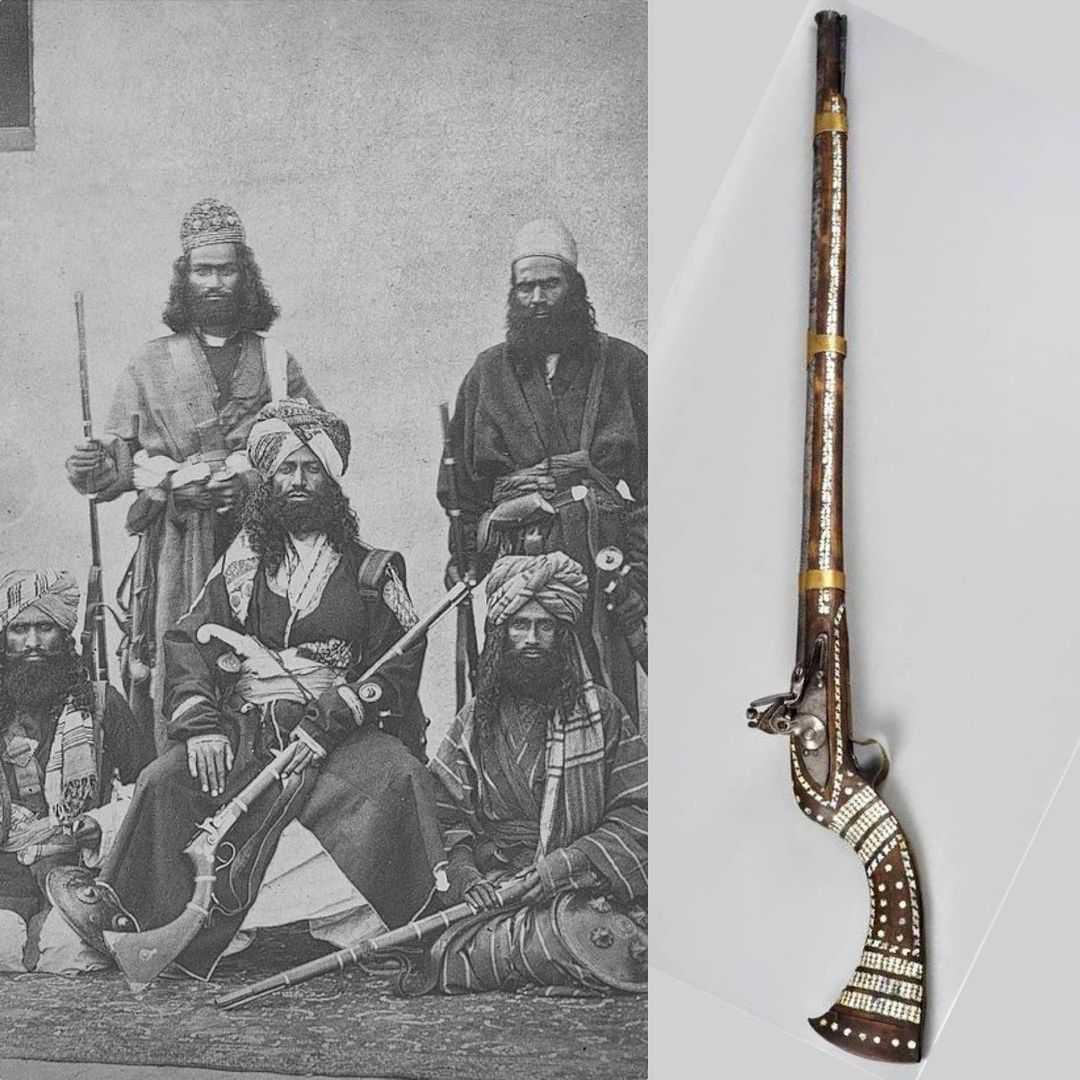 The Jezail guns in the picture were famous as long barrel muzzle-loading muskets. These handmade devices were cost-efficient and surprisingly had a greater range than their counterparts owing to their heavy weight and long barrels. They were a common sight among people of the Middle East and Afghans in the 19th century.
Deepthi notes that these were "elaborately decorated" and recognisable for their unique shape. "The unique curve of the stock was either used for balance and one arm firing atop a camel or for balancing the weight and useful for tucking the forearm of the shooter."
The weapons were popular in the region of Khanate of Kalat, which historically corresponds to the modern-day Balochistan province of Pakistan. "Once Mughal subjects, these fierce leaders and their tribes were descendants of the ethnic pastoralists of the region called Brahuis, after the language they spoke. The men typically wore their hair long," she writes.
2. Amrita Sher–Gil and Indira–Sher Gil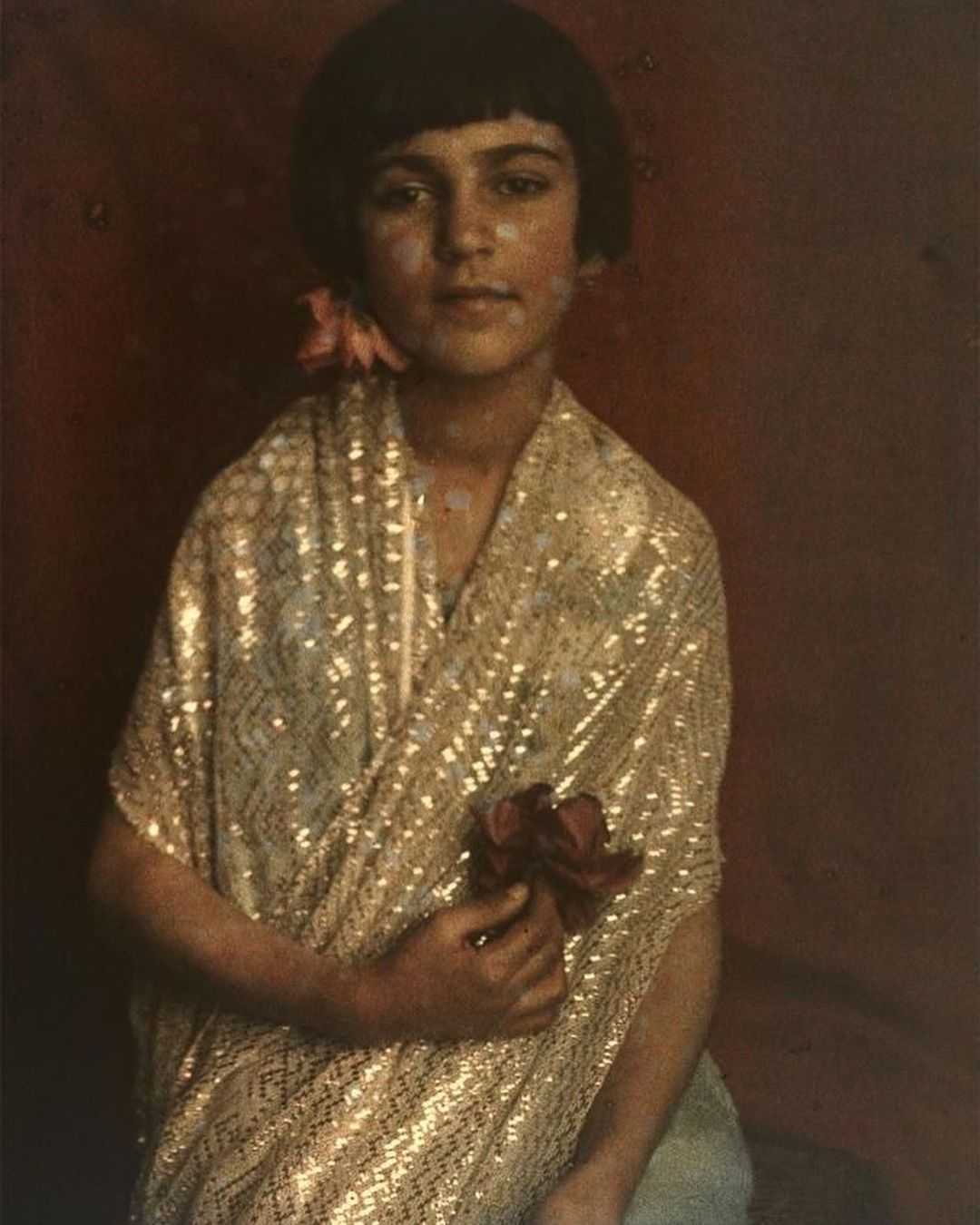 As Deepthi points out, one of the learnings that she has acquired through her tryst with museums is that tiny bits of sartorial history that survive in the cracks of our society are incredible.
For instance, the strides in photography made by the Lumiere Brothers. It is a well-known fact that the autochrome technique — a colour photography process popular in the 19th century — was patented by the Lumiere brothers. It created an appeal among the people for its ability to produce coloured pictures.
It was during her research that Deepthi came across a fact that continues to surprise her till date. "The autochrome plates had millions of tiny granules of potato starch coloured in the primary colours of red, blue and green!" she exclaims.
The photograph here depicts this form of photography and features sisters Amrita Sher–Gil and Indira Sher–Gil. In fact, it was their father Umrao Singh Sher Gil, a Sikh aristocrat, who shot it. It was only in the early 2000s that this picture made its way to the world as part of a project 'Re-take of Amrita' by artist Vivan Sundaram (Indira's son).
3. Ramaswamy Naidu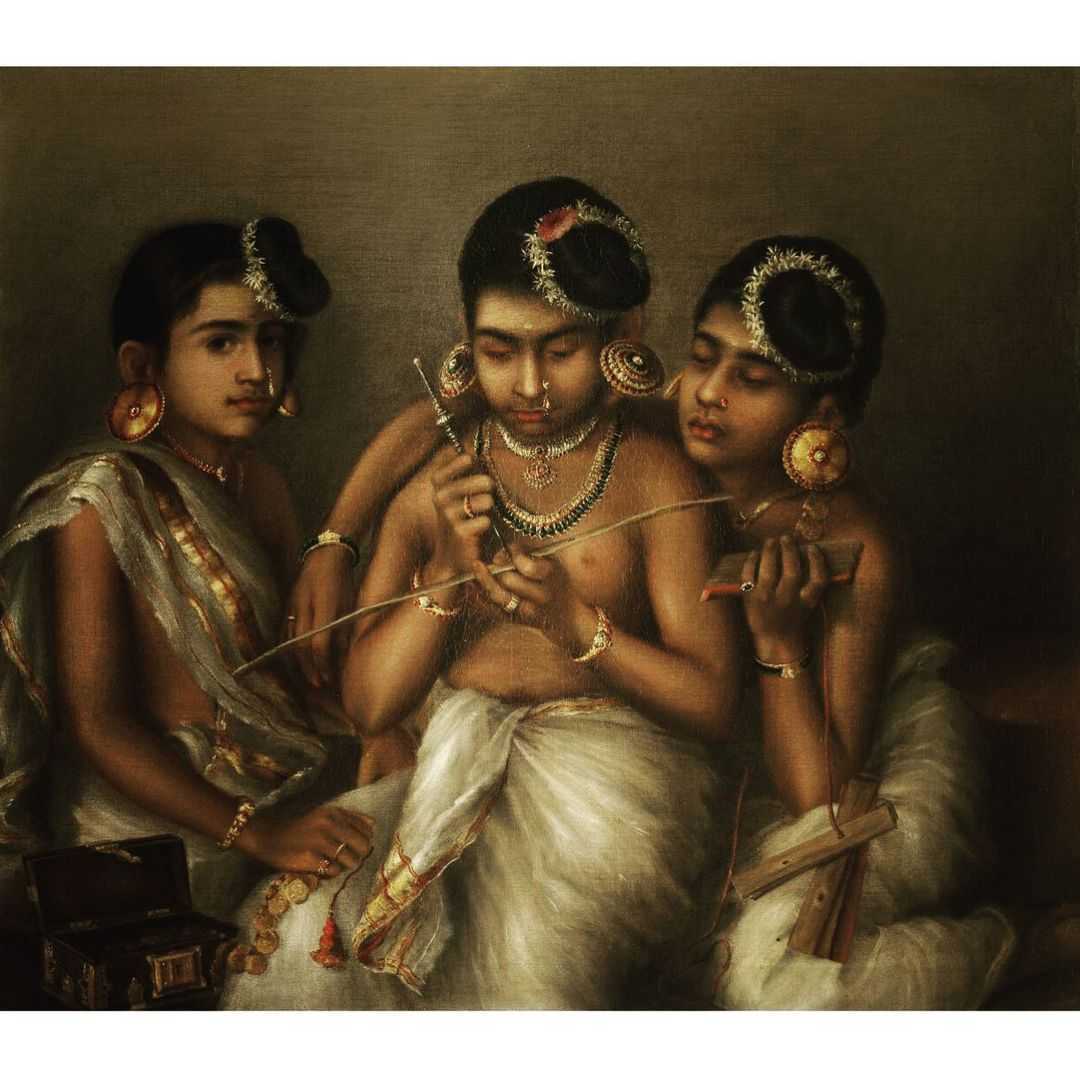 Credited for introducing European techniques in fashion and dressing in 19th-century Travancore and adapting them for indigenous skin tones, Naidu was a popular name. One of his most famous works is the 'Three Nayar Girls of Travancore' where he portrays wealthy young girls from the Nair class immersed in learning.
"The girl in the centre holds a metal stylus, firmly imprinting letters of the script onto a palm leaf. Her companion looks over her shoulder, an arm draped casually hanging onto another manuscript, loose leaves resting on the white of her mundu," notes Deepthi. "The third girl clutches a necklace, the kasumalai, the ubiquitous coin necklace. In Travancore, as in Kerala today, this necklace strung together with gold sovereigns is a must in a bridal trousseau."
She adds that what makes the painting a draw is that the scholarly pursuit by the girls is juxtaposed with the lavish extravagance of Kerala jewellery and costume.
4. Lady Charlotte Canning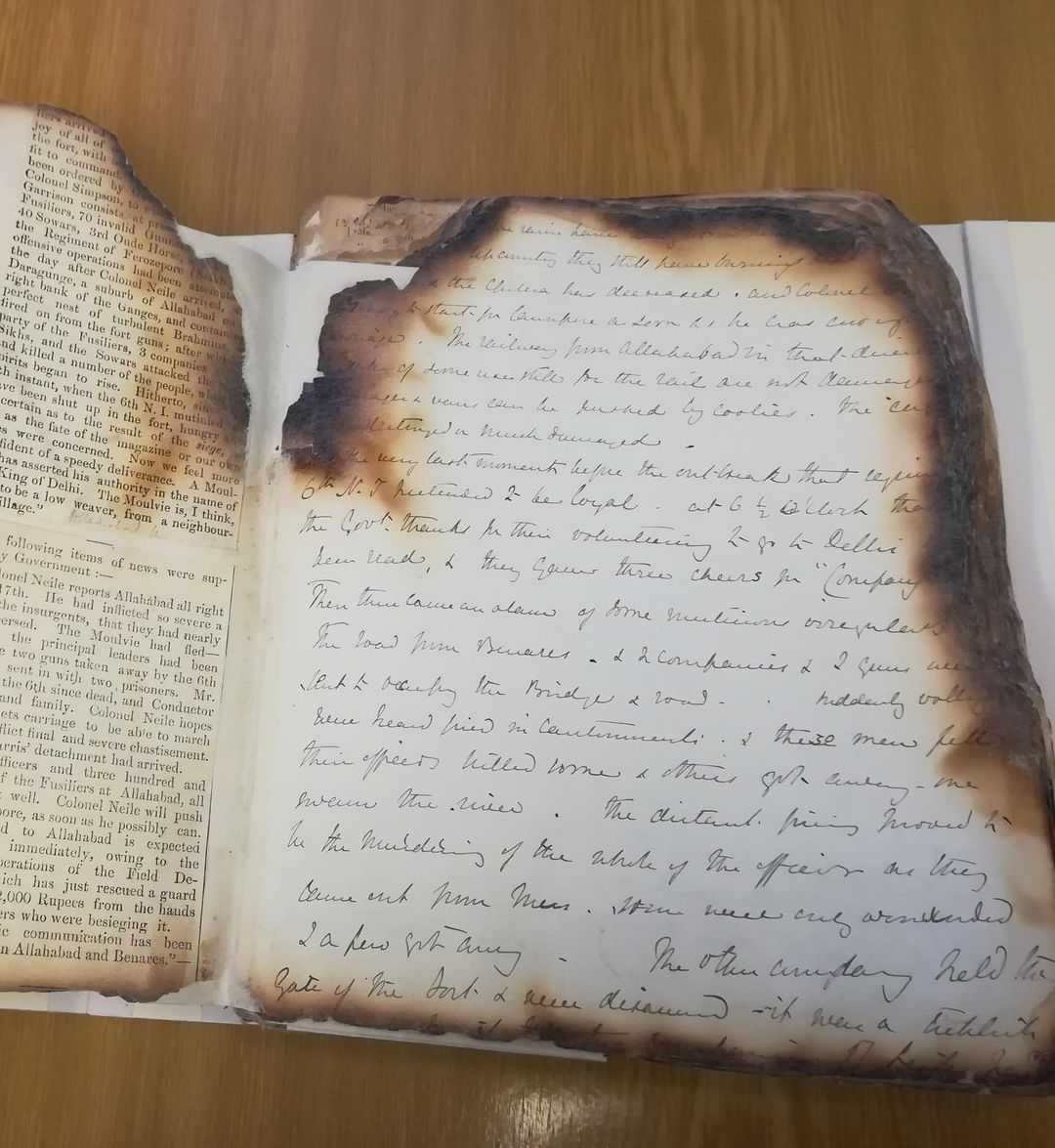 As the wife of the first Governor General of post-1857 India and close confidante of Queen Victoria, Lady Charlotte donned many hats. "She witnessed the transformation of India to a formal colony, was a champion of early photography, a watercolour painter and a diligent diarist," says Deepthi. She was also the first First Lady to live at the new Government House in Calcutta.
While a tragic campfire in 1859 destroyed her diaries in which she had chronicled her adventures, the salvaged and rescued singed pages have been meticulously stabilised by conservators. These were made available in 2019 which was when Deepthi got access to them.
5. The quintessential gharara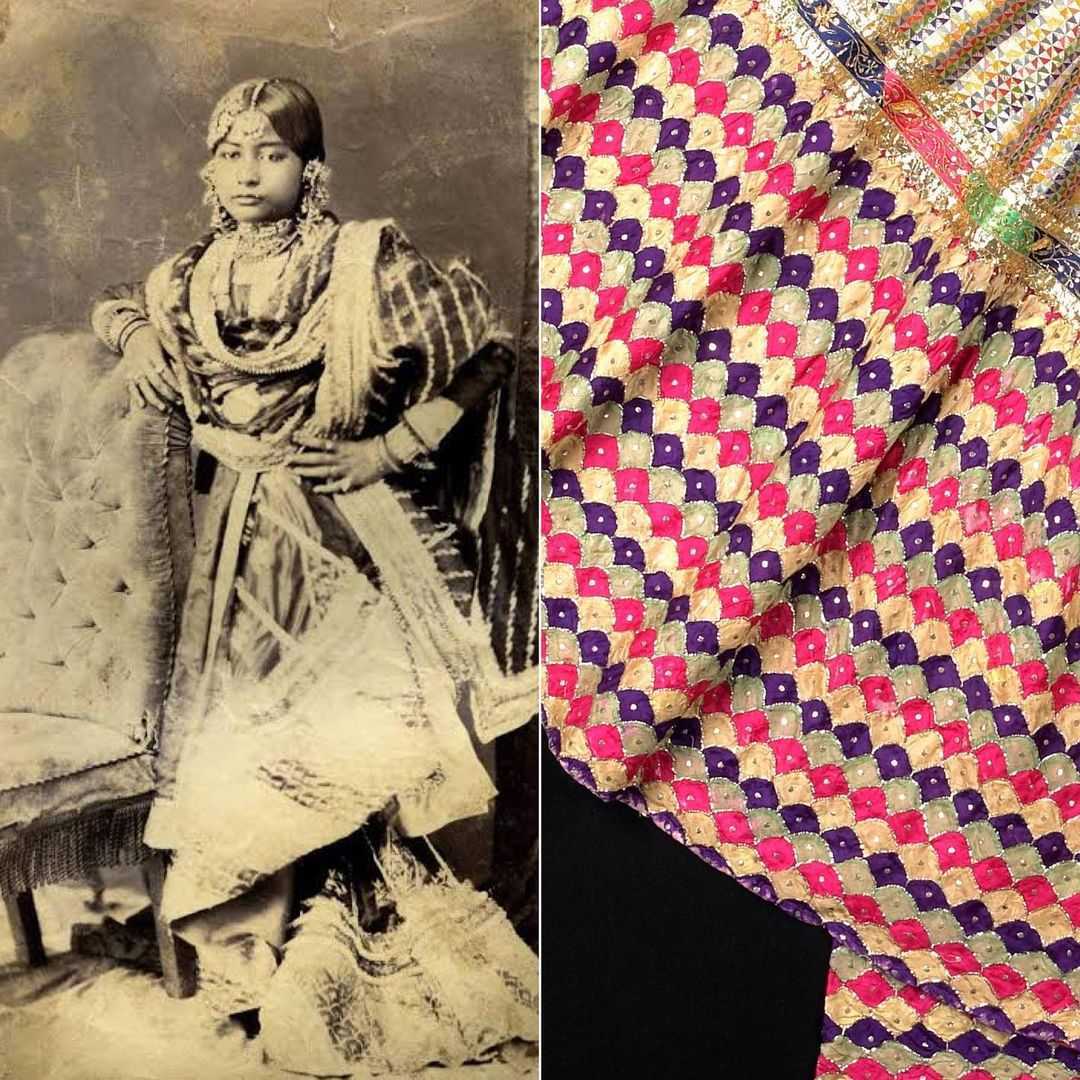 Through her work as an archivist, Deepthi frequently comes across pictures that stay with her, simply for the kind of significance they hold today. In this particular favourite, a woman can be seen wearing a gharara (a traditional outfit comprising a kurti, dupatta, and wide-legged pants).
"The quintessential garment would be worn by the wealthy women of Awadh, royals, courtesans, and brides. Handworked and made in silk or velvet, the wide sweeping lower garment would trail on the floor. Its unique cut enabled many many metres of fabric necessary for women to elegantly sweep it up in neat folds and walk or pose with it."
6. Indira Gandhi's love for dance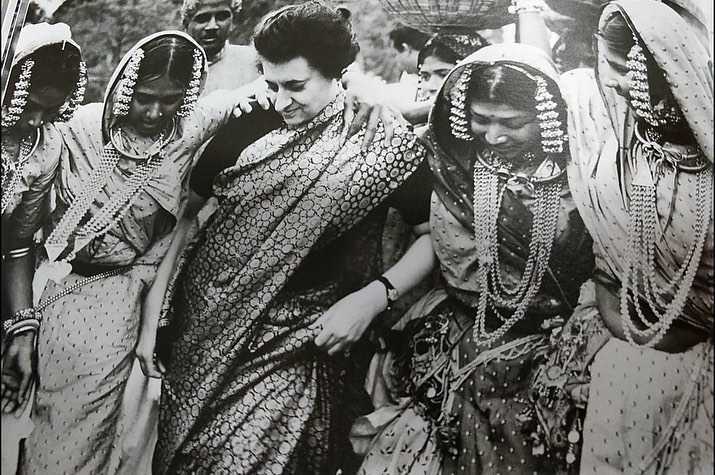 In this rare picture that Deepthi came across, former PM Indira Gandhi can be seen making the most of the moment. Having learnt dance in Guru Rabindranath Tagore's Shantiniketan, she took a fond liking to Manipuri dance for its gentle and graceful movements.
"And this love for dance she held close throughout her tempestuous life- as a leader, as a family person and as a dance patron," says Deepthi. In fact, she inaugurated the National Centre for Performing Arts in 1969.
In his book, 'Mahroks: The Story of the Kambojas, Sikhs and Shaheeds', author Jewan Deepak writes, "Indira Priyadarshini Nehru was in awe of these young men from Punjab [the Deepak Brothers who popularised Bhangra on stage]. She would come to their tents, where they were staying, and spend time talking and watching them practise Bhangra movements before the final day's performance."
7. Machhukatha Rabari shawl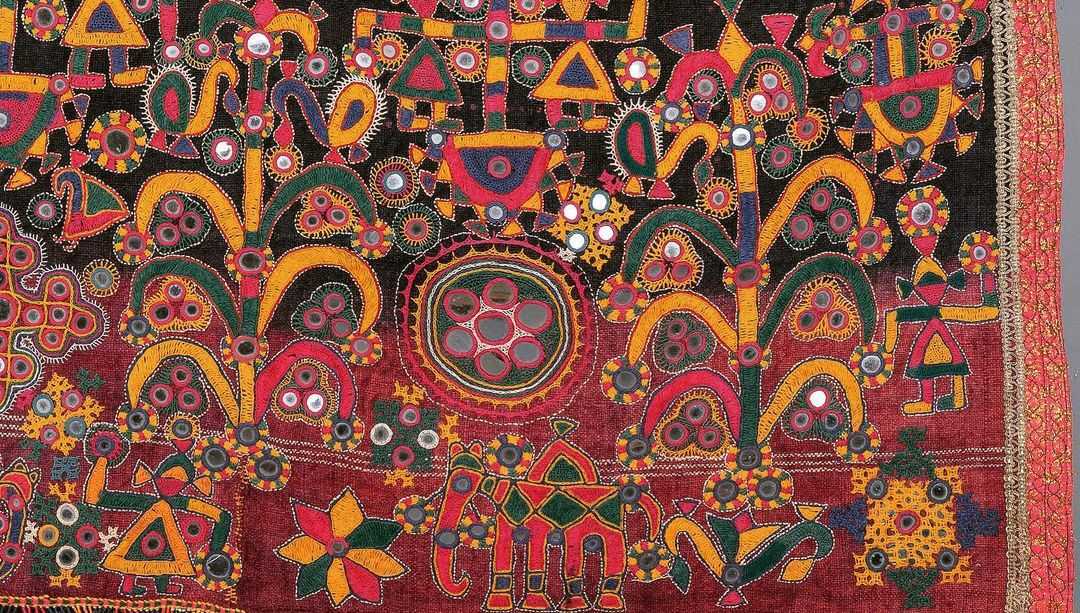 The Rabaris are an indigenous tribal caste often hailed as 'camel and cattle herders'. Spread across Gujarat and Rajasthan, the clan prides themselves on the animals they rear and their crafts which are done with great attention to detail.
The Machhukatha Rabari shawl is a testament to this. Crafted in wool on hand looms, the shawl is a masterpiece made for weddings, says Deepthi. "The wool is sourced from sheep and spun by the women, it is then dyed a dark colour, and woven on a narrow-width loom. Here two long pieces are joined vertically, and the joint is covered with beautiful, colourful embroidery."
The motifs across the shawl depict women churning buttermilk, designs celebrating fertility and life and many other cultural traditions of the Rabari clans.
Edited by Divya Sethu
We bring stories straight from the heart of India, to inspire millions and create a wave of impact. Our positive movement is growing bigger everyday, and we would love for you to join it.
Please contribute whatever you can, every little penny helps our team in bringing you more stories that support dreams and spread hope.