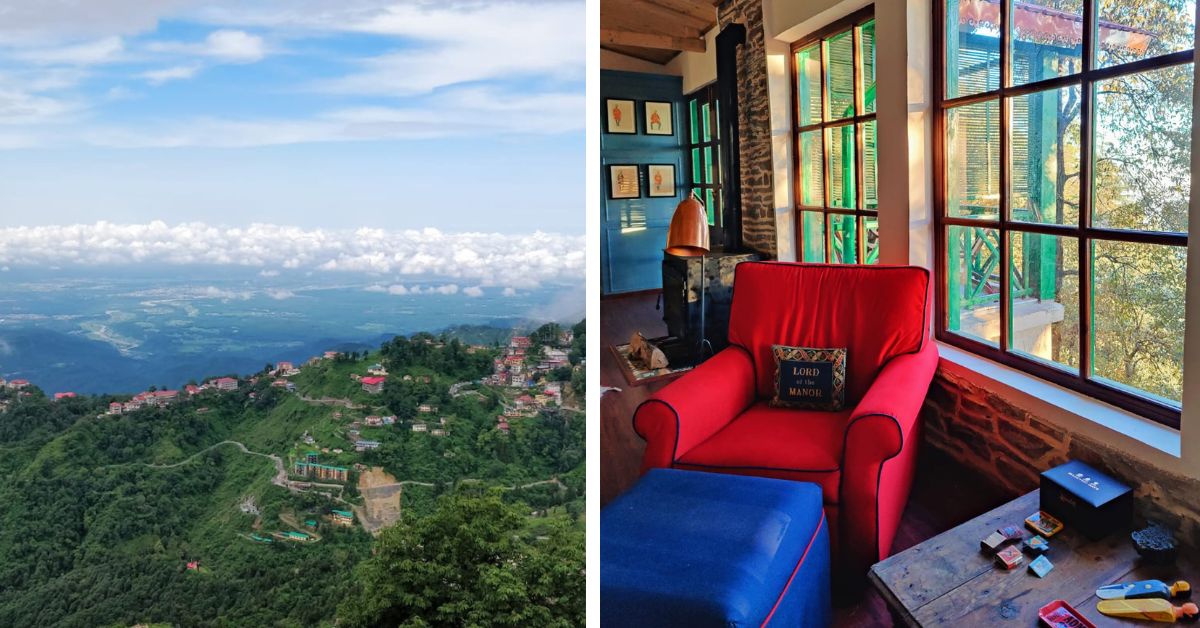 Karam Puri and his family turned an old Victorian-style home, built almost 100 years ago, into a stunning sustainable home in the heart of Landour.
A common thread across Ruskin Bond's story books is the sleepy, cosy town of Landour in Mussoorie, which has been his home for several years. His work describes this town as nothing less than mesmerising, and even those who visit this city often describe it as the "closest thing to heaven".
Delhi-born Karam Puri, who has lived here since 2019, affirms this. In fact, even his childhood has roots here. "My family has a long legacy at the Doon School in Dehradun; I, too, attended this boarding school. We've grown up in the area. It's a beautiful part of the country."
The Puri family have not only made this quaint, storybook town their home, but have also built an alluring homestay for travellers looking to escape into another world. The Fern Cottage, as they have christened the place, welcomes guests from across the country and the rest of the world.
Karam recounts that his father Ratindra Puri had a dream of retiring to these peaceful hills, a place where he had spent his growing up years.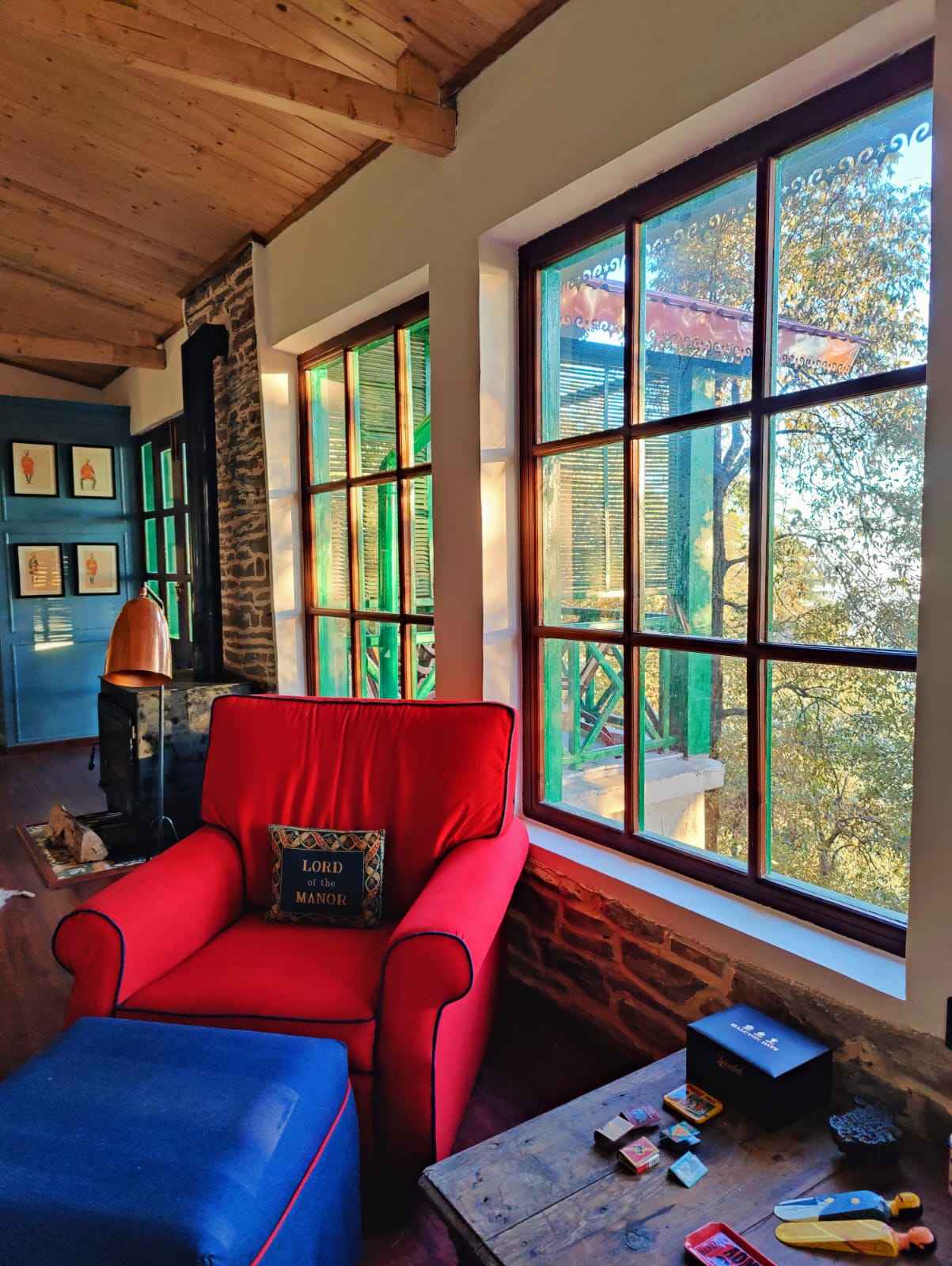 Landing on the perfect cottage
Karam says that coming across the house, which is now called Fern Oaks Estate, was all about fate and timing. The 46-year-old, who is a photographer, writer, entrepreneur and trekker, moved to India from New York in 2008, where he was studying photography. He says the town of Landour has always been like home for them. 
So when his father retired in 2015, he was intent on purchasing land in these hills. The long search ended in 2018, when Karam's parents came across this heavenly piece of land that belonged to one Saroj Kapadia, a teacher at the Woodstock School. The home, he says, held great allure not just because of its location and aesthetic, but also the history that surrounded it.
The Victorian-style property, spread across an acre and a half, was built in 1924 and was home to the famous ornithologist Robert Fleming. In 1970, it was purchased by the Kapadia family, who put it up for sale in 2018. "We jumped at the opportunity to buy it," exclaims Karam.
Owning a home in this part of Mussoorie isn't something ordinary. Landour is an 'exclusive' town with only 52 homes in it, all of which were built between the 1800s and 1924. So the Puri family was ecstatic to be the proud owners of the Fern Oaks Estate, a space they envisioned to be their dream home.
Karam's parents, Ratindra and Preeti, soon began work revamping the home's interiors while preserving the British style aesthetic.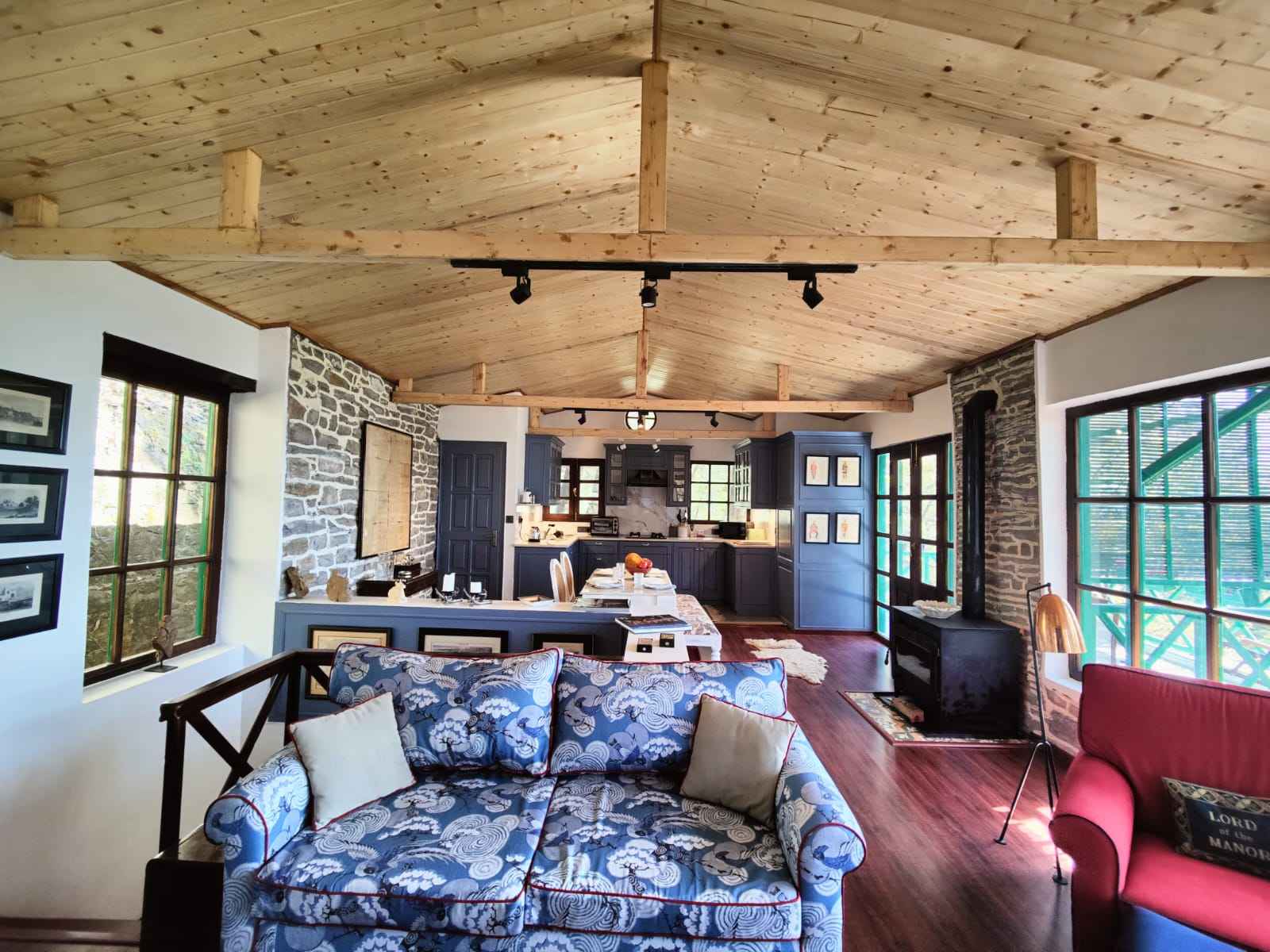 'It required hard work, toil and vision'
Karam emphasises that all changes were made to the inside decor, while the outside structure remained untouched. "There was plumbing to be done, the kitchen had to be gutted and the garden around the home maintained," he adds. Though the Puri family settled into the Fern Oaks Estate in 2019, they hadn't yet hit upon the idea of a homestay just then. This was purely by happenstance.
In 2021, a snowstorm shook the town of Landour. A massive tree collapsed on and damaged the outhouse, which then needed renovation.
"I saw this as an opportunity to not only restore the outhouse, but also to transform it into a two-bedroom cottage where we could welcome guests who were looking for some peace and quiet and a great experience," says Karam.
Today, the Fern Oaks Estate — a three-tiered cottage with four bedrooms along with a kitchen, dining area and study room — is where the Puri family reside. Being avid travellers, they have filled the space with souvenirs from their many trips across the globe, carpets from vintage markets across India and books that they adore.
Meanwhile, The Fern Cottage is a welcome home in the hills for everyone who wishes to breathe in the breathtaking beauty of the town whilst being treated to a great vacation.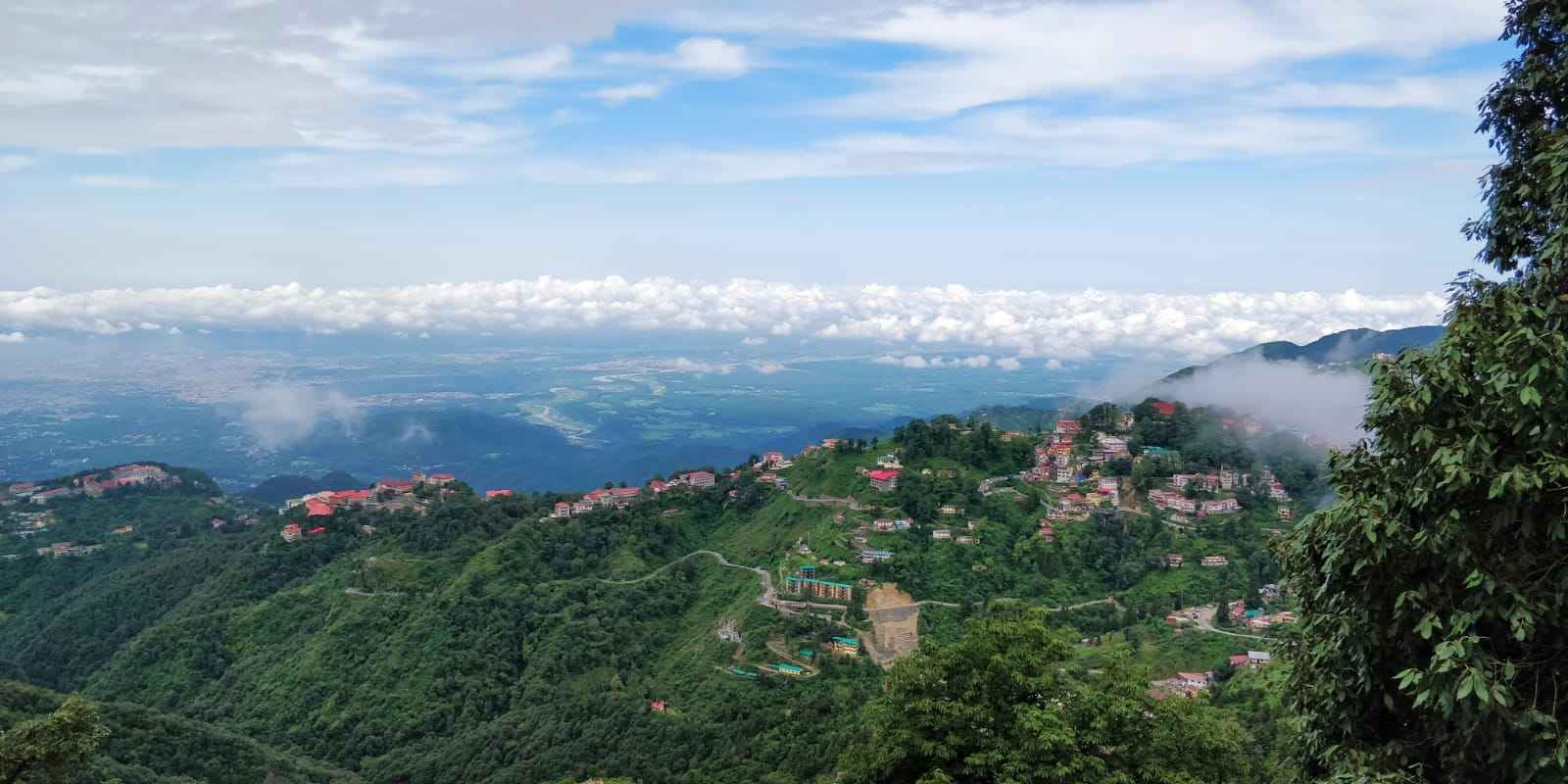 The names of the two were born from the fact that there are numerous oak trees surrounding the cottage. "Every year as the monsoon sets in, ferns begin to grow out of the oaks. Thus, the name," shares Karam. He adds that his main philosophy while designing was to follow the language of old colonial hill homes with sensibilities of old English cottages.
"There is also a fireplace to keep you warm," he adds. "If you love reading, writing, painting or simply waking up to birdsong, this is perfect. It is for the discerning traveller."
A vision in every corner
To build the homestay, Karam says he had stones from old homes in the area repurposed, while the wood came from rafters. "The main varieties were deodar and sal wood which are expediently expensive today and were used in homes built around 200 years ago." He adds that old colonial furniture one sees around the home are all from antique stores. "These pieces are colourful and contemporary."
While the home has modern fixtures, there are furnishings from the British era too.
"Our breakfast table and dining room chairs are from the original house, while the light fixtures are from our home in Chicago. Everything in the cottage is a representation of us as a family, of growing up around the world. Our carpets are from Iran, Kashmir, Pakistan and Baruch," shares Karam.
Sustainability and attention to nature are what the Puri family prides themselves on.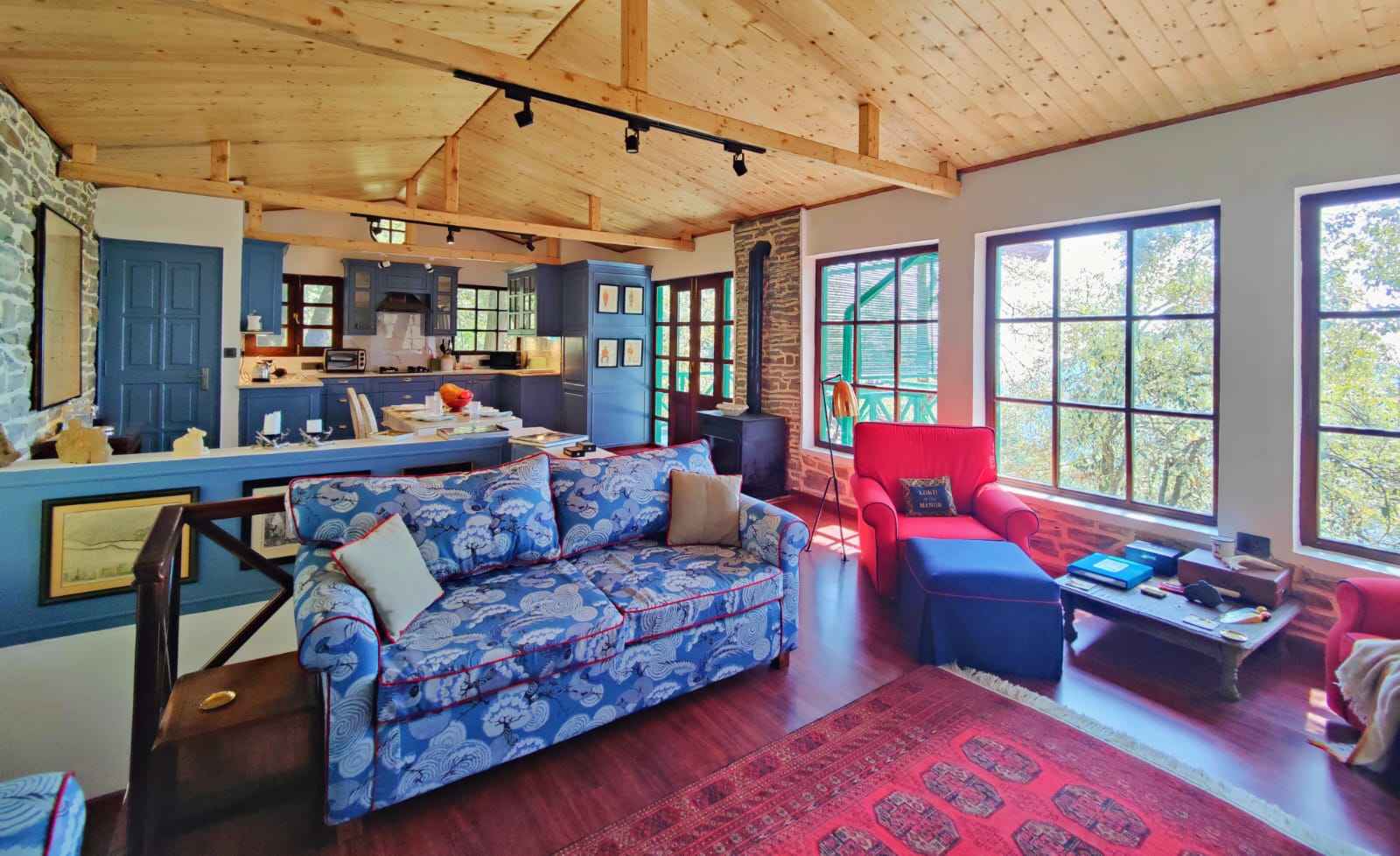 The property has a rainwater harvesting tank with a capacity of 10,000 litres, while the oak forest around the home is home to 238 trees such as rhododendron, deodar, etc. The place is a haven for birds such as the Ultramarine Flycatchers, Asian Barn Owls, Laughing Thrush, Oriental White Eyes, Black Eagles and the Himalayan Griffon.
Bird spotting is one of the many activities that guests can enjoy at Landour. There are treks in the area, sightseeing, and of course, a lot of catching up on old books to be done. But relaxation is the prime focus of the vacation, and the Puris ensure their guests leave feeling refreshed.
"While you catch up on some sleep, our housekeeper Rita is busy preparing a hearty breakfast for you — cold milk, toast, fruit, butter, jam, eggs as per your preference and juice," says Karam, adding that they plan to start a pahadi thali towards the end of this year, which will include millets and a traditional pahadi lunch.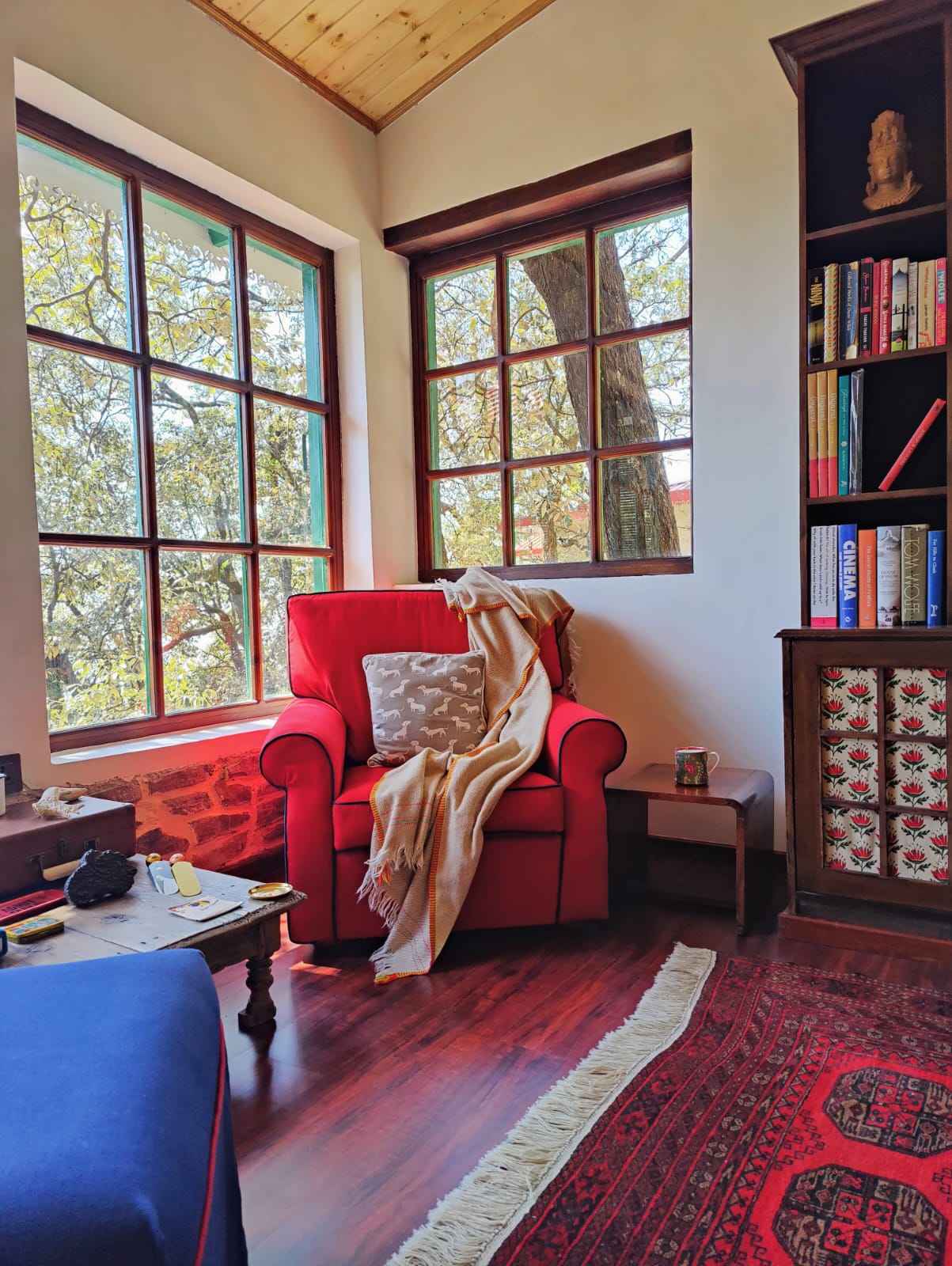 For those who'd love to spend their vacation experimenting in the kitchen, the Puris encourage this. "The kitchen is filled with basic veggies and spices and the local market is a 5-minute drive from here. Home chefs have a field day cooking up what they love to eat!"
The cottage is seeing a wonderful response from guests, says Karam, and June is booked to full capacity. At a package of Rs 25,000 a night, he says guests are treated to a cottage in one of India's most beautiful hill stations, a library of more than 200 books, board games galore, and numerous stories shared by the Puris.
Edited by Divya Sethu
We bring stories straight from the heart of India, to inspire millions and create a wave of impact. Our positive movement is growing bigger everyday, and we would love for you to join it.
Please contribute whatever you can, every little penny helps our team in bringing you more stories that support dreams and spread hope.