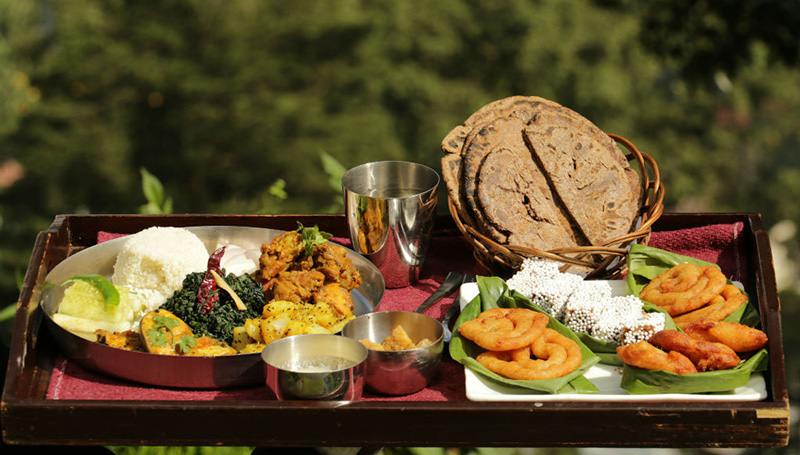 Set out on a food trek through Kumaon and experience the endless delicacies of a cuisine which is as unique as its vibrant culture.
Food defines the character of a place. To discover it, one has to veer off the beaten track and explore the regional culinary arts in small hamlets and villages across the country. The cuisine from the picturesque hills of Kumaon, as unique as its impressive culture and vibrant traditions, is quintessentially straightforward, rustic and robust. The food of Kumaon beautifully showcases the region's indigenous produce and uses a host of unusual herbs and warm spices like fenugreek, coriander and mustard.
If you are a gourmet traveller then you must experience the endless delicacies Kumaon has to offer.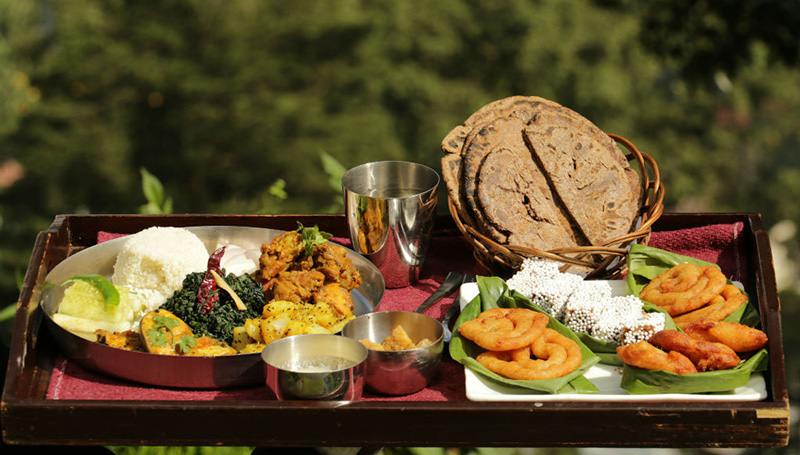 It is believed that the people of Kumaon, which is known as Dev Bhoomi, are the descendants of Indo-Aryans and Indo-Iranians and have thus inherited a mixed food culture completely based on the use of seasonal ingredients. The food consumed in the mountains is exclusive in terms of preparations and their ingredients – simple but undeniably delicious.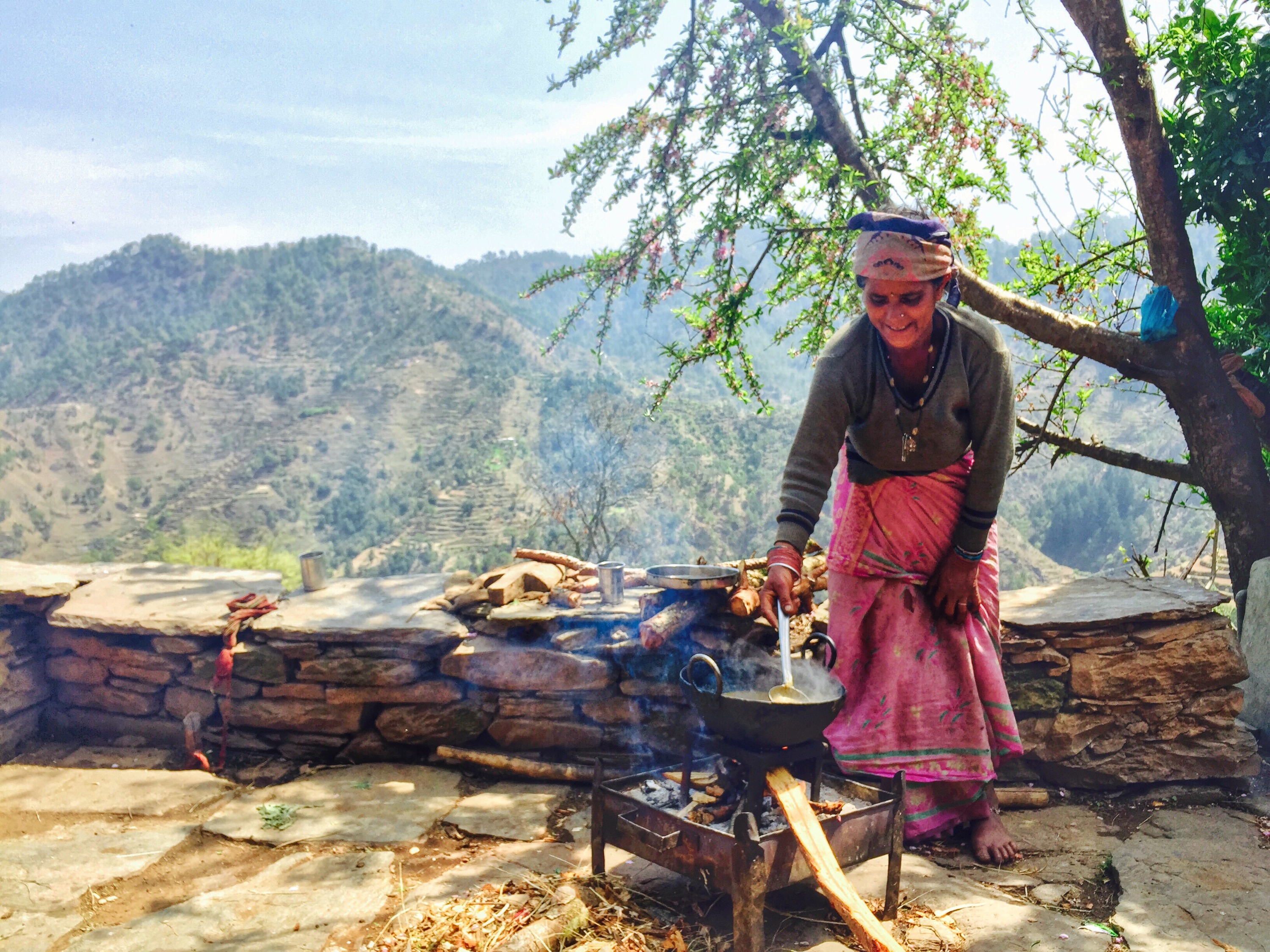 Seasonal diversity is a singular feature of Kumaoni cuisine. During the warm summer months, the cooling triphala is included in the diet, while the monsoon sees the preparation of the delicious, warming surka, a drink made with takeera (soaked, pounded and dried wheat), almonds and cardamom.
During spring, when flowers like the rhododendron are in bloom, they make their way into various preparations.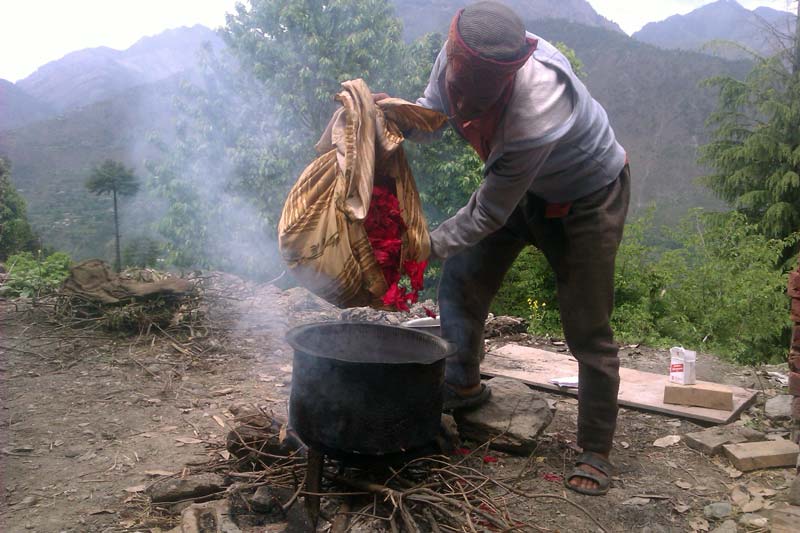 The food here is incomplete without dal, chutney and a sweet dish. In the kitchens of Kumaon, a wide range of pulses is used to create mouth-watering recipes, which are usually enjoyed with rice. The pulses, beverages, and fruits here are quite different from other parts of India. Some typical Kumaoni fruits are hisoi, kaafal (bayberry), kilmudi, mekauti (malta) and narangi (orange), while the juices preferred are burash (rhododendron) juice, rose juice and malta juice.
The common pulses that are relished are gehet, gauth, toor, swanta and gauthare.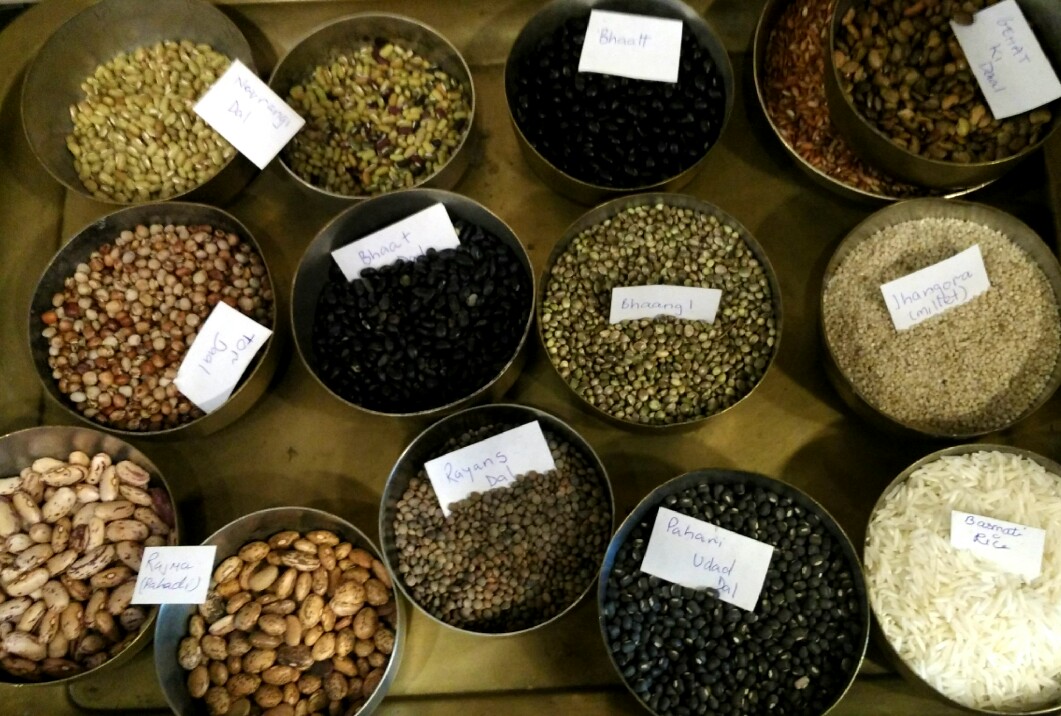 The distinct flavours of pahaari food are prominent in the cuisine with the use of mustard and cumin seeds not only adding a distinct taste but also acting as appetizers.
What makes the cuisine unique, however, is the array of unusual flavours from wild pahari herbs and seeds like the jakhiya, faran, chippi, bhang seeds, gandherni (a fragrant bark) and jumboo, used for tempering lentils and curries.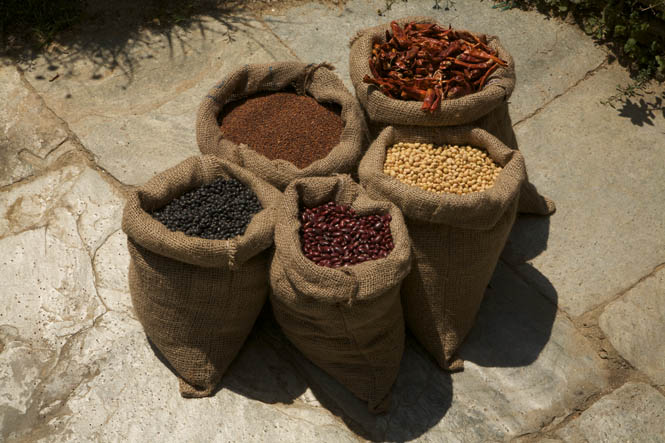 Kumaoni people are not very fond of using tomatoes while cooking and even make chutneys using bhang seeds (hash) as the main ingredient.
Two of the cuisine's leafy specialities are sisunak/bicchu saag (stinging nettle grass) and lingadu saag (wild asparagus).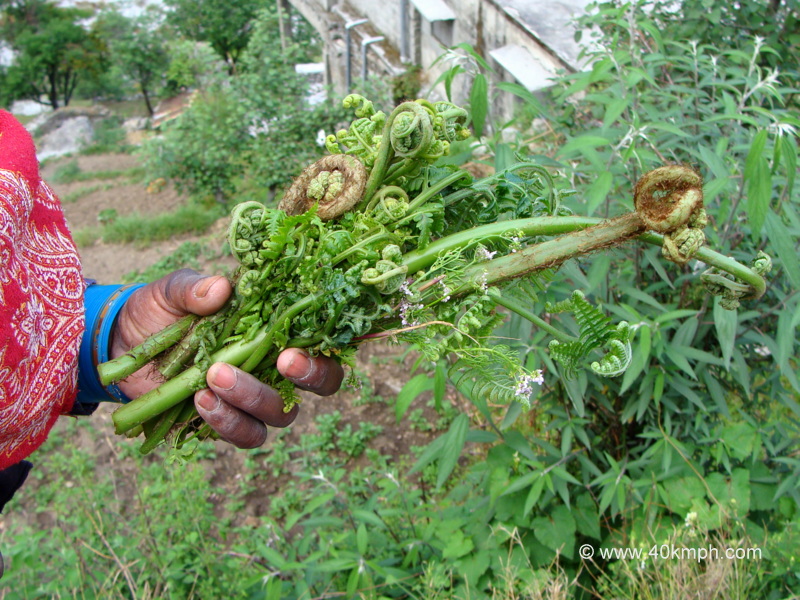 The cuisine has something in store for those with a sweet tooth as well. There is the famous Bal Mithai and Singori that can be found in sweet shops across the region.
For those who wish to sample the marvels of this little-known cuisine, here is a list of traditional Kumaoni dishes – simple, easy to cook and at the same time very nutritious.
Aloo Ke Gutke
This humble recipe is a regional culinary gem. A simple everyday potato fry seasoned with fried red chillies, coriander leaves, and other spices, this recipe has an earthy comforting flavour that makes it a popular street food in Uttarakhand, especially in the winter months.
2. Bhatt ki Churkani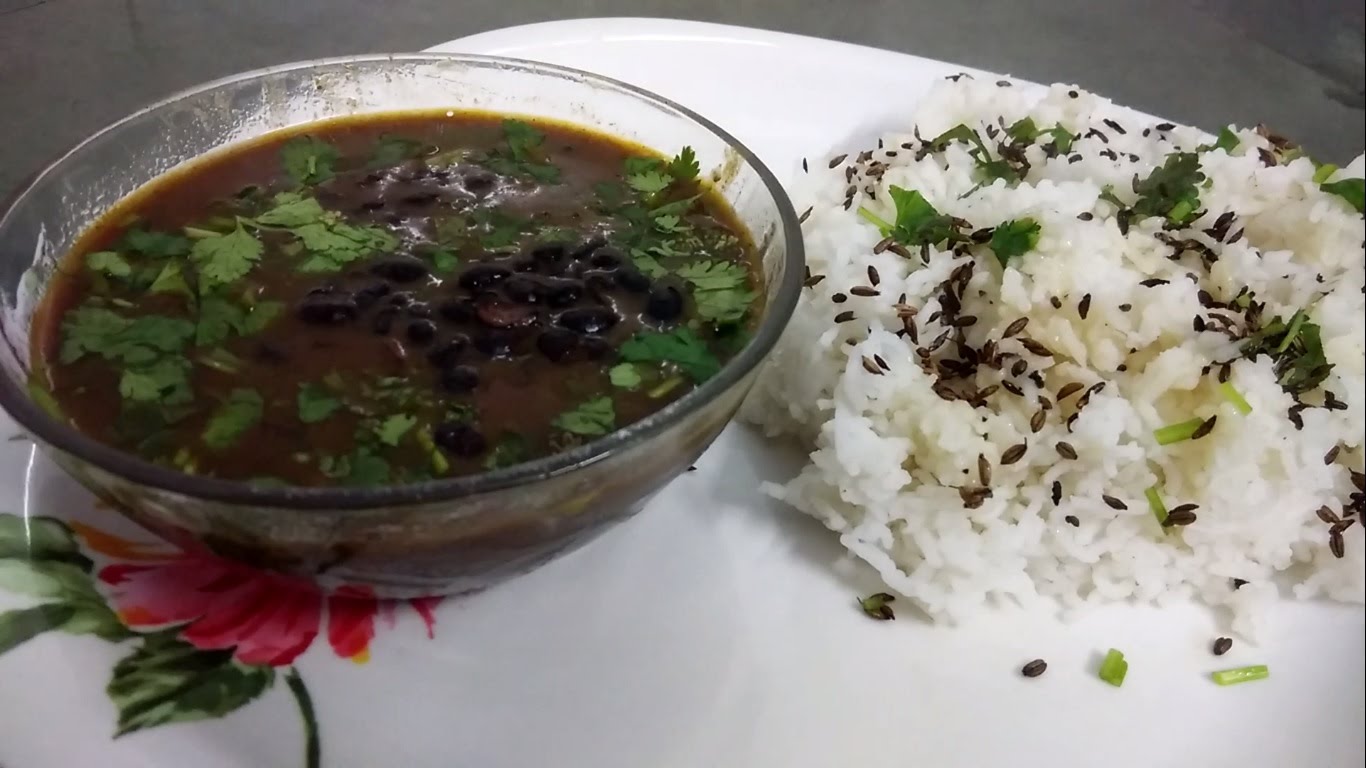 Kumaonis have a soft spot for bhatt, a locally grown black soy bean, and this dish is one of Kumaon's iconic dishes. Black bhatt is blended with rice paste to make this coveted dish, which is bestowed with a great many essential nutrients.
3. Chainsoo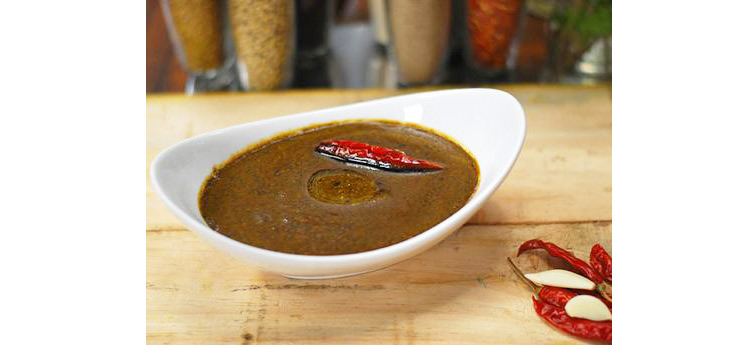 With a strong taste of coriander and garlic, this high-protein dish is prepared from ground black gram but it can also be prepared from bhatt. This dish is prepared by first roasting the lentil and then making a fine paste of it, which is slowly cooked for a long time.
4. Phanu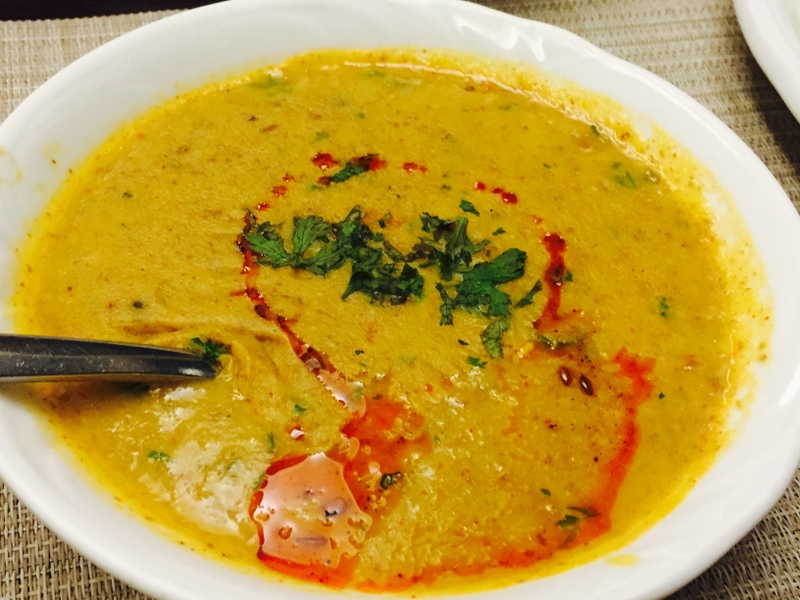 A combination of different lentils – like arhar, moong and urad – soaked overnight, is what gives a unique taste to this complex dish, which requires more effort to prepare than other dishes of the region. It is basically a soupy dish that goes best with steaming white rice.
5. Thechwani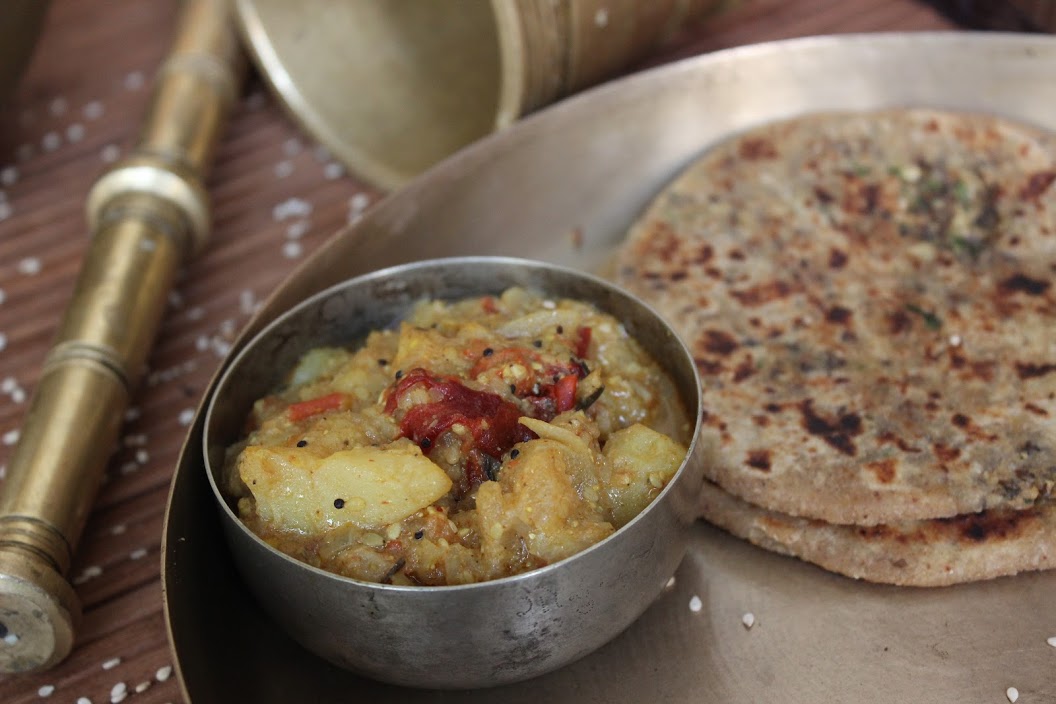 Thechwani is made from pounded and crushed (never cut) pahari mooli (white radish) and potatoes cooked with onions, tomatoes, and roasted powdered sesame seeds and then cooked into a simple hearty curry.
6. Sisunaak Saag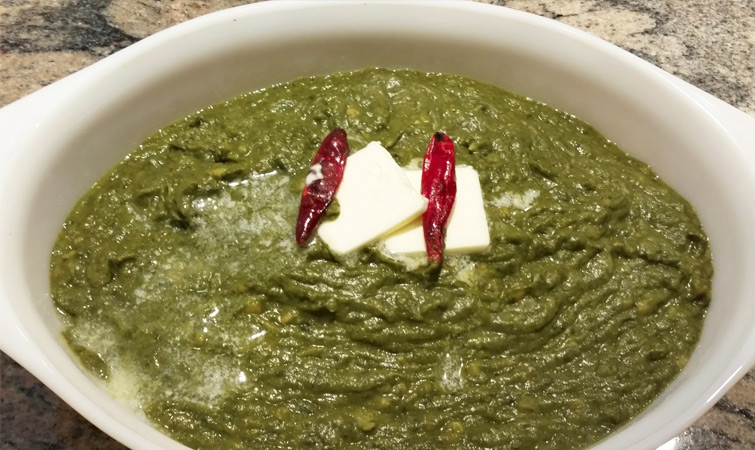 The Sisunaak aka Bichoo saag is a badass plant that once touched can give you an itch and rashes that last for a couple of hours. This edible plant can be made into a scrumptious and nutritious Kumaoni classic, which is well worth the effort taken to make it. The plant is boiled, converted into a fine pulp, cooked slowly and garnished with butter.
7. Kafuli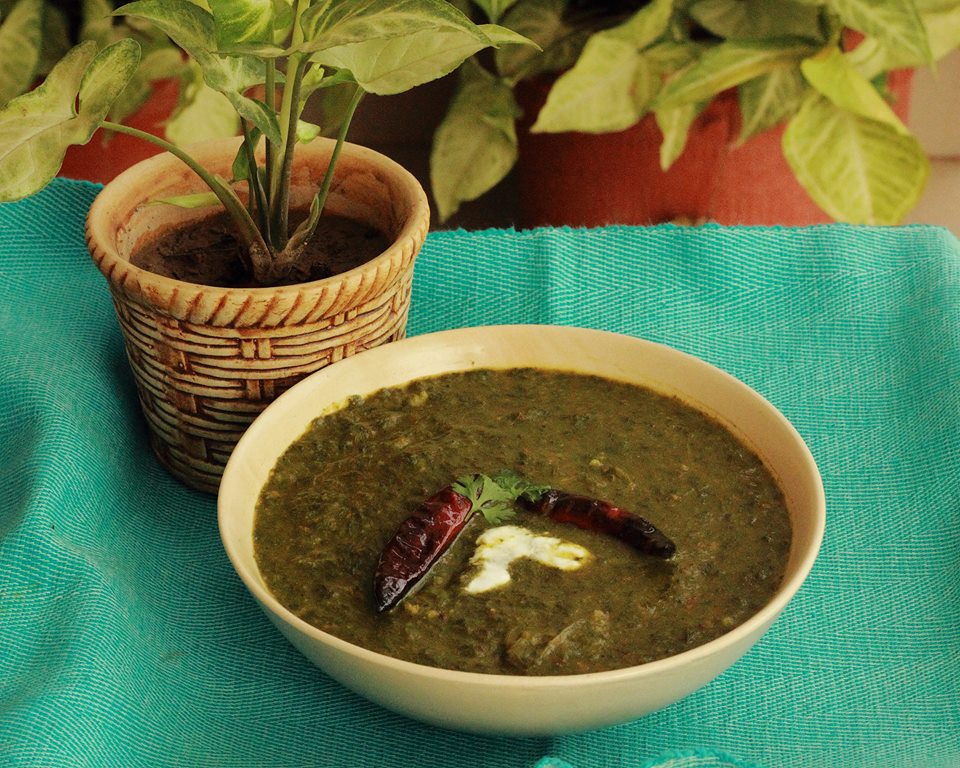 A dish people of Kumaon swear by, Kafuli is made from spinach and fenugreek leaves slow cooked in a gravy thickened with wheat or rice flour in an iron kadhai. Kafuli is best complemented with hot steaming rice.
8. Dubuk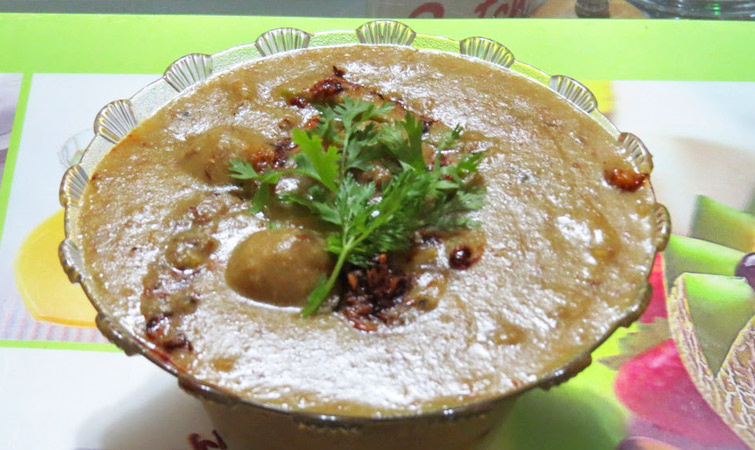 This very traditional Kumaoni recipe is made of lentils, either bhatt, gehat or arhar, which are boiled and later separated from the stock. The stock is converted into a fine paste by adding rice flour and powdered spices, cooked over a slow fire.
9. Bhang Chutney
Made from bhang seeds, cumin, garlic shoots, sour pomegranate seeds, tamarind and salt, this simple chutney complements any dish made in Uttarakhand. This incredibly aromatic chutney is prepared by pounding the ingredients with coriander, raw turmeric and salt in a stone mortar.
10. Sana hua Nimbu Mooli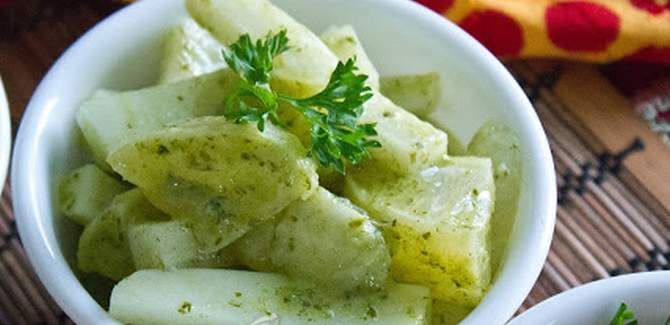 This mouth-watering snack is savoured by Uttarakhand people on sunny winter days. The tangy and pungent dish is made from radish, lemon, curd and bhang seeds, and works wonders at keeping the body warm during those chilly months.
11. Kumaoni Dal Bade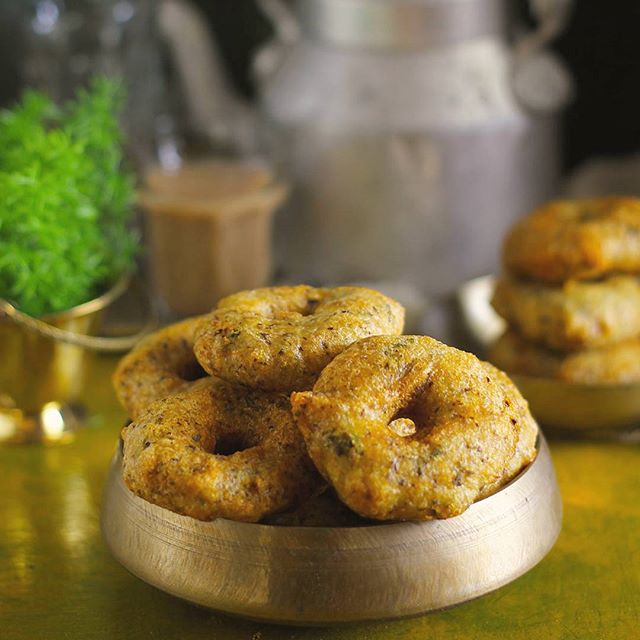 A local favourite, Kumaoni Dal Bade are crispy, flavoursome, gluten free urad dal fritters. The soaked split urad dal is ground in a stone mortar and pestle to get the fine paste, seasoned with spices and then whisked manually till it is light and airy, perfect to make bada.
12. Pahadi Kheere ka Raita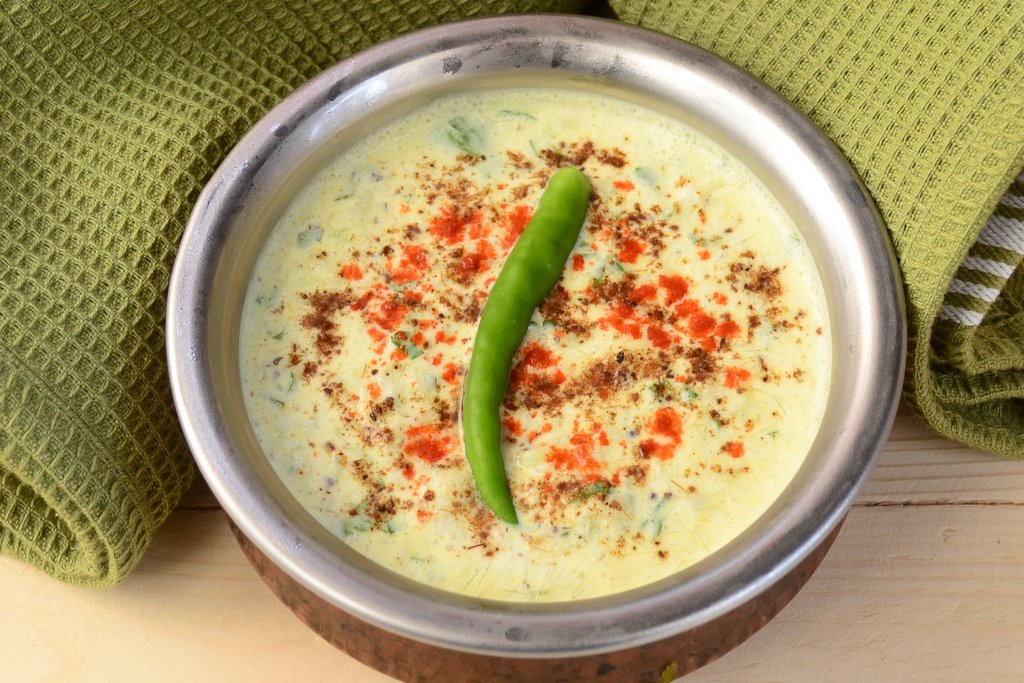 A side dish prepared from curd, turmeric, grated cucumber, green chillies and mustard seeds, this raita can be had with just about everything in the Kumaoni cuisine. A side dish sure to make you drool!
13. Singori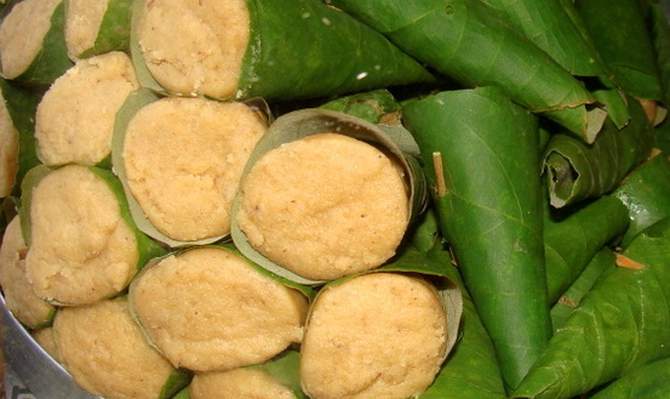 This is a sweetmeat moulded in an indigenous leaf called malla ka patta that results in little cones fragrant with the elusive scent of cardamom and its leafy packaging. Try this dish, which will leave you asking for more, at Almora.
14. Bal Mithai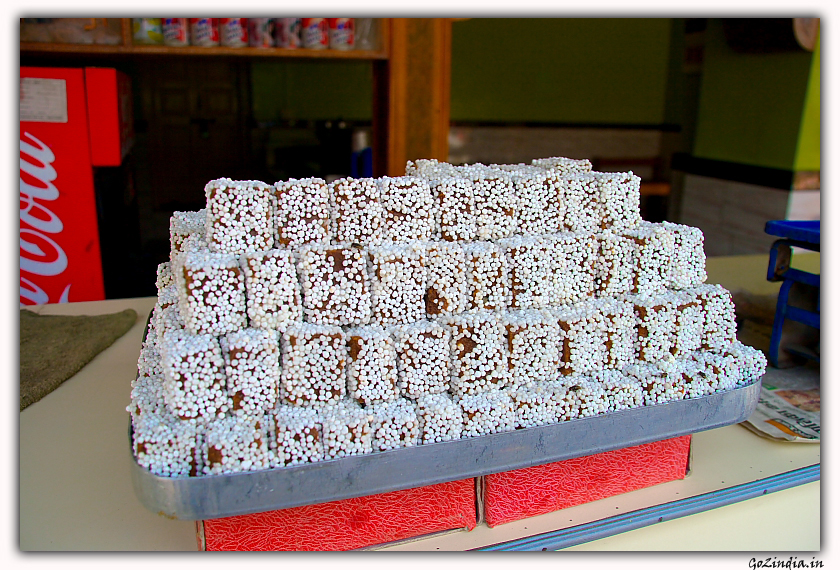 Brown chocolate-like fudge, made with roasted khoya and then coated with white sugar balls, is a speciality of Uttarakhand. The crunchy and chewy texture of these caramelised fudge balls is a gastronomical delight hard to resist.
15. Jhangore ki Kheer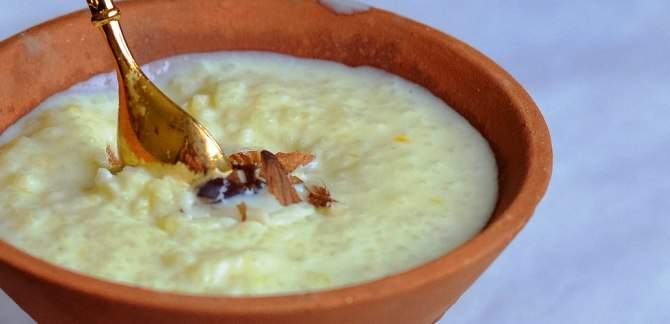 Rich in nutrients and taste, the delicious Jhangore ki Kheer is a must try after a heavy course of Garhwali cuisine. This sweet dish of Kumaon has the goodness of milk, dry fruits and jhangora, a type of millet which is the main ingredient of this dessert.
16. Singal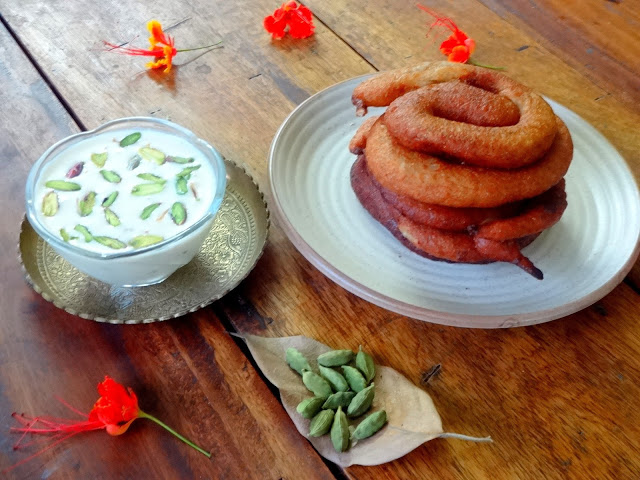 Singals are fried semolina spirals that are part and parcel of Kumaon culture and festivals. Soft, spongy and flavourful, Singal is a healthy delicacy made with semolina, banana, curd, milk, sugar, and cardamom. The heavenly combination of Singal with Aloo Ke Gutke and Pahari Raita is adored by the locals.
17. Arsa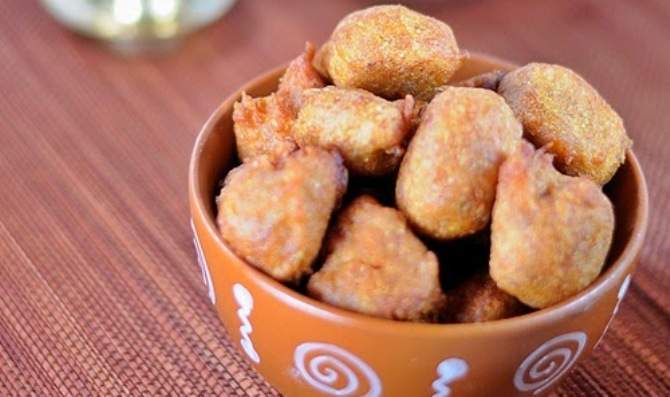 Those with a sweet tooth are going to love these Kumaoni Puas. What makes Arsa different from the common malpua is the use of jaggery and curd in it. These melt-in-the-mouth sweet balls can be munched on during tea time or as a dessert after meals.
Like this story? Or have something to share? Write to us: contact@thebetterindia.com, or connect with us on Facebook and Twitter (@thebetterindia).
We bring stories straight from the heart of India, to inspire millions and create a wave of impact. Our positive movement is growing bigger everyday, and we would love for you to join it.
Please contribute whatever you can, every little penny helps our team in bringing you more stories that support dreams and spread hope.