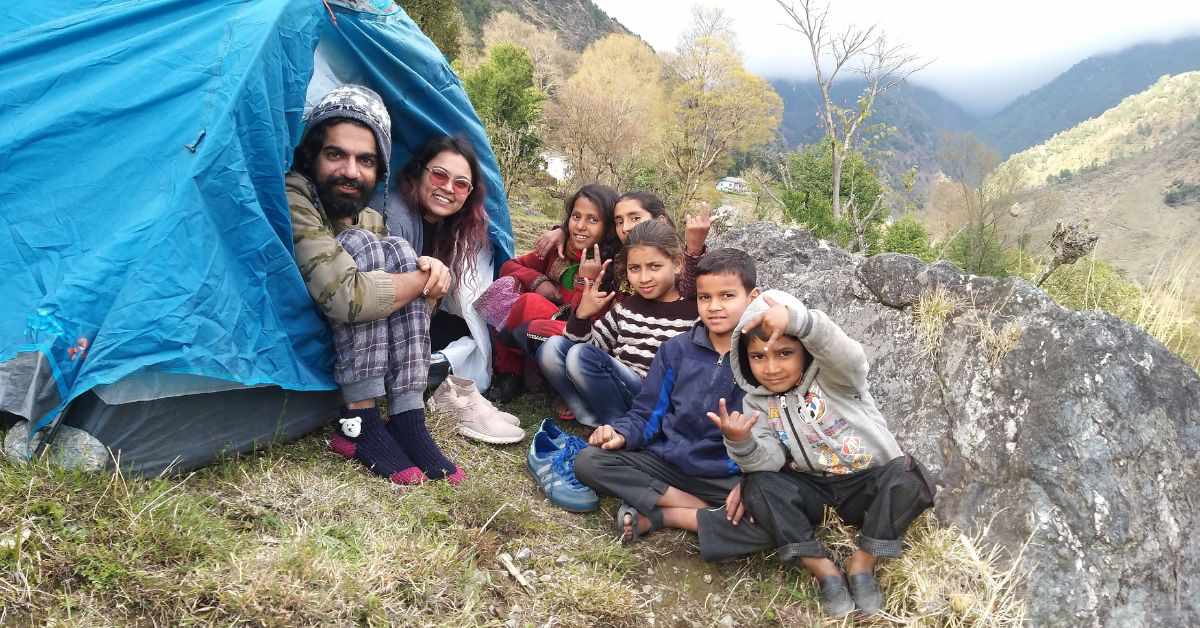 Based out of Gunehar village in Himachal Pradesh, Jasmine and Anoop encourage children to express themselves through art, books, storytelling, and even theatre through their initiative, 'Kahaani ki Dukaan'.
A strange world exists in the village of Gunehar in Himachal Pradesh. Here, children associate the word 'school' with 'fun' and possibly the best place to be. Here, colouring outside the lines is applauded and standing out from the crowd is encouraged more than fitting in.
But, this wasn't always the case with the village. Before 2020, it was similar to the many other remote areas that dot rural India, where kids do not have much access to creative tools and learn lessons that are just enough to promote them to the next standard. Imagination and creativity were unheard of.
But in 2020, this changed. The reason for this metamorphosis was a friendship that brewed between two individuals far away from Himachal, in Delhi.
Anoop Chugh (40), a theatre director in an ad agency, and Jasmine Kaur (35), a footwear designer, met that year when Jasmine joined in one of the storytelling sessions that Anoop was holding with his group. The two bonded over a mutual love for rural spaces and uplifting the communities. And Jasmine, keen to explore this avenue in more depth, joined Anoop in the various gatherings that followed.
As he recounts, there was one such incident that changed the both of them.
He shares, "Being a bunch of performance artist storytellers, we would often travel through India, writing narratives, and then performing them. We would be called for such sessions from time to time. In May 2020, we were called for an art festival at Gunehar. The goal was to interact with the local communities and produce an audio album on the stories and experiences we came across."
However, he says that after a month of doing this, when they returned to Delhi and back to their corporate lives, something had changed. They had fallen in love with everything the experience had to offer.
"We made up our minds to keep going back to the village on the weekends. The problem with this was that we would spend the entire week in hope that the weekend would arrive soon, so we could jet off to the village. To add to this, the kids kept asking us to come back," adds Jasmine, saying that they eventually couldn't resist and figured their dream lay beyond the hustle of Delhi in the calm confines of Himachal.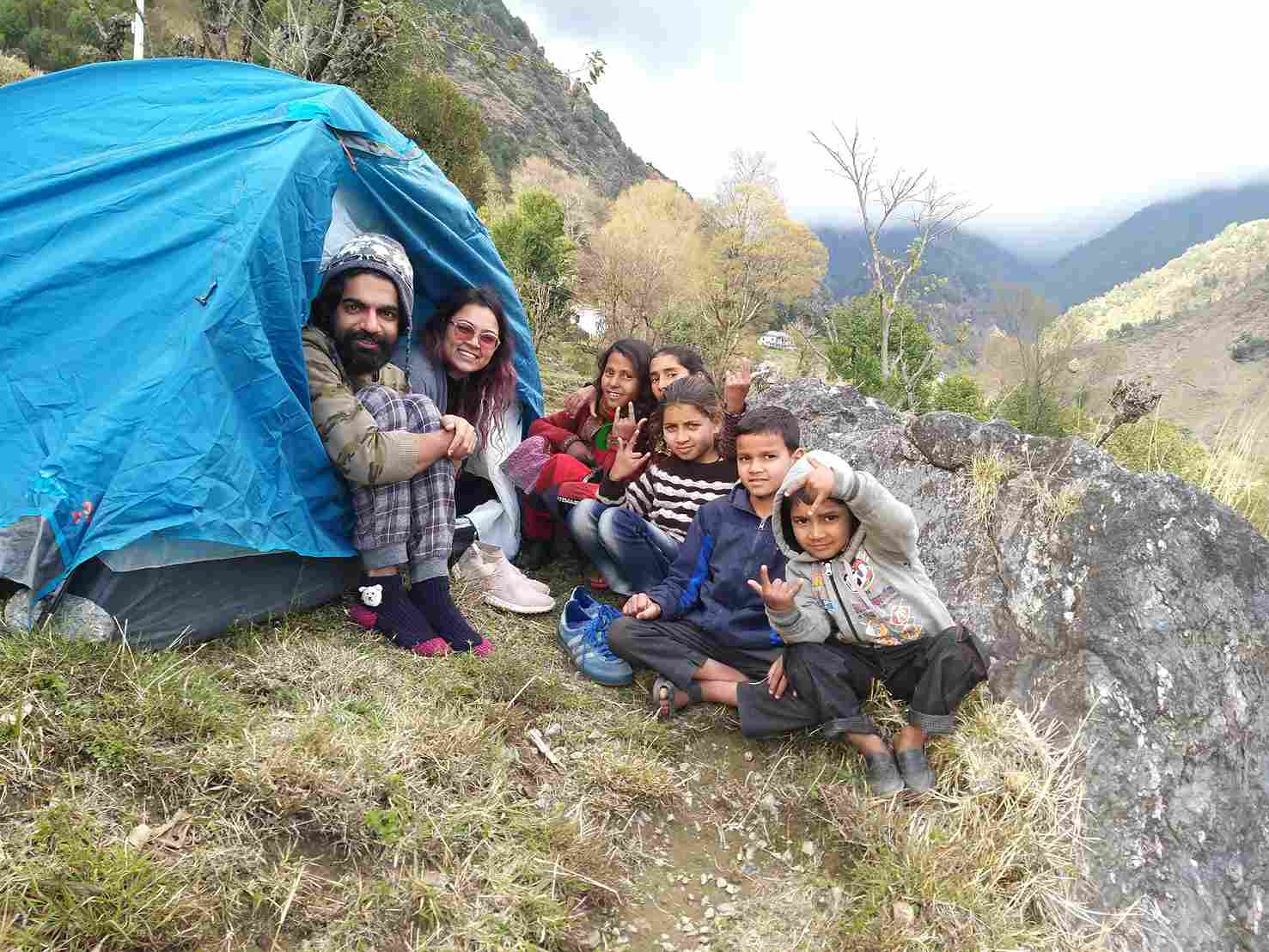 In 2020, the duo quit their city jobs and decided to start a storytelling initiative 'Kahaani ki Dukaan' (which means Story Shop). Through this, they would encourage the village kids to get creative with their drawing and painting skills, arrange workshops in the villages and also set up art libraries across remote areas of India.
An outlet for the imagination to run wild
"Through our travels across remote India, we realised that the smaller the city or town we visited, the lesser the opportunity that kids had to express themselves. It was fascinating to watch their reactions when we engaged them in storytelling and other activities. Sometimes they'd be bored while other times they'd be full of energy," says Jasmine.
Describing what Kahaani ki Dukaan does, she says a primary task is the distribution of storybooks for kids. The duo say they have done this in around 30 villages in Himachal and Punjab and distributed more than 2,000 books so far.
"We do this through our yellow car aka mobile library, and this is a weekend project," says Jasmine, adding that it is almost like a novelty in these areas. Because these kids don't have the infrastructure for reading and have often never seen their parents read either.
"Some come from economically backward families or nomadic families and are the first generation that's even going to school. So the approach we adopt is first to inculcate storytelling and reading, and then the art of performing theatre out of story books. Later on, we encourage them to write their own stories and perform for travellers, city folk, etc," notes Jasmine.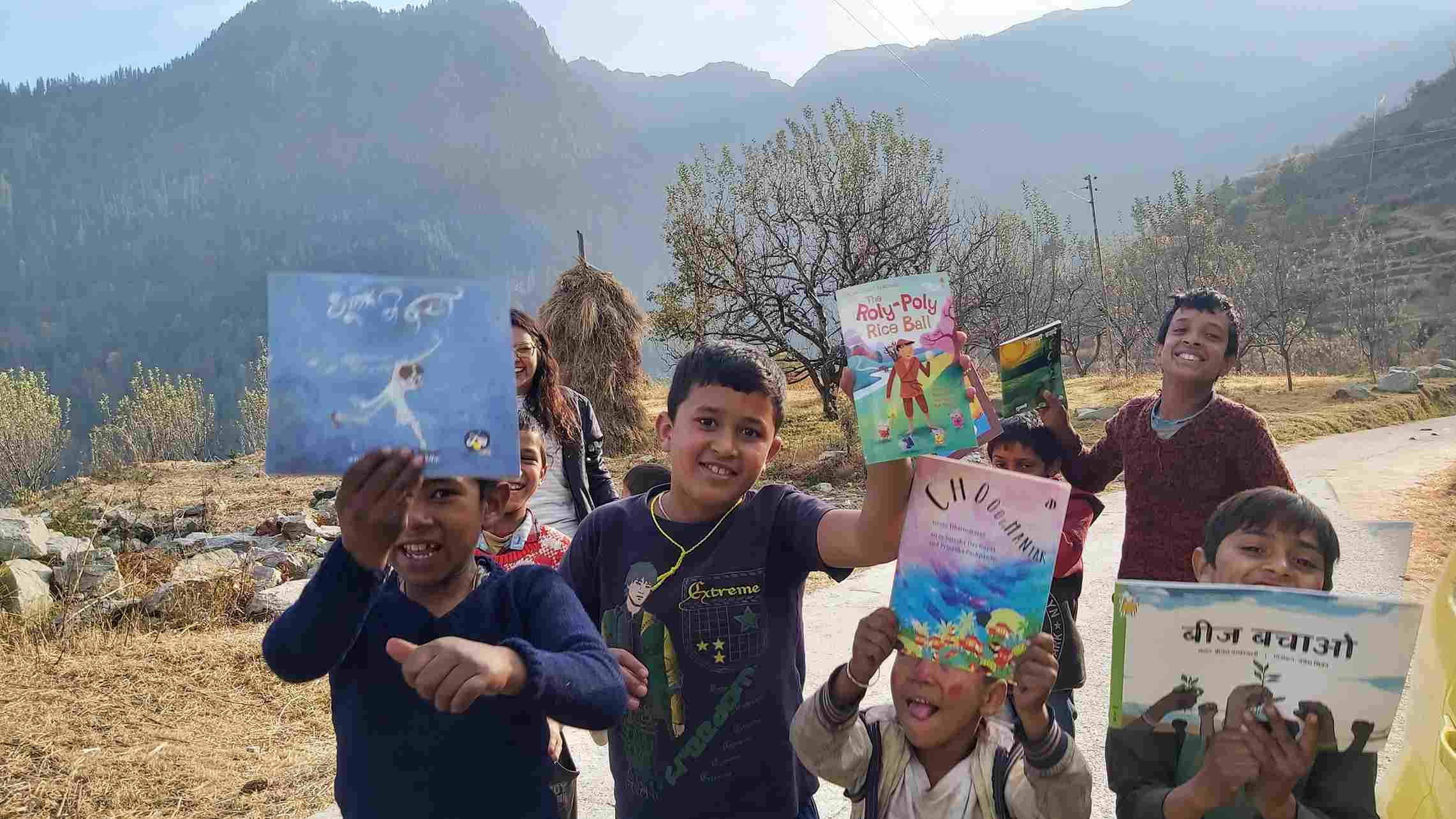 The kids are enthusiastic as they share what a wonderful time they have had with Anoop and Jasmine.
"We love the games that they teach us," says Karthik while Sanjana says her favourite part is not just reading stories but also making some of her own. "And the best part is that there is no homework whatsoever!" she adds echoing the happiness of the others too.
Currently, 80 kids benefit from Kahaani ki Dukaan after school in the Gunehar village where the duo are based. But it doesn't stop at the kids, they say.
'Their mothers speak of worlds beyond the village but have never seen them'
The village women that Jasmine and Anoop work with, are an extraordinary lot.
"These women have never experienced much beyond the village as they have spent their lives here taking care of the family. And still, you hear them singing beautiful folk songs about the town of Chamba and other places, which they have never been to. They have heard these songs from their mothers and learned it and now pass it on to their daughters," says Anoop.
These interactions, along with the gatherings they sometimes have with food, music and dance, help the duo connect with the village women and learn about folk culture.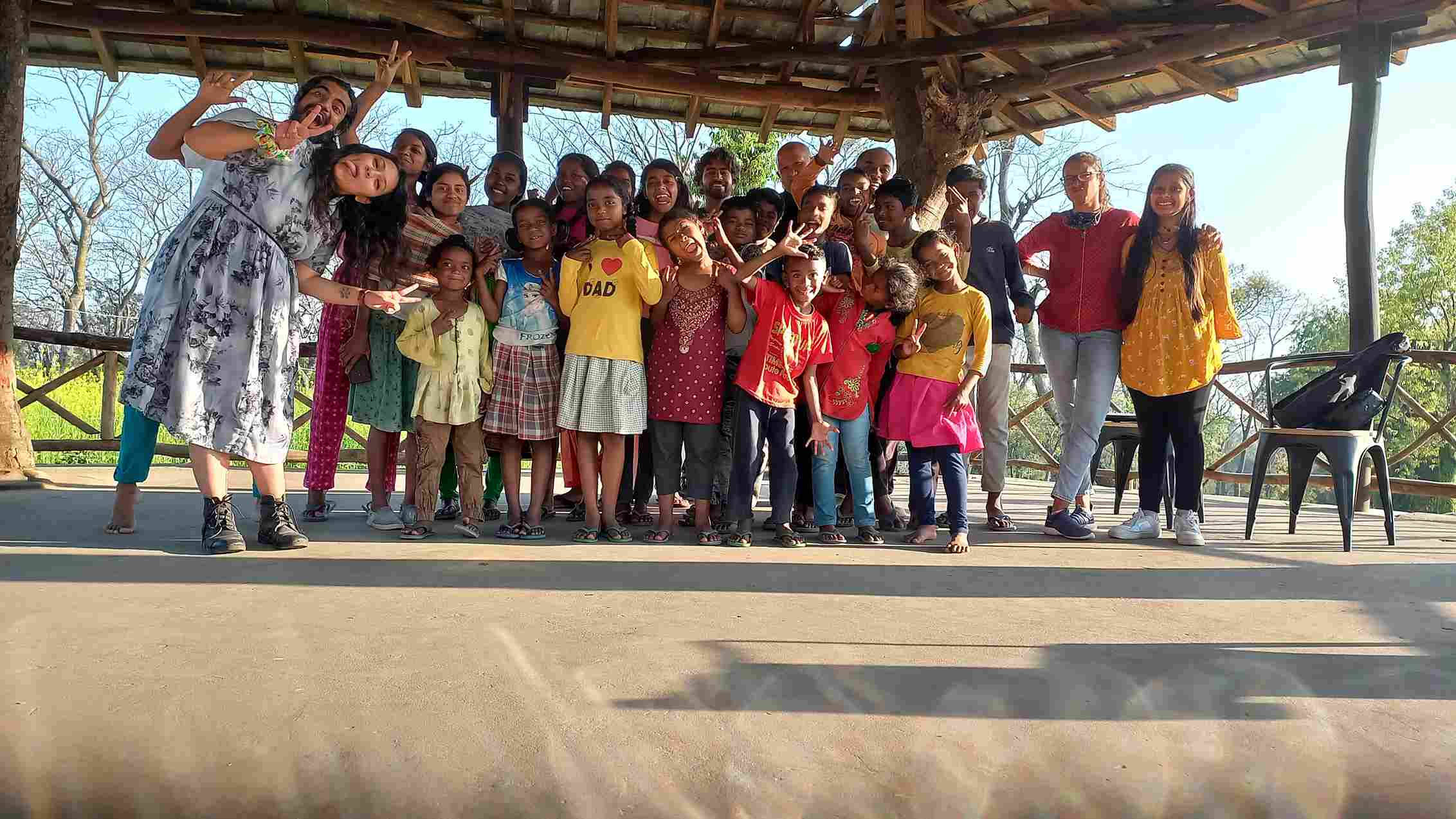 "They are just like us," says Anoop who recalls an experience which has always stayed with him. It was when they were going to another village to set up a library in 2021 and invited two widows from the village to travel with them.
"We had booked an Airbnb with a Muslim family. Even though the women with us had had little to no interaction with people from other communities, there was a beautiful bond that both parties formed. They began speaking to each other and discovered that their languages and lifestyles were similar. While their outer appearances were different, at heart they were the same people," he adds.
This incident made the duo realise how important exposure was for the people of the village.
"These people are just like us; it's only the opportunity that they haven't had. Through Kahaani ki Dukaan, we want to become enablers," he adds, going on to say that they have trained around 2,000 kids to date in art forms including dance, music and drawing.
These sessions happen on weekends, during the summer break, or after school.
Meanwhile, the duo along with a network of six artists keep the village of Gunehar bustling as a hub of activity and fun. They run artist residency programs, which encourage artists from across the country to come to Gunehar and stay, experience life here, and create something. This program is free of cost and stay is taken care of.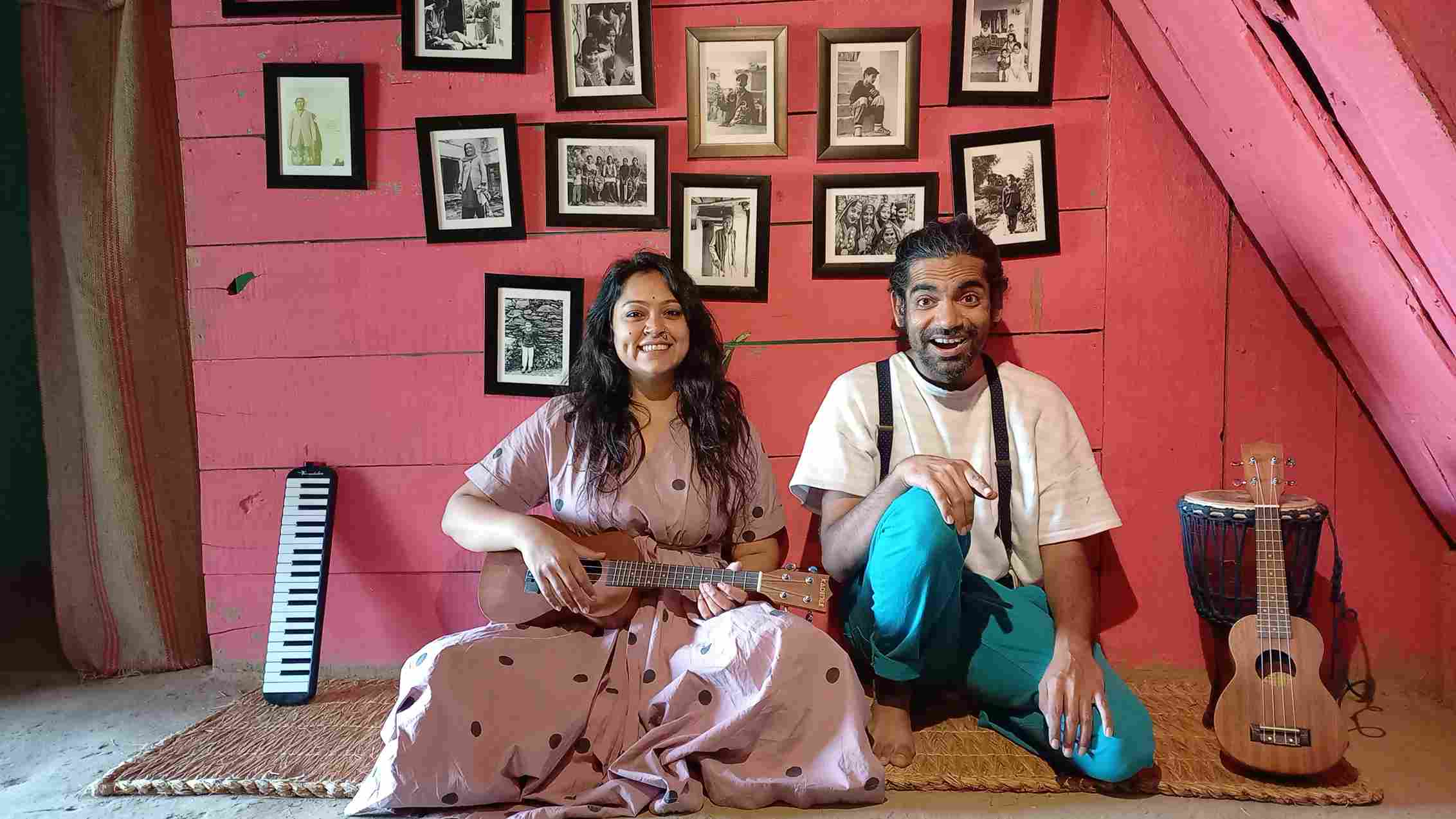 "Through these programs, the village children also get a chance to learn something new, such as pottery or theatre and performing art from a film director, etc," says Jasmine, adding that to date they have hosted over 20 artists.
The duo also collaborate with NGOs across India wherein they train underprivileged children in various skills.
One such instance was when they did a story project with an NGO in Delhi and trained school dropouts for three months in music. "Following this period, the kids had their first recording and did it at a studio," says Anoop.
As evening falls in Gunehar, the sunlight is replaced by the pinpoint lights of bulbs that come on in every home in the village. It is beautiful and synonymous with what Jasmine and Anoop are trying to create — a ray of hope that with the smallest of opportunities, magic is indeed possible.
Edited by Pranita Bhat
We bring stories straight from the heart of India, to inspire millions and create a wave of impact. Our positive movement is growing bigger everyday, and we would love for you to join it.
Please contribute whatever you can, every little penny helps our team in bringing you more stories that support dreams and spread hope.
Tell Us More