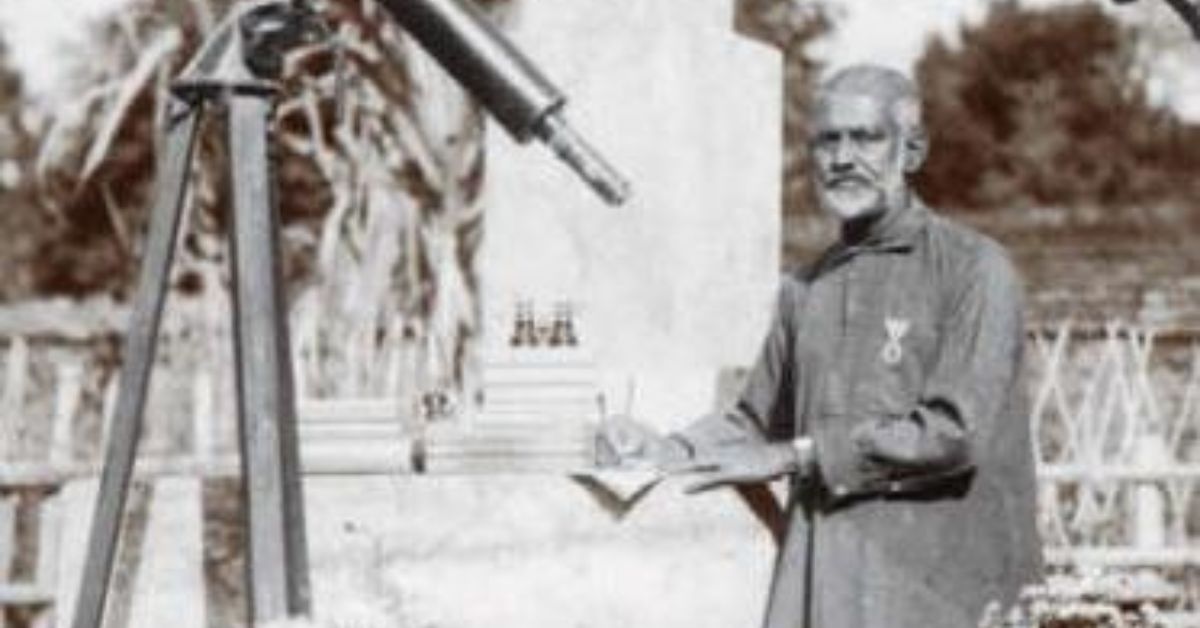 Radha Gobinda Chandra and the famous telescope he bought from London for Rs 160 completely revolutionised how Bengal perceived the skies. Here's an interesting story of how it all started.
In 1878, Radha Gobinda Chandra was born to a humble family in undivided India. He lived in Bagchar village in Jessore district, which would years later be classified as East Pakistan, and specifically Bangladesh, following the Partition in 1947. While Chandra lived an ordinary village life, something set him apart from his peers — his thirst for knowledge, particularly that pertaining to the cosmos.
As the family lived with Chandra's maternal grandparents who were an affluent lot, his growing-up years were inspired by everything he could get his hands on. The books piled high up to the ceiling in his uncle's home library were Chandra's favourite escape. He would spend hours here. The other part of his day would be spent with his grandmother Sarada Sundari Dhar, whose interest in astronomy and expertise in identifying constellations would fascinate the little boy.
It is this enthusiasm that Chandra grew up with that manifested in his love for the skies. And in 1910 when Bengal woke up to the news of Halley's comet getting ready to make its appearance, no one was as excited as the 32-year-old Chandra. He knew this was the moment to put all his astronomical prowess to the test.
An astonishing feat
While Chandra had imbibed a love for reading and the skies, he struggled with academics, failing to clear the entrance exam held by the University of Calcutta for its Class 10 students. Unable to continue formal education, Chandra began scouting for jobs and eventually landed one as a coin tester in the Government Treasury of Jessore.
His role was to examine the authenticity of the metallic coins for which he was paid a salary of Rs 15 a month. However, throughout the 35 years that Chandra worked in this role, he had something to look forward to after a hard day's work — the skies.
His interest in astronomy had only deepened, and so, on retiring from his job, he began devoting all his time to this passion. He found guidance under the mentorship of Kalinath Mukherjee, a lawyer in Jessore who was also an astronomer.
The story goes that Mukherjee's house was a setup for various lectures on astronomy, and one of his most avid learners was Chandra who would stop by every night after work to learn more. Such was his passion for the night skies that he would experiment with making his own binoculars and observing comets through them.
So, naturally, when in 1910 the news of Halley's comet spread like wildfire through Bengal, Chandra knew he couldn't miss it for the world.
Intent on knowing the exact time and location of the sought-after comet, Chandra contacted Jagadananda Roy, a science teacher at the Santiniketan school. Roy was more than happy to share these insights, and Chandra made his way to the designated spot at the designated time. He was one of the first to spot the comet on 24 April 1910, and what's more, all he had to aid him were his trusted binoculars.
A legendary telescope
Eager to delve more into matters of space and fuelled by the happiness at having seen Halley's comet, Chandra would share his learnings with Roy. He advised Chandra to consider getting a telescope that would broaden his horizons when it came to astronomy.
How Chandra procured his first telescope is an interesting tale.
They say, wish for something and the universe conspires to make it happen. When Chandra was looking to buy a telescope, he had no means of actually doing so because of the unaffordable expense. Coincidentally, the Government increased the pay scales of coin testers during that time, and Chandra received a large sum in terms of arrears.
So, in April 1912, he made an advanced payment to the Bernard & Co. of England for a 3-inch refracting telescope, which was delivered two months later. It cost him Rs 160, a hefty sum in those days, and an additional Rs 100 to replace the cardboard tube of the telescope with brass. Chandra spent years with this newfound prized possession of his. The skies were the limit!
Soon, his work got recognition from the American Association of Variable Star Observers (AAVSO) who were so taken up with his determination that they gave him a 6.25-inch reflector telescope. Overjoyed with this, Chandra decided to donate the previous purchase to a school in Calcutta to fuel the zeal for astronomy in young minds, just as had been in his case.
In 1918, he was credited for the finding of the Nova Aquila-3, a bright star that hadn't found its way to the Star Map yet. In the course of his lifetime, Chandra made a total of 49,700 stellar observations up to 1954, when he finally retired.
A true marvel in India's astronomical field.
Edited by Pranita Bhat
We bring stories straight from the heart of India, to inspire millions and create a wave of impact. Our positive movement is growing bigger everyday, and we would love for you to join it.
Please contribute whatever you can, every little penny helps our team in bringing you more stories that support dreams and spread hope.