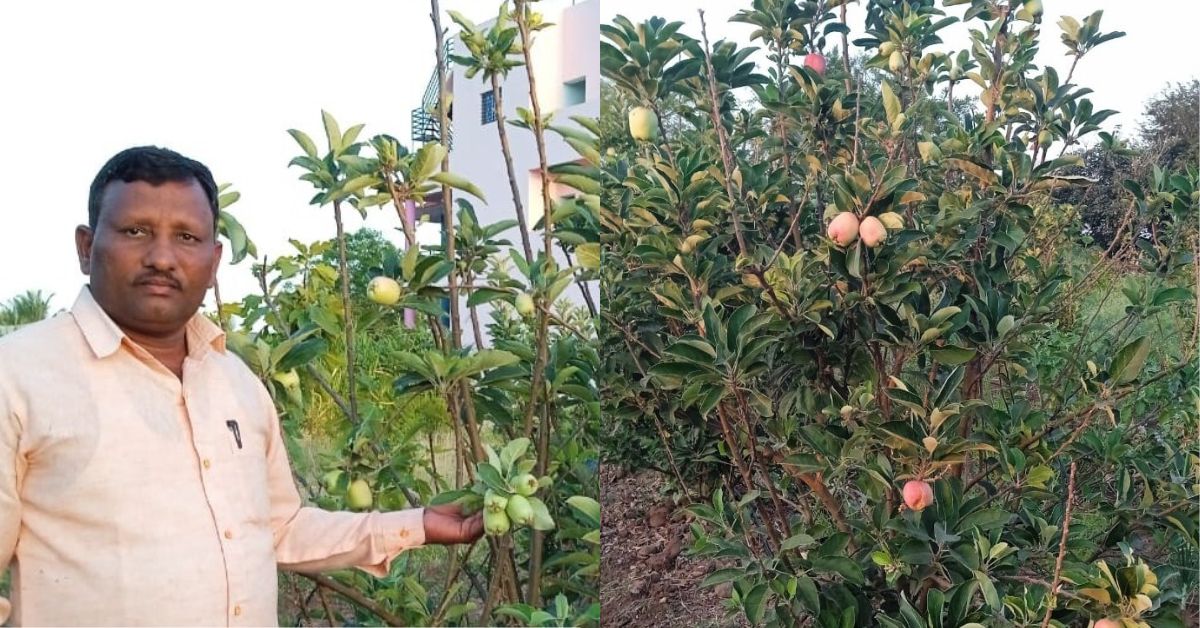 Maharashtra farmer Kakasaheb Sawant grows the HRMN-99 apple variety, which was first conceived by Himachal farmer Hariman Sharma. Here's how both farmers have been able to cultivate this low-chill variety.
"Ever since people have come to know that apples are growing on my farm, I have had a stream of visitors," says Kakasaheb Sawant of Antral village in Sangli's (Maharashtra) Jath taluka, proudly standing beside the row of bushes heavy with fruits.
Jath taluka, bordering Karnataka, is predominantly sunny, with temperatures in the summer reaching 43 degrees Celsius. In the winter, the temperature doesn't cross the 27 degrees mark. Gifted with sandy-loamy soil, the rainfall is limited to just 30 days a year, averaging 560 mm. In such adverse conditions, Sawant has been able to grow apples (locally known as safarchand) and those visiting his farm consider it no less than a miracle.
People laughed at him when he decided he would grow the fruit in Konkan, recalls the 44-year-old, who runs a successful nursery of fruit and forest trees that he established in 2010 after bidding goodbye to his job as an automobile mechanic.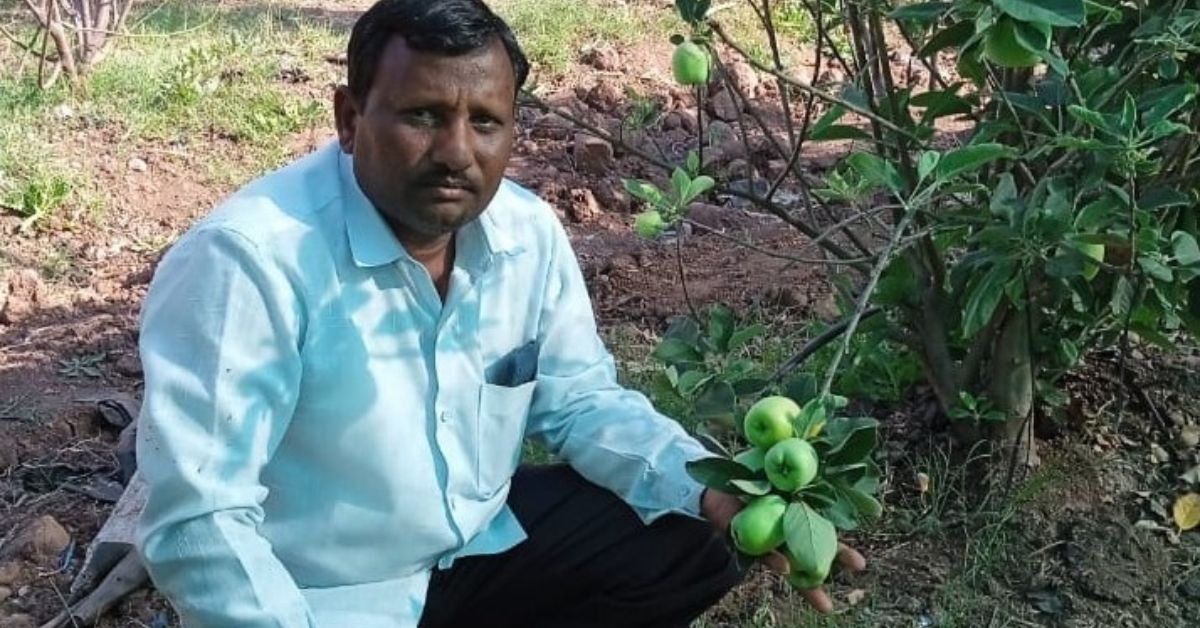 It was sometime in early 2020 that Sawant bought 150 saplings of HRMN-99 apples — an all-terrain apple variety developed by Himachal Pradesh native Hariman Sharma.
The genesis of the all-terrain variety
It was sometime in 1999 that Sharma observed a fruit bearing apple seedling in his courtyard at Paniala village of Bilaspur district, which is situated 1,800 feet from sea level. Being an innovative farmer, he could sense that it was an extraordinary event. He persevered and grew several grafts of the same.
"After working as a labourer in other farms for many years. In 1998, I started nurturing mango orchards and began vegetable cultivation. In 1999, I purchased apple seeds from another farmer in the district and planted them. I did not have any hopes that it would grow, but I observed a small apple seedling that had sprouted. I nurtured that seedling with the little knowledge I gained from my farming experience, and let it grow," Hariman recalled in an earlier conversation with The Better India.
Though Sharma's crop bore fruit, the harvest was small in size. He decided to graft a stem from the apple tree with a plum tree.
"The fruit quality was much better," he said. "They were the size of regular apples, and in an earth-shade colour with red tinges on the side. Soon, I grafted some more trees, and created a mini orchard with eight trees. Till date, these trees continue to bear fruits, and provide a yield of 1 quintal every season which is usually in June."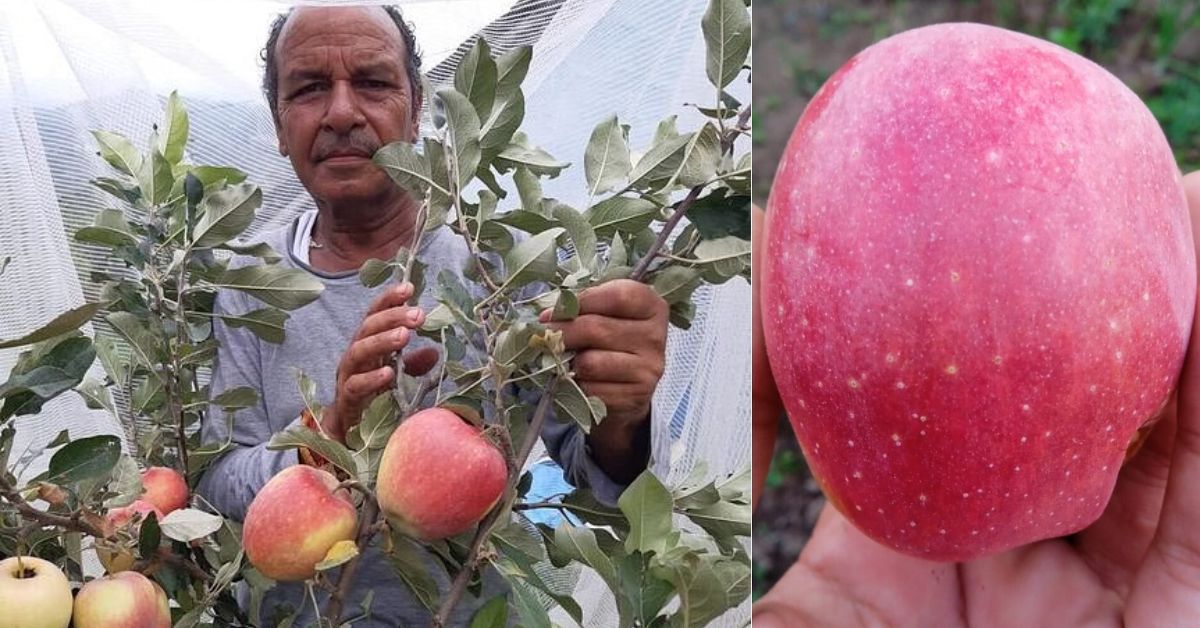 What makes this variety so unique
The climate crisis has posed a significant challenge for apple growers in Himachal's regions of Kullu, Shimla, Mandi, and more. A disproportionate rise in temperature has resulted in disturbed snow and rainfall patterns, in turn leading to cutting down on the chilling hours of traditional apple varieties, notes Outlook India.
Perhaps apple varieties like those developed by Sharma could come as some respite from this challenge.
In order to study the suitability and adaptability of Sharma's apple variety in various agro-climatic conditions of the country, the National Innovation Foundation-India (NIF) transplanted around 10,000 saplings at 1,190 farmers' fields in 2015-2017.
Sharma claims that this apple variety does not require chilling hours for flowering and fruit setting. Chilling hours refers to the period when the plant is maintained at a certain temperature, usually from 0-7° C, to start producing flowers. While conventional apple trees could develop improper colour and fungal spots on its surface in case of excessive rain or fog during the fruit maturity period, the new variety is resistant to scab disease, he says.
Following its successful fruiting at several locations countrywide, Sharma was awarded the Plant Breeders' Right for his innovation. It was named HRMN-99. The variety is ready to harvest in early June after three years of transplanting and the average yield from a seven-year old plant is one quintal.
"Earlier, no one would have believed that apples would grow in the plains and in warm temperatures," says Sharma, dwarfed by the fruit trees in his orchard-cum-nursery. As an innovator of this unique variety, he has exclusive control over its propagating material.
Though many individuals and nursery owners on social media platforms claim to be HRMN-99 sellers, the case is not always so. "I appeal to those farmers interested in growing genuine low-chill apple varieties to buy from our government-certified nursery located in Bilaspur," says Sharma, a member of the Research Council of Solan-based Dr YS Parmar University of Horticulture and Forestry.
With the sale of 9 lakh saplings so far, HRMN-99 apples are presently growing in 27 States of India and have found buyers in countries like Bangladesh, Nepal, South Africa, Zambia and Germany.
Having learnt about Sawant's feat, the NIF awardee-farmer says, "I'm happy for him and hope more and more farmers take to growing it. This variety is resistant to common diseases and can be grown even in regions with temperatures of 40-45 degrees Celsius. I was in Manipur recently, where a group of 202 farmers planted 30,000 HRMN-99 saplings."
125 apple bushes in Antral
"Of the 150 I planted on an acre, only 125 have survived. Each plant has 30 to 40 apples and the fruit weighs between 100 to 200 g," says Sawant, recipient of Udyan Pandit, an award given by the Maharashtra Government for excellence in fruit cultivation and sponsored by the National Horticulture Board.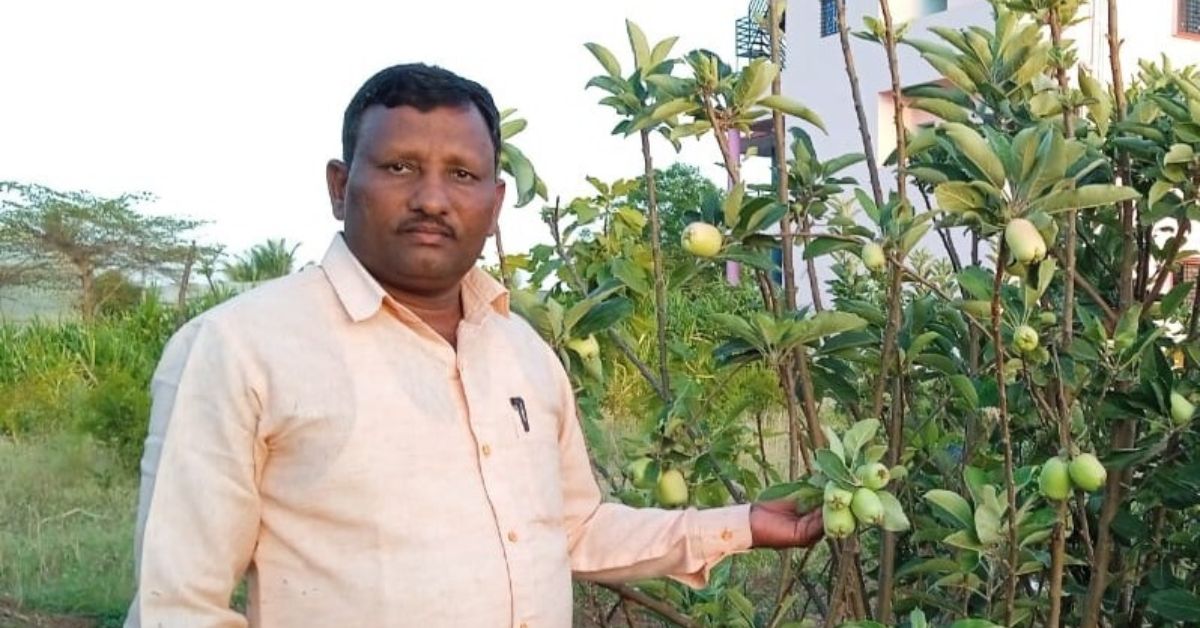 Social worker and fellow farmer Sanjay Sawant (44) is all praise for the efforts that Kakasaheb and his two brothers — who work as school teachers — have put into their 20-acre farm. Moreover, they did this in a region where farming activities are at the mercy of nature's vagaries, as locals struggle to grow crops in a rain-shadow area. "To irrigate their parched farm plot land, the Sawant brothers laid four pipelines, both 4 km long, to bring water from the Mhaisal Irrigation Scheme on the Krishna River."
Of the many who have lately visited Sawant's apple orchard is the taluka Krishi Adhikari Manoj Kumar Vetal. He says, "The vegetative growth of the trees is remarkable, the colour of the fruit is acceptable too. However, it lacks in fruit-setting and palatability, which it will overcome in a season or two, a phenomenon we earlier witnessed when dragon fruit was introduced in Maharashtra."
With the likelihood of the fruit fetching Rs 200 per kg Sawant is not worried once he harvests the Sangli apples, for he is sure to make a couple of lakhs in the bargain.
Edited by Divya Sethu
We bring stories straight from the heart of India, to inspire millions and create a wave of impact. Our positive movement is growing bigger everyday, and we would love for you to join it.
Please contribute whatever you can, every little penny helps our team in bringing you more stories that support dreams and spread hope.