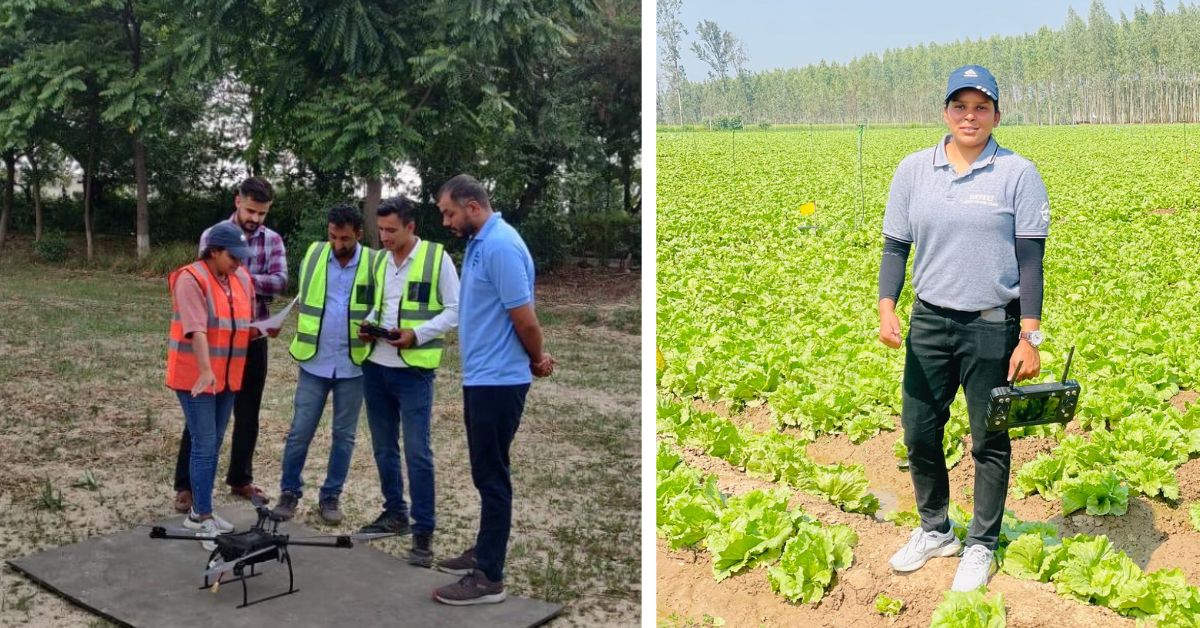 Haryana-based Nisha Solanki (30) received her Remote Pilot Certificate from the Directorate General of Civil Aviation (DGCA) and is now permitted to operate agri drones to spray pesticides. She has given over 750 demonstrations to farmers across the state.
Last September, a number of farmers flocked to Haryana's Karnal district to witness innovative farm equipment that claimed to reduce their input costs and save time. And, it was to be operated by a woman.
Armed with a 15-kg drone, Nisha Solanki had arrived at the field and claimed she would be able to sprinkle pesticide using 10 litres of water over manual spraying that requires 150 litres to spray on an acre of farmland.
"Farmers were doubtful about using drones for crop spraying. I was also a little nervous, but I flew the drone and when it returned, I became more confident. I took farmers inside the field to show how uniformly the pesticide was sprayed on the crop using 15 times less water. It also took just five minutes to spray the crop. They were surprised," the 30-year-old tells The Better India.
Soon after, more farmers started requesting the demonstration, and Haryana got its first certified woman drone pilot.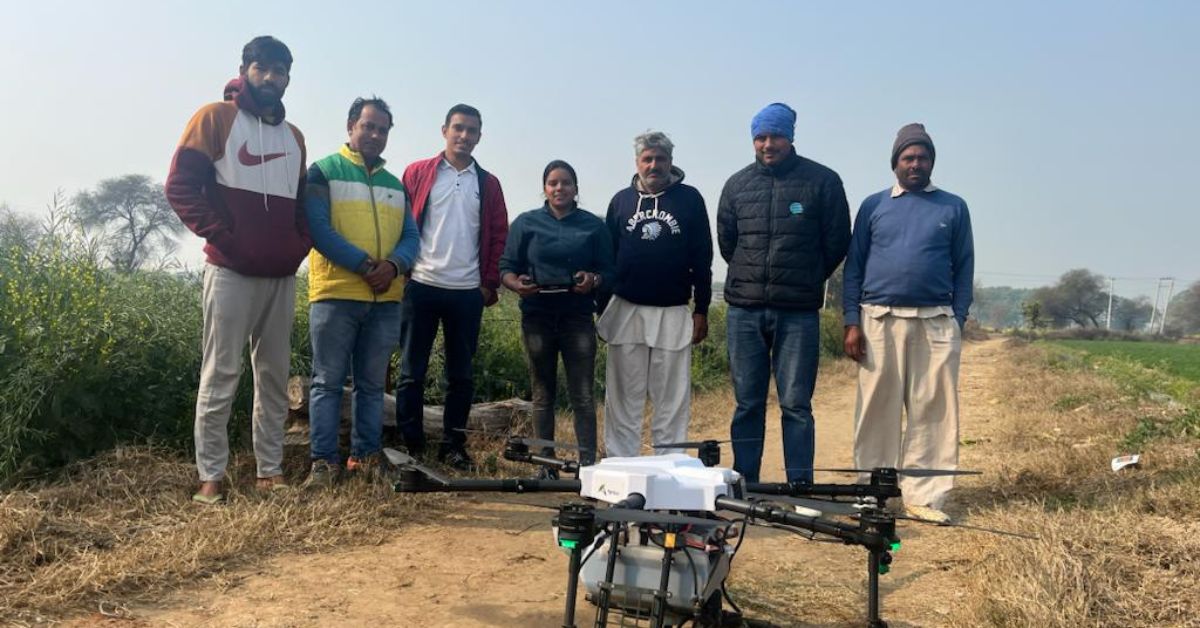 A happy compromise
Raised in Haryana's Jhajjar — famous for the valour and courage of its soldiers — Nisha always aspired to become a pilot. "Since childhood, I wanted to pursue a career in aeronautical engineering and become a pilot. But my father wished I worked in the agriculture sector," says the MTech graduate.
She pursued higher studies in farm machinery and power engineering. In 2019, while working with the Department of Horticulture, she was deputed to see a demonstration by a Gurugram-based drone manufacturing company IoTechWorld. "It was the first time in my life that I saw a drone. I was curious," she says.
Three years later in 2022, her curiosity led her to become a certified drone pilot. She received her Remote Pilot Certificate from the Directorate General of Civil Aviation (DGCA). In India, only DGCA-certified pilots are permitted to fly agri drones.
"Today, I am called a drone pilot. I guess it was a happy compromise between my aspirations and the field my father wanted me to pursue," she says.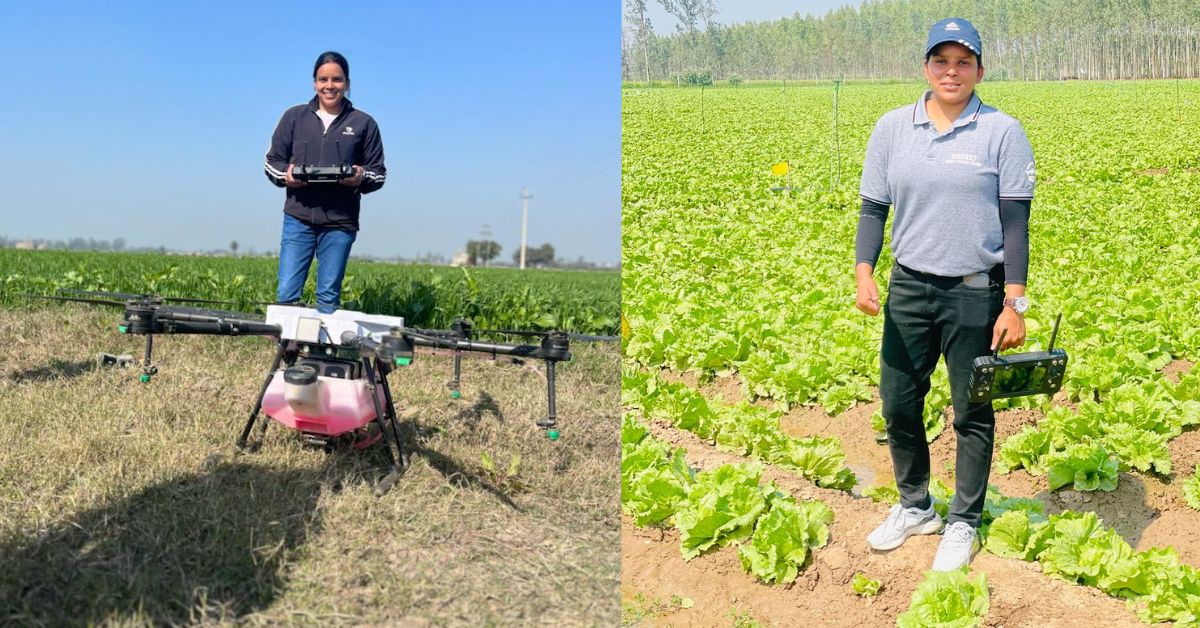 Thereafter, Nisha got an opportunity to work under the Indian Council of Research (ICAR) to give free drone farming demonstrations to state farmers. "We were given a target to cover 250-acre farmland, but we covered nearly thrice the target [over 600 acres] in a year," she says.
So far, she has given about 750 demonstrations, covering almost the entire state including districts like Karnal, Hisar, Ambala, Kaithal, Kurukshetra, Fatehadad, Sonipat, and Yamunanagar.
Drone vs manual spraying
In conventional methods, pesticides are sprayed either manually or with the help of tractor-mounted sprayers where a high quantity of pesticides and water are used. Also, a sizable portion of the spray goes to waste in the environment. However, drone-based spray requires less amount of water as well as pesticides due to better application and bio-efficiency.
Nisha also points out that it is not easy for farmers to go inside tall crops like sugarcane to spray insecticides and pesticides. "When the crops are affected by potato blight, farmers manually spray insecticide. But, there are chances of spreading the fungus further through their clothes as they move along the field," she adds.
Through aerial spray, drone farming overcomes these difficulties. She says drones can be used irrespective of the season and for all crops including cotton, vegetables, potato, mustard, and sunflowers.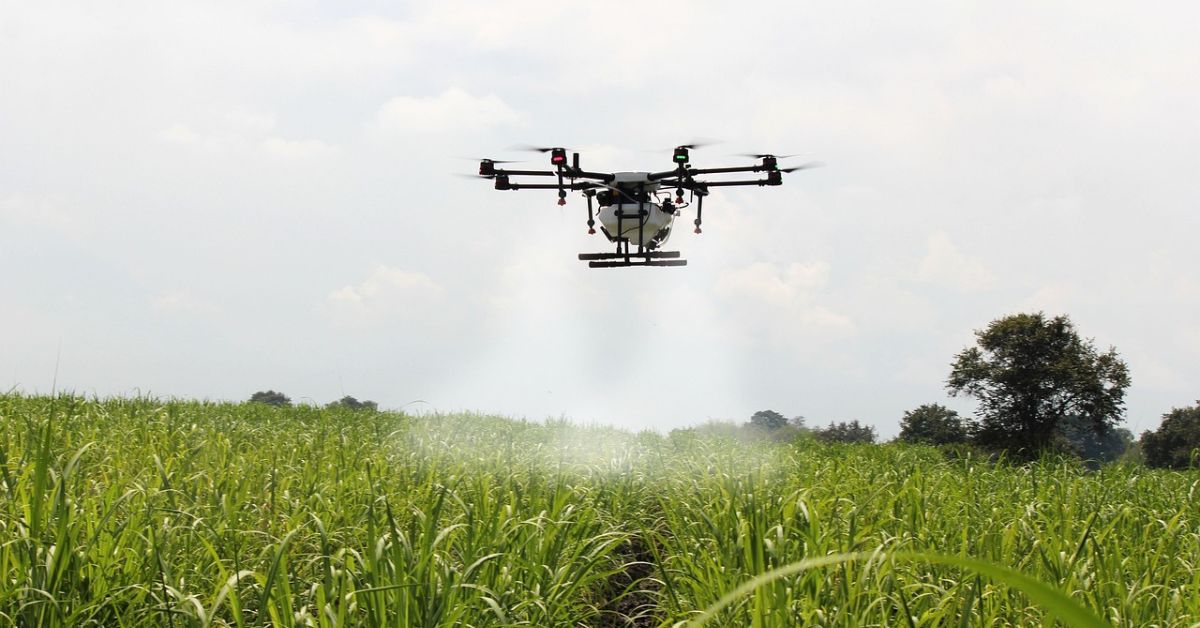 Preventing deaths due to pesticide poisoning
Apart from saving time and water, aerial spraying through drones is also said to reduce health hazards among farmers.
"Farmers carry tanks of pesticides on their backs. Many times, there are chances that the liquid leaks through the tank threatening their health. It increases the risk of skin diseases, irritation, and rashes," she says.
This also resonated in a research paper titled Automatic Spraying Of Fertilizers/Pesticides Using Drone. It notes the main disadvantage of manual spraying is that it can cause health issues like respiratory ailments and cardiac diseases to the farmers. Dermal exposure happens when the skin is exposed to pesticides causing irritation or burns.
Satyender Yadav, deputy director of horticulture, Government of Haryana, explains the harmful effects of chemical pesticides on human and crop health.
He says, "In the Indian context, it is not possible to do farming without the use of pesticides as of now. Its permissible limit varies based on different insects like mites, spiders, caterpillars, etc. In conventional methods, 60 ml chemical is dissolved in 150–200 litre water to spray in an acre of farmland. This dose will reduce in the future."
He adds, "Pesticides are not harmful to crops if used within the permissible limit. After every spraying, there is a waiting period of at least five days, before which you cannot harvest the crop."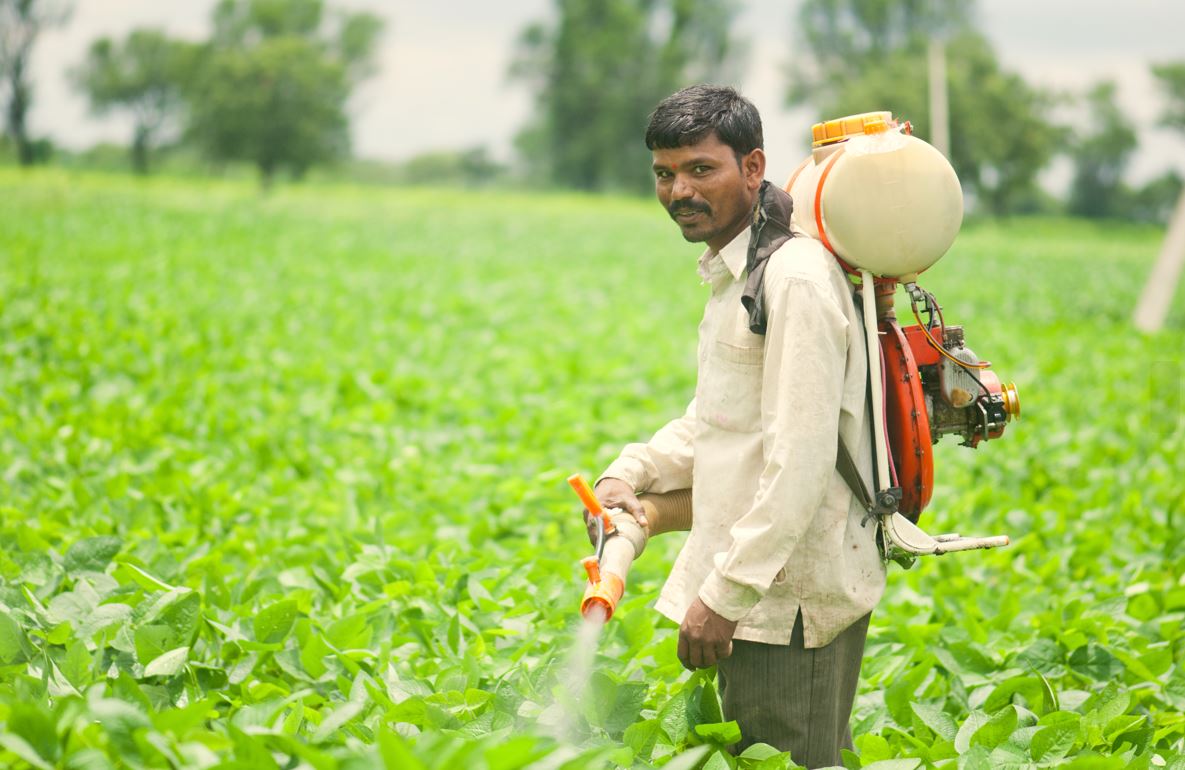 Further speaking about its impact on farmer health, he shares, "Most of the farmers do not use safety gloves, gum boots, and masks during operations. They come in contact with chemicals, especially when they spray in the opposite direction to the wind. Their face and body get exposed to chemicals. Sometimes, they even remove the nozzle of tanks with their mouths, which can result in casualties due to accidental intake," he adds.
The latest National Crime Records Bureau (NCRB) data revealed that accidental intake of insecticides/pesticides claimed the lives of 7,950 people in 2021. Of these, 750 were from Haryana.
Ram Niwas, a farmer who owns a 10-acre farm in Hisar's Pabra village tells The Better India: "With drones, there is no chance of it affecting the skin of our bodies. But when we manually spray the crop, the chemical oozes and it burns our skin."
"Besides, with drones, we just keep standing outside and it does all the work as we sip tea. It takes more than an hour to manually spray the crop while the drone takes just five minutes. We are also getting results in only 10 litres of water over 150-200 litres," adds the 30-year-old farmer.
Nisha has reached out to more than 1,000 farmers in the state explaining the advantages of drone farming.
"I feel great that I am able to help farmers prevent health problems. If you train farmers, they are willing to adopt new technology. We are also getting many enquiries from women who are coming forward to learn drone farming after watching me. Mindsets towards women are also changing," she says.
After the project's completion in March this year, she joined an institute to train others in drone farming. Starting in May, she has already trained seven students.
(Edited by Pranita Bhat)
Sources:
We bring stories straight from the heart of India, to inspire millions and create a wave of impact. Our positive movement is growing bigger everyday, and we would love for you to join it.
Please contribute whatever you can, every little penny helps our team in bringing you more stories that support dreams and spread hope.