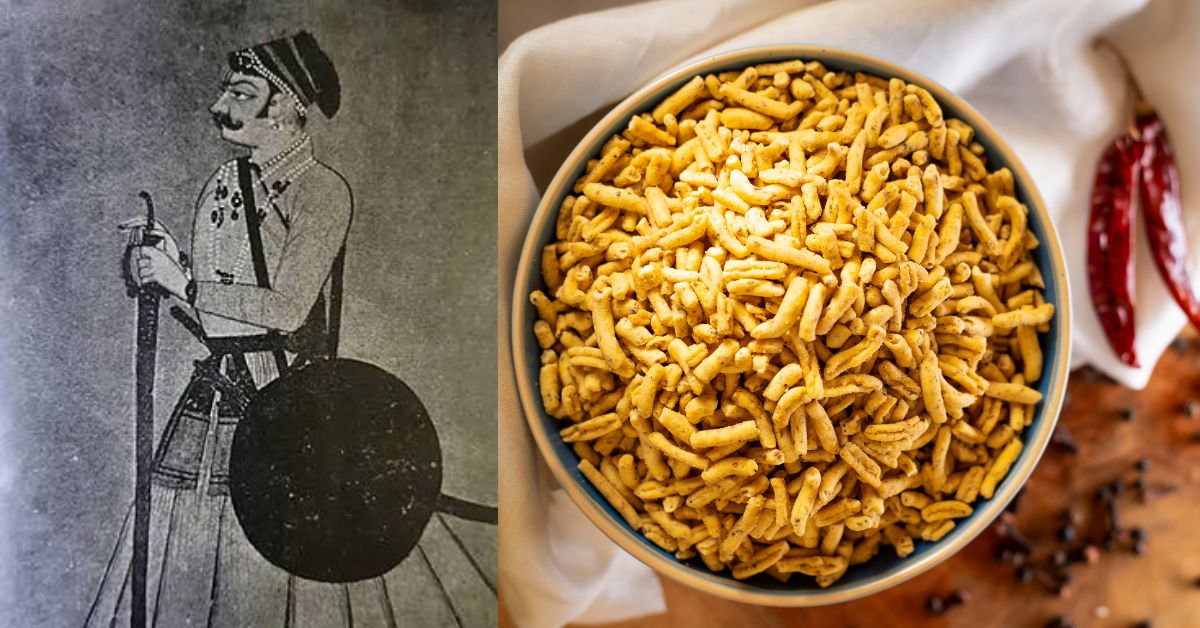 200 years ago in the town of Ratlam, the beloved Ratlami Sev was born. Let's go back a few centuries to learn how this GI-tagged snack came to be.
The peculiarity of Ratlami Sev lies in its versatility. Not only does it make for a delicious standalone snack, but is also an ideal topping on several of our favourite delicacies — from sevpuri and bhelpuri to papdi chaat, dal chaawal, poha, and more.
It's a simple way to elevate even the most mundane dishes, and is a beloved snack not only across India, but also around the world, including Singapore, USA, China and the UK.
The lip-smacking sev is adored for its flavoursome taste and aroma, and although several regions have come up with their own concoction of spices to be added to it, it is primarily prepared with split Bengal gram (chickpea) flour, cloves, and peppers. It's no surprise that at most namkeen shops, you'll find queues of hungry admirers awaiting their turn to receive the hot, light-golden brown fried snack in the typical paper packet.
In 2015, this snack gained the coveted Geographical Indication (GI) Tag. Today, we dive into its history, and just what makes this centuries-old snack so special.
A few hungry men
Ratlami Sev originated in the eponymous Ratlam, a small town in Madhya Pradesh's Malwa region, which was formerly a princely kingdom with a rich culture. Formerly known as Ratnapuri, Ratlam was created by Raja Ratan Singh Rathore — the great-grandson of Raja Udai Singh of Jodhpur — in 1652. Ratram, named after Raj Ratan Singh and his first son Ram Singh, became their capital, and was eventually transliterated to Ratlam.
Meanwhile, the origin of Ratlami Sev dates back to the late 19th century, when the Mughal emperors were on a tour of the Malwa region of the state. During an unscheduled halt, they suddenly felt the craving to consume sevaiyan.
The creamy pudding dessert consumed during Eid is primarily made with wheat, a crop that was unavailable in the royal camp of Ratlam during the period. Desperate to satiate the craving, the Mughals requested the local tribal community of Bhil to make sevaiyan with the locally available gram flour.
And voila! This is what led to the first recipe of Ratlami sev. Originally, the name given to the vermicelli was Bhildi Sev, after the name of the Bhil tribe, who are credited as the snack's original creators.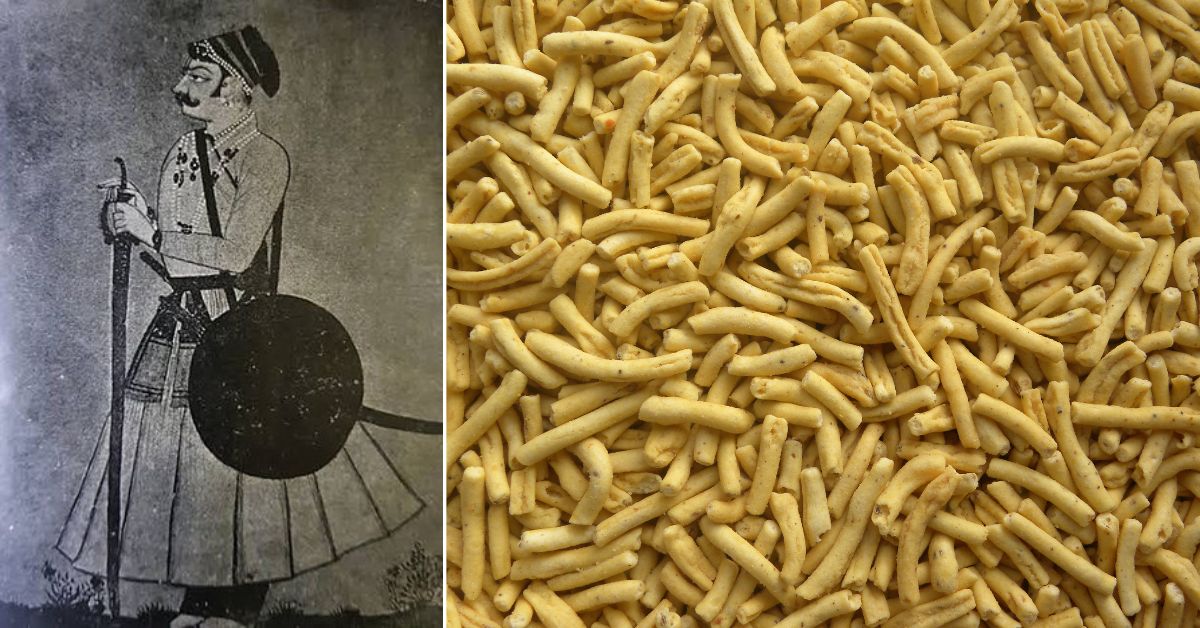 Why it's unique
In the 1900s, local people of the region started commercially manufacturing Ratlami sev. The Sakhlecha family of Ratlam was one of the first commercial manufacturers of the sev. In the early 1900s, the first shop was set up by the Late Shantilal Sakhlecha with his father Late Kesarmal Sakhlecha. Today, several snack companies manufacture the snack in Gujarat and Indore of Madhya Pradesh.
The sev was awarded the Geographical Indication Tag (GI) in 2014-15. As per the application filed for the GI indicator, the applicants — Ratlam Sev Evam Namkeen Mandal — said that "the production of the Ratlami sev had been going on for at least 200 years at the household level, but from the first decade of the last century, it has been commercially produced and marketed."
Though an intrinsic part of the Bhil tribe's history, the snack today has many contenders staking their claim to its manufacturing. A long-standing legal battle threatens to evict members of the community at the hands of large namkeen manufacturers, even as the former's ancestors are the original creators of the dish.
Ratlam's significance in the origin of this dish is not only due to their connected history, but also due to several unique factors like the water, climate, and soil here, which many local bastions of the dish say lend to its crispy, savoury flavour and texture.
How it's made
Ratlami Sev is produced in a wide variety of flavours including garlic, black pepper, mint, spinach, and even pineapple. But the main ingredients used to prepare sev comprises gram flour, clove, black pepper, asafoetida, brown chilly, cumin seed, raw salt and ground nut oil.
Here's a quick recipe by chef Sanjeev Kapoor:
Ingredients
Gram flour – 3 cups
Clove powder – 2 teaspoons
Garam masala powder – 1/2 teaspoon
Carom seeds – 1/2 teaspoon
Salt as per taste
Hot oil – 4 tablespoons
Oil – 2 tablespoons to deep fry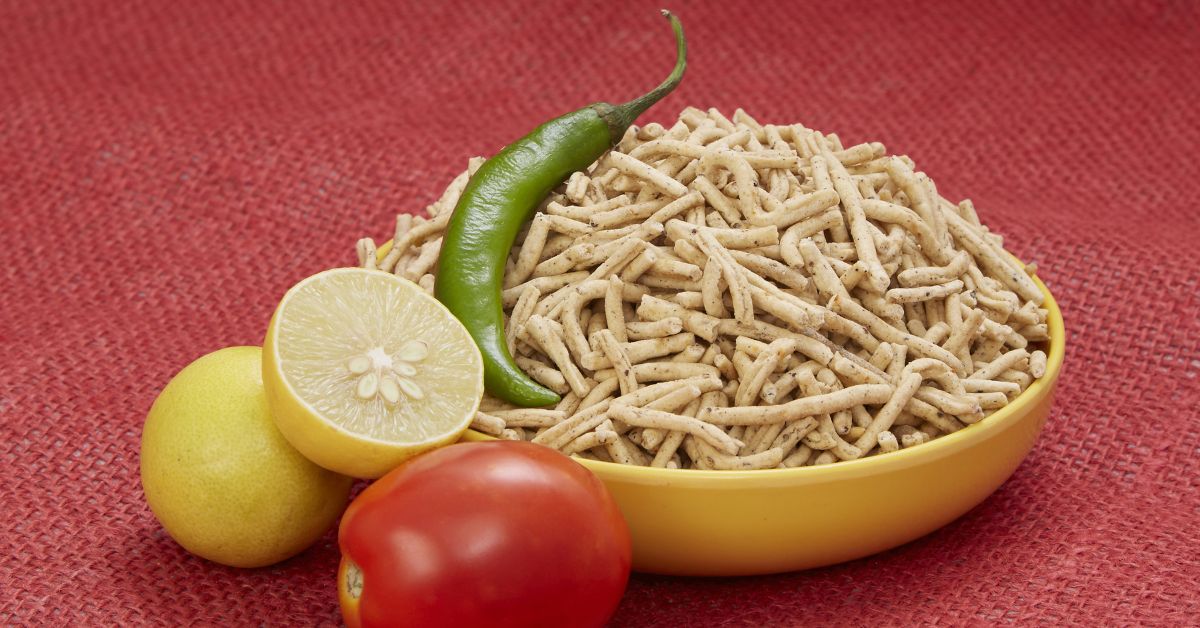 Method
Step 1: Take gram flour in a bowl and add clove powder, garam masala powder, carom seeds, salt and hot oil to it. Add sufficient water to knead the flour into a soft dough. Add two tablespoons of oil and knead again.
Step 2: Heat sufficient oil in a kadai.
Step 3: Grease a chakli press fitted with sev stencil with oil, put a portion of the dough in it. Screw on the lid and press the sev directly into hot oil. Deep-fry it till it becomes light golden and crisp. Drain the sev on absorbent paper and set aside to cool.
Step 4: Transfer sev into a serving plate, crush and serve.
Edited by Divya Sethu
Sources:
We bring stories straight from the heart of India, to inspire millions and create a wave of impact. Our positive movement is growing bigger everyday, and we would love for you to join it.
Please contribute whatever you can, every little penny helps our team in bringing you more stories that support dreams and spread hope.