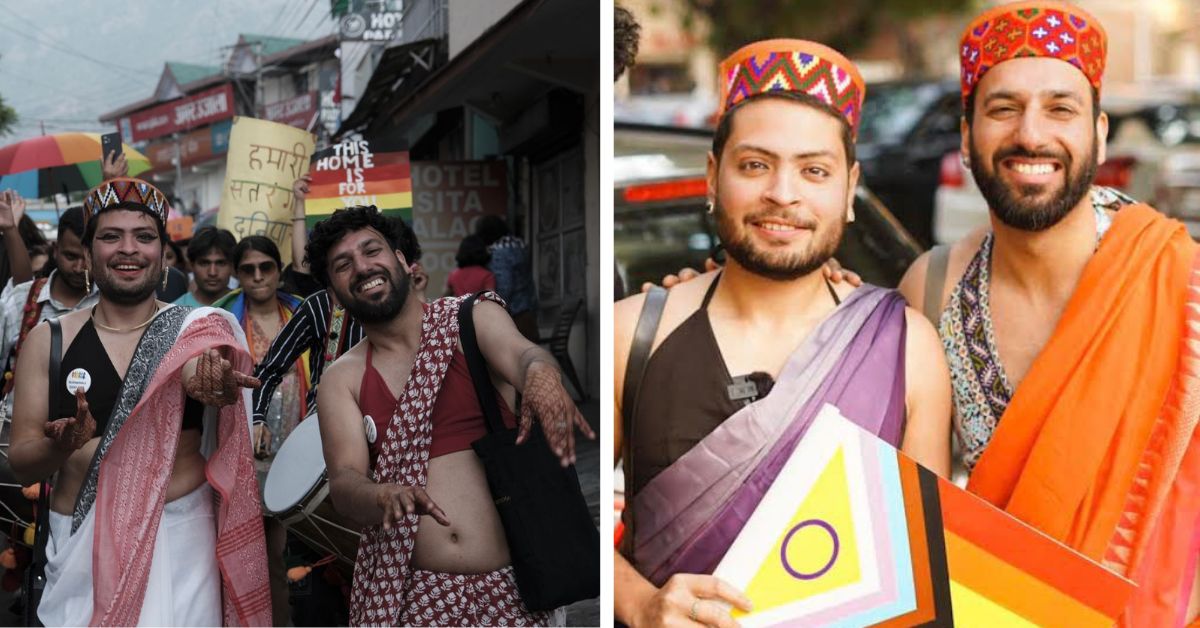 Don Hasar and Shashank's foundation 'Himachal Queer Collective', is helping change rural India's perception of gender and LGBTQIA communities.
Growing up queer in a small town in India is no piece of cake, as Shashank (36), a queer trans person from Himachal Pradesh, discovered early on in life. The vibrancy of the pride parades, the pulsating beats of pro-LGBTQ songs, the slogans advocating for tolerance, solidarity and equality, all common sights in the metropolitan cities, seldom made it to their hometown.
As Shashank attempted to articulate their existence by joining groups tailored for queer persons, about 1500 km away in Kolkata, Don (30) was doing the same. "Don't be fooled by expecting things to be open in metropolitan cities," the latter cautions.
As a non-binary trans person often at the receiving end of homophobic comments, Don left home soon after high school in a bid to find work and a safe space. But these eluded him.
"I soon figured that even places and events that pride themselves on queer activism have a code on who can come to these things. Frankly, I was bored with the same recurring conversations and definitions used by people of privilege," they share.
They began to realise the unsaid obligation that came with being queer — having to translate your identity into words. They couldn't stand it.
'My identity and I would survive even without a vocabulary.'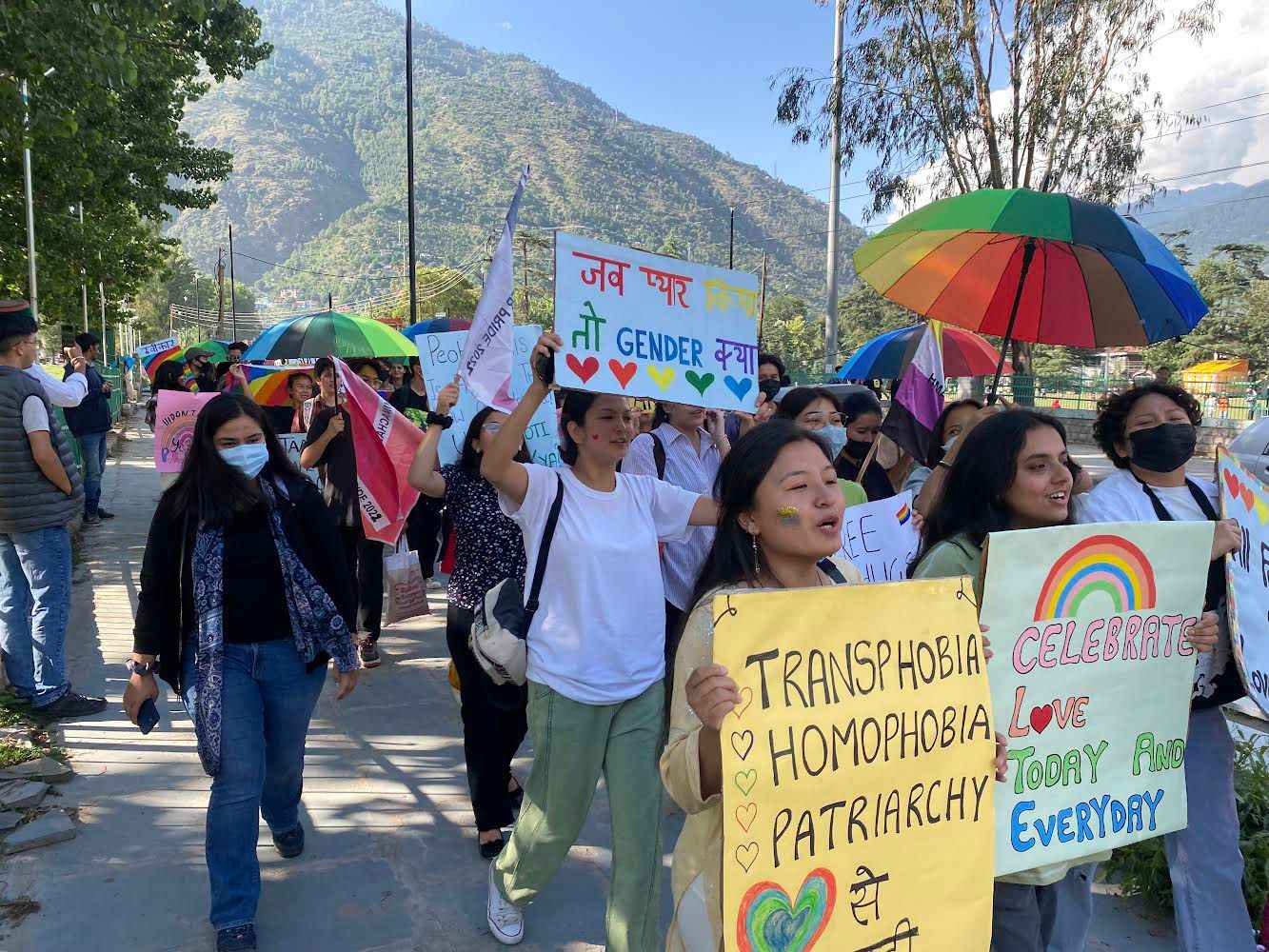 During the second wave of the COVID-19 pandemic, Don began narrowing down on queer-positive places in India that were creating realistic impact in this space. They felt a need for a shift in the way queerness was being addressed in mainstream society, with new conversations and dialogue that did not preach old clichés.
It was during this time that they stumbled upon the Sambhaavnaa Institute in Himachal, which, through its many workshops and programs, encourages activism among the youth while fostering a sense of leadership.
The institute's promise of being an 'alternative learning and living space for those concerned with social and political change' attracted Don, who packed their bags for a five-day workshop, intending to return home thereafter. They never did.
At the institute, Don met Shashank who was exhausted trying to coax queer persons in Himachal to stop hiding behind fake pictures and identities. Things were regressive, Shashank had discovered a few months ago, whilst scrolling through an app that they had just downloaded. Though intended for queer persons to meet and talk, the app's purpose was in vain.
"Most, if not all, had hidden identities along with fake pictures for the fear of being found out," Shashank recalls.
That same year, unable to stay silent anymore, Shashank started the 'Himachal Queer Collective' whilst working at the Sambhaavnaa Institute. When they relayed their plans to Don who joined the institute in September 2021, the latter was elated at finally having an outlet to create a real impact. Months into working at the institute, the two knew they had found their calling.
"We wanted to do what we were doing, but on a 24/7 basis," says Don recalling their overnight decision to quit and devoting their attention to the Himachal Queer Collective.
This was a crucial time for the venture which was planning its first pride walk in December 2021 at Palampur. Up until then, the town had been known for its excellent craftsmanship and pristine landscape. But this notion was set to change. From then on, the town would go down in history as the place that witnessed Himachal Pradesh's first Queer Pride Walk.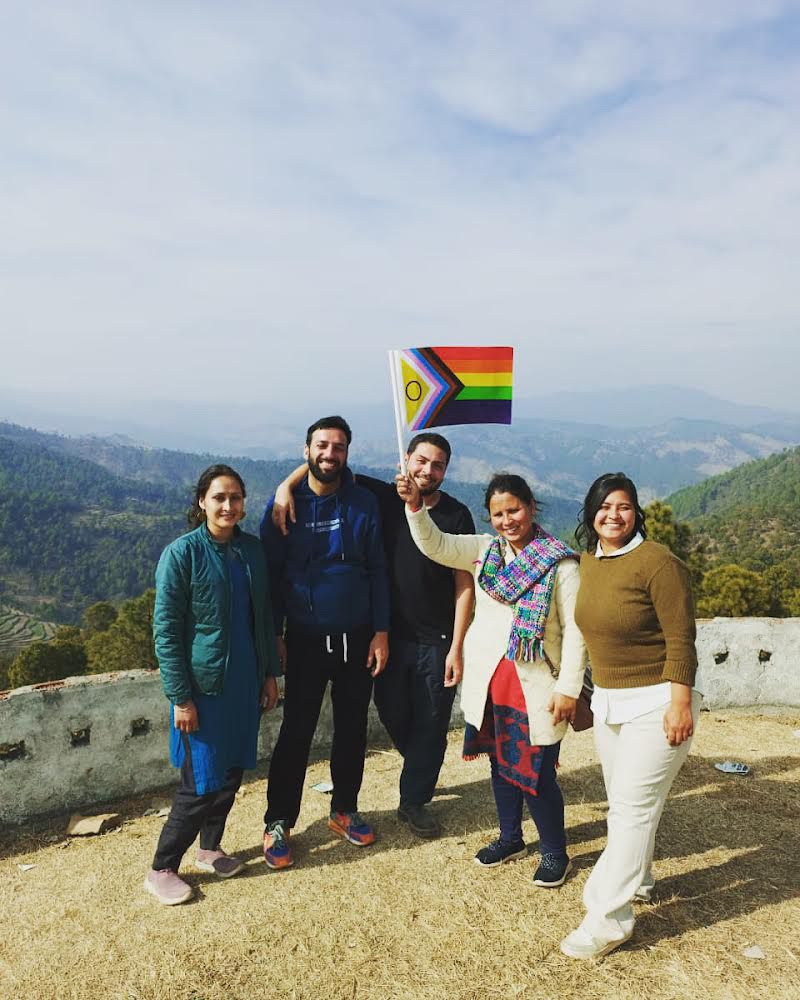 On the morning of 15 December 2021, as crowds, composed of members of the LGBTQ community as well as its allies, thronged the narrow streets, they were showered with an outpouring of love. A town that had shied away from homosexuality, was now echoing its words through songs sung in the local dialect as supporters flashed badges made by the locals. There was pride in every step that day.
As Don and Shashank led the milestone parade, they did not know this would set the stage for numerous other pride walks in the state — the June 2022 pride walk at Kullu, the April 2023 pride walk at Dharamshala, and the June 2023 pride walk in Shimla.
The duo had achieved what they set out to do. Himachal Queer Collective was registered as Himachal Queer Foundation. As Shashank points out, "They say don't include allies in everything but we are trying to build a world where we work with allies."
Envisioning change through the optics of queer persons
For Don and Shashank, the foundation has simply been a road to creating a safe space for the queer community where they can access mental health care and where social and cultural taboos and injustices are demystified.
"Take our most popular program for instance," says Don referring to 'Satrangi Saathi'.
The overarching aim of the program is to create awareness in non-urban spaces about queerness. This is done through workshops in institutions, healthcare centres, panchayats, mahila mandals and anganwadi where topics of gender, sexuality and patriarchy are usually taboo. Broaching these topics is not easy, adds Don. So, they do it through visuals.
"We have blue and pink colour-coded boxes that we use to explain the concept of not fitting into a particular gender. This is a popular activity we employ in schools," Don adds. One of the schools where the program was conducted was the Ranital Government High School near Kangra.
For Gautam, the teacher present in the class during the workshop, this was something novel.
In his 20-year career, he had been approached with numerous complaints of bullying. "But we never thought about it through the lens of gender," he shares.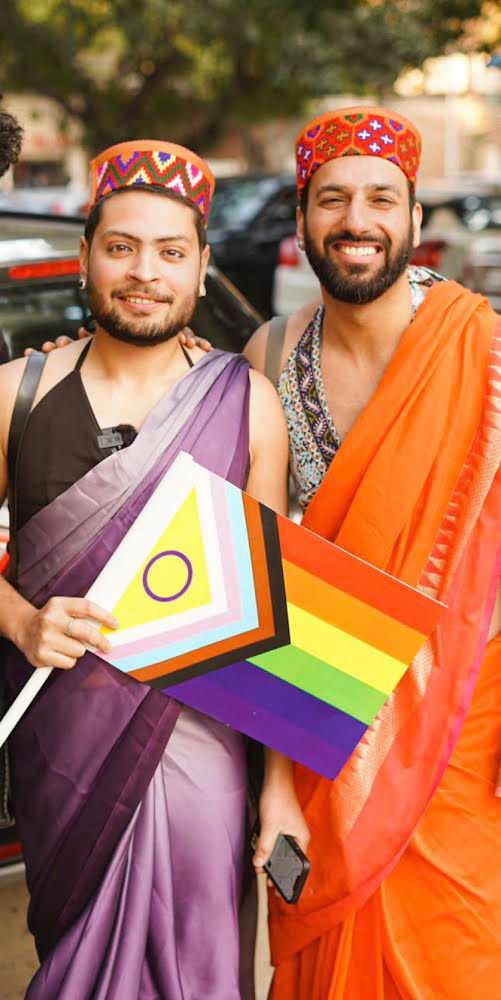 While arming kids with knowledge of gender and sexuality is a commendable step, Don and Shashank felt the purpose would be lost if they were not addressing the legalities.
Their 'Himachal Trans Act Awareness Program' breaks down the Transgender Persons (Protection of Rights) 2019 Act that was introduced to safeguard the rights of trans people. The program sees them creating conversation around the different intersections of issues, identities and livelihoods of trans individuals in India.
Whatever they do, safety is always key at Himachal Queer Foundation. Shashank explains, "A majority of our community members face unimaginable abuse, harassment, bullying and other kinds of violence while growing up. It stays with us for a huge chunk of our lives."
In these dark moments, their mental health workshops act as a space to help queer persons address these wounds whilst reconstructing their way of looking at themselves and the world.
"Apart from this, we have mobilised funds for psychologists and counsellors who provide queer affirmative mental health care, free of cost," Shashank adds.
Anu, a social worker who has been tending to cases of violence in remote areas of Kangra, says these workshops have been an "eye-opener".
"We have always seen gender in binaries," she shares. These workshops, she adds, have emphasised the need to protect people who do not fit into boxes given by society. "In rural areas, there is no awareness and hence violence is more common."
Ask her how she deals with these cases on a daily basis, and she responds, "There are challenges. But everything done for the first time comes with challenges."
'Any stone thrown across the river will create ripples.'
The duo was clear in their motto at the inception of the foundation. While they would focus on Himachal Pradesh and adjoining areas, they wanted the ripples of change to be witnessed by queer persons the country over.
Their gender fellowship program sees to this. The year-long orientation trains youth from Uttarakhand, Punjab, Jammu & Kashmir, and Madhya Pradesh, to understand intersectionality. It then equips them to work in their respective states on these issues. The travel and accommodation are taken care of as part of the programme.
This experience has been wonderful for Daya from Uttarakhand who recently completed her fellowship and is now a Project Associate at the foundation. "I love the sense of belonging," she shares.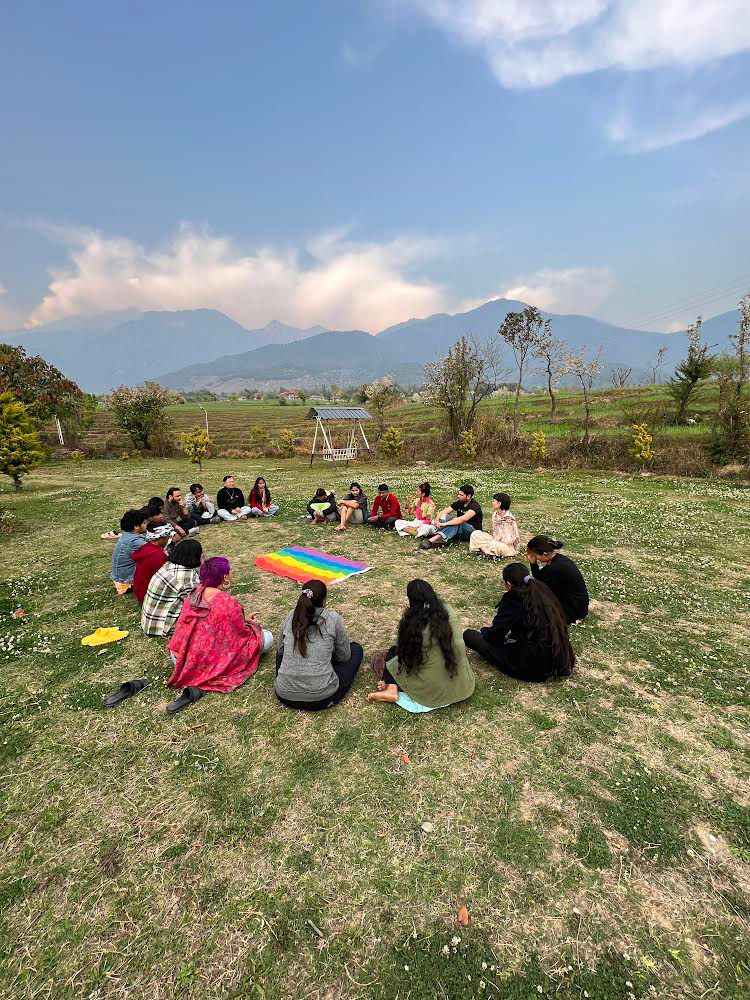 She adds that the lack of discussion about the queer community in rural areas is a serious concern. "In fact, queer people are also unaware of their own identity and laws and remain suffocated in the boxes created by society." But the programme helps her help them.
The foundation's initiatives are not limited to championing change only for the queer communities. Through their 'Bobo Diya Gallan' (conversations among sisters) programme, they give pahadi women a dais to speak about crucial topics. This is vital, says Don, who elaborates that an emerging pattern in Himachal is of men in the family migrating to cities for jobs, leaving the women behind. The programme is designed to give these women a platform to voice their opinions on matters beyond their gendered roles.
"Everything comes down to the women – the responsibility of the house, the kids, and the in-laws. But in spite of women running the home, their perspectives are not taken into account when important topics such as climate change or economy are spoken about," they add.
Today, the impact of Himachal Queer Foundation's work is seen in Kangra, Kullu, Shimla, and 65 other villages in Himachal, subsequently impacting "over 30,000 people". While initially bootstrapped, the foundation is presently funded by organisations across India advocating for LGBTQ rights.
Looking back at how it all unfolded, Don is stunned at what they have managed to create.
"The last thing I imagined when travelling for this workshop was that this would be my home. Sometimes there is a beautiful plan that we know nothing about."
Edited by Padmashree Pande.
We bring stories straight from the heart of India, to inspire millions and create a wave of impact. Our positive movement is growing bigger everyday, and we would love for you to join it.
Please contribute whatever you can, every little penny helps our team in bringing you more stories that support dreams and spread hope.
Tell Us More