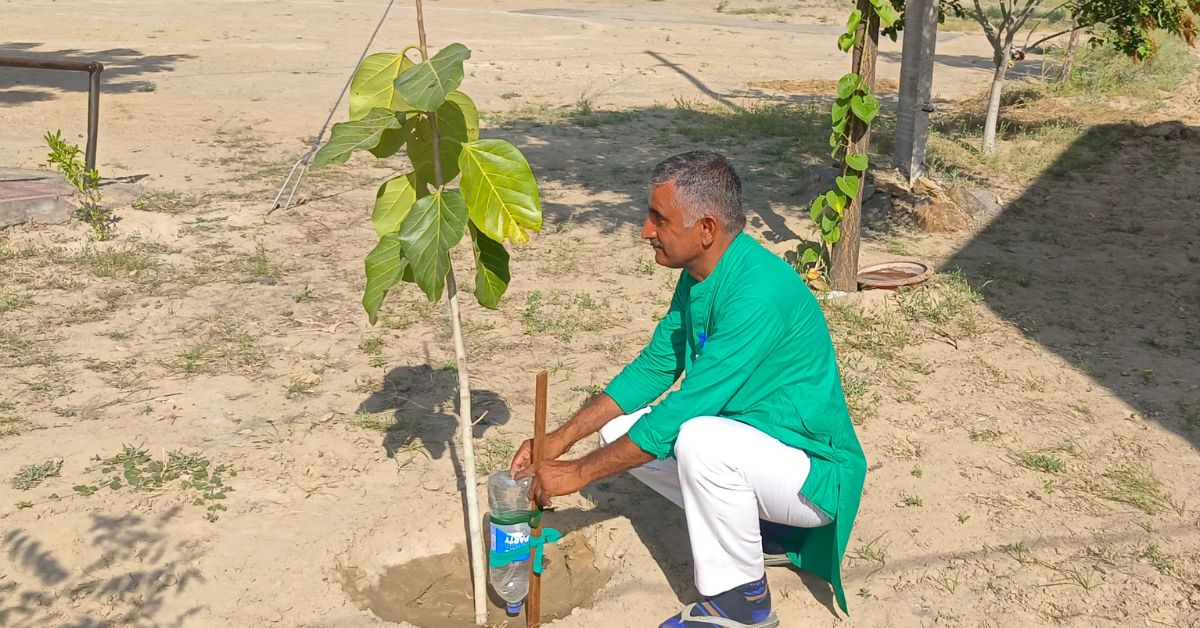 A government school teacher in Rajasthan, Bheraram Bhakhar has planted more than 4.28 lakh trees to prevent desertification and maintain Thar's ecological balance.
Before dawn breaks and the village comes to life, Rajasthan's Bheraram Bhakhar wakes up early to enjoy the fresh air while sitting on his charpoy at his farm, surrounded by tall, lush trees. He takes great joy in knowing that he has overseen the planting of over 4.28 lakh trees across the state.
"By now, we have already experienced irregular monsoons and catastrophic heatwaves. In West Rajasthan, the temperature shoots up to 48 degrees Celsius in summer. We see birds and animals die agonising death when they do not get water or shade. It is only because of trees that we are able to survive," the 45-year-old government school teacher tells The Better India.
"Since childhood, we were taught that roti (bread), kapda (clothes), and makaan (house) are necessary for life. But what would we do if we did not have praana vayu (oxygen)? Trees are like hara sona (green gold)," adds the Barmer resident.
For nearly three decades, Bheraram has been planting thousands of trees across the Thar desert to prevent further desertification. What is unique is that in this rare feat, he has engaged at least 1.3 lakh citizens to promote the concept of family forestry and letting trees thrive. "I could not have planted lakhs of trees alone. I motivated others to join me and become part of the jan andolan (mass movement)," he says.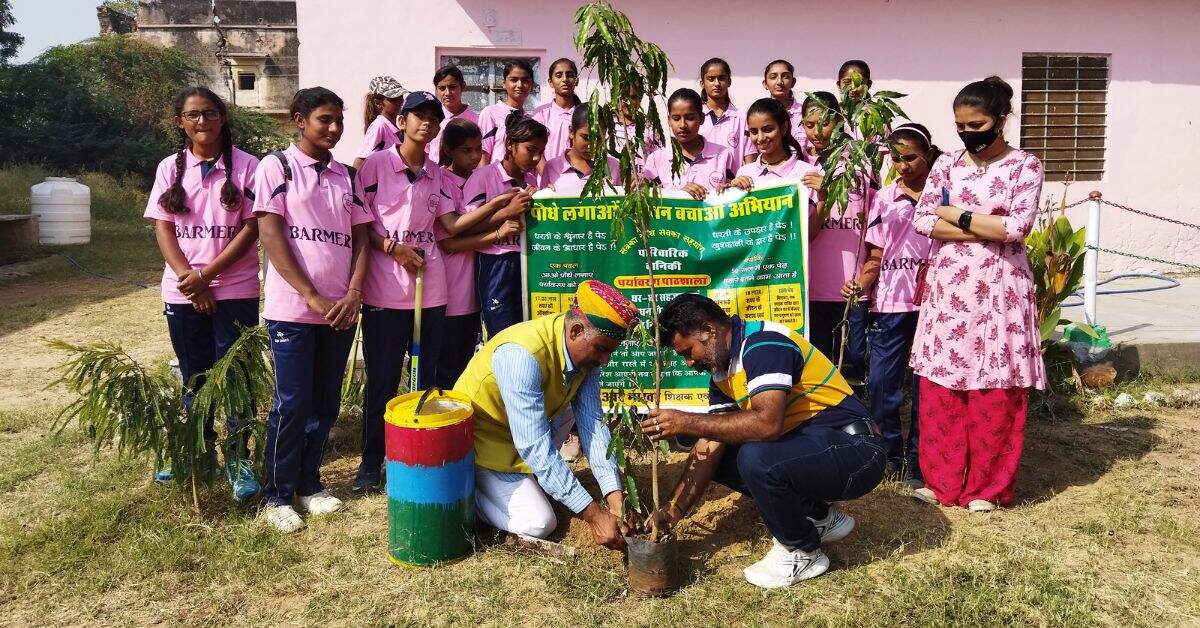 How a college eco-activity turned into a mass movement
At the age of 21, when Bheraram went on a college trip to a park near his village, he saw numerous trees and sat under their shade for hours. "The chowkidar (guard) informed us about the importance of flowering plants and native trees and how we would benefit if more trees were planted," he recalls.
"We were so motivated that we bought some 50 saplings and went to plant those on the ground. That day when we retired to our beds, we felt immense satisfaction of having done something good. Before this, we had only studied the importance of plantation drives in books!" he adds.
Along with a few friends, Bheraram decided to curtail reckless expenses and invest in plantation drives. He was so motivated to the cause that in 2002, when he got his first pay, he used the entire month's salary of Rs 3,500 to conduct a plantation drive. Years later, today, at the age of 45, he continues to dedicate one month's salary to plantation drives.
As part of his monthly meetings with teachers, Bheraram, lovingly called the 'tree teacher', would motivate them to take part in plantation activities. "The more we worked, the more people would join us. Initially, they were all from the village. But eventually, we expanded our group by including citizens from other blocks also. By 2011, we had expanded to other districts like Bikaner, Jaisalmer, Jodhpur, Sikar, and Alwar," he says.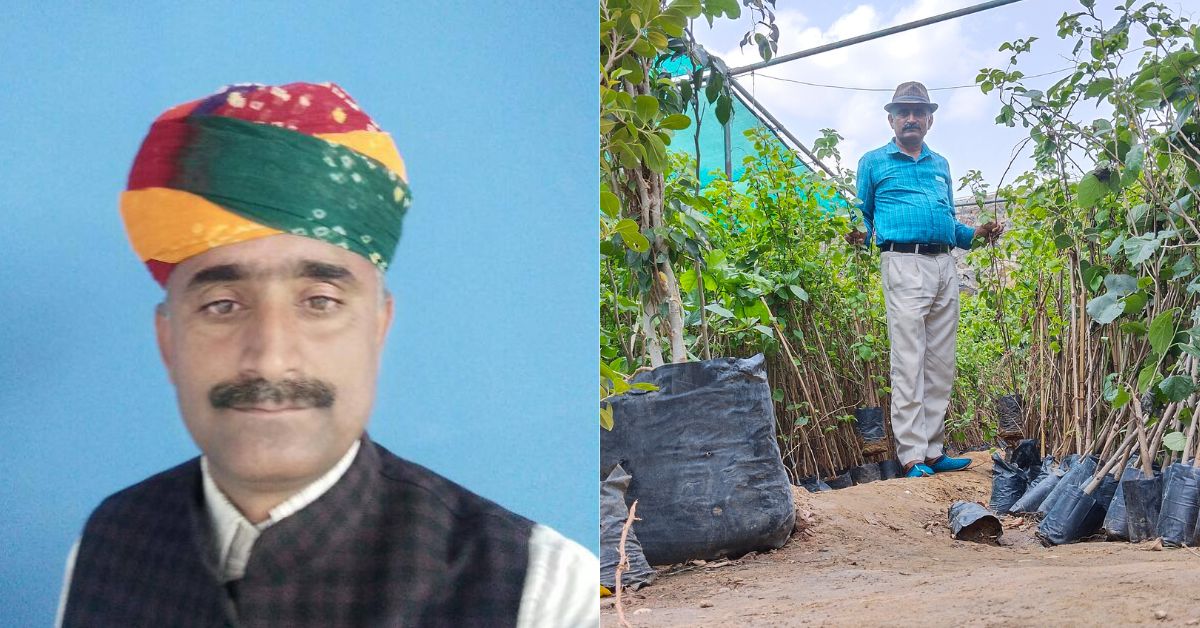 To encourage people's participation, Bheraram would gift saplings at weddings, retirement parties, and birthdays. "Other guests would come with bouquets. I felt these flowers dry in a few hours and turn into waste. But by gifting plants, I wanted to raise awareness among people about the importance of planting trees. Many people mocked us but many others joined us. We did not realise when our small efforts added up and soon transformed into a jan andolan," he shares.
The 'unstoppable tree teacher'
Through the Whatsapp groups, Bheraram selects regions with less tree cover. Then, a team is formed to work on the ground. Soon after, he visits the place with a truckload of saplings.
"Planting a sapling is not an achievement but making that plant thrive into a tree is. Any sapling needs to be taken care of for up to three years. As an individual, I could not plant many trees with a regular job. So, I involved communities to further the initiative at a large scale," he says.
"We would reach out to local people and motivate them by organising nukkad nataks (street plays). Once people are motivated, convincing them to plant saplings is easier. To achieve this, first, we evoke positive emotions and a sense of ownership among people for the saplings they will plant. We ask them to pledge to protect the saplings until they become trees," he says.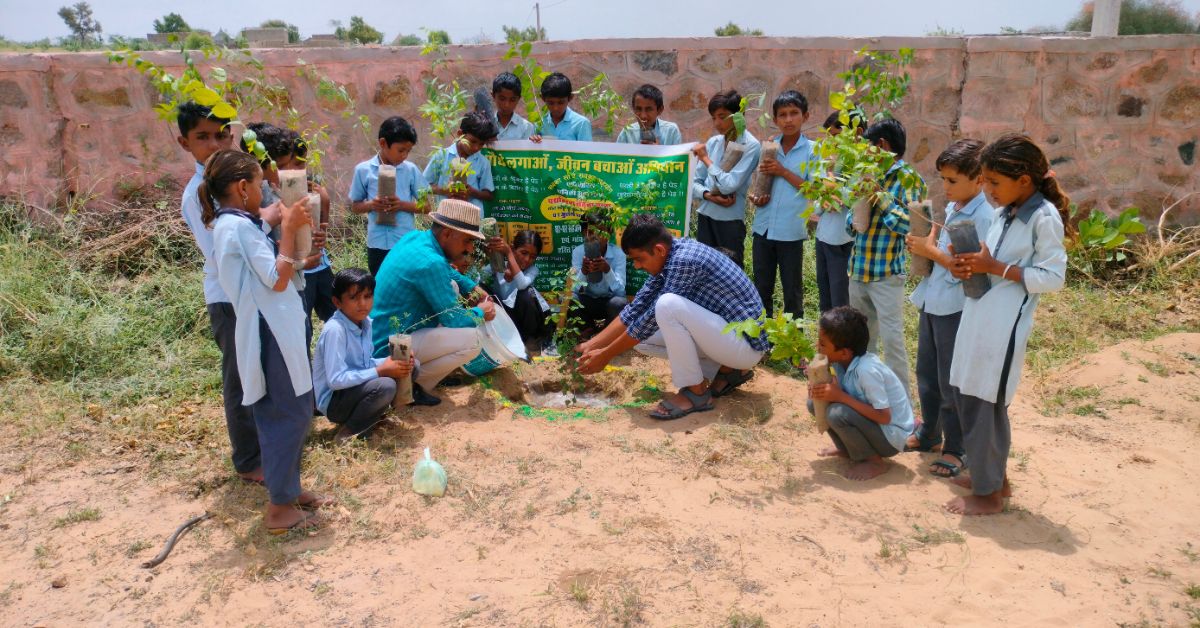 Bheraram says that he conducts plantation drives only when they are assured of active community participation. "Sometimes, people lose interest even after taking the pledge. It is a waste of our efforts and resources if these saplings do not survive. So, we monitor the progress by conducting regular offline meetings as well as Zoom calls. We maintain records of our plantation drives at the village, block, district, and state levels," he adds.
The 'tree teacher' says that the survival rate of their saplings is up to 90 percent. He plants native trees like jaal, khejri, khair, gumbad, guggul, and trees like neem, peepul, jamun, and guava.
He informs that the team sources the saplings at Rs 2 from the state government nurseries. This year, Bheraram says, he bought 28,000 saplings to plant in public places like schools, playgrounds, and crematoriums.
Most of these saplings are planted during the monsoon — July, August, and September — as chances of survival are better.
"Monsoons are a busy time for us. Usually, we conduct plantation drives in holidays, but in these months, we especially take leaves to further the drive. Everything is done through community collaboration, whether it is to source saplings, get water tanks, or manage transportation costs," he adds.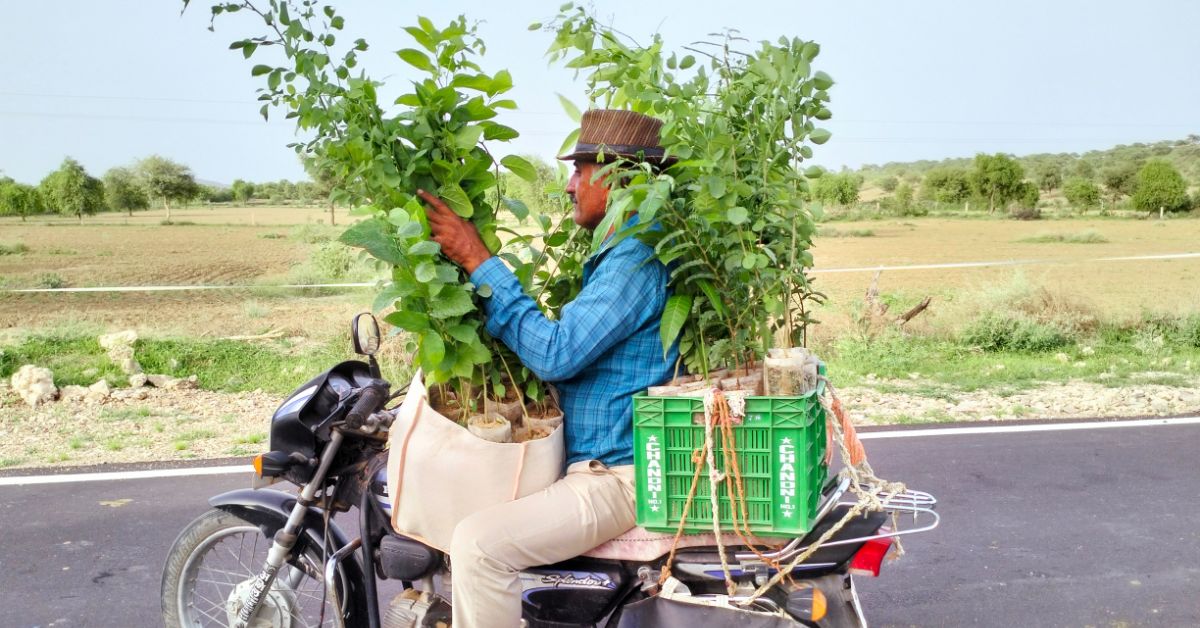 Shravan Jagid, who lives in Shiv block of Barmer district, tells The Better India, "We are really inspired by Bheraram ji. He works relentlessly and travels on his bike carrying saplings. Seeing him motivates me to further the plantation in my block. When the pandemic struck, we planted several trees on five-bigha area of our school land in our block with community participation. Each and every tree is thriving today."
Like Shravan, about 1.3 lakh people across Rajasthan were motivated by Bheraram, who has travelled more than 30,000 km on his bike to spread awareness on plantation drives.
For his work, he was recognised by the state government in 2019 and multiple times at the district level in 2017, 2021, and 2023. However, the humble teacher does not believe in getting recognition in the form of awards.
"I am not doing this work for awards. Planting trees is like an addiction to me. Sometimes I wonder if I should stop for some time, but I fail to do so. When I revisit the plantation sites and watch the saplings grow into trees, it gives me immense pleasure," he adds.
Edited by Pranita Bhat. All photos: Bheraram Bhakhar.
We bring stories straight from the heart of India, to inspire millions and create a wave of impact. Our positive movement is growing bigger everyday, and we would love for you to join it.
Please contribute whatever you can, every little penny helps our team in bringing you more stories that support dreams and spread hope.
Tell Us More