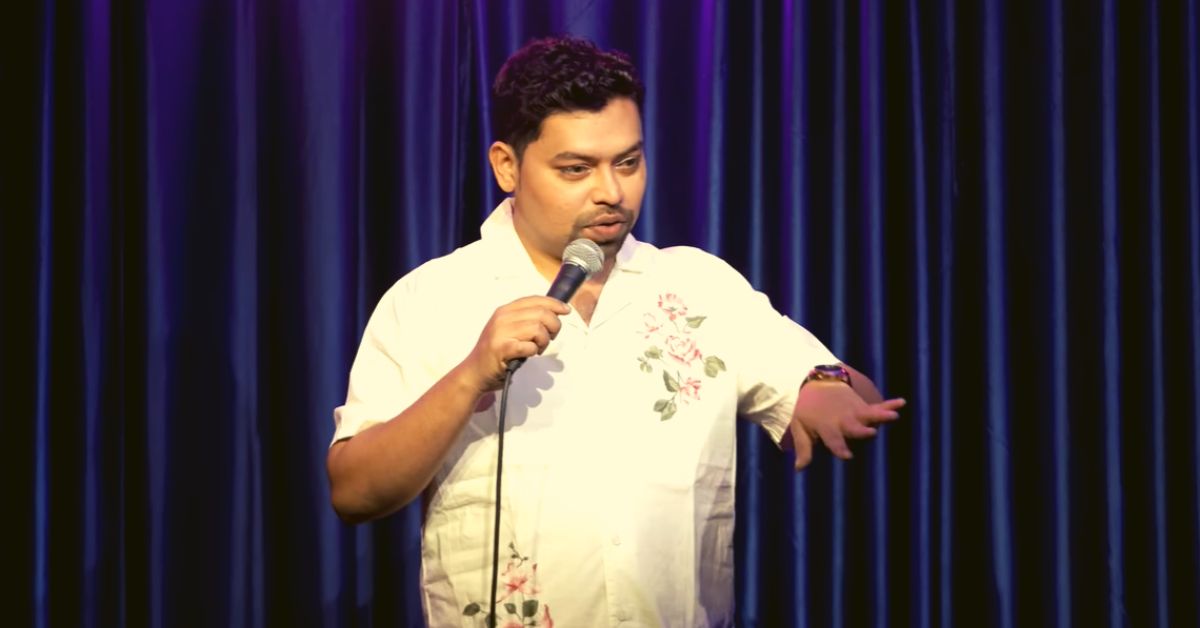 As a proud LGBTQ+ comedian, Navin Noronha embraces his identity with pride and uses his platform to challenge stereotypes and create a more inclusive society.
Navin Noronha, a 31-year-old stand-up comic and podcaster from Mumbai, was 14 when he knew he was queer (gay). But he was also raised as a staunch Catholic.
"I tried to first do away with that [feeling attracted to boys] by joining Bible camps. When I was in Class 8, a lot of priests coming to our church recognised me as a very talented and outspoken child. At a very young age, I was groomed to become a Catholic priest. But that's when I realised I like men and that duality set in. So, I didn't say anything about it for a very long time until I was 19," recalls Navin, speaking to The Better India.
Navin first came out to his best friend Amit, who he knew since they were 10. "We already knew each other very well, although we were never friends who spoke about personal stuff. So, when I came out to him, it was only a matter of fact. I just kind of came out to him and nothing changed after that because that's what being gay is really. People who know you, know you for who you are. What gender you sleep with barely makes a difference to them in the long run," he says.
By the time he was 21 and in his third year of college, he had come out to most of his friends. He says he felt the need to tell all his friends and acquaintances that he was gay because he had begun feeling left out from their conversations.
"I also wanted to chime in, but that's when people would share weird notions of what gay people are with me. Listening to them, I found some of their notions of gay people to be hilarious. They had no idea about gay people and how we exist. That became the subject of my first comedy set," he recalls.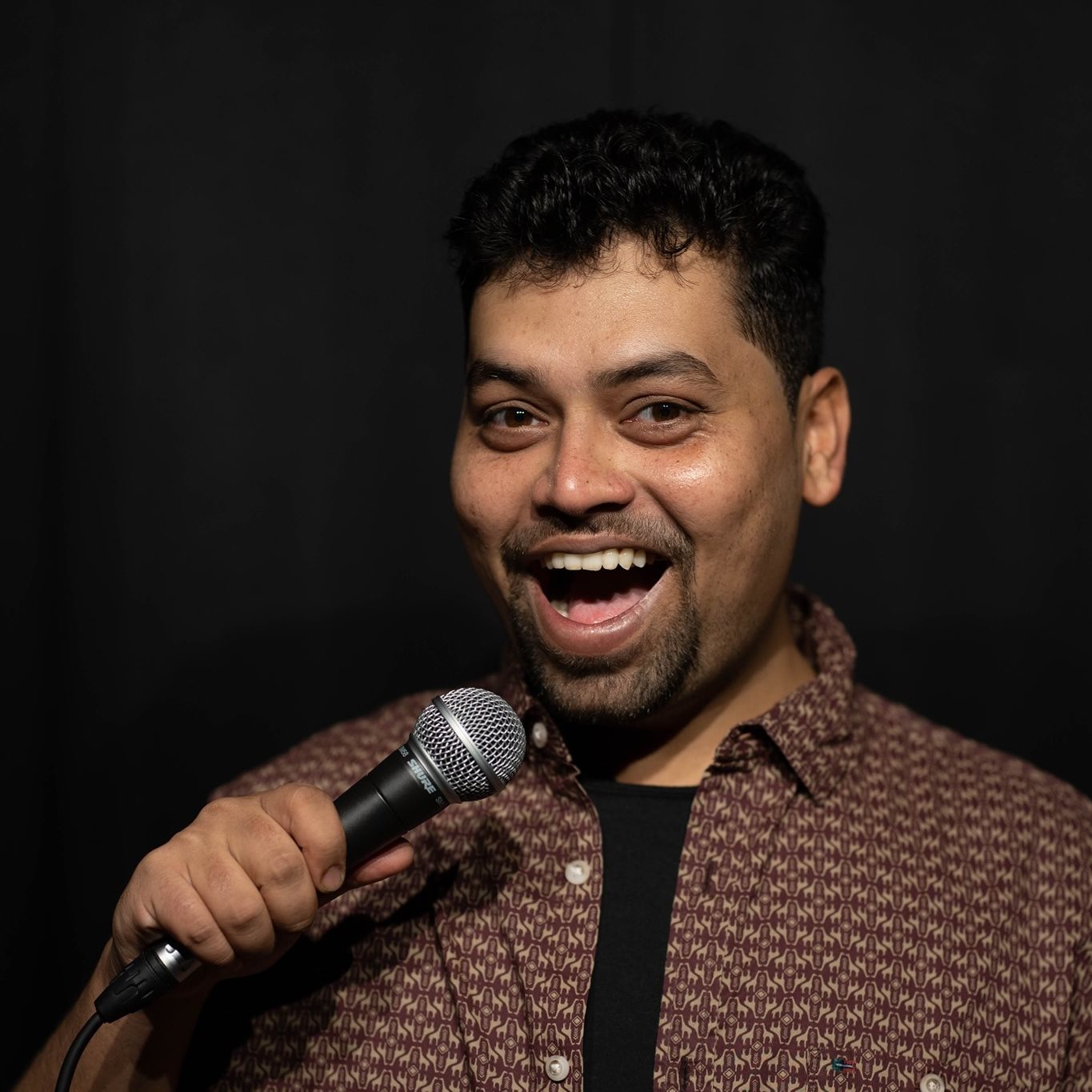 Queer comics 
When Navin was 23, he started doing stand-up comedy seriously. During these open mics, he'd take all these notions that his friends had of gay people, and turn them into jokes.
Since he came out to his friend 12 years ago — and began performing as a full-time comic eight years ago — a lot has changed. After years of touring, he released his first special 'The Good Child' on YouTube in late June 2023. In the meantime, Navin has not only spread laughter, but also curated a lineup of LGBTQ+ performers. They went on tour to Delhi in June and Mumbai last month.
"Before the pandemic, there were only a couple of us comics — including Ayushi Jagad, Manvendra Singh, Ankur Tangde and I — who were openly talking about our queer lives. Today, we have about 20 comics who are out and proud.
"We have done sold out shows in Delhi and Mumbai, and are looking to do the same in Bengaluru and Kolkata," notes Navin.
He says that it takes grit, money, and resources to set up these shows. "As queer comics, we want to create spaces where other queer people can just vibe, thrive and nobody can tell us anything. I live for that. What we have done over the last few years is try our best to make this a safer space for the coming generations. Today, a lot of venues are pro-queer rights like Depot 48 in Delhi. Another example is the Social chain of cafes, which has been so proactive. They host the Queer Comedy Mic for us too. These are small steps, but we're doing what we can joyfully," he adds.
Furthermore, Navin utilises his public speaking engagements to address corporate and educational spaces, fostering understanding and inclusivity for queer individuals in professional and academic environments. His impact extends far beyond the Indian comedy circuit.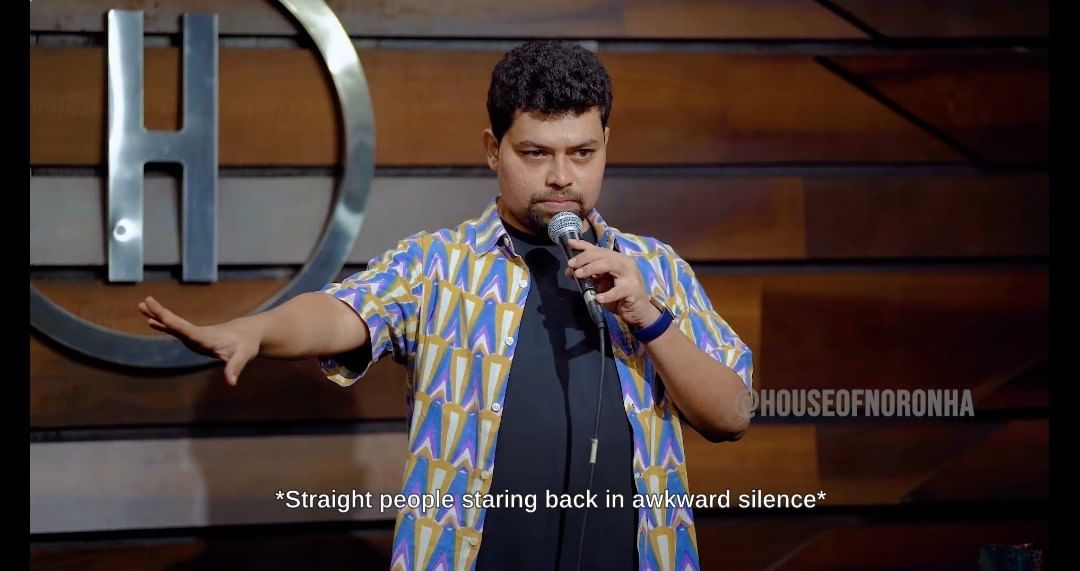 'The more I delved into my queer self, the more I realised that this is my reality'
Starting out, Navin wasn't really fearful of talking about his sexuality, and credits some of his 'seniors' in the business for giving out useful pointers.
"Our senior comics — Kunal Kamra and Sapan Verma for me — would advise us that 'Maybe perfect that one five-minute set'. In the open mic circuit, there are so many of us performing at the same time that you also have to stand out. I knew that being queer on a given lineup was definitely going to be a standout because nobody [in the audience] knew," he recalls.
The first five-minute set Navin tried to perfect was about his coming out experiences. However, his set was initially not doing well. Paying Rs 300 to just travel from North Bombay to South Bombay and an additional Rs 300 to perform an open mic set at the Canvas Laugh Club initially didn't seem like a worthwhile pursuit. Naturally, some doubts had begun to creep in.
"Allaying my doubts, comics like Sapan and Kaneez (Surka) were kind enough to say, 'Maybe break it [being gay] down for straight people'; 'Maybe they don't know what the concept of top and bottom means'; or 'They [straight people] don't know what Grindr is. They [straight people] have no idea about queer people in this country and how they live, right?'"
"These pointers made sense. My first idea was that the 5-minute set has to become a 10-minute one because I'm going to break everything down slowly, and therein the humour came," he says.
In his recent special, you'll see Navin explaining top and bottom [sex positions] to people. These jokes are the outcome of trialling them for years before implementing them in real time.
"So when I say jokes like, 'Kerala is bottom, Delhi is top', it's a call back to the audience but it's also an inbuilt joke as well. The demographic of the country also is very vivid in terms of sexual preferences. The 'top and bottom' joke has become a reel on my Instagram handle. If you read the comments section right now, it's full of gay people trying to hook up with each other. What I like about queer culture is that we somehow find a way to thrive," explains Navin.
Taking the straights to gay school.

My full special is here: https://t.co/H9W4FYuVnj pic.twitter.com/Ml5xm3p3OW— Navin Noronha (@HouseOfNoronha) June 27, 2023
Besides finding new avenues to tell jokes, Navin has over the span of his career found a way to completely embrace his lived experiences. Early on, there was trepidation about revealing his past and the circumstances he was raised in. He didn't tell people about growing up in a chawl in Golibar road, Santa Cruz (East), until the age of 7 and moving out to Bhayandar, an unfashionable suburb outside Mumbai, because everybody looked down upon these places. In the early days, Navin argues how the comedy scene in the city was "very elite-South Bombay and Bandra boys talking about their Tinder issues".
"When I stepped into comedy, I couldn't tell them that I was from Bhayandar. But then the more I delved into my queer self, the more I realised that this is my reality. I was born in a chawl and I did have to take a bucket to a common toilet stall every morning. That's the reality of so many people in the city. You can't deny it. The more I owned up to that reality, the onus was on me to be truthful as well as funny by tagging a punch line at the end of it," he notes.
'Apne mein chalta hai, bahar jaake mat karna'
In his recent special 'The Good Child', Navin narrates a hilarious story from his childhood growing up in a chawl in Golibar road. In this particular segment, he recalled how there were just five common toilets for hundreds of families living in his chawl.
So, one morning as a five-year-old, Navin stepped out with a bucket of water and walked towards the common toilet stalls to do his business. Unable to control his bowels, however, he released portions of his excrement along the passageway. Later in the day, a collection of 10 neighbourhood aunties stood outside his home complaining to his mother about what he did.
After hilariously denying his son's involvement in the crime, Navin's mother tells him something that he would hear again years later — "Apne mein chalta hai, bahar jaake mat karna (do whatever you want within the confines of your private space, just don't do it outside)".
Years later, when he finally found the courage to come out and introduce his partner to his mother at 27, she didn't reject his queer identity, but did say one thing — "Apne mein chalta hai, bahar jaake mat karna".
Fast forward a couple of weeks and it was Pride Month in Mumbai. Navin and his partner were photographed kissing each other on the front page of Bombay Times.
Thanks to a cousin he dislikes, a screenshot of that photo was shared on the family WhatsApp group. Furious at the rest of the extended family finding out that her son is gay, Navin's mother once again repeated that maxim, and kicked him out of the house. Despite the initial pain, there was also a sense of relief for Navin. He and his partner ended up finding an apartment and started living together.
"Look, I don't want to be called a pioneer of queer comedy or anything like that. I'm not a spokesperson for the queer community. I'm saying this is my story and the question is whether we can relate on different issues and share in each other's happiness or misery. The bit on 'Apne mein chalta hai…' is not just a queer thing, but represents a much bigger picture of how South Asian kids live. If people can connect to the fact that coming out to your parents at any level is difficult, then we've won on that front," he says.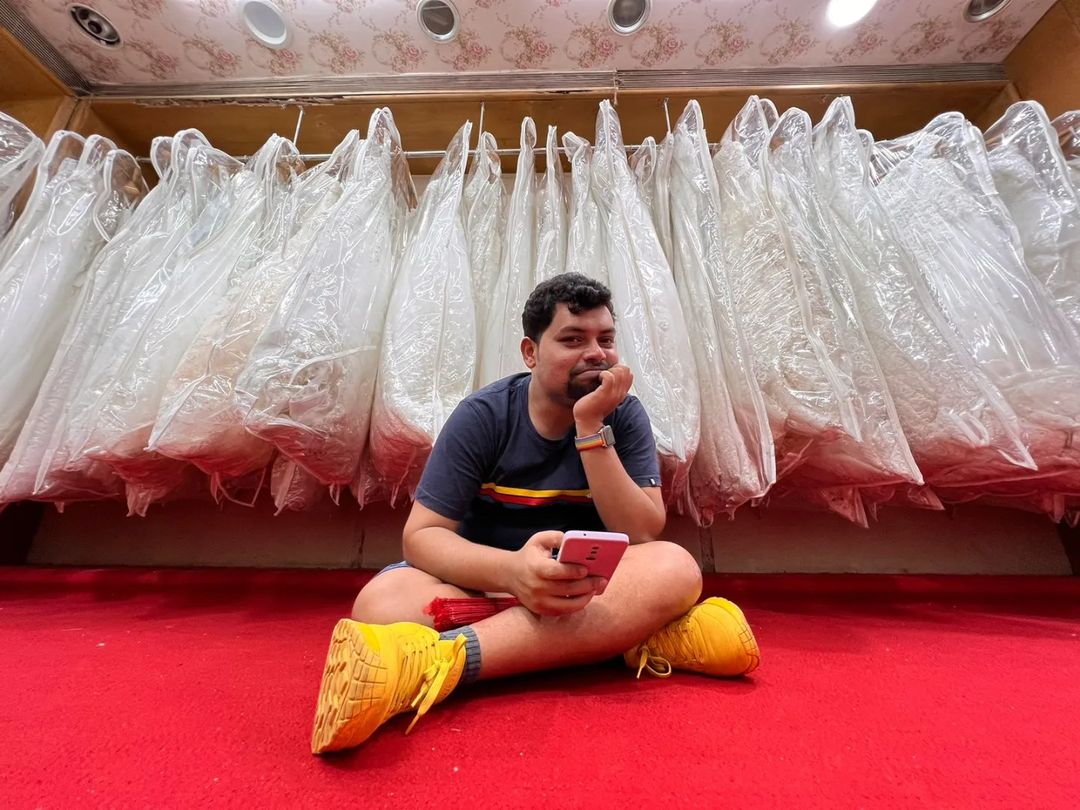 Family, acceptance & gay marriage
Equations with the family, particularly his mother, have in fact improved since he was kicked out.
"When I went back home recently for Christmas, my mom said, 'Every kid should leave their home by 18-19 because then they will become somebody; they'll at least find individuality'. My mom recently understood that if we let our children be, they'll find their voice and identity. I'm still very close to her. We have calls almost every alternate day, but she also knows to give me space now. She has taken [my queerness] in her stride as well," he says.
Navin's work has come to speak for itself. Besides some of his comedy clips or live sessions going viral online, he has also been invited for several festivals and appeared on multiple publications, and people in his neighbourhood recognise him for his work. For example, he represented Queer comedy from Asia in Australia during the Spice Night shows in February 2020, becoming one of the first Indian queer artists to do so.
"I bought my parents a TV recently with my Pride Month earnings, so they can't say anything. (laughs) Now, my partner comes to cake-cuttings for birthdays and I get to visit his family as well. It has taken a while for things to get here," he says.
Among other reasons, this is also probably why Navin is closely observing proceedings in the Supreme Court on the issue of legalising same-sex marriage.
"My partner and I have been together for five years, set up a house together, set up a family together and take care of each other and our families, but we don't have the privilege of having a joint bank account or, if I'm dying tomorrow, my partner can't visit me or make important medical decisions for me. That makes no sense to me. We are so stuck up with this [outdated notions of traditionality]. There is a reason why I'm so proactively talking about it and so entrenched in that public discourse because nobody did that for us. So, now we have to do it," he says.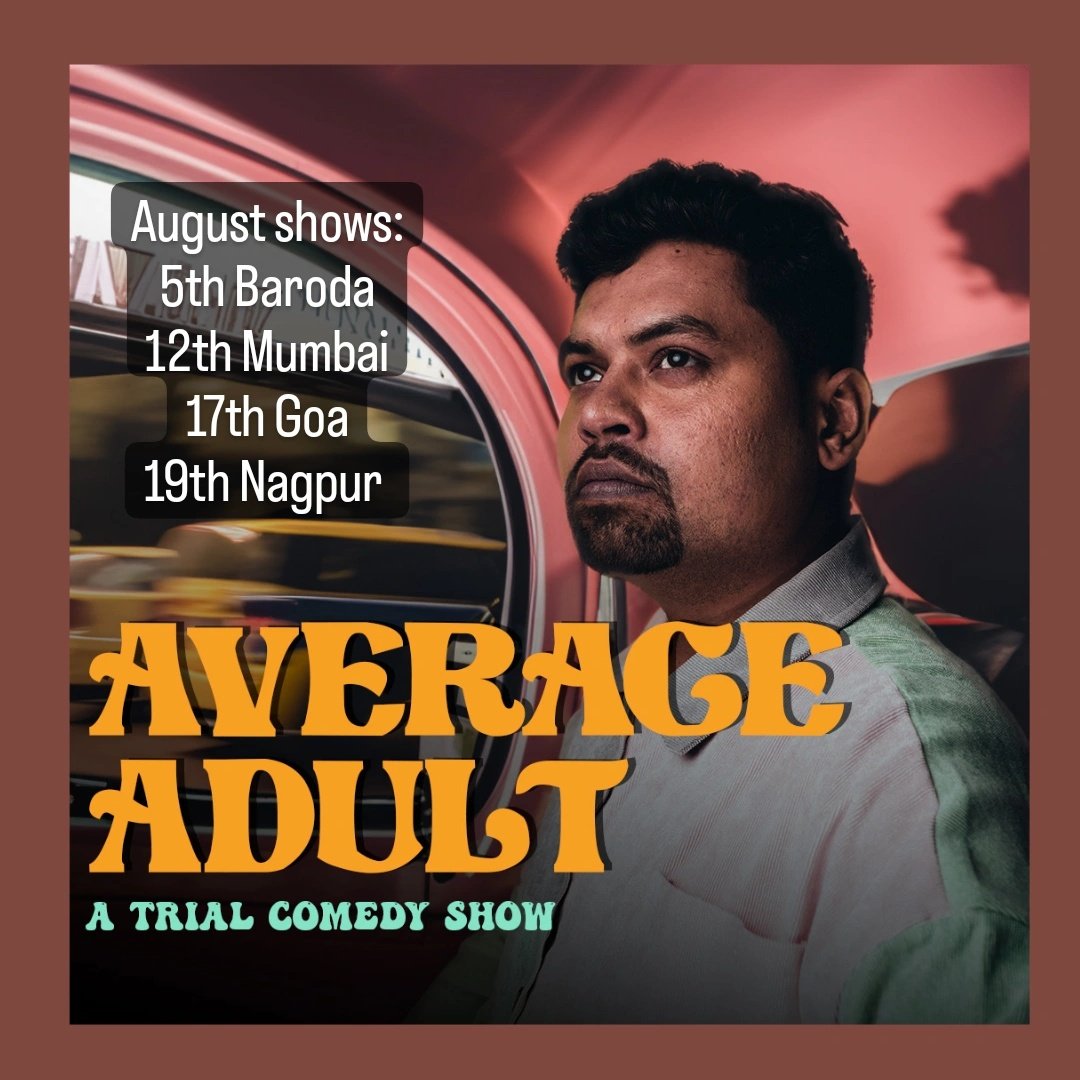 Risque comedy, hope for the future
In creating a haven for queer people who can just laugh and be themselves, Navin has built a special environment. "Queer people are bringing other queer people to my shows. My special sold out primarily through word of mouth because half the people at the show were queer. Apart from my solo shows, when we do the line-up shows, more people show up because of the diversity in the lineup and the other comics bring in their fanbase too. We have comics from across the LGBTQ+ spectrum, and the scene is developing for the better," he says.
Moreover, he also sees hope in the younger generation. "Unlike our generation (millennials), Gen Zs have their photo, biodata, Instagram link, Spotify link and sometimes even a link to their HIV test results on their social media handles. I envy them. What I love is that they have access. Growing up, we didn't have YouTube, TikTok or Instagram, i.e. an outlet [where we could express our queer identities]. For me, comedy was an outlet."
"Many of them are so fierce with makeup. I never had the courage to wear makeup in my younger days. Today, you have young drag queens, drag kings and gender benders putting themselves out there," he says.
"Having said that, there are a lot of people who are still getting kicked out of their houses for being gay and they're still facing a lot of the same issues we faced. But what the queer community has now is a more prominent public voice and a face with important changes in the law to protect us. Also, there are so many nonprofits working behind the scenes to assist queer people in times of trouble. My job is nothing in comparison to all the people on the ground like the lawyers and activists who are filing these appeals and public interest litigations (PILs) in these landmark cases for queer rights. My job has been more on the sidelines like a jester saying 'hey look at us' and 'we exist too'. I'm hopeful for the future because every generation moving forward is gradually breaking down barriers for queer people," he adds.
(Edited by Divya Sethu; Images and Reels courtesy Navin Noronha/Instagram/Facebook)
We bring stories straight from the heart of India, to inspire millions and create a wave of impact. Our positive movement is growing bigger everyday, and we would love for you to join it.
Please contribute whatever you can, every little penny helps our team in bringing you more stories that support dreams and spread hope.