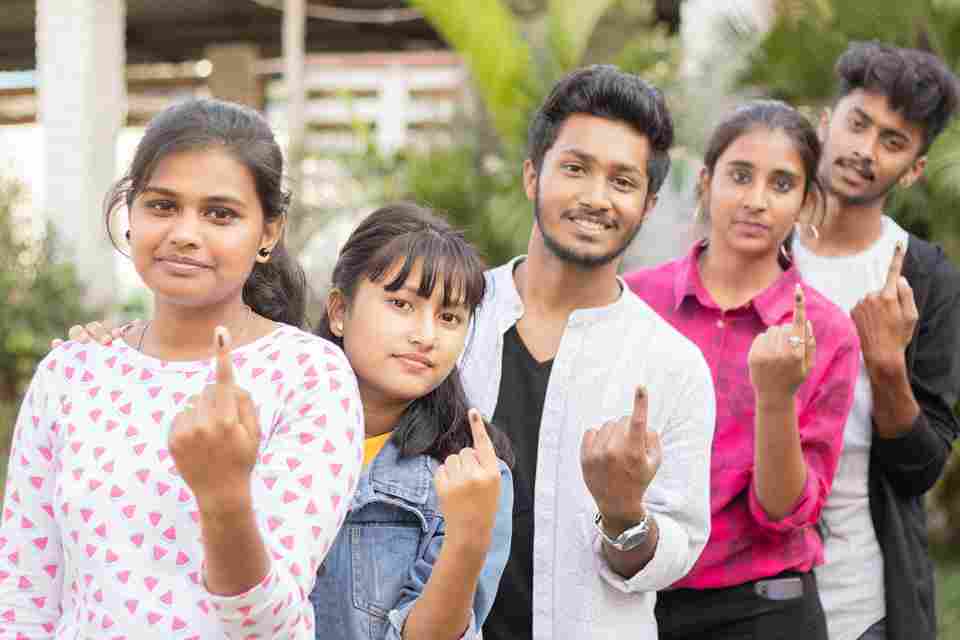 Kuviraa, a nonpartisan organisation found that schools and parents were reluctant to speak to their children about politics. In a study done with UCLA social welfare department, they highlight the gaps in raising socially aware young people in India.
​​Growing up as a young girl in Mumbai in the 1990s, nobody spoke to me about politics nor did I have a safe space to ask questions or discuss policy issues. Unlike adolescents today, we did not have access to the internet or social media.
My journey towards political awareness started in my early 20s and I only wish it had started earlier. I started thinking a lot about how women were represented in politics when I had the opportunity to work closely with the Delhi government in 2018. I saw only a handful of women around me, but the ones that I did see were extremely inspiring.
If we want to bridge the gender gap in politics, I believe that it is important to create a safe environment for young girls to have political discourse. They also need to have access to neutral political information, and with that goal in mind, I started to research women's representation in Indian electoral politics and began our work at Kuviraa.
Kuviraa is a nonpartisan initiative that works to build political leadership and civic action in adolescent girls across India. Our goal is to make politics accessible for young people and create spaces for dialogue.
I wanted to understand what young Indian girls thought of politics and if they were even interested in getting involved. Although there was some research done in the global context, we found no data on political interest or engagement among Indian adolescents to start off with.
Through interviews with adolescent girls, parents and school leaders, we learnt that politics was not an aspirational career choice for many in India because of the stigma attached to it.
We found that schools and parents were even reluctant to speak to their children about politics. Some teachers whom we interviewed told us that we were welcome to speak to the students about policies but not politics as it could be divisive.
To improve political representation and engagement, we need to spark political interest and civic action at a young age. For this, we wanted to understand the scale of the problem and decided to conduct a study with researchers from the University of California, Los Angeles' Department of Social Welfare.
Sara Wilf, the lead researcher on this study, explains how the study aims to fill the knowledge gap between gender disparities in political interest and engagement across adolescence and young adulthood in India.
"I was thrilled to work on this research with Kuviraa and their brilliant volunteers who care so deeply about this issue. I'm excited that this study both gives practical recommendations for parents and educators to increase female political engagement, and identifies many pathways for future research into a topic that is critical for equity and democracy," Sara adds.
Key research findings
Our report 'Talk Politics to Me' unpacks the concept of Gendered Political Socialisation, which sheds light on the complexities of gender disparities in political interest and its influence by factors such as family, social media and news, among other important insights.
A mother of a 14-year-old girl from New Delhi says, "We avoid discussing politics with her because of how badly it is covered in the news and its tendency to address issues through the lens of social justice."
Many girls may encounter perceived limitations in their political aspirations due to gender stereotypes and societal expectations. Conversely, boys may be encouraged or empowered to take risks, leadership roles and engage more actively in politics. Addressing such influences at an early age is crucial to foster inclusive political participation.
We also had a school trustee from Chennai tell us that a class 10 student from their school aspired to be the Prime Minister of New Zealand as she saw Jacinda Adern as a role model. I thought it was extremely sad that young girls in our country think it is more achievable to become the Prime Minister in a country other than their own.
A 16-year-old girl who took our survey adds, "Due to the misconception that only men can be politicians, a lot of women don't put a thought into becoming a politician."
Another 17-year-old female respondent to our survey says, "Getting nominated by one's own party members itself is difficult to begin with for a woman due to the general preconceived notion that a man does the job better without any emotional connect. People trust a man more than a woman in a position of power and they believe that a woman isn't mentally strong enough to tackle issues and work on par with her male counterparts. Hence, even if nominated, getting the public to vote for a woman is difficult because of their low trust in a female figure of authority due to their stereotypical views and an inherently patriarchal mindset."
A 17-year-old male respondent adds, "It's more difficult for female politicians to be successful since they don't get equal opportunities as men and even if they were to be on the same platform, Indians, including women themselves, have a tendency to look at them as "inferior" or "weak" compared to men." This sentiment was also echoed by another 18-year-old male participant of the survey.
The interesting part of the study was that our team of research volunteers consisted of young girls and women between ages 15- 21, who worked on the analysis of open-ended responses. This helped us identify trends in the responses of their peers.
As India gears up for a general election in 2024, educators, the civil society and philanthropists must come together to create an enabling environment for future and first-time voters as we cannot have a truly functional democracy without the youths' participation and engagement.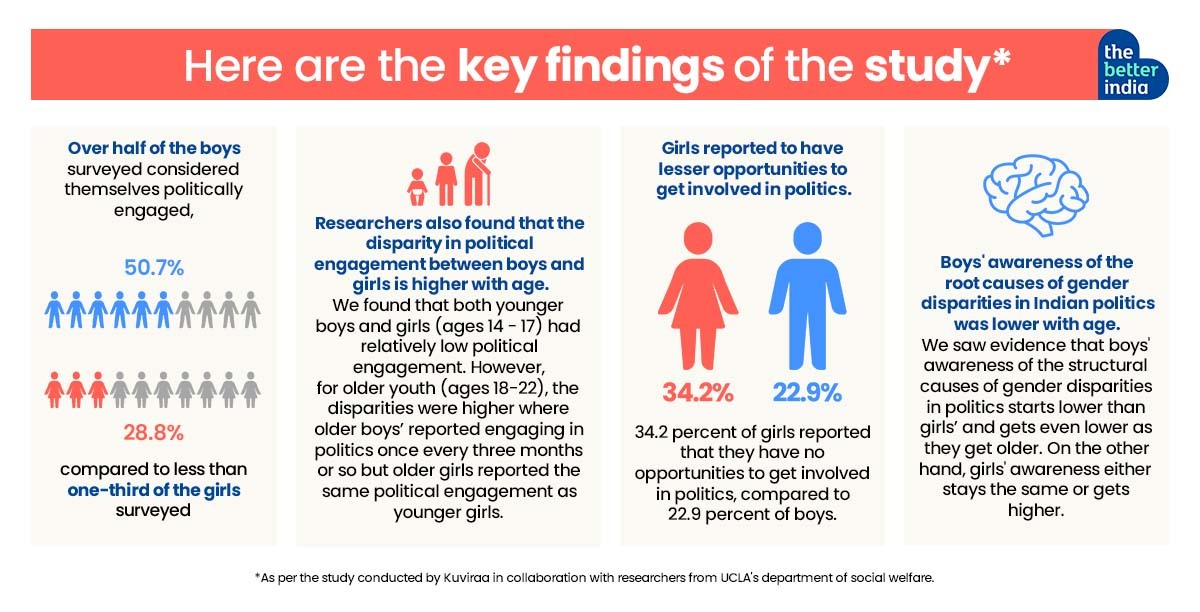 Recommendations for parents and caregivers
Here are a few recommendations for what parents, schools and caregivers can do to increase political interest and engagement among adolescents:
Create safe spaces for dialogue on politics at home and school: We found that youth had higher political engagement if their parents encouraged them to participate in politics. Young men are more likely than young women to be socialised by their parents and society to think about politics as a career path which may be one reason we see a lower political participation of women beyond voting.
We interviewed a father of a 15-year-old girl from Mumbai who said that he uses events that change the course of the world to discuss political issues and takes opposing views than his daughter to encourage her to read more so she can form a strong argument against him.
Hajer Sharief, a Libyan peace and human rights activist, introduces a simple yet transformative idea – parents can teach their children about political functioning by giving them a say in how their households are run, in the form of regular family meetings where everyone has an equal say and learns to negotiate their demands and put across their feelings. This way young people, both boys and girls, learn similar skills and have the same space to discuss and deliberate.
Create structured opportunities for girls to lead and highlight women politicians: Schools play an important role in supporting the political development of young children and through such activities, they can increase their interest in civic action. 'Action civics', where students learn important civic skills and then lead their own initiatives, has been shown to increase a student's sense of civic competence and agency (LeCompte et al., 2020).
Kuviraa's flagship 'Ambassador Program' gives girls an opportunity to participate in mock elections through a campaign simulation exercise and creates a platform for them to interact with women political and civic leaders across parties and government levels.
Identify structural sexism and how it impacts all genders: Structural sexism and gender stereotypes can influence young minds into thinking that certain fields are only for men or that women cannot be good leaders.
Dr Emily Setty, who has conducted a research on misogyny influencers on social media, suggests that adults need to offer young men the opportunity to play a positive role in identifying problems with misogynist beliefs, as well as developing other ways to view their place in society. Pune-based Equal Community Foundation, conducts a 'behaviour change program' that raises gender equitable boys by equipping them with peer support and leadership skills through a series of structured interventions in communities across India.
This article was written by the Kuviraa Organisation.
Edited by Padmashree Pande.
We bring stories straight from the heart of India, to inspire millions and create a wave of impact. Our positive movement is growing bigger everyday, and we would love for you to join it.
Please contribute whatever you can, every little penny helps our team in bringing you more stories that support dreams and spread hope.
Tell Us More