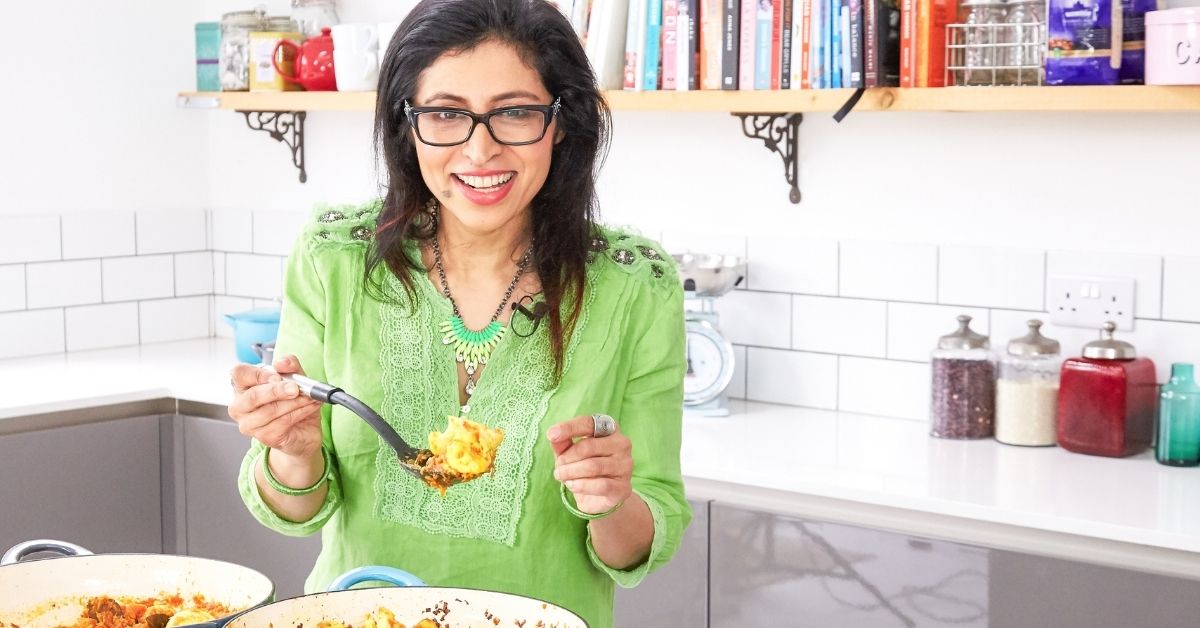 Manju Malhi, an Indian-origin chef in London, creates fusion dishes that highlight the connection between Indian and British cultures. She has authored many cookbooks, and has created special menus for Bollywood stars.
The world watched as King Charles III was crowned Britain's monarch on 6 May, 2023. But to Manju Malhi, an Indian-origin chef based in London, the day held a special significance. Malhi was an invitee at the prestigious event at London's Westminster Abbey. This, however, wasn't her first tryst with royal recognition.
In the wake of the COVID-19 pandemic, Malhi was awarded the esteemed British Empire Medal (BEM) — a Commonwealth award for meritorious civil service recognised by the Crown — for the culinary services she rendered via remote cooking classes to the residents at London's old age charity 'Open Age'.
The fusion recipes she introduced every other day brought smiles to the residents' faces — a testament to how much they enjoyed it.
What is it about food that drives the chef, now in her fifties, to constantly experiment?
"I'd say it's my mum," responds Malhi.
Born in West London to parents who hailed from Punjab and Maharashtra, the Malhi household's culture borrowed inspiration from both Britain and India.
Malhi recounts her childhood being filled with tales of her grandmother's culinary antics. Dinners were a hearty affair and the guest list would often include Malhi's grandfather's British colleagues from the Indian Railways. "Sharing food runs in our family's veins," shrugs Malhi, fondly adding that one of the many rituals her mother brought back to London was that of making papads (a thin deep-fried circular bread) from scratch.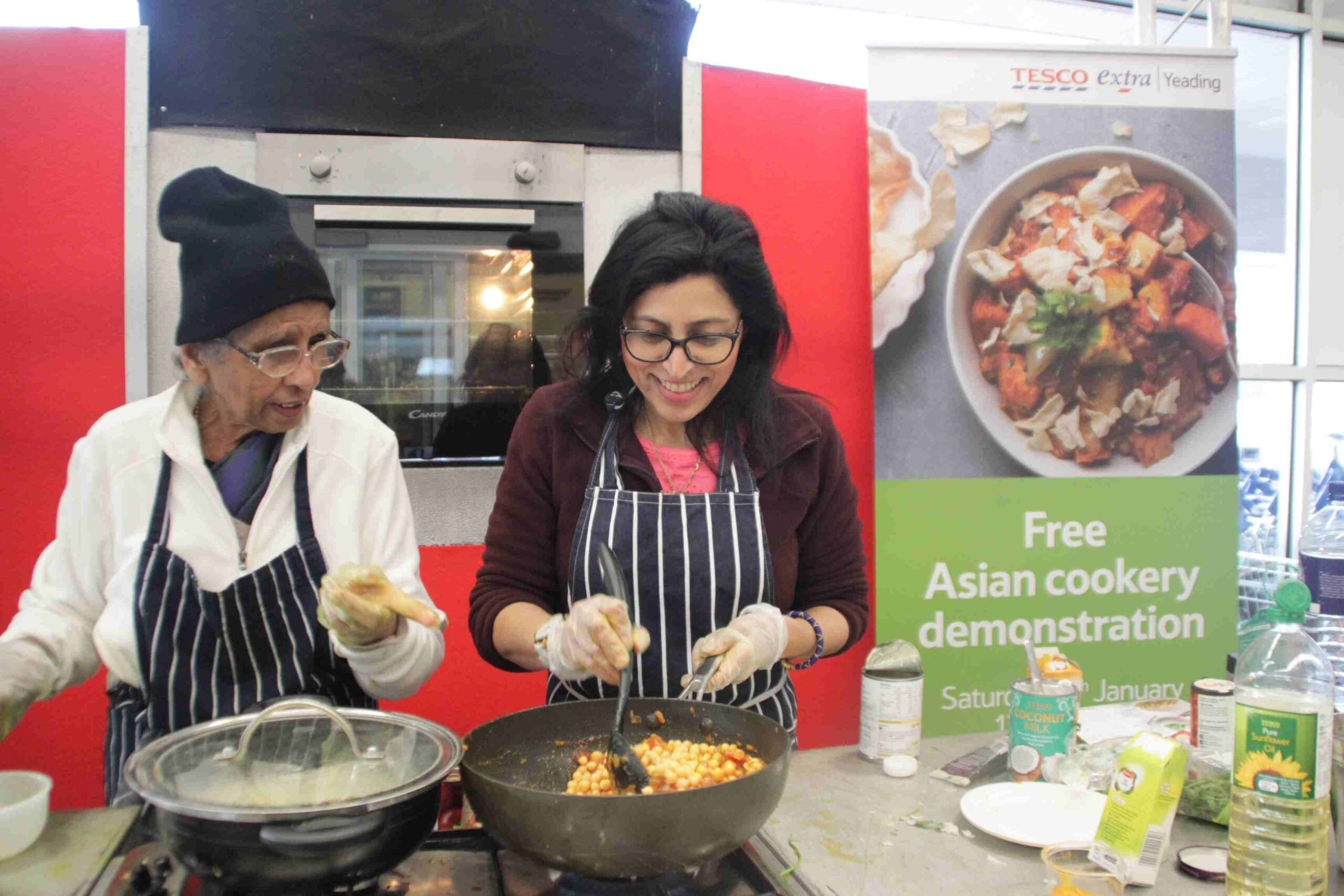 Moving from India to Britain in the late sixties came with its own share of challenges. One of these was the gap in ingredients in Indian and British kitchens. So one fateful day, when Malhi's mum couldn't find chapati flour, she made do with plain flour. And to substitute the belan (rolling pin) that comes in handy to make the rotis, she used a milk bottle instead.
Malhi meanwhile was watching intently and taking it all in. She was having struggles of her own, majorly to do with fitting in. "I was bullied at school because I was different and sought solace in cooking and learning from my mother about Indian food and traditions."
A start of a promising journey with food
While food and its nuances were Malhi's best friends in school, her formal foray into the culinary scene was in 2000. She recounts participating in a competition organised by the BBC.
"Entrants were required to send in a video demonstrating their culinary skills. I decided to prepare a coriander chutney in the garden!" Her simplicity of choice got her the winning prize, and from then on, there was no looking back. At the centre of every recipe Malhi chooses, is a deep ingrained love for the two cultures she has grown up hearing about.
Her journey has been a star-studded one — doing cooking shows on TV, authoring cookbooks, catering, creating special menus for British and Bollywood stars on location, and more. But the author of books like 'Everyday Healthy Indian: Quick and Easy Curries for Really Healthy Eating' and 'Classic Indian Recipes', narrates how it all stemmed from trying to bridge a gap she found.
"I couldn't find a cookbook with recipes featuring British ingredients with Indian spices. So I thought I should get one published," she shares.
Six cookbooks later, Malhi still feels there are miles to go. Despite her opulent wins, Malhi's fondest memories of food have everything to do with her mother. As she shares, "I became aware of how different Indian food was to British food, but I embraced both cuisines with zest. The best moments are how my mother combined Indian flavours with British ingredients and even to this day we 'desi-fy' quite a few dishes by adding extra chilli or another spice note."
So, here are a few fusion dishes — all Malhi's personal favourites — that highlight the connection between British and Indian cuisine.
1. Fish Fingers (Serves 4)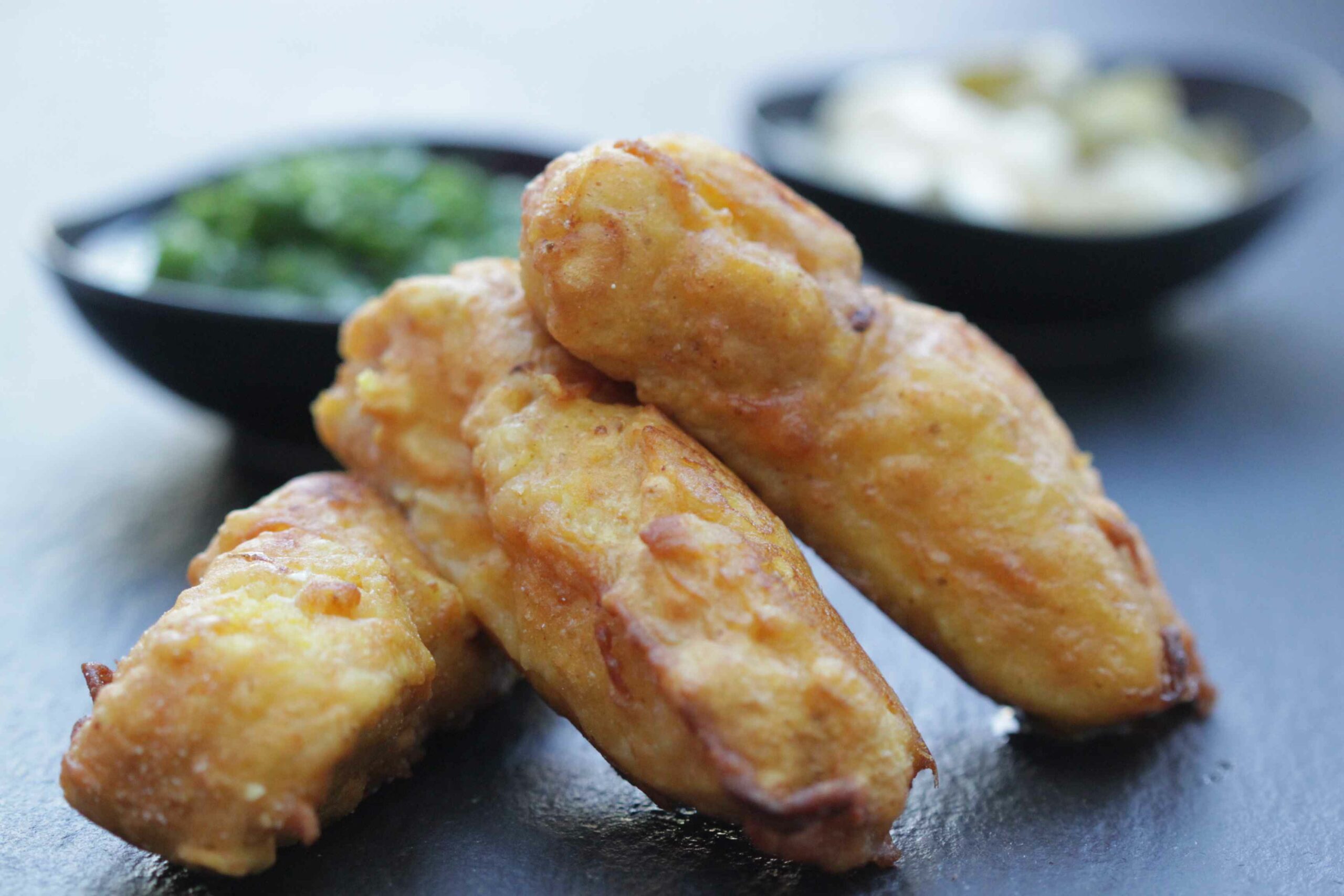 Fish-and-chips is the undisputed national dish of Great Britain, agrees Malhi. But, she notes, "The recipe here is almost like Amritisari machchi using Atlantic fish."
Ingredients:
Sunflower oil, for deep frying
5 tbsp gram flour (besan), sifted
Juice of 1 lime
1/2 tsp turmeric
1 tsp ground coriander
1/4 tsp salt
1/4 tsp sugar
1 tsp peeled and grated root ginger
4 tbsp rice flour, for coating
500-750 g white fish fillets, such as cod, haddock, coley or pollack, cut into 4-5 cm fingers approx 2 cm thick
Method:
Step 1: Heat the oil in a deep fat fryer at around 180 degrees Celsius.
Step 2: In a large bowl, whisk the gram flour with the lime juice, turmeric, ground coriander, salt, sugar and ginger with about 50 ml of water to make a thick custard-like batter. Set aside.
Step 3: Place the rice flour on a plate.
Step 4: Coat the fish fingers with the rice flour and then in the batter.
Step 5: Fry for 2-3 minutes until crisp and brown, and serve with chips.
2. Cranberry Chutney (Serves 6)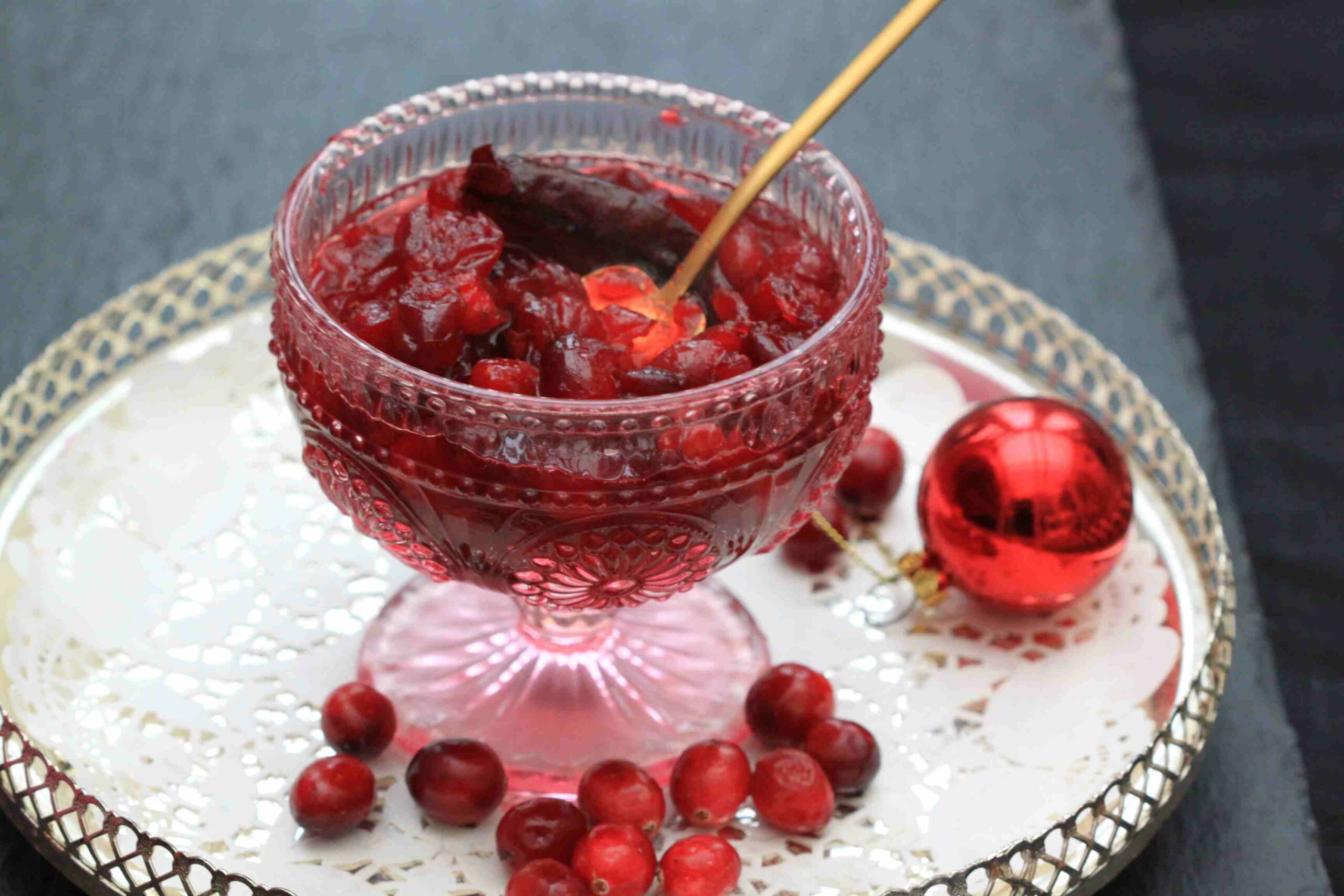 The Malhi household is a sight to witness at Christmas. "People of all religions join in the food festivities and quite often, we prepare a side relish to go with a traditional Christmas dinner — roast potatoes, Yorkshire puddings and Brussels sprouts," says Malhi. The cranberry chutney is a great addition.
Ingredients:
225 g cranberries, fresh or frozen
275 ml water
1/2 small onion, finely chopped
1 cinnamon stick
4 dried red chillies
¼ tsp salt
225 g soft dark brown sugar
Method:
Step 1: In a large saucepan, take the cranberries, water, onion, cinnamon, red chillies and salt, and bring the mixture to a boil.
Step 2: Reduce heat, cover the pan, and let it simmer for 15 minutes or until the cranberries pop.
Step 3: Stir in the brown sugar. Cover and cook on low heat for 35 to 40 minutes or until the mixture thickens to reach the consistency of a chutney. Stir continually.
Step 4: Take a sterilised jar, wiped clean to remove any moisture, and pour the chutney into it. You can refrigerate it until ready to use.
3. Indian Trifle (Serves 4)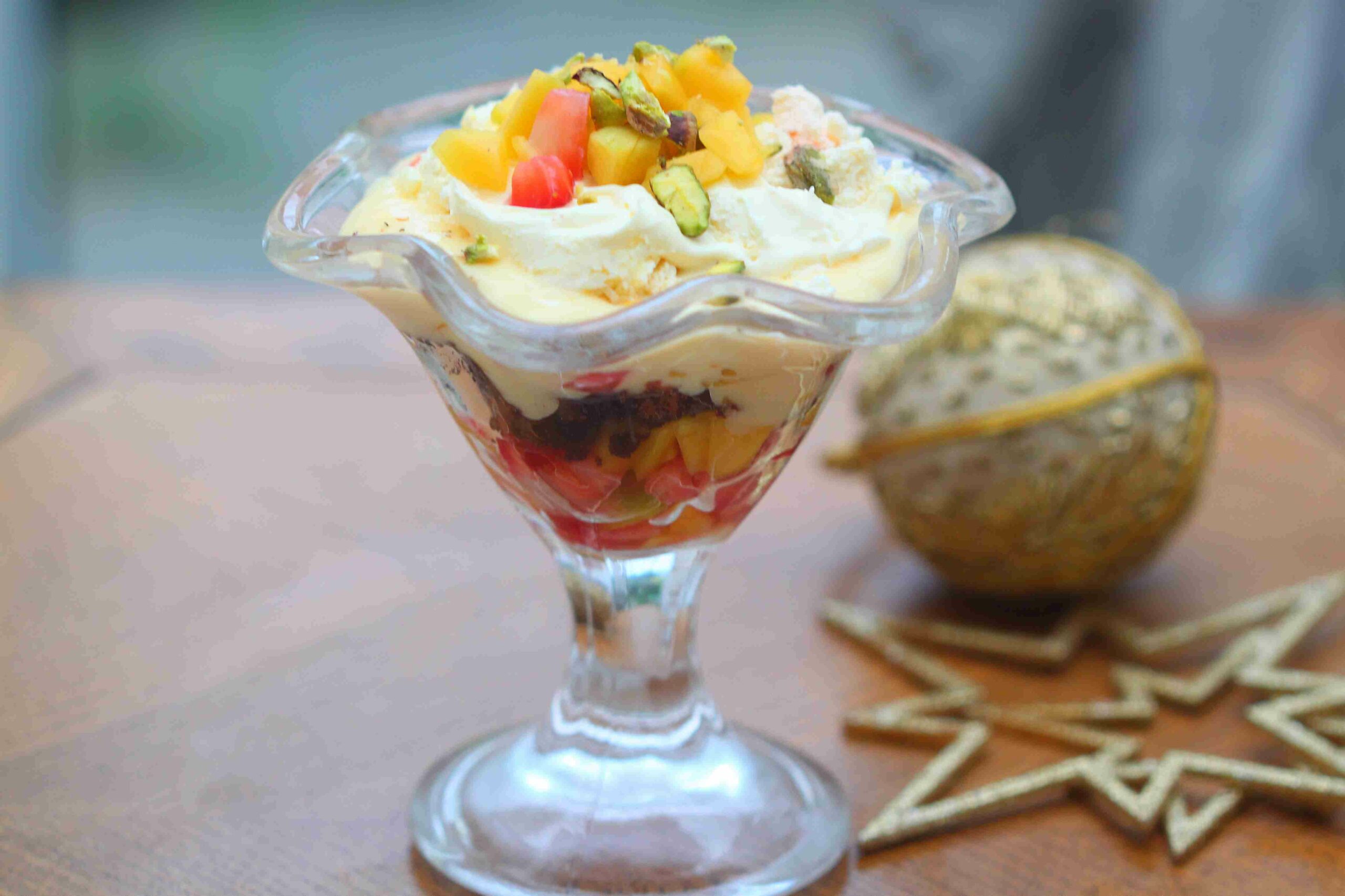 While Malhi loves herself a traditional British trifle with strawberries, sponge cake, cream and custard, this fusion variation with mangoes, cardamoms and pistachio nuts lends the dessert an exotic feel that makes it indulgent and popular.
Ingredients:
1 x 410g tin mango slices in light syrup or 1 fresh mango, chopped
1 jam Swiss roll or any sponge cake, sliced into 8 pieces
1 x 385 g tin or carton custard
The seeds of 2 green cardamom pods, crushed
1 x 170 g tin cream or fresh double cream
2 tbsp chopped pistachio nuts
Method:
Step 1: Drain the tin of mangoes, reserving the syrup. Take a few pieces of the fruit and put them to one side for decoration.
Step 2: Arrange the slices of cake in a large trifle bowl. Pour the syrup from the can over the top and let it soak in, then spoon the fruit cocktail over the top.
Step 3: Add the crushed cardamom seeds to the custard and mix. Then tip in the custard and spread evenly over the mango pieces and sponge.
Step 4: Whisk the cream with a fork in a chilled bowl until it holds a little of its shape, then spoon it on top of the custard.
Step 5: Decorate with the reserved fruit and sprinkle over the pistachio nuts, then cover and chill until ready to serve.
4. Indian Veg Puffs (Makes 10 puffs)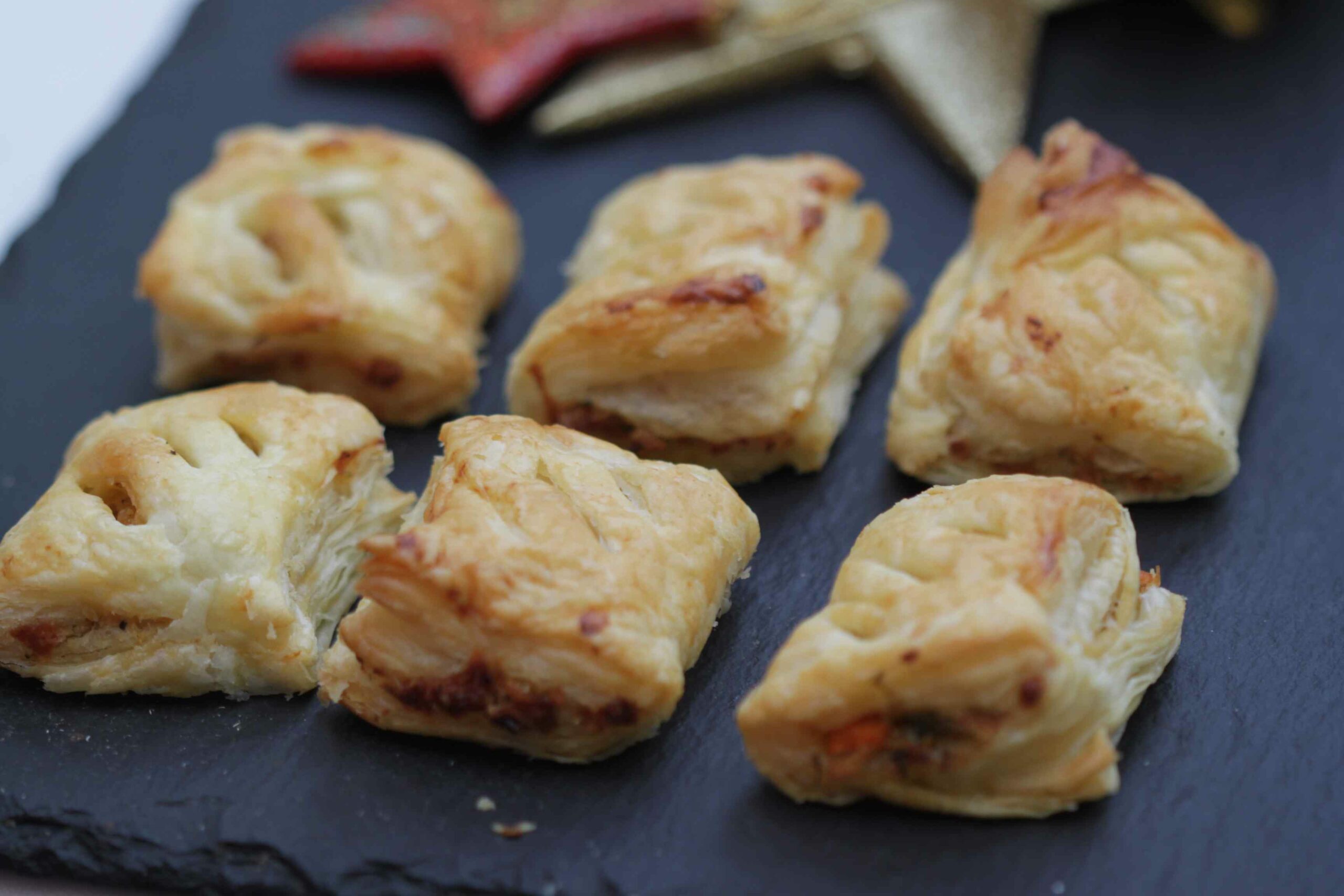 Malhi's veg puffs, she says, are a homage to the Cornish pasty. In contrast to their meaty version, these contain vegetables, fresh herbs and garam masala.
Ingredients:
2 tbsp sunflower oil
1 onion, chopped
2 green chillies, chopped
1/4 tsp turmeric
1/2 tsp ground cumin
1/4 tsp salt
300 g frozen mixed vegetables, defrosted, such as green beans, peas and carrots
100 g potatoes, boiled and chopped
1/4 tsp garam masala
A pinch of freshly ground black pepper
Peeled and grated root ginger
A few washed and chopped coriander leaves
1 x 320 g puff pastry sheet
2 tbsp milk, for glazing
For the beetroot ketchup:
2 small cooked beetroots, from a jar is fine
4 tbsp ketchup
1/4 tsp ground cumin
1 red tomato or 3-4 small cherry tomatoes, finely chopped
Method:
Step 1: To make the filling, heat a saucepan on medium heat and tip in the onion.
Step 2: Sauté for 4-5 minutes and then add the chillies, and cook for a minute.
Step 3: Tip in the turmeric, cumin and salt, and sauté for another minute until the mixture is well combined.
Step 4: Add the mixed vegetables and cook for a further couple of minutes.
Step 5: Add the potatoes and continue to cook the mixture for 3-4 minutes.
Step 6: Tip in the garam masala and the black pepper, and mix well. Stir in the root ginger and the coriander leaves, and set aside.
Step 7: Preheat the oven to 180C/350F/gas mark 4.
Step 8: Take the pastry out of the fridge and remove it from the box, approximately a couple of minutes before you are ready to use it, as it will be easier to work with. Unroll the puff pastry sheet and cut it in half lengthways.
Step 9: Divide the filling in half and place down the centre of each length of pastry in a sausage shape. Tightly roll the pastry around the vegetable filling and brush the ends with the milk to seal the edges.
Step 10: Cut each sausage roll with a sharp knife into four even lengths and make three cuts across the top surface of each roll.
Step 11: Repeat with the remaining ingredients to make another four sausage rolls. Place on a baking tray and brush with some more milk. Bake in the oven for 18 to 20 minutes until golden brown.
Step 12: For the ketchup, chop the beetroots into very small pieces. Add the ketchup, cumin and tomato, and mix well. Serve with the puffs.
5. Tarka Bread (Serves 2)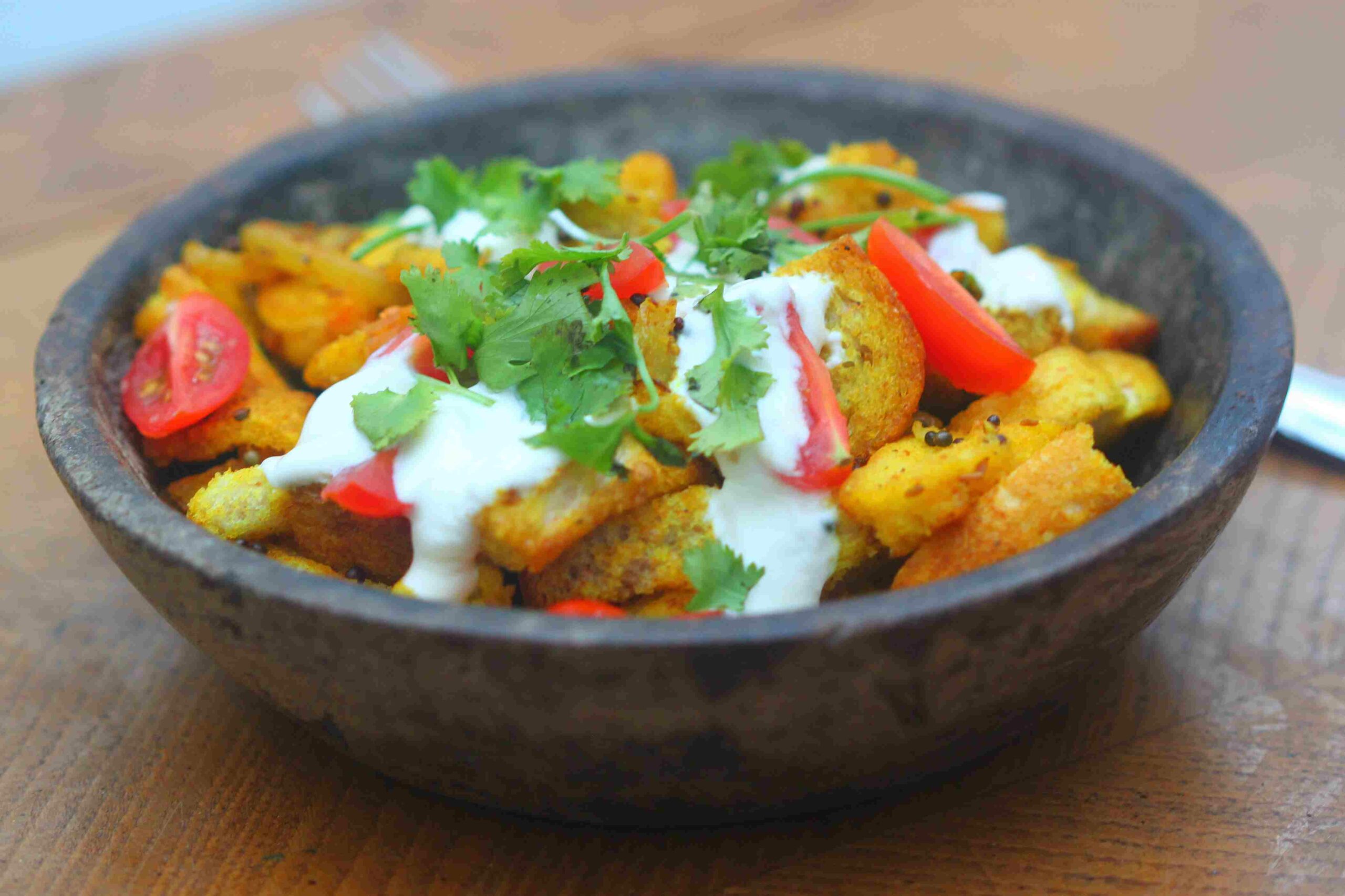 Vacations for Malhi would mean months spent in Mumbai, savouring snacks by the beach. One of her favourite snacks was the potato vadas. This dish was inspired by the snack, says Malhi adding that it still is reminiscent of the fun times spent at Chowpatty Beach in Mumbai. "The mustard seeds give the recipe a nutty flavour which works extremely well."
Ingredients:
2 tbsp olive oil
¼ tsp brown mustard seeds
1 onion, peeled and chopped
2 green chillies, chopped
¼ tsp turmeric
½ tsp sugar (optional)
¼ tsp ground cumin
¼ tsp salt
1 tbsp yoghurt, plus a little extra for garnish
1 tsp lemon juice
4 slices white or wholemeal bread, cubed
Fresh coriander leaves, to garnish
1 tomato, chopped
Method:
Step 1: Heat the oil in a small saucepan, then add the mustard seeds. Once they have popped, tip in the onion and chillies and stir for a minute.
Step 2: Add the turmeric, sugar (if using), cumin, and salt, and continue to fry for 1 minute.
Step 3: Add the yoghurt and mix.
Step 4: Then add the lemon juice, stirring continuously.
Step 5: Lastly, fold in the bread carefully so that it doesn't crumble too much. Cook for 2 more minutes, then serve sprinkled with coriander and chopped tomato.
Tip: Dollop some extra yoghurt over the finished dish to cool it.
6. Spicy Baked Beans (Serves 2)
Malhi's love for spices comes through in this dish which is a blend of three spices. She notes, "It makes a change to traditional British beans on toast, and also makes a great breakfast accompaniment to eggs. I get asked to make this at my cooking classes regularly."
Ingredients:
1 tbsp sunflower or olive oil
1 small onion, chopped
Knob of butter
1 green chilli, chopped (optional)
¼ tsp ground cumin
¼ tsp ground coriander
A pinch of chilli powder
200 g can baked beans
Method:
Step 1: Heat the oil on medium heat in a frying pan or a small saucepan, then put in the onion.
Step 2: Fry for 3-4 minutes, stirring continuously. Add the butter and fry for a further minute until the onion begins to turn golden brown.
Step 3: Add the green chilli, if using. Tip in the cumin, coriander and chilli powder, and fry for another minute.
Step 4: Add the beans, reduce the heat and cook for 1 more minute. Serve hot with toast or on jacket potatoes.
7. Chai Spiced Biscuits (Makes approximately 24 biscuits)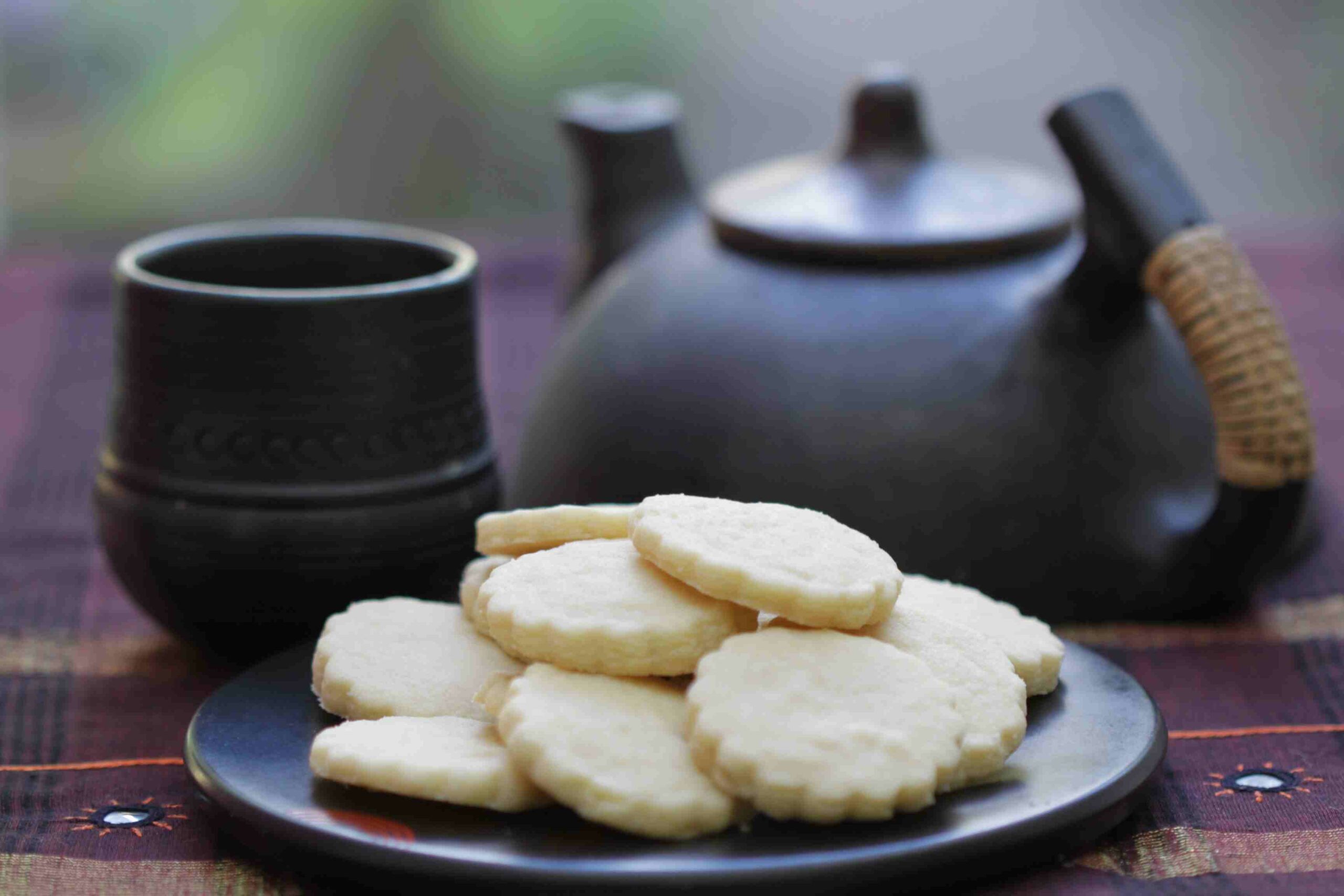 A ritual that Malhi and her mother bond over, to date, is drinking chai. As Assam tea leaves brew in a teapot, the duo talk about the day that's been. Malhi adds that the biscuits are a perfect accompaniment as they combine the spices one would use when making masala chai. "They're a real treat," she says.
Ingredients:
125 g butter, at room temperature
65 g caster sugar
10-12 chai spice drops or the seeds of 4 green cardamoms, crushed and 2 cloves, crushed
180 g plain flour
Method:
Step 1: Preheat the oven to 160°C/ gas mark 3. Cream together the butter and sugar until light and fluffy. Mix in the chai spice drops or the ground spices.
Step 2: Sift in the flour and roughly combine. Using your hands, bring the mixture together to form a dough.
Step 3: Wrap in clingfilm and refrigerate for 10 minutes. This helps easy rolling.
Step 4: Remove from the fridge and roll out on a floured surface to around 3-5mm in thickness. Using a cookie cutter, cut out your biscuit shapes.
Step 5: Place on a greased and lined baking sheet. Bake for around 12-14 minutes.
Allow to cool for 5-10 minutes before transferring to a wire rack to cool completely.
Note: Don't let your biscuits brown too much (a little golden tinge around the edges is fine). If you find they're over-browning, turn your oven down and bake on the bottom rack for a little while longer.
Edited by Pranita Bhat
Tell Us More
We bring stories straight from the heart of India, to inspire millions and create a wave of impact. Our positive movement is growing bigger everyday, and we would love for you to join it.
Please contribute whatever you can, every little penny helps our team in bringing you more stories that support dreams and spread hope.