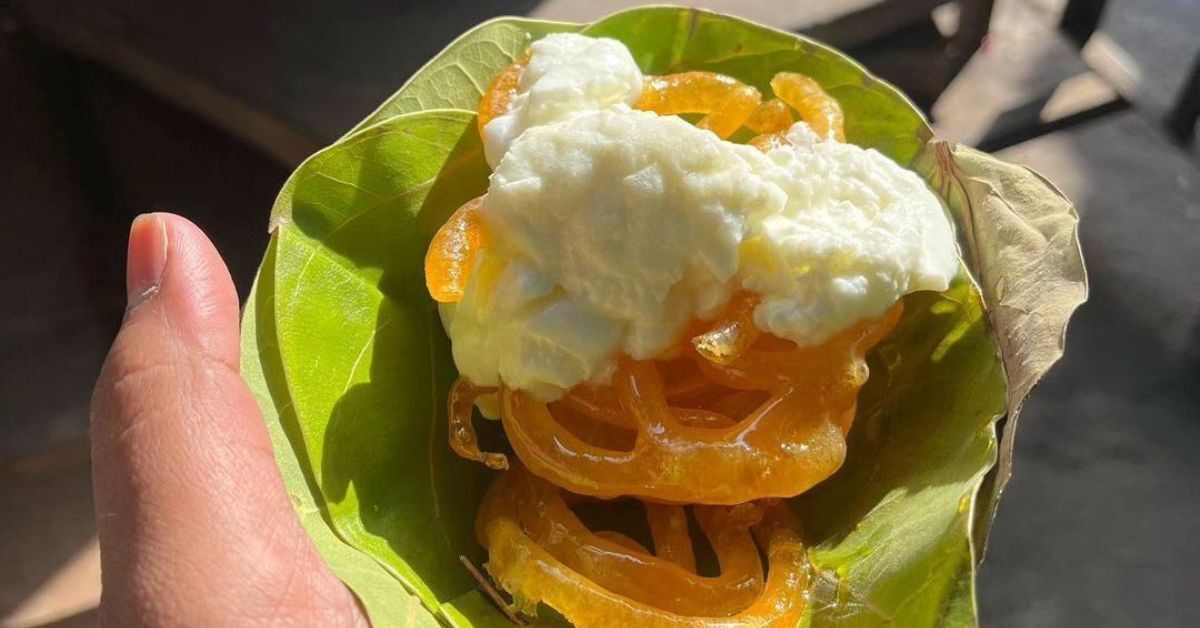 The villages of Ainya and Gangpur in West Bengal are collectively known as Rabrigram for their synonymity with the sweet. Here's why their 'rabri' deserves a GI tag!
For 44-year-old Kanak Dhada of West Bengal's Ainya village, the day's routine is fairly simple but laborious. "I wake up at 5 am, do puja in my house and then make lunch, which I carry to work," narrates Kanak. Around 12 years ago, when her husband, the sole breadwinner of the family, passed away, he left behind a shattered wife and son. Money was hard to come by and Kanak wondered how she would put her son through school.
But today, she prides herself on creating a new life from the ground up. Ask her where she bustles off every morning with a spring in her step, and she says it is to meet the demands of her happy customers.
Kanak is referring to her job at the production unit of 'Maa Kali Rabri Bhandar' — one of the many rabri units in the village of Ainya. This along with another village Gangpur — both collectively known as Rabrigram for their synonymity with the sweet — are Kolkata's prime rabri distribution villages, which have given hundreds of women like Kanak both, financial freedom and a purpose.
They won't deny, however, that work is tough at the bhandar. It involves hours of laborious stirring of the milk rendering a thick pudding-like consistency dessert, which is then packed and sold to shops across the city. Kanak herself is able to produce 16 kg of rabri a day — a fact she declares with pride.
For this, she is paid Rs 12,000 a month, which she channels into the home expenses and her son's school fees. She credits Avijit Patra with turning her destiny around. The 28-year-old has been at the helm of Maa Kali Rabri Bhandar since 2020, prior to which his father was spearheading operations.
The multiple rabri units spread across the villages of Hooghly seem to function almost like clockwork to produce tons of sweet delight every day. It is almost like a movement that has been perfected over the years to fulfil India's rabri requirements.
However, history and Avjit differ slightly in their theories on the origin of rabri in Kolkata. The former believes it is a result of the migration of Bengalis from Varanasi, while the latter credits a gentleman Pannalal Balti for the ingenious idea.
A tale of clotted cream
More than four decades ago around the 1980s, a sweet maker Pannalal Balti working in a shop in Bhawanipur, Kolkata, decided to make rabri. It was a success, and the growing number of customers was a testament. Though the business saw great traction, Pannalal did not receive a hike for his services, causing him to quit the village and return to his native Ainya.
Here, he set up a sweet shop where he continued to churn out the dessert in large batches. Avijit notes how families across Hooghly began joining Pannalal in his quest to make the dessert, and soon, more than 70 families were part of the sweet-making process.
Believe it or not, all the present-day bhandars are legacies of Pannalal, says Avijit, whose father closely worked with Pannalal himself. As he talks about the inception of Kolkata's rabri units, he notes that the passage of time has only sweetened the process further.
"Pannalal ji never had any children nor anyone to continue his legacy. My father worked with him for a long time, and once he passed away, my father started the Maa Kali Rabri Bhandar 25 years ago. We also started the Ainya Rabrigram Industrial Cooperative Society Ltd with all the rabri makers who had worked with Pannalal ji."
Though Avijit held a fascination for the art of rabri, his dreams were different. "I wanted to be a school teacher and so moved to Kolkata in 2017, where I completed my master's in history, followed by my BEd studies."
However, life had other plans for him which were revealed three years ago.
State officials from the Kolkata Government visited the village. They had heard of the rabri units and saw great potential to develop the industry here further.
"Someone was needed to lead the movement from the front. While I had intended to take up a job as a school teacher in Kolkata, I returned to my village where I was elected as the chairperson of the rabri makers society," notes Avijit.
Serving Kolkata sweet nostalgia
Having Avijit at the fore of operations witnessed a number of transformations in the venture. He shares, "The first thing I did was to introduce hygiene protocols in the kitchens. Also, traditionally the rabri would be made using coal fires, which wasn't very conducive. I switched to LPG which makes the process simpler and more cost effective."
With so many bhandars emerging, most of them non-descript, Avijit emphasises the importance of having licenses in place. He shares stories of the initial days when he'd encourage the unit workers to register their units, obtain their food licences, and register the businesses as MSMEs. He also helped them with availing loans through government schemes.
These have a dual purpose. Not only will the registrations boost business, but they will also pave the way for obtaining a GI tag — a feat that Avijit has been working on for months.
The GI status will also mean they can start selling the rabri outside the city and all across India. "Maybe even abroad!" he shares.
Getting a GI tag, albeit lucrative, is not easy. "There is a process that is followed," explains Avijit. "Documents need to be submitted following which officials will survey the village, our processing techniques, the materials and utensils used, etc. Once they find everything to be in order, they will grant us the status."
But to Avijit, the GI tag is only one of the feathers in the village's cap. He says the other is women empowerment, which they have managed to achieve through the rabri units. "Today, 18 women are a part of Maa Kali Rabri Bhandar. Each of them earns Rs 20,000 in a month approximately. They are happy to be doing something of their own."
For a sweet that is loved by India and produced in numerous places across the country, there is always the fear of upcoming competition. But, Avijit points out, "When it comes to our rabri and the one from Banaras, people like our malai texture better. The malai layer in the rabri prepared here is very thick; whereas, the one in Banaras is of curd consistency."
But even so, with numerous rabri bhandars in the village, each must always be on top of their game. One of them is 'Manasa Rabri Bhandar' run by Mithu Balti, daughter-in-law of Manasa Charan Balti who was Pannalal's close associate.
The 43-year-old works hard to produce 25 kg of rabri daily to meet the burgeoning demands of customers. In an interview with the Village Square, she shared, "My husband travels to sweetshops in Kolkata to deliver rabri. My father-in-law Manasa Charan Balti founded the business about four decades ago. I've been making rabri for the past 12 years."
A similar story is of Soma Balti, owner of 'Maa Shashti Rabri Bhandar'. As Balti recounted to The Times of India, "It's tough work, stooping over the woks in front of the wood ovens for the better part of the day."
She added that at no point in time are her hands allowed to rest. "We are either fanning the milk, stirring it or pulling out the layers that form on top. Every seven kilogram (nearly seven litres) of milk yields two kilograms of rabri. We only add 500 grams of sugar to the seven kilograms of milk. Otherwise, a sour taste develops during the final stages of preparation," she informs.
But Avijit is not daunted by the presence of so many units. "Maa Kali Rabri Bhandar sells 600 kilograms of rabri a day across Kolkata. We just focus on our legacy and the one Pannalal left behind."
Edited by Pranita Bhat.
Tell Us More
We bring stories straight from the heart of India, to inspire millions and create a wave of impact. Our positive movement is growing bigger everyday, and we would love for you to join it.
Please contribute whatever you can, every little penny helps our team in bringing you more stories that support dreams and spread hope.