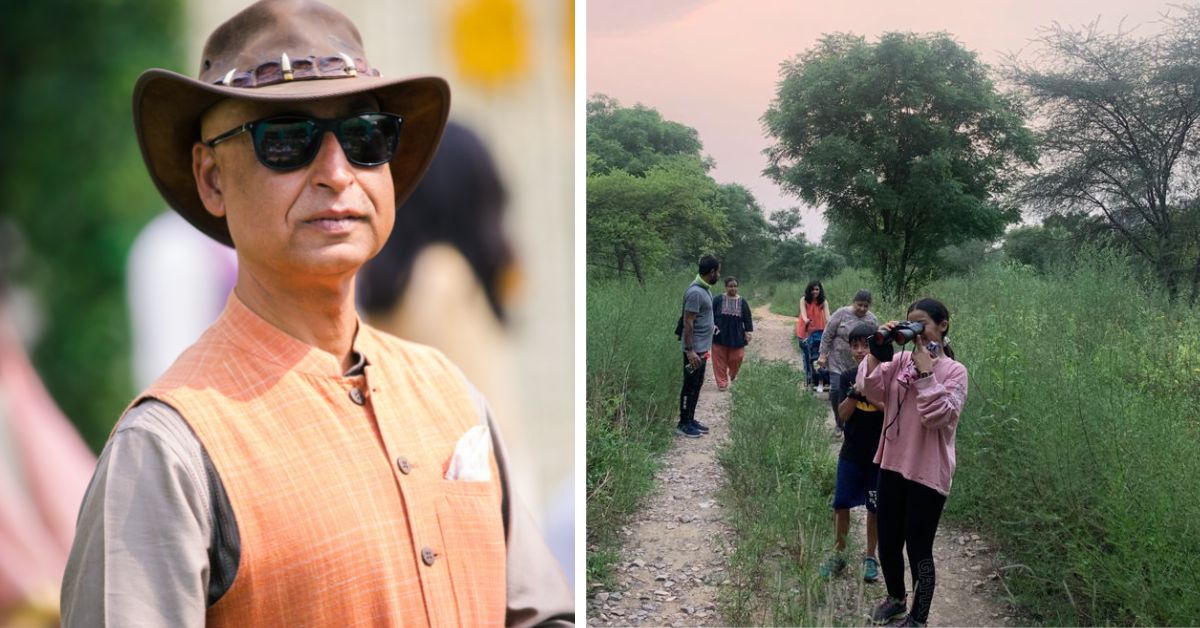 Ashwani Khurana (63) started out by planting trees and was so taken up by nature that he devoted his life to the creation of Karma Lakelands in Gurugram. Four forests, a nine-hole golf course, plastic recycled into eco-bricks and more sustainable practices are employed in this eco-resort.
At the break of dawn in Gurugram, Haryana, the city struggles to awaken from its slumber and dive headlong into the weekday. But miles away in the same town, there is an eco oasis that can't wait to come to life as the first rays of sunlight hit.
Karma Lakelands is an ironic paradise that gives its guests a palatial leisure spot to unwind right in the heart of one of India's busiest hubs. The day here stretches long amidst the myriad of activities — beekeeping, watching eco bricks being made from plastic, golfing on the nine-hole course and more. But before you know it, night envelopes the eco oasis.
And as entrepreneur Ashwani Khurana watches his creation unfold, he says he couldn't be prouder.
There was always a spark of a love for nature that resided in this Delhi University graduate. He recalls, "When I was 19 and on my first visit to the Chandigarh Rock Gardens, a mutual friend introduced me to Padma Shri awardee Nek Chand, the creator of this natural paradise. Something clicked; then onwards, on every trip I made to the city, I would meet sir and be inspired every single time."
Khurana, now 63, adds that after completing his graduate studies, he was engaged in his family business, which was "a huge success". But even while training his sights on business, a passion for nature and the environment was taking seed in him.
He had his first stint with sustainable practices when he was 25 and planted hundreds of trees at his farmhouse in Delhi.
"A few months later, watching them flourish was almost overwhelming. It was like seeing a kid growing up. That was when it first struck me that this was a cause I was very passionate about, and I decided to plant 10,000 trees every year on different pieces of land in Delhi so that in a decade I would meet a target of one lakh," he adds.
However, it was only in 2000 that Khurana decided to turn this passion project into a full-scale venture when his company was forced to shut down. The very same year, he started Karma Lakelands on a 235-acre piece of purchased land in Gurugram. He describes the eco-resort as "a dreamscape of perfect living that isn't restrained by walls". Here, sustainability is ingrained in every aspect.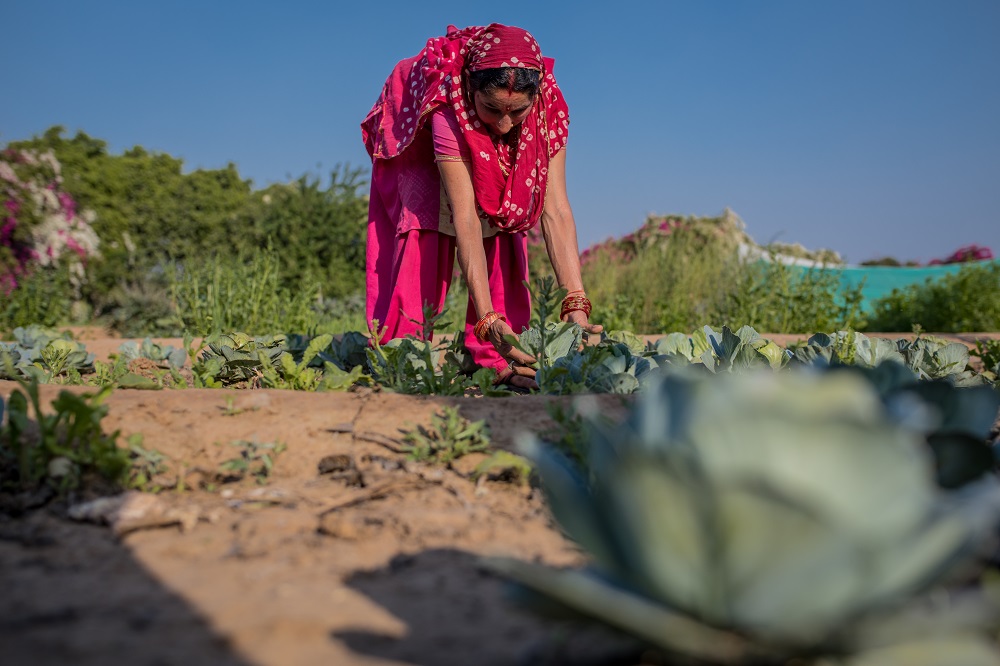 'We are in the pursuit of zero-waste practices'
While attempting to make people's stay at the resort luxurious, there are numerous experiential activities for guests to enjoy and sustainable farm practices for them to learn from.
Elaborating on the process of setting up the place, Khurana says that they got in touch with architects and planners from across the globe with a certain vision in mind. But finally, they decided to go ahead with a master planner from Australia Phil Ryan, whose vision matched theirs.
"What I loved about their approach was that contrary to planning out a design and then chopping down trees that came in the way, they first conducted a survey of the land to map existing trees and then designed the space around them," he adds.
Today, Karma Lakelands is enveloped by nature from all sides. Khurana says the nine-hole golf course is a flagship offering and has integrated a number of responsible practices.
"No single-use plastic products feature on the golf course. If golfers want to have a pick-up drink, it is served to them in a glass. We are also aware that golf courses require immense quantities of water, and thus, we have set up a dedicated Sewage Treatment Plant (STP) with the capacity to treat 5,00,000 litres of sewage daily," he says.
He goes on to add that a walk away from the golf course will take you to the other side of the property where the nursery has been set up.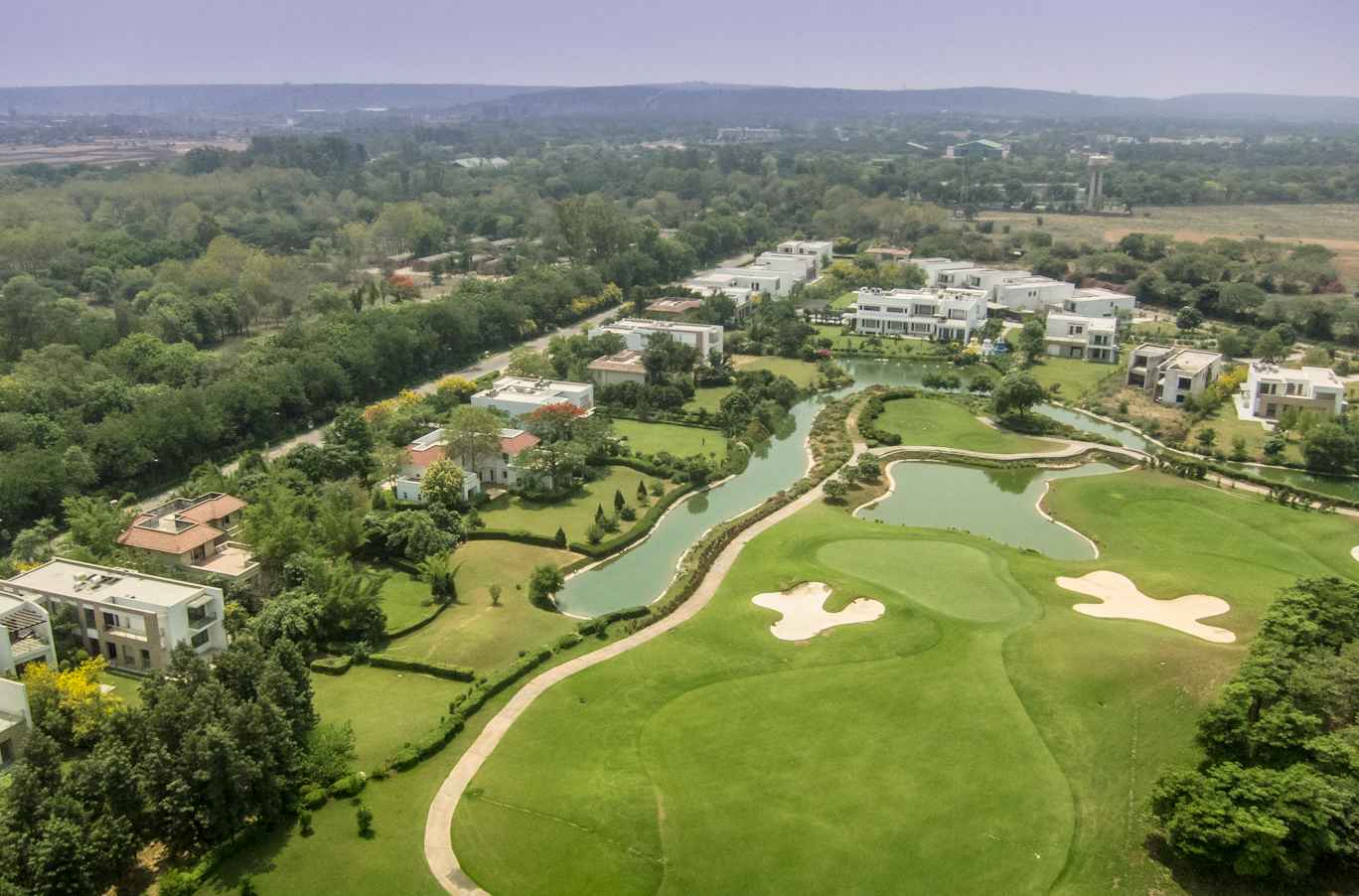 "Spanning 25 acres, the nursery includes various seasonal produce such as Chinese oranges, which go into the welcome drink along with honey and ginger, and also other regular vegetables, fruits and herbs that go into the food served at the Lakelands. A tour around the area will introduce you to the intricacies of horticulture practised here," he notes.
A paradise of green
As guests take in the vibrant beauty of the nursery, there is a bigger paradise awaiting — a cluster of four forests that each boast of unique diversity.
"The sacred forest — a natural forest inspired by the concept of kodigu (a tradition in Coorg wherein each village has its own mini forest with unique trees) with trees like moringa and gular, the bamboo forest, the rewilding forest — where traditional plants and grasses, such as khejri (a tree with yellow flowers) that diminished over the years, are grown once again, and the ficus forest — that houses trees like peepal and banyan," explains Khurana.
He adds that two lakh trees have been planted 1.2 sq m apart to ensure that as the trees grow in the direction of the sunlight through the years, they form a canopy of sorts, such that "within three years, the forest wouldn't need any intervention to thrive and would be a full blooming ecosystem".
While everyone focuses on tree plantation, he says there should also be an emphasis on grasses as bird species lay eggs in grassy areas. He adds that along with native wild grasses, the beekeeping initiative has been one of their pride.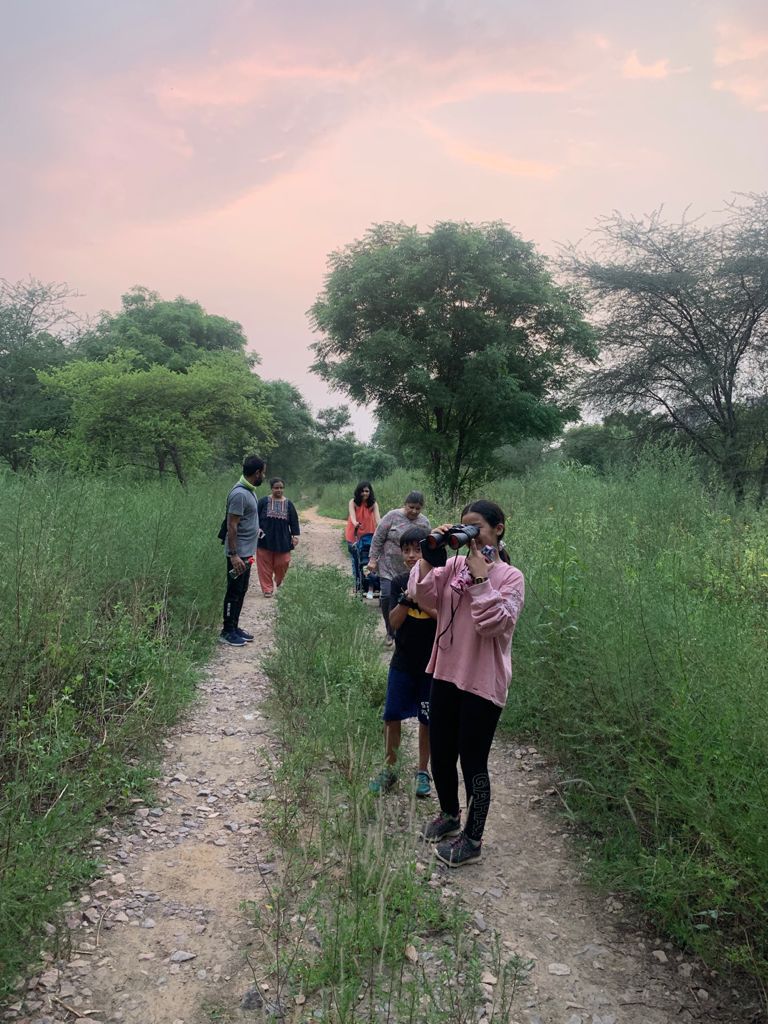 Declining bee numbers across the globe are resulting in a decrease in fruiting trees. "We decided to integrate beekeeping on site with an aim to increase pollination. The delicious honey that we get is just a side effect of this," he shares.
After all the adventure of the day, a spread of sumptuous meals awaits the guests.
A few of the popular dishes are the som tum salad made with homegrown papayas, a range of pizzas made with homegrown produce, the salmon with orange butter sauce and asparagus, the Tunisian egg, and the Champaran mutton curry. A feast indeed!
But even with all that the place boasts of, their pride remains in the sustainable practices they have ongoing on the site.
A sustainable dream
Waste management and the use of renewable energy are crucial aspects at Karma Lakelands. Rainwater is collected through channels and then used for irrigation purposes. The sewage treatment plant produces nutrient-rich water that is then used for irrigation. In addition, about 15 to 20 percent of the total energy consumption of the resort is fulfilled by the 412 kW solar panels.
While the resort aims to cut down single-use plastic and serves its guests with cutlery and crockery made from glass, the amount of plastic that does get used is sent to the eco brick model on-site, wherein it is processed and converted into a building block that is used in construction.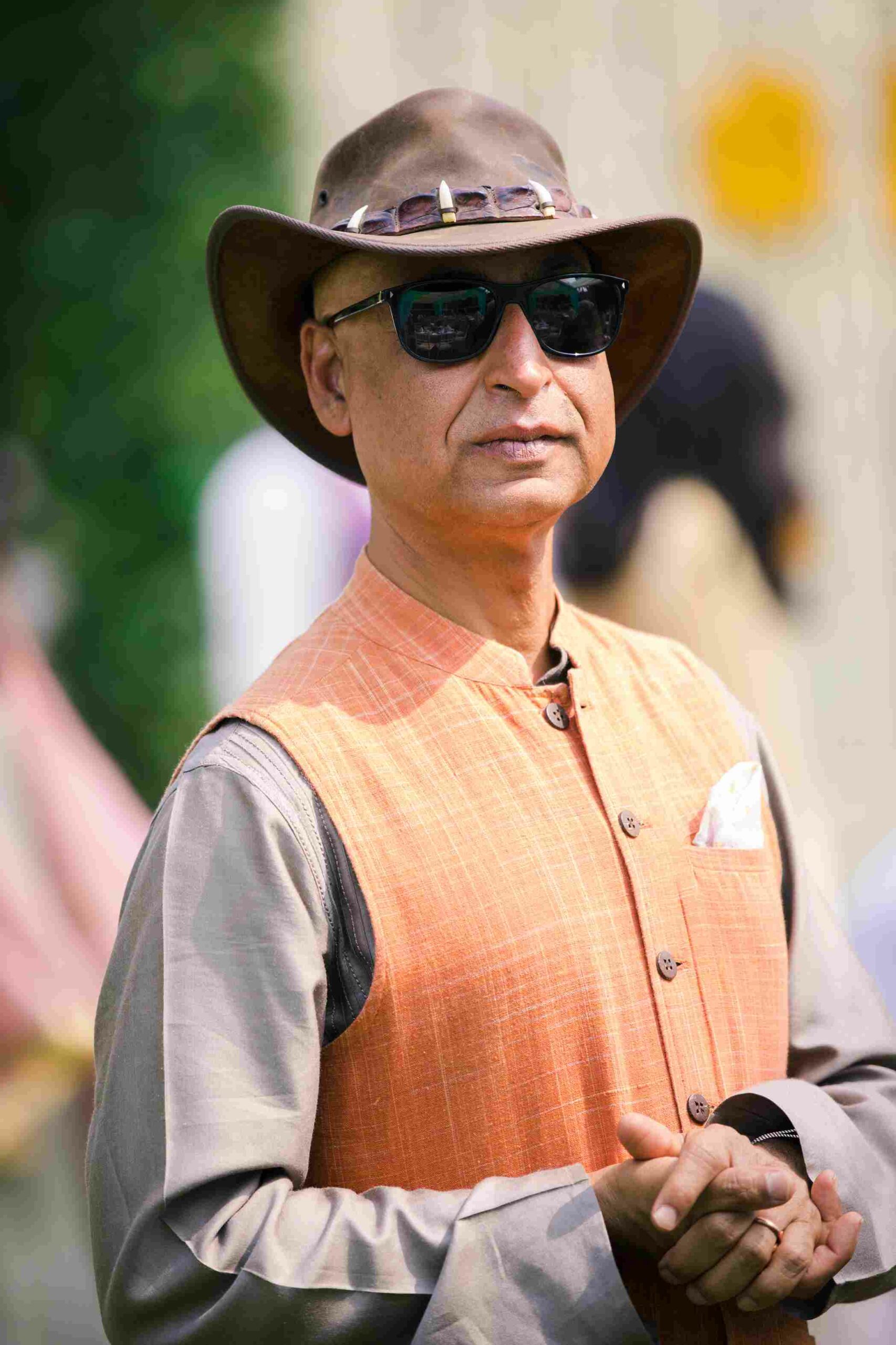 "We are collecting as many eco-bricks as possible, which will be used at Karma Lakelands to create installations, pathways, staircases, etc," he says, adding that the staff toilets as well as the shelter for domestic animals have been made from these eco-bricks.
Meanwhile, with a few cottages and three-to-four-bedroom villas, the stay at the resort is nothing short of "dreamy" as guests describe it.
"The suites are Rs 11,000 a night, and the villas are priced at Rs 32,000 per night," he informs, adding that they see a footfall of around 5,000 visitors a month, including those who are staying on-site and those who simply come for a day or lunch.
"When I started out, this was a passion project. Today it is the pride of my life," says Khurana.
Edited by Pranita Bhat
We bring stories straight from the heart of India, to inspire millions and create a wave of impact. Our positive movement is growing bigger everyday, and we would love for you to join it.
Please contribute whatever you can, every little penny helps our team in bringing you more stories that support dreams and spread hope.