Karnataka farmer Karibasappa MG innovated a solar trap to keep insects away from him crops. He shares how this won him Infosys Foundation's Aarohan Social Innovation Award and how life has changed since.
This article has been sponsored by Infosys Foundation.
In the tiny village of Jigali in Karnataka's Davanagere district, a young boy had just finished his Class 10. He was, in fact, the first in his family of farmers to have any kind of education. His only wish was to continue studying further.
If you have a similar innovation that can transform lives, we can help you scale up. Apply for the Aarohan Social Innovation Awards, 2023 and win upto Rs 50 Lakh.
Apply now
Unable to view the above button? Click here
Owing to the family's financial situation, however, he couldn't. Instead, he had to join his family to work on their 5-acre farm.
That young boy is in his 50s today, but his life is now a far cry from what it used to be. In 2018, Karibasappa MG won the Infosys Foundation's Aarohan Social Innovation Award for innovating a solar insect trap, under Jury Special Mentions for the category Rural Development.
He says, "Infosys has introduced a new phase in my life — a very big change. The company took me, a regular farmer, from a small village to the world stage."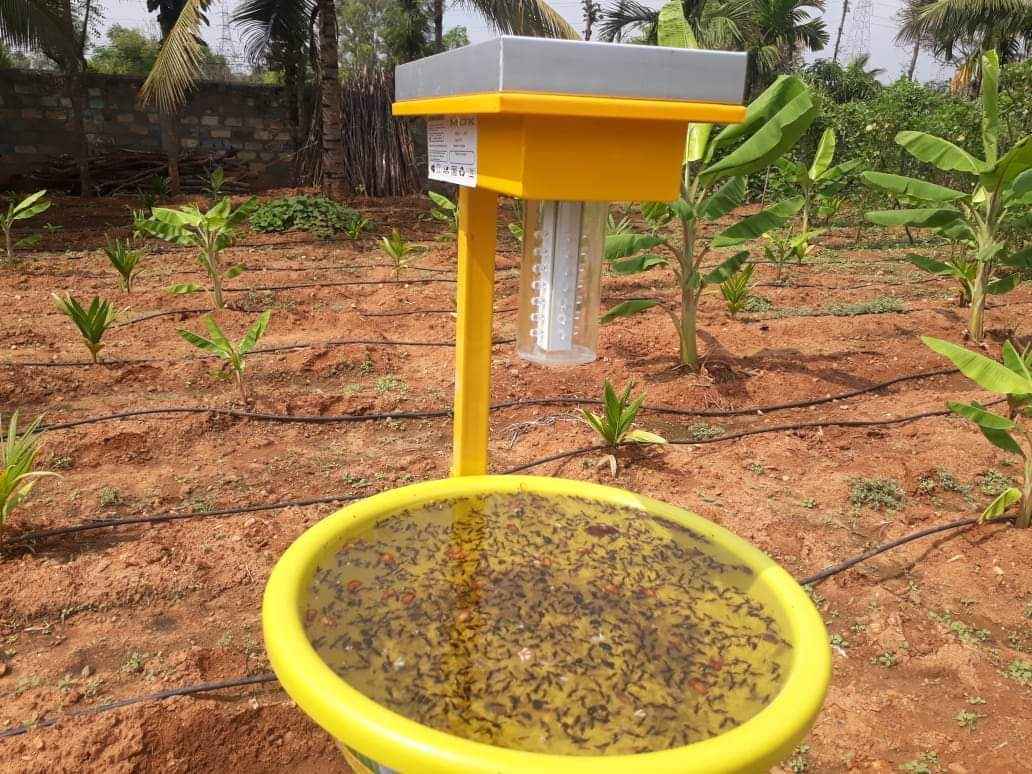 Necessity is the mother of invention
Karibasappa comes from a long line of generational farmers. Once he completed his Class 10 in 1980, he stepped into agriculture full-time. "Back in the day, we used to farm using bullocks. Then eventually, I switched to tractors. We used to grow cane crops, but I wanted to grow our profits, so I ventured into horticulture crops."
In 2012, he decided to grow pomegranates. "I sowed the seeds and reaped a good harvest in 2014. But in the two years following that, my harvest was reduced because of an insect attack. The insects would make holes in the fruit. We were suggested to spray pesticides over it. In our 5-acre field, we ended up spending around Rs 4.5 lakh just on pesticides." 
If you have a similar innovation that can transform lives, we can help you scale up. Apply for the Aarohan Social Innovation Awards, 2023 and win upto Rs 50 Lakh.
Apply now
Unable to view the above button? Click here
"We were poor, and could not afford that kind of money. So, I had to take loans. But despite our efforts, we didn't get a good harvest. The insects feasted on everything we grew," he shares.
The farmer says that he was devastated and could not sleep for days. "How to get out of this situation?" was the only thing on his mind day and night. Then one day, a chance observation gave him an idea.
"On the farm, we had a small hut where there was no electricity. We had installed a solar bulb there. I observed how the light attracted all the insects. The next day, I bought an ordinary DC solar bulb and placed a bucket underneath it for three to four days. A lot of dead insects fell into the bucket," he notes.
Soon after, he collected these insects and took them to ICAR Taralabalu Krishi Vigyan Kendra in Davanagere. "I showed them to a scientist. He asked me to continue experimenting with different-coloured lights at different heights," he says, adding that he kept tweaking the setup till the results were satisfactory.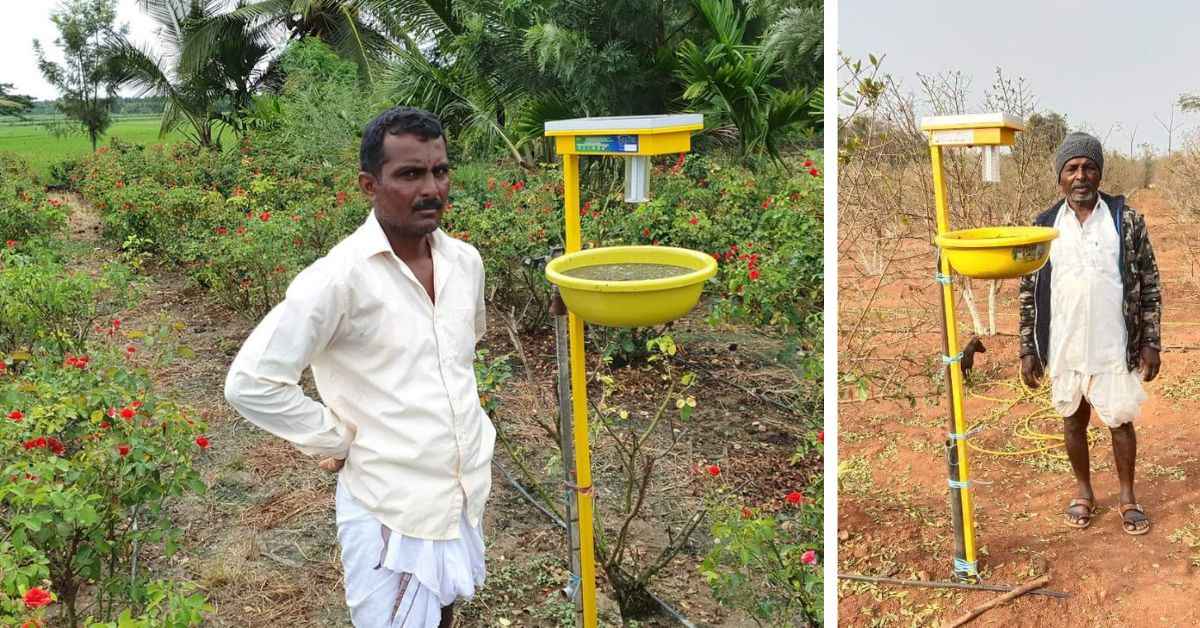 "It took me around a year to make the product. My first model had a 2 by 2 feet 10W solar panel and a 12 V battery. It was big and expensive. The battery had to be changed every year, and the farmers who were experimenting with it could not afford the costs. We eventually managed to reduce the size. Now we use a 5W solar panel and Lithium-ion battery," he informs.
The current solar insect trap is a fourth-generation model. Describing it, he says, "An ultra-violet LED light is connected to a solar panel, which is in turn connected to a battery which gets charged. A programmable timer is attached which switches on the light around sunset and switches off automatically at 9.30 pm."
Karibasappa says that even after making the product small, convenient and affordable, he faced other challenges while convincing his fellow farmers to use it. "Some said that my product will kill honey bees, which was not true. I approached many institutions and met scientists to test my product and recommend it. I even installed this product at a bee farm to prove it."
He adds, "Then some villagers started spreading rumours that the product kills friendly insects also. Again I had to show them scientific studies that proved most friendly insects only appear after around 10 pm…And our product is designed to automatically switch off at that time."
Eventually, many farmers started seeing good results after using the solar insect trap. He was able to reach around 3,500 local farmers with his innovation, he says.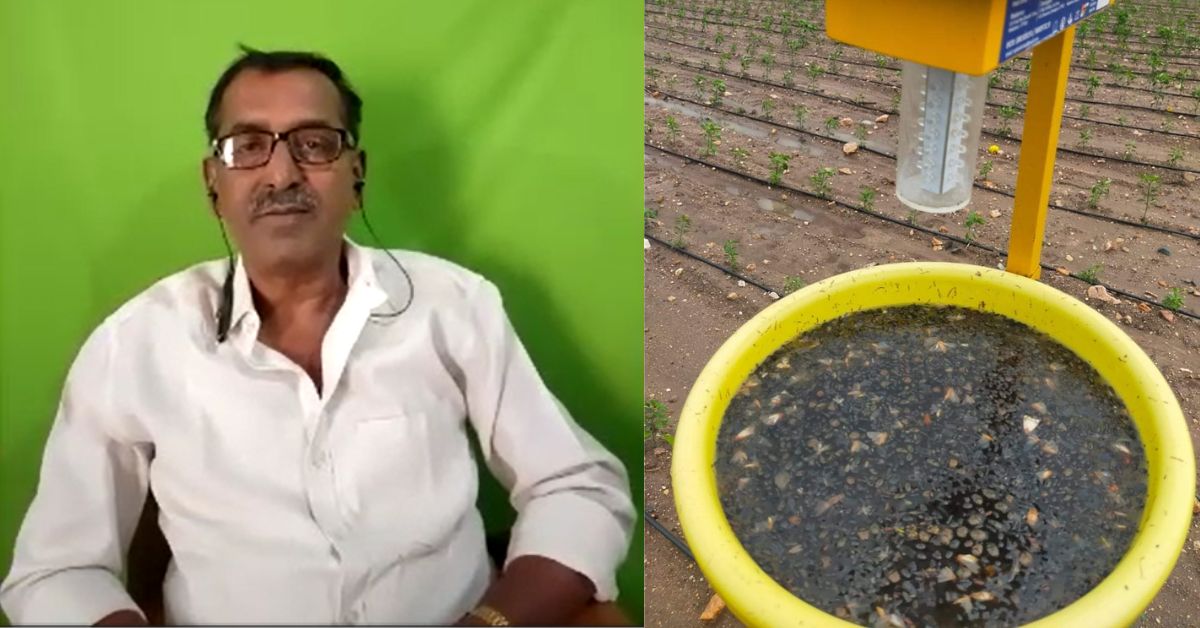 The overnight recognition that changed his life
One day, he says, he came across the Aarohan Social Innovation Awards in the newspaper. He filled up the application form with his manager, who helped him do it in English. They even recorded videos to demonstrate the working of the product along with its explanation and sent it over. The product was selected.
Karibasappa and his team were invited to visit Infosys for the final round. He shares, "I don't speak English. So, during the presentation, one of our team members acted as a translator. But he wasn't able to properly convey what I was saying in Kannada to English. So Sudha Murthy madam [chairperson of Infosys Foundation], one of the judges herself translated everything I said to the other judges for 23 minutes straight."
If you have a similar innovation that can transform lives, we can help you scale up. Apply for the Aarohan Social Innovation Awards, 2023 and win upto Rs 50 Lakh.
Apply now
Unable to view the above button? Click here
"And later, I was told that we had won. They felicitated us and presented us with a Rs 5 lakh cash prize. I had never seen such a big amount of money in my whole life," he says, overwhelmed.
After receiving the award, he says, many newspapers and Kannada news channels covered his work, and more farmers got to know about the product. "The insect trap has now reached over 16,000 farmers across six states in India. I recently sent some samples to farmers in countries like Malaysia, the UK, Bahrain, Nepal and Australia."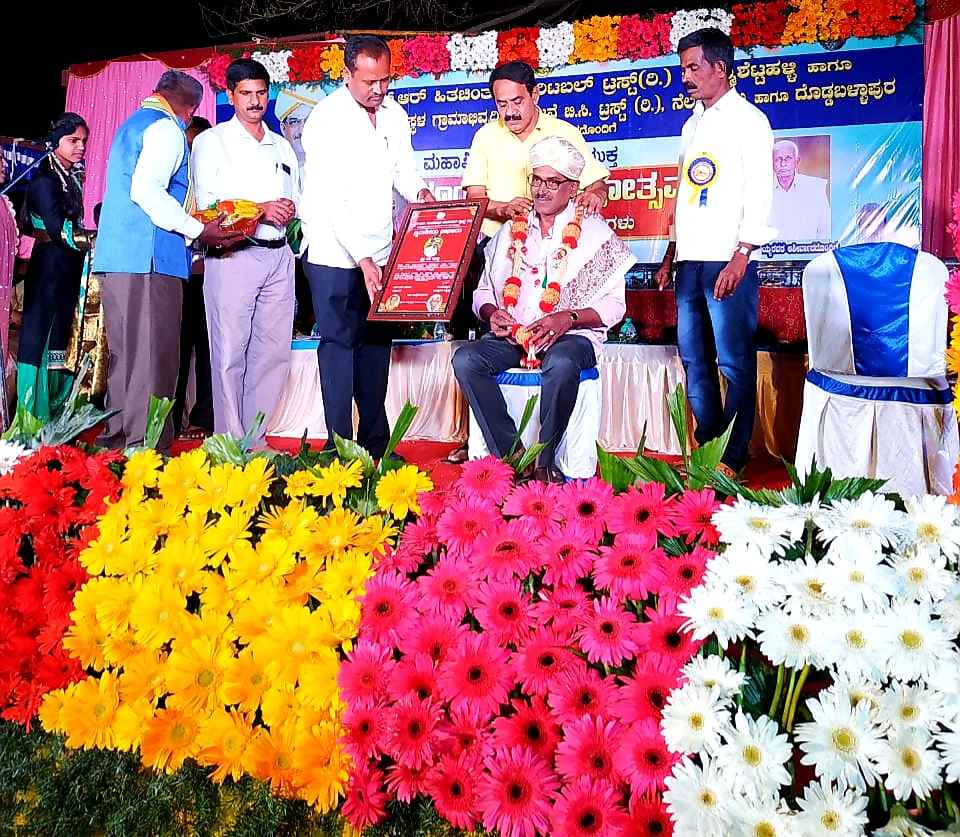 Even the Department of Agriculture in Karnataka recognised Karibasappa and his team after this. "They came over to our farms, checked our installations, and presented me with the Krushi Pandita Award along with Rs 50,000 cash prize. Six other institutes in Bengaluru also felicitated me, and they presented certificates and cash to encourage my work. These recognitions have helped me reach more farmers."
He shares that he is now trying to get bigger loans to manufacture more units which will help to reduce the manufacturing cost of the product. "We want to make the insect trap more affordable and help farmers worldwide. Right now, it's priced at Rs 3,500 including GST, along with a six-month warranty. The bulb needs to be changed once every 14 months and the Lithium-ion battery will last three years."
He says that Syngenta India Ltd has ordered 600 pieces of his product which it plans to use all over India, and has promised to buy 6,000 more.
Karibasappa informs that his company's turnover is rupees two crores and 20 lakhs this year, all thanks to Aarohan Awards. He says, "We were and still are small-scale farmers. We had no idea whether we'd win or lose the competition. We believe in working hard to the best of our capabilities and then putting the burden of results on God. I understand the difficulties that farmers face. My only intention is to support them as much as I can and do my share of seva in this world."
He further says that he is immensely proud that an MNC recognised his innovation through the Aarohan Award, which has boosted his resolve to give back to the society that has given him so much support.
"There's a mention of us on the Infosys website. I know people around the world visit their websites, and this makes me feel very proud. My family, my fellow villagers and I keep Infosys in our hearts. There's not a single day that passes when we don't acknowledge their support. We are eternally grateful."
Do you have a similar innovation that has the potential to create an impact? Apply for the Aarohan Social Innovation Awards, 2023 and win upto Rs 50 Lakh.
Edited by Divya Sethu
We bring stories straight from the heart of India, to inspire millions and create a wave of impact. Our positive movement is growing bigger everyday, and we would love for you to join it.
Please contribute whatever you can, every little penny helps our team in bringing you more stories that support dreams and spread hope.