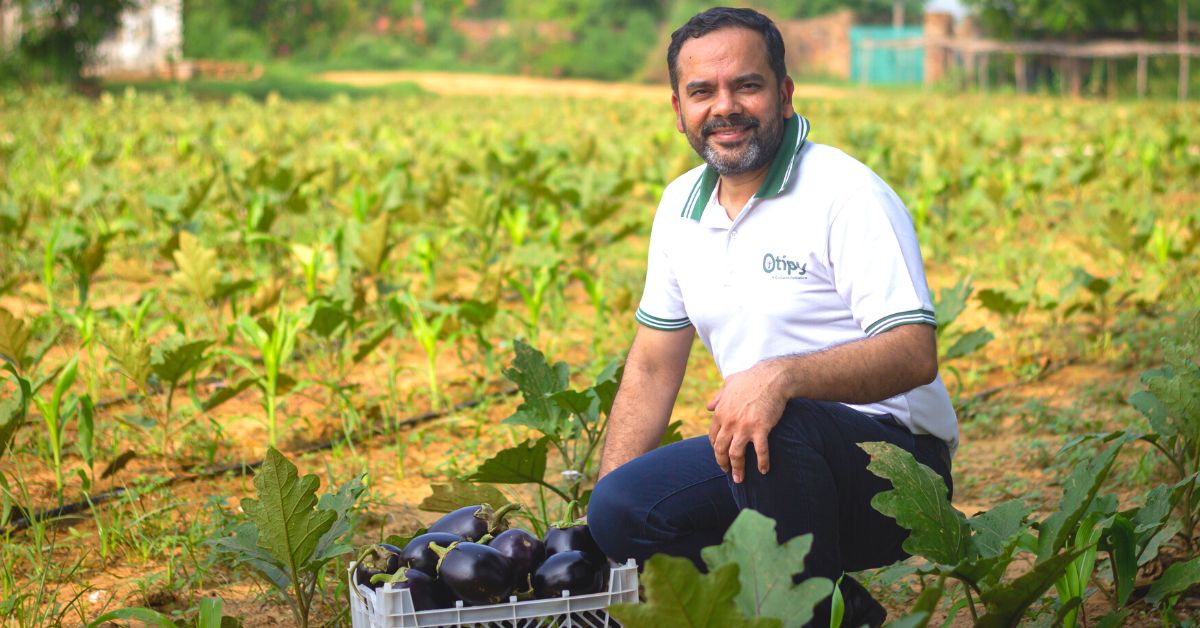 With the idea of helping small farmers who do not have large landholdings and enough resources to sell their fresh produce in mandis, IIT Delhi graduate Varun Khurana started a Delhi-NCR-region-based agritech startup called Otipy.
Varun Khurana, a computer science graduate from IIT-Delhi, is a serial entrepreneur with extensive experience in the grocery delivery business.
From serving as chief technology officer at Grofers (now Blinkit) to co-founding MyGreenBox, an online grocery delivery service, he transitioned to founding Otipy, a community group-buying agritech startup looking to improve the supply chain for fresh produce, in May 2020.
Based out of Delhi-NCR, he founded the startup backed by the idea of helping small farmers who do not have large landholdings and enough resources to sell their produce in the mandis. Nearly three years after establishing Otipy, the platform today has a network of more than 20,000 small farmers and has also tied up with 100 FPOs (Farmer Producer Organisations).
"Our idea behind starting Otipy was to cater to a large target addressable market (TAM) both for consumers as well as farmers. As such, the average landholding of our farmers is around a hectare. Farmers associated with us have improved their incomes by about 35%-40%," claims Varun Khurana, CEO and founder of Otipy, in a conversation with The Better India.
"Otipy has also set up its pre-cooling units at the farms which helps keep the produce fresh on the ground, even during peak summers which helps farmers earn the maximum profit. We employ a method called pre-cooling, which reduces the field heat of the produce harvested by farmers and increases the shelf life of the product by almost 50%," he adds.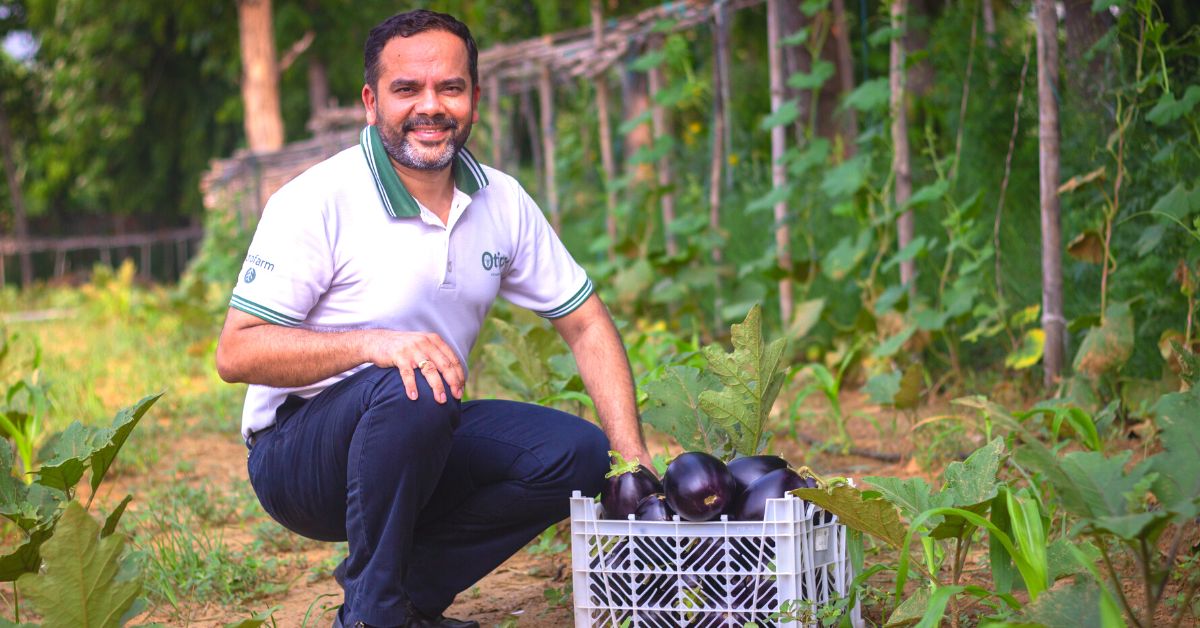 Otipy's USP
Today, the startup also works closely with more than 1,000 partners/re-sellers across Delhi-NCR and Mumbai, who serve more than 10 lakh end consumers with fresh produce at their doorstep. They source a variety of fresh fruits and vegetables from farmers across Haryana, Uttar Pradesh, Delhi, Gujarat, Himachal Pradesh, Karnataka, Rajasthan, and Maharashtra.
"We work directly with farmers to deliver fresh, safe, and hygienic produce to consumers within 12 hours from harvest. This ensures our produce is fresh. We also guide farmers about correct harvesting practices and consumer expectations so that their incomes are maximised. Our artificial intelligence (AI)-based prediction method helps us reduce wastage. We are able to pass those savings to consumers; this ensures they get a better price from us," he claims.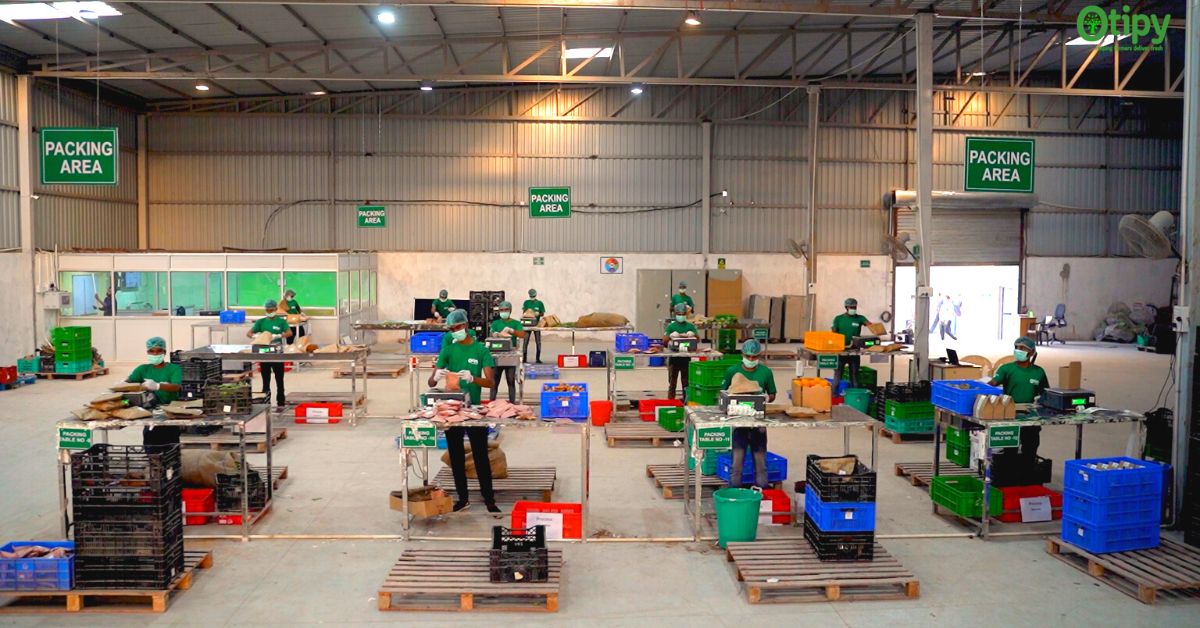 Benefits for small farmers
Varun breaks down the benefits that his platform offers to farmers, including:
1) Better visibility of benefits over price variability in mandi: "We share and negotiate prices in advance with farmers and honour that. This is unlike the mandi where the farmer only gets to know the price once he reaches there, and then he has no option but to sell," says Varun.
Speaking to The Better India, Monty Antil, a farmer based out of Sonepat, who grows a variety of seasonal vegetables and has been working with Otipy for the past three years, says, "We know how much produce to harvest as per their demand. Also, they pre-decide the rates for our produce that are higher than the ones offered in mandis. This gives us some security."
2) Quick payment cycle for farmers over conventional supply chain: "Our platform offers a 10–15% premium to farmers over mandi prices," claims Varun.
3) Financing to farmers in case of urgent need: Otipy normally has a 10–12 day payment cycle. "However, we provide an invoice discounting facility where a farmer can get the payment in just one day of selling his produce. All our payments are electronic," he claims.
4) Transparency for quality, quantity and price embedded through a 'farmer friendly' technology: "Yes, we have a completely transparent process of quality, quantity etc, and the entire process is automated. The complete ledger and payment details are shared with farmers in just one click. They also know immediately how much material has been received in the warehouse. Also, we share customer feedback on quality with farmers," notes Varun.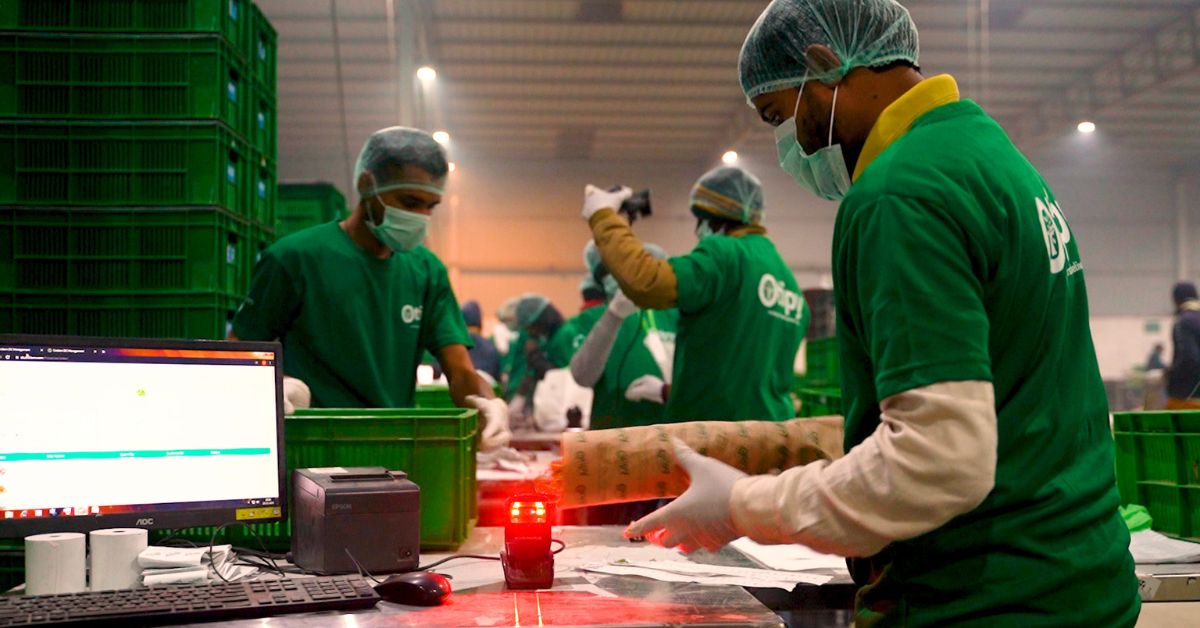 5) In certain cases, Otipy also assists in arranging good quality seeds and fertilisers for their crops: "We share our long-term projections with farmers before the season, and thus, they know about our demand and grow accordingly," he notes.
The objective is also to make farmers tech-savvy based on their 'unique prediction model' which uses machine learning (ML) algorithms and business intelligence from stakeholders and SMEs to understand the variations in demand "which allows us to forecast demand with up to 95% accuracy," claims Varun. "As a result, we have also been successful in reducing the food wastage in the supply chain from 40% to just 3%," he adds.
After all, wastage basically happens because of the gap between the demand and supply chain and the time a farmer's produce spends in the supply chain.
"Our AI-based (data regression, Arima) demand prediction model helps us in calculating the exact demand based on more than 40 parameters viz. seasonality, prices, temperature, holiday, flag, associated products, substituted products, deal penetration, burn, percentage etc. We also convey the calculated demand to our farmers, and hence wastage is reduced," he says.
"Our whole system that connects farmers to consumers is designed in-house. This way farmers get real-time information on price as well as quality feedback from consumers," he adds.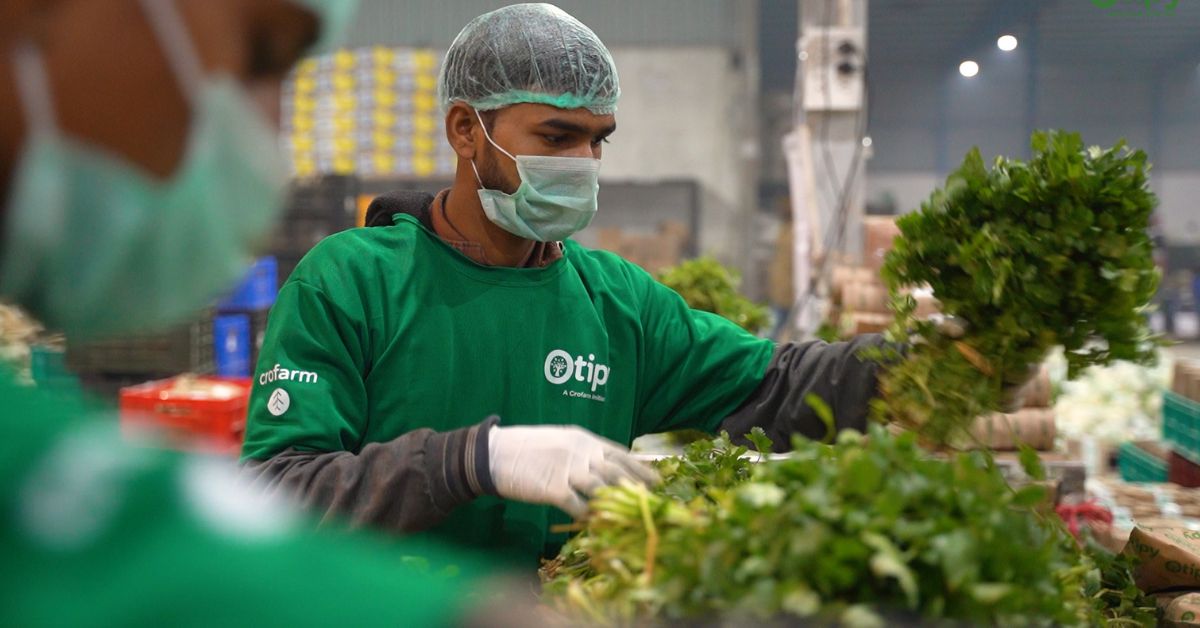 Here's what Abhishek Dhamma, a farmer who also runs an FPO called Adhirayansh Organics Producer Company Limited, with 187 farmers in it, has to say about working with Otipy.
For some context, farmers in his FPO grow all the local vegetables suitable for their agro-climatic zone, including exotic ones like broccoli, iceberg lettuce, cabbage, etc. They have many farmers who aren't based out of Delhi-NCR and come from states like Bihar and Uttar Pradesh. "They have taken land on lease, and their average landholding is 1.5 acre or less than a hectare. Some farmers, however, lease up to two hectares," notes Abhishek.
"Otipy provided a direct marketing strategy for farmers connected to our FPO. Going further, they've helped us develop cultivation plans according to their demand. Certain farmers in our FPO are very good at growing spinach, while others favour growing different kinds of gourds. As an FPO, we classified all the farmers, giving them all the data including how much they have to produce and the kind of vegetables we require throughout the season," he adds.
Once this happens, the FPO informs Otipy about the amount and kind of produce available. For example, the FPO tells Otipy that they can deliver 500 pieces of bottle gourd. Accordingly, they place the order, and the FPO informs the farmer.
The next morning, the farmer is ready with the harvested produce, and the FPO sends transportation to collect it from them and transport it to their collection centre. A simple sorting and grading process happens at the farmer's end, followed by another one at their collection centre. If the vegetable needs washing, the FPO does it.
"In the case of premium spinach, for example, we also perform hydro-cool and pre-cool during the peak summer months. We remove the leaves, dip the spinach into cold water for which we have a facility, use some disinfectant and store it in our cold storage," says Abhishek.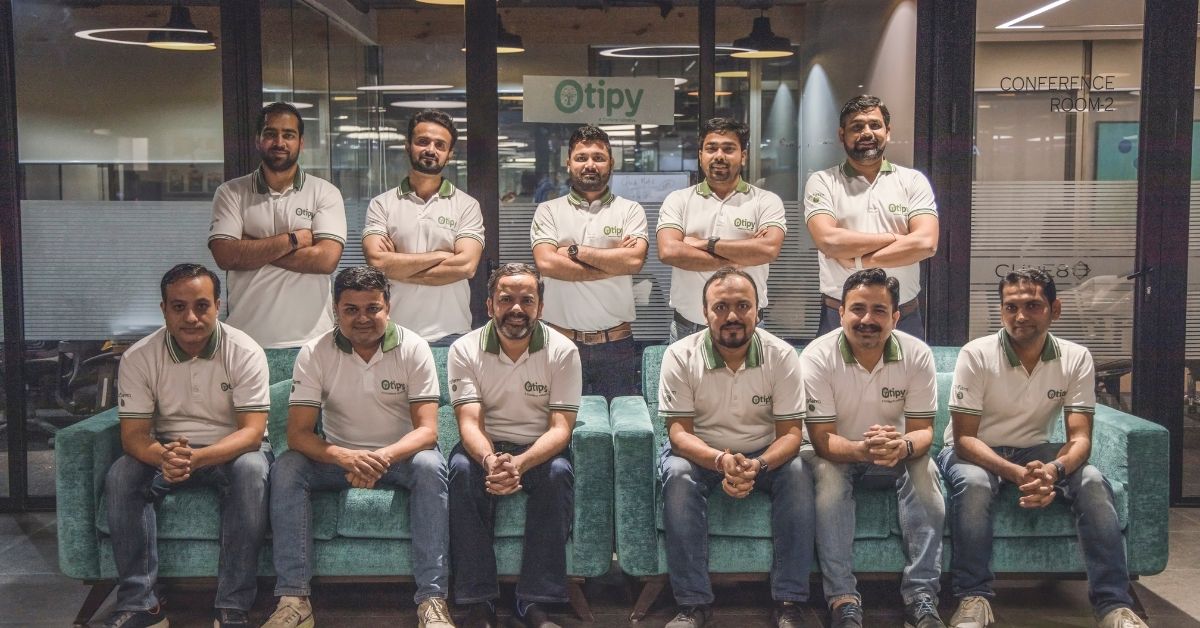 The produce is locked in their cold storage for two to three hours. Once the FPO removes all the vegetables from the cold storage, they load them on their delivery vehicle and transport them to Otipy's dispatch centre in Noida and Manesar. Once it's delivered, packaging and further processing are done at the startup's dispatch centre.
However, according to Abhishek, "Their mode of payment last year wasn't very good, but they've improved significantly in the last six months. The frequency of payment is high, and farmers are very keen to work with us because of this particular aspect. Once produce is accepted at our collection centre and delivered to their dispatch centre, payment is more than 100%."
"More importantly, they are very accommodating and responsive to our requirements compared to other retailers regarding pricing or size of our stock-keeping units (SKUs)," he adds.
Currently, Otipy is operational in Delhi NCR, Mumbai, Sonipat, Meerut and Bhiwadi. "Till now we have received funding of $45 million. Our biggest investors are Westbridge Capital and SIG Venture Capital. Our annualised revenue run-rate (ARR) is Rs 160–180 crores and about 35–40% of this can be attributed to small farmers," claims Varun.
(Edited by Pranita Bhat; Images courtesy Otipy)
We bring stories straight from the heart of India, to inspire millions and create a wave of impact. Our positive movement is growing bigger everyday, and we would love for you to join it.
Please contribute whatever you can, every little penny helps our team in bringing you more stories that support dreams and spread hope.