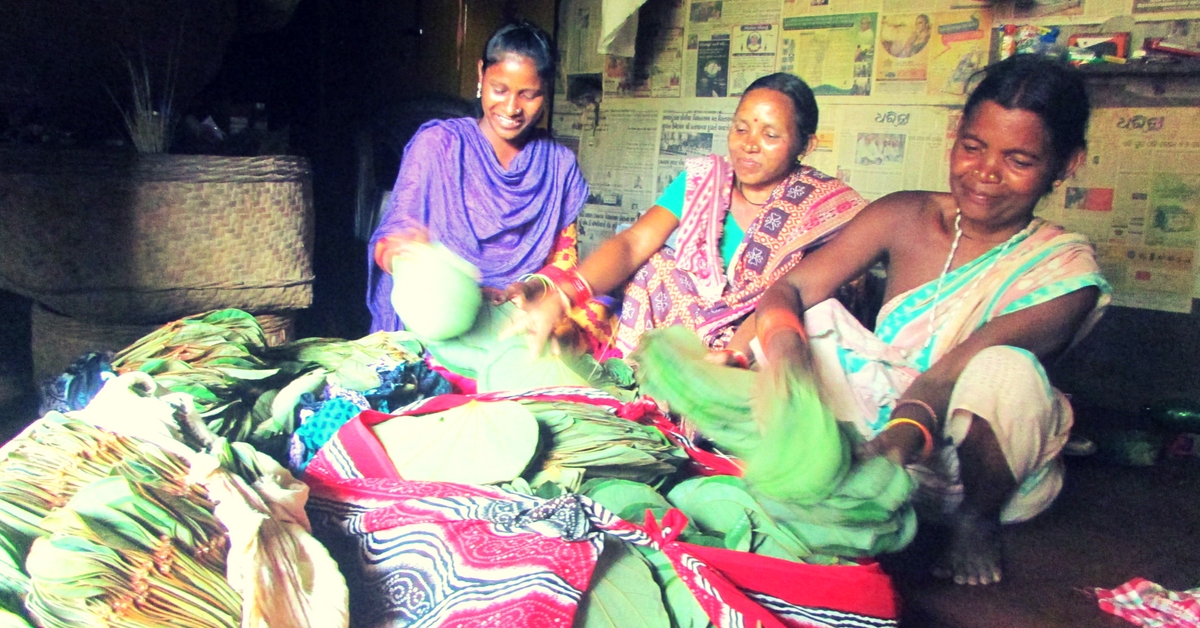 The tribal women of Odisha have been exporting their plates made out Siali leaves to a German corporation and have been making a decent living out of this.
Sampati Kahanra, a Kandha tribal woman, has a deep connect with the forest. From ever since she can remember she has been walking the dense greens to pick food, firewood and leaves – earlier with her mother and now to run her own home. Up at dawn, the 48-year-old mother of three quickly finishes her chores and then, along with a few others, heads to the jungles at the periphery of her Madikhola village in Odisha's Kandhamal district. Together, the women forage for Bhalia seeds, tamarind, mahua flowers and, most importantly, Siali leaves.
Back by noon with her collection, she sits down to stitch plates, locally known as 'khali panna'. It's time-consuming and Sampati does get tired sitting for long hours on the floor of her thatch-roof hut carefully binding the leaves together but she knows that this will enable her to bring in much-needed money for the family. Whereas till last year she used to make a pittance – Rs. 200-Rs. 300 per month from the sale of plates to the local traders – today, thanks to an Indo-German venture, which is exporting the biodegradable leaf plates internationally, Sampati's monthly income has increased to Rs. 3,000.
In fact, three Self Help Group (SHG) federations in Kandhamal, Sambalpur and Deogarh districts are benefiting from this project that has given a whole new meaning to this otherwise labour-intensive, home-based work done by impoverished tribal women.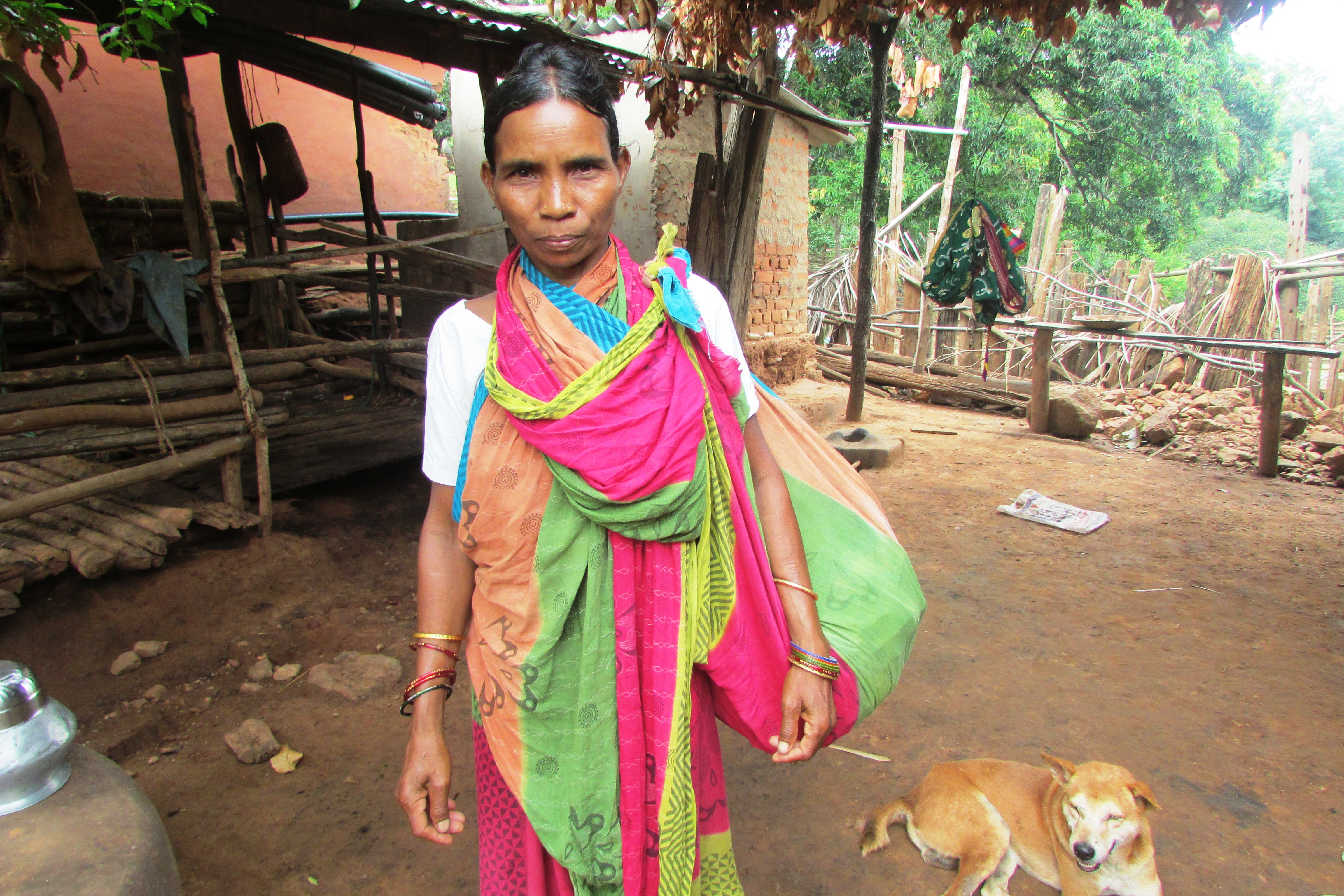 "There was a time when we used to get Rs. 10 or Rs. 12 for one 'chekki', a bundle of 80 plates. The money was not commensurate with the effort involved. But ever since I joined the Maa Dadiamba Laghu Banajata Sangrahakari Mahila Gosthi SHG I have been able to secure a better price from the traders in the large market at Dadaki panchayat, which is around five kilometers from here," shares Sampati.
Her neighbour and fellow SHG member Ashumati Kahanra, 46, agrees, "Fact is that before we formed the SHG we had no bargaining powers. Most of us were forced to accept the poor rates that the traders would offer us. Those days are well behind us."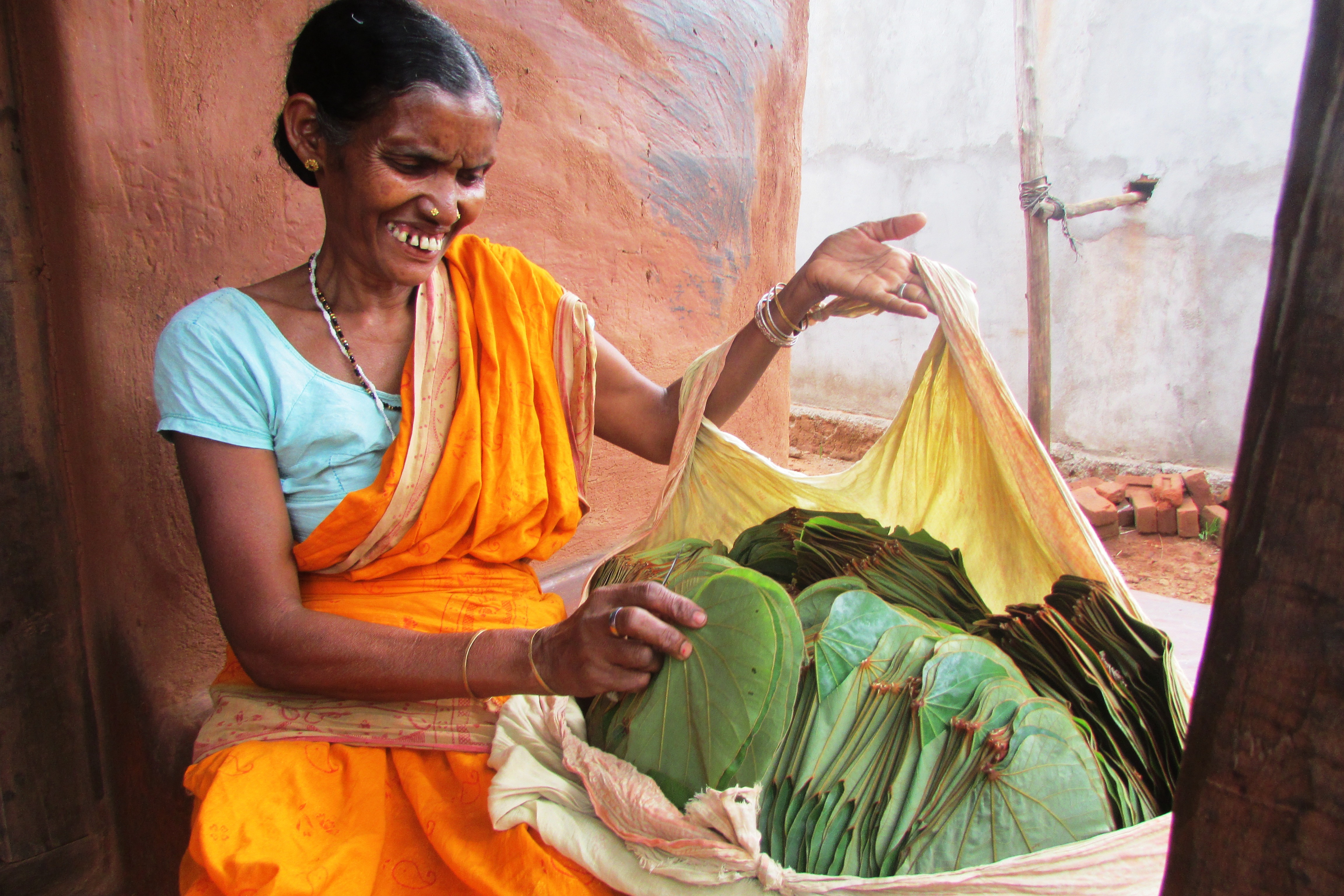 What changed the rules of engagement with the traders is an intervention initiated by Vasundhara, a non-profit research and policy advocacy group based in Bhubaneswar, which works on issues of environmental conservation and livelihood creation for the rural poor in the state. "We have been working to create awareness around the Forest Rights Act (FRA) 2006, among communities that depend on the forest for their sustenance. The FRA enables them to set up and run enterprises using minor forest produce. Tribal women like Sampati, Ashumati and many others, have benefited immensely from the creation of SHGs. Being part of a group has not only improved their income but has enabled them to collect forest produce responsibly. They understand that if the forests survive then so do they," elaborates Manmohan Barik, Programme Officer, Vasundhara in Kandhamal.
---
You may also like:  How A Free Meal Programme Is Reducing Maternal Anaemia In Tribal Women Of Andhra Pradesh
---
Indeed, the FRA vests the ownership rights of minor forest produce (MFP) into the hands of the gram sabha and even gives it the authority to issue permits that allow for the transit and sale of MPFs by the locals.
This has opened up possibilities for the tribals to directly reach out to buyers through their SHGs. Consequently, with the assistance of Vasundhara, in 2015, 33 women from eight villages joined hands to set up the Maa Dadiamba Laghu Banajata Sangrahakari Mahila Gosthi. "The forest is ours and our livelihood is directly linked to the resources we can gather from it. Siali is a creeper that grows in abundance in the Sal forest. Its lush leaves are large and durable and for generations we have used them to make plates and bowls for household use as well as to sell. Earlier, we used go individually to the large market to sell our wares but nowadays the traders have started coming to us. Through our association with Vasundhara we have learnt a better technique of stitching the leaf plates. With a superior quality product we are able to demand a good price," says Rashmita Bindhani, 22, Secretary of Mahila Gosthi. Rashmita is one of the few tribal women in the area who is educated and so she handles the group's accounts and also negotiates with the traders.
Whatever time she can spare from these activities is then spent in making Siali plates along with her group mates.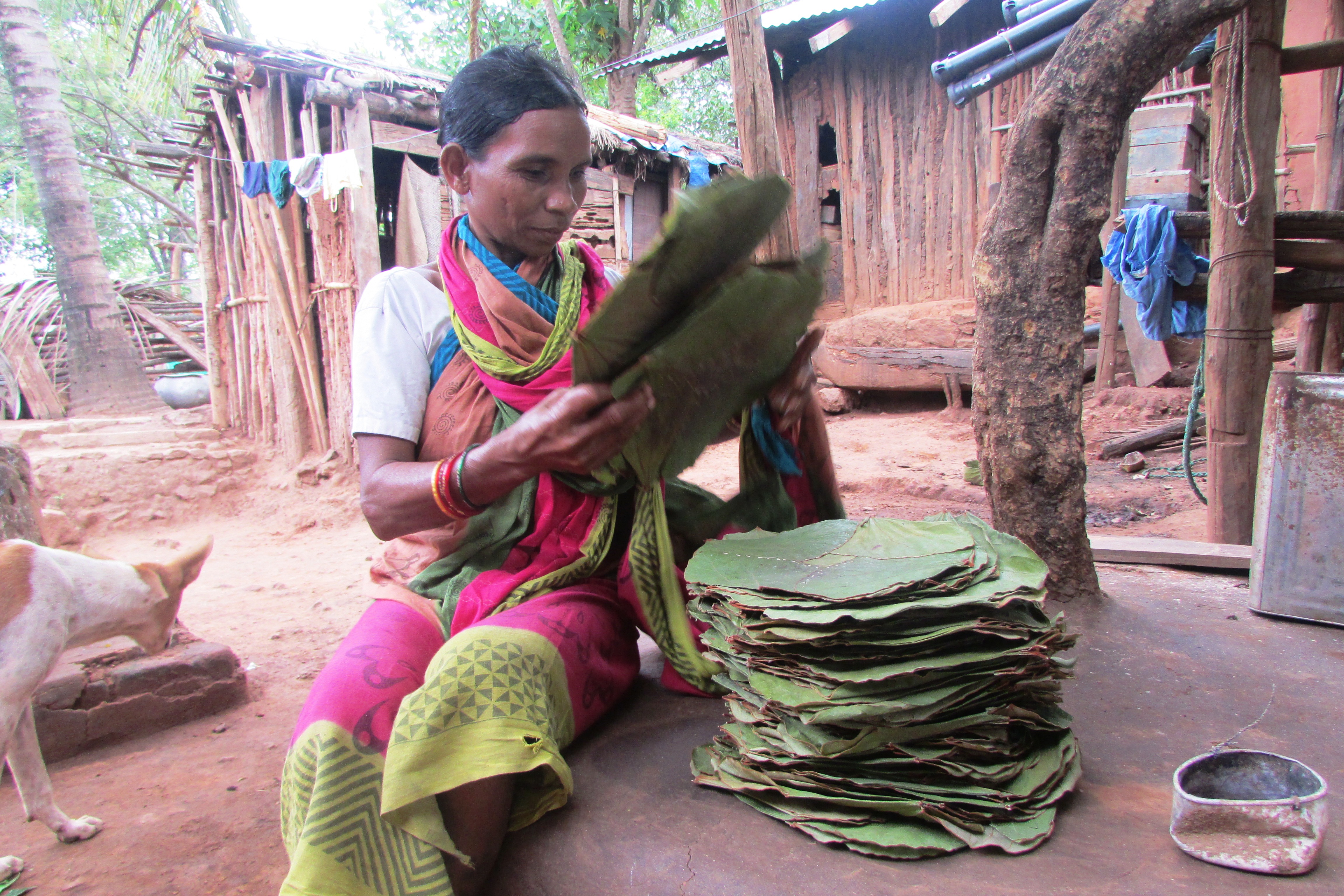 ---
You may also like: Tribal Women to Light Up Remote Indian Villages With 60,000 Self-Manufactured Solar Lanterns
---
Of course, the partnership with the German company, Leaf Republic, which retails biodegradable tableware across the world, has been the big game changer. Chittaranjan Pani, Forest Researcher and Programme Coordinator, Vasundhara, reveals, "Leaf Republic's India division, Bilotech Plant Materials Pvt. Ltd., was scouting for leaf-based biodegradable products when they got in touch with us. After several rounds of discussions an agreement was signed last September between the women SHG federations in Kandhamal, Sambalpur and Deogarh districts and the German principles. Thereafter, we organised training programmes to teach them an improved technique of stitching the plates so that they could deliver a quality product. So far, collectively the women have supplied nearly one lakh Siali leaf plates."
As such the procedure for collecting and processing the leaves remains the same. After they gather the leaves, they are left to dry in the sun for around three days. Subsequently, the women sit down to make the plates. The one significant difference is that the stitch they use is somewhat different.
"The training has definitely helped us. We collect the better quality leaves and then make sturdier stitches so that the end product is up to standards," says Sampati, whose children are going to school, although her daughter will drop out after Class Ten "as I can't afford to send her to study after that". Kunti Kanhara, another SHG member, adds, "We used to stitch them roughly and quickly beforehand but we are conscious about quality these days. It's still hard work but at least our earnings are much more."
---
You may also like:  3 Tribal Women Leaders Who Are Doing Fabulous Work for Development in North East India
---
For these industrious tribal women, however, their relationship with the forest is certainly not one-sided. They don't believe in just taking, but also giving back. Putting things in perspective, Rambhabati Kanhara talks about the challenges they are up against. "Bad weather conditions are playing havoc with our forest. A few months ago, during the summer season, a fire broke out in the Sal forests nearby and we all suffered huge losses. The erratic rains, too, bring their own set of problems. For instance, the humidity is perfect for caterpillars and other insects to thrive. They spoil the leaves. If we have to continue to derive our livelihood from the trees then we have to find a way to protect them," she says astutely.
To save their forest the women's group at Kandhamal has decided to take a few necessary steps. "We are going to start planting more saplings in the forest and also keep an eye on who all are accessing the forest produce so that there is no indiscriminate exploitation," informs Rashmita. Apart from this, the group plans to set up a warehouse where the women can come and make the products and store them safely. She says, "In this way, we will ensure that there is minimal wastage, which will positively impact the forest in so much as we will not unnecessarily keep going back for more leaves."
---
You may also like: Remembering Mahasweta Devi and Her Powerful Tales about the Struggles of Tribal Women
---
As their experience clearly demonstrates, a mutually beneficial relationship between the forest and its inhabitants is workable. "As eco-friendly products gain ground nationally and internationally, it creates a win-win situation for all. That's because while this gives forest dwellers a fighting chance at building a better life for themselves, instinctively these communities are bound to defend their habitat," concludes Pani.
Like this story? Or have something to share? Write to us: contact@thebetterindia.com, or connect with us on Facebook and Twitter (@thebetterindia).
We bring stories straight from the heart of India, to inspire millions and create a wave of impact. Our positive movement is growing bigger everyday, and we would love for you to join it.
Please contribute whatever you can, every little penny helps our team in bringing you more stories that support dreams and spread hope.