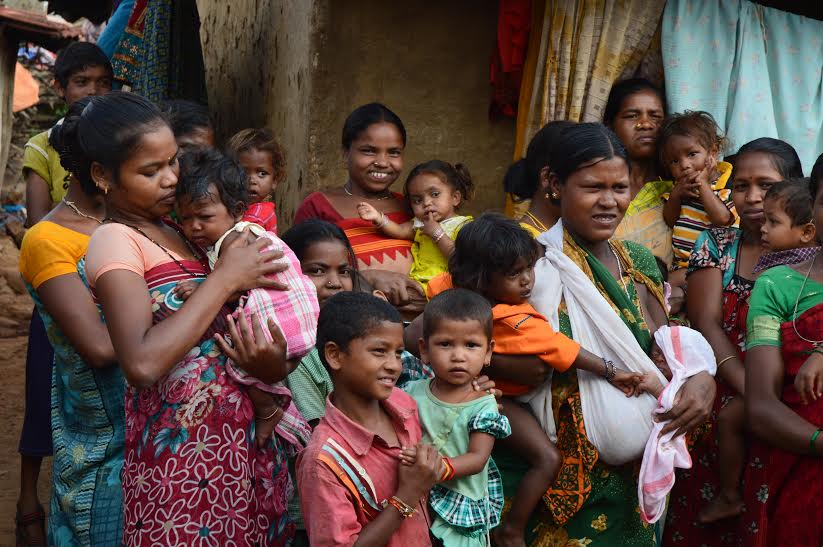 When crops failed, tribal mothers in Andhra Pradesh were forced to subsist on a basic diet. But thanks to this amazing free meal programme by the government, they can now look forward to a healthier future.
When crops failed, tribal mothers were forced to subsist on a basic diet in Andhra Pradesh. But thanks to this amazing free meal programme by the government, they can now look forward to a healthier future.  
Poya Devi, 22, is happy that the weight of her child has been steady increasing. Her infant has received immunisation and since last June, Poya has been availing of services under the Indiramma Amurutha Hastham (IAH) scheme in her village of Urumulu, which lies 30 kilometres from the main road in Araku block of Visakhapatnam district in the eastern state of Andhra Pradesh.
Poya was registered at the village's anganwadi as soon as she got pregnant and was later sent to a hospital for institutional delivery unlike other tribals in her village.
"Earlier, we only used to eat rice and tamarind soup whenever our crops failed. But the meal scheme at the anganwadi has improved my health and I am even entitled to monthly check-ups," says this Kondadura tribal, as she lovingly cradles her daughter in her arms.
The IAH is a government programme that aims at boosting the nutrient intake of pregnant women and breastfeeding mothers and reducing the prevalence and severity of maternal anaemia.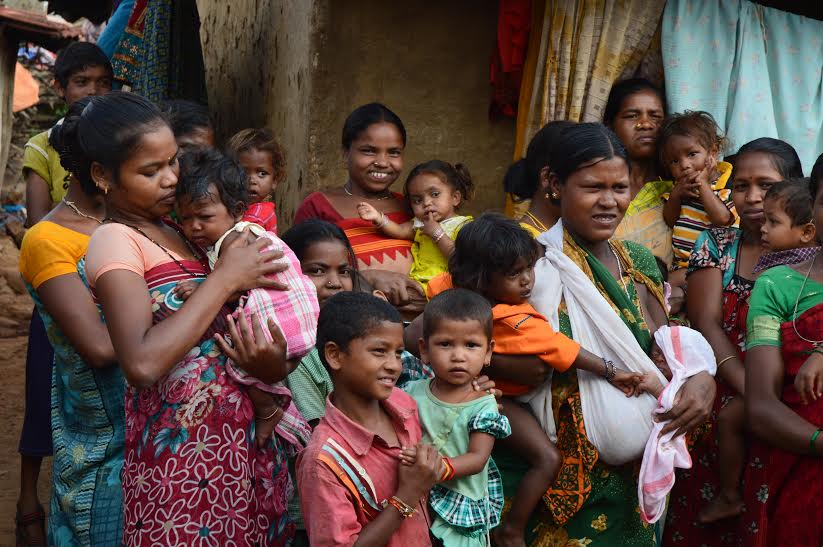 It reaches over 350,000 pregnant women and breastfeeding mothers across some 26,000 anganwadi centres located in villages where malnutrition rates are high. Some 7,600 – or 29 per cent – of these anganwadis are located in hard to reach tribal villages.
As part of the scheme, registered women are entitled to receive a free nutritious meal daily between 11 am and 2 pm at the anganwadi for 25 days in a month. The hot, cooked food – prepared by the anganwadi helper – contains 125 grams of cereal, 30 grams of pulses, 50 grams of green leafy vegetables, 50 grams of egg and 200 ml of milk, and provides 1052 kilocalories, 33 grams of protein, and about 500 mg of calcium (i.e. about 40 per cent of the daily requirement of these nutrients).
In far-flung villages like Urumulu, which are tucked away in the heart of picturesque hills and are inaccessible by motorable roads, the rate of maternal deaths and child mortality are high. Urumulu has a total population of 368, including 191 females. The tribals here, who are dependent on agriculture for survival, suffer immensely if their crops fail.
The programme, therefore, has been specially designed to give succour to vulnerable groups that are left with nothing to eat in the event of a low yield.
"Generally, we only get to eat seasonal vegetables, so this balanced meal is a blessing for me and my daughter," remarks Poya.
After their meal, the women receive on-the-spot iron and folic acid supplements to take care of iron deficiency and anaemia, they are counselled by the anganwadi worker on how to improve their dietary intake, and are encouraged to use the services provided during the monthly Village Health and Nutrition Day.
The anganwadi worker diligently keeps a record of the women enrolled, the services they receive, their weight gain during pregnancy as well as the weight of their child at birth.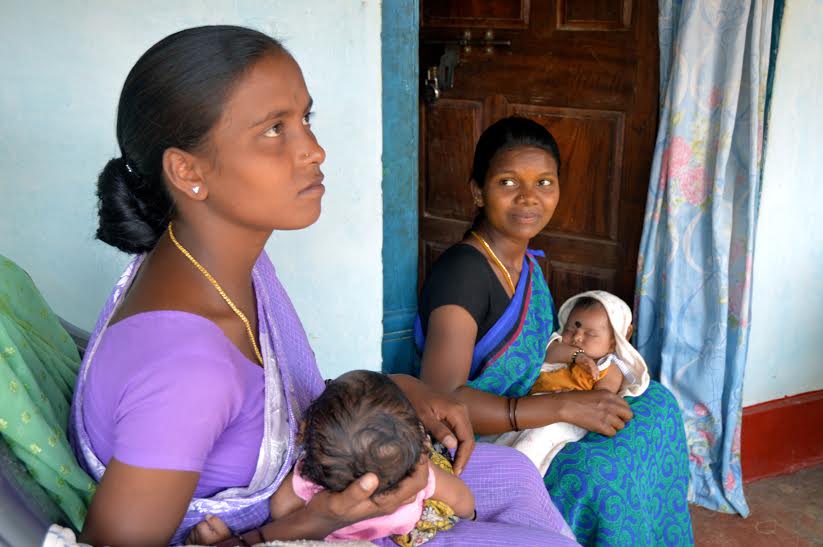 Like Poya, Betukuri Lingamma, 33, is a content mother today. She found out about the meal programme through her anganwadi worker who came to her doorstep one day. Betukuri, who has a five-year-old son, reveals that her domestic situation was bad during her first pregnancy and she used to frequently fall ill.
"I delivered my second child, a baby girl, in July 2014 and this time I'm not sick as I am eating a better diet. I feel secure that someone is there to take care of our needs. My son, who was delivered at home, is also availing of the home ration every day," she informs.
Annayya Sharma of Nature, a specialised tribal resource non government agency in Visakhapatnam, works as a consultant with this programme and monitors 400 villages where Rs 17 is spent per meal for each mother.
"Although they somehow manage to get something for dinner, lunch is always a problem for these women. We have observed that now families are keen to send the pregnant women for meals to the anganwadi. Otherwise earlier, they used to live on fruits and roots if their crops failed as there is a critical irrigation crisis in these interior parts of the state. Here we have hills, so the ground doesn't hold much water because of the slopes. In summer, they eat stored food," he shares.
Sembi Ratanakumari, 18, who belongs to Urumulu, is not at all worried about her diet anymore thanks to this programme. Neither is Susheela Janni, 21. In an area where literacy levels among the women are a mere 20 per cent, Sembi and Susheela are grateful that they were approached by Jogama Majala, their local anganwadi worker, who is also a teacher in the village school, about the free meal scheme and the medical benefits for the mother and her child.
In Champaguga village of Kollaput panchayat, 15 kilometres from Araku in Dumriguda block, primitive tribals like the Dhulia thrive deep in the hills. Dhulias, a mainly Oriya speaking community, live off the land. Anganwadi worker Killo Rukmini, 42, has been spearheading the meal programme in her village against all odds. With a total population of 76 households comprising 356 people (175 females), Champaguga, like Urumulu, is remote.
"It took me years to circumvent the tribals' superstition and blind faith and get them to send the women for meals. I also see what seasonal fruits and vegetables are available and prepare the nutritional charts for the new mothers accordingly," Rukmini shares.
Only after consolidating community support has Rukmini been able to issue Mother-Child Health Cards to the nine mothers in her village. She has a close connect with the community as she was born here. She says, "I married two doors from where I grew up so everyone knows me. Still, it took me a long time in getting the villagers to utilise this scheme as traditional healers are preferred."
Over 5,100 federations of women self help groups have been engaged to support the implementation of this programme.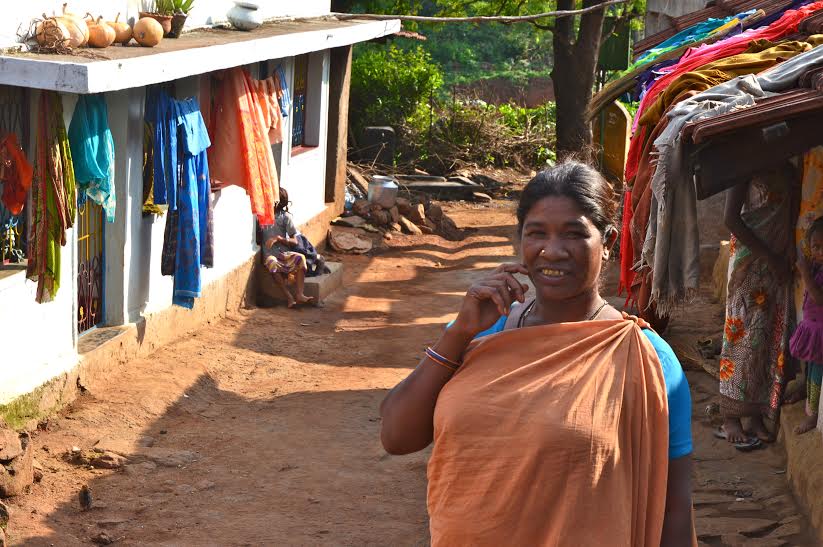 In each anganwadi centre, a five-member committee is constituted to supervise its implementation. The committee, chaired by a representative of the local self help group federation, includes another federation representative, one pregnant woman, one breastfeeding mother and the anganwadi worker.
Programme data shows that as of August 2013 (the latest available figures), 96 per cent of the eligible women were receiving a meal and iron and folic acid tablets at least 21 days per month. In the 7,600 anganwadi centres located in predominantly Adivasi communities, over 66,200 (97 per cent) eligible women are being provided a meal, a counselling session and iron and folic acid supplements regularly. Moreover, the scheme – reviewed monthly at the state level – has set an exclusive 104 telephone line to address grievances.
The experience in Andhra Pradesh demonstrates that nutrition services can be successfully and equitably delivered to Adivasi women and children if there is political will and when civil society groups are involved in the design, implementation and supervision of these initiatives. In fact, social workers have disclosed that a team of experts from Maharashtra has recently visited the state to emulate the meal programme.
Mothers like Poya and Betukuri are surely enjoying the gift of good food and better health.
Like this story? Or have something to share? Write to us: contact@thebetterindia.com, or connect with us on Facebook and Twitter (@thebetterindia).
Tell Us More
We bring stories straight from the heart of India, to inspire millions and create a wave of impact. Our positive movement is growing bigger everyday, and we would love for you to join it.
Please contribute whatever you can, every little penny helps our team in bringing you more stories that support dreams and spread hope.