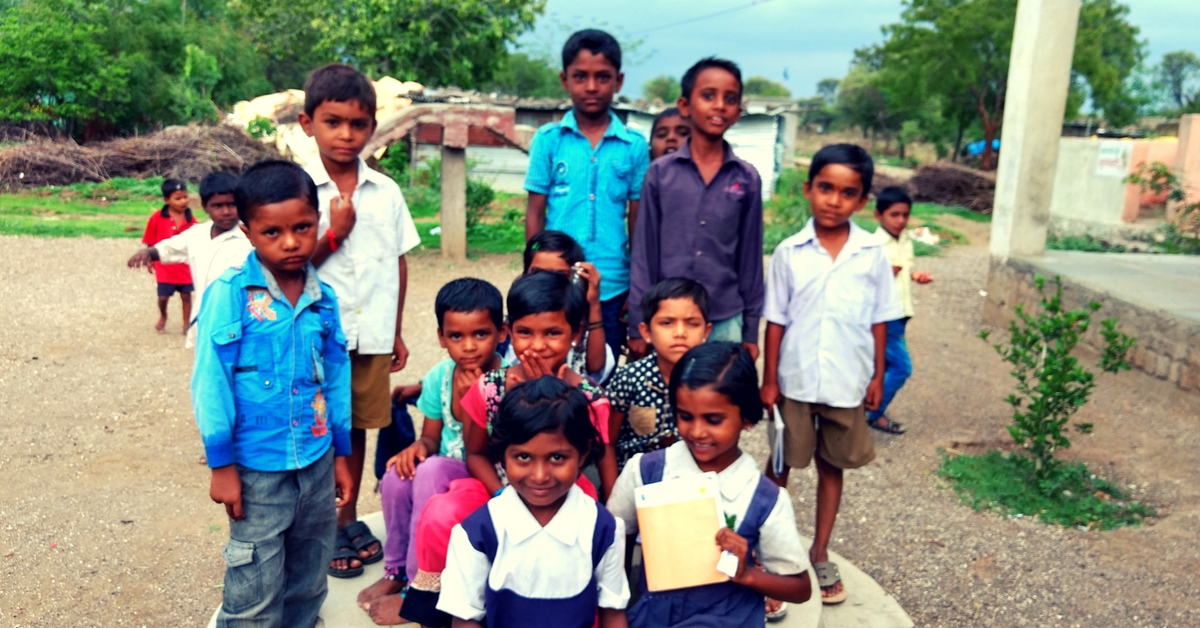 The Balmitras are trained as part of a Government of Maharashtra's Women and Child Development (WCD) department and UNICEF intervention, initiated in November 2014, which focuses on preventing unsafe seasonal migration of children for sugarcane harvesting.
"Majhya botat jadu ahe bagha bagha bagha... (Look…look…look, there's magic in my fingers!)".
As the cheerful voices of the Class 4 students of a government school at Wahegaon Vasti village in Maharashtra's Jalna district, fill the air, Sudarshan Waghmare, 35, looks on indulgently. It's a popular rhyme with the young ones as its lyrics go on to demonstrate all the "magical stuff" the fingers can do – write, calculate, make signs.
It is 4 pm and the school has closed for the day, but the children linger on, hanging around Waghmare. Otherwise a seasonal farmer, Waghmare is a dedicated Balmitra (children's friend) whose primary goal is to see that the little ones in his area are able to complete their education and enjoy their childhood.
"The first few weeks were difficult but we found a way to connect with the children. This is my way of helping them escape the exploitation of the sugarcane harvesting camps, of breaking the vicious cycle of child labour, and saving the next generation from 'barbadi' (ruin)," he remarks.
Waghmare has been trained as part of a Government of Maharashtra's Women and Child Development (WCD) department and UNICEF intervention, initiated in November 2014, which focuses on preventing unsafe seasonal migration of children for sugarcane harvesting.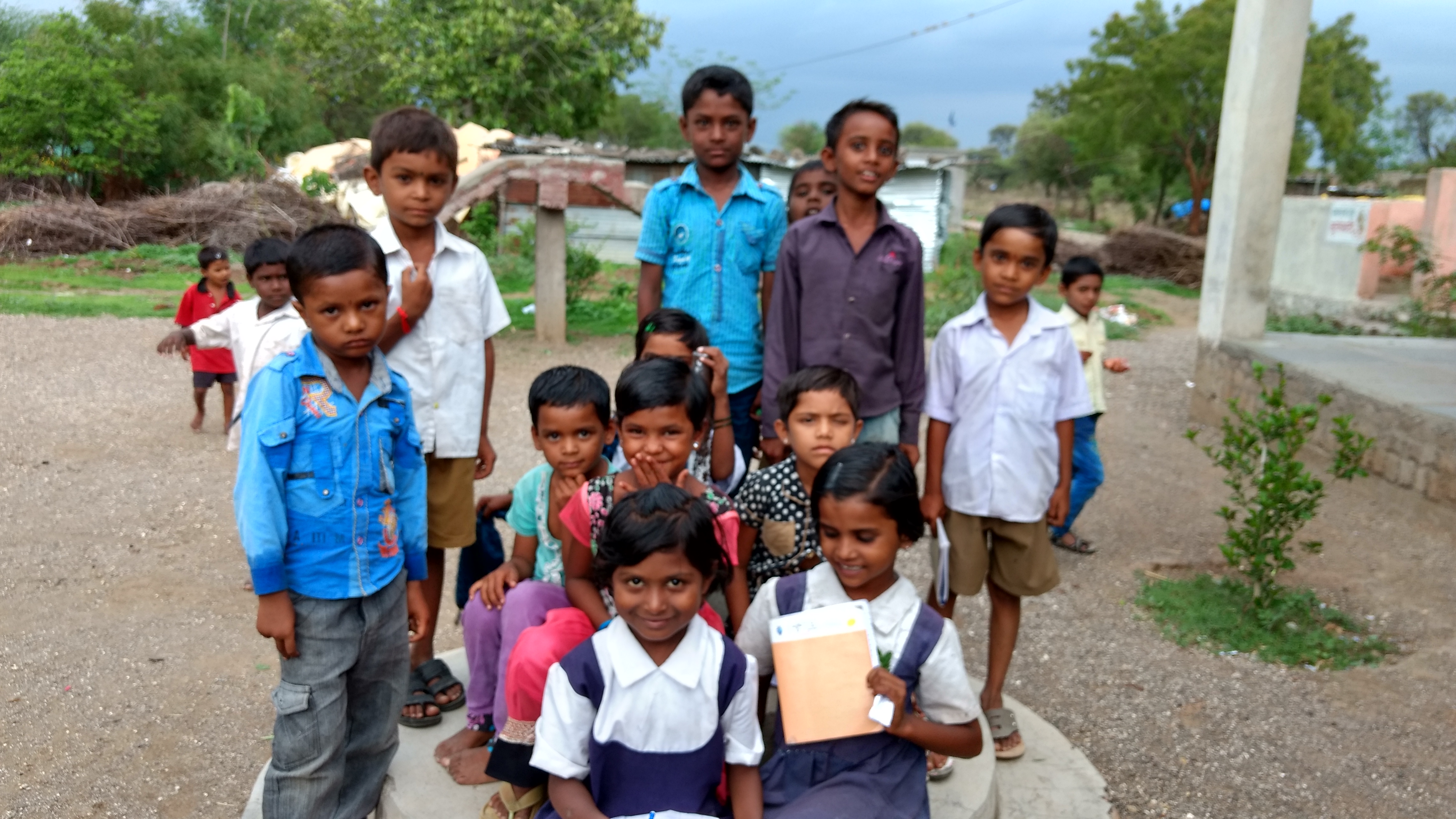 For most farmers in the Marathwada belt, the extremely arid weather makes agriculture an unviable livelihood. Consequently, a majority uproot their households to simply survive. This annual exodus begins each year as the monsoon starts receding. A 'mukadam', or middleman, from the village itself attached to sugar factories in towns like Sangli, Satara and Kolhapur "books" labour. This is done on the basis of their previous year's performance – records detailing the quantity of sugarcane harvested per day by each labourer are duly maintained. Once booked, the advance amount, usually between Rs 50,000 and 80,000, is handed over.
Come September the families move with children in tow to the sugarcane fields dotting the districts of Ahmednagar, Solapur, Sangli, Satara, among others, where they spend nearly six months working as "cutters". Housed in temporary camps, they don't even have access to basics like water, electricity or sanitation facilities let alone a school.
A typical workday starts before dawn since trucks that leave for the factories have to be loaded at 7 am. While the adults cut the cane stem the children lop off the top leaves, locally known as 'wadhe', sold as cattle fodder.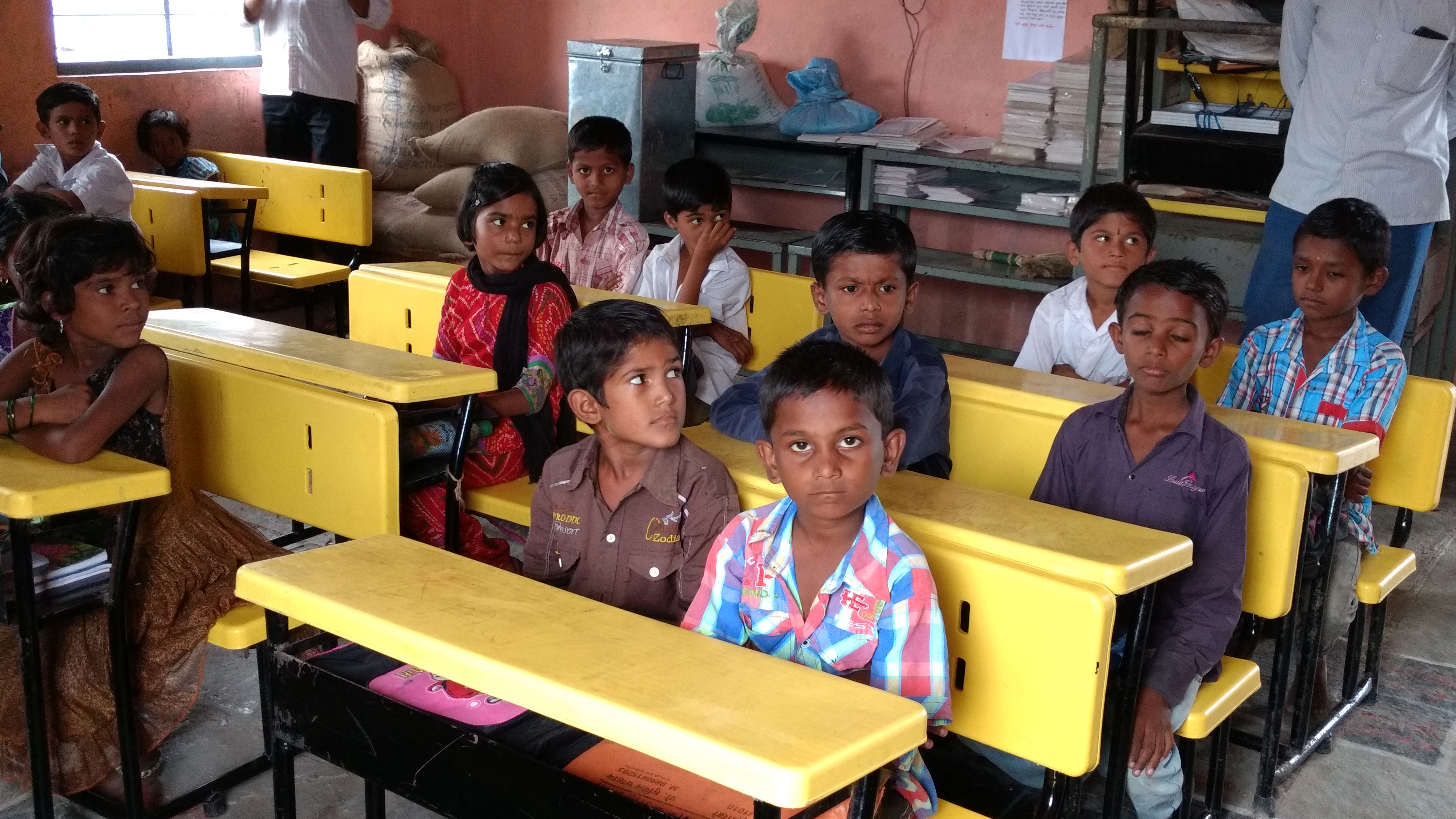 A gruelling daily grind leaves the adults with no time for the children, who in absence of a school, mostly end up lending a hand to their parents. All this sacrifice is done in the hope of earning enough to secure the future of the children, although that most definitely does not happen. And here's why.
"Never are they able to make any money beyond the advance because the 'mukadam' assesses the harvest in such a way that the amount earned always falls short. The balance is carried forward as loan with a hefty interest. By the next harvest the interest burden adds up and the new advance is used to cover that. It's a vicious cycle of exploitation," elaborates Kailas Sontakke, Coordinator, Society for Creative Education and Development (SACRED), a non government organisation working on issues of child protection in partnership with UNICEF in the region.
There is no easy way to get out of this mess and because their children don't get a chance to study, they too end up following their parents' footsteps.
The initiative was created with the idea of breaking this stranglehold of penury and abuse that transcends generations and, most importantly, to safeguard every local child's right to education. Since the rate of out migration is higher in Jalna's Partur, Ambad and Bhokardan talukas, the project has been implemented in all the villages there.
In 2014, a baseline survey, a collaborative effort of SACRED and Swaraj Gramin Vikas Pratishthan, was conducted in to assess the total number of seasonal migrants, those who took their children along and their reasons for uprooting them. While it became clear that children did want to stay on, parents were not keen on leaving them behind. The survey revealed their fears: in their absence, would the children be fed properly; how would they go to school on time: what if they fell ill?
From the word go, the initiative has been aiming to allay these anxieties. To actively engage with parents, a cadre of young, committed volunteers known as Balmitras, selected by the Gram Panchayat, has been created. The criterion for choosing a Balmitra is simple – s/he should be between 18 to 25 years, a native of the village and must be willing to set aside two hours every day to interact with families. The Balmitra is part of the Village Child Protection Committee (VCPC). To train them, the WCD department and UNICEF have specially designed a two-day programme that equips them with the specific communication skills they require to reach out.
Besides learning to speak to the parents, they are taught to connect with children through games and songs, given tips on coaching them in various subjects, and even do field trainings for new volunteers. Each Balmitra looks after 20 children.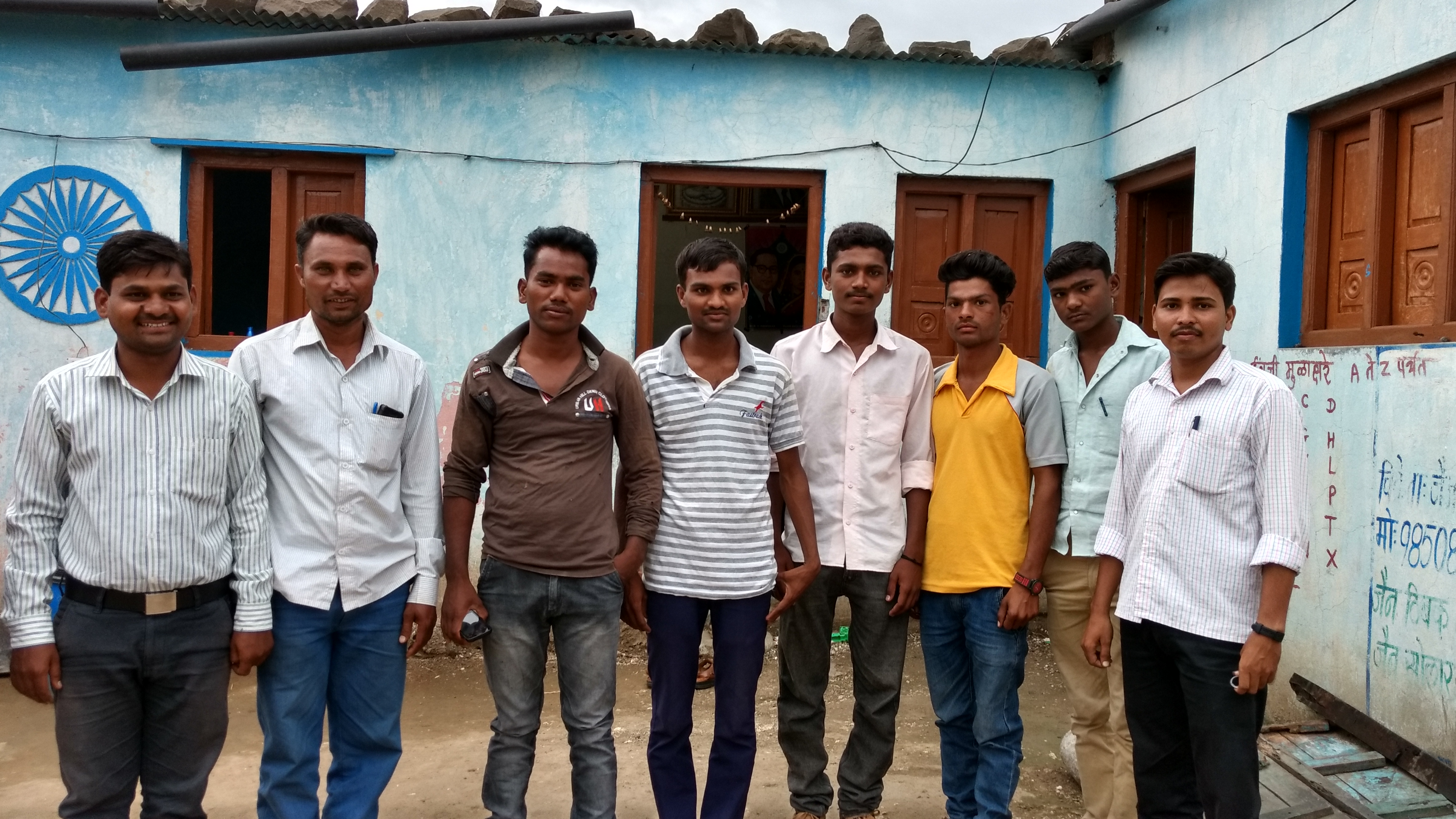 "After the children get off from school, for three days a week we spend time with them, playing games, singing, doing arts and crafts. On the other days, we monitor their studies and extra reading. We visit their home at dinner time to ensure they eat right and use our mobile to enable them to talk to their parents daily," shares Bhagwan Bhise 20, another Balmitra from Wahegaon Vasti, adding, "Balmitras like me are educated but unemployed; most of us are seasonal farmers. However, this responsibility has given our life a new purpose. I have realised that there's so much to do in the village itself."
Sulabha Bam, 20, the only female Balmitra, who visits Banachi Wadi and Wadar Wadi, has gone all out to build a rapport with the families assigned to her. She remarks, "The villagers call us 'bin pagari full adhikari' (full officer with no salary). Not only is it painstaking work to dissuade parents from taking their children along, it's another uphill task to persuade teachers to register children whose parents migrate as it means filling separate forms."
Thanks to the concerted activism of Balmitras, families are consciously deciding to keep children away from the trials of migration. Yeshwant, 12, hides behind his 'Aaji' (grandmother) Jeejabai More's 'pallu' as she talks about her decision to take care of her grandchildren full-time, "I used to go out to the sugarcane fields with my children. It's my son and daughter-in-law's fate to take this practice forward. But I have decided it has to stop now."
She is determined to stand by her grandchildren through their education.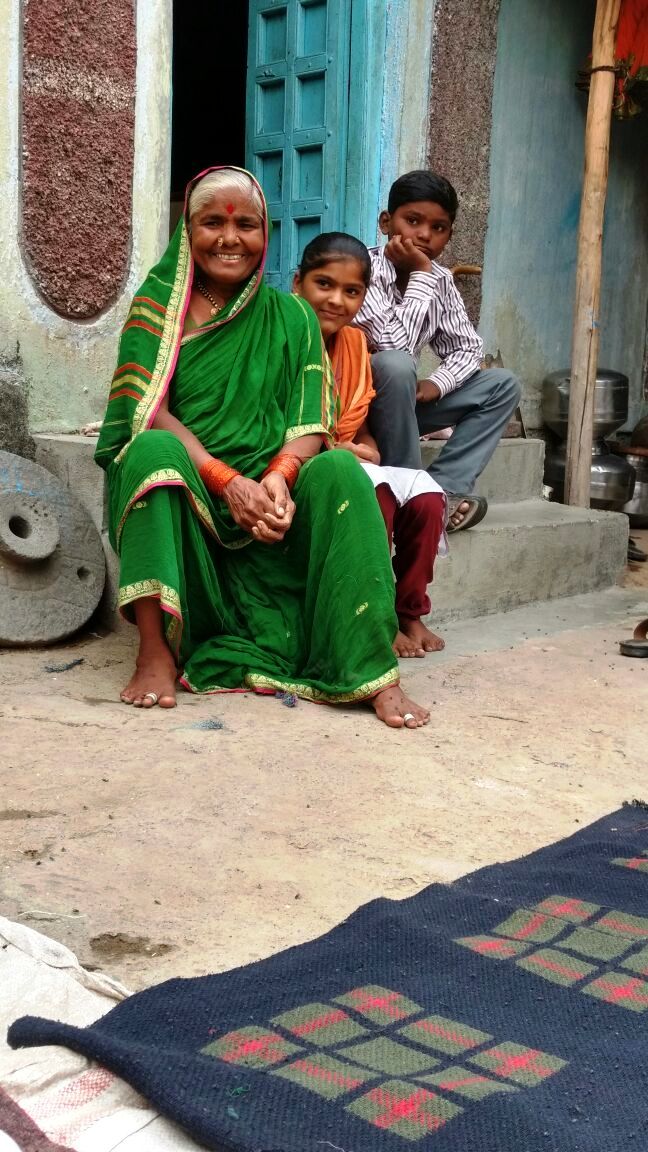 So far, the programme has managed to avert migration of 1,230 children, which is a significant victory. However, Sontakke feels that preventing migration is only a small step, "The real issue is the lack of livelihood opportunities. Most villages do not fall in the command area of the local dams so there are no proper irrigation facilities and agriculture is bound to remain only seasonal. Farmers are left with no option but to move."
While it's not often that the narrative around rural penury goes beyond heartrending stories of farmers' struggles and suicides, amidst the widespread deprivation and disturbing seasonal migration, today, there's also hope, kindled by Balmitras as well as the now aware community and family members.
Like this story? Or have something to share? Write to us: contact@thebetterindia.com, or connect with us on Facebook and Twitter (@thebetterindia).
We bring stories straight from the heart of India, to inspire millions and create a wave of impact. Our positive movement is growing bigger everyday, and we would love for you to join it.
Please contribute whatever you can, every little penny helps our team in bringing you more stories that support dreams and spread hope.