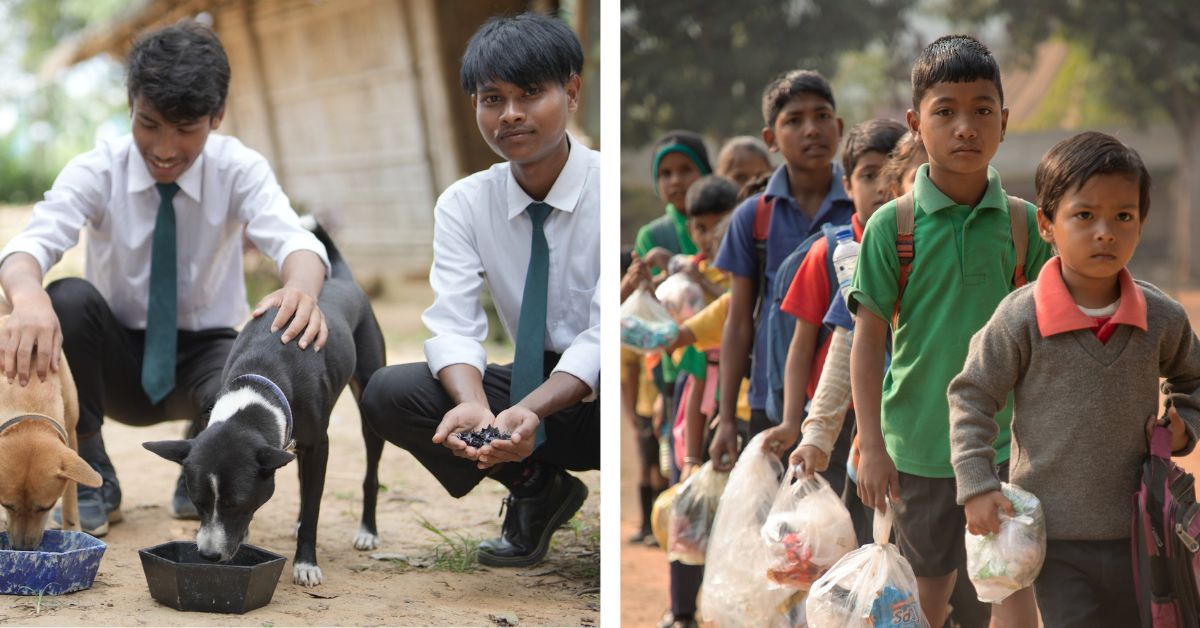 Parmita Sarma and Mazin Mukhtar started Akshar School in Assam to help underprivileged kids get access to education. The couple accepts only plastic as fee. They also teach students how to upcycle and recycle plastic, along with other vocational training.
Picture this – every Friday, students of the Akshar School in Assam congregate like eco-warriors on a mission. They arrive, bearing a week's worth of collected plastic, their hands and pockets filled with discarded bottles, wrappers, among others.
Located in the lush green area of Pamohi locality in the state, the school does not want its pupils to compensate them with money. Instead, they only accept plastic in the form of fees!
Founded by Parmita Sarma and Mazin Mukhtar in 2016, in the heart of Assam's verdant paradise, this school has successfully turned education into an adventure, and fees into a pledge for a brighter, more sustainable future.
"We wanted to make the coming generation from underprivileged sections break the circle of poverty and be environmentally sensitive. Education is the only way these goals can be achieved," Parmita Sarma, the founder of Akshar School, tells The Better India.
The couple has collected and recycled about 1,200 bottles and 6,43,600 plastic wrappers so far from the school kids. Additionally, the school follows a unique style of education where they place the students in grades as per their academic aptitude and not their age as is done in traditional schools.
Making education accessible to all
Born in Mumbai, Parmita was mostly raised in Guwahati, Assam. "From a very young age, I had an inclination towards doing things for others. My family was very politically aware, which further pushed me to the path of social work," she says.
"After completing my master's in social work, I decided to work in the field of education as I believe that education is an integral part of the process of breaking the cycle of poverty. I wanted to set up a free school," she adds.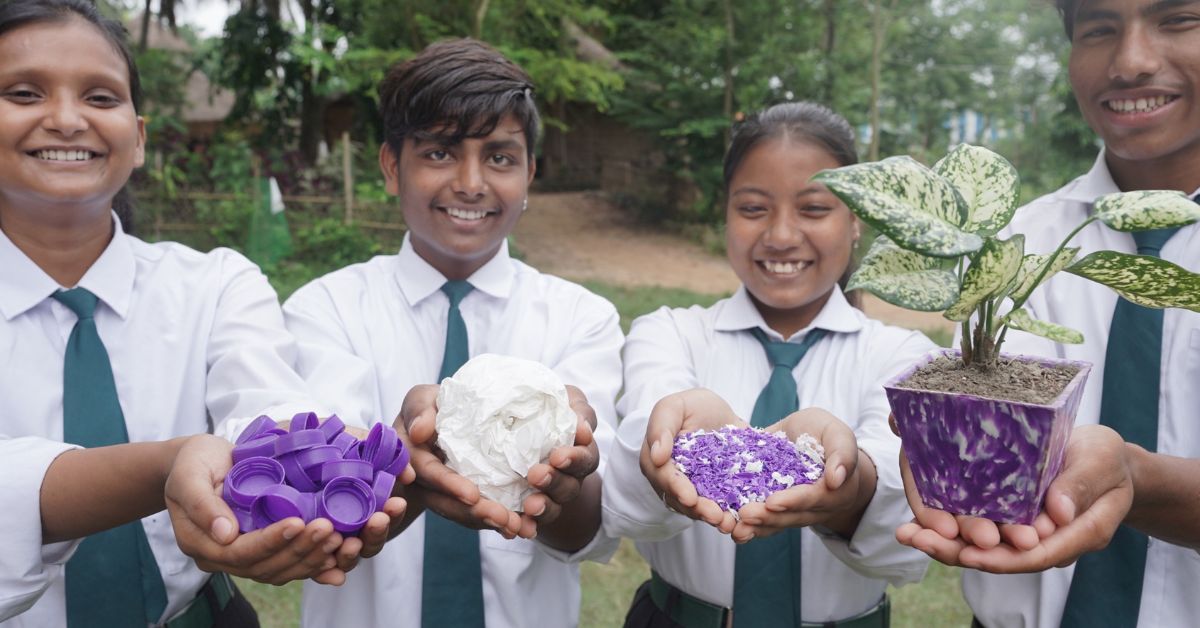 It was in 2013 when Parmita was in Lakhimpur to work for Bhupen Hazarika, Assam's legendary singer and social worker, when she met Mazin. "Through our conversations at Bhupun Hazarika's school, we realised how we both wanted to open a school that helps underprivileged children get access to quality education," she says.
This laid the seeds for the foundation of Akshar School. "At that time, we could not afford to purchase land and build a school from scratch. It was my mother who donated the land and some funds to start the school," she says.
The school today is located in Pamohi and offers free education to its students. "We started with just 10 students as the villagers did not want their kids to study. Instead, they wanted them to work. It took us a lot of convincing to get even those ten kids to school," she recalls.
Today the school is flooded with 150 children. How did they achieve that? Well, they came up with an interesting solution. While designing various curriculums, the couple spoke to some students and found out something that became the foundation for their unique idea.
"The children told us that they burn plastic bags and bottles during winter to keep themselves warm. This was alarming and we decided that this needs to end," she says.
This is when the idea of collecting plastic came to the couple.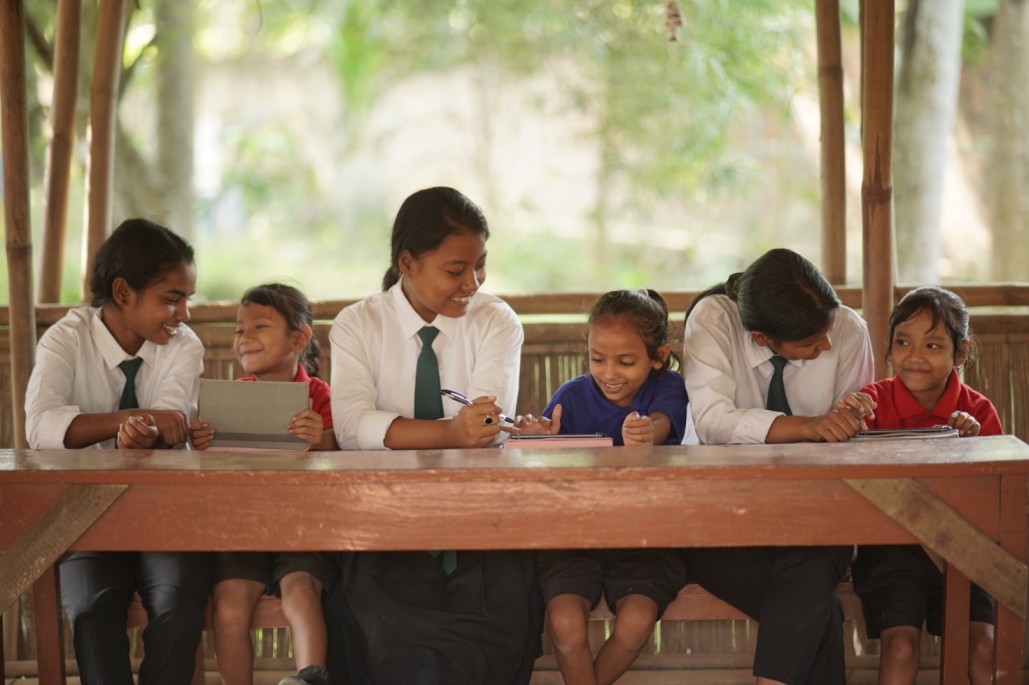 "We asked all our kids to collect plastic all week and bring at least 25 pieces of plastic by the end of the week. Initially, no one took us seriously. When we told them that this was their fee, the students slowly started bringing plastic every Friday," she says.
Along with this, the founders came up with another path breaking solution to help the unemployment situation of the locality. "We noticed that many children started to skip school to do daily wage work. We decided to employ these kids in the school and pay them so that they would attend school," Parmita explains.
She continues, "As the students upgrade to a higher class, we employ the suitable ones to teach the lower classes under supervision. For this service, we pay them. This way, our kids have the motivation to study well and become 'student teachers' and earn pocket money as well," she says.
This model helped them gain more attendance. "By the end of 2016, we had around 200 students waiting to get admission in the school," she says.
While the model worked well for the school, Parmita observed that parents were taking money from their children's earnings for personal expenses, including buying liquor. To address this issue, the school decided to replace cash with points.
Each point, for example, 50 points represent Rs 50, ensuring that the funds are spent solely on the child's needs. The school also partnered with local shops selling sweets and garments to allow students to use their points there. The school management then settles the bills on their behalf in cash. This system has safeguarded students and their hard-earned money.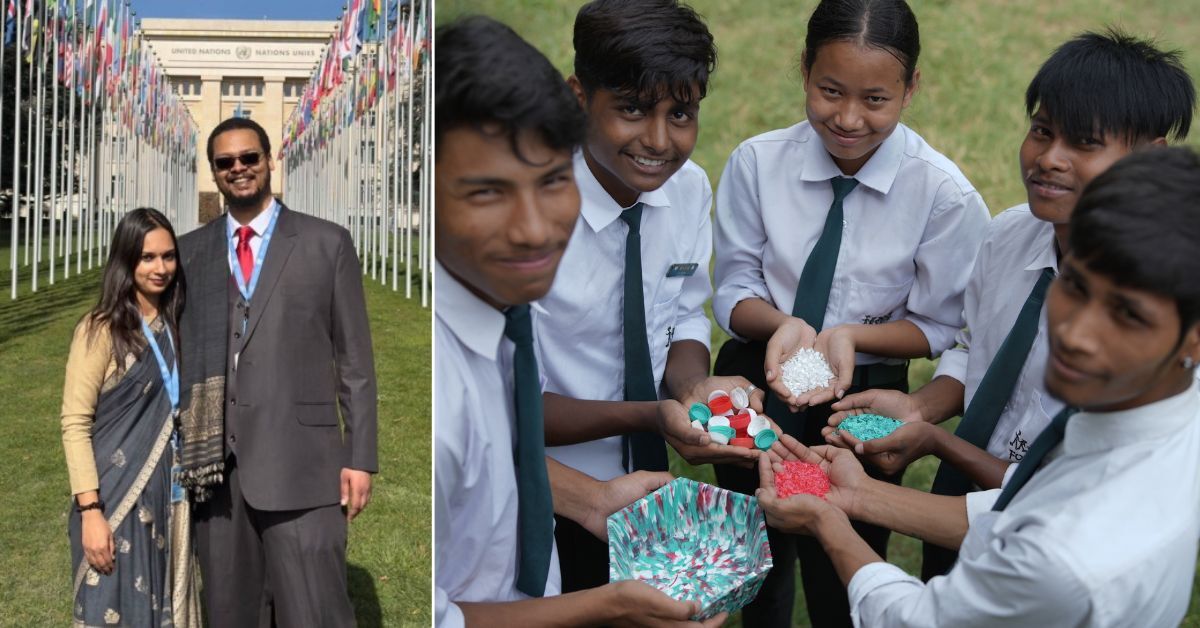 "This way we could ensure that the money gets spent only on the kids' needs," says Parmita.
Additionally, the school also has a bank. "This was introduced to the kids to teach them money management and the importance of saving money. The kids can deposit their weekly points in the bank and save them. They can keep collecting them and buy something expensive too. For example, many kids saved up for months and were able to buy mobile phones with the money," she says.
'Learning by Doing'
The school is affiliated to the National Institute of Open Schooling (NIOS).
"At Akshar School, we place students in the grade levels that they are at based on an aptitude test. So, if a student excels in 6th standard maths, that's where they'll study. But if they're more comfortable with 3rd-standard science, then their focus will be on that," Parmita explains.
This approach provides an opportunity for older students who couldn't attend school earlier, perhaps due to poverty, to catch up and learn at their own pace, she notes. "This helped us connect with those older kids very well too," she says.
When Yuvraj Kashyap (now 20) joined Akshar School as a student back in 2018, he was taken aback by the school's unique curriculum and fee policy. "It was a true paradigm shift in every sense," Yuvraj reminisces in a chat with The Better India, his eyes gleaming with excitement.
Yuvraj, now ready to take his NIOS board examination next month, recalls his experience, "The curriculum was a far cry from what I'd experienced in my previous school. They weren't just interested in filling our heads with facts; they were dedicated to nurturing our holistic growth. And the best part is that they didn't ask for a single rupee in fees."
Another feature of their curriculum is that the school focuses on the holistic development of the children. "We just want to make sure that when they step out of here, they are ready for the world. We have a lot of vocational training-based courses for the kids to learn. We teach them carpentry, solar panel fitting, electrical work, tailoring, gardening, and landscaping," she says.
Our philosophy is 'Learning by Doing' and this curriculum is exactly what we want to do, the couple adds.
Recycling Plastic Into Substantial Goods
They have also set up a recycling plant on the campus. "The plant recycles as much plastic that is recyclable and converts them into eco-bricks. Our kids learn how to convert plastic into bricks and work in the plant after school. We pay them for that too. This way they get to learn an extra skill," she says.
The eco-bricks are then used in smaller constructions in and around the school.
"We are also using a machine from the Netherlands. The machine upcycles the plastic into things of use. We have to put the melted plastic in different moulds and the machine converts it into pots, planters, keyrings, earnings etc," she says.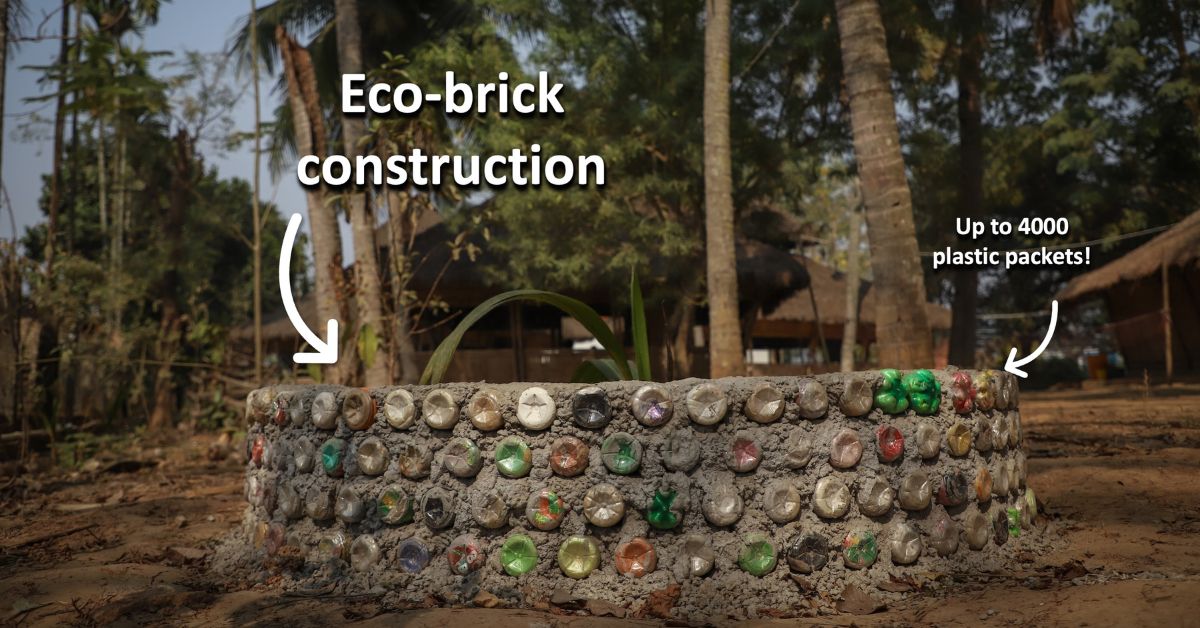 "There are only a few types of plastic that we can use around children and the rest we ship to other recycling companies," informs Mazin.
Watching the success of their school, the couple decided to expand their curriculum.
"We collaborated with a residential school in Delhi for orphans and our curriculum worked successfully with them. Although we wanted to expand it to more schools in Delhi, the COVID-19 pandemic put our plans on hold and we had to call our team back to Assam," she says.
The road ahead
In 2021, the couple reached out to more schools in Assam and signed an MoU with the state government to replicate their educational model in five government schools. Currently, the couple has implemented this model in 14 schools in Assam and are hoping to reach 200 more by the end of 2025.
The couple was contacted by the Assan government to assist them in the Swachh Bharat Mission.
"They recruited us to contact private schools and collect plastic from them. More than one lakh students will be segregating plastic in their homes, bringing it to their school and our team will collect it from them. The plastic will then be recycled at our centre, while some of it will be sent to other recycling centres in the state," explains Mazin.
So far, the couple has reached 3,000 students through their school and by implementing their curriculum in 14 other schools, they have collected 2,330 plastic bottles and 7,19,700 plastic wrappers in totality.
If you are interested in their work, you can reach them here.

Edited by Padmashree Pande.
We bring stories straight from the heart of India, to inspire millions and create a wave of impact. Our positive movement is growing bigger everyday, and we would love for you to join it.
Please contribute whatever you can, every little penny helps our team in bringing you more stories that support dreams and spread hope.