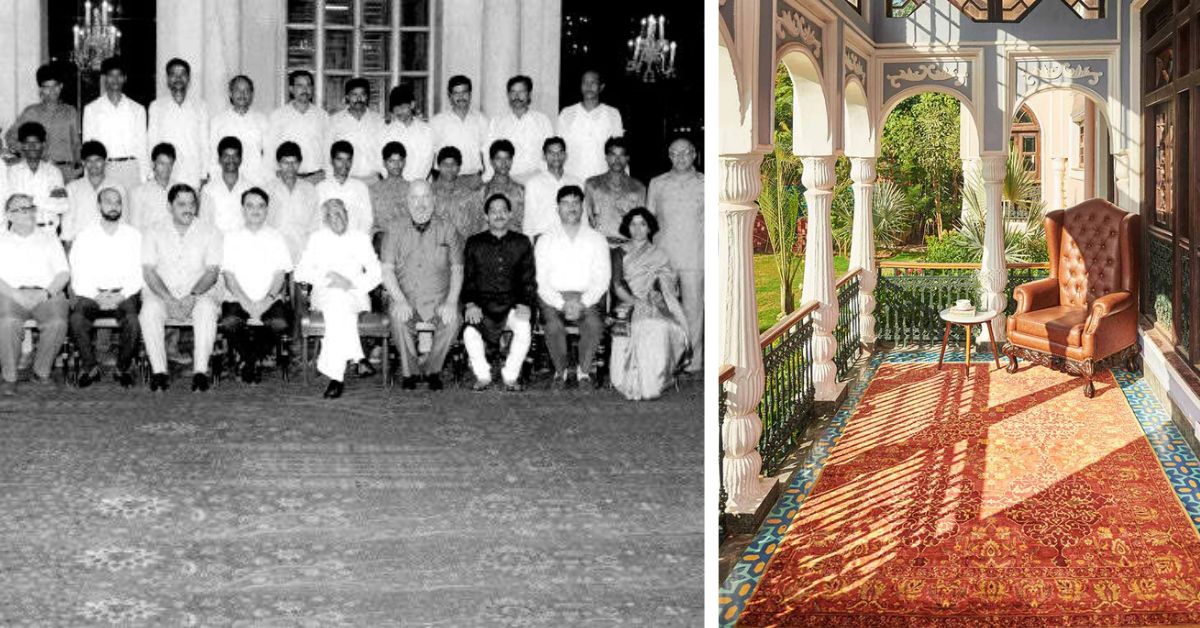 Obeetee, one of the oldest luxury handwoven carpet brands in India, was started in 1920 by three British gentlemen in Mirzapur. Today, apart from decorating some of the most influential buildings in the country, it also conducts free training programmes for women, teaching them how to weave carpets.
What Ties Emperor Akbar & 3 British Men to Rashtrapati Bhawan: A Carpet Biz Born in Mirzapur
At the break of dawn in Hirachak Dehria village in Uttar Pradesh, 31-year-old Rekha Devi assumes her duties as a homemaker, mother, wife, caregiver and provider for the family. She says she learnt her share of life lessons early on. After getting married, Rekha moved to Uttar Pradesh from Nepal. There, she became a mother to four children, bearing the entire responsibility since her husband was addicted to gambling.
Recalling those years, Rekha shares, "We would go hungry day after day. My husband, who was a weaver, was very irregular with his work because of his addictions. He would go one day and stay home for the next five."
To add to these woes, she was unable to understand the local dialect, and thus couldn't find work herself. "I was just desperate to bring food into the house. I couldn't see my children starving," she says.
Months of misery were followed by a ray of hope when, one day, Rekha went knocking on homes for food. While at it, she learnt that a carpet business was training women in the fine art of carpet weaving and paying them for the same.
A woman going off to work was unheard of in the village at that time, shares Rekha, adding that her decision to join the business was met with resistance both in and outside her home. "I fought it and went anyway," she proudly adds.
Today, Rekha is among the 1,800 women trained by Obeetee — a legacy Indian brand that prides itself on its handmade carpets and rugs.
Rekha's journey with Obeetee grew with the passing years. And today, this master weaver ties an average of 8,000 knots a day at the weaving centre. How has this transformed her life? "I run the house now and also help others with money to run their house. All my children go to school," she smiles.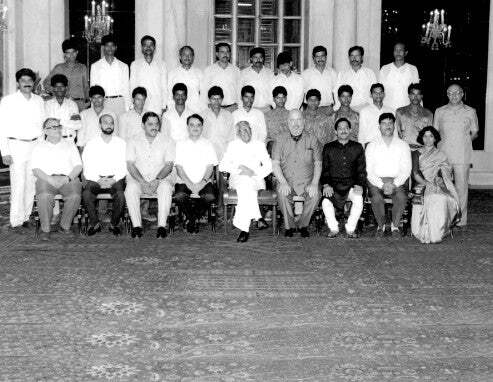 Angelique Dhama, CEO of Obeetee Carpets — Retail, meanwhile, adds that this was explicitly the intent behind the brand investing in women empowerment through their training programme started in 2016. The last seven years have chronicled numerous success stories of their women weavers, Rekha being just one of the examples, a shining one at that.
How women entered the looms of Uttar Pradesh
It all started when the brand noticed a gap in 2015. Weaving as art was traditionally and historically taught to men and boys. The rigid patriarchal norms governed this art, meaning that women had no permission to work in commercial looms. They were alienated from the craft.
Even so, for the longest time, this gap was hardly visible as the men would work in weaves while the women took care of the family at home. It was only with modernisation that the problem started to become more prominent.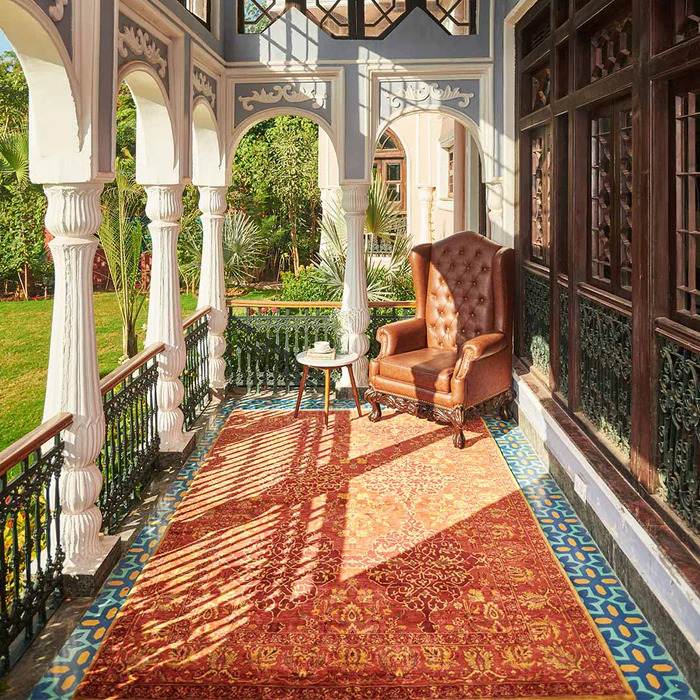 Men left the village for cities in search of better lives and incomes, leaving women behind. This led to a shortage of loom workers. The children followed their fathers, enticed by better city living. Meanwhile, the women left behind were eager to work due to financial needs but lacked the necessary loom skills due to being kept away from it.
"Even though we were offering free training along with a stipend as part of our programme, women were not coming forward to learn. We had to work hard to convince the elders in the village to let/encourage women to come forward," shares Gaurav Sharma, managing director, Obeetee.
Finally, with time and effort, this became possible. Today, the women from these villages are empowered to work and be financially independent. But this training programme is not the only pillar of the luxury brand's phenomenal success. It is also the history stitched into its every fibre since 1920.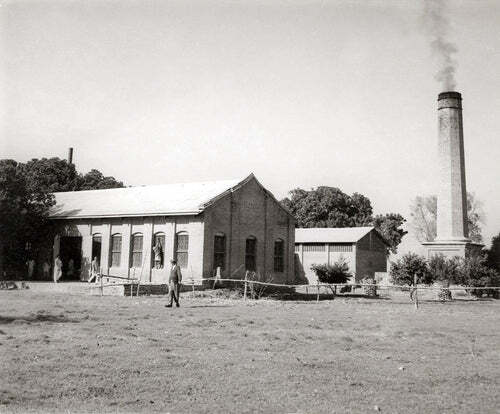 Legacy woven into the seams
The story traces its steps back to the time of Emperor Akbar.
Legend tells of how the emperor, a connoisseur of beautiful things, had an exceptional fondness for carpets. He thus decided to go on a mission and bring the finest Persian artists and weavers to India. Mind you, this was five centuries ago in the mid-1500s.
When Akbar was returning from this quest accompanied by the weavers he had sought from Persia, they decided to halt at Gopiganj, a town in Uttar Pradesh. But during their repose, the caravan was attacked by bandits and the weavers were slaughtered. Those who managed to escape took shelter in the neighbouring villages, with most taking to Mirzapur.
In time, these weavers set up their looms in Mirzapur. Today, the town is fondly known as the 'Mecca of carpet weaving'. The weavers grew in numbers, passing the craft's tradition to their children and grandchildren.
All this was happening against the backdrop of the freedom struggle. The British were no strangers to the fine art of carpet weaving and held a fascination for these Moghul hand-knotted floor coverings with their beautiful depictions.
In 1920, soon after World War I, three British gentlemen — FH Oakley, FH Bowden, and JAL Taylor — decided to scale the work of these weavers in Mirzapur and started a small business by the name Obeetee.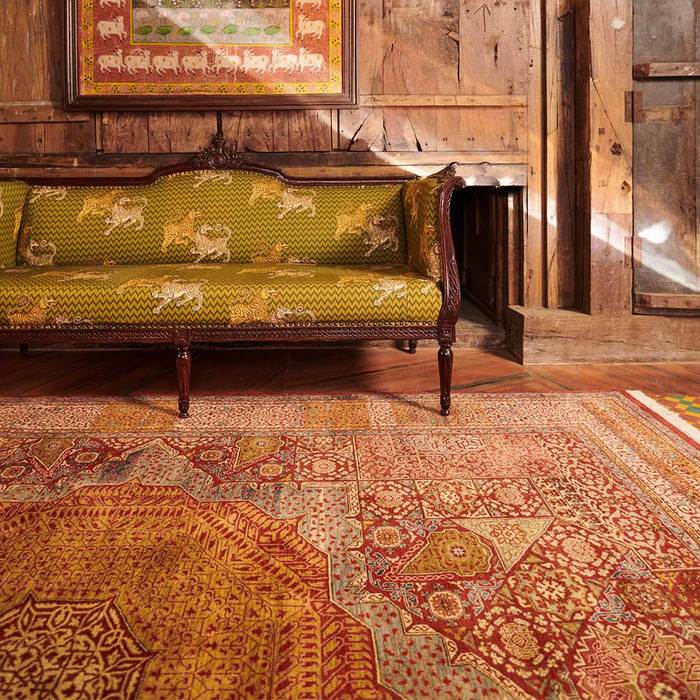 Pronounced OBT, the name is an ode to the initials of the three men — Oakley, Bowden and Taylor. For 103 years, the luxury business has been working with "over 20,000 artisans" of the villages on Mirzapur to weave legacy carpets that have found their way to the most influential places in the country.
This includes the New Parliament building and the houses of Lok Sabha and Rajya Sabha. Dhama affirms that "as many as 900 weavers from the districts of Bhadohi and Mirzapur spent 10 lakh man hours to carpet India's New Parliament building, while the weavers also crafted 158 carpets for the Lok Sabha and 156 for the Rajya Sabha". These carpets were stitched into a single carpet in the form of a semi-circle to sync with the architecture of each of the Houses.
Such is the grandeur of the carpets that 120 knots per square inch were woven to create them, amounting to over 600 million knots approximately in total.
Another locale of the carpet is the Rashtrapati Bhawan, where a carpet measuring over 450 square metres and containing a whopping 100 million intricate knots had been woven by the weavers.
Aside from decorating some of the most influential buildings in the country, Obeetee also retails handwoven rugs and carpets. In 1969, it was credited with being the world's first licensee of Woolmark for hand-knotted rugs.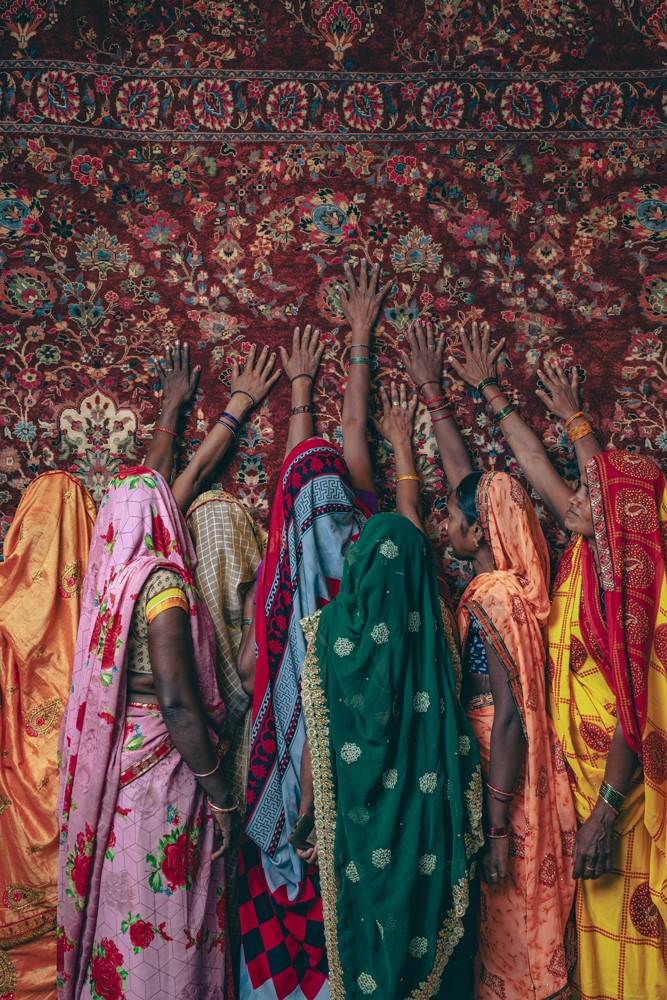 A weave for every occasion
Dhama adds, "We are rooted in traditional design approach. Even when drawing inspiration from Persian, Moroccan, and Chinese designs, the brand has predominantly focused on the traditional aspects."
She adds that in recent years Obeetee has recognised the demand for new, fresh, and adaptive aesthetics, and has embarked on the journey to incorporate these into its collections. "For instance, the evolution of painted designs," she adds.
Today, as part of Obeetee's collections, one can access a myriad of these traditional weaving patterns. These include — hand-knotted rugs that borrow inspiration from the Antolia weaving pattern (where the warp and weft comprise white silk threads); Nain technique (done on vertical looms with Persian knot style); Mirza weaving (that has the traditional mirror work integrated into the fabric) and more.
Their collections also boast Dhurrie rugs (woven in such a way that they do not require a warp, resulting in a thin fabric); hand-tufted fabrics (where wool strands are pulled out of the fabric using a tufting gun, a technique that reduces the time taken to produce a rug); and of course the traditional handloom woven pieces.
The selection of flatwoven, knotted carpets and floor coverings range from Rs 200 per square foot to Rs 11,000 per square foot. As its carpets continue to enhance homes across the country, the happiest are the women artisans who aren't victims of habit anymore, rather they are creating their own paths with this newfound freedom.
Edited by Pranita Bhat
We bring stories straight from the heart of India, to inspire millions and create a wave of impact. Our positive movement is growing bigger everyday, and we would love for you to join it.
Please contribute whatever you can, every little penny helps our team in bringing you more stories that support dreams and spread hope.