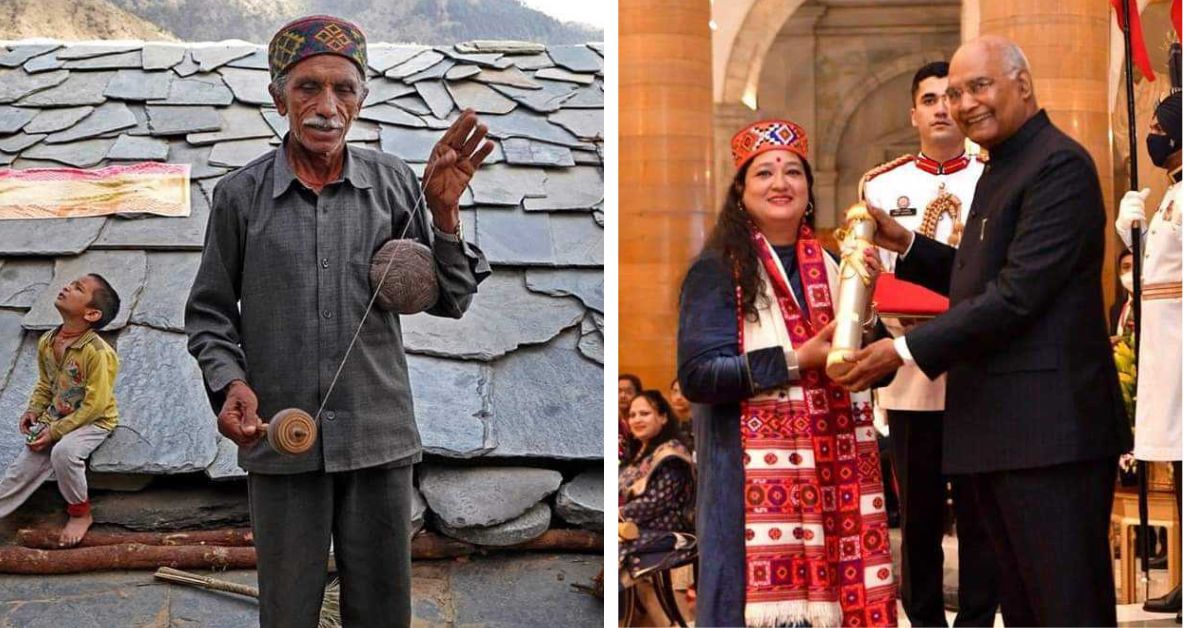 Anshul Malhotra, who helms her father's handloom business Krishna Wools, talks about how she helps women in Himachal Pradesh's Mandi earn a stable living through weaving, and how she fought archaic notions to keep this tradition alive.
When Anshul Malhotra would watch her father work rigorously with weavers from nearby villages in Mandi, Himachal Pradesh as a child, her heart would fill with the urge to do the same.
Her father, Om Prakash Malhotra is a recipient of the Shilp Guru Award 2012 and is celebrated for his outstanding contribution in preserving traditional Himachal handlooms. Anshul grew up under the influence of her father's work and wanted to join him. 
Hailing from Mandi — a small town nestled on the foothills of Himalayas — the 39-year-old is a winner of Nari Shakti Award for preserving and promoting her state's handloom. She has given free training and employment to 200 underprivileged handloom weavers creating 2,200 handloom designs to preserve.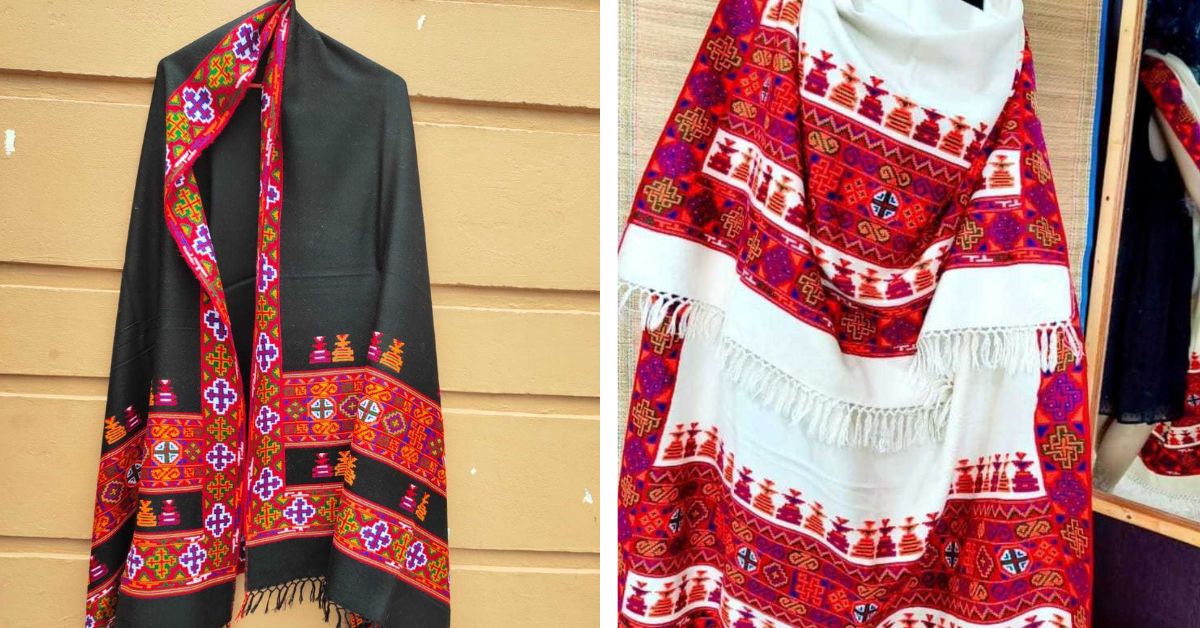 'My father is my motivation and inspiration'
"When I was a kid, I would watch my father always motivated towards doing something to preserve handloom weaving. He was an engineer and had a government job but decided to quit that to follow his passion. Quitting a government job and starting something new is never easy, but he took the chance," Anshul tells The Better India.
"He started working with rural artisans and weavers in particular, especially women. We would travel to villages and from there, I developed this passion too. Even as a child, I would think that he is not just earning for his family, but also helping poor weavers earn for their families. All my motivations come from him," she continues.
Moving with this newly developed passion in her heart, Anshul decided to opt for textile engineering from TIT Bhiwani. But her path was questioned as she was a woman.
"My father bought a piece of land to start a manufacturing unit. Since my father has two daughters, everyone questioned him — 'Why are you buying these lands?'. They believed that since he has no sons, the land will go to waste. They would say 'You have two daughters and they will get married, leaving behind no one to care for the units'," she recalls.
"That triggered me and I wondered, 'Can only sons take on a family business?'. I took it upon myself to prove that notion wrong. It was crystal clear to me that I will take my family business forward. By God's grace, I got into a good engineering college," she adds.
Today Anshul proudly says that she has taken her father's business forward and continues to empower her family's legacy.
She joined her father's enterprise Krishna Wool in 2005 and has been a part ever since. While her father's agenda was to preserve Himachali handloom and help poor weavers, Anshul's vision extended to another aspect.
Conserving the artisans and the environment
Helping artisans and weavers is the core of all her work, but along with it she wishes to be an environmentally conscious entrepreneur.
"Most of our weavers are women. Most live uphill and anyone can come and get three to four months of free training from us. There are a lot of problems that these women face but the most common one is an alcoholic husband. [But the training] gives them an opportunity to work and earn a living for themselves."
Since most of her weavers live uphill and farther away from Mandi, Anshul has provided handlooms to them at their homes.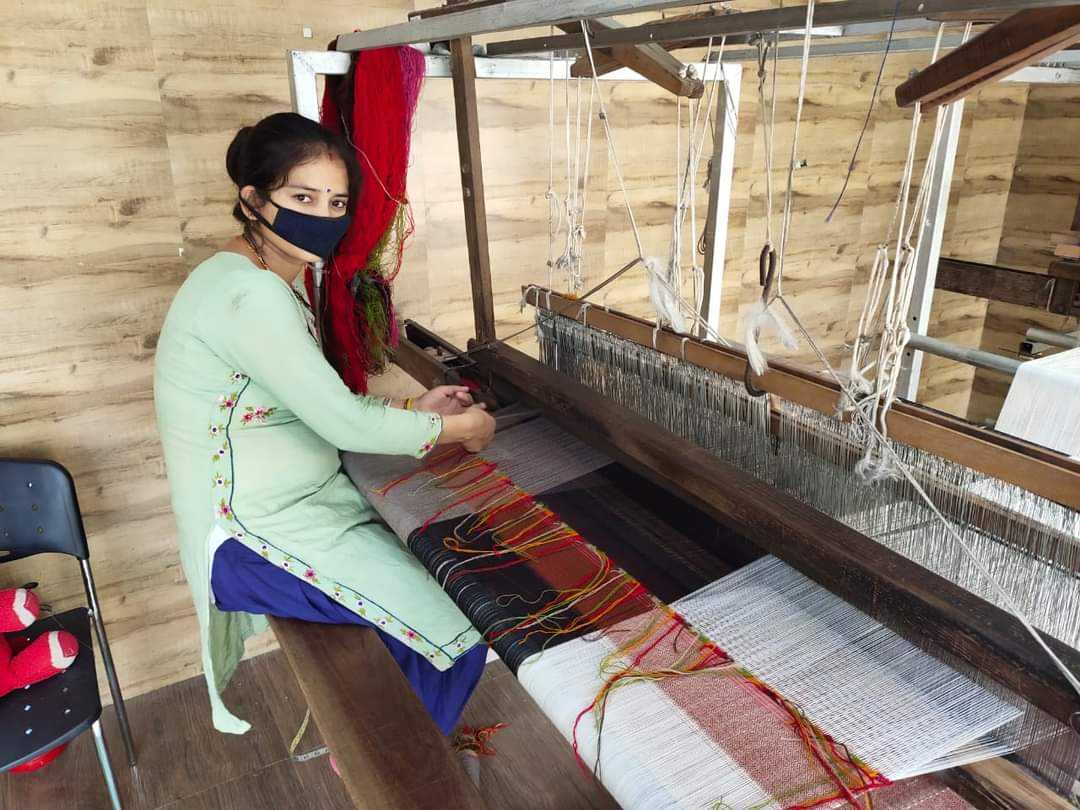 "We have given the looms to them so that they don't have to come down in the unit. They take the yarn and the designs and work on them. Once in 15-20 days they come and collect their wages. Although there are some who come to the industry too. We have over 200 weavers working with us," she explains.
Other than helping the underprivileged, Anshul also wants to make the business eco-friendly.
"Since the pandemic, we have started making organic shawls. We do not want to harm the environment by using chemical dyes, whose residue ends up in rivers. We work on natural fibres and use natural wool colours. We are still working on creating more designs with minimal or no dyes," she says.
Competing in a world of fast fashion
Krishna Wool, she says, is slow fashion. Every product takes its own sweet time to become sellable.
Talking about how she competes with fast fashion outlets, she explains, "We are an environmentally conscious business and we do not mass produce. Our work is like painting a portrait — slow and minute. If you ask what we do to keep up with the fashion industry, I'd say we give quality products. If we claim that a shawl is 100 percent wool, we ensure that it is 100 percent wool."
"Another thing that we ensure is that we try to keep updating our designs and innovate them. Initially we used to make only shawls and stoles, but now we have diversified to many products. We have loyal customers as handmade shawls are not readily available," she adds.
Krishna Wool sells various kinds of shawls such as pashmina, kinnauri, stoles, and tweed. Their Yakool shawls are their bestseller and take months to prepare depending on the intricacy of the design.
Explaining why she chose slow fashion, Anshul says "I live with the philosophy that 'You don't take anything back in the grave'. I could easily mass produce and sell products at a cheaper price harming the environment and filling my pockets. But I want to do something that benefits all, including nature. I sleep easy with the knowledge that all my artisans and weavers' kids are going to school and they have food to eat. I feel immense pleasure from the fact that the weavers, especially women, have a good financial backing."
"When we make one product, it benefits a line of people from the shepherds to the designers. We try to reach as many weavers as we can and this thought keeps us going," she says.
Edited by Divya Sethu
Tell Us More
We bring stories straight from the heart of India, to inspire millions and create a wave of impact. Our positive movement is growing bigger everyday, and we would love for you to join it.
Please contribute whatever you can, every little penny helps our team in bringing you more stories that support dreams and spread hope.