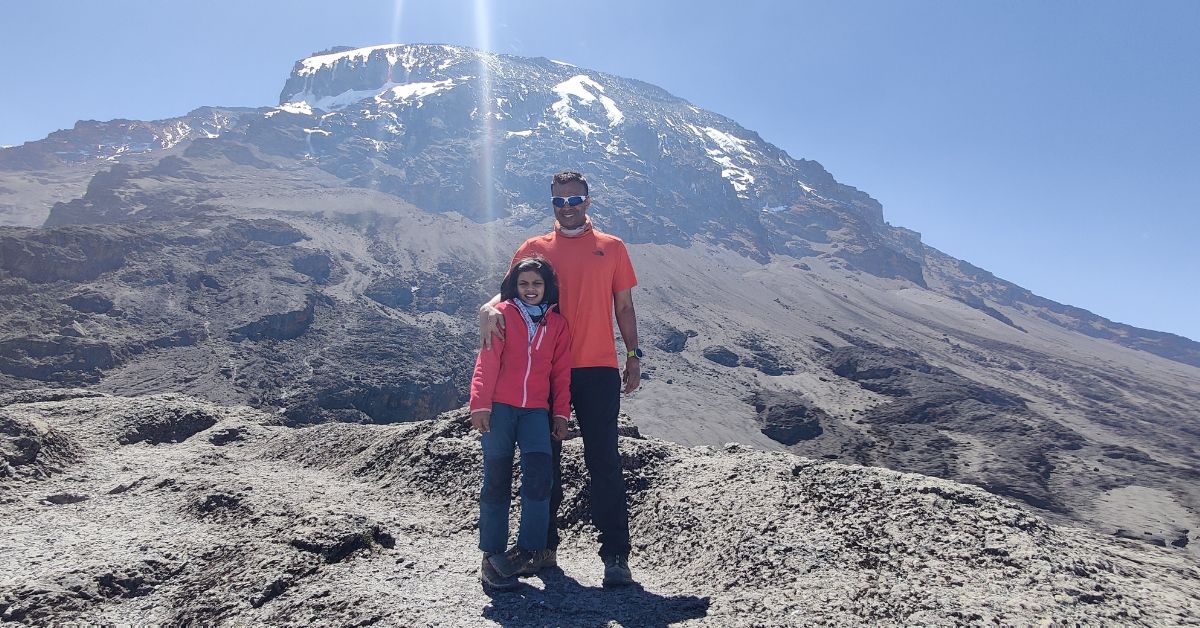 Having trekked to Everest Base Camp in 2022, Bengaluru's eight-year-old Aadya Bennur has now scaled Mount Kilimanjaro with her father Harsha. She is one of the youngest mountaineers to summit the peak.
Aadya Bennur's spirit knows no bounds. At just eight years old, the young mountaineer has already achieved extraordinary feats — conquering the Everest Base Camp last year and recently reaching the summit of Mount Kilimanjaro, a towering peak in Africa standing at 19,340 feet.
"It was not easy," says Aadya. "It was cold and the food was not great. However, I kept picturing holding the Indian flag and how it would feel to be on top of the mountain. This kept me going."
This wasn't Aadya's first expedition — last year, she scaled the Everest Base Camp in June. Her trek to Mount Kilimanjaro makes her one of the youngest mountaineers to reach the summit.
No mountain is high enough
Aadya's father and trainer Harsha noticed her interest in physical exercise when she was just five years old. "She was extremely energetic and showed interest in exercising. When the pandemic hit and she had to attend her classes from home, I decided to train her in her free time. And interestingly, she was also able to follow a strict routine," he shares.
Harsha loved trekking and spending time in nature. "Looking at her health and fitness, I thought, 'Why not take her along for a trek?' So I started taking her on small treks nearby. And in May last year, I had the thought of taking her to the Everest Base Camp (EBC)," he recalls.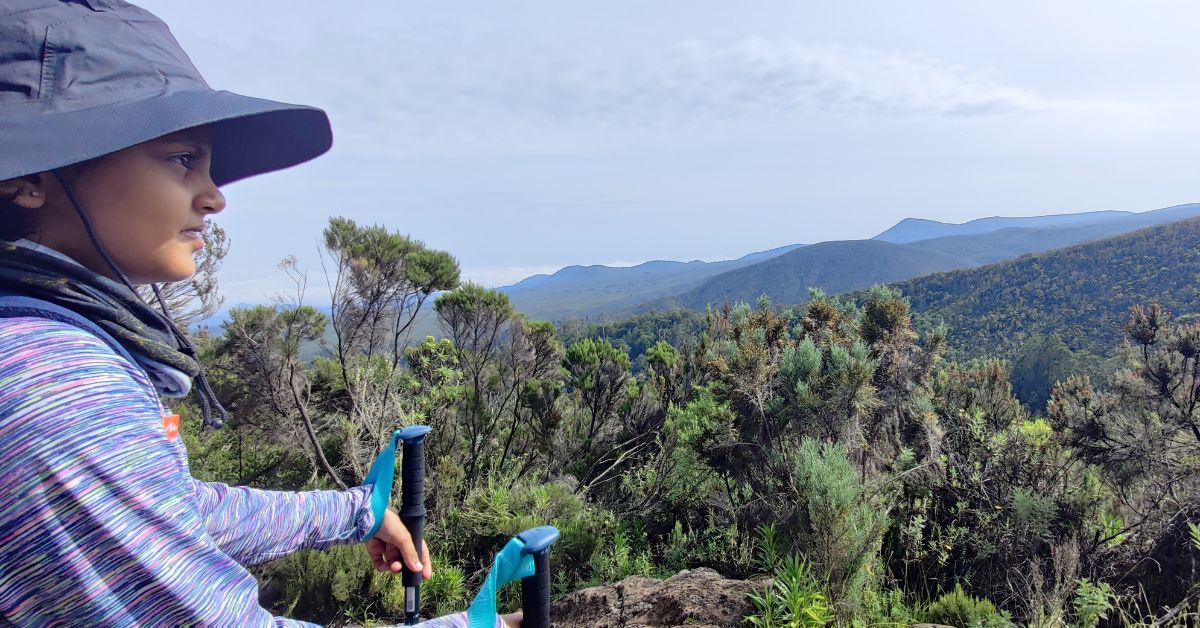 With only a month of training, Harsha found that Aadya was ready for the challenge. "In June, we trekked to the EBC and Aadya breezed through it. She did not face any difficulty and made it look very easy," he explains.
He further shares that Aadya is very passionate about sports and has a routine which involves exercising, studying, and tennis practice. "She follows her routine very well, and we make sure that she does not get exhausted in the process. She is a very focused kid and even sacrifices her playtime sometimes to be on track," he adds.
"I had a lot of fun climbing the Everest Base Camp. Everyone at my school, especially my principal, was very supportive and permitted me to take leave," she says.
On how her friends responded to her achievements, she says, "They did not think anything of it. But when I explained how big the mountain was, they got excited and felt proud of me."
Harsha says, "Training a seven-year-old can be tricky as we don't want to push them too hard. I sought advice from friends experienced in this area to understand how to prepare her for trekking high mountains."
"You don't really need a lot of space or equipment and can start with simple exercises to build strength. Eventually, we moved to high-intensity interval training too. Aadya was able to do the exercises effortlessly," he adds.
"Running, long walks with a five-kilo backpack, stair climbing, and smaller treks within Karnataka were a part of Aadya's routine training," he informs.
When Harsha decided to take her to the Everest Base Camp, he did not receive the kind of reception he had hoped. "Everyone including my family, parents, and friends said I was making a mistake. They were quite against the idea given that Aadya was quite young at that time," he shares.
"So, apart from all the training and diet, I decided to believe in Aadya. In my opinion, believing in your children and setting higher goals can motivate them a lot. While others were doubting our decision, I showed Aadya utmost confidence and encouraged her to keep going," he says.
"When she successfully completed the EBC trek, she did not understand the enormity of what she had done at such a young age. She sees it as a fun activity, but I am sure over a period of time, she will understand it. As a parent, I'm only providing her with the right avenues and support," he adds.
As for Aadya's diet, her mother Mangala, who is a sports nutritionist, says, "At this age, most children are picky eaters. Before the trek, I made sure she had energy-rich food to handle the physical activity. Besides proteins and nutrients, we also let her eat whatever she likes based on her taste preferences."
"To keep her fueled and help her recover faster from training, we added fruit-and-nut milkshakes, grilled cheese and vegetable sandwiches, omelettes and homemade high-calorie desserts to her regular South Indian ovo-vegetarian diet," she adds.
'Polley Polley' up the Kilimanjaro Peak
After around two months of training, the father-daughter duo flew to Africa on June 13, 2023.
Aadya says that while climbing to the Everest Base Camp was fun and less difficult, the Mount Kilimanjaro trek almost made her recede.
"Climbing Kilimanjaro was very difficult. The weather was extremely cold, and the food was very bad! It was taking me longer to eat it as it did not taste as good as my mother's food," she says. "I missed my mother a lot, but I was determined to keep going. I kept picturing how stunning the peak would be and looked forward to a big party at home once I returned."
For an average adult, it takes about seven to nine days to reach Mount Kilimanjaro's summit and then descend to the finishing point. The trek is a 64-km hike with the peak standing at 19,340 feet above sea level. Considered to be a moderately difficult climb, its low oxygen environment and low temperatures are both physically and mentally challenging.
Harsha elaborates on the challenges the duo faced on the climb.
"The trek is fairly difficult even for an adult, and her tiny feet could not take long strides. So it took her longer than a full-grown adult to complete every day's trek. We would trek for 12 hours straight with basic breaks for snacks and lunch," he says.
"The temperatures were very low and reached -20 degrees Celsius on the summit night and she trekked for 17 and a half hours. Though she was wearing the best gear possible, her toes were numb with cold and the pain made her break down. She was very tired and wanted to go back home," he shares.
"I tried to encourage her, saying that the sun would make her feel better. It was tough because I could see her suffering, and I was torn between reaching the peak and comforting her by taking her back," he explains. "The guides too recommended turning back, but then Aadya decided not to turn back and keep going."
Aadya, meanwhile, says she kept herself going by singing songs and narrating comic stories to her two guides to keep herself busy. "I kept picturing how beautiful the peak would be and how I would be hoisting the Indian flag soon. This helped me keep going. My father kept telling me how the sunrise would make me feel better, and it always did," she says.
Among the two guides who trekked the mountain with them, Joseph Nzuamkende Mwendo says, "During the trek, we always advise everyone to walk polley polley, which means walking slowly. We take small steps, sing, and chat to make the journey easier. Aadya was the youngest person I've ever trekked with, but she completed it just like any other adult. She showed remarkable patience even when she was in pain. I was amazed to see her determination and strength."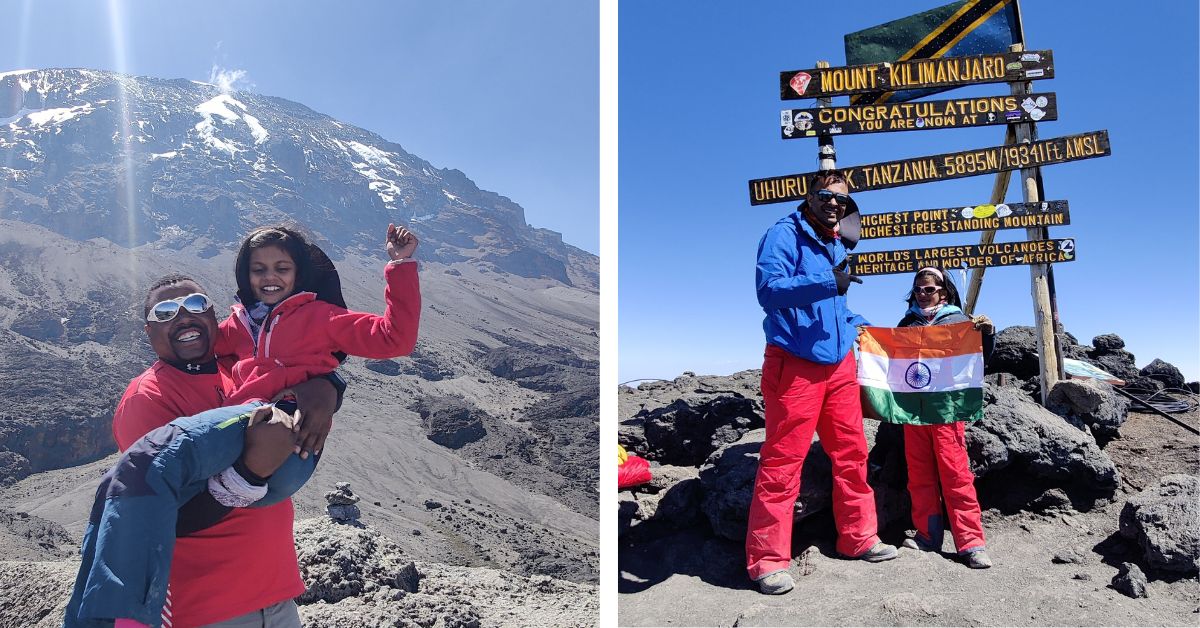 Having completed the Mount Kilimanjaro trek successfully with Aadya, Harsha is still not able to get over the reality of it. "Even though I was with her all the time, I still wonder how this eight-year-old found the courage. She would cry and want to give up, but then pick herself up and keep going while singing songs. She even taught her songs to the guides, which they sang together on the peak!"
With both innocence and determination in her voice, Aadya says, "I want to climb Mount Everest next!"
Until now, Aadya's father covered the cost of her gear, but she is now seeking sponsors for her upcoming expeditions. If you wish to sponsor, you can contact them at harshabennur@gmail.com.
Edited by Pranita Bhat
We bring stories straight from the heart of India, to inspire millions and create a wave of impact. Our positive movement is growing bigger everyday, and we would love for you to join it.
Please contribute whatever you can, every little penny helps our team in bringing you more stories that support dreams and spread hope.