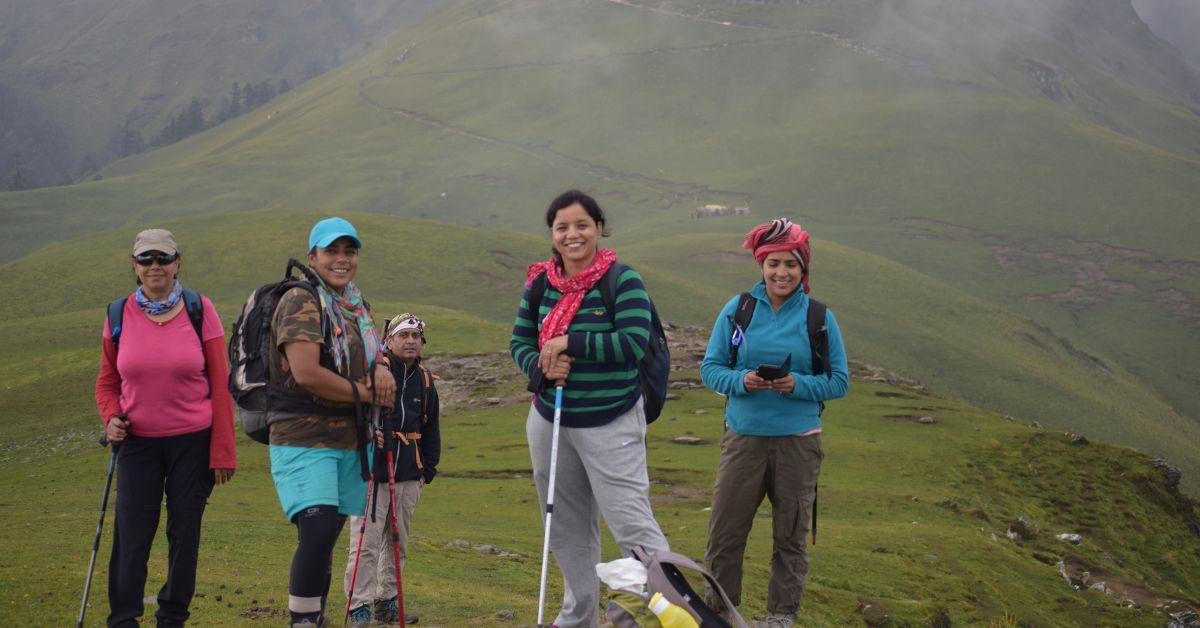 Friends Anusha, Shashi and Guneet founded Bohemian Adventures to make trekking inclusive, and have taken hundreds of people with disabilities and illnesses on trips across the world.
The date 12 April 2023 will forever hold a special place in Sudhir Krishnan's life — the day his dream of hiking across the Everest base camp came true.
Sudhir, who has Parkinson's Disease, wanted to scale the mountain to spread awareness about the illness, which can make it hard for patients to walk long distances due to difficulty of balance and coordination, stiffness, etc.
The 52-year-old says that reaching the Everest base camp was "overwhelming". "It was an explosion of emotions. I was laughing and sobbing at the same time," he tells The Better India.
"The journey was hard and long, but I knew I had to keep walking till I reached the destination. The biggest challenge for a person with Parkinson's is that we cannot walk like a normal person, let alone trek," he adds.
Sudhir realised his dream thanks to a unique travel company founded by three friends — Anusha Subramanian, Shashi Bahuguna, and Guneet Puri. In 2014, the trio started Bohemian Adventures with a mission to make trekking inclusive for all. To date, the company has conducted hundreds of treks with more than 900 participants from age groups that span 7 to 70, as well as those with vision impairments, various disabilities, illnesses, and so on.
For the love of the mountains
Though the women come from completely different backgrounds, what binds them is their love for trekking and adventure.
Guneet, a former publishing editor, tells the story of how the three met. "Anusha, a former journalist, and I met in 2009, when we were pursuing our mountaineering course. We got to know each other and realised that we both are very similar people with similar interests. We kept in touch through the years and in 2013, the idea for the company was born."
The duo met Shashi, an ex-banker, in Uttarakhand the same year.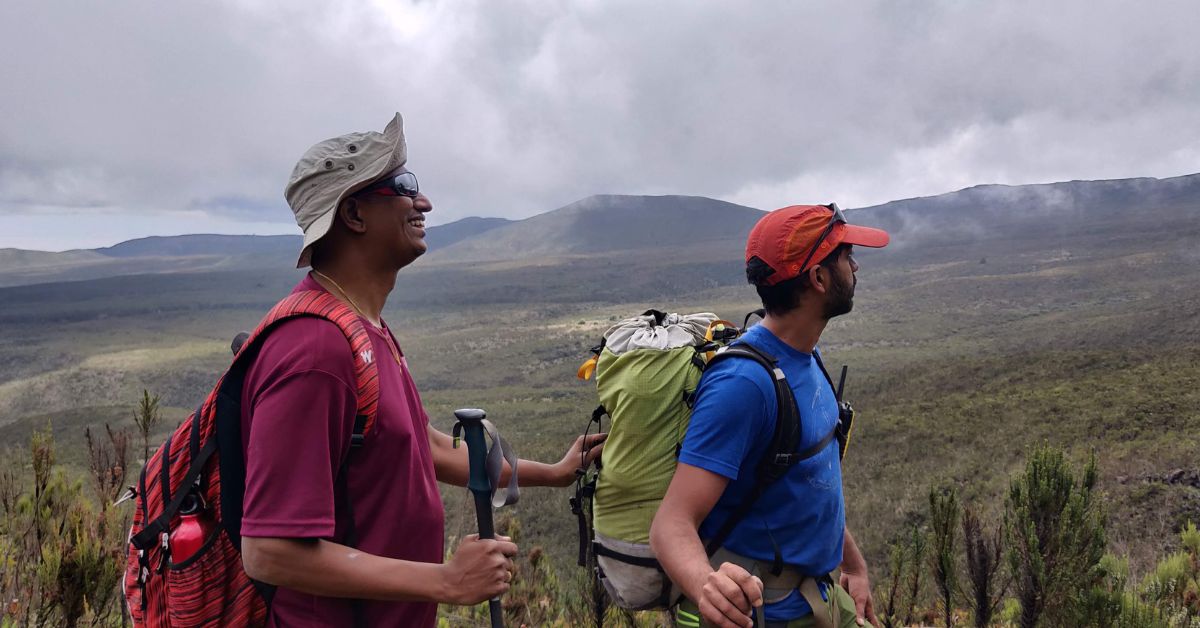 "When the Kedarnath disaster happened, Anusha and I, although in different valleys, were a part of the rescue effort. We volunteered under the Tata Adventure Foundation and Red Cross. Staying in the valley and helping with the rescue mission, the two of us realised that there are still some funds needed to help people get back to their normal lives," says Guneet.
The duo decided to do a fund-raising expedition and asked for volunteers from Uttarakhand. "This is when we met Shashi, who was one of the volunteers on an expedition to Mount Rudugaira. We had similar ideologies towards mountains, nature and adventure," she says.
Meanwhile, as an asthmatic person herself, Anusha had faced numerous difficulties while planning treks with different companies, as many would be reluctant to take her. When she met Guneet and Shashi and discussed these issues, the idea of Bohemian Adventures was born. The trio wanted to bring mountaineering and trekking accessible to everyone.
Anusha says, "I am an asthma patient and I have a close understanding of how people with such illness find it difficult to function. I had made up my mind that I, with my partners, will make sure that anyone who comes to us will go on a trek irrespective of what illness or disability they might have."
'No one is too old or young to trek'
Talking about how the company works, Shashi says, "The idea behind our initiative was to introduce people of all ages and backgrounds to adventure and trekking. The three of us have travelled with a lot of companies, and have seen what is lacking in the industry. There is no flexibility in plans, and fewer or almost no opportunities for people with disabilities. We knew we wanted to make our trekkers as inclusive as possible. We wanted to encourage women trekkers and senior citizens to trek with us."
"Since we travel with people with illnesses and disabilities, safety was paramount. We want to ensure that the guests are comfortable and safe while they trek with us. We look into their illness and see what precautions we need to take. We also consult with experts if needed, to understand how their medications might react on high altitudes," she says.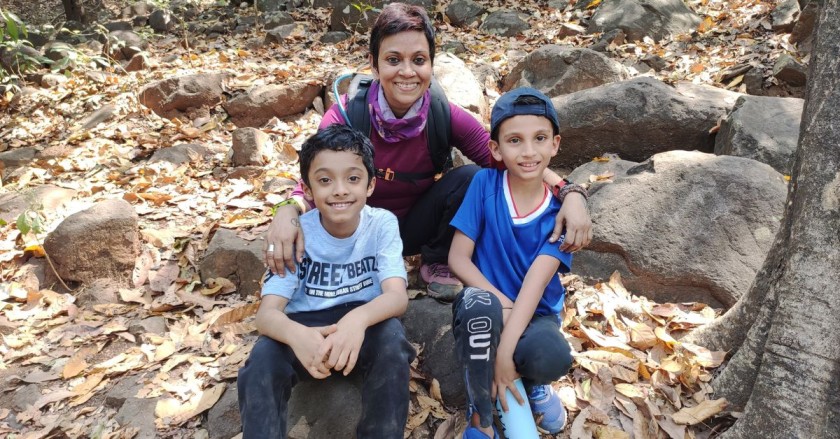 No one is too young or too old to trek, says Shashi. "The oldest guest that we had on a trek was 80 years old. We kept in mind her health and medications while choosing the terrain. As for the youngest, we have had a seven-year-old. While we do encourage parents to accompany their kids on the expeditions, if they are confident enough, we take them with us alone too."
The company designs treks and expeditions based on the type of people a group consists of. For instance, they sometimes have groups with only children or senior citizens, and sometimes a mix of them. "Initially, we did have pre-planned packs, but now we mostly do custom treks. The best part of such treks is that we build a connection with them. We are aware of what their backgrounds are and what set of challenges they come with. We also make sure that every person has a guide to help them throughout the expedition. We have a ratio of 1:3, where there is one guide for every three guests on the trek," explains Guneet.
The size of the groups is small to make sure that every person on the trek gets full attention. Shashi is also a trained yoga instructor and she helps people with breathing and stretching exercises as they go to higher altitudes.
"At higher altitudes, I help them with various yoga exercises to train their body before we start our day. We also encourage them to try breathing exercises to train their lungs," explains Shashi.
'Mountains don't differentiate'
Anusha explains, "When you travel with a person with a disability, you have to be prepared with all they would need. We ask our clients to be extremely candid with us about their illness and needs so we prepare ourselves for the set challenges."
"We do a thorough study of the illness, the symptoms, and the needs of our participants through readings and talk to experts if needed. We take care that they take the right diet during the trek and they take their medication at the right time," she adds.
"For instance, in Sudhir's case, we had to do a lot of research as the disease is not talked about. While there was not a lot of information available, the three of us read up on the illness and spoke to medical experts, and to Sudhir too. We ensured he took his medicine every four hours, and that he got enough rest to restart the next day," says Guneet.
So far, the trio has conducted over 100 treks, and participants include those with visual impairment, autism, Parkinson's, asthma, and so on. They have trekked to various mountains including Hemkund Sahib, Mount Rudugaira, Dayara Bugyal, Mount Thelu in Uttrakhand, Stok Kangri in Ladakh, Mount Kilimanjaro, etc
"As a company, we do not want to discriminate between an able-bodied person and a person with a disability. In many cases, when a person goes to a travel company and says 'I have an illness or a disability', they get a straight 'no' or a hesitant 'yes'. This makes them reluctant to take the adventure up. We want to make sure that whoever comes to us gets a confident 'yes'. The mountains look at all of us the same way, so why can't we?" says Guneet.
Edited by Divya Sethu
We bring stories straight from the heart of India, to inspire millions and create a wave of impact. Our positive movement is growing bigger everyday, and we would love for you to join it.
Please contribute whatever you can, every little penny helps our team in bringing you more stories that support dreams and spread hope.
Tell Us More