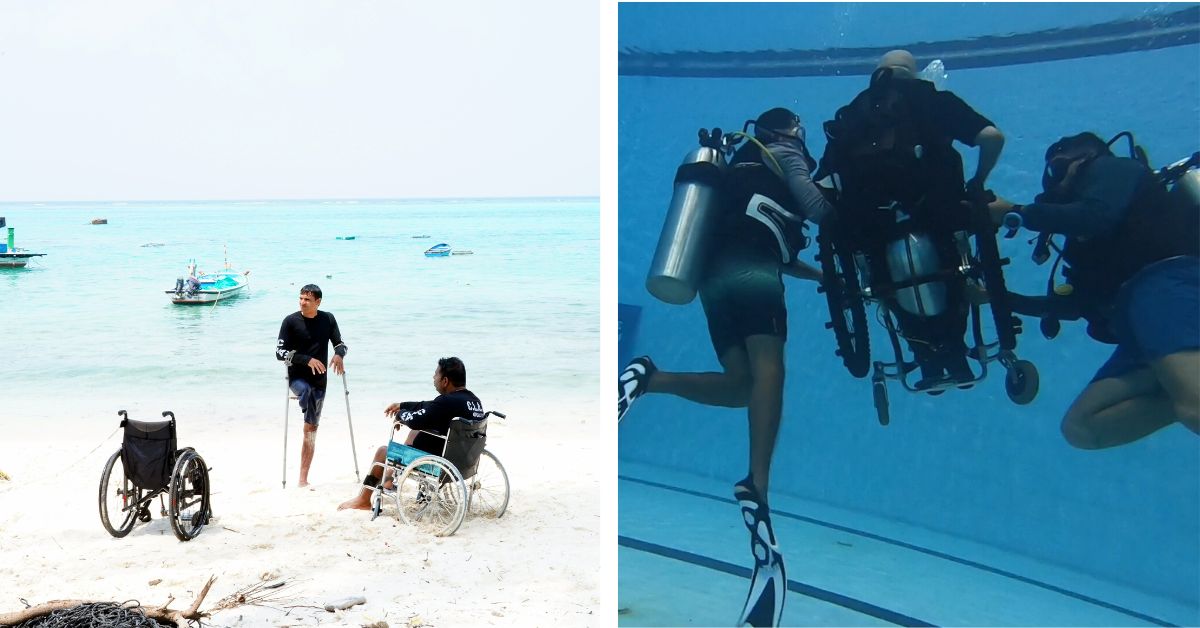 Major Vivek Jacob took early retirement from the Army and started CLAW Global (Conquer Land, Air, Water) — a social impact organisation that is helping persons with disabilities experience adventure sports like scuba diving, sky diving and mountaineering.
At various points in our lives, we all grapple with the timeless existential question: 'What is the purpose of life?' For Major Vivek Jacob, this profound question surfaced after dedicating more than 15 years of his life to serving his country.
"That's when I realised that I have either been living in the past or in the future. For once, I wanted to live in the present and find what I want to focus on next," says Major Vivek (44) in a conversation with The Better India.
Desiring a respite from the demands of life and yearning to "sit on a mountain, read books, and disconnect from the world," Major Vivek Jacob contemplated early retirement.
"I had given my country and my work all that I could. I knew it was time for me to move on to a different facet of my life," he recalls. However, as unpredictable as life can be, this choice took the major down a path he may have never imagined.
Presently, he runs an organisation called CLAW Global (Conquer Land, Air, Water) — a social impact venture working towards the rehabilitation of people with disabilities by way of sports. Major Jacob not only trains them but also leads them on exhilarating adventures, such as scuba diving, sky diving, and mountaineering.
So, what prompted this profound shift from seeking respite to founding an organisation?
From military service to empowering the disabled
A part of 9 Para Special Forces, in 2015, Major Vivek met with an accident while training and injured his spine.
While in the hospital, he met Flight Lieutenant Bhaduria who was paralysed waist down for the last four years due to an accident. The lieutenant had dived into a pool and hit his head, injuring his neck which left him paralysed.
"During my time in the military hospital, as I recovered, I closely observed how hard my friend's life was. He was suffering and losing hope in life," he recalls.
A swimming enthusiast, the lieutenant would often ask the Major, "Will I ever scuba dive again?"
"I had time on my hands and I started to research and found what people have done despite disabilities. I showed those videos to him and all he could say was, 'I don't think this is possible for me'," he recalls.
The sight of his dejected friend was unbearable to the Major. So he promised the lieutenant that he would make it happen for him. "I had made a resolution in my heart to help him," he says.
This incident became the turning point of the Major's life when he decided to work in this direction.
In 2017, he voluntarily took an early retirement with a purpose in hand. The organisation CLAW Global was founded in 2019 and has trained 200 people with disabilities in different adventure sports.
"CLAW Global is not just an organisation that trains people with disabilities, but it also tries to reinstill hope among them. I could see the positive energy they had and wanted to harness it in the right direction," he says.
'Finding ability in disabilities'
Now with a core team of six members along with 10 other members, the organisation trains individuals with disabilities — such as paralysis, terminal diseases, visual impairments, and amputees — in adventure sports.
Looking back on the time when he started brainstorming the idea, the Major says, "When I started my research, I had one and only one goal in mind — take my friend scuba diving. So naturally, I started looking into the kind of resources required for a person with a disability to do so," he says.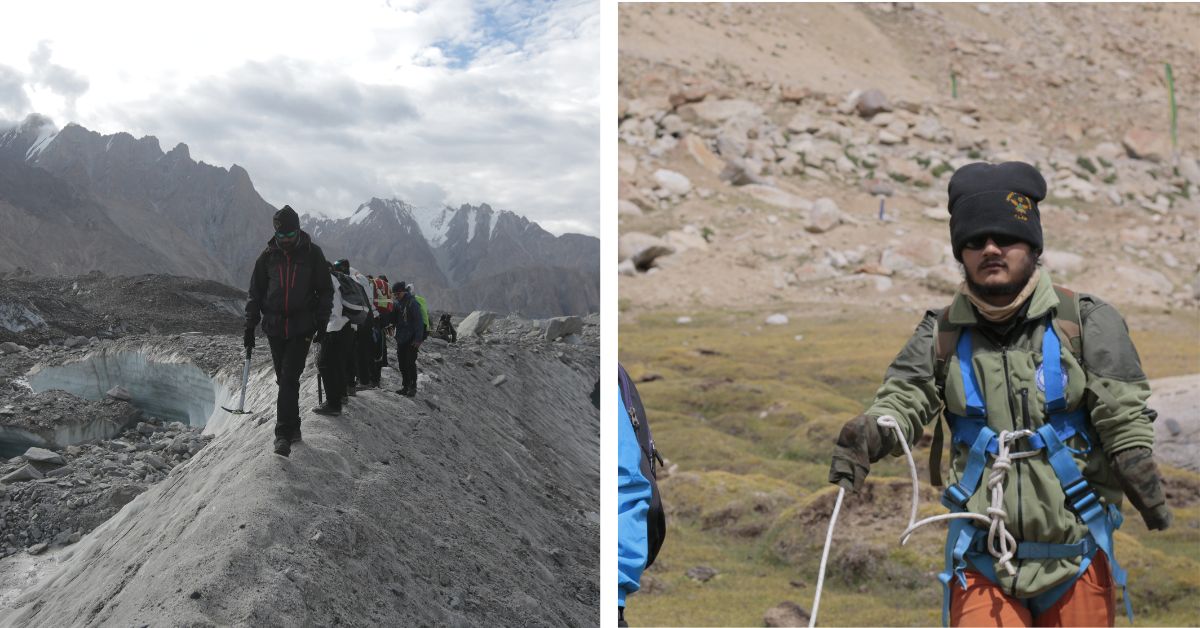 He found out that the cost to acquire the resources and training was much more expensive than anticipated. "I realised that making this available for one person would be expensive and that there must be many out there who want to do the same thing. This is when I decided to do it on a larger scale," he says.
"My team and I decided to travel from Delhi to Lakshadweep and train people with disabilities to scuba dive. We started off with Chandigarh and trained about 24 people. It was a very emotional and eye-opening experience," he says.
The Major and his team then went to Delhi and Mumbai where the training programmes were a huge success.
"These events gave me a chance to interact with people with disabilities. It made me realise that what we are doing is not just fulfilling a desire. Our work is to support their healing journey and help them to regain the will to live life fully," he says.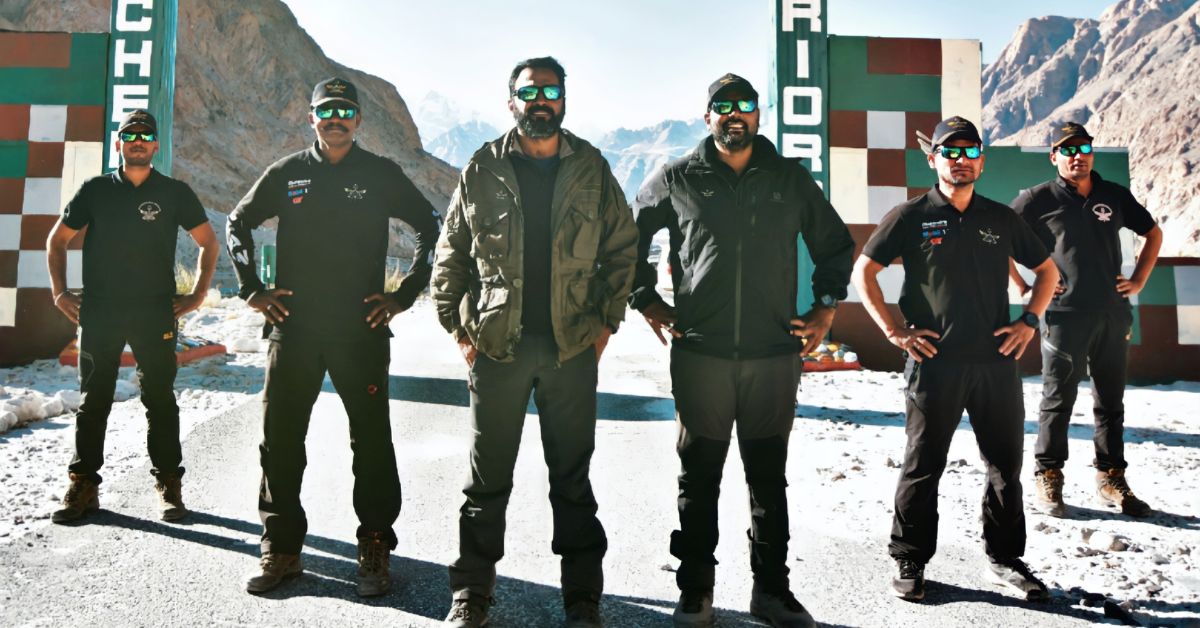 The organisation also has two more programmes along the same lines namely — Land World Record and Soul of Steel – Himalaya.
"Soul of Steel is a programme with the Government of India. This year, we shortlisted 24 individuals. We trained them in high-altitude mountain climbing and rescue, life skills and basic survival," he explains claiming that the programme is the first of its kind in India.
Explaining the Land World Record programme, he says, "We trained a team of eight people — four people with visual impairment, three upper limb amputees, and one leg amputee, and took them on a nine-day expedition to the Siachen Glacier and back. Prime Minister Modi mentioned this in one of his 'Mann Ki Baat' episodes," he shares.
Chonnzin Angmo (27), who has a visual impairment, hails from Himachal Pradesh. She was one of the eight people in the Siachen expedition. "It was a surreal experience. I never thought that I would be able to make it. I was the only woman on the expedition. We had to walk for hours in a day but it was all worth it. Before going on the expedition, my teammates and I underwent a series of training sessions for 15 days," she says.
"It was not easy, but the success of the expedition helped me gain a lot of confidence. Since there were other people with disabilities, whenever I felt like giving up, they supported me and gave me confidence," she adds.
The Major also has plans to expand the Land World Record programme into Air and Water World Record programmes where he will train persons with disabilities to do independent sky diving and water diving.
Reflecting on his work so far, Major Vivek says, "A lot of people look at disabilities with sympathy but we look for the ability in the disability. Every person has an inner potential that they need to realise, once you do that there is nothing stopping you," he explains.
If you are a person with a disability and want to experience adventure sports with Major Vivek, you can contact him here.
Edited by Pranita Bhat
Tell Us More
We bring stories straight from the heart of India, to inspire millions and create a wave of impact. Our positive movement is growing bigger everyday, and we would love for you to join it.
Please contribute whatever you can, every little penny helps our team in bringing you more stories that support dreams and spread hope.