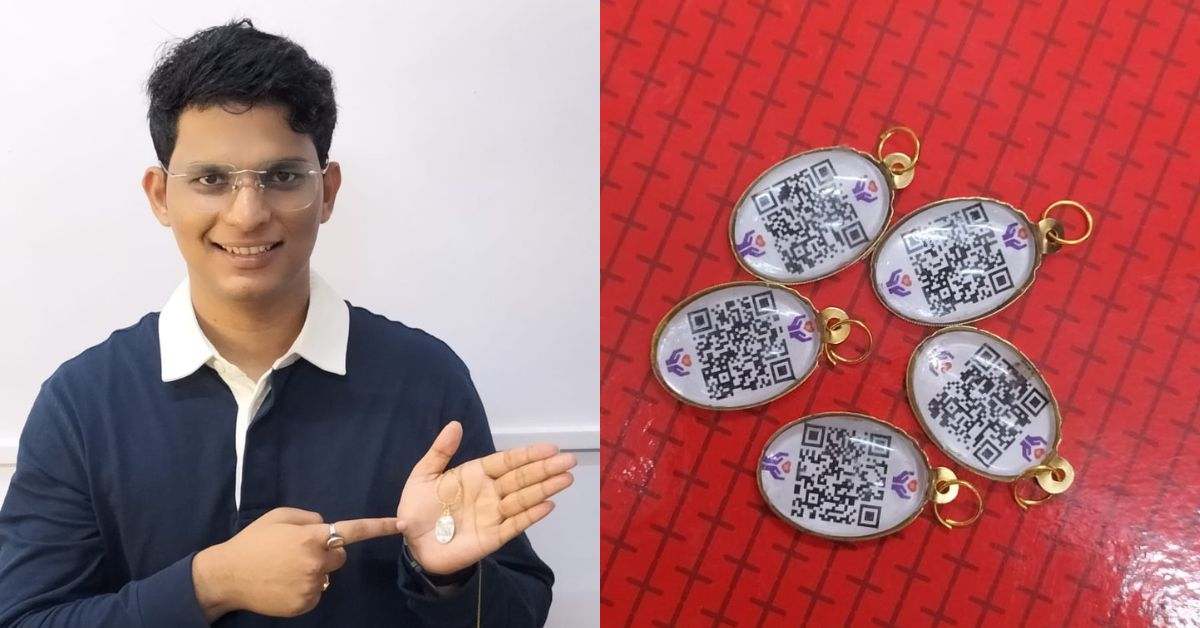 Akshay Ridlan has come up with a QR-based digital identification system to locate people who lose their way. His innovation, a pendant with a QR code in it, would be beneficial for people with dementia and Alzheimer's and children with disabilities.
Our newspapers are filled with missing persons reports everyday. More often than not, these ads fade into the back of our minds amidst the onslaught of other information. Some would have sympathy for the families, pity them for a moment, but most would move on from such news as mere bystanders.
The affected families, however, go through a devastating time, looking for their loved ones, often for years at end. Even in the digital age, with various wearable tracking devices available, 64,851 people go missing every month in India, according to the World Population Review of 2023.
But what if there was a way in which we as citizens could do more than just sympathise for the missing people or their families? Moved by these reports, a young student decided to do something about it.
Akshay Ridlan, who was a UPSC aspirant in 2019, would read the newspapers every morning as part of his preparation for the exam. That's when he would come across these reports. He was only 20 years old then. This shook something in the youngster and left him deeply disturbed as well.
In a chat with The Better India, Akshay talks about his motivation to do something about this grim reality. "Some stories of the missing children haunted me, particularly of an autistic kid, Tarun Gupta, who went missing on 1 October, 2019. The 17-year-old was made to board a train by an RPF officer, instead of getting him help. I felt devastated for that child and his parents. I felt like this problem has to be addressed," he says.
Most people who lose their way or forget their identity are usually suffering from illnesses like dementia, age-related incapacities, or other mental disabilities. Young children with disabilities, and ones on the autism spectrum are especially at risk in these scenarios.
The now 24-year-old IT professional decided to build a tech-based solution to effectively end this problem. Akshay launched Project Chetna on 12 September 2023, and through it, he came up with unique QR tags, which can be worn around the neck inside a pendant.
These QR codes, when scanned, would provide the contact details and medical information about the person who wears it. These tags are aimed to help vulnerable patients and citizens with mental health issues.
"In moments of disorientation or when people are lost, this QR tag can provide essential details, such as their medical condition, emergency contacts, and home address," adds Akshay.
Helping the lost find their way home
A series of events led to Akshay working on these tags. "My professor used to tell me that he forgets things easily. I thought it was just regular forgetfulness, but he told me that it was dementia. I then started reading about dementia and the problems faced by people living with it," adds the Mumbai resident.
According to an National Center for Biotechnology Information (NCBI) report, an estimated 8.8 million Indians older than 60 years have dementia. Dementia is the loss of cognitive functioning — memory, thinking, remembering, and reasoning. Alzheimer's disease is one of the causes of dementia. People with dementia tend to wander about, which leads to them getting lost.
To learn more about people living with this disease, Akshay spoke to caregivers, doctors and visited old-age homes. He also spoke to parents of children with disabilities to understand what they needed.
"The problem is that most people with dementia or children won't have any tracking devices on them, which makes things difficult. Speaking to the caregivers, I realised how stressed they get when their loved one walks off. I wanted to build something solid for them, which is a fool-proof way of finding their child, or parent, or spouse," explains Akshay.
Most of these people are also unable to communicate effectively. "These QR tags are an insurance for them," adds Akshay. "I created this mechanism so that the identification process is sped up and the missing citizens can come home soon," he adds.
All you need to do is log on here, click on register, fill in the personal details of the person you're making it for, and you'll get the QR pendant. Anyone with a phone can scan the code and get the information. Akshay is also building technology that will alert you when anyone scans the QR.
"For example, if someone from Mumbai has wandered off to Bengaluru. If someone there scans the QR, you will get a notification. This will help save the lives of people who go missing," he adds.
The need for empathy
He named his project 'Chetna' as it means consciousness and because it is aimed at helping those people who have 'lost their consciousness'.
The QR-based digital identification system costs Akshay Rs 200 to make each pendant and he's given away 100 of these for free so far.
Mumbai resident Rajagopal, whose 15-year-old son is on the autism spectrum, first found out about this product through a friend. Upon hearing about it, he found that it was a well thought out and sensitive innovation.
"When my son went missing for just 10 minutes in a zoo, it was a horrendous experience for us. I had also seen a child in a Mumbai local train who seemed to be lost. I immediately handed him over to the railway police at Vikhroli station. Such a QR tag is very beneficial for children on the spectrum," he says.
Akshay had previously created such QR tags for stray dogs as well, in February 2023. He was triggered to do this after his dog went missing. This particular QR code gives the name, gender, caretaker's name, phone number and vaccination/sterilisation history of the animal.
While both these innovations are much-needed, they need a lot of awareness to succeed on a grand scale.
"Police authorities, especially the railway police, need to be told about these QR codes. A lot of awareness is needed to make people acquainted with this product. Above all, people need to have a little more empathy, and be more forthcoming. When you see someone in distress, you need to try and help them," adds Rajagopal.
Tarun Gupta, who went missing in October 2019, has still not been found. Akshay hopes to prevent any other parent from going through such a harrowing ordeal.
You can find out more here.
Edited by Padmashree Pande
Sources
We bring stories straight from the heart of India, to inspire millions and create a wave of impact. Our positive movement is growing bigger everyday, and we would love for you to join it.
Please contribute whatever you can, every little penny helps our team in bringing you more stories that support dreams and spread hope.
Tell Us More