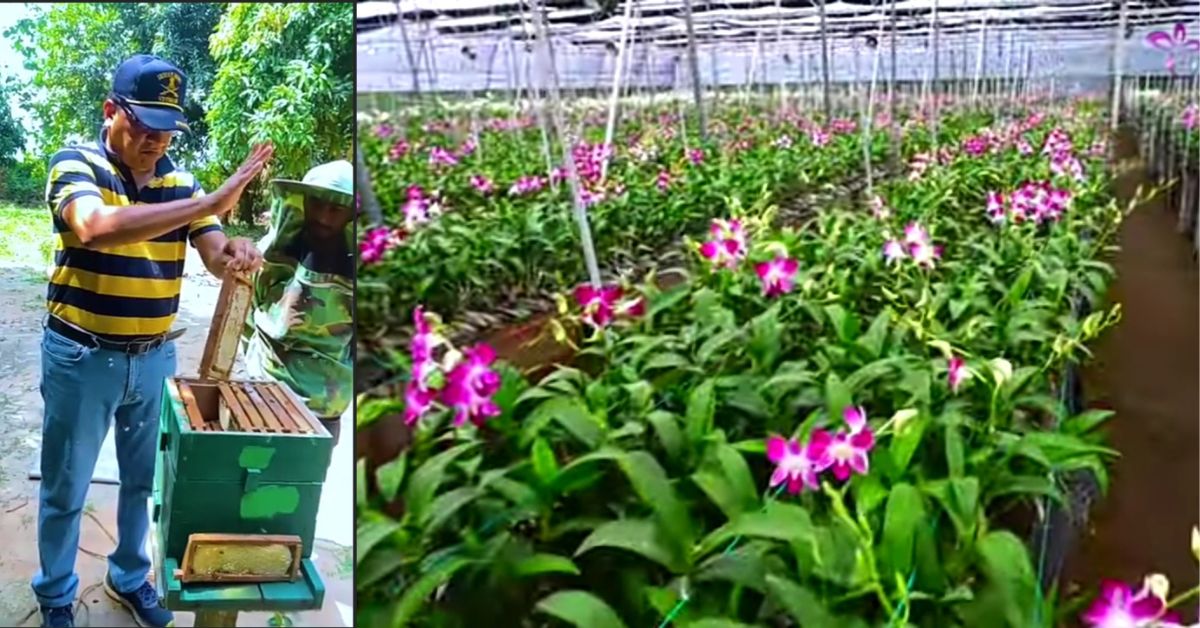 Colonel Sujan Mohanty had been in a fix over his future after his retirement in 2012. He wanted to break into a new venture but was baffled with the number of options available. His interest, however, lay in floriculture, which he eventually turned to.
Colonel Sujan Mohanty (57), is a retired army man who set out to create a successful life for himself post his service of 22 years. A civil engineer as well, he now cultivates and manages an orchid farm for a living.
Named 'Orchid n More', the farm is located in Kantapada village near Chandaka Wildlife Sanctuary, about 23 km from Bhubaneswar, Odisha.
Along with the help of his wife, Monalisa Mohanty (53), his outfit has gained an annual turnover of about Rs 15 lakh, a feat which they managed to achieve in about two and a half years.
While orchid cultivation is not an easy feat, Sujan shares what qualities are required to make this a fruitful vocation.
"One should have patience and perseverance to take up this task. One has to wait for two years for a suitable and proper yield at first. An acre of land may only produce 60,000 flowers, to begin with, but wait and watch in wonder how that number slowly shoots up to almost two lakhs soon. My training in the army has helped me immensely with this profession. That's the only reason why I am now able to reap the benefits of it," he says.
"As the wife of an army man, I have been ingrained with these traits as well. I have to play the role of a robust support system both in his personal and professional life," adds Monalisa.
However, it wasn't always smooth sailing for Sujan before he decided on orchid cultivation, a venture which is totally alien to him. But with pure dedication and determination, his idea took root and then there was no turning back.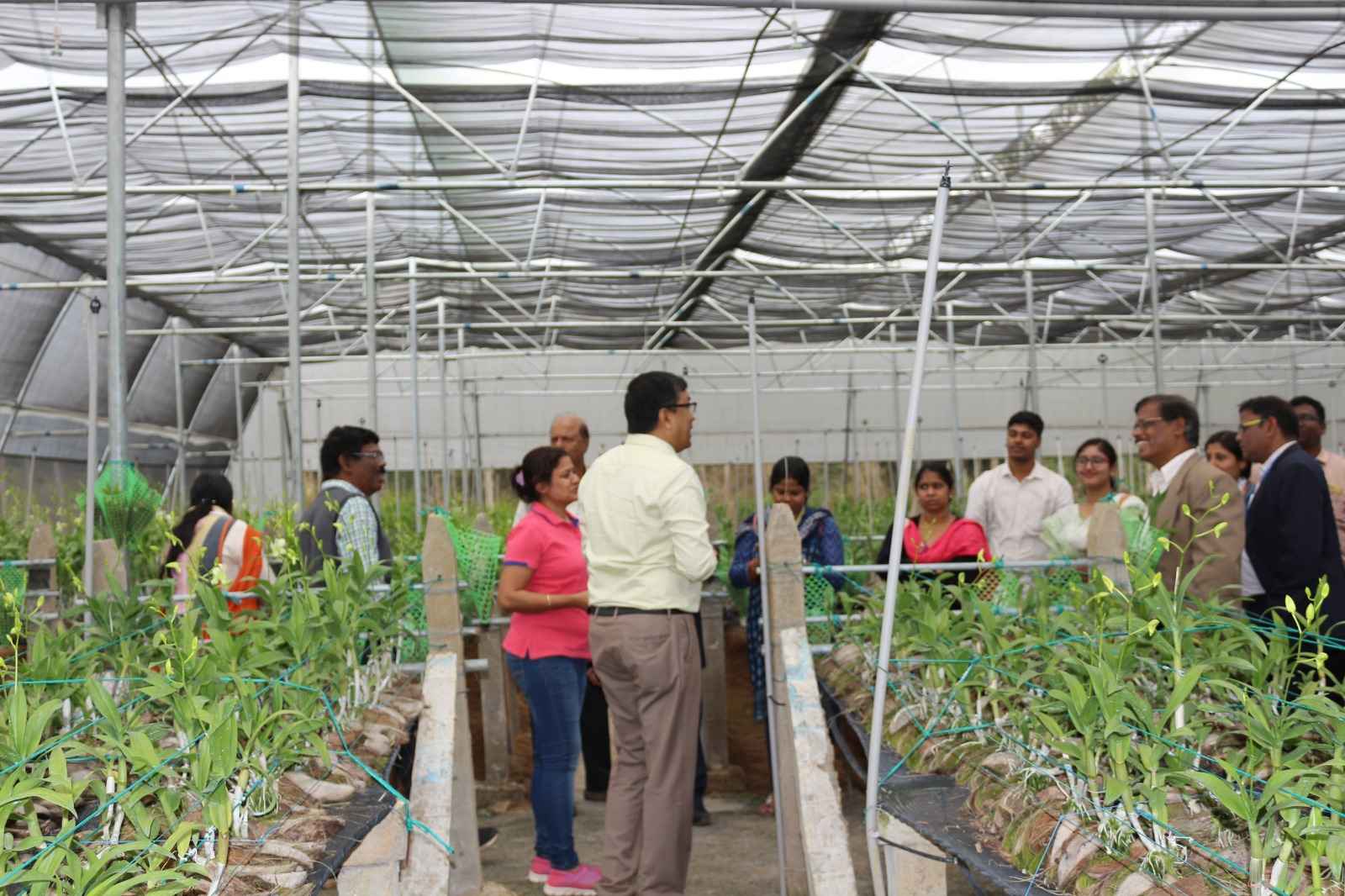 How 'Orchids N More' came to be
Sujan had been in a fix over his future after his retirement in 2012. He wanted to break into a new venture but was baffled by the number of options available. His interest, however, lay in floriculture. But he knew he needed time to make a wise choice.
So he proceeded to join Bengaluru-based Café Coffee Day Group as the head of facilities of one of their IT SEZs. 
After working there for one year, he switched over to Adani Group as the head of operations of a township in Ahmedabad till end of 2016. Then he returned to Bhubaneswar, where he was born and brought up, to settle down. Here he joined a civil engineering consultancy firm called OP&HS Infra as director-partner.    
"As an army man, I can't be idle. The jobs not only kept me busy but also gave me time to research different types of floriculture," Sujan explains.
But something was amiss. The nagging sense of doing something of his own kept him busy. He went on researching, surfing the internet, debating and discussing different business venture ideas with his friends and wife. Finally, in 2017, the Mohantys zeroed in on orchid farming.
"I once toyed with the idea of rose cultivation. When I learnt that the longevity of a plucked rose is two to three days and that of an orchid's vase (a set-up of coconut husks where orchids grow) is 20 to 30 days, I opted for this instead," says Sujan.
But that came with its own set of problems. For one, he had no land or funds to support the idea.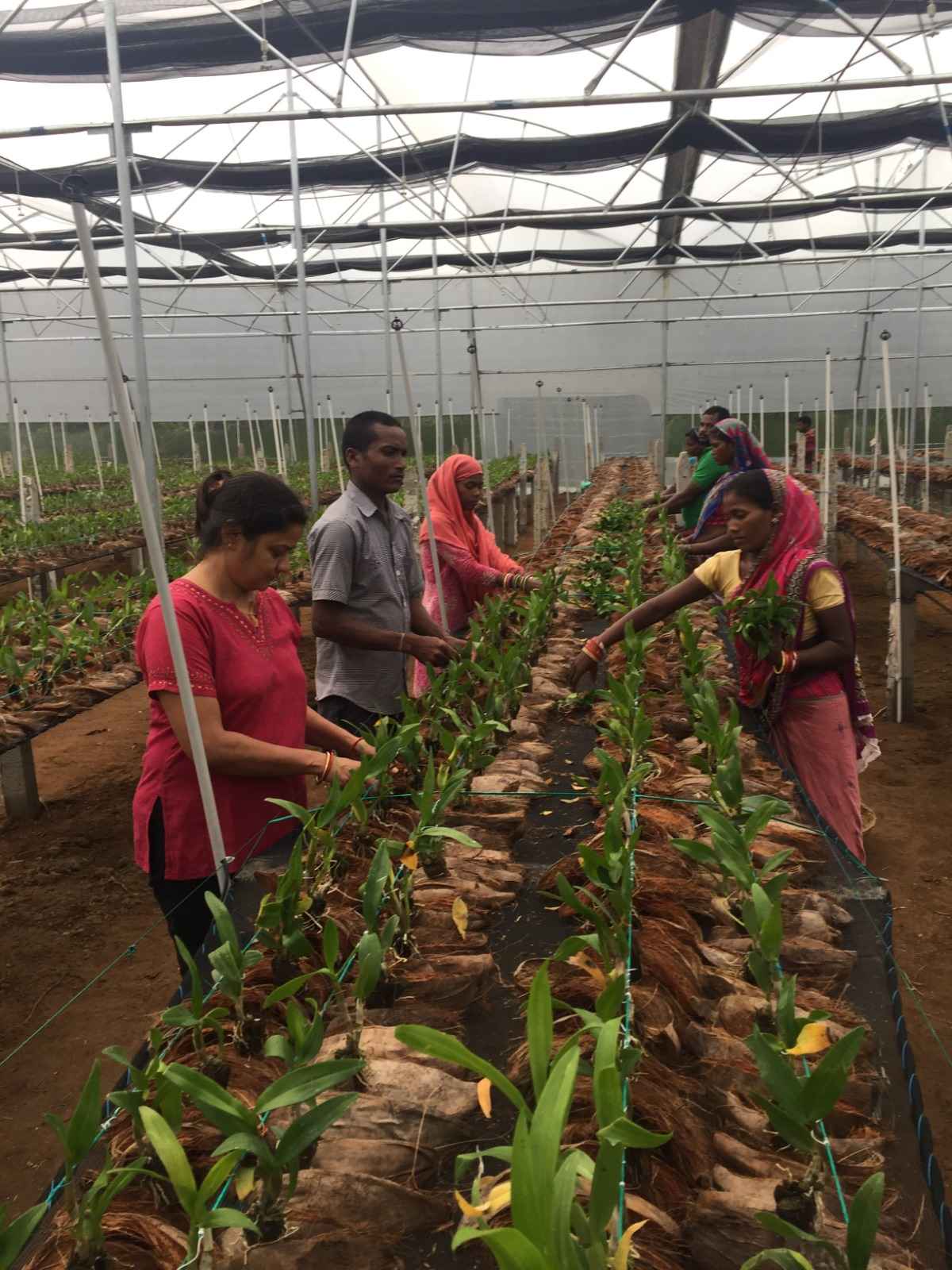 The research and efforts that went into setting it up
Sujan then met experts from Odisha University of Agriculture and Technology (OUAT) and various orchid growers in Huma of Ganjam district to get the hang of it.
"My wife and I toured across India for eight months in 2018 to meet the farmers there and get hands-on knowledge of the skill," he says.
Some of the places that they toured were Siliguri in Assam, Shillong in Meghalaya, and Baramati near Pune in Maharashtra.
Kitted out with preliminary knowledge, the couple geared up to take the plunge into farming. They procured a patch of 2,500 sqm on lease from a farm of nearly 15 acres in Kantabada.
They then secured a loan of about Rs 24 lakh with some 50 percent subsidy from the horticulture department in the Khordha district.
Dr Debasish Mishra, the assistant director (horticulture), Khordha, explains how the scheme for people interested in the career works. "Under the Protected Cultivation Component of Mission for Integrated Development of Horticulture (MIDH) of the central government, the scheme promotes different horticulture sectors that include flowers, aromatic plants, vegetables, tuber crops roots and mushrooms," he says.
Availing of the benefits of this scheme, Sujan set up a polyhouse — a type of specialised structure that utilises controlled climatic conditions for the growth of plants — on the land to house orchid saplings.
"Flowers like orchids can grow well inside a polyhouse when the temperature is 20 to 25 degrees Celsius and humidity ranges between 40 to 70 percent. Besides, a micro-irrigation set-up is an added fixture as orchids require little water. However, quantifying the water requirement is difficult as it differs from species to species," says Dr (Prof) Sharat Chandra Sahoo of the department of fruit science and horticulture of OUAT.
The Mohantys then proceeded to get white and purple orchid saplings from Bengaluru as the city has the best varieties of orchids available. They hired around 25 local labourers to get started with the farm.
Other obstacles along their way
With Chandaka Wildlife Sanctuary flanking the farm, there was a fear of wild animals such as elephants, boars and deer coming and ruining the plot. The presence of venomous snakes was another big issue that haunted Sujan.
"I set up a solar fence around the polyhouse at a cost of about Rs 6 lakh. I kept pots with carbolic acid at their entry points, the smell of which supposedly keeps snakes away. I learnt this information from the internet," says Sujan, reporting that this trick has so far worked very well on the farm.
The odds were still stacked against him as the orchids started blooming in the polyhouse only after 10 months. They were small in size and failed to click with the flower market of Cuttack and Bhubaneswar.
The market there is said to have an annual turnover of over Rs 100 crore, where orchids have a share of nearly eight percent. Sujan, however, bided his time. Once his orchids grew in shape and size, they started to sell between Rs 15 and Rs 30. He also managed the sales and marketing functions of the farm and soon the business started picking up momentum. Their business even forayed into the markets of Kolkata, Bengaluru, Hyderabad and Pune.
Natural disasters played a dampener
Just as the Mohantys began reaping the results of their hard work, cyclone Fani struck in May 2019. The roof of the polyhouse was blown away and a part of its boundary wall collapsed during the stormy downpour. The couple had to spend over Rs 6 lakh from their personal savings to reset things.
This disaster was soon followed by the COVID-19 pandemic in March 2020, bringing everything to a standstill. Monalisa — who looks after the management of the polyhouse and operations inside it — said that they didn't let these setbacks leave them nonplussed.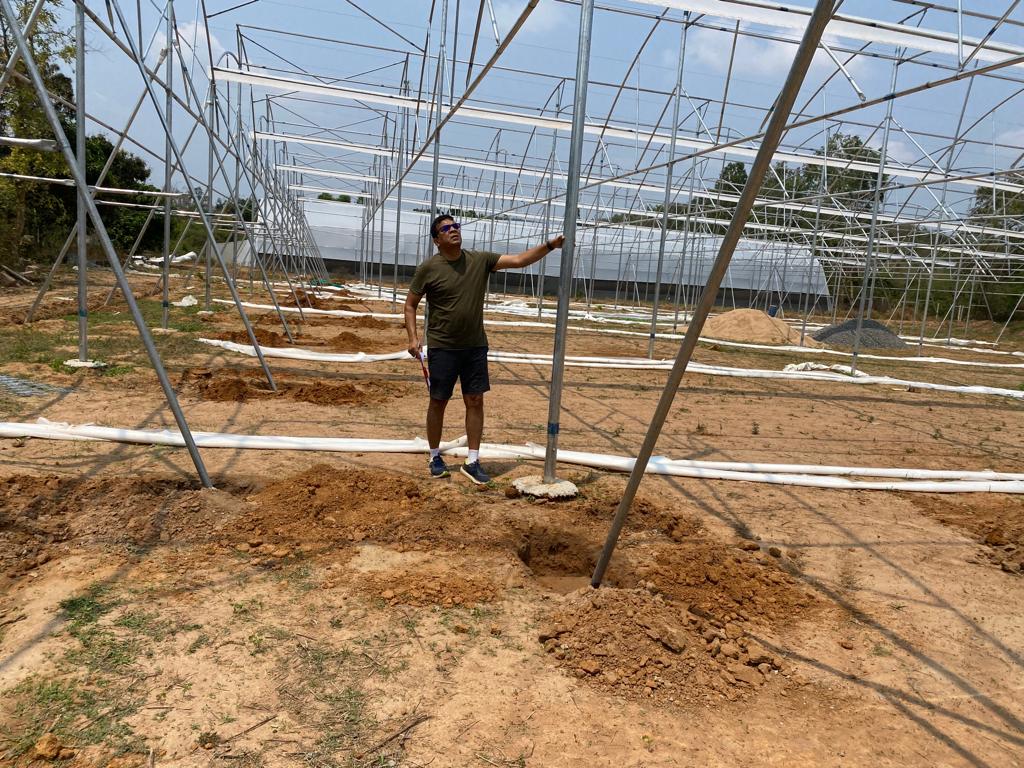 "We presented our orchids to policemen, health workers and other frontline warriors as a mark of respect for their selfless service during this trying time," she says.
"We also made orchid bouquets during the second wave of the pandemic and sold them at a price between Rs 500 and Rs 1,000. Though the sale proceeds were not enough, it could meet nearly 15 percent of our management cost," she says, mentioning that they slowly limped back to normalcy. "We were able to sustain ourselves on my husband's pension and the money we saved. We are also grateful that we could help our staff during that time of crisis," she adds.
What's next for the farm
Sujan has made up his mind to take another patch of 2,500 sqm on lease next to his existing plot to expand the orchid farm. To that effect, he has already applied for a loan of about Rs 55 lakh with a 50 percent subsidy. 
The state government undertaking called Agricultural Promotion and Investment Corporation, provides financial assistance under the Mukhyamantri Krushi Udyog Yojana, an initiative of the state government, he informs.
Though Colonel Sujan's main focus is on floriculture, he is now turning to apiculture, which is beekeeping.
When he initially started the orchid farm, he had procured 15 boxes of bees and colonies as well. This came at a cost of Rs 4,000 each. Later, he added 25 more colonies.
The honey from the first batch sells at Rs 1,200 per litre, bringing in an annual turnover of over Rs 2.5 lakh. Both these practices have immensely benefited each other, explains Sujan. "The apiculture has helped boost the orchid production by 20 percent through pollination," he adds.
"Now, my wife and I teach farmers and interns at OUAT and at the Siksa 'O' Anusandhan orchid farming and apiculture. To date, we have briefed nearly 15 batches of farmers and interns," he adds, happy that he could bring his entrepreneurial dream to success.
Authored by Niroj Ranjan Misra.
Edited by Padmashree Pande; All picture credits to Sujan Mohanty.
Tell Us More
We bring stories straight from the heart of India, to inspire millions and create a wave of impact. Our positive movement is growing bigger everyday, and we would love for you to join it.
Please contribute whatever you can, every little penny helps our team in bringing you more stories that support dreams and spread hope.