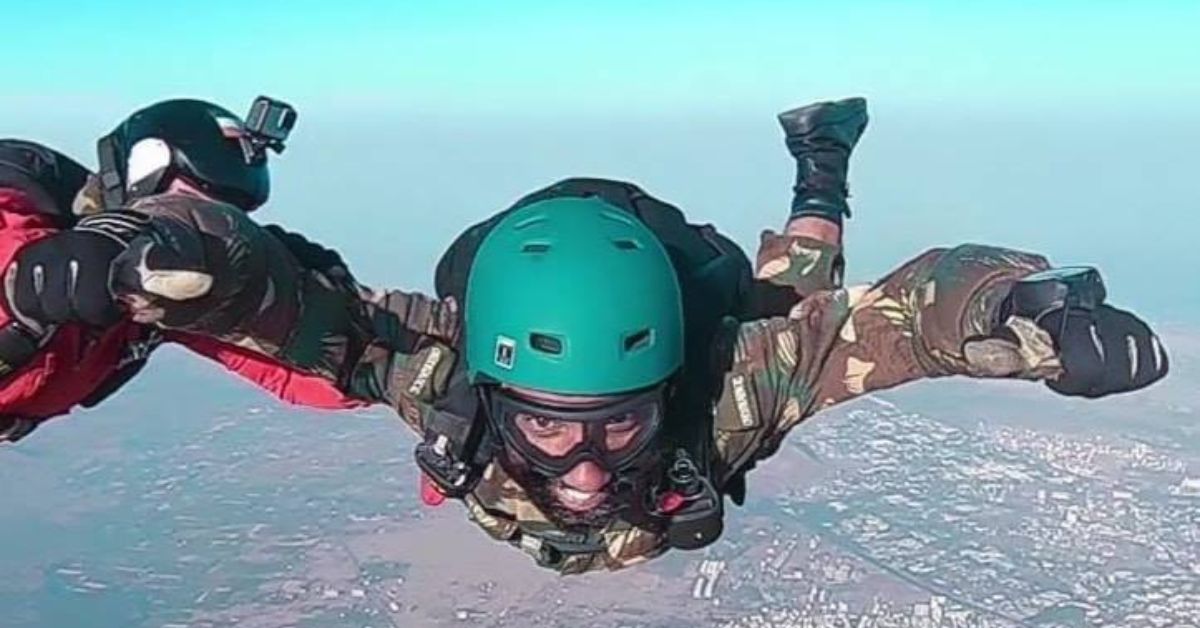 When Major Devender Pal Singh lost his right leg in the Kargil War, he made the decision to rise above the sudden turn his life had taken. In 2019, he became Asia's first disabled solo skydiver.
Life took an untoward turn for 24-year-old Devender Pal Singh when he lost his right leg while serving the country.
Posted in Jammu and Kashmir's Akhnoor region in 1999 during the Kargil War, Singh was grievously injured when engaged in firing with the enemy just 80 metres away, a mortar exploded only 1.5 m away from him. He was rescued by his team of 7 Dogra and taken to the doctor, but his injuries were serious enough to make his doctors think he was dead. 
Major Singh had suffered grievous injuries and heavy bleeding, with partial hearing loss, a severely impacted nervous system, a broken elbow, several broken ribs and 73 shrapnels lodged in his body. 
Now 49, the retired war veteran recalls that while he was revived by the doctors, his right leg had to be amputated, as it was affected by gangrene. Additionally, due to significant injuries, he had to undergo two stomach operations, as well as a surgery on his urinary bladder.
"I learned to look at things with a positive attitude. Why do you want to wait for opportunities to come your way when you can pave your own path?" he tells The Better India, adding that his motto in life is "Mann jeete, jag jeete (conquer oneself to conquer the world)".
True to his word, Major Singh has numerous achievements under his name. Today, he is Asia's first amputee and person with disability to do a solo skydive. He is also India's first amputee marathon runner, and a motivational speaker.
Why skydiving? 
With the desire to show the world that losing his limb could never stop him, the retired Major started running in marathons. Fondly known as the 'Blade Runner of India', he ran in different terrains, one of them being at high altitudes in Leh.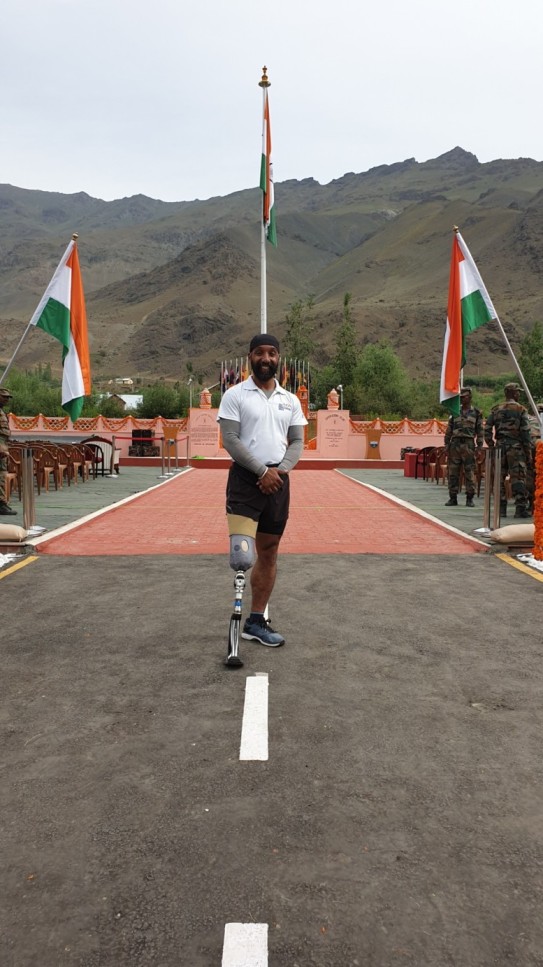 "After running on high altitude roads, on kaccha roads and pakka roads, I had this desire to do something beyond this. I had proved to myself that running without a limb is doable, but now I had this urge to do more," he says.
"Skydiving was on my radar for quite some time. After knocking on several doors, I went to a skydiving school in Dubai when I was visiting the country as a speaker. But training a person with a missing leg was new for them. They considered it to be quite difficult and dangerous," he adds.
The exploration of ideas on how he can live this dream began, and in 2018, it met a hopeful turn.
"I was working very closely with the then chief of army staff General Rawat, and I could sense that he wanted to showcase to the country what an amputated soldier can do. I decided that if I get the required permissions, I will devote all my time till I achieve the goal," he recounts. 
He received his training from the Army's Adventure Wing in a one-month camp organised in Nasik. "The training was intense, but it reminded me of my Army days. As a retired person, I was reliving the days full of morning PT, afternoon classes, evening PT, running and a lot of physical activities," he recalls.
The road to the sky
Nurturing the dream of skydiving for some time, Major Singh decided to get training in 2018, but the path was full of hurdles. 
"For skydiving, there is a set number of skills and learnings required. When you do a free fall from such a great height, you need to make certain positions to maintain an equilibrium. If you fail to do so, you start spinning, which can be very dangerous. If you are caught in a spin, the parachute on your back may get entangled. Although there is a second parachute that opens on its own, it can be very dangerous if you are not in the right position for landing," he explains. 
He continues, "An entire regime of training is given before one skydives. They make you understand what happens to the body when it falls from such height, ways of bringing your body weight to a neutral position, the technicalities of a parachute, etc."
Being one of the first people with a missing limb to undergo skydiving training, he received special permission from the chief of army staff in 2018.
"This permission was given to me by General Rawat, with whom I was working closely, as it was taken as the culminating activity of the year, 2018, which was dedicated to 'soldiers who were disabled in the line of duty'. He wanted to show the country the spirit of a soldier, even if he is disabled," he says.
"Despite having all the permissions and motivation, the fact remains that I do not have a limb. To maintain a neutral position in the air, you need all four limbs. If I did not have both legs, matters would have been simpler, but three limbs were creating a ruckus. It seemed, at that time, that it was not at all possible to find a neutral position with three limbs," Major Singh recalls. 
After his training in Nasik, on 29 March 2019, he successfully did his first solo dive from a height of 12,500 ft.
Being a pioneer in the field, another difficulty he faced was finding teams who were capable of giving the required training an amputee requires. Wanting to learn more ways to maintain equilibrium using his limbs, he went to Canada after his first solo dive.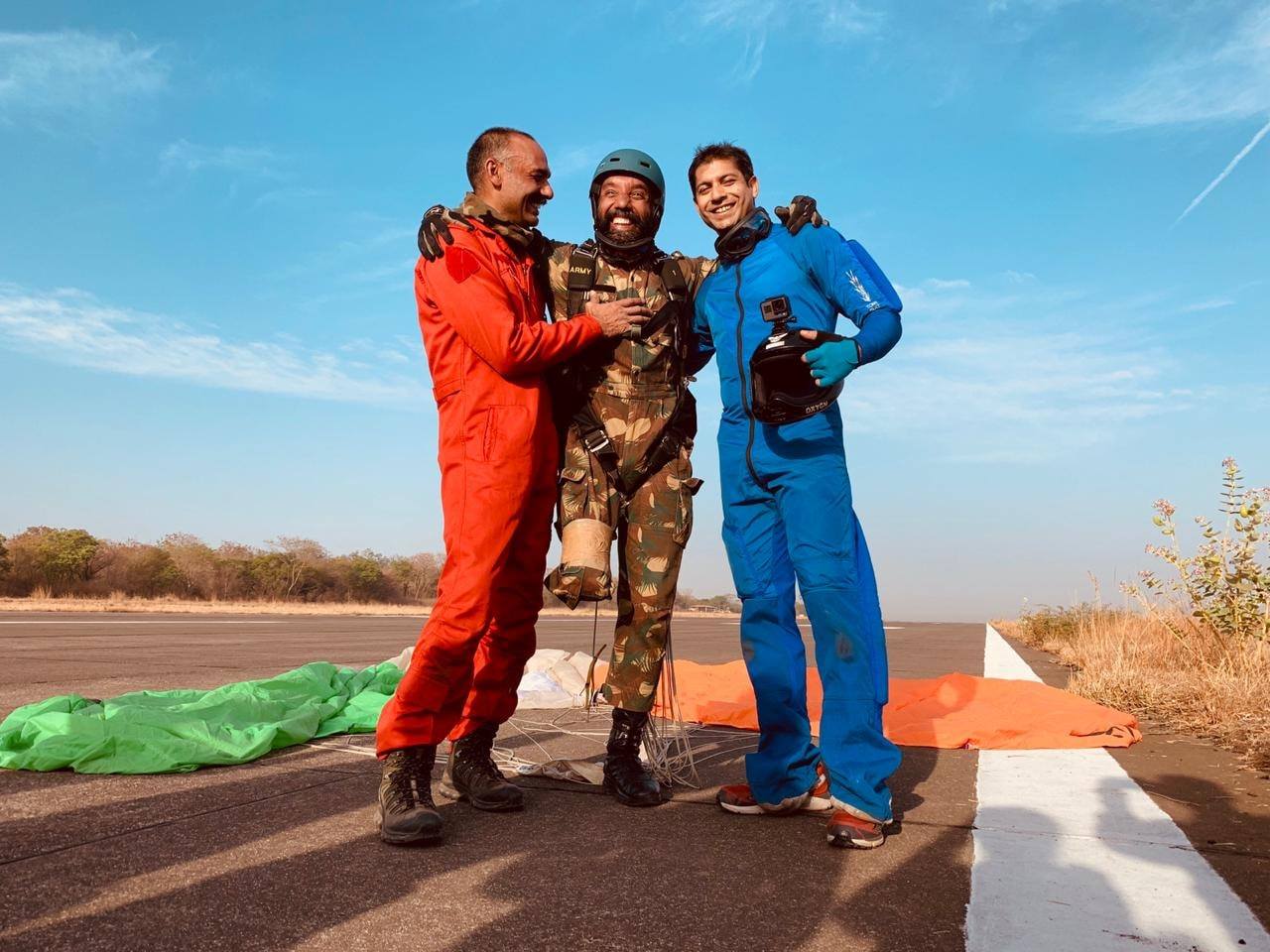 He says, "I decided to go to Canada, as it has many skydiving schools. But to my surprise, even there I could not find any schools that had trained a person with a missing limb. I had to undergo the entire training again. The instructors at Skydive Toronto, a skydiving school, modified their regime according to my needs. We tried various positions with one leg up or tilted and straight, but we could not figure it out. I came back to India."
"You are disabled when you lose hope," says Major Singh. 
Talking about his motivations to keep going no matter what life offers, he says, "Perception is everything in life. I feel that if there is something that has never been done before, then you have the opportunity to turn things around. Why not use the opportunity and become a leader? When there are no answers near you, you will become the answer," he says.
Adding that hope is the key to happiness and success, Major Singh says, "I believe that pain is the way to success. If you live in your comfort zone your growth will be stagnant. Pain and discomfort give rise to growth. I live by the motto and wish to share it with the youth that if there are challenges along the way, then I can bet something better and beautiful is on its way."
"All you need to do", he continues, "is to find your inner strength and build to be persistent and rise above those challenges."
Edited by Divya Sethu
We bring stories straight from the heart of India, to inspire millions and create a wave of impact. Our positive movement is growing bigger everyday, and we would love for you to join it.
Please contribute whatever you can, every little penny helps our team in bringing you more stories that support dreams and spread hope.