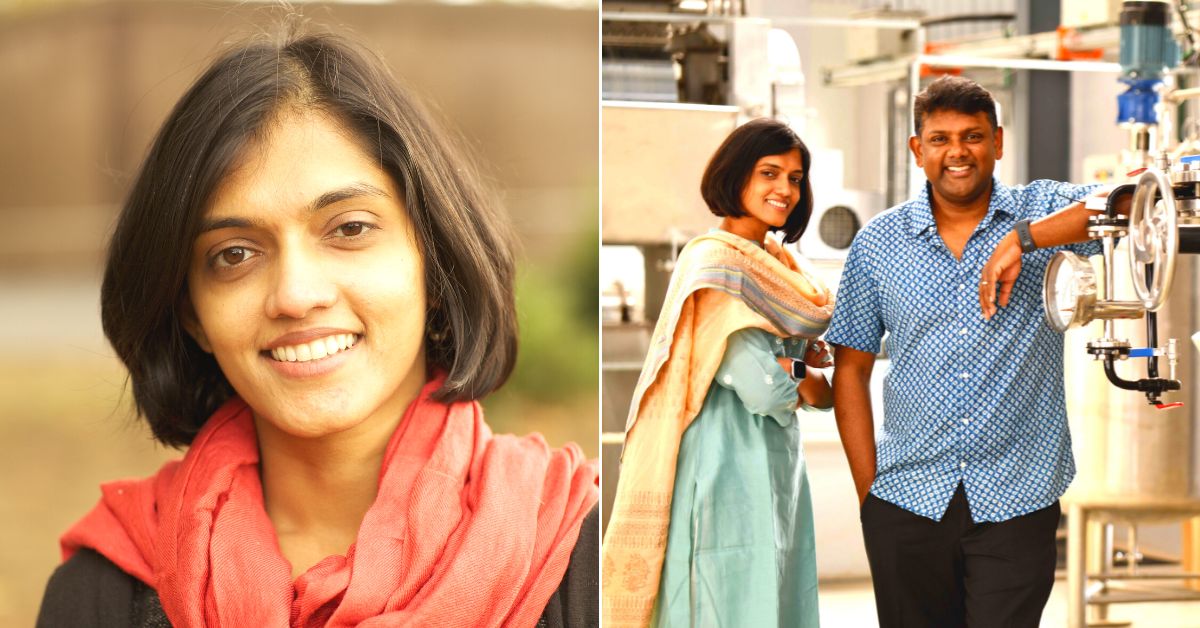 Dr Ezhil Subbian, founder of Bengaluru-based startup String Bio, leverages biotechnology to solve the problem of sustainable food and animal feed production by employing methane, a greenhouse gas (GHG), as a resource.
In 1992, the famous Anna University in Chennai started a pioneering undergraduate course in industrial biotechnology. The person behind creating the syllabus for it was Professor Kunthala Jayaraman, a woman of science and "the mother of Industrial Biotechnology Education in the world" — according to a 2021 paper by P Kangueane published in the Bioinformation journal.
For many interested in learning at the intersection of biological sciences and engineering, this was the course they coveted. One among the many students who took her course in industrial biotechnology at Anna University, was Dr Ezhil Subbian, a researcher and an entrepreneur who founded a groundbreaking biotech startup.
Established in 2013, String Bio, a Bengaluru-based startup, leverages biotechnology to solve the problem of sustainable food and animal feed production by employing methane, a greenhouse gas (GHG), as a resource. Their patent-protected platform for methane bioconversion called 'String Integrated Methane Platform' or SIMP enables the creation of carbon-friendly products using methane as a raw material.
Today, they provide a range of 'environment-friendly solutions' for animal nutrition and valuable crop inputs, which not only increase yield and productivity but also reduce methane emissions from the farming process. Their products are being used by more than 250 farmers.
What's more, about 30% of the workforce at her startup consists of women, which is unique for startups engaged in deep tech and manufacturing.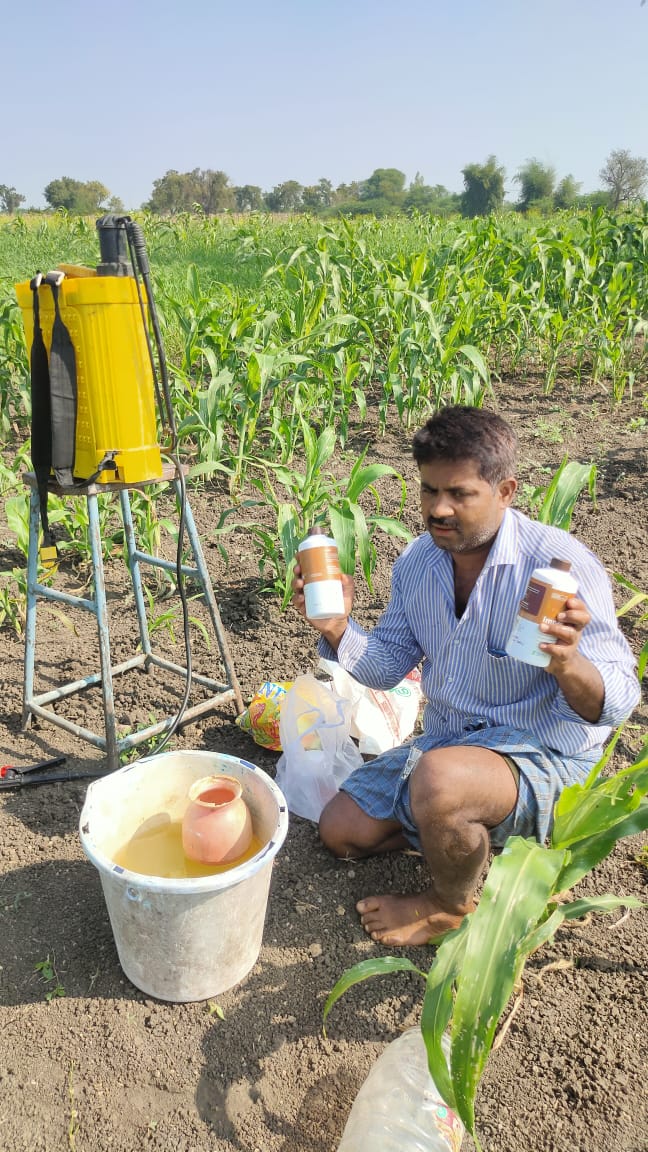 No venture without experience
Following graduation from Anna University with a BTech in industrial biotechnology, Subbian left for the United States to study further. There, she earned a PhD in molecular biology and biochemistry from the Oregon Health and Sciences University.
By the time Subbian started String Bio in 2012-13, she had years of working on cutting-edge bio-engineering, including at Gevo, the California-based startup. Frances Arnold, the professor whose laboratory spawned Gevo, won a Nobel Prize in Chemistry in 2018.
"Using deep technology to enable sustainable food systems that are climate resilient is the primary driver behind the work at String. Our focus has been to make sustainability market-relevant by redefining manufacturing," says Subbian, speaking to The Better India.
Why do we need SIMP?
Methane conversion is important for several reasons. Firstly, methane is a potent greenhouse gas, responsible for around 30% of the current rise in global temperature, according to the IEA. However, it is also a cost-effective source of carbon. Despite this potential, methane has not been widely utilised mainly due to the lack of appropriate conversion technologies.
"Due to the absence of robust conversion technologies, approximately 147 billion cubic feet of natural gas is flared into the environment annually. This wasted carbon supply could instead be harnessed for sustainable food production," explains Subbian.
"On the supply side, our technology platform offers a solution by enabling the production of diverse value-added products from methane. The String conversion process takes place at nominal temperatures and pressures, making it feasible to use even small or medium sources of methane that are typically flared. Traditionally, the past 200 years heavily relied on coal and oil as primary carbon sources, resulting in the underutilisation of natural gas. Currently, only 3% of the global natural gas supply is utilised for various applications," she adds.
Today, String Bio is among the world leaders in the gas-based fermentation process for producing high-quality protein ingredients from methane using SIMP, their proprietary platform. The key USP of the technology is scalability, modularity and efficiency.
How does it work?
Simply put, it begins with turning methane from biogas or natural gas into monomers — building blocks of protein for various uses.
Here's how Dr Subbian explains this complex process in simple terms —
"The easiest way to describe the process is by comparing it to brewing, where barley is used as a source of carbon for yeast to make beer. In String Bio's fermentation process, methane acts as a source of carbon for the bacteria growing in a well-controlled environment to make protein. We can also make other value-added products — the processes are similar to the conversion described here except that the fermentation and downstream processing [recovery and purification of biosynthetic products from natural sources] will vary based on the type of product."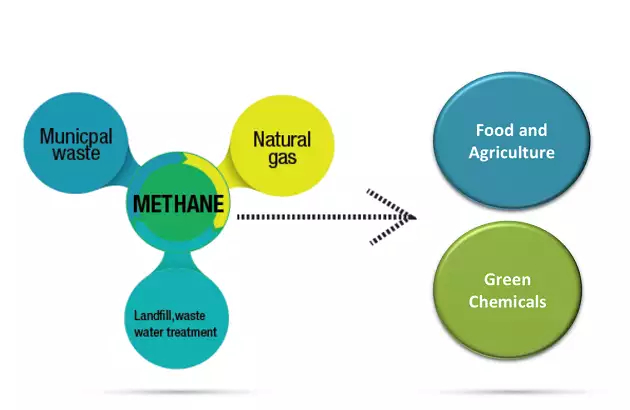 Breaking ground
In the early years, Subbian bootstrapped the Bengaluru-based startup through its technology development phase with some support from government grants and incubation centres. Vinod Kumar, her husband and co-founder, came on board in 2015 to help build the business after quitting his job as a senior director at Juniper Networks, a US-based company.
Suffice to say, the process of fermenting a gas like methane with bacteria to produce protein with the right set of amino acids for a specific purpose is very complex.
"Apart from know-how, there's a lot of grunt work in the permutations and combinations to find the right variants of microbes and evolving them on different formulations of methane, ammonia and mineral salts. Add to that the engineering to make it a commercial process. US startup Codexis, where Subbian was a technical lead, had 20 robots to support the work," notes this Mint report.
Without that benefit of automation in Bengaluru, she improvised. "This meant relying on 'gut feel' and expertise in deciding what would work instead of leaving it all to the machine. It was like going from driving a Ferrari on the Autobahn to negotiating Indian roads in a Maruti," the report adds.
Today, things are a little different. For example, they have a multi-purpose gas fermentation facility in Bengaluru that can run on methane from both natural gas and biogas. Also, they are able to source large quantities of methane from biogas and natural gas.
But the challenges of developing groundbreaking technology and the requisite manufacturing components were intense early on. On the technology side, it took String Bio about five years (2014-2018) to research and develop its patented SIMP.
Their first product was an organic protein supplement for fish launched in 2019.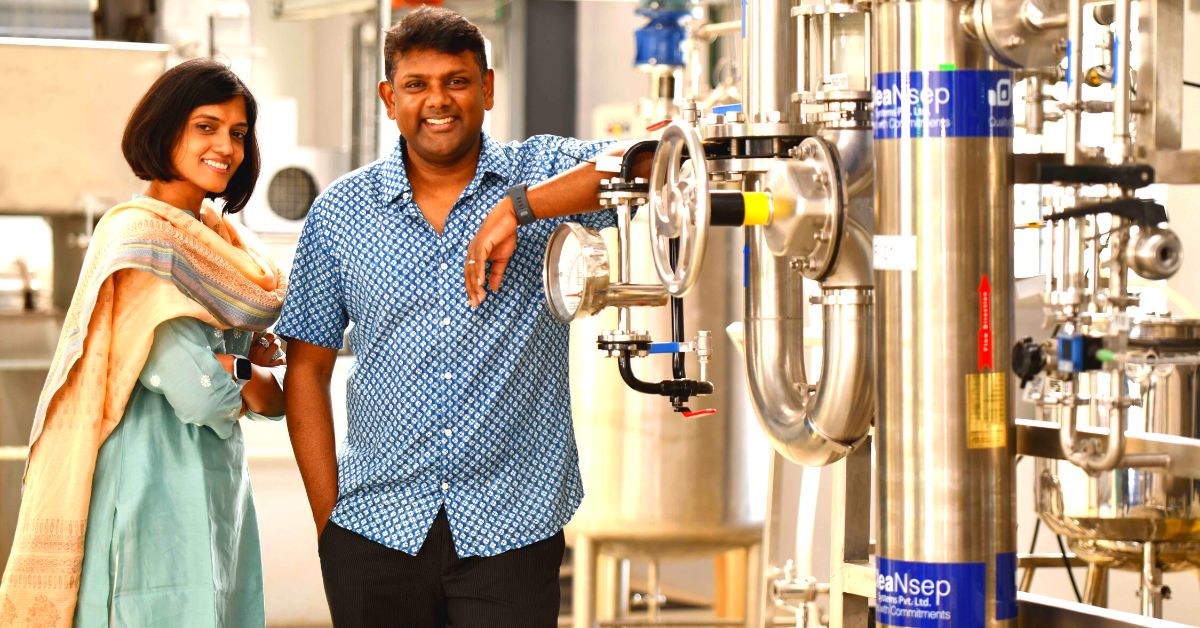 Facilitating sustainable agriculture
The conversion of methane has helped String Bio prepare a variety of products. One of them is Impakt™ — a peptide-based biostimulant, while another is CleanRise™ — a microbial-based biostimulant. Both of these products are used for sustainable food production. Farmers are using Impakt and CleanRise in different horticultural and row crops since 2018.
SIMP technology uses methane as a carbon source in the microbial fermentation process for manufacturing bulk and specialty products, including Impakt and CleanRise.
"String's Impakt is a unique mixture of peptides and amino acids that nourish plants to achieve maximum growth and yield. Amino acids and peptides play a critical role in maintaining various plant physiological processes. Impakt application improves the plant cell metabolism and signalling processes, resulting in improved root architecture, enhanced photosynthetic rate, yield, and produce quality," explains Subbian.
CleanRise, meanwhile, is an "innovative biostimulant that creates a healthy bioactive complex enabling robust vegetative growth," she says. But how do these products impact crops? Using rice as an example, Subbian outlines the impact of a product like CleanRise.
According to various estimates, rice production contributes to around 10–13% of annual methane emissions. Its total GHG output puts it on par with international aviation.
"String's agricultural input, CleanRise™, has demonstrated yield increases of up to 40% from field trials across a variety of crops. In rice, there are even more marked and significant results — the use of CleanRise results in a 33% increase in grain yield in treated crops. In addition, however, the use of CleanRise decreases methane and nitrous oxide emissions by up to 60% and 40% respectively over untreated crops," claims Subbian.
Here's a graphic which explains it better: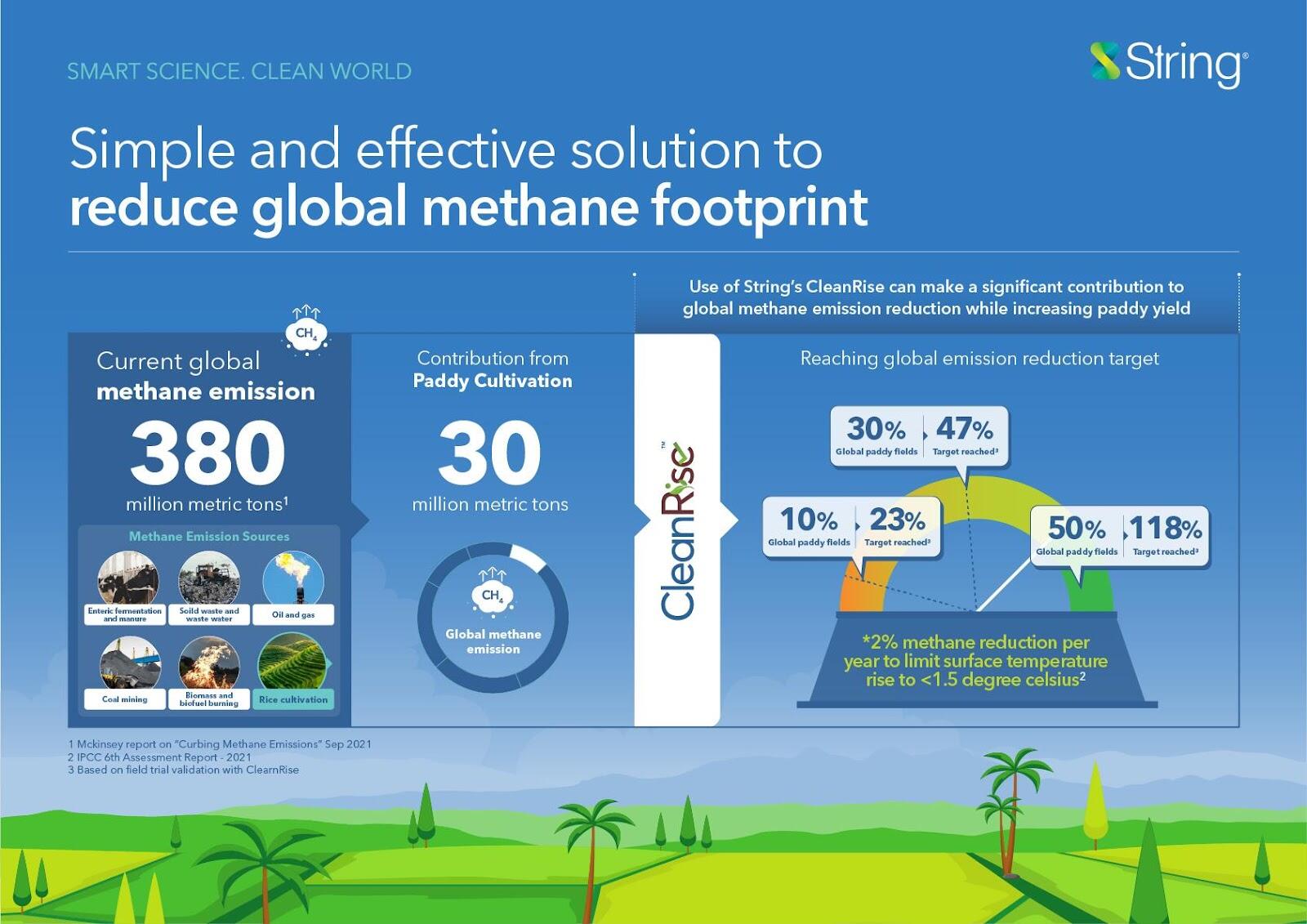 In other words, this technology has the potential to disrupt the way agriculture contributes to GHG emissions globally, and at the same time, increase sustainability and yield for all stakeholders involved. Such solutions are critical to make sustainability market-relevant.
"In addition to improving yield, Impakt and CleanRise bring multiple benefits to farmers. While improved flower and fruit retention, tolerance to abiotic stress, and enhanced produce quality are some of the benefits of using Impakt, the use of CleanRise improves the efficient use of fertilisers in addition to improving grain quality in large acre crops. Our biostimulants validation trials in different crops clearly demonstrated better ROI to farmers," claims Subbian.
"For instance, the use of CleanRise in paddy can give a profit of Rs 20,000–30,000/hectare to farmers. Similarly, Impakt application in soybean can fetch a profit of Rs 40,000–45,000/hectare compared to regular farming practices. Currently, the products can be availed directly from our facility in Bengaluru. These products will be available from channel partners very soon. Close to 1,000 farmers across different parts of India benefit from using String's biostimulants," she adds.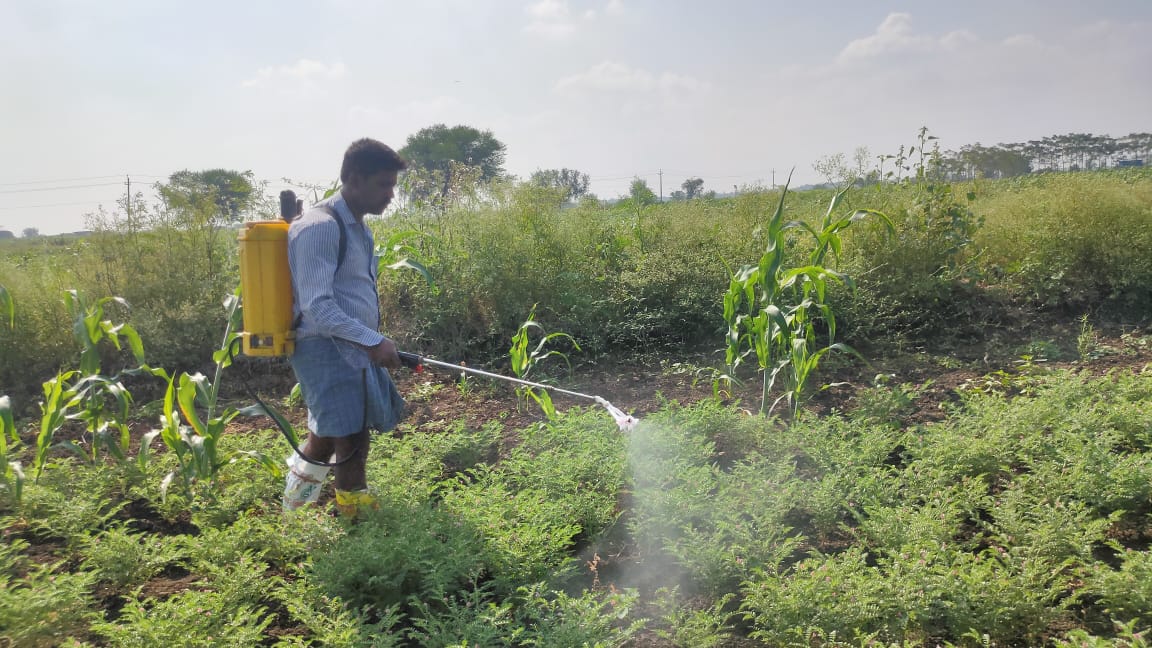 One farmer who has benefited from using their biostimulants is Nagaraj from the Doddaballapur area lying about 40 km from Bengaluru. "I have been using String's biostimulants for some time now. My marigold plants yielded 20–30% more blooms after I started using their products. Initially, the yield used to be 5 kg per crop which has now transformed to 7 kg," he says.
Meanwhile, B J Somashekar, a grape farmer from the Devanahalli area, close to where the Bengaluru airport is located, spoke of using another String's biostimulant product 'Grepa'.
"By using String's biostimulant product 'Grepa', we have seen less flower drop, improved berries and bunch size leading to a tremendous improvement in the grapes yield compared to regular cultivation practices. Moreover, the quality and colour of the grapes has improved which we have not seen in the last 15 years of grape farming," he explains.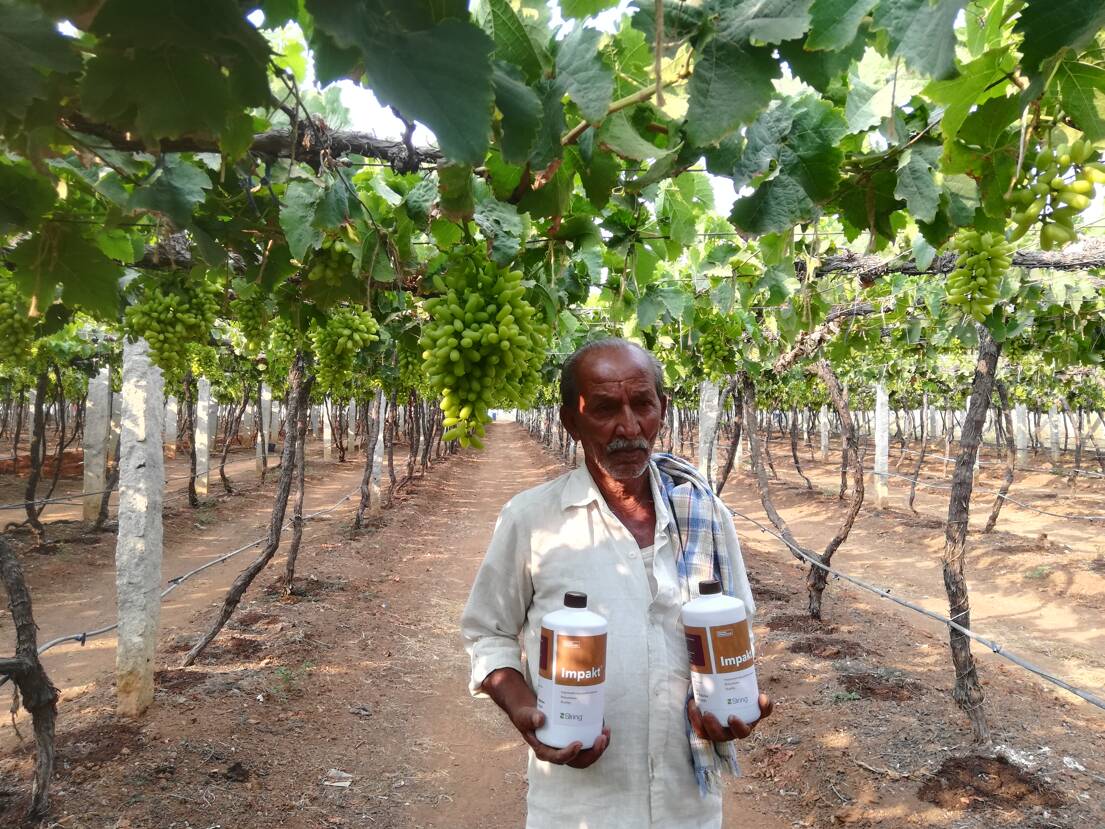 Other applications of SIMP
String Bio has also developed a protein ingredient for animal nutrition — PROfit/PRO-DG, an alternative protein component for animal feed. Conventional protein sources, such as fishmeal and soybean meal, contribute to deforestation, overfishing, and environmental degradation.
"String PRO-DG is a high-quality protein with optimal nutritional factors, and it is free of antibiotics, pesticides and mycotoxins. It provides traceability, significantly optimises the use of land and water, and provides sustainability to the feed value chain. PRO-DG has been validated in renowned institutes for use in animal nutrition through successful trials in shrimp (Wageningen University, Netherlands), trout (ICAR, India) and poultry (KVAFSU, India). Currently, we are evaluating it with customers in the poultry and aquaculture market," Subbian says.
Funding and research
Thus far, String Bio has raised $ (USD) 20 million in the first close of their Series B round. Their marquee investors include Woodside Energy, Ankur Capital, Dare Ventures, Redstart, ONGC, Seventure partners and Zenfold Ventures, among others. They are also currently in the process of setting up a first-of-its-kind commercial-scale green field project in Bengaluru. Also, String Bio has been granted 15 patents so far and has filed more than 40 applications globally.
(Edited by Pranita Bhat; Images courtesy String Bio)
We bring stories straight from the heart of India, to inspire millions and create a wave of impact. Our positive movement is growing bigger everyday, and we would love for you to join it.
Please contribute whatever you can, every little penny helps our team in bringing you more stories that support dreams and spread hope.