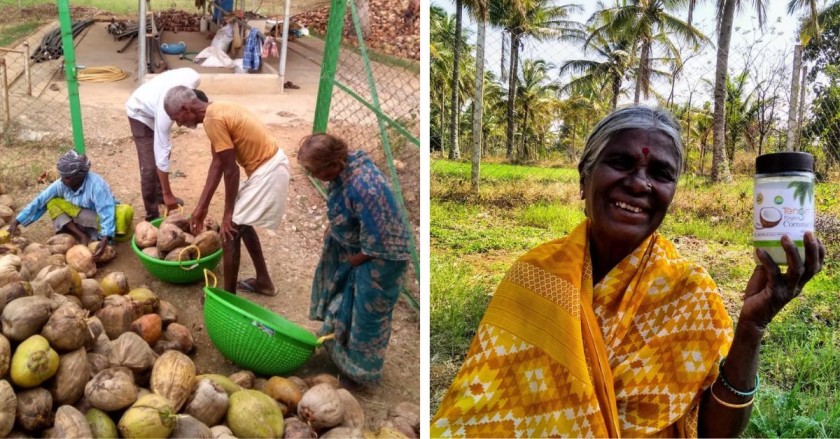 Engineer Madhu Kargund was inspired by his farming family to quit his job and launch Tengin, a startup that uses zero waste farming to turn coconuts into a host of products, earning profits worth lakhs.
A common sight in most South Indian states are coconut trees, which not only make the environment cleaner, but also provide us with fibrous fruit. And in turn, these fruits have a host of benefits — its oil hydrates our skin and hair, makes our food tastier, and its water quenches our thirst.
The best part about coconuts is that they're a full package. From its shell to its husk, everything has its own use. And a Bengaluru-based startup has found a way to use its goodness to help women and farmers, while earning revenues of Rs 4 lakh per month.
With his startup Tengin, which means coconut in Kannada, 30-year-old Madhu Kargund makes virgin coconut oil, barfi, soaps, candle, sugar, chips, crockery shells, coir dish scrubbers, and more.
"I am a farmer's son," says Madhu, "and I have seen how farmers are suffering due to crop failure, lower profits and climate change. I am trying to help them make more profits by converting their coconuts to cash flow."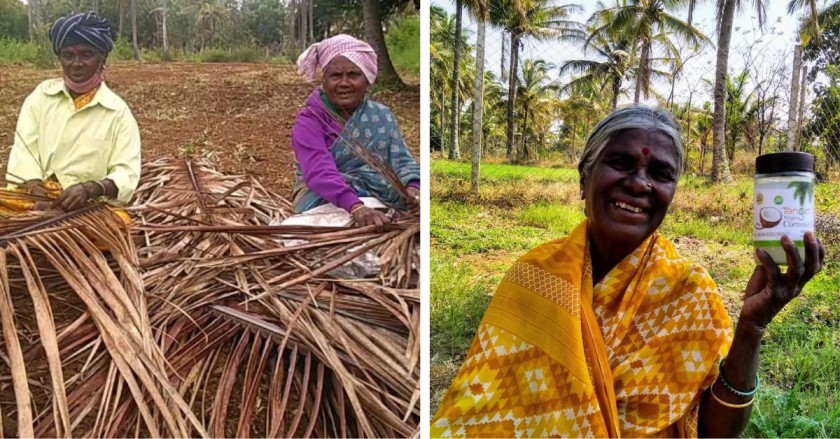 Making coconut farming profitable
Born and raised in Arsikere in the Hassan district of Karnataka, Madhu spent his growing years helping his father in the fields.
"Growing up in a farming family, you see the problems farmers face on a daily basis. Firstly, due to climate change and bad rain patterns, growing anything naturally is very difficult. There is no aid for farmers to upskill, and a lack of knowledge about the market results in losses," he says.
Talking about the various problems faced by the farmers, he says, "If I go to the village and start growing tomatoes on my field and get a good price for it, every other farmer in the village would start doing that. This creates a demand and supply imbalance and no one makes a profit. The farmers lack this knowledge and lose profits."
Madhu says that while he always wanted to do something to eliminate these problems, his father wanted him to pursue a stable job. "No farmer would want his sons to join farming because of the losses," he opines.
After completing his Master of Computer Applications, he worked for eight years as a software engineer before deciding to quit his career and start Tengin in 2018.
"Even when I was working as an engineer, my mind was occupied with the thought of how I was not doing what I was supposed to do. I kept ideating different ways in which we can change the current situation. The best way to increase revenue was to eliminate middlemen and source directly from the farmers so they get more margin," he says.
By 2018, Madhu was sure that a 9 to 5 was not his calling. When Madhu decided he wanted to start a business that helps the farmers, he knew where to turn to — coconuts, which he had seen his father grow all his life. The beginning of his venture came about while he was still working in engineering, when he decided to make batches of virgin coconut oil.
"It was in 2020, that I decided to throw myself completely into the business and quit my job," he says.
Natural, sustainable and waste-free
When Madhu decided to quit his job, his decision did not get the reception he was hoping for.
"My parents did not want me to do agriculture. He did not want me to become a farmer, he wanted me to continue my job. Agriculture is one of the most difficult jobs in the world, and farmers don't get enough money or respect for it," he shares.
Even though there was resistance from the family, Madhu was set in his ways. To make farming more profitable in his village, he figured out a way of farming called zero-budget natural farming with multiple crops.
"Most of the villagers in my village practised single farming or mono-crop farming, But in the other method, you grow multiple crops at the same time. For instance, in between coconut, you can plant areca nuts, in between areca nuts you can plant bananas, and in between them, tomatoes. This way, farmers produce a variety of plants on the same piece of land," he says.
While conceptualising Tengin, Madhu decided to engage women SHGs in his village to make the products.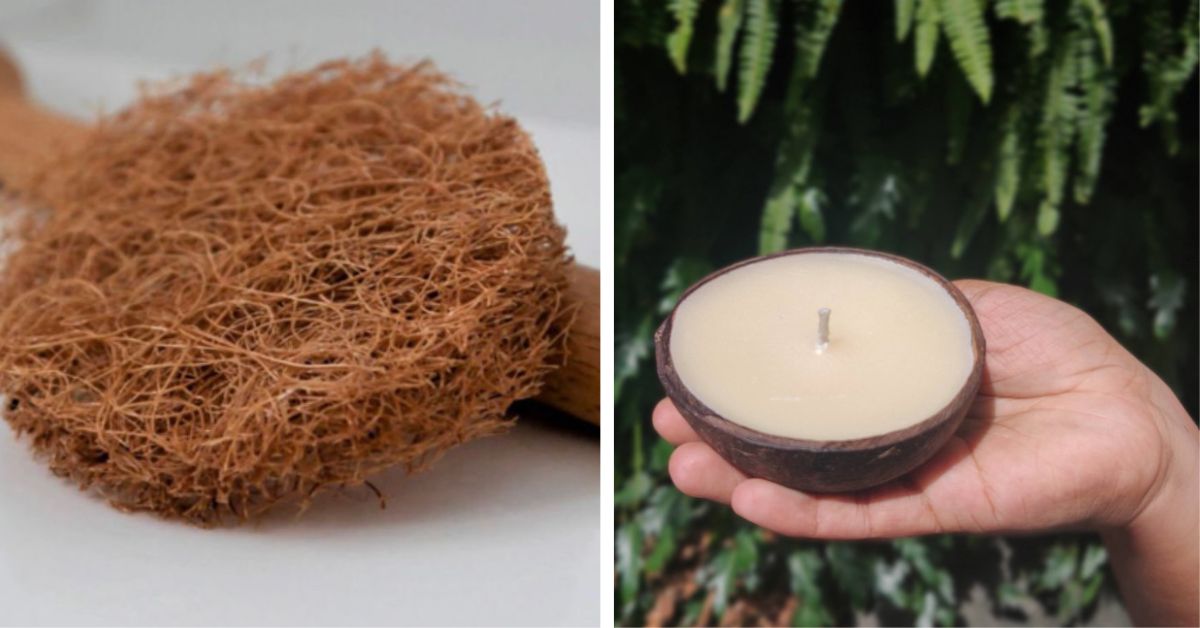 "There are many sanghas (women groups) in the villages, which I decided to engage with. They make a variety of products and we keep innovating to produce zero-waste from the coconuts. The coconuts are sourced from farmers in my village and some from other districts of Karnataka," he says.
Madhu works with more than 20 farmers in Karnataka and Goa, along with nearly eight women from SGHs in his village to make the products.
"We buy directly from the farmers, eliminating any cost of transportation on their part and any middlemen at fair prices, so that they get more profit margins," he explains.
"We keep innovating with our products. While I started off with just virgin coconut oil, we have advanced into various other products, from soaps, scrubs to crockery. During Diwali, we made coconut diyas, and during Raksha Bandhan, we made coconut shell rakhis," he says.
"The coconut shells are mostly thrown away, but I thought that they could be a sustainable replacement for plastic cups and mugs. From the coir, another waste product, we made dishwashing scrubs. We made use of the residual coconut powder, which comes after we extract the oil to make coconut rocher, mixing it with dark chocolate," he says, adding that all the coconuts used in the production are grown naturally.
Vani Murthy, a customer of Tengin, says, "Coconut products are so intrinsic to our culture and traditions in South India. Coconut oil is a multipurpose product that we use daily in our homes, be it for cooking, or as personal care. Tengin is one such authentic brand that I reach out to for my needs. All their products are amazing and I love the fact that this brand supports local livelihoods too. They are constantly bringing out interesting new products from coconut."
Madhu says he started by making 150 ml of virgin oil, and today has sold over 500 litres. On average, the company makes a revenue of Rs 3 to 4 lakh a month.
"For me and Tengin as a company what we want to do is bring into light the story behind our brand. It is not just the products we are selling but the farmers who work hard's story we are narrating too. I go to flea markets and talk to my customers, educating them about where the products are coming from, and how are they made. By buying them, they are not just buying the products but also helping the farmers," he points out.
As for the future, Madhu wants to keep expanding and innovating new products made out of coconuts.
"Whenever we talk about innovation or upskilling, it is always sectors like IT that we want to focus on. There is almost a negligible amount of conversation around upskilling farmers and updating them with the latest technology. We are already in the middle of a migration crisis with most of the youth moving out of farming in search of better job opportunities. With my startup, I can only hope to make the profession more profitable and appealing to the youth to carry on doing farming," reflects Madhu on his journey so far.
Madhu's products are available to order from his Instagram page — Tengin or you can contact him at 97403 30316
Edited by Divya Sethu
We bring stories straight from the heart of India, to inspire millions and create a wave of impact. Our positive movement is growing bigger everyday, and we would love for you to join it.
Please contribute whatever you can, every little penny helps our team in bringing you more stories that support dreams and spread hope.