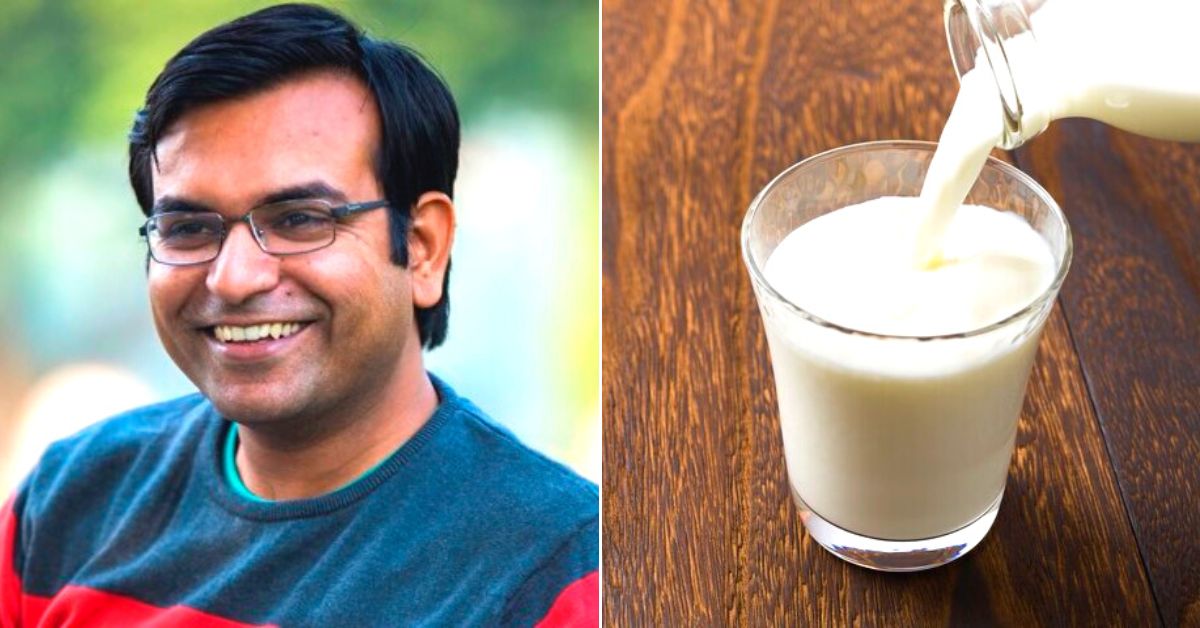 Researchers under Dr Pallab Sinha Mahapatra at IIT Madras have developed a three-dimensional paper-based portable device that can detect adulteration, such as urea, detergent, soap, salt, H2O2, boric acid, and neutralisers in milk within 30 seconds.
Researchers led by Dr Pallab Sinha Mahapatra, an associate professor at the Department of Mechanical Engineering, IIT Madras, have developed a portable device that can detect multiple substances commonly employed as adulterating agents in milk within 30 seconds.
Collaborating with Dr Mahapatra in this interesting endeavour are research scholars Subhashis Patari and Dr Priyankan Datta. Together, they have co-authored a research paper that was recently published in the prestigious peer-review journal, Nature Scientific Reports.
Researchers claim that this "three-dimensional (3D) paper-based portable device" has the capability of detecting substances used as adulterating agents in milk including urea, detergents, soap, starch, hydrogen peroxide, sodium-hydrogen-carbonate and salt, among others.
These researchers even claim that one can perform this test at home. To test for these adultering agents in milk, one would require just a millilitre of milk.
Moreover, a recent press release issued by the institute makes the argument that, unlike expensive and time-consuming conventional laboratory-based methods to test the purity of milk, "this new technology is affordable and could also be used to test other liquids such as water, fresh juices and even milkshakes for traces of adulteration." (L-R: Image above of Dr Pallab Mahapatra and a representational image)
Milk adulteration: A problem which requires solving
According to a report by the Food Safety and Standard Authority of India (FSSAI), in 2019, 41% (in 2018, 70%) of milk produced in India was adulterated.
"The total number of cases registered for milk adulteration is around 15,000 per year. Nowadays, urea, melamine, detergents, boric acid, formalin, ammonium sulphate, caustic soda, starch, sugars, hydrogen peroxide, soaps, caramel, and many more harmful substances are added to milk to contaminate it. The major bottlenecks for fixing this issue are the lack of strict enforcement laws and the unavailability of quick and easy detection techniques," says Dr Pallab Mahapatra, in a conversation with The Better India.
These significant issues motivated them to solve this problem. They studied the current situation, examined available facilities, and developed their adulteration detection device.
"Cost and laboratory skills are the major constraints for a developing country like India. Therefore, to keep the price low and make the device user-friendly, we proposed paper-based devices with a colour-coding concept. We have performed various laboratory experiments to detect adulterations such as urea, detergent, soap, salt, H2O2, boric acid, and neutralisers in milk and successfully identify them in a single test," he explains.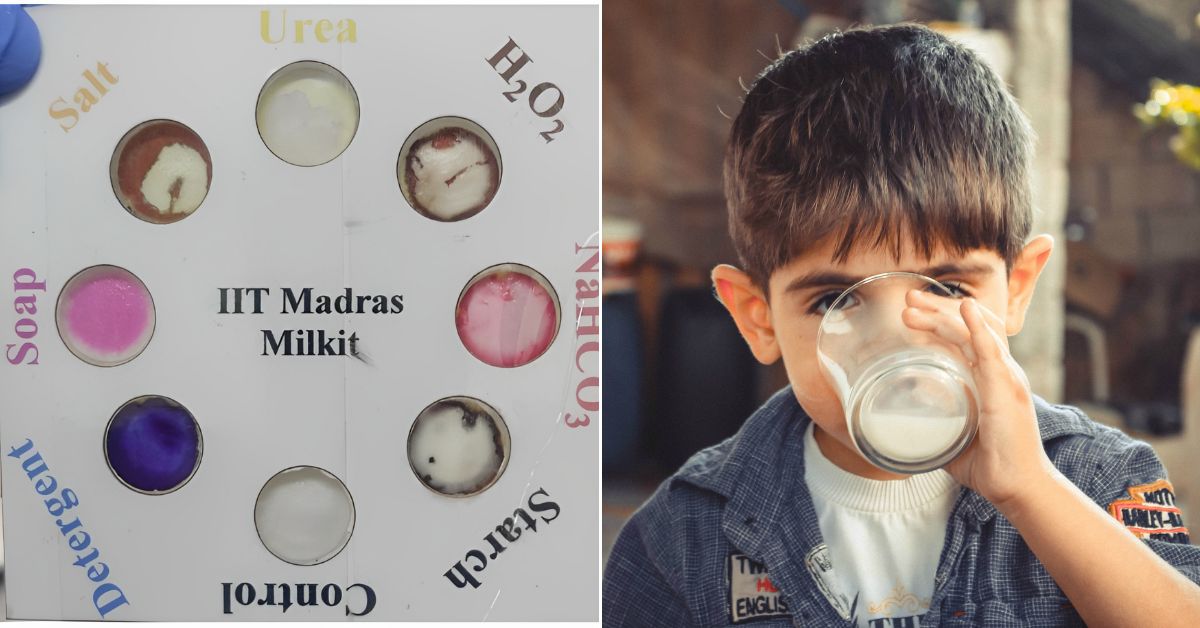 How does it work?
Elaborating on how this paper-based device works, Dr Mahapatra notes that the technology behind their idea is the combination of microfluidics and the calorimetric reaction.
"Our device is basically an absorbent paper, consisting of micropores through which liquid can easily flow due to the capillary action. The device comprises a top and bottom cover and a sandwich structure 3D paper-based microfluidic device. The 3D design has hydrophilic channels and circular detection zones. Samples are added in the small opening on the top cover, and it is transferred to the detection zone through the hydrophilic channels due to the inherent capillary action. The chemical reaction takes place in the detection zone," he explains.
"The colorimetric detection technique identifies the adulterants in these detection zones, and the adulterants can be quantified using a colour intensity test. A transparent cover is provided outside the device to decrease the reagent evaporation rate. A colour band and adulterant names are provided on the bottom cover's backside for easy understanding of users," he adds.
"With the provided colour bands, the number of adulterants can be measured with a limit of detection varying from 0.1% to 0.4% for different adulterants," says Dr Mahapatra.
"This idea is better than other existing techniques in terms of cost, sample volume, and time. It provides quantitative and qualitative detection of multiple adulterants simultaneously with zero energy consumption, while also being lightweight and easy to use. The product can be used in every house and any resource-limited setting. The potential customers of the current product are food collection centres, households, schools, hotels, labs, and food industries," he adds.
But how does this device manage to test the purity of milk in just 30 seconds?
As Dr Mahapatra explains, "The colorimetric reaction happens as soon as the sample touches the detection spot. So within a few seconds, we can get a yes or no answer."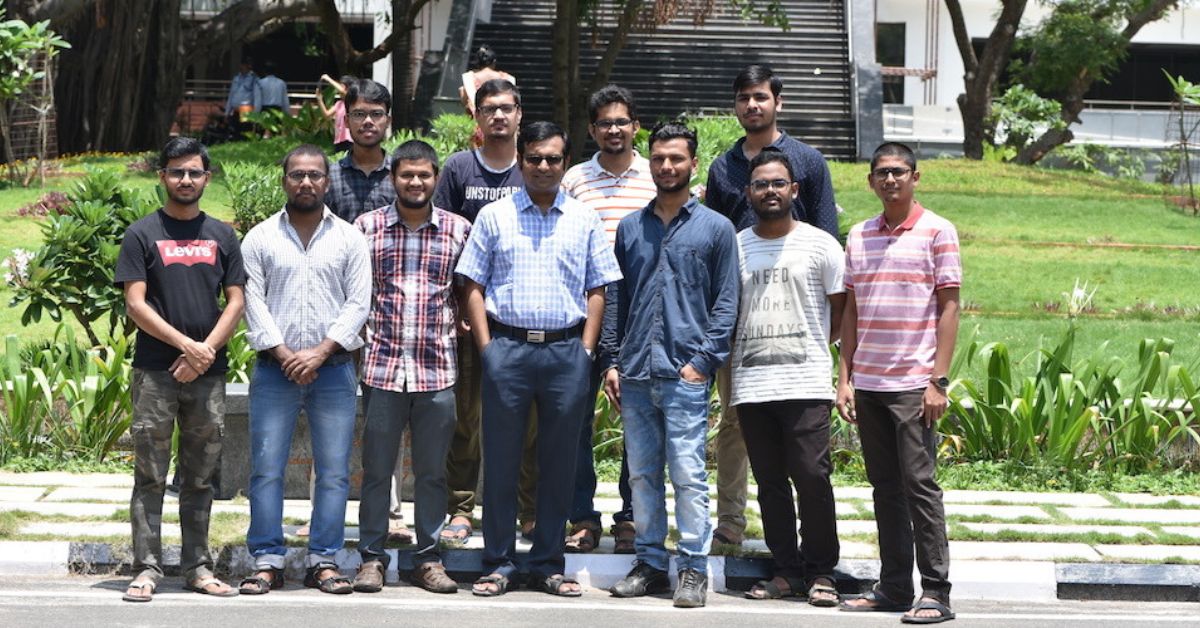 Developing this device
Dr Mahapatra and his team have been working in this field for the last four years. They started by conducting a detailed literature study about the problem.
"Our aim was also to facilitate decisive meetings with experts in the same field, testing the chemical reagents and investigating the ideal detection techniques. We also did experiments with different concentrations to monitor the changes. We conducted a detailed study of the detection technique to improve the sensitivity and limit of detection (LoD)," he recalls.
"We performed the in-depth testing of the reagent's durability, specificity, and its interference with foreign substances. We have tested several different prototypes and arrived at the proper packaging of the device. Having said that, there were several challenges we encountered while fabricating the device like formulating a design to detect multiple adulterants simultaneously, cross-contamination of the reagents, leakage of the sample and reagent evaporation," he adds.
When can we buy it off the shelf?
A prototype of the device has been developed in the lab. The current invention is at technology readiness level (TRL) 3, where critical function/proof of concept has been established.
"We have filed a patent for this device and are working on the design modifications, and developing other methods of food adulteration detection. Our future goal is to identify even the uncommon/unknown harmful contaminants in liquid foods," he claims.
The major equipment used for this purpose was purchased through different projects. Consumables were purchased through the department/project funds as well as Subhashis' PMRF (Prime Minister's Research Fellows) fund.
"Before the prototype develops into a marketable product, we have to work on scalable production methods, attractive design, and proper marketing strategies. We need a mobile app for easy access and quantitative detection of contaminants. Later on, a web-enabled medium can be developed for information gathering and learning the country's adulteration patterns. We also require support staff to help us in the final product development stage. Automation of the fabrication process is another challenge that we have to address," he says.
In other words, there is still some way to go before you can buy this device off the shelf, but there is clear intent that its final destination is the larger Indian market.
(Edited by Pranita Bhat; Images courtesy IIT Madras, Pexels, Shutterstock)