As concrete landscapes around the world continue to expand, more and more people are realising the importance of greenery. With most urban homes shrinking in size, making room for home gardens has become increasingly tough. However, hardcore gardening buffs have found a way around this space crunch – vertical gardens!
A great alternative for gardeners who don't have a lot of horizontal space or want to do something different, vertical gardens are also an eco-friendly way of turning a boring wall or a balcony from drab to fab. You can also make an edible wall in your home — a vertical garden of spinach, amaranth, coriander and other herbs, all of which have shallow roots.
Here's is all you need to know to grow your own vertical garden at home.
What is Vertical Gardening?
An innovative and highly productive growing system, vertical gardening is exactly what the name implies – gardening on a vertical, rather than a horizontal, surface. Traditional gardeners have done similar things with climbing plants like squashes and beans for centuries by building trellises. Vertical gardening takes it one step further by giving non-climbing plants a space on the wall.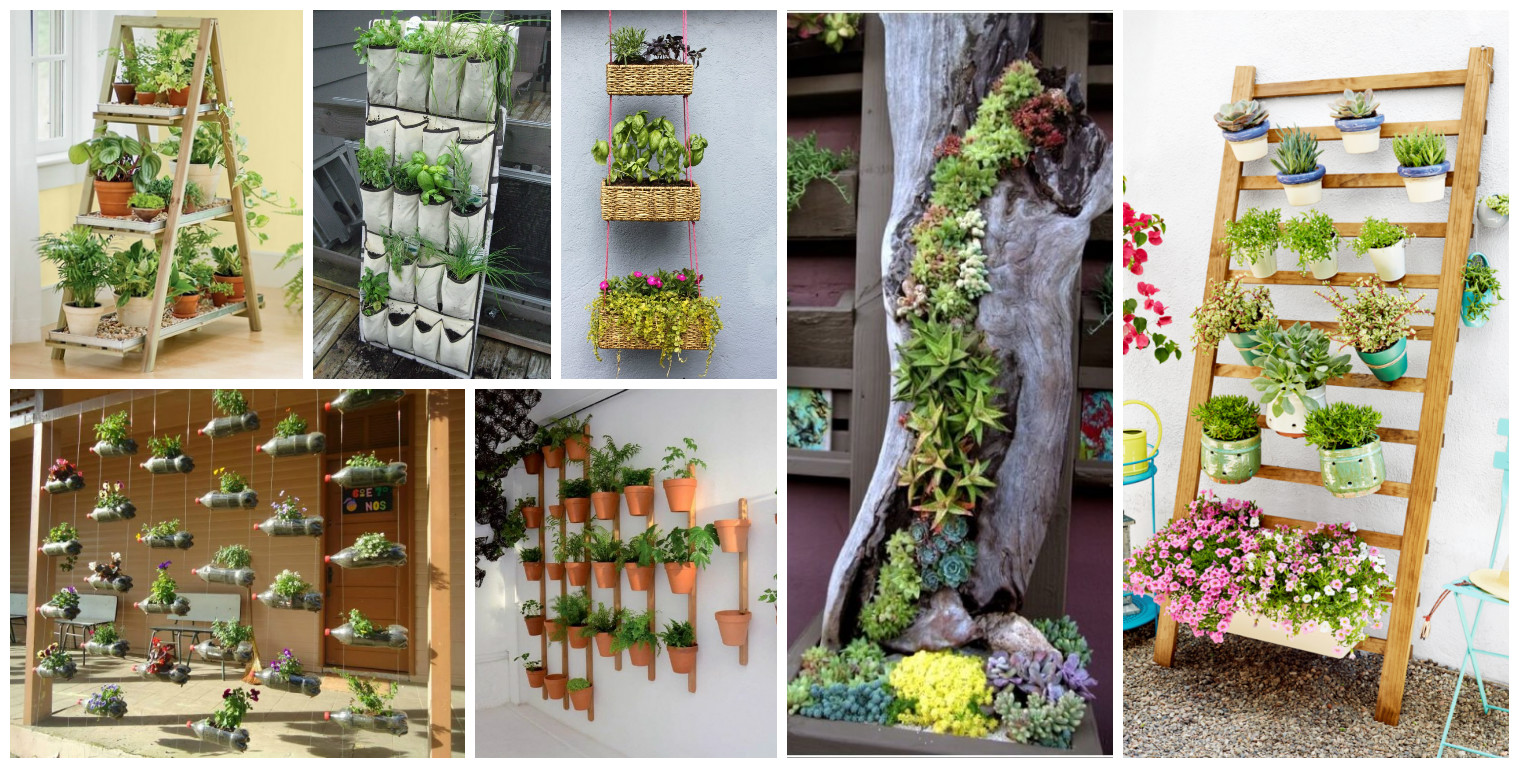 Vertical gardens take up less space, are easier to harvest, and easier to maintain. However, they do have their own limitations:
You need a sunny space
If they are built too high, they can be difficult to maintain. Don't make them taller than you can reach
The support system must be strong enough to handle the weight of everything
The supporting wall must be able to withstand a lot of moisture. You can use polyethylene layer to create a moisture barrier between the garden and the wall.
That being said, vertical gardening is also one of the most productive and flexible gardening systems. The advantages of this system of gardening really come into their own in micro garden spaces where options are very limited.
Plants are easier to reach – makes fertilising, watering, pruning and harvesting much more convenient and saves your back.
Getting plants up and off the ground improves air circulation = healthier plants and less pest & disease problems.  It also minimises damage due to pets or wild animals digging up gardens on the ground.
Research has revealed that plants improve both indoor and outdoor air quality by removing harmful VOCs (volatile organic compounds) and absorbing pollutants. So growing plants vertically even in compact spaces can make a big difference to your health.
A living natural shield can insulate a building (from heat, air pollution or noise) and help to regulate temperature by cooling and providing shade to an area.
How to Begin
First thing you need to do is choose the area where you want the vertical garden. It can be something as extensive as a boundary wall or even a small balcony wall, as long as it gets some natural light. You can also create a freestanding green wall that can act as a movable partition, making it an amazing option to break the monotony by changing its position every now and then.
What can be used to make a Vertical Garden
While many landscape designers also offer good solutions, its more fun to design and make your own DIY vertical garden. Nearly any vertical surface or structure can be used to support your plants – walls, posts, trellises, frames made from wood or PVC pipe, old box pallets etc. Have plenty of used and unused plastic cans, bottles, old boots, in your store room? All these containers that we generally throw away can also be put to use in so many creative ways to create an aesthetic vertical garden.
Tip: If you are making a mobile vertical garden, choose lightweight materials that can be easily removed when they have done their job or can be easily repositioned to catch the sun during the day.
What to Grow
The location of the wall, especially sun exposure, determines the kind of plants that can be grown in vertical gardens – for indoors, use plants that grow in shade; for outdoors, use sun-loving varieties; for balconies, use semi-shade plants. The type of plants can also be suggested by the people at a good nursery or a horticulturist. Here are some shallow rooted varieties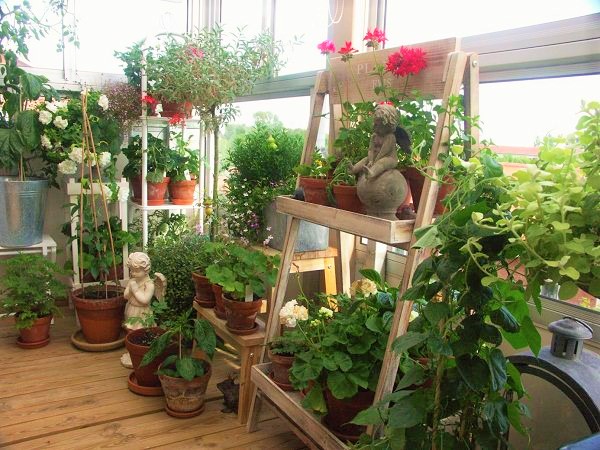 Song of India: They are widely grown as an ornamental plant or houseplant.
Sword Fern: They grow well in humid conditions and are very easy to take care of.
Ribbon grass: They can be grown on any surface as they spread easily and don't need too much of care.
Wedding Vine: They have large white flowers and gives a great fragrance to your vertical garden.
Begonia: They are known for brilliantly colourful flowers and its fancy foliage.
Peace Lilies: They don't require much care and hence are easy to maintain even in low light or low humidity.
Purple heart: Striking plant with fuzzy, purple lance-shaped leaves, they grow easily and are durable.
Croton: Great if you have access to bright light, they put a lot of color on your wall, making it look beautiful.
Spider plant: It's the most popular and easiest to grow of all trailing houseplants. They purify the air in your house and grow even in extreme climatic conditions.
Asparagus: Another perennial ornamental plant, it thrives on well- drained soil or in raised beds in a sunny environment.
Tip: Positioning your plants in the vertical garden itself is also important – as plants grow upwards, they may block sunlight from reaching plants behind or below them.
---
Also Read: Super Greens: How to Grow Nature's Own Super Food at Home
---
Planting and Maintenance
Fill the potting container with good quality organic soil and coco peat. While you can also use seeds, its preferable to plant through done through propagation. As for watering, if your green wall has a drip irrigation system, all you need to do is turn on a tap and your plants get watered in no time. Otherwise, you can use a hose for outdoor vertical gardens and a bottle spray for indoor plants. You can also add organic liquid manure to the water you are using to irrigate the plants. Here's how you can make organic fertilizers yourself.
Quick tips 
If planted indoors, water them in mornings and if outdoors, watering can be done at any time of the day
Manure the plants every three months
Ensure there are no water logging by ensuring good drainage for the excess water
Prune the plant at regular intervals so that it doesn't become too heavy for the container
DIY Vertical Garden Ideas
Here's a round up of the best vertical garden ideas around.
1. Claypot Tower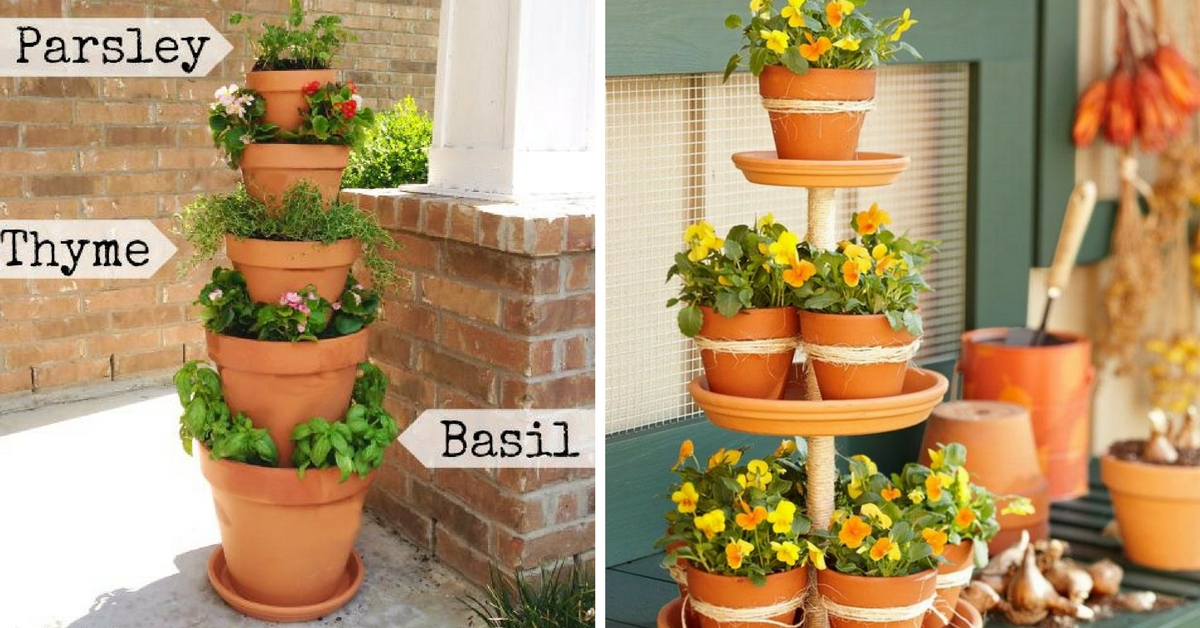 Here's how you can make one.
---
Also Read: Fresh Flavours for Your Food: How to Start Your Very Own Herb Garden at Home
---
2. Gutter Garden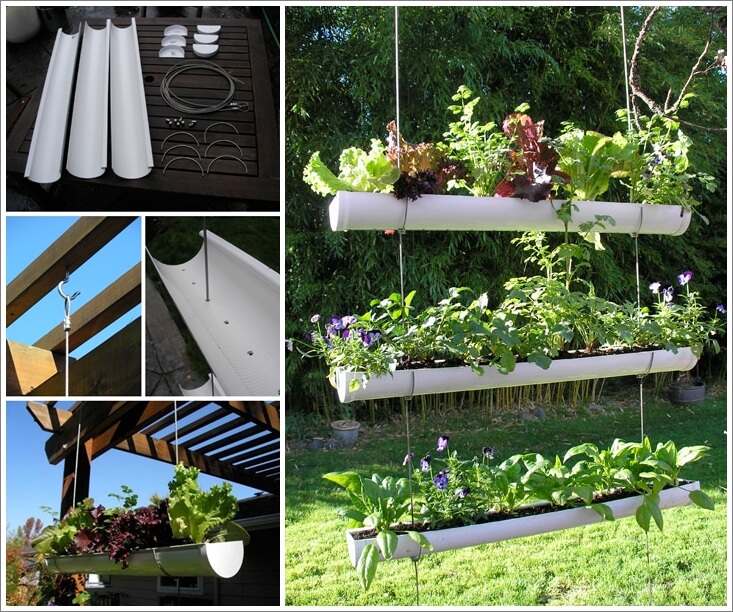 Here's how you can make one.
3. Upcycled Bottle Garden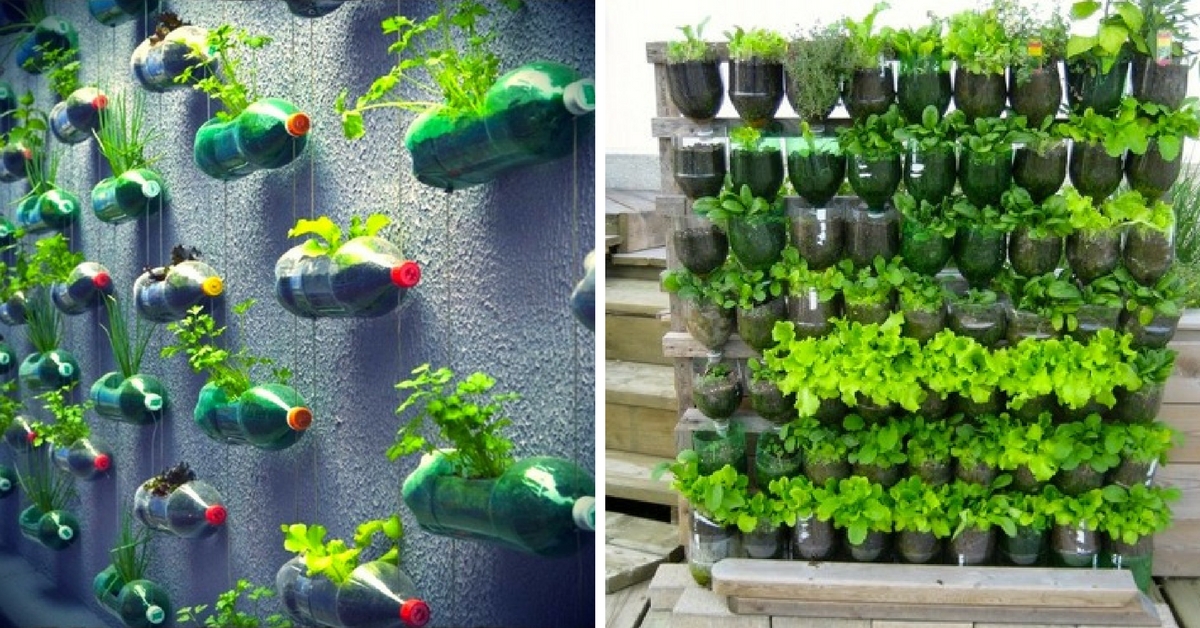 Here's how you can make one.
4. Mini Aquaponics Tower Garden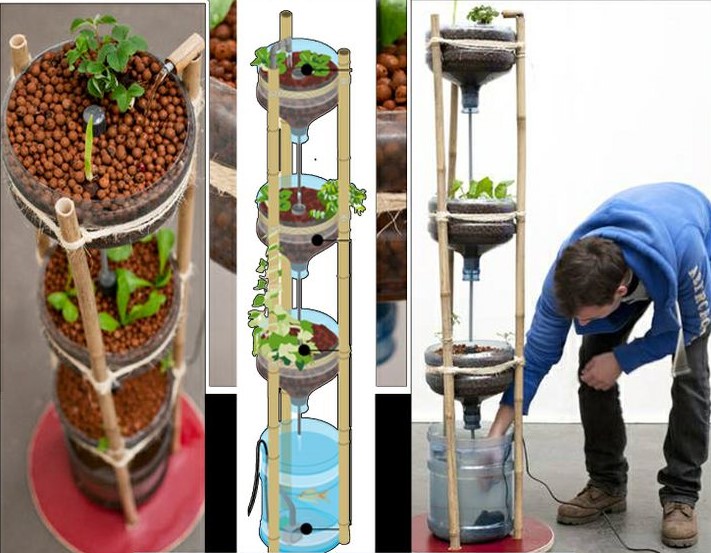 Here's how you can make one.
---
You May Like: Growing Soil-Less With Hydroponics: An Introduction to Innovative Farming at Home
---
5. Ladder Plant Stands
Here's how you can make one.
6. Trellis and Rack Vertical Garden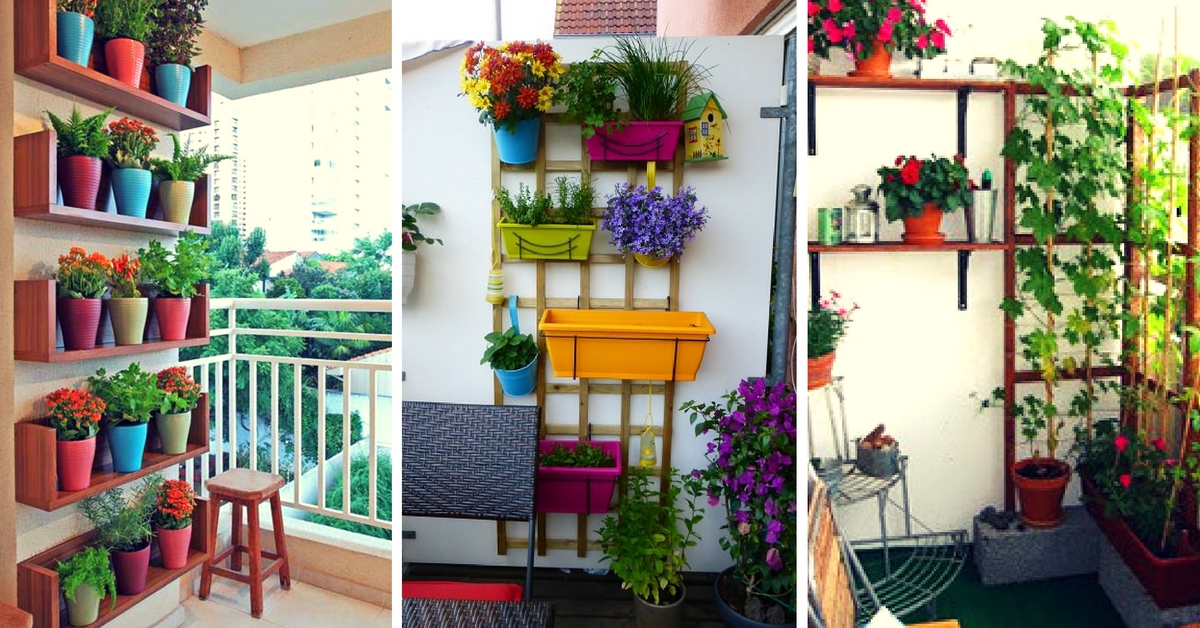 Here's how you can make one.
7. Basket/Can/Shoe Bag Vertical Garden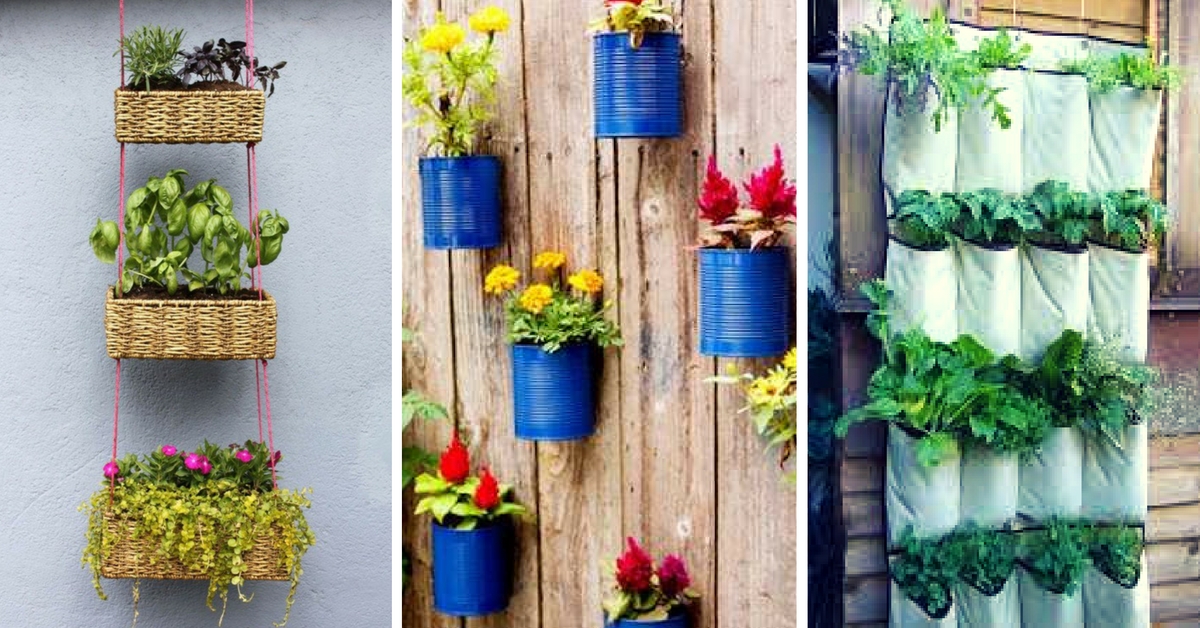 Here's how you can make a basket vertical garden, a can vertical garden and a shoe bag vertical garden.
We at The Better India want to showcase everything that is working in this country. By using the power of constructive journalism, we want to change India – one story at a time. If you read us, like us and want this positive movement to grow, then do consider supporting us via the following buttons.
Please read these FAQs before contributing.