On 18th December 2015, one of our team members received a suicide note through the Baliraja Whatsapp Group. This was a suicide note written by an efficient farmer, Vishal Pawar, who dedicated his life towards farming. The entire TBI team was shaken up by this news. We refused to just sit and mourn. We decided do something about this.
On 18th December 2015, one of our team members received a suicide note through the Baliraja Whatsapp Group. This was a suicide note written by an efficient farmer, Vishal Pawar, who dedicated his life towards farming. The entire TBI team was shaken up by this news. We refused to just sit and mourn. We decided do something about this.
We carry positive news. We take pride in sharing stories about those unsung heroes who make our India The Better India. And we were sure that our readers too would want to be part of our mission of saving farmer families.
With this positive thought and intention of making a difference, we started a campaign, #Savefarmerfamilies, on December 23, 2015, in association with Milaap and Shivprabha Charitable Trust, who had a streamlined plan to help these families.
The plan was not to help them just once but to help them build a sustainable business that would earn them a livelihood for a lifetime. Hundreds of families were contacted and 35 most needy widows were selected to join a tailoring business. The expenses would have been as below-
SHIVPRABHA CHARITABLE TRUST, PUNE
 
 
Expense details for empowerment of 35 widows of farmers who had died with sewing machine and training for 3 months, i.e., cutting and sewing
Sr. No.
Item Description
Qty
Unit
 Unit Rate
 Amount 
Remarks
1
Sewing Machines
35
Nos.
     4,250.00
     148,750.00
Dealer price for Usha sewing machine
2
Transportation
35
Nos.
         200.00
          7,000.00
3
Space for USHA Silai School
6
Months.
     3,000.00
        18,000.00
Rented place for Usha silai school for 6 Months
4
USS affiliation fee
1
L/s
     4,000.00
          4,000.00
5
USS renewal fee
1
L/s
     1,500.00
          1,500.00
Renewal affiliation after 3 months.
6
Usha sewing school subsidies fee
35
Nos.
     1,100.00
        38,500.00
25% fee to be paid for cutting and sewing training
7
Travel expenses from village to school
35
Nos.
     3,750.00
     131,250.00
3 months travel to school, 25 days per month, Rs. 50 average to and fro, considering school in the range of 25 km from village or house
 
Total Amount
 
 
 
     349,000.00
 
And we were proved right by all of you! By December 26, 2015, our readers contributed Rs.3,98,000.

Apart from this, we were flooded with letters from our readers who wanted to adopt the families or wanted to help them in any other possible way. Most widows were happy to join the tailoring business. However, a few were not comfortable doing this so they were helped to start other businesses.
Let's see the impact made by you in just three days:

Kiran Bodade, widow of Dyaneshwar Bodade, and her family
Kiran told us about her struggle to live and feed her children after her husband Dyaneshwar Bodade committed suicide. With your immense support and help we were able to help Kiran with a sustainable buisness.
There were two factories in Kiran's village where the migrant factory workers depended on tiffin services for their meals. Shivprabha Charitable trust helped Kiran establish a tiffin services business. (Cost incurred in setting up the business – Rs.20,000)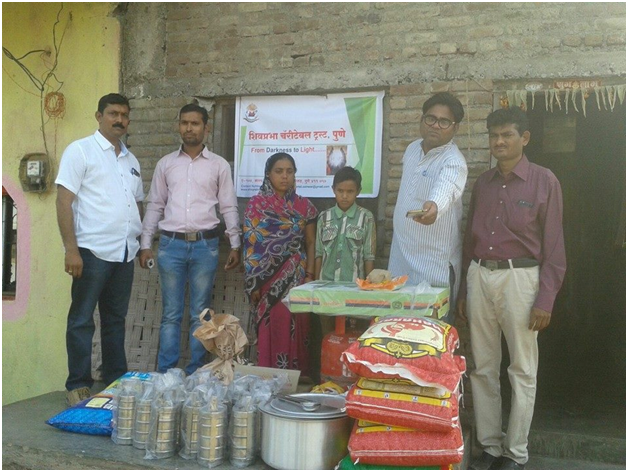 The entire raw material and utensils required for the business were bought and handed over to Kiran. At present, Kiran supplies tiffin to 6 workers, charging 1500 per month.
"I never imagined even in my dreams that I can run a respectful business and earn Rs.9000 per month. I almost lost all hope before I got your help. I am really grateful for this," says Kiran.
Uma and her family always wanted to do something for our farmers. So they did.
One of our readers sent us a mail revealing her desire to do something more for these families other than just contributing money. Now she is a part of Shivprabha Charitable Trust. Uma, her daughter Ankita, and husband Shriram Iyer, travelled all the way from Hyderabad to one of the remotest villages of Maharashtra — Pimpari-Butti — to help Late Rupesh Kale's family.
Rupesh's mother was taking care of his two kids all alone as his wife had remarried just after his death. Due to old age, Rupesh's mother, Subhadra Kale, was unable to do any tedious job like tailoring. So it was decided she be given a buffalo so that she can do a dairy buisness.
The best thing that happened was that the buffalo delivered a baby just the night before it was going to be handed over to Subhadra J (cost of the buffalo – Rs.40,000).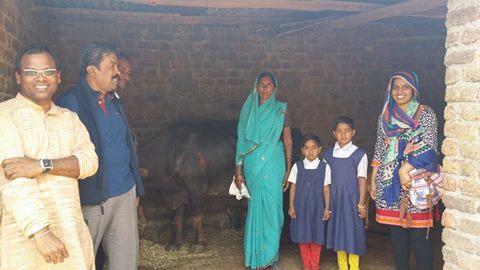 "Wanting to do good is great, but without a direction, it all comes to naught. The article on #savethefarmersfamilies in The Better India gave me direction and a solid idea as to how I could contribute to a worthy cause, who would benefit from my contribution, and how. In my head, the TBI article had a domino effect. I was motivated enough to call and find out more, do more. Now I speak about it and hopefully will be able to set the wheels in motion in at least one other person's head and so on, thus chipping away at this very real threat that our very existence is facing," says Uma
Suwarna Dalvi
Village – Matergaon
Taluka – Shegaon
District – Buldhana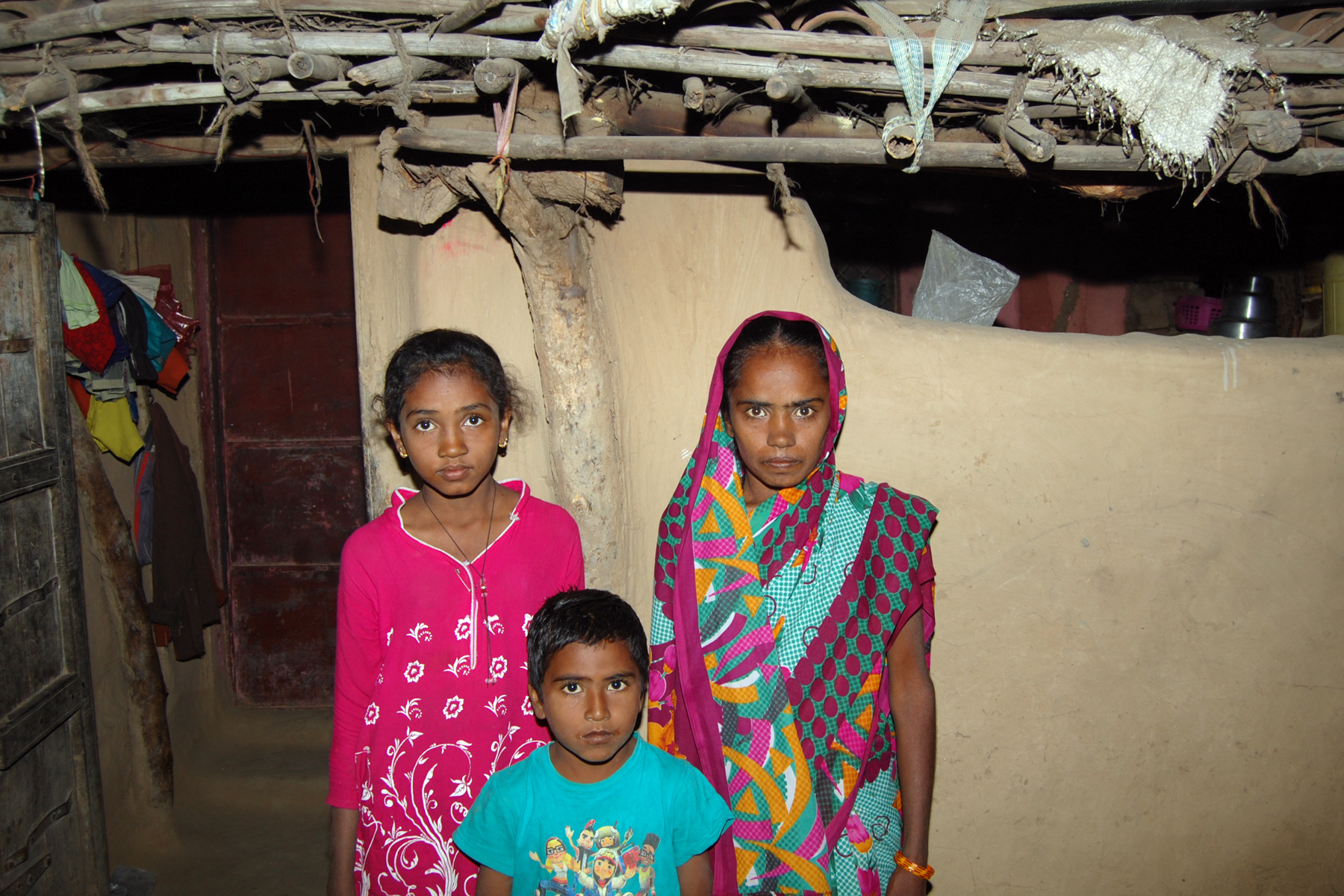 Samadhan Dalvi was found dead, hanging to a rope on a tree in his own farm, which used to be his life. Samadhan's widow, Suwarna, doesn't remember the date. "It was one morning in the month of March 2015," she says.
Suwarna cannot read or write. She knew that her husband had taken a loan of Rs.1 lakh from the Maharashtra Bank, and a lakh more from a few relatives and money lenders. She knows that she is the only one who has to repay this. But she has no clue of the announcement made by the Government to waive off these loans. When we ask her about the loan she gets petrified, thinking we are from the Bank, and says she will repay it slowly if next year it rains well.
Suwarna is just 30 years old but looks like she is 50. Her mother-in-law too is very weak. But both work as farm labourers. The 4-acre land is owned by her mother-in-law. They don't do farming on their own land anymore.
"Nothing grows there. Not even a quintal of soyabean. It's all dry since two years now. That was the reason for my husbands death," says Suwarna
The elder daughter Bakuda studies in 3rd grade, and son Umesh is in1st grade now. They both like the idea of clicking a picture. But never smile when our photographer asks them to do so!
Suwarna asks who we are at the end. She asks if we will help. And we say.. "Yes!"
And yes…. It's just because of unsung heroes like you who contributed during this campaign that we were able to help Suwarna! She was given a sewing machine and soon she will be joining the training centre which has been set up by Shivprabha Charitable Trust at Sondo.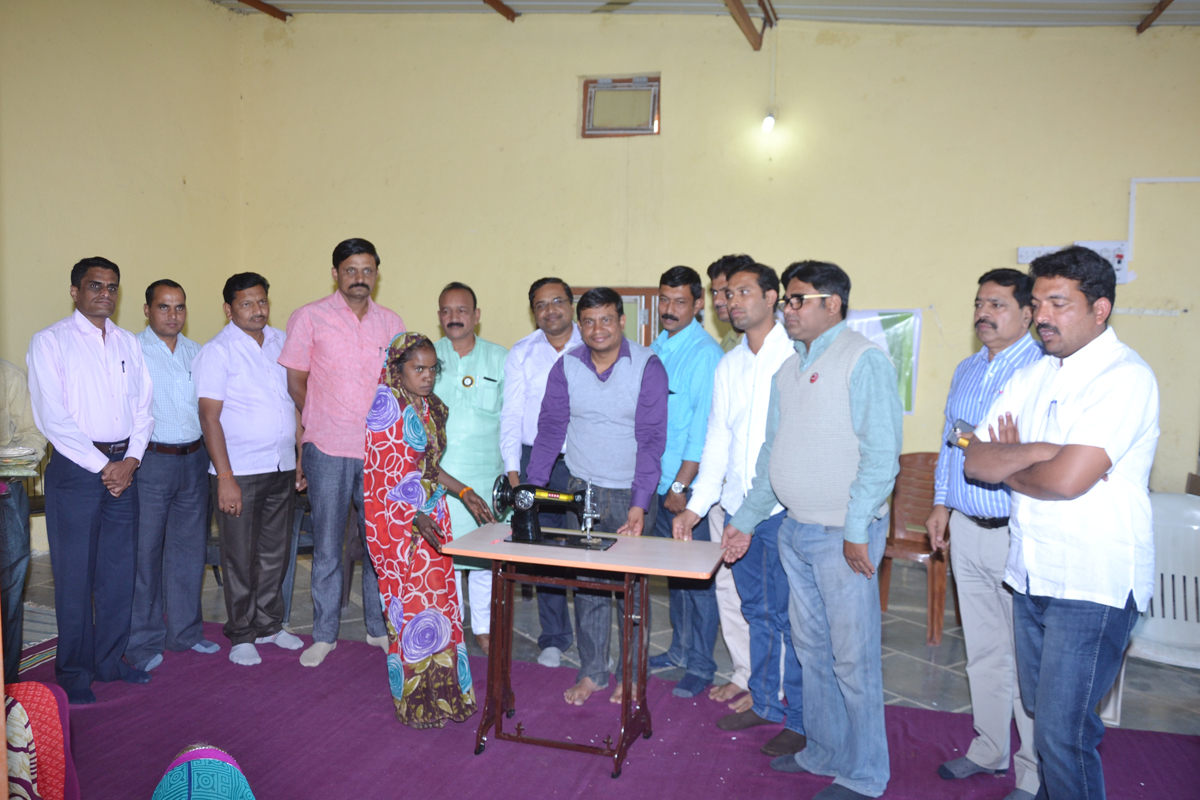 Likewise, 21 widows were given sewing machines and 12 more widows will receive them at an upcoming event. They will get training at a sewing school in association with Usha sewing centres, at three locations – Sondo (Dist: Chandrapur), Pusad (Dist: Yavatmal) and Akola.
"I have visited five schools in Akola and they are ready to give the complete order of their school uniform to Shivprabha Silai School. Approximately 5000 uniforms are required. Similarly, we are going to visit all the medical colleges and government hospitals to get the order for aprons needed by these organizations," said Yunus Khan (member, Shivprabha Charitable Trust).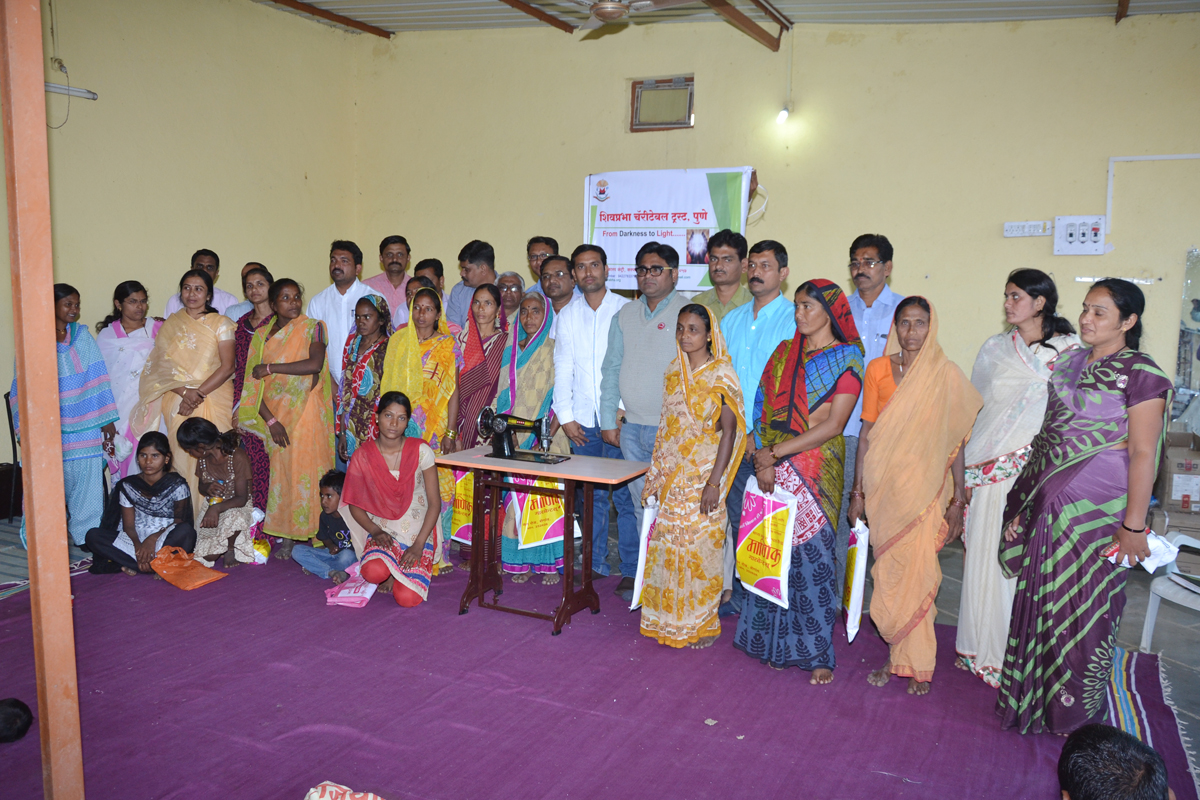 "Since India is an agro-based economy we must treat agriculture as our backbone and work for it. #NariSashktikaran, that is, empowerment of wives of distressed farmers and widows of deceased farmers is a critical element in strengthening the agriculture sector. Prosperity of Baliraja (farmers) will lead to the prosperity of our country," says Amol Sainwar (Founder of Shivprabha Charitable Trust).
This is just the beginning! We have been contacted by people who want to buy clothes sewn by these widows already.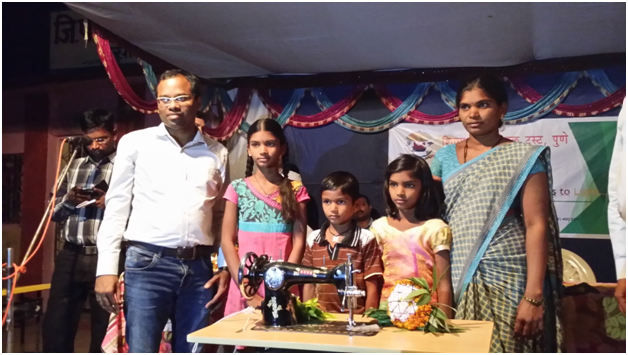 One such mail was sent by Anita who wrote:
"Hello, I would like some more information from Amol as to how the women will be selling the clothes that they sew. I live in New York and I would like to see if there is some way I can sell some of their clothes here in NY to help them make a living. Please let me know what you think. Thank you."
Another mail that moved us was from Somnath Mondal, who wrote:
"Dear Madam and all the TBI members. First of all, whole hearted thanks to all of you for such an excellent initiative by TheBetterIndia; hope you all will come to a permanent solution for the drought affected farmers and their families. We all are getting food every-day because of the sacrifice and hard work from each and every farmer's life. Hope they should not sacrifice their life after all like this for us. As the farmers are taking care of us, we also must take care of them. Great work indeed TBI, keep going!"
Like this story? Or have something to share? Write to us: contact@thebetterindia.com, or connect with us on Facebook and Twitter (@thebetterindia).
We bring stories straight from the heart of India, to inspire millions and create a wave of impact. Our positive movement is growing bigger everyday, and we would love for you to join it.
Please contribute whatever you can, every little penny helps our team in bringing you more stories that support dreams and spread hope.
Tell Us More