This is a part of our series #SaveFarmerFamilies where we feature the family of a farmer who has committed suicide. We aim to showcase their plight and raise funds to help setup sustainable businesses for these families.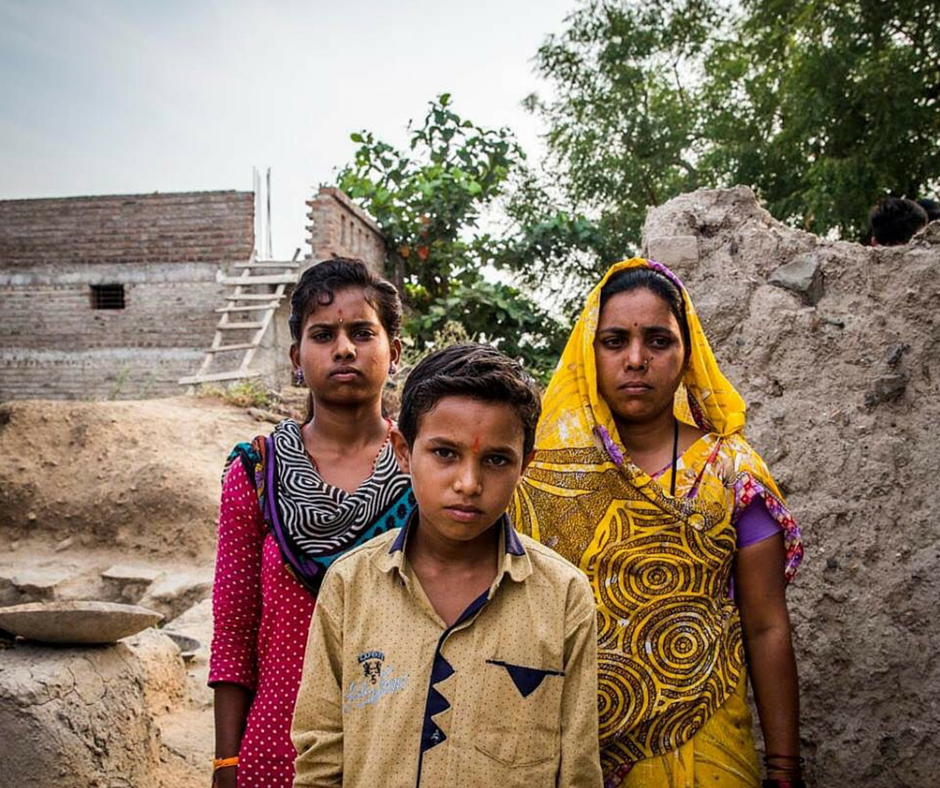 I am Kiran Dyaneshwar Bodade from Vani Rambhapur village of Akola district, Maharashtra. Two years back, I lost my husband. He was a farmer. We used to grow soyabean. Everything was going well. He was a wonderful husband and a very loving father. We had three kids, Ashwini, Tejaswini and Om. We were happy in our small world. We were not rich, but whatever we earned was enough to keep all of us content and happy.
Then one year the merciless drought hit our village. We had enough to sustain that year. But then this became a routine for the next two years too. The 2.5 acres land that we had hardly gave us a quintal of soyabean. This was not enough to even pay for the investments. My husband decided to work as a laborer in other's farms in order to get at least two meals everyday for the family. I joined him too!
He did whatever he could to make me and the children happy. I don't know how he was doing that. The debt was increasing day by day but he always kept smiling and telling us that he can manage things… he will manage everything.
But then, two years back, one day all of a sudden, he decided to give up on this struggle called life. He hanged himself to death!
I did my schooling till just class 4. I was not smart enough to know how much it costs to feed a family of 5. I did not know that the cost was much more than my husband's life. By working as farm labourers, we both used to earn Rs. 200 a day. Now I earn only Rs. 90. I have sent my eldest daughter to my sister's place as she was in class 10. The other two kids have stopped going to school.
Sometimes I feel really angry at my husband. How could he do this? How could he just go away leaving us here to starve everyday? Sometimes I too feel like taking the same rope and hanging myself!! But then, I am a Mother! I can't make the same mistake and leave my kids alone in this cruel world like my husband did!
The Better India in association with Shivprabha Charitable Trust has started a fund-raiser to help 35 wives of farmers who committed suicide.
Your contribution will be used to train each of these 35 wives in skills such as tailoring and they will also be given a sewing machine each. Our target is to raise INR 3,50,000
Want to contribute more? Please click here to select the amount of your choice.
About Shivprabha Trust
Shivprabha Trust works in rural India for the Rural Development, Education, Yoga and health. They also work on electrifying un-electrified students and till date we touch 400 lives. We are trying to electrify unelectrified villages and touched about 6 villages in last 8 years to make them developed and self-sustainable village. The aim is to empower the wives of the farmers who passed away in Maharashtra, India.

Shivprabha trust wants to provide assured monthly income to wives of farmers through Mahila Gruh Udyog and has started this initiative in one village. In terms of health they touch lives of many patients for heart surgery, kidney transplantation, cancer, sickle cell, diabetics and etc. The organization also provides scholarship to more than 50 students starting from primary to higher education. The organization wants to enlighten lives of hundreds of souls in terms of yoga and meditation. Such many initiative on which they are working.