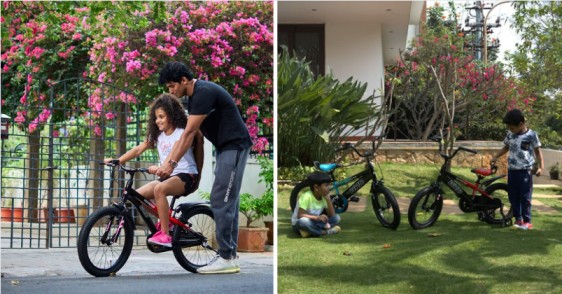 Parents to kids in the age group of 5 to 14 years, Hrishikesh H S, Roopesh Shah, Pruthvi Gowda and Sapna M S started Gro Club. The startup offers kids' products such as bicycles, carriers and cribs on subscription basis, preventing them from ending up in landfills.
In the fleeting, magical journey of children growing up, their cherished clothes and toys hold a special place in their parents' hearts. From their little onesies to the colourful cribs and little bicycles, these inanimate objects become the holders of hundreds of cherished memories.
Yet, as children grow up to become adults, their once-beloved possessions are often forgotten, stashed away, or cast aside. As time passes by, these tiny reminders lose their home and most end up in landfills.
The very bicycles and cribs that were once a source of joy end up in dump yards rotting away and adding to the never-ending circle of pollution. By the time most parents realise it, it becomes very difficult for them to rectify the situation.
A similar realisation occurred to 38-year-old Pruthvi Gowda when he became father to his baby boy. "The truth that no parent can deny is that kids grow out of things at a very fast rate. While we might pass down certain things to cousins and siblings, most of the kids' products end up in landfills," he tells The Better India.
This realisation later gave birth to Gro Club — a Bengaluru-based startup that has created a circular economy by lending baby-use products on a subscription basis. 
Making memories while being sustainable
Launched in January 2022, and currently operable only in Bengaluru, the company has received an overwhelming response from parents dealing with similar issues.
Pruthvi says, "While I have worked in the marketing industry for some time, I had always been interested in becoming an entrepreneur. Gro Club is a passion project as it marries both sustainability and entrepreneurship." 
As the idea of Gro Club brewed, Pruthvi turned towards his friends Hrishikesh H S, Roopesh Shah and Sapna M S for support. "Hrishikesh and I worked together on my previous venture too," he says, adding that this is his dream team. 
"Four of us are parents of kids between 5 and 14 years of age. They could relate to the problem of them outgrowing things too. Apart from that, all of us believed that with our startup, we could pitch-in and reduce the mounting trash in the landfills," he says.
Terming products such as bicycles, cribs, bunk beds and strollers as single-use products, Pruthvi says, "All these products are a good amount of investment as well."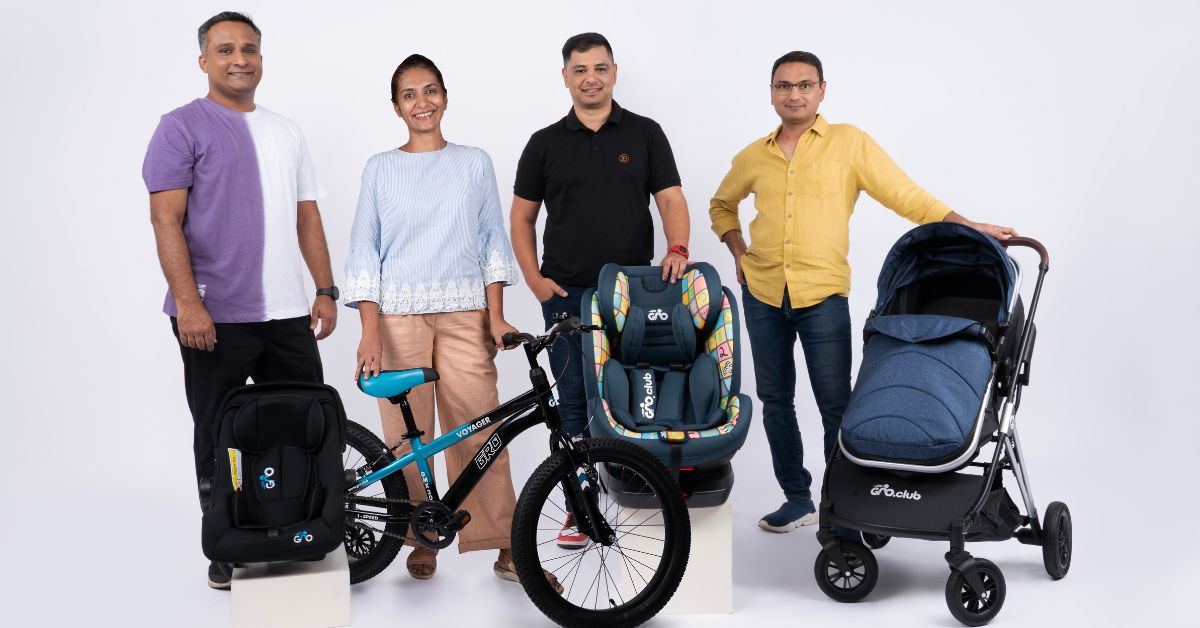 Recycling, reusing and creating a circular economy
The amount of carbon release in producing these products is also quite high. "Take the example of bicycles, for instance. To produce a children's bicycle, the amount of carbon released is close to 330 kgs. This cycle then, after some rounds of use ends up in dumpsters," he adds.
"However, when a person subscribes to a cycle from Gro Club, they are consciously deciding not to add to the carbon release in the atmosphere," he adds.  
Explaining how the business works, Pruthvi says, "The parents only pay 50 percent of the actual cost of the product in subscriptions and also take a step towards sustainable living. The products are therefore reused but not second-hand."
"The products that we have are manufactured by us initially and are refurbished for every new user. The process of refurbishing renews the product and does not cause as much carbon emission," he says.
For instance, the refurbishing of a bicycle releases about 80 kgs of carbon as compared to 330 kgs of carbon released to manufacture a new one. "So this way, we reduced the carbon emission by almost 75 to 80 percent," he says.
The subscription is for a year and the customers get free maintenance and delivery at their doorsteps. "We do not take any deposits from our customers. While the bill is annual, the customers have the choice to bill on a monthly basis too," he says.
"At the core of the company, we are a circular economy in the kids category. The re-released products are in brand new quality and refurbishing the products help in increasing the products life by up to 15 years," he explains.
"Our bicycle subscription costs about Rs 6,000 per year or Rs 500 per month while the cost of buying a bicycle can go as high as Rs 20,000. Therefore, it is not only environmentally sustainable but also cost-effective," adds Pruthvi.
A product of necessity and sustainability
Proudly calling his household a "sustainable family", Pruthvi feels that this lifestyle is the need of the hour.
Before Gro Club, Pruthvi also started a tech-based startup. "I wanted to bring a product in the market which was unique and sustainable," he says. 
"With Gro Club, we are able to reduce the increase in waste without curbing consumption," adds Pruthvi. 
They have a subscriber base of 5,700 subscribers with an annual revenue of Rs 3 crore. "The response was great and we realised that Gro Club was something that the people needed. On an average, we have a monthly run-rate of about Rs 25 lakh in a year," he informs.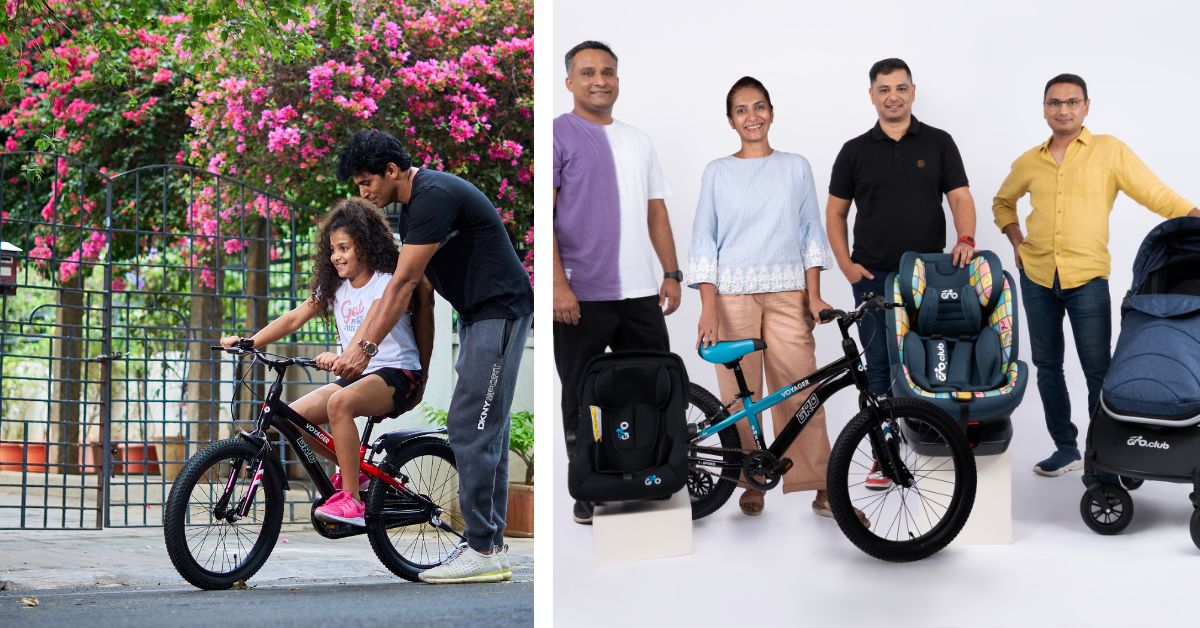 Their customer, Aditya Hemmige is a parent of two from Bengaluru. He says, "Kids grow out of products fairly fast and as a parent of two, I could relate to the Gro Club's business idea. I had never heard of such a model before. While I was hesitant at first while subscribing to them, the team helped me understand the need for it."
He continues, "I ended up renting two cycles — one kids' and another for adults and the process and usage has been seamless so far. The cycles are in great condition as if they were brand new." Aditya has been using the cycles for over a year now.
Talking about his future plans for the company, Pruthvi says, "We have received Rs 4.3 crore of funding recently and we are excited to explore more opportunities. For now, our plan is to expand to Mumbai, Hyderabad and Pune in the next 12 to 24 months."
(Edited by Padmashree Pande)
Tell Us More
We bring stories straight from the heart of India, to inspire millions and create a wave of impact. Our positive movement is growing bigger everyday, and we would love for you to join it.
Please contribute whatever you can, every little penny helps our team in bringing you more stories that support dreams and spread hope.