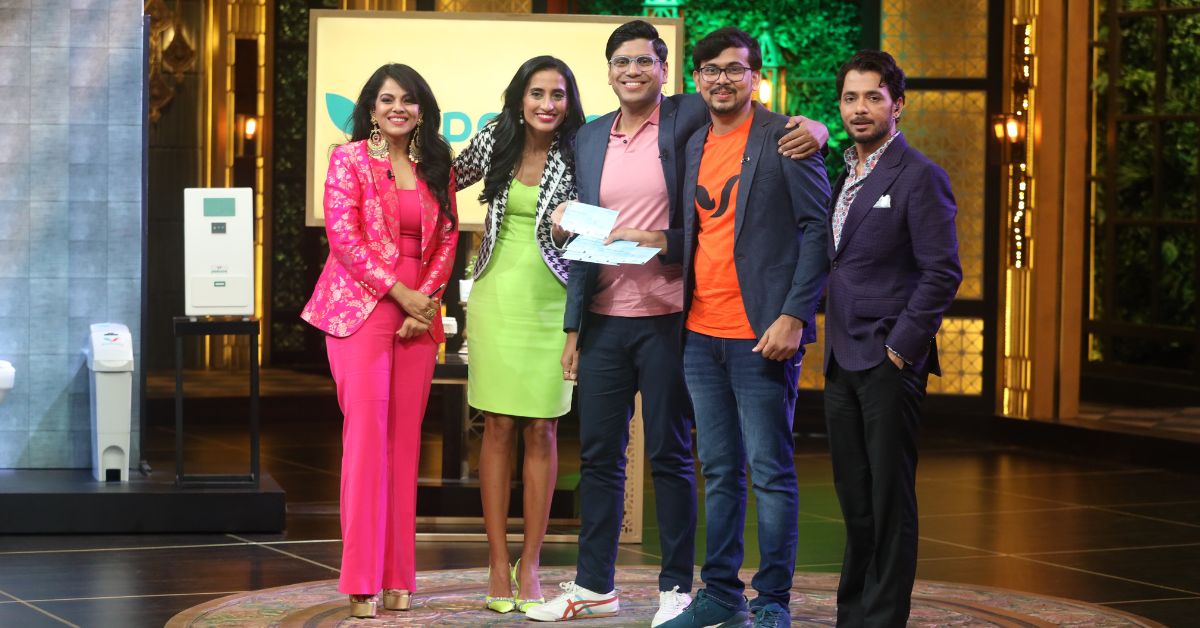 Ajinkya Dhariya from Pune says Infosys Foundation's Aarohan Social Innovation Awards gave him the means to scale his innovation Pad Care Labs, a venture that sustainably disposes off sanitary pads and converts them into packaging material.
This article has been sponsored by Infosys Foundation.
In 2018, mechanical engineering student Ajinkya Dhariya received an excellent opportunity to submit his business idea at a competition conducted by the Biotechnology Industry Research Assistance Council (BIRAC).
The Pune resident decided to use this platform to pitch his sustainable idea of tackling and disposing of sanitary waste. The idea not only received applause and acclaim, but Ajinkya's paper, which highlighted his thoughts and solutions on the matter, went on to be featured among the top 10 entries.
If you have a similar innovation that can transform lives, we can help you scale up. Apply for the Aarohan Social Innovation Awards, 2023 and win upto Rs 50 Lakh.
Apply now
Unable to view the above button? Click here
Fuelled by a new zeal, Ajinkya decided to accelerate the idea into a full-fledged venture, and a few months later, Pad Care labs was born. The eco-friendly sanitary waste disposal system based in Pune was set up with a novel idea — converting sanitary pads into cellulose and plastic pellets.
That same year, he received another boost in the form of the Infosys Foundation's Aarohan Social Innovation Awards, where he won a funding of Rs 30 lakh.
"The funding helped me take my idea and product to the market," says Ajinkya, adding that they were able to deploy 10 conversion units across Pune. "Before Aarohan, I was a tech geek working on small projects, but the funding escalated things."
The entrepreneur notes that today, their system disposes of 1.5 metric tonnes of pads per day and saves 2 lakh kg of carbon on a daily basis. He credits this feat to the Aarohan awards.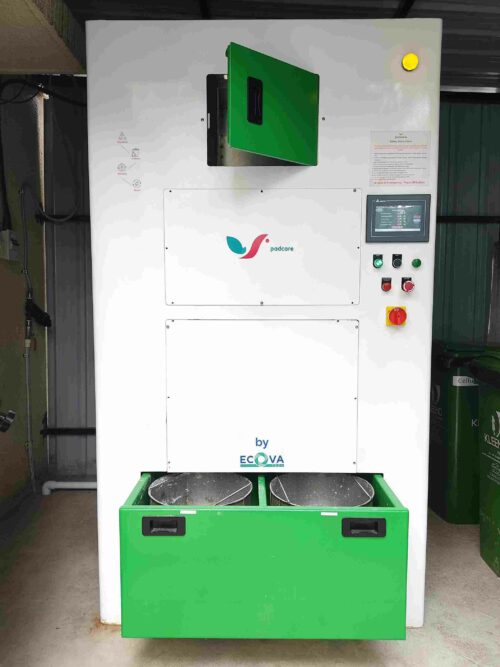 Dispose sanitary pads safely
Prior to launching Pad Care labs, Ajinkya says he was always enthused with creating sustainable solutions to modern problems. It was during his engineering days that a certain problem triggered the engineer to delve deeper into the research — disposal of sanitary pads.
At the time, there were two common methods — dumping in landfills and incineration, both of which were polluting the planet.
With a team of a few fellow engineering students, Ajinkya began furthering research into this area, speaking to students across schools and colleges in Pune to understand how they disposed of sanitary pads, and he landed on some startling learnings.
If you have a similar innovation that can transform lives, we can help you scale up. Apply for the Aarohan Social Innovation Awards, 2023 and win upto Rs 50 Lakh.
Apply now
Unable to view the above button? Click here
"Most users mentioned that they felt uncomfortable carrying a sanitary napkin outside the toilet cubicle and disposing of it in a common dustbin. In the absence of a dustbin inside the cubicle, many opted to flush it down the toilet, which led to clogged drains," he says.
Many who threw the pad in a dustbin would do so without wrapping the pad in a newspaper, which would often lead to bad odour and create an unhygienic environment, which was a menace for the cleaning staff.
"The cleaning staff complained of the smell and skin irritation they faced from handling open pads," notes Ajinkya, adding that his plan to counter all these problems was to come up with a system designed to, first, dispose the pads in a hygienic way and, secondly, prevent the pads from building up in number.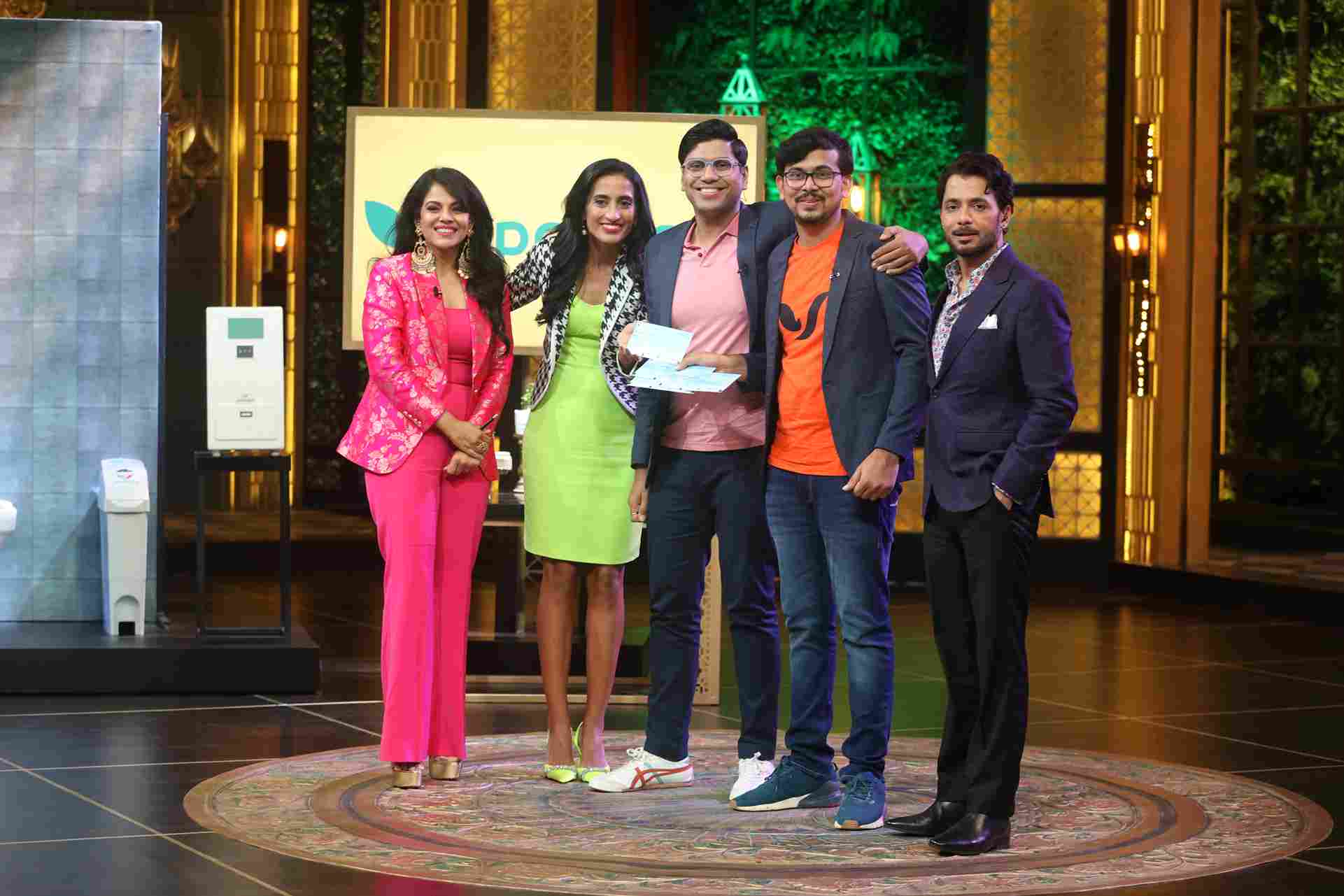 With a team of six, Ajinkya began working on the prototype 'SaniBin' and 'SanEco', which work on a chemical and mechanical disintegration method.
The SaniBins are placed inside toilet cubicles to collect pads disposed of. "SaniBins have individual liners which can collect up to 30 sanitary pads over three weeks. Each liner is equipped with a patent-pending disinfection system that acts as a bacteria lock, and prevents producing any bad odour."
The liners holding the sanitary pads are fed into 'SanEco', where they are disintegrated via a mechanical shredder.
The shredded pieces then undergo a disinfection, decolourisation, and deodorization process to remove the super absorbent chemical from the pads. The pads are then broken down into cellulose to make paper and plastic pellets, which are in turn converted into packaging material.
Ajinkya's unique idea and system was celebrated at the Aarohan Social Innovations Awards in 2018 by Infosys.
'The interactions I had during the awards inspired me.'
The platform he got to showcase his innovation was incredible, says Ajinkya, noting that the process started with a detailed application.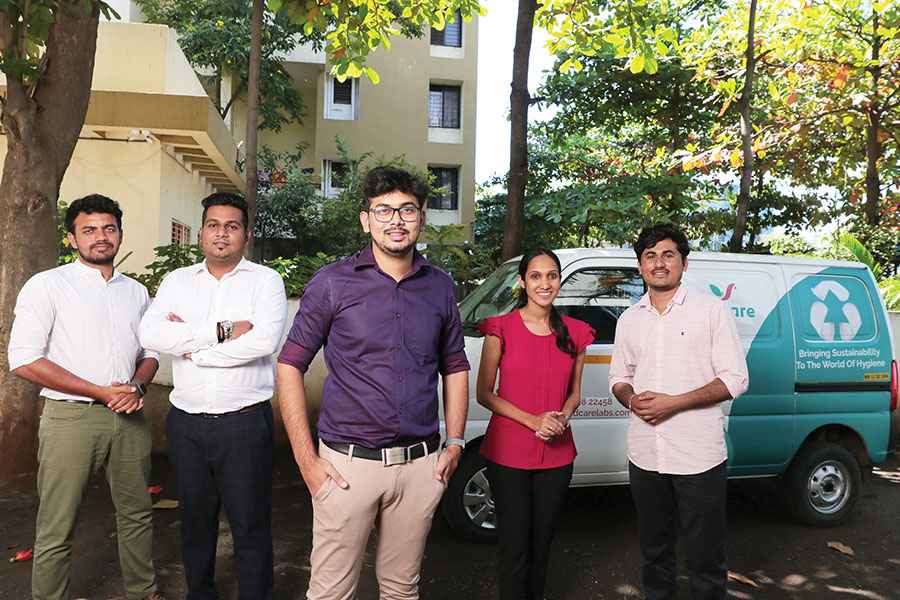 "This was actually a good thing as it compelled us to go back to the pen and paper stage of our venture, back to the basics and made us rethink our solution and put into perspective why we were so intent on solving this problem, what was our goal, etc," he says, adding that alongside, the awards also gave them exposure.
"We got a chance to meet and interact with personalities like Sudha Murthy and other innovators and startups in the same field. The feedback we got was amazing. These personalities not only gave us insights into the present moment, but also into how the product would scale and look four years hence. Today, we realise they were right," he adds.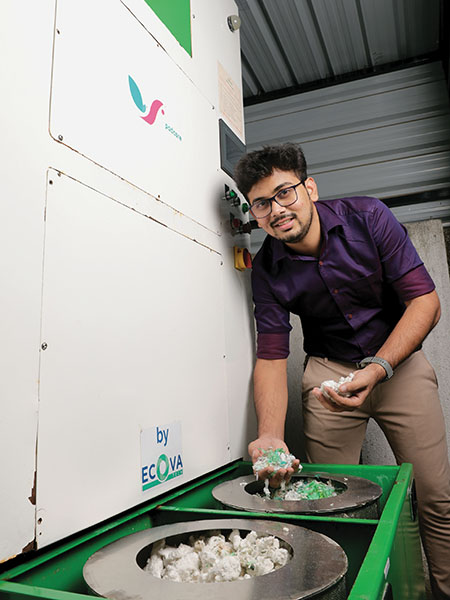 Following the award funding, Ajinkya says they have managed to raise Rs 5 crore for the venture.
"In 2018, I was fresh out of college and the startup ecosystem at the time wasn't mature. But today things are very different and the Aarohan awards, as well as the experiences and interactions it gave me, changed my mindset," he adds.
He goes on to add that while the funding that the award gave was good, it wasn't all about the money.
"It was more about the fact that someone as big as Infosys believed in us and what we could do, and that was amazing," he says.
In fact, Ajinkya's innovation managed to impress the 'sharks' on Shark Tank India Season 2, with the unique pad disposal solution. The team walked away with an offer of Rs 1 crore for 4 per cent equity.
If you have a similar innovation that can transform lives, we can help you scale up. Apply for the Aarohan Social Innovation Awards, 2023 and win upto Rs 50 Lakh.
Apply now
Unable to view the above button? Click here
We bring stories straight from the heart of India, to inspire millions and create a wave of impact. Our positive movement is growing bigger everyday, and we would love for you to join it.
Please contribute whatever you can, every little penny helps our team in bringing you more stories that support dreams and spread hope.
Tell Us More