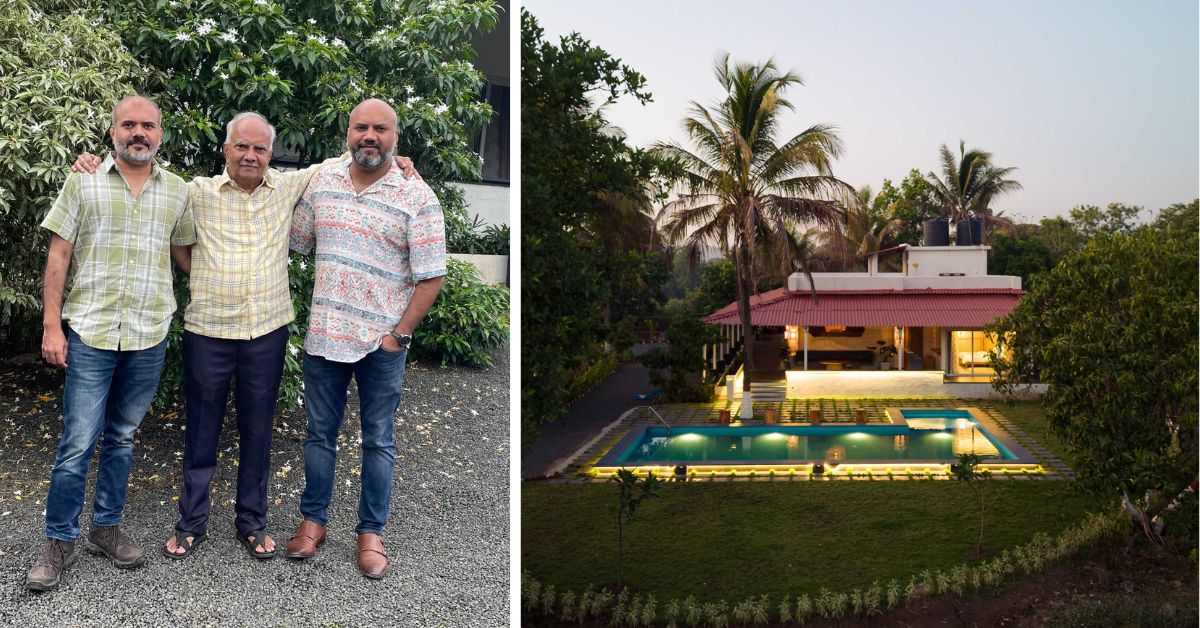 Keyur and Nishit Barad wanted to name their estate after something that is integral to the very existence of life on this planet. 'The Chlorophyll Estate' is an ode to this and sustainable farming practices.
It wouldn't be a stretch to claim that the atmosphere at The Chlorophyll Estate — a farm stay on the outskirts of Mumbai — could be an antidote to the chaos of the city.
One would swear that time ticks at a slower pace here and the sky is definitely a brighter blue. That this place — with its fields of Italian basil, mulberries, stevia, and rose apples — is just an hour's drive from the big city is almost unbelievable.
"This transformation was not an overnight one," points out Keyur Barad (38) and one-half of the entrepreneur brother duo who spearheaded this project. He clarifies that it took him and his brother Nishit (41) 15 long years of "toil, sweat, time, savings and sheer perseverance" to create this. 
Across the three-acre estate in Dahisar village, Manor taluka, the style mutates widely. While the farm and the surrounding food forest have earthy notes to them, the farmstay's facade of wood, cane, ceramic, glass, metal and stone is in a luxurious contrast. But for the Barad brothers, the entire project is rooted in family. Everything else is secondary. 
"Our story is not just about Nishit and me, but about two brothers across two generations," Keyur says, referring to his father and uncle who laid the roots of this project in 2007. "My father (Girdhar) bought the land for my uncle who wanted to turn to nature and leave his business and city life behind."
When Girdhar Barad stumbled upon the land, all it had was a single tamarind tree in the middle of murum (a type of laterite red stone which easily disintegrates).
But, from that state of almost being a hermit's recluse to that of being one for travellers from across the country, the land's purpose has remained unchanged.
The journey from one tamarind tree to a booming forest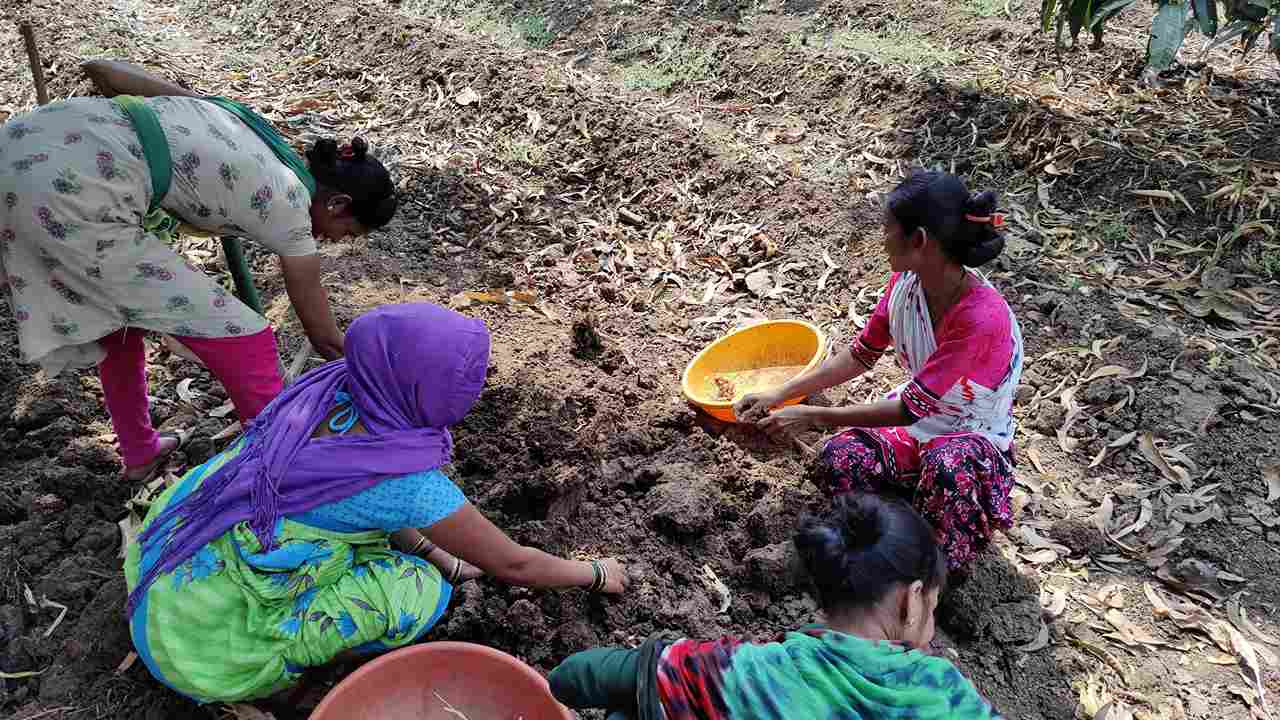 Now, the age-old murum has since been replaced by 140 varieties of fruit trees, vegetables, spices, herbs, and flowers. These 800-odd trees, says Keyur, comprise five varieties of mangoes, four varieties of papayas from Indonesia and Thailand, seven varieties of citrus, five varieties of bananas and chikoos.
The renowned Medziphema pineapples from Nagaland, along with mulberries, starfruit, rose and custard apples also call this farmland their home. An array of herbs like lemongrass, bayleaf, Italian Basil, stevia, peppermint and seasonal flowers line the garden too.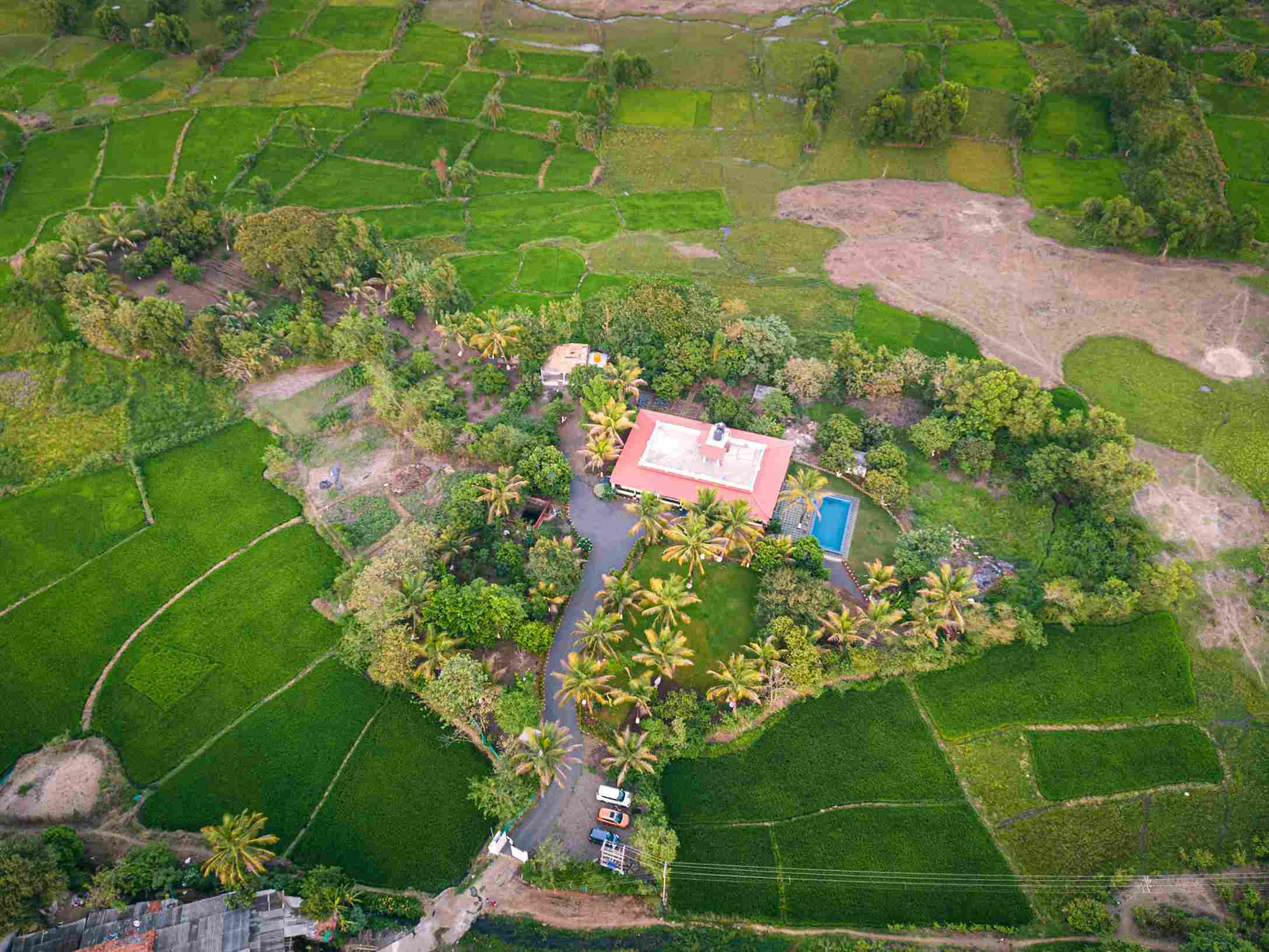 When Girdhar initially conceptualised the space, it was a simple village home. Nothing too dramatic. Letting us in on those days, he says, "The sole tamarind tree of the land became a roof over our heads when we started constructing a home on this untouched land."
Meanwhile, Keyur and Nishit were following their own professional trajectories while watching their father's fondness for the land. The duo wanted to help and make the land viable, more abundant. But neither of us were farmers, notes Keyur.
He adds that everything then on was trial and error. "We faced many setbacks such as wasted seasons, failed crops, unseasonal rains, cyclones, and extreme heat. Working with nature meant surrendering to its whims and fancies."
A conscious decision the brothers had made was to stay away from chemical fertilisers right from the beginning.
Was it tough? "Yes, it was," says Keyur, adding, "However, we discovered that when you nurture the soil year after year, the flavour, the fragrance and the yield of the produce improve exponentially. Nature always reciprocates kindness."
Their very first plants were ladies fingers and bottle gourds, whose seeds they planted in the red soil that they had layered the land with. Loads of mulch (fallen leaves, cowdung, etc) served as the fertiliser. And voila! They were surprised to see the land giving back in no time.
Keyur seems almost like a proud farmer today as he shares stories about the land. But at what point did the farmstay come to be? "Ironically, the COVID-19 lockdown was what inspired us," he answers.
A 3-day trip becomes a gateway into a bigger project
At the onset of the lockdown, Nishit narrates how he and his family packed their clothes for three days and headed off to the farm, thinking that it would be a small trip, only to end up spending three months there.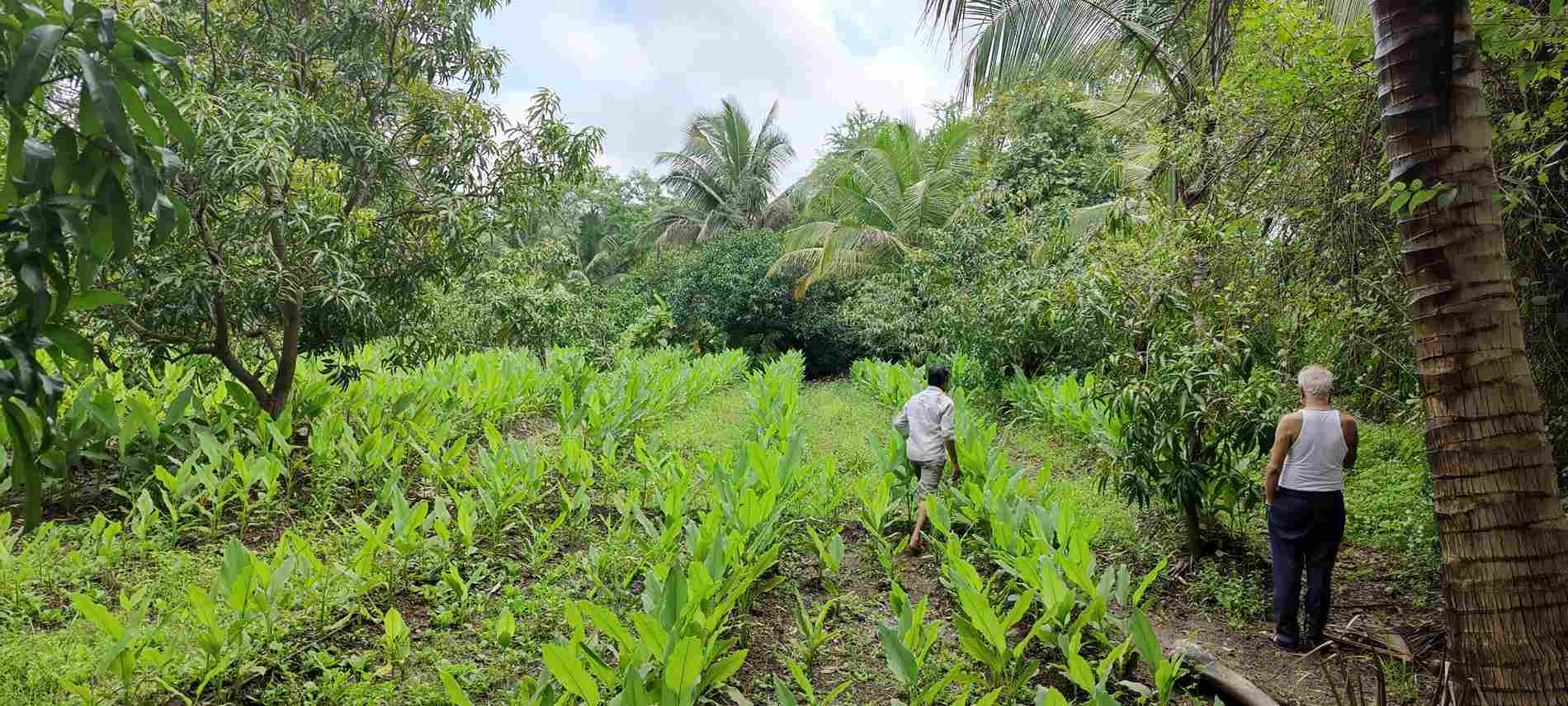 Keyur pitches in, "We had so much space to move around, and we were cut off from the world. We even bartered rice for vegetables grown on the farm! After three months, we realised that what we had was gold."
The hamlet, which was once occupied by Girdhar's brother, is now converted into the improved residential property on the farm. The Barad brothers say that all they did was extend the bedrooms, add a 70-ft verandah and make harmonious cosmetic changes to marry the inside and the outside.
"We started with the construction of the bungalow in the 2022 monsoons. Among delays in receiving material due to the rains, we also experienced frequent electricity cuts. I spent a lot of time overseeing the site then," says Nishit.
But after three years of rigorous effort and toil, it was worth it. Though accustomed to luxuries such as air conditioners and geysers back in Mumbai, the brothers shared how they managed very well without these and had a good time all the same.
"We then wanted to share this experience with others," notes Nishit, adding, "Especially with our friends who told us how they were frustrated with the urban life, the lack of connection with nature, and how their kids were missing out on the joys of getting dirty in soil."
The Chlorophyll Estate, they decided, would be a much-needed escape from the daily grind. They welcomed their first guests in April 2023.
When the view matches the experience
Mornings on the farm are glorious. And as Nishit opens a large window to a wide expanse of greenery, it is almost like watching a scene from a movie unfold. As the sunlight competes with a bird song to enter in, he shares that it is surreal to think that he has a part in creating this soothing sanctuary.
The trajectory of their plans was influenced by their wanting to preserve the village-like feel of the homestay. The subdued colour palette, which consists of browns, beiges, whites and blacks, is intentional so as to let the surrounding farm have its moment. Keyur credits his wife Shriya Nagi, and Mumbai-based architect Priyank Mehta of Studio PM, with the entire ideation and designing process.
Shriya, who heads her own creative design firm, says "serenity" was the guiding light while she curated the estate's interiors. "I gravitated towards a minimalist approach to ensure the space feels breathable and uncluttered."
The curtains and cutlery too reflect these ideals. "I wanted to go for pieces that, at first glance, embody minimalism but upon closer look, reveal intricate patterns and designs. It's these fine details, I believe, that elevate a guest's experience from the ordinary to the extraordinary."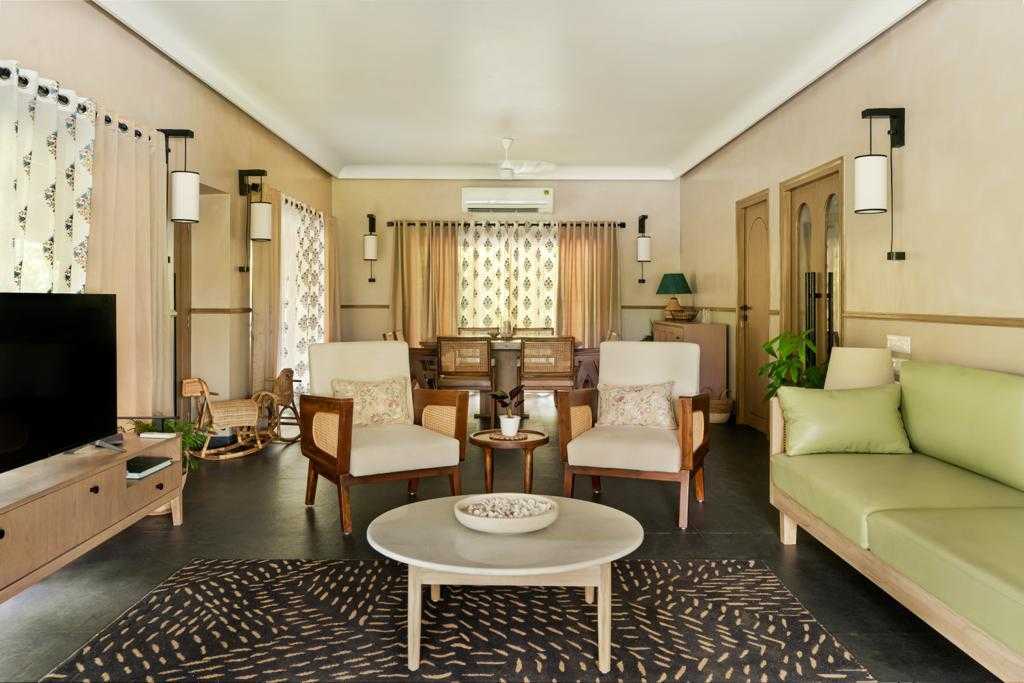 Hearing his daughter-in-law speak of her design ethos, Girdhar "feels over the moon". He is proud of the way his sons and daughter-in-law came together to fulfil a dream he once had.
"We started off with planting trees here and there way back in 2007 and today, the estate is a green oasis. From whichever corner you look around, myriad shades of green will fill your eyes," he adds.
Afternoons spent under its shade while overseeing the developments will remain some of Girdhar's fondest memories. "Today I look back to those humble days. The tamarind tree still stands and is our 'Tree of Life.'"
The 72-year-old is firm that no matter how many more changes the land sees, this tree and its shade will forever be his favourite spot. "That won't change till my last day," he affirms with a smile.
Edited by Padmashree Pande.
We bring stories straight from the heart of India, to inspire millions and create a wave of impact. Our positive movement is growing bigger everyday, and we would love for you to join it.
Please contribute whatever you can, every little penny helps our team in bringing you more stories that support dreams and spread hope.