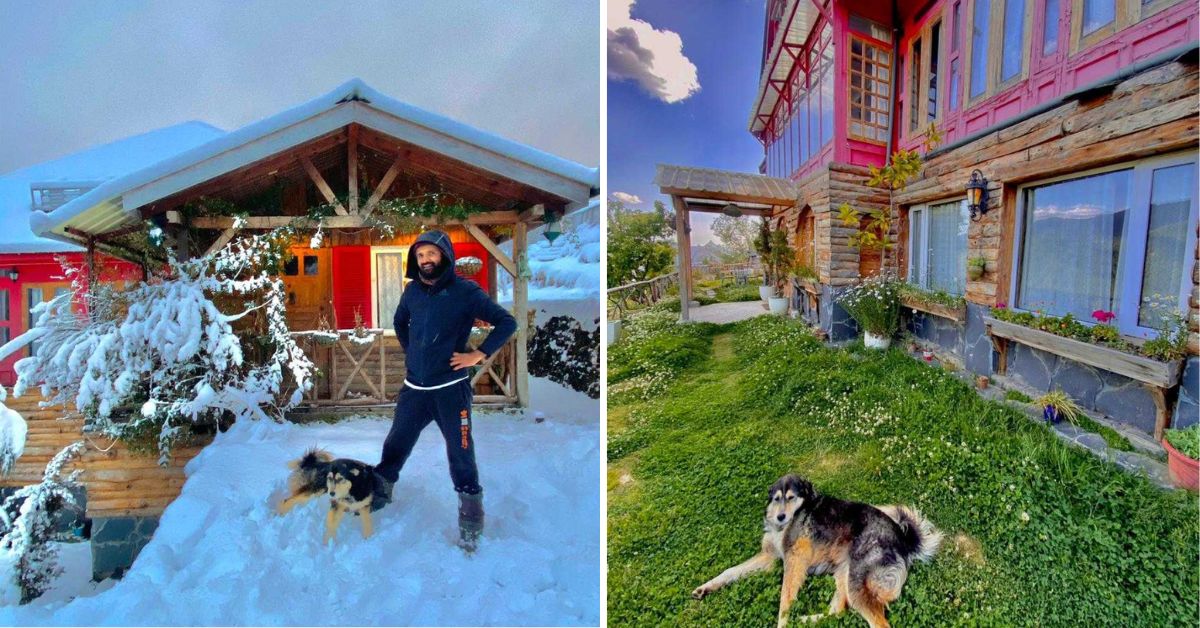 Sanjay Austa left his 15-year-long career as a journalist to escape city life in Delhi and revisit his roots in Himachal. Here, he built Meena Bagh Homes — sustainable homestays in Shimla and Ratari — in kath kuni style.
As a journalist whose forte lay in writing about travel, culture and art for 15 long years, Sanjay Austa never fathomed that one day, the tables would turn — he and his journey would be written about instead. As he settles down with The Better India for a tete-a-tete, it is clear that the driving force behind every decision that the Himachal native has made is his deep love for nature and the locals.
The culmination of this love is his venture 'Meen Bagh Homes' that he started in 2017 as a step towards making eco travel possible. The sustainable property offers city folk a chance to live in a "typical Himachali home". It is surrounded by fruit orchards and farms that spread out for miles, all immersed in the glow cast by the setting sun silhouetted against the Himachal skies.
Post-COVID, there has been a stark increase in the number of homestays emerging in the state owing to people starting to prioritise cosy settings, homecooked food, and the experience of living like the locals. As an official told Tribune India, the current number of homestays in Himachal registered with the tourism department has crossed the 2,000 mark as of December 2019.
In the face of such stiff competition, Sanjay has found a sweet spot between luxury and authenticity. How has he accomplished this? "By learning from the locals themselves," he says.
From Shimla to Delhi and back
As any pahadi native will tell you, the draw of a fancy city life pales in comparison to the homeliness of the hills. This was the case with Sanjay too. A childhood spent in a boarding school in Shimla and summer vacations spent in his family orchards — were some of his fondest memories. He carried them with him even later on in life as he travelled the world as a journalist and writer.
Based in Delhi for work, Sanjay dearly missed the hills and the calm that came with them. Fast-paced city life was not his cup of tea — a realisation that dawned on him after spending a few years in the national capital.
"Delhi has a way of spitting you out after a while," he figured. Today in retrospect, Sanjay says, "I believe if people have an option of doing something in the place where they hail from, they should. There is no point in moving into the city like the masses. You will only be adding to the pollution, traffic and commotion."
It is precisely this thought that shaped his journey of starting Meena Bagh Homes on his ancestral plot of land in Himachal.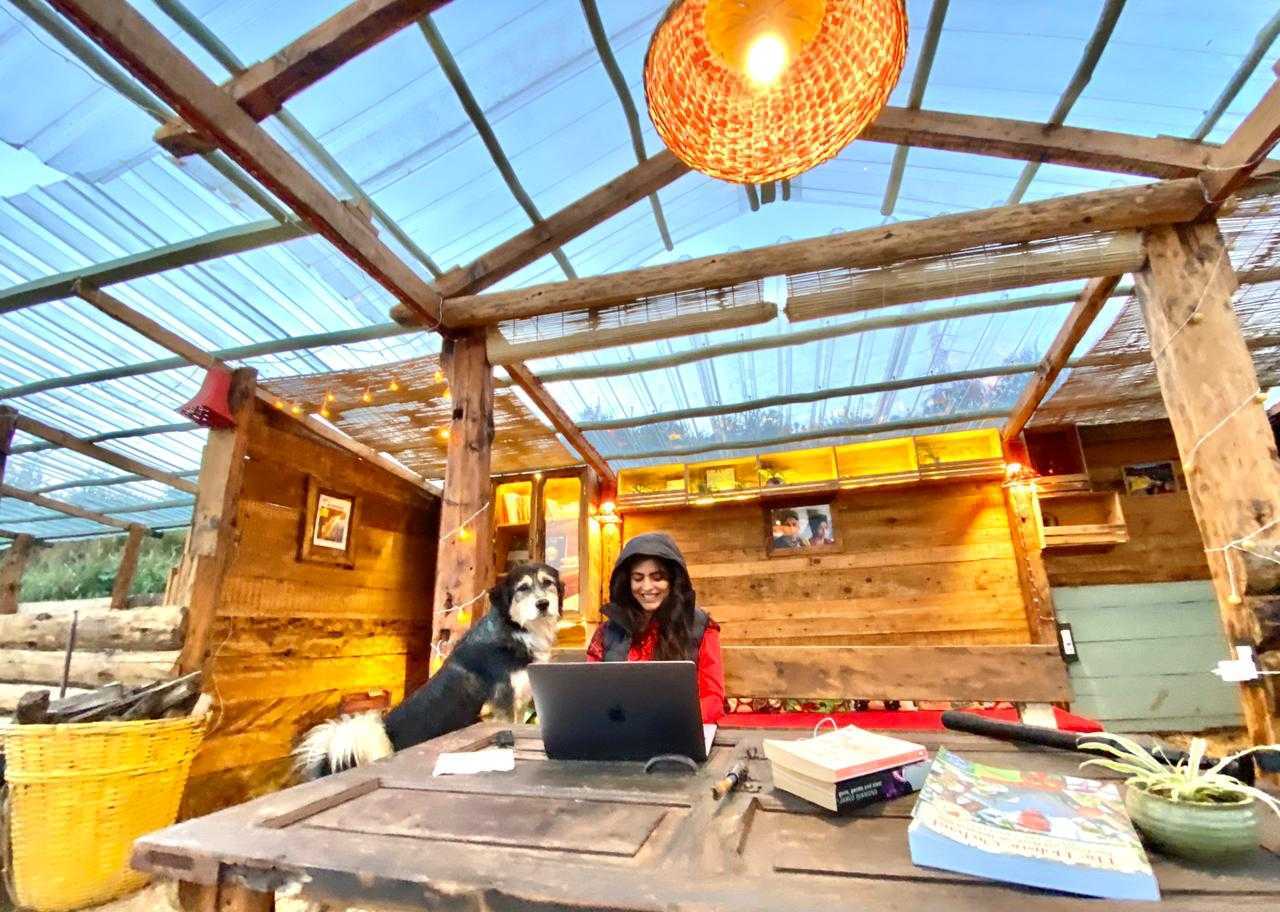 Another thing that gave impetus to Sanjay's burning desire to return to the hills was the craving to be in proximity to nature. So, in 2017, he returned to his home in Himachal and interestingly, was met with a surprising turn of events there.
Sanjay lets us in on a backstory that has its roots 70 years ago. "My grandfather had built a building in the same area where the now famous apple belt of Himachal is located. While the orchards continued to bloom, the building had been in a dilapidated state for a few years now. My father wanted to bring it down and in its stead build a more modern house."
It was at this juncture of deciding what to do with the property that Sanjay reached the scene and proposed an interesting plan. "The structure built by my grandfather was in the traditional kumaoni style and I thought it would be a draw for tourists. My parents were unsure of this potential that I saw in the house as Ratnari is not a touristy place, to begin with, but more of an off-beat location."
He adds that after much debate, "I ended up persuading them to let me experiment."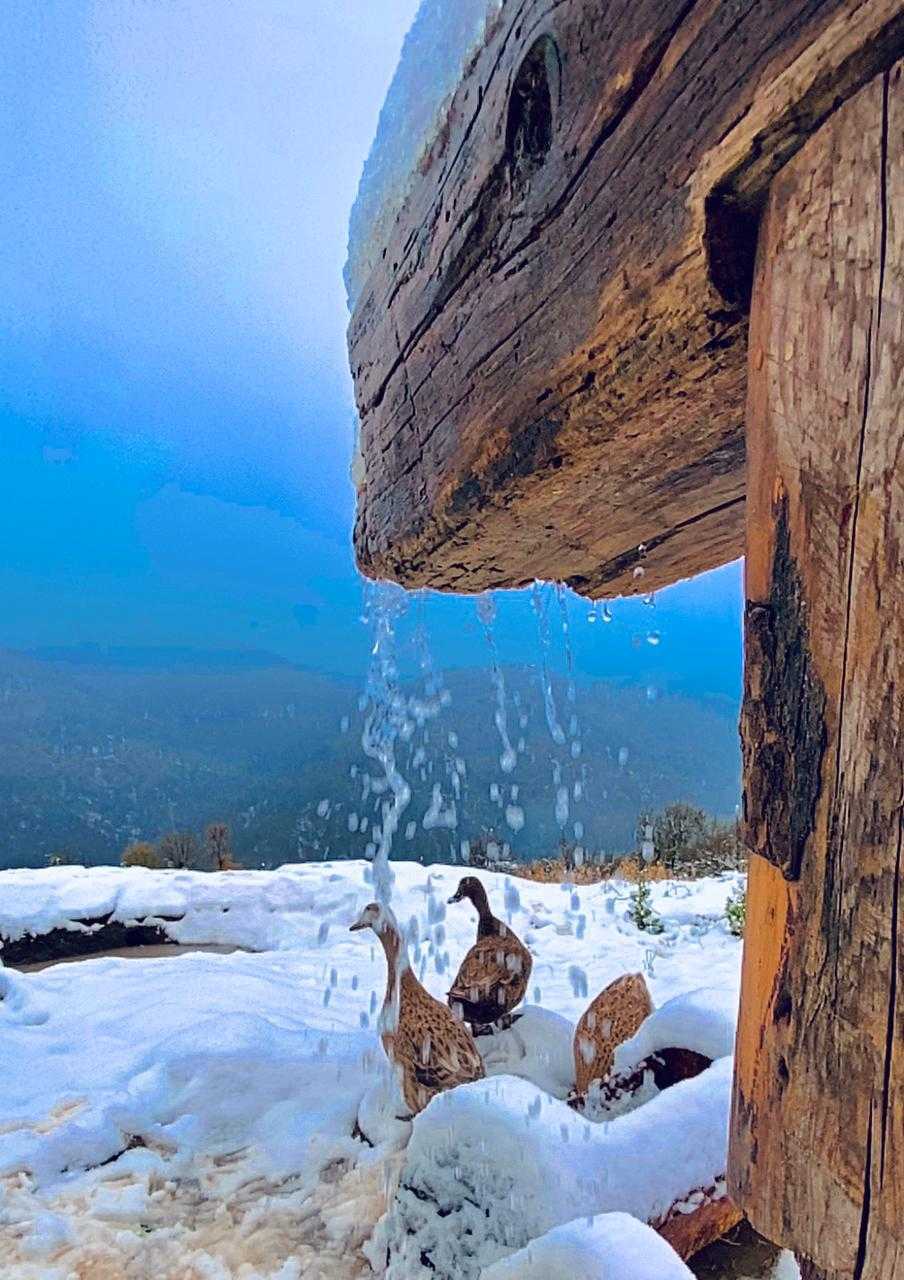 Getting set to work on a dream
The journey of setting up Meena Bagh Homes was rooted in the learnings that Sanjay had gathered through his travels.
For instance, on a trip to Finland where he visited the Arctic Circle, Sanjay recounts feeling chilly and shivering. Despite the dipping temperatures outside, the homes were surprisingly warm and cosy, without any heaters! Perplexed, Sanjay asked the locals how they managed this feat.
"Insulation," they told me, says Sanjay. "This allowed heat to stay within the home and keep it warm." He was quick to draw comparisons between this model and the ones that existed back home in Shimla. "In Himachal, 99 percent of the homes are not insulated and rely on firewood and electricity for heating. If only insulation were used, we could stop the heat from percolating and escaping outside."
So when it came to his passion project, Sanjay decided he would follow sensible and sustainable styles that existed the world over.
When he began to work on their two Meena Bagh properties — one in Ratari and another in Shimla, the first aspect that Sanjay focused on was the walls that held the structure together. "I built around the desolate walls using kath kuni architecture. It is a traditional technique that uses alternating layers of wood and stone masonry, held in place without using mortar. Our ancestors knew of this concept."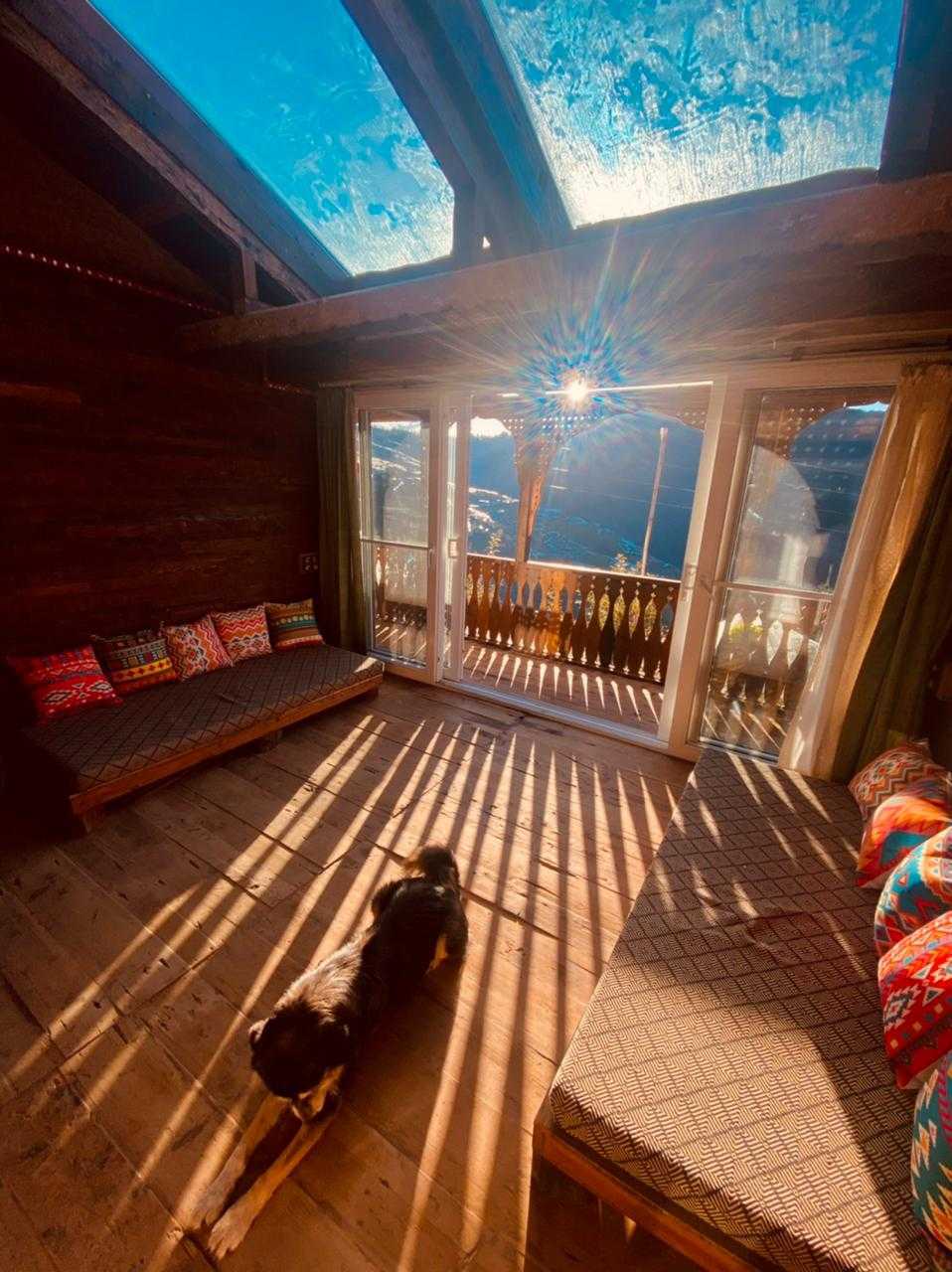 To this, he adds. "Walls are part of the architectural history of the place. You see the cultural elements around it."
When Sanjay undertook the task of transforming his ancestral home into a sustainable homestay, he says the intent behind it was to integrate the Himchali touch in every corner. "I wanted everything to reflect a story."
Today, Meena Bagh Homes pride itself on its judicious and sustainable use of recycled wood that Sanjay has sourced from a myriad of places. Right from waste wood that people keep aside to use for barbeques to wood collected from factories and mills. Time and again, the wood has come to the rescue and the panelling, flooring and tables at Meena Bagh reflect its beauty.
An anecdote he shares is of his wood collecting phase when he was intrigued by the number of old heritage British architecture buildings — a common sight in Shimla — that were being razed to the ground to make space for newer structures.
One significant structure that was being demolished was a century-old girls' college in Shimla. "It was around the same time that I was looking for wood to build two new cottages at Meena Bagh Homes." The wood found a new home while Sanjay found what he calls "textured beauty".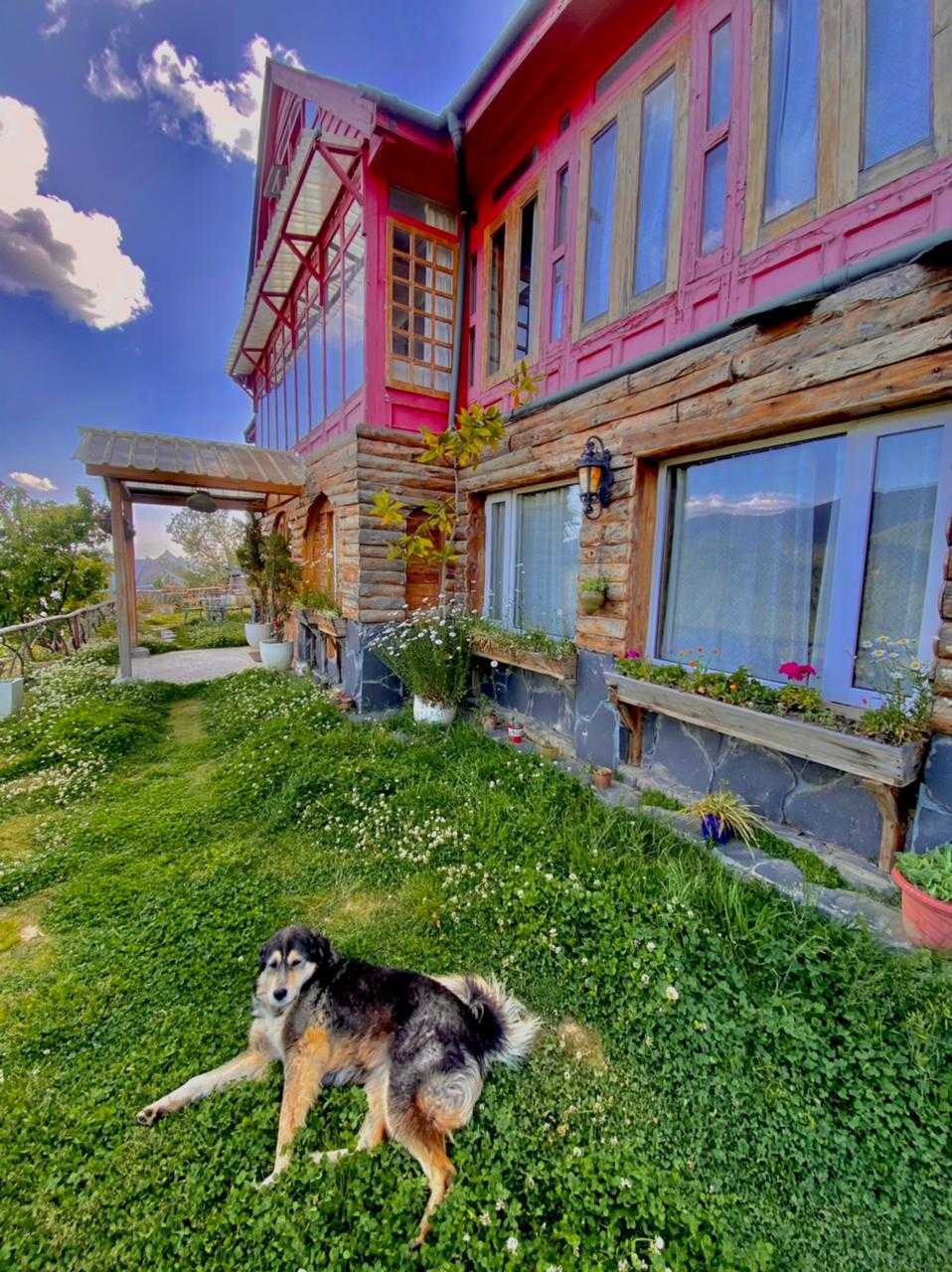 A few other modifications that Sanjay brought into the homestay was the addition of bathrooms, which were well insulated so that guests who had travelled long hours to reach the homestay could have a hot bath. While a common myth in Himachal is that water is a luxury, Sanjay's view on this is different.
"People believe water is a luxury because they don't harvest it." He adds that his harvestation unit has a capacity of two lakh litres of water gratis the abundant rainfall they receive in the state.
The rainfall also serves another purpose as Sanjay points to his blooming kitchen garden. Filled with the usual tomatoes, potatoes, herbs, spice plants, peas, lettuce, and the more exotic raspberries, strawberries, apricots, and plums, the garden is Sanjay's very own paradise on earth.
His mindfulness for nature reflects here too, as he explains how he went to lengths to ensure the garden was sustainable in a true sense and not just on paper.
"When you are away from the city and in off-beat locations how does one source a produce like broccoli? The answer would be from Shimla, which perhaps gets it from Delhi, which perhaps gets it from Hyderabad, which gets it from..?"
"How is the process sustainable?"
Intrigued by how people these days are simply labelling practices as sustainable without ensuring they actually are, Sanjay decided to digress from the "organic farming" model, which focuses on monoculture and resorts to permaculture instead.
This allows him to have an abundance of several different produce, thus ensuring he is sourcing maximum from his own land instead of relying on the market which promises "sustainability".
Alim Chandani, a guest who visited Meena Bagh Homes in July 2021 says, "The best part about the place is the little details in everything. It has the warmth of feeling right at home along with delicious homemade food." The rooms are priced at Rs 3,900 onwards.
If you thought all the reasons above were solid enough to make you want to come here on your next vacation, you're wrong. We've saved the best for last.
Sanjay who has been an astronomy aficionado throughout his life invested in a telescope (which is said to be the largest private telescope that one can own). He did this soon after he discovered that the skies in Ratnari rank two on the Bortle Scale (a nine-level numeric scale that measures the night sky's brightness).
Guests have a great time watching Jupiter, Saturn and even nebulae through the telescope on clear nights.
And while they are at it, guiding them through the process and enjoying it as much as them is Sanjay, the travel journalist who is now living the dreams he would once pen down.
Edited by Pranita Bhat
We bring stories straight from the heart of India, to inspire millions and create a wave of impact. Our positive movement is growing bigger everyday, and we would love for you to join it.
Please contribute whatever you can, every little penny helps our team in bringing you more stories that support dreams and spread hope.