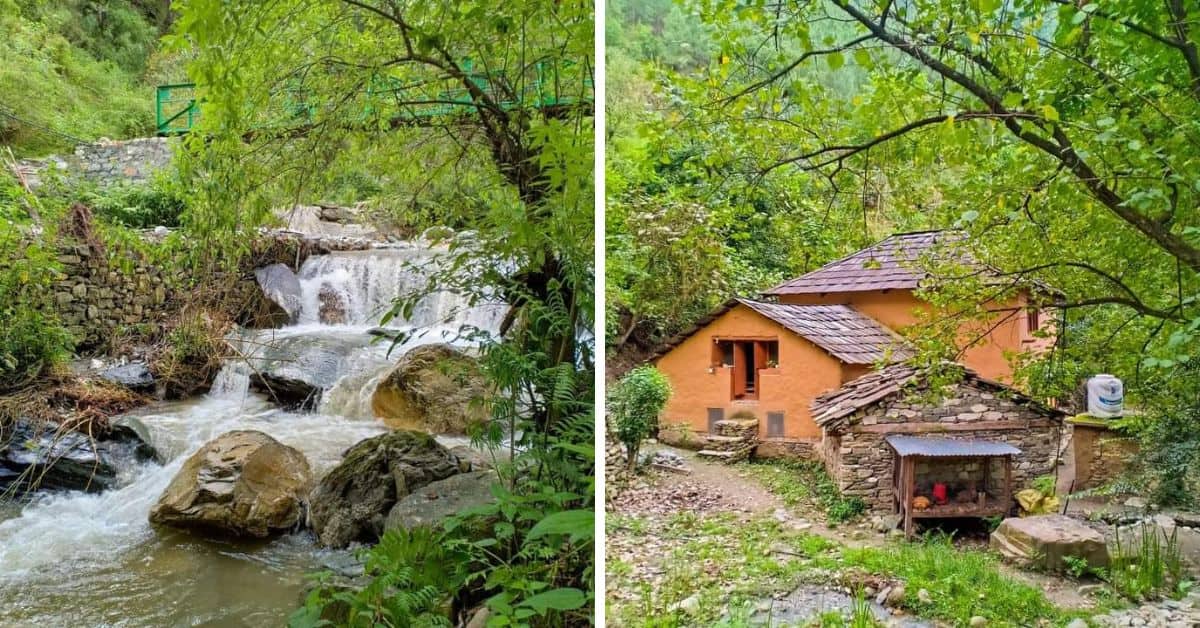 Looking for a traditional Himachali homestay in Tirthan Valley? Travel to Dalton's Village for a taste of authentic Himalayan life, sustainable living and memorable adventures.
Waking up in The Dalton's Village homestay in Himachal Pradesh's Tirthan Valley is an enriching experience as you breathe in the fresh mountain air. As birds chirp and the natural waterfall in the vicinity gurgles, nature sounds from the nearby pine forest add to the feeling of being transported to a picturesque paradise.
Earlier, Delhi-based Ryan Dalton used to run a travel company, through which he regularly took travellers for several tours to places like Himachal, Uttarakhand, Ladakh, Kerala, and Rajasthan, among others. "Slowly I decided that instead of living in Delhi I should move to the hills," he tells The Better India. Ryan decided to create a commercial property where he could live too, and thus The Dalton's Village was born.
The homestay is a 60-year-old Himachali house that Ryan has renovated. "It's entirely made out of mud, rock, and wood." In February 2019, he moved into the homestay that he calls "home".
Here, Ryan, who lives in one of the four rooms of the homestay, is committed to offering guests an authentic Himachali experience.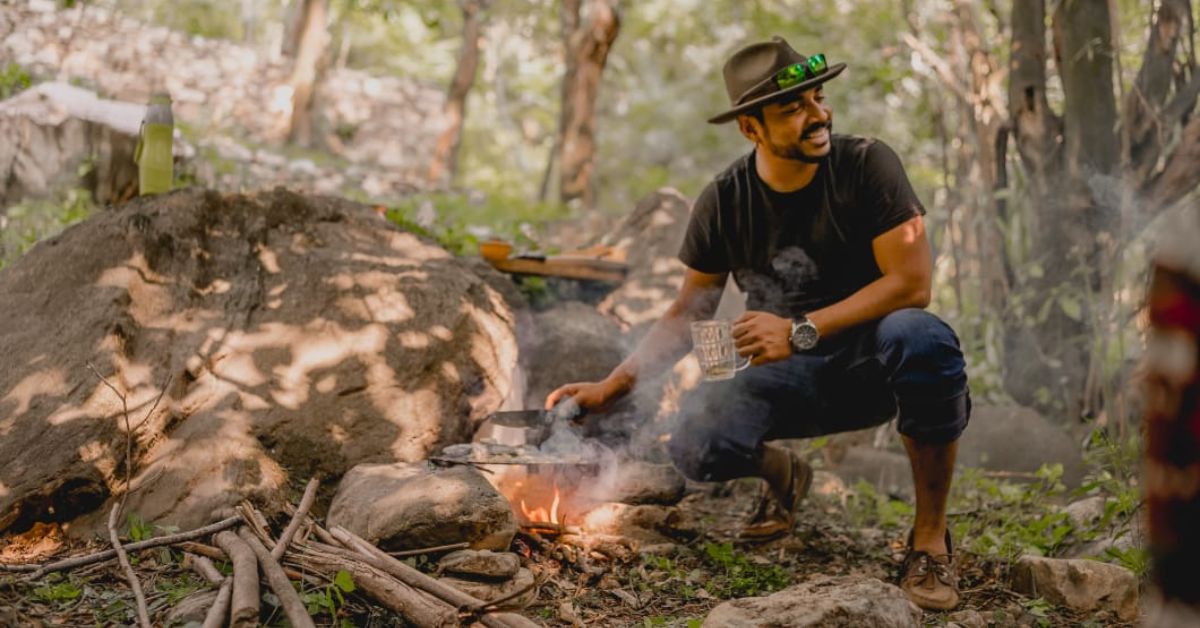 The Himachali way of life
Ryan has focused on being entirely true to the Himachali way of life. He says, "It mimics the Himachali culture, how the Himachalis live and the tiny hardships they go through to live sustainably."
He explains with an example. "The rural Himachalis don't have the benefit of just opening a tap and getting hot water, it's not that easy. Instead, they use a 'hamam' (a contraption with a space to light a fire underneath, which then heats the water)."
The locals using this essentially have to wait for a bright, sunny day when the wood is dry and can be burnt, so the hamam can be lit up. The whole family then takes turns filling up their buckets and carrying them into the showers.
At The Dalton's Village, none of their bathrooms have geysers. This saves electricity and water. They light up their hamam in the morning or evening, informing guests accordingly. That's when the guests line up with buckets or as Ryan describes it, "This is another opportunity for them to socialise."
The homestay is also naturally ventilated and has no air conditioning except for heaters during the winter.
Here, guests are welcome to sketch outdoors with the variety of paints and crayons available. He also keeps a few decks of cards and books to read at hand. "I tell people that if you want an activity, I'll give you a pot and pan and raw material. Why don't you try cooking outdoors?"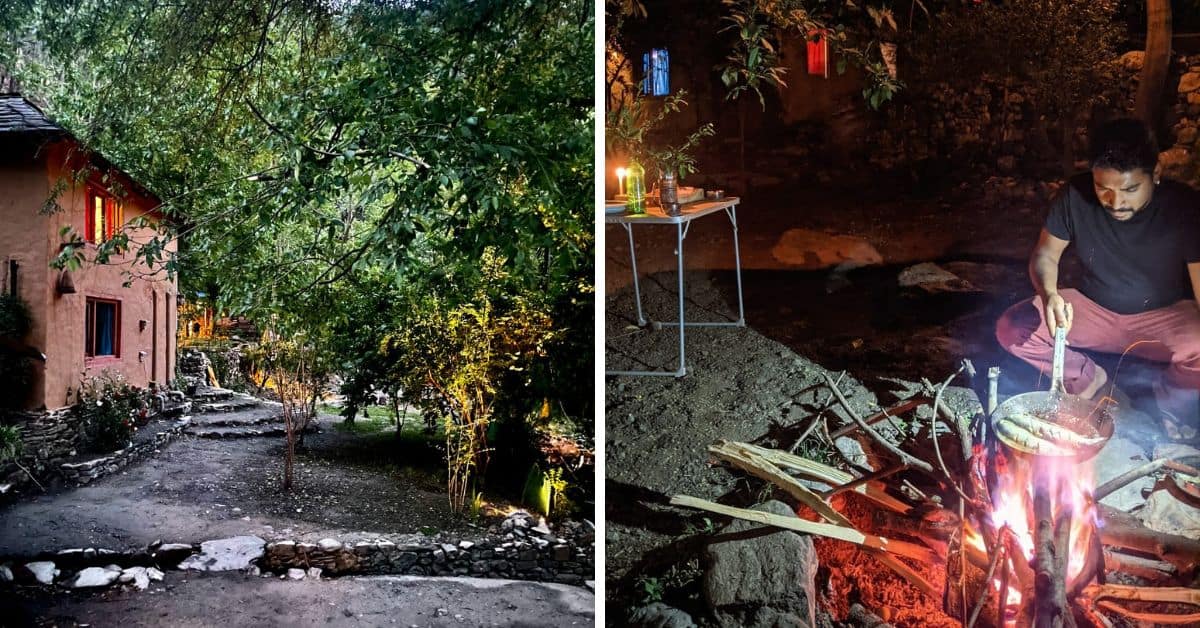 His core belief is that instead of engaging in ways to "distract themselves" and passing the time, residents should engage with the place and get to know it better. "Why would you need activities when you're coming to such a place? Your activity is to just stare into the mountains," he asserts.
Guests are also encouraged to get to know the locals. Ryan's neighbour, for instance, is an elderly lady who is a handloom weaver who makes 'Kullu shawls'. She is quite popular in the village and Ryan says, "You will learn so much from her life."
Guests are also taken on walks. "There are some hidden natural pools which only the locals know about. And there's a natural waterfall where people can take a swim."
Kanav, one of the guests at The Dalton's Village, enjoyed the quiet and slow-paced life that this traditional experience allowed. He says, "There's the kind of people that go to places to do things and the kind that go someplace to not do things. We come in the second category."
He adds, "We didn't go to The Dalton's Village for 'constant stimulation', the city has enough of that."
Kanav spent his time relaxing, appreciating the mountains and streams, plucking and eating fruits off the nearby trees, and exploring the place.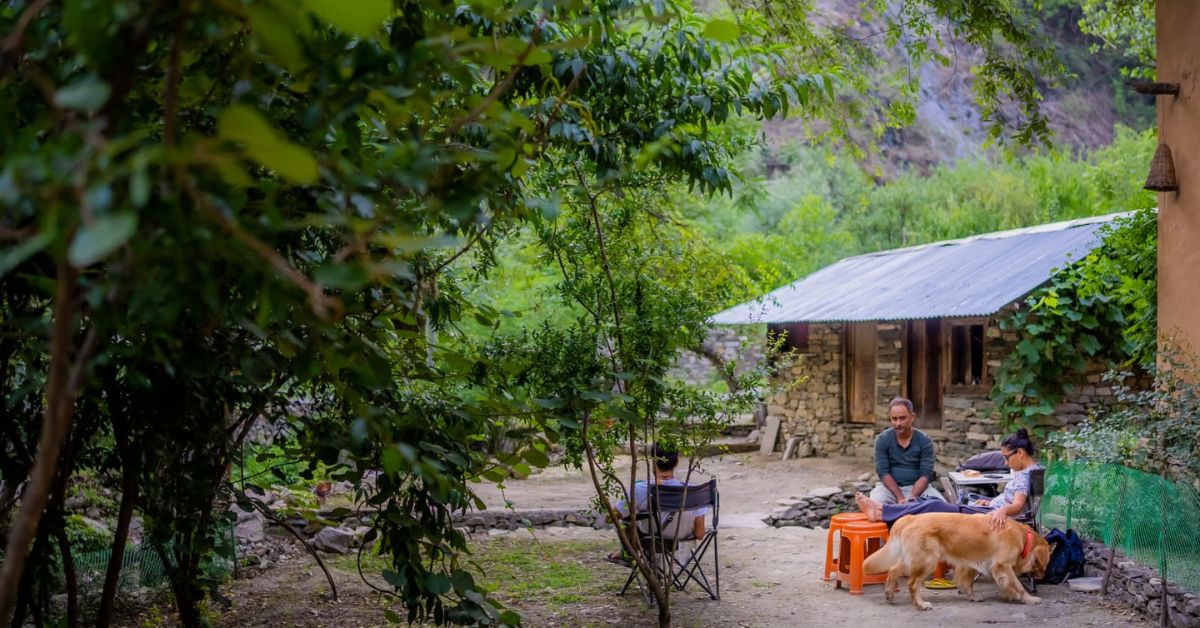 Growing veggies from waste
The Dalton's Village's food also imbibes the Himachali essence. "Other than the experience, we thrive on our food as well," says Ryan who employs locals and focuses on using locally grown ingredients to cook the meals. He also informs visitors that since this is his home and "not a hotel", there will be limited options of food served. However, he ensures the meals are wholesome and satisfying to the palette, offering something that's sweet, spicy, tangy, and sour — catering to every taste bud.
This variety is evident in the three types of local chutneys the homestay serves. One is a spicy, mint-based chutney sourced from mint they grow themselves. The second is a tangy, curd-based chutney, the curd for which is sourced from neighbours. And third is a sweet, fruit-based chutney, which is seasonal, depending on the fruit that's growing at the time, and can range from plum to apricot and pear to apple.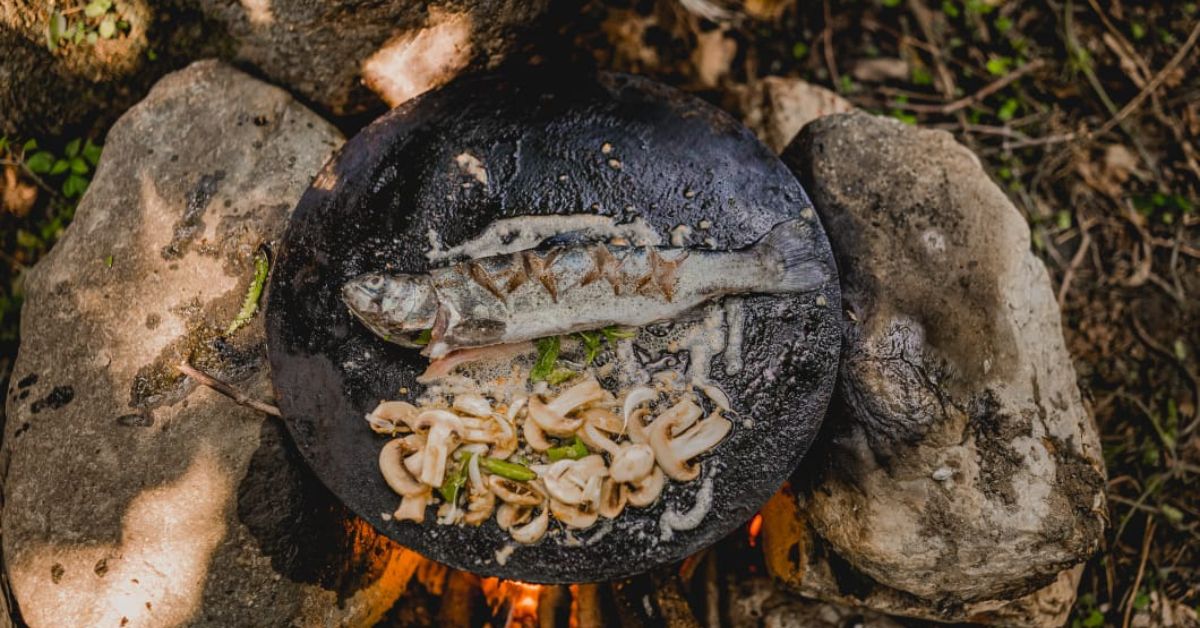 In keeping with local culture, instead of using processed oil, most of the daily cooking is done in ghee, because that's what's readily available for Himachalis. The food also doesn't use fancy spices, sticking to the ones available to the locals in the area. He adds, "The Himachalis have a lot of coriander, garlic, and other spices and herbs which are grown there."
The most popular local dishes they serve are Sidhu — a type of steamed bread with filling inside, and Lingri, a locally grown vegetable. "We have a stream that flows through our property and we take guests for a small walk there. The Lingri grows in the stream from where it is plucked and cooked," he says. They're also famous for their slow cooked Pahadi Mutton and their Rajma (kidney beans), which they grow on their own land. The meals normally end with a dollop of jaggery or sauf (fennel seeds).
While guests can put in their requests for food, the homestay focuses on cooking seasonal produce.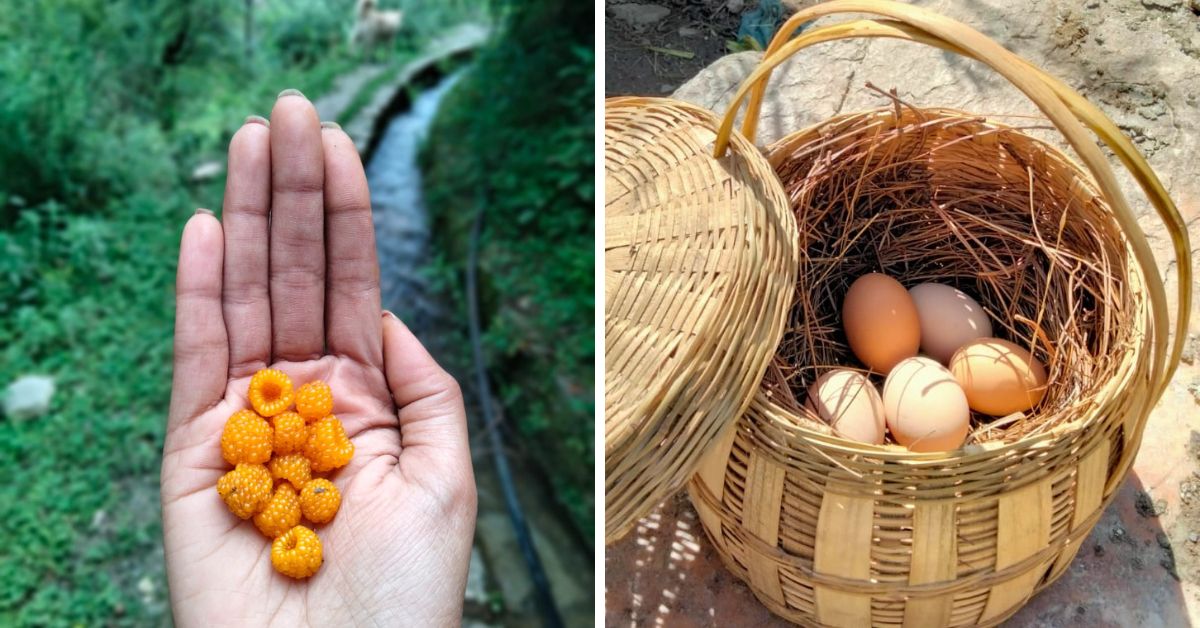 But overall, the homestay's commitment to the Himachali way of life has resulted in sustainable living. Ryan says, "The Himachalis don't understand the word 'sustainability' because for them it's day to day life. It's nothing new."
Even the life cycle of a fruit is entirely sustainable. The bananas grown in their fields are enjoyed by guests. The peel is then given to the cattle to consume. The animals' excreta or dung in turn is used as manure, going back into their fields.
In conclusion, Ryan says, "Sustainability is something we've pushed ourselves away from in cities but it's the norm for Himachalis."
Location: Kullu district, Himachal Pradesh
Beds and baths: Four beds and five bathrooms
Size: About half an acre
Time it took to build: Seven months for complete renovation
Price: Rs 1,000 per night (Rs 2,500/night during peak season)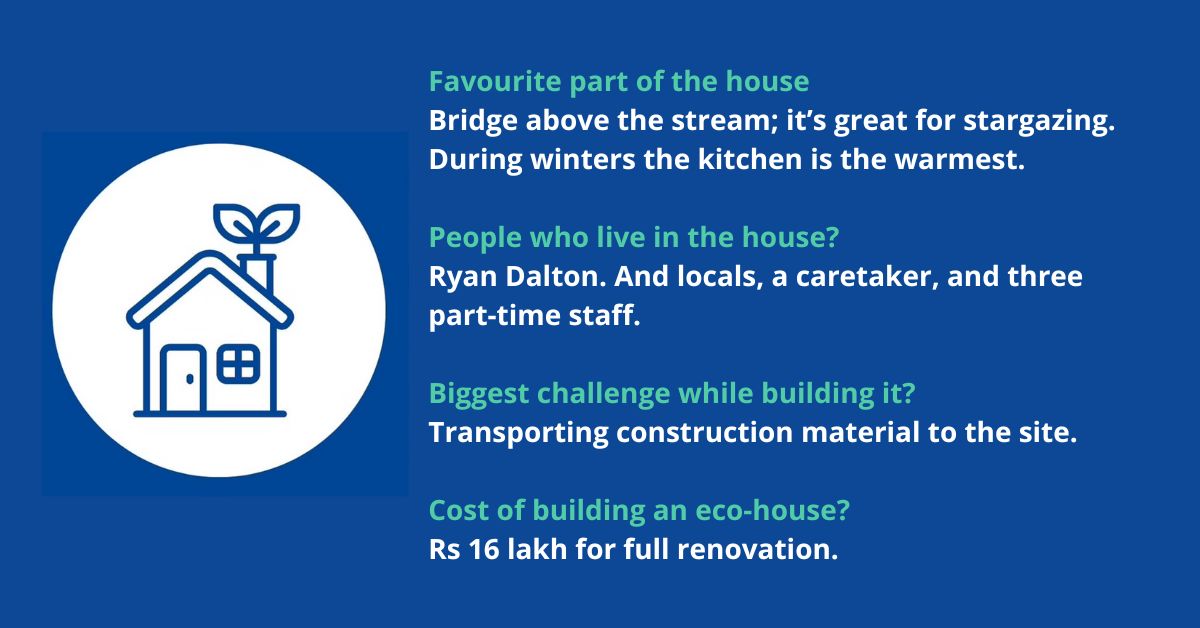 Edited by Yoshita Rao
We bring stories straight from the heart of India, to inspire millions and create a wave of impact. Our positive movement is growing bigger everyday, and we would love for you to join it.
Please contribute whatever you can, every little penny helps our team in bringing you more stories that support dreams and spread hope.