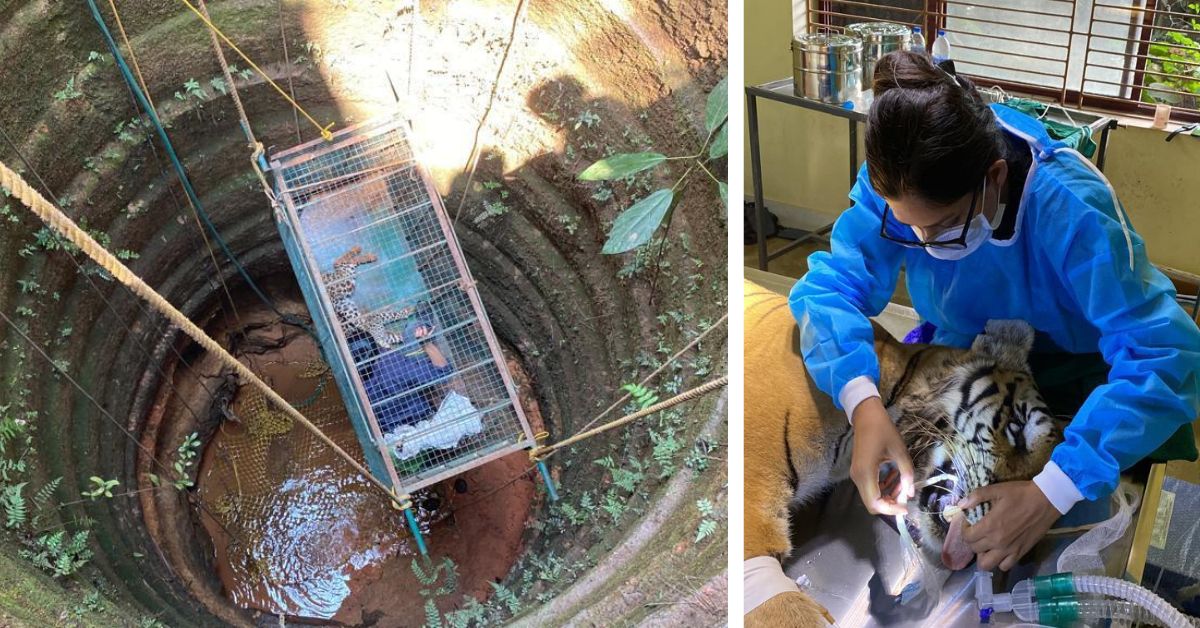 Mangaluru-resident Meghana Pemmaiah's love for animals led her to become a wildlife rescuer aiding Karnataka's forest department on their missions. She has rescued eight leopards and many other wild animals so far.
Dr Meghana Pemmaiah, a veterinarian from Mangaluru, cares for a wide range of animals. She helps not only beloved pets but also injured wildlife like jackals, birds, and snakes. Her dedication to treating their ailments is unwavering.
However, in her daily routine, the 32-year-old sometimes experiences unique days when the Karnataka Forest Department contacts her for rescue missions. She helps ensure that the wild cats of Karnataka are safely returned to their natural habitat in healthy condition.
"It is not about just work for me but also the love and passion I have for these animals. Humans have encroached on their lives, not the other way around. While the job comes with a set of risks, my main agenda is always to get the animal out," she tells The Better India.
Always an animal lover
Born in Bengaluru, Meghana felt an affinity for the wild from a very young age. She always loved animals.
"My father was a police officer, and we moved around a lot because of his transferable job. This led me to be exposed to wildlife around the places I have lived. Later on, I moved to Bengaluru to do my master's in Wildlife Sciences," she says.
"Growing up in an animal-loving family, I was constantly surrounded by animals. This upbringing made me realise that my future would be closely connected to the world of animals. Although I did not know that I would be led on to this very path I'm on now," she says, adding that she is currently a pet parent to two dogs and a few cats.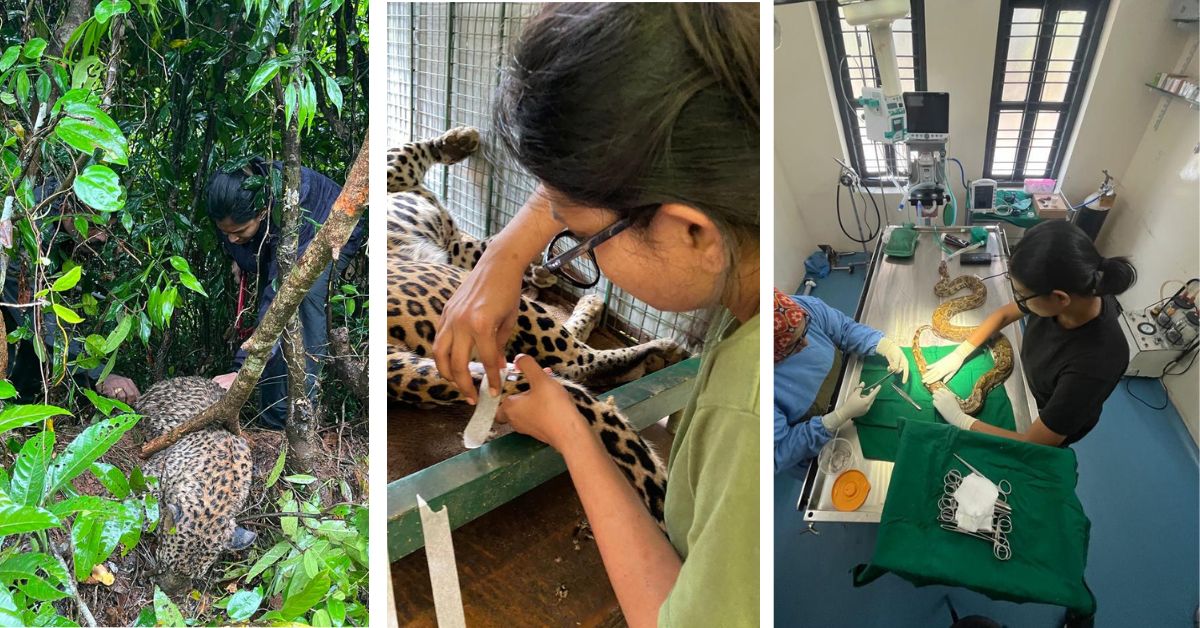 Talking about why she decided to get into rescuing, she says, "It was during my masters that I got to know that wildlife veterinarian was a thing. I would watch people on NatGeo on rescue missions and it would always thrill me. I was always looking for the right opportunity which I got recently."
After completing her degree, she joined a rescue company in Bengaluru and started working as a veterinarian. "In 2022, I moved to Mangaluru with my husband who had a clinic there. He was helping out the state's forest department, which gave me the perfect opportunity to get into onfield rescuing," she says.
It has been nearly two years since Meghana has been rescuing wild animals. She has assisted the forest department on several missions and has rescued eight leopards, bringing them home safely.
Jumping in wells & climbing building is a routine
On duty call for 24 hours, it is the passion for wildlife that keeps the veterinarian going. She has been in rescue missions which entail risks for both her and the animal.
"When I go on a mission, the animal is always my top priority. Leopards are frequently the ones we rescue, and it's important to remember that they are just as afraid of us as we are of them. There are significant risks of injury for both myself and the animal involved," she says.
Meghana adds that when she is on a rescue mission, she does not even think for a second before risking her life to save the animal.
Dr Dinesh Kumar Y K, the deputy conservator of forests (DCF) of Mangaluru division, who has worked on several missions with Meghana says the same. "She is very light-footed and quick-witted when it comes to her work. She does not even blink before jumping into wells and climbing floors of buildings to save the animal," he says.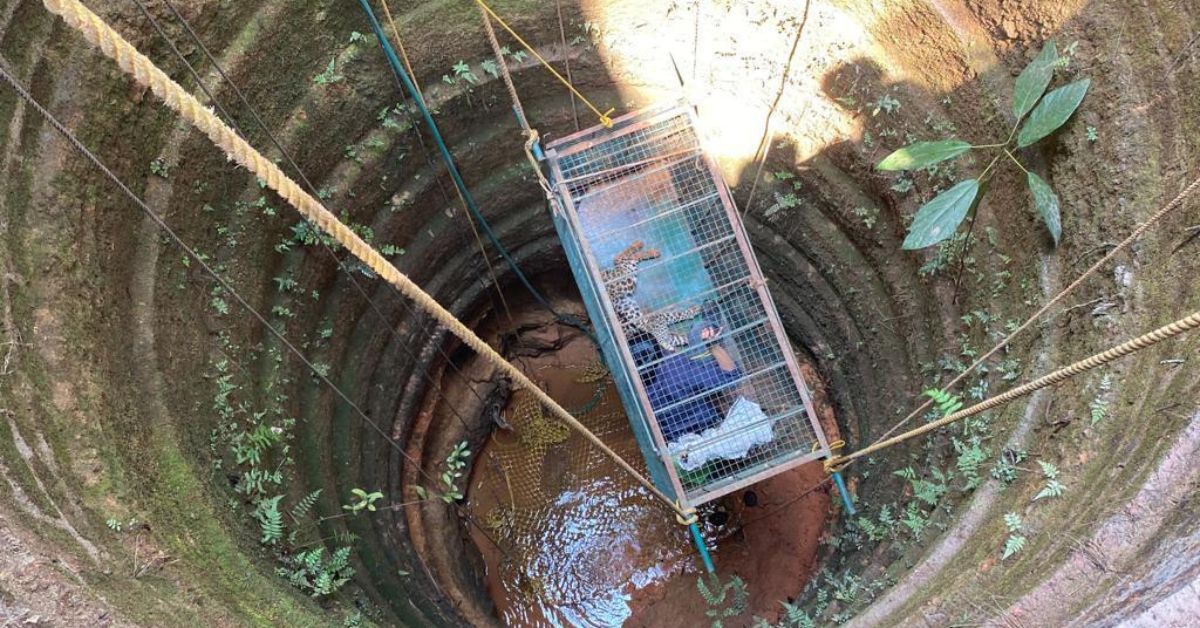 "The forest department is always short of such rescuers and Meghana along with her husband has been helping us in missions. The animals are usually found in encroached forest land, stuck in wells, and sometimes in households. This puts the life of the animal and the surrounding people in jeopardy. So we have to plan and execute everything very carefully," he explains.
In a dangerous yet thrilling incident recently, Meghana had to jump into a 20-feet-deep well at Niddodi in Dakshina Kannada to rescue a leopardess stuck in it for days.
"The well was quite deep and we could not reach the leopardess. The only option was to jump inside to sedate her and carry her up. To do this, I was put in a cage and lowered into the well. I darted at the leopardess at close range and waited until she was sedated. I dragged her into my cage afterwards and the team pulled us both up," she recalls.
Meghana took the animal under her care, examining it for injuries and providing treatment. "All the animals are kept under observation. When they become fit, we take them to their real home — the wilderness," she says.
Dealing with animal-human conflict regularly
Talking about the animal and human conflict, she says, "Due to rapid urbanisation and expansion of cities and villages, we have encroached on the lands that were supposed to be theirs. We are the real threat and people need to understand that. We find so many of these animals and snakes stuck in snares and wells. Since we have taken away their home, they have nowhere to go."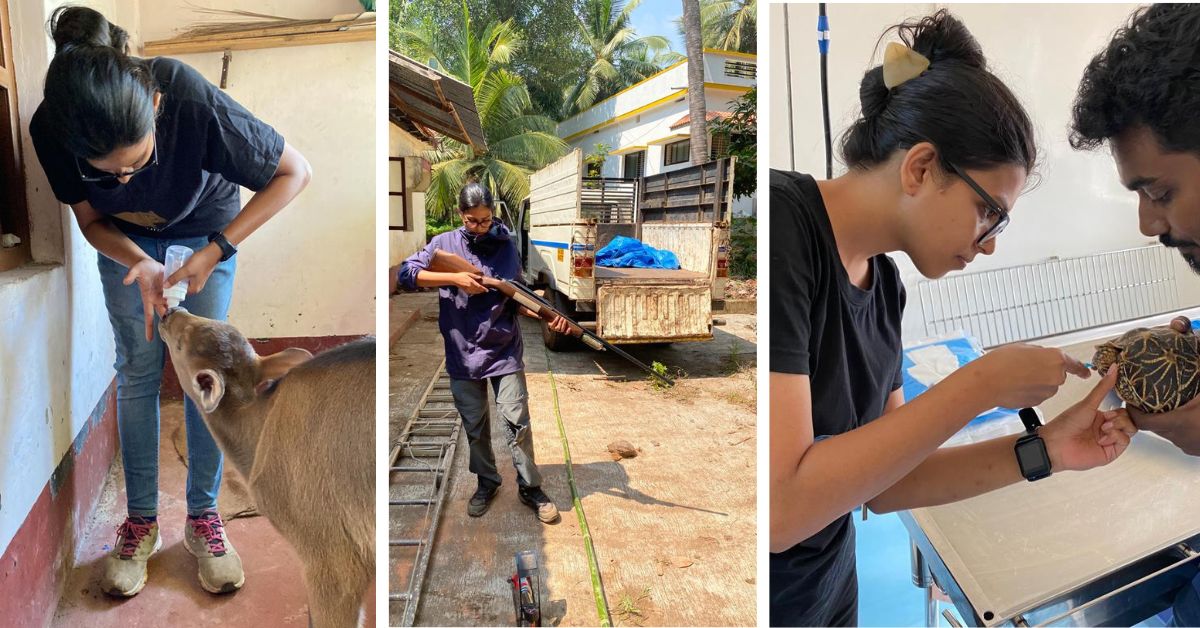 "It is not their fault. They do not know how to differentiate between human settlements and forests. In their heads, the area that they are in used to be a jungle and their home. Most of the time, the animals are scared, and hence we fear that they might attack the people around," she adds.
Narrating an incident where she witnessed this conflict, she says, "A leopard was stuck on the first floor of a residential building. There was a huge crowd that had gathered around. People were stuck in the building too and the situation was life-threatening. The poor animal obviously did not know what it had gotten into. I climbed to the first floor and shot at the animal with a sedative. The leopard was rescued and the mission was successful."
I am still a 'nurse' to many
While Meghana believes that the scenario for women is good in the veterinary sciences, rescuers are sometimes overlooked.
"I have been in this field for more than two years now, but even today, I see that most people don't recognise me for my work. If I'm part of a team that includes men, there's a common assumption that they will be the ones handling all the tasks," she shares.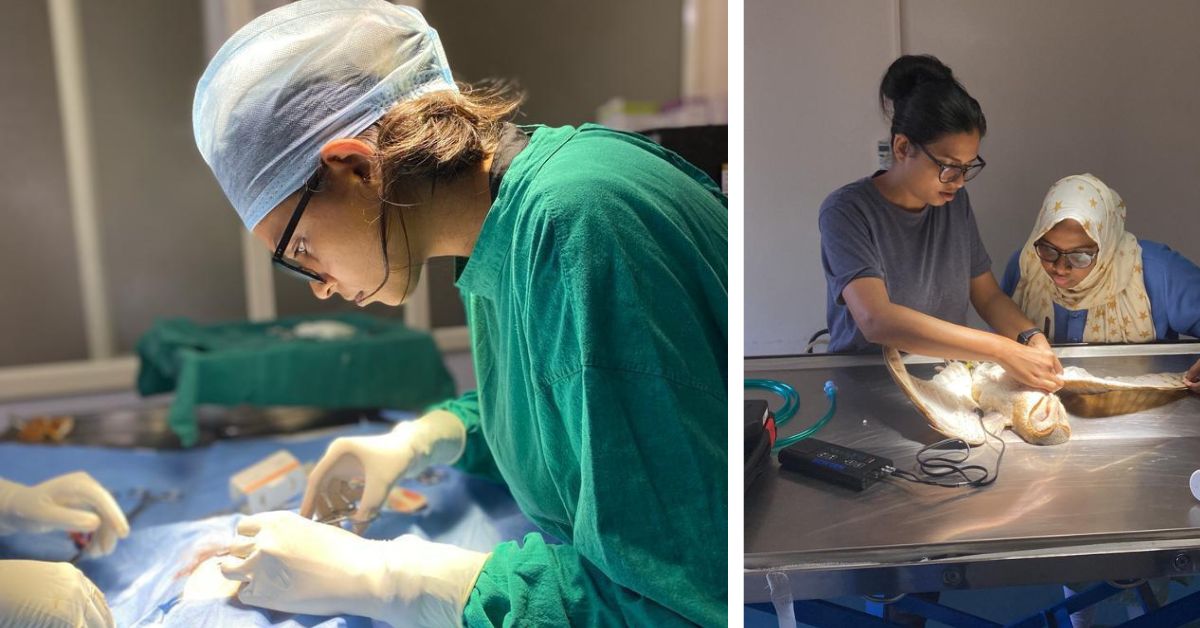 "They still call me nurse and assume that I am not the doctor. However, people treat me warmly once they see my work," she adds.
Deputy Dinesh shares, "The career is a challenging one. While we have women veterinarians in the field, women rescuing wildlife is quite rare. What Meghana is doing is great, and I am sure that it will pave the way for more women to become wildlife rescuers."
However, for Meghana the recognition is of little importance when it comes to rescuing. "What matters most to me is the end result. At the end of the day, my utmost concern is that the animals are safe, unharmed, and able to live in their natural habitat, free from any human-made dangers," she remarks.
Edited by Pranita Bhat
We bring stories straight from the heart of India, to inspire millions and create a wave of impact. Our positive movement is growing bigger everyday, and we would love for you to join it.
Please contribute whatever you can, every little penny helps our team in bringing you more stories that support dreams and spread hope.