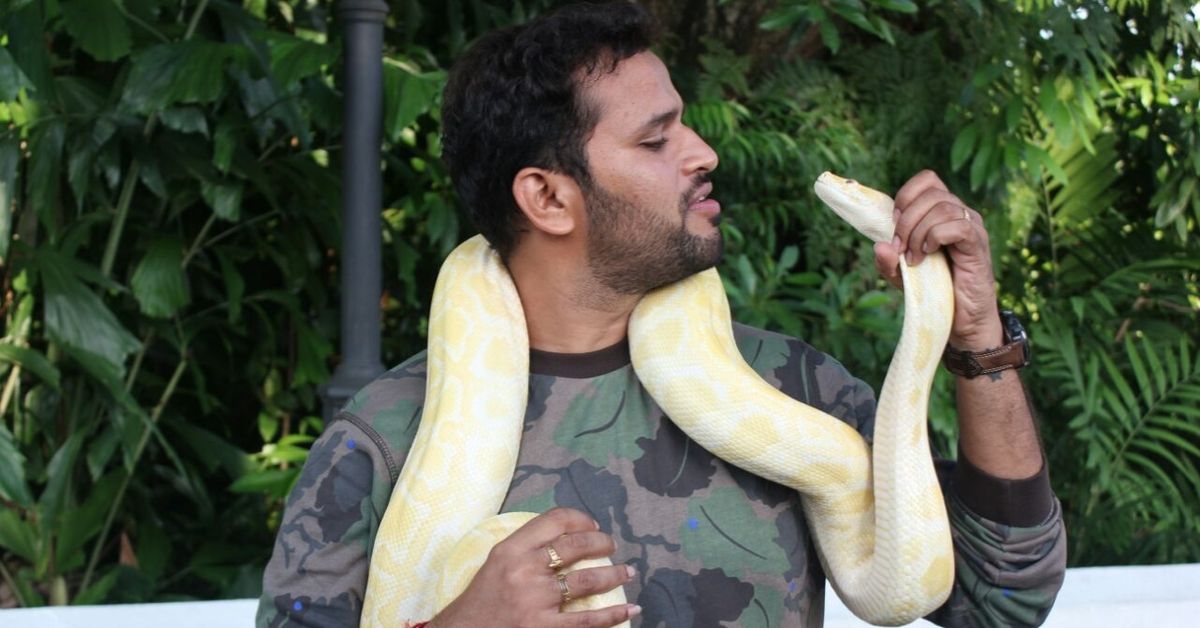 From snakes, monkeys, mouse-deer, and leopards, he has tended to an army of animals in the past decade.
32 years ago, in the Visakha agency area, Visakhapatnam district, a coffee merchant and a humble homemaker bore a son, and decided to name him Phaneendra. A name that finds its roots in Indian mythology and means the 'king of serpents' or 'snakes.' Yet, unlike his name, growing up, Phaneendra was terrified of snakes. At 32, Phaneendra, who graduated from the NTR Veterinary College Gannavaram as a veterinarian, has rescued and rehabilitated more than 300 stray and distressed wildlife animals!
---
With the season of light just around the corner, here are some eco-friendly and sustainable gifts you can give your loved ones. 
---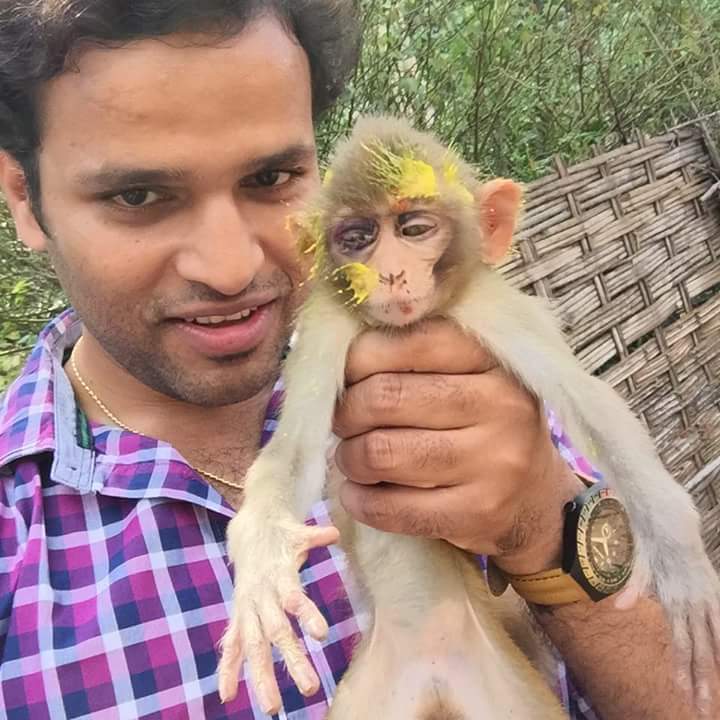 From snakes, monkeys, mouse-deer, and leopards, he has tended to an army of animals in the past decade.
Phaneendra works with the State Animal Husbandry Department as a field veterinarian, but his work goes much beyond his call of duty.
When he isn't tending to distressed animals at his clinic, 'Paws N Claws' in Rajahmundry, the veterinarian,who also serves as a Wildlife Veterinary Consultant, attends rescue calls from the Andhra Pradesh Forest Department and people who call him at all times.
In addition to rescuing, he also nurses stray wildlife to health and ensures their safe release into the wild.
The Better India (TBI) got in touch with Phaneendra to get a glimpse of his journey.
Stepping into the world of animal rescue
"My earliest memories of love blooming for animals and birds is from when I was as young as six years old. It was a tradition in our household to raise our poultry, but it broke my heart when my family sacrificed it for consumption. I remember putting up with a fight with my parents, to convince them that if they wanted, they could get meat or fish from the market, but I wouldn't let them raise poultry for food."
As he grew up and observed his siblings opt for conventional professions like engineering, he felt an incredible pull toward working for animal welfare.
After five years of hard work, when he got into the veterinary field, a realisation dawned upon him.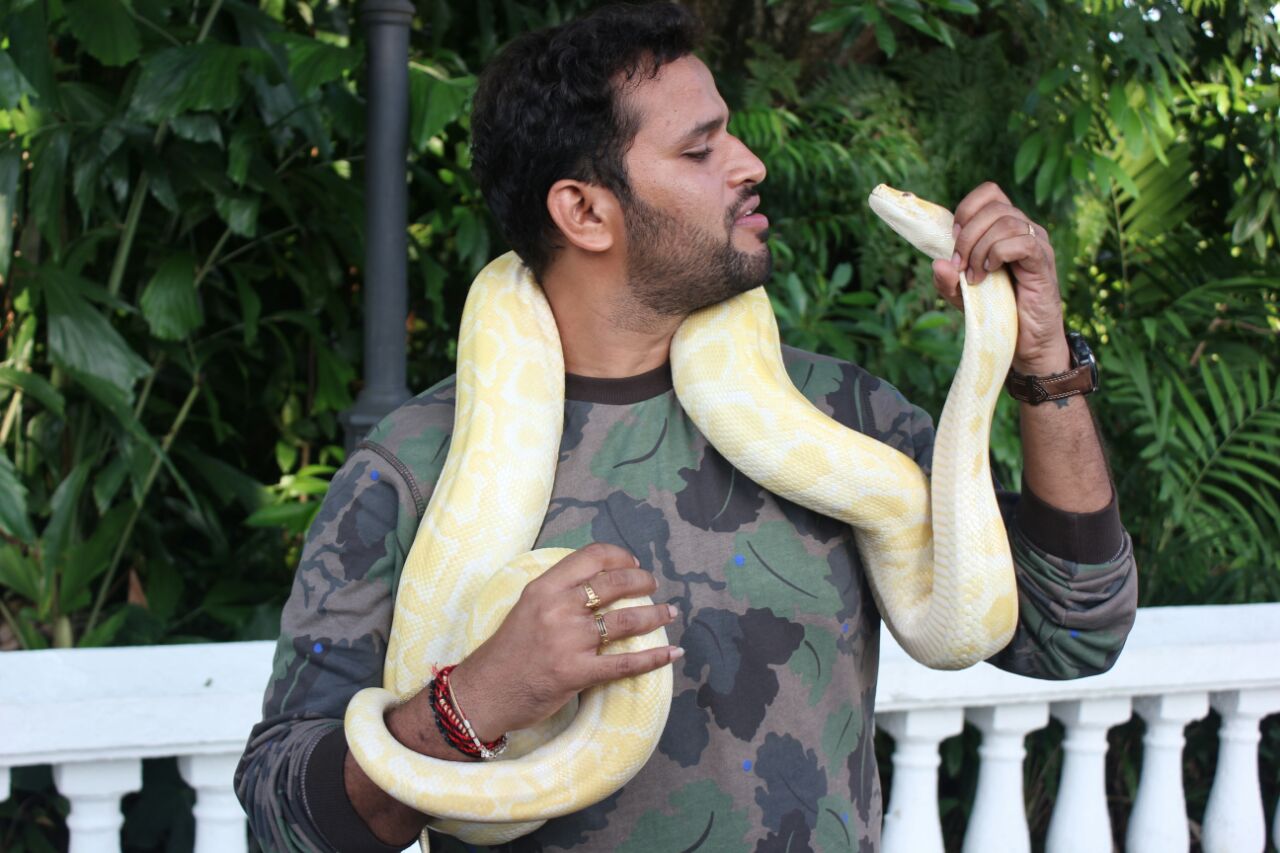 "During the five-year course, we were taught to rescue everything from an ant to an elephant in distress. While in practice, I realised domestic animals still had humans around them to nurse and care for them or rush them to a vet in times of crisis, but the wildlife that strayed away from their habitat were voiceless and had no one to reach out to. And so, I started visiting forests in East Godavari district in search of any injured or distressed wild animals I could help," he informs.
From working at the Chennai Snake Park and crocodile bank to wildlife sanctuaries in Shimoga, Karnataka, he also travelled to the Jurong Bird Park managed by Wildlife Reserves Singapore and worked with zookeepers to understand the best practices for animals, birds and reptiles found in the Asian subcontinent.
Two years ago, at the insistence of IFS officers—the husband-wife duo, Anant Shankar and Nandini Saralia, and in recognition of his work, the Forest department sent him to pursue a course at the Wildlife Institute of India.
The officers were also instrumental in nominating him to be part of an intervention in wild animal health course. Organised by the University of Edinburgh, UK, the month-long certified course was held at the Sariska Tiger Reserve in Alwar district, Rajasthan and hosted only 26 participants from 26 countries.
First rescue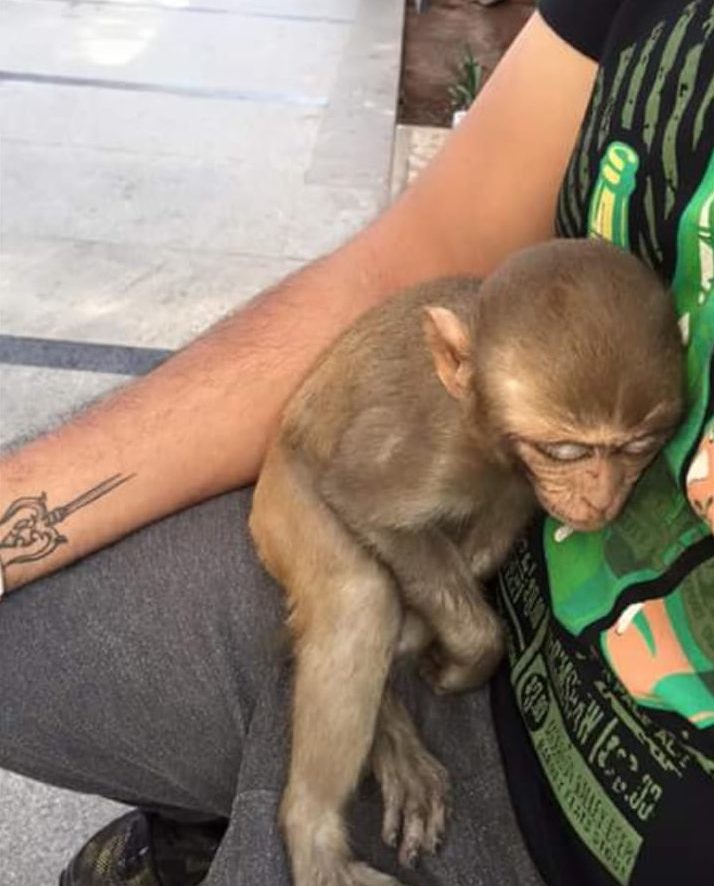 Phaneendra's first rescue that continues to remain close to his heart is that of a baby monkey. When he was working out at the local gym, he heard some commotion going on outside. When he checked out, he saw that a baby monkey had strayed from its group. In distress and in search of food, it was running into shops and homes.
"When I saw people bullying the baby monkey and throwing stones at it, my heart twinged in pain. I remember looking at the monkey in the eye and feeling its distress. I yelled at people to leave it alone. When I offered him a banana, the monkey – who was breathing heavily – settled in my lap and fell asleep. This was the turning point of my life," reminisces Phaneendra.
He later brought the animal to his clinic and fostered it for a week. It soon had a new name, Pandu. Extremely naughty, Pandu couldn't be left alone. So he travelled with Phaneendra everywhere he went. But the vet knew, he couldn't get attached. The baby belonged to the wild.
"I tried taking him to the spot where I found him, but every time I returned, he would be eagerly waiting for me. So after a few days, when I had given him the rabies vaccine, I took him to a nearby park where a group of monkeys were living on a tree. I brought lots of bananas. So when the pack came down to take the bananas and returned, Pandu followed too."
One of his most daring rescues was that of a leopard in the Godavari Delta Area in February 2019.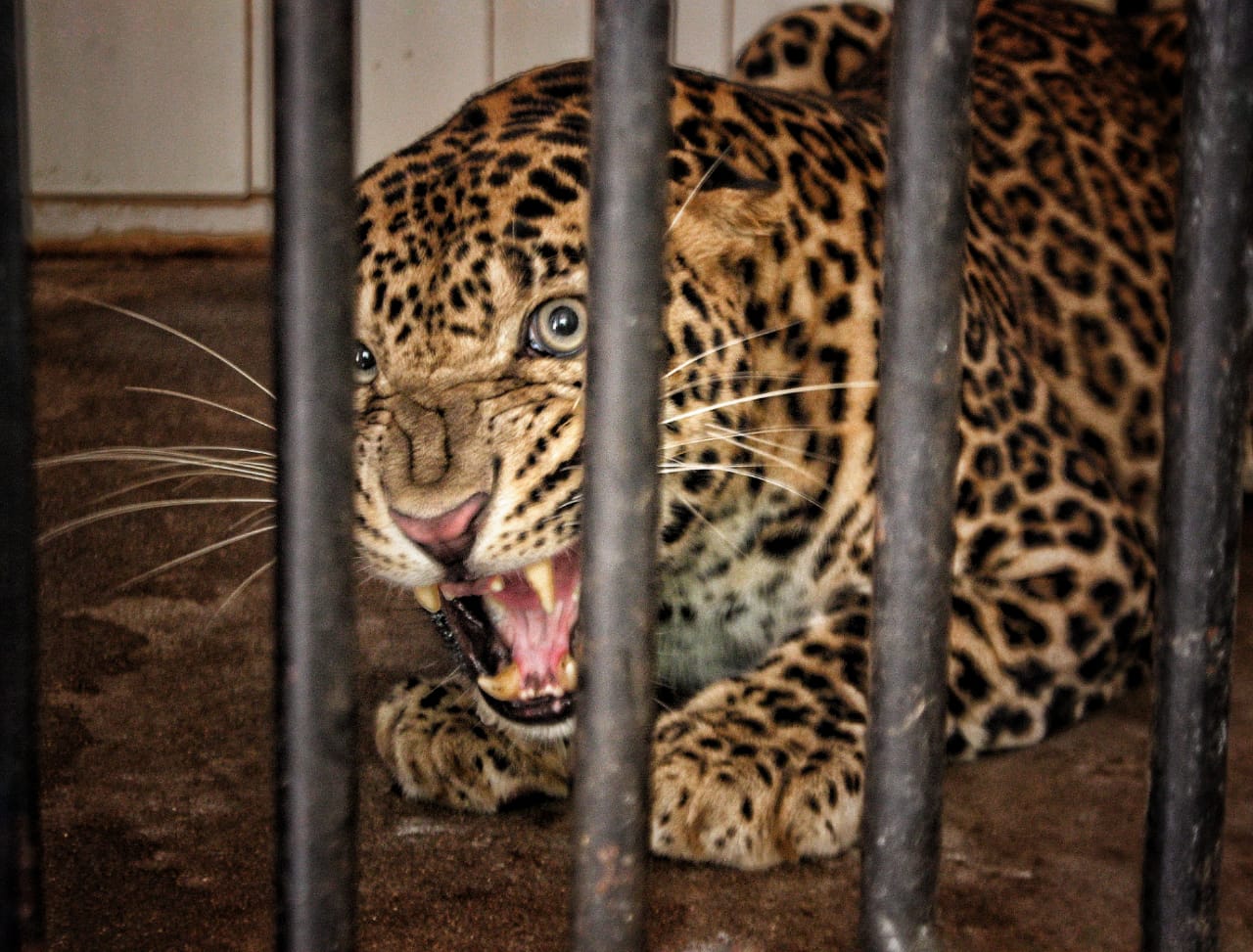 The leopard, deemed a man-eater by the media, had attacked four people before climbing onto a 90-feet high coconut tree.
Phaneendra, who was in Vijayawada at the time, immediately left for the rescue spot after receiving a call from his Divisional Forest Officer.
The plan was laid out. The only way to capture the animal and rescue it, was tranquilising it. A non-lethal air gun, often used for incapacitating the target animal, temporarily impairs the animal's physical functions. The use of tranquiliser guns has a long history of risking serious injuries to both the person capturing the animal and the target as well.
And therefore this is a special skill that can only be performed by certified-wildlife veterinarians.
Under regular circumstances, this would be done by a tranquilising expert from the rescue team of the Vizag zoo. But since the man had gone for higher studies to the US, the role of tranquilising the leopard became Phaneendra's.
This was his testing moment. But his course with the University of Edinburgh had prepared him for this.
"The leopard is a tactic animal. Despite the net traps that we had laid, at 1:30 AM it took a single leap from the 90 feet tree, crossed over the nets and escaped into the fields."
The real problem cropped up when the rumours of the leopard being spotted in the village started making rounds on WhatsApp. Women and children were advised to not step out of their homes.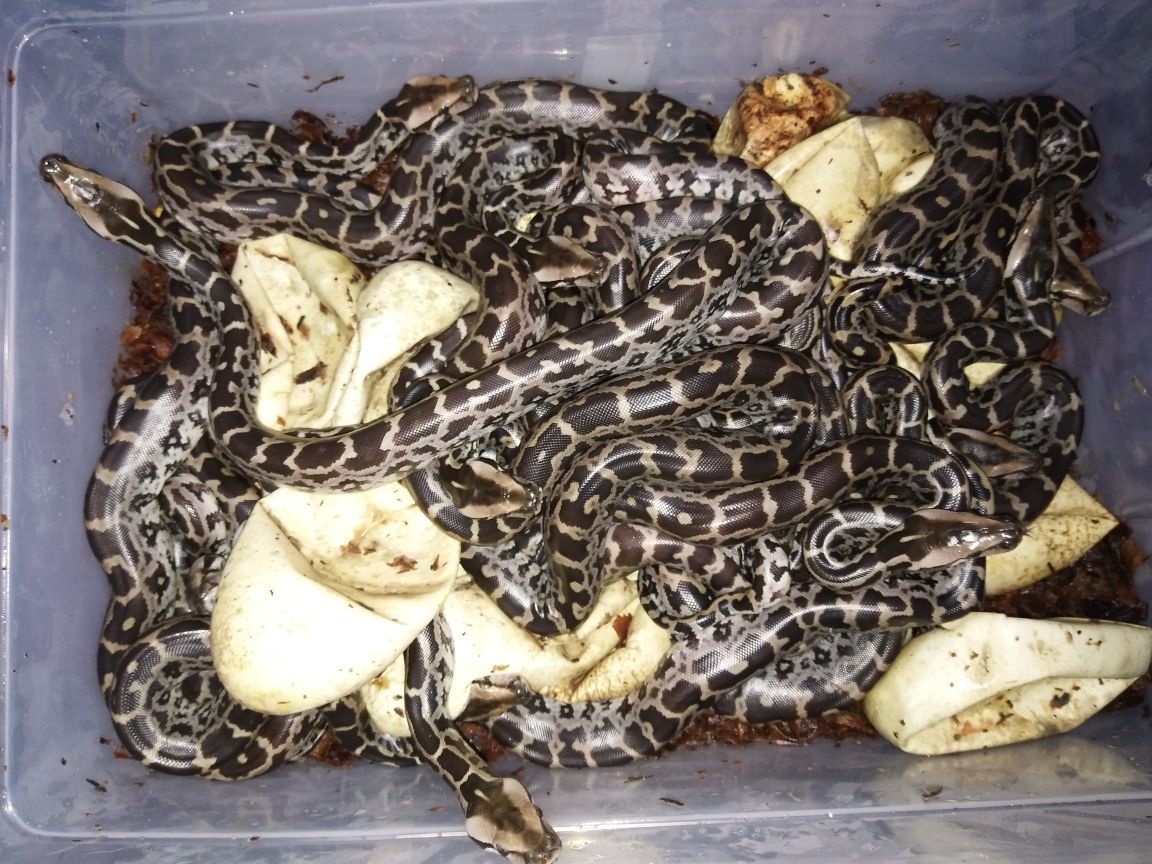 Phaneendra and his team did not sleep a wink.
On 14 February, he was notified that the leopard, after escaping a coconut plantation, had entered into a thatched hut.
Everyone from the Vizag rescue team, forest department authorities, an animal ambulance, CRPF, local MLAs and DSP were at the spot. This time, the team was at a better footing to react to any situation at hand.
The only way the animal could be tranquilised was for Phaneendra to climb the makeshift roof covered by coconut palms, dig a small hole through it and dart the animal sitting in the mezzanine attic.
"My focus was to save that leopard. At 5.30 pm when I tried to dart it the first time, it was so alert that it not only dodged it but almost attacked me. We slipped off the roof into the heavy net enclosure traps and sustained scratches. Mine was a close shave to death. One wrong step and it would have leapt and torn me apart. My family begged me to abandon the rescue. But I didn't," recalls Phaneendra.
At 11:30 PM when he tried for the second time, he was able to dart it from a distance of 10 feet. The 20-hour rescue operation was a success. The leopard was transported to the Vizag zoo the same night and released into the wild two and a half months later.
2018 was also the year when the young vet shot to fame for rescuing 15 python eggs from a village, 7 km from Rajahmundry.
"Had I reached five minutes late, one of the bystanders would have crushed the head of the mother python under his boot. I rushed to the spot and put the 15-feet-long python and its eggs in the trunk of my car. Taking it to the forest academy, I put the python in a drum. The next day she had escaped. I couldn't abandon the eggs. So I decided to artificially hatch them in an incubator at my clinic. I took the advice of senior vet friends abroad."
In artificial hatching, it is crucial to maintain the ambient temperature and humidity, since it defines the sex of the babies. In his very first attempt, Phaneendra was able to attain rare success, where eight males and seven females were born. He will soon be presenting a paper on this at a national wildlife veterinarians conference.
All those who have witnessed Phaneendra's work first hand, hold him in high regard.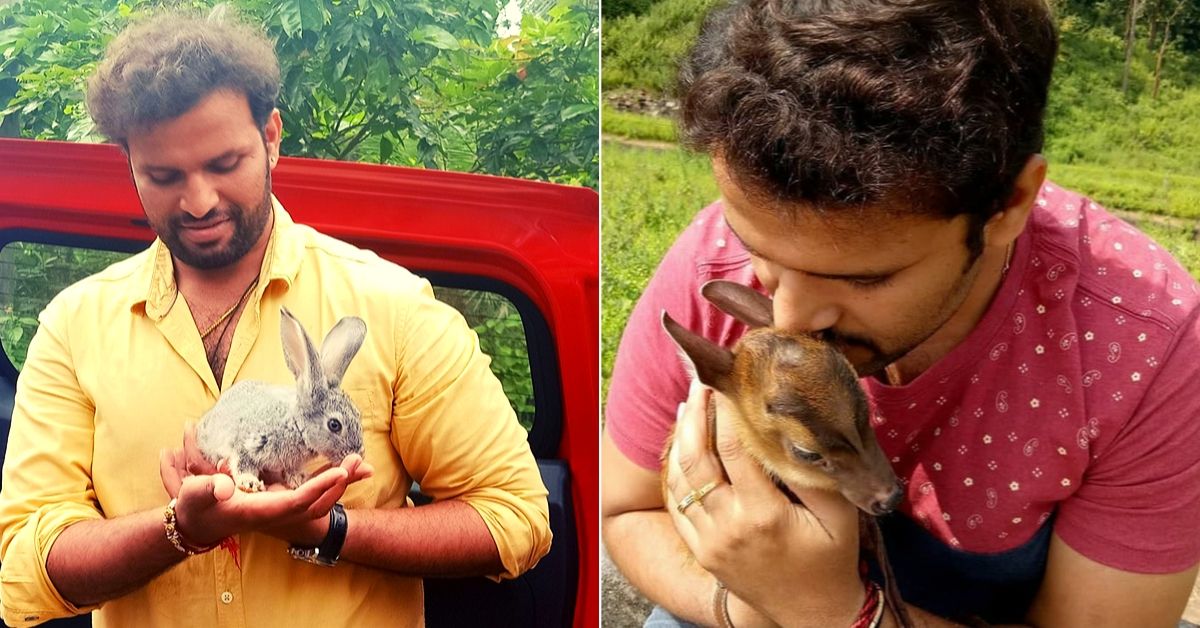 Speaking with TBI, senior vet, Ravi Kiran says, "A lot of us are veterinarians. But Phaneendra is an out-of-the-box vet. He also goes out of his way to cater to the needs of the strayed wildlife. Many of us only learned about rescuing wildlife during our course, but Phaneendra is putting his knowledge into the application by conserving and rescuing wildlife."
Srichakra Pranav, a budding wildlife conservationist and researcher adds, "All vets do not pursue wildlife, some out of lack of interest, others because it is not the best paying job in India. But Phaneendra has been doing a great job. His work is voluntary and driven by passion. When my field assistant rescued five abandoned civet kittens, Phaneendra took them in and trained them to hunt before releasing them into the wild. Also, with the leopard tranquilising, the success rate in the first attempt is as low as 60 per cent, but he did it in one shot and for all such operations that he has undertaken, he has zero mortality, which is exceptional!'
We couldn't agree more! The braveheart animal rescuer is indeed an exceptional human being who listens to the voiceless, and treats them with the care and respect they deserve.
If this story inspired you, get in touch with Andra Phaneendra at phaneendra.andra1@gmail.com. Or connect with him via his Facebook or Instagram handle.
Watch him in action in a few pictures below: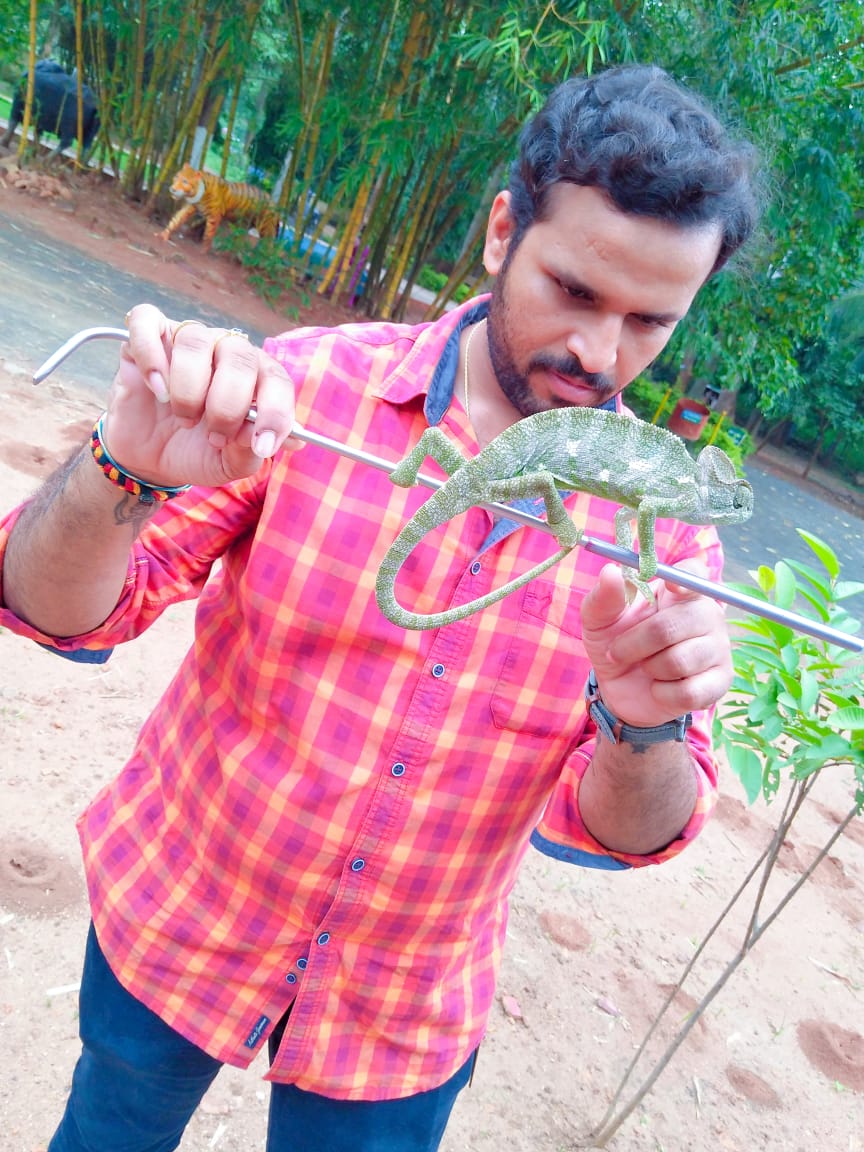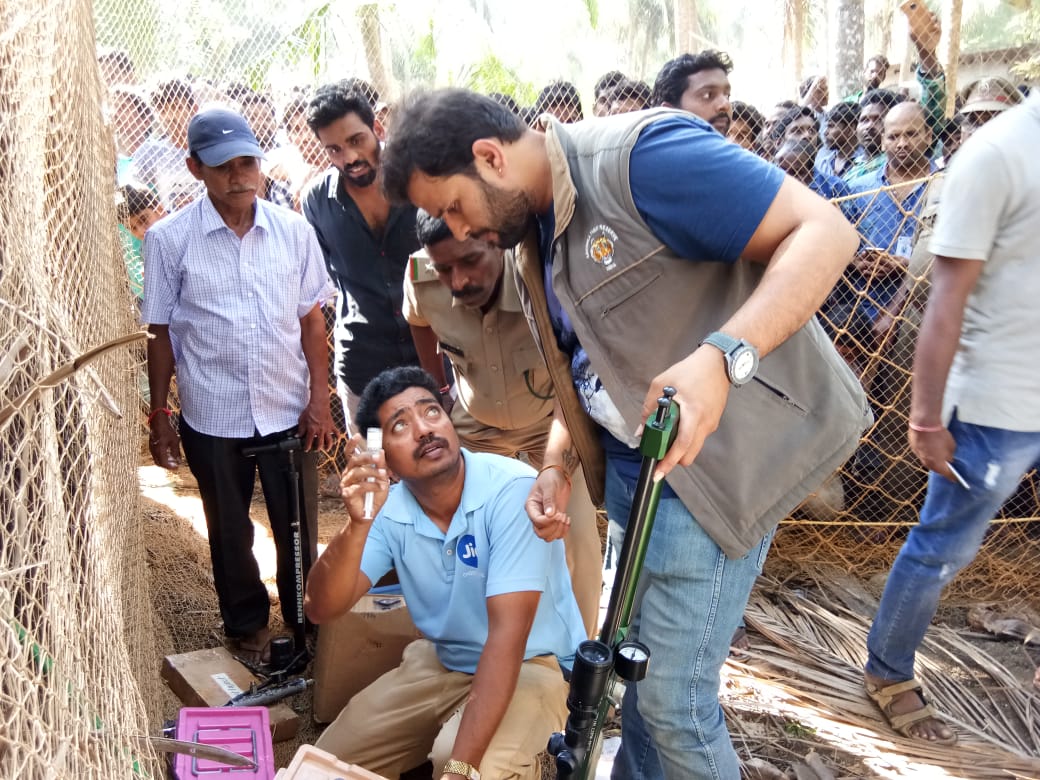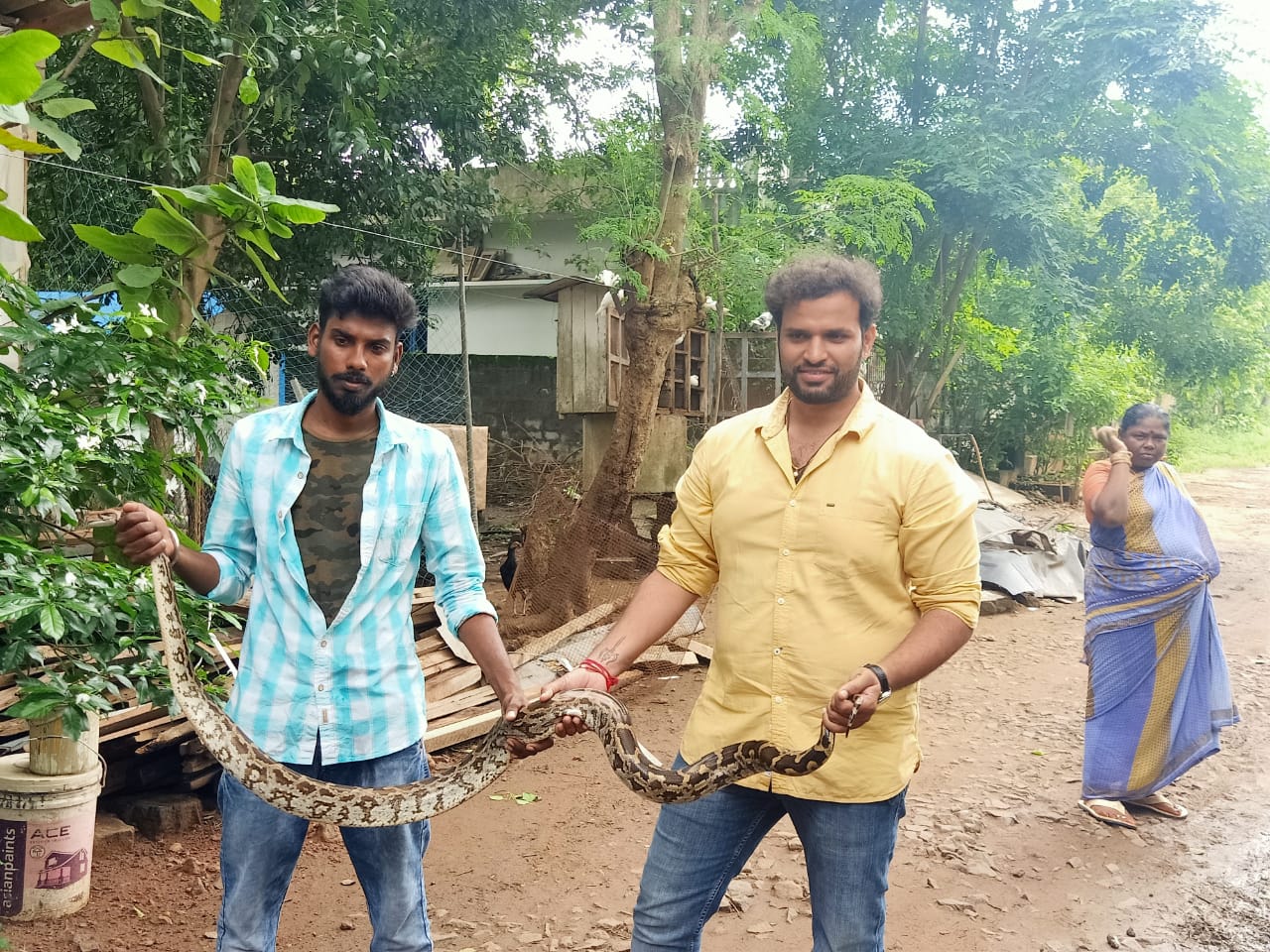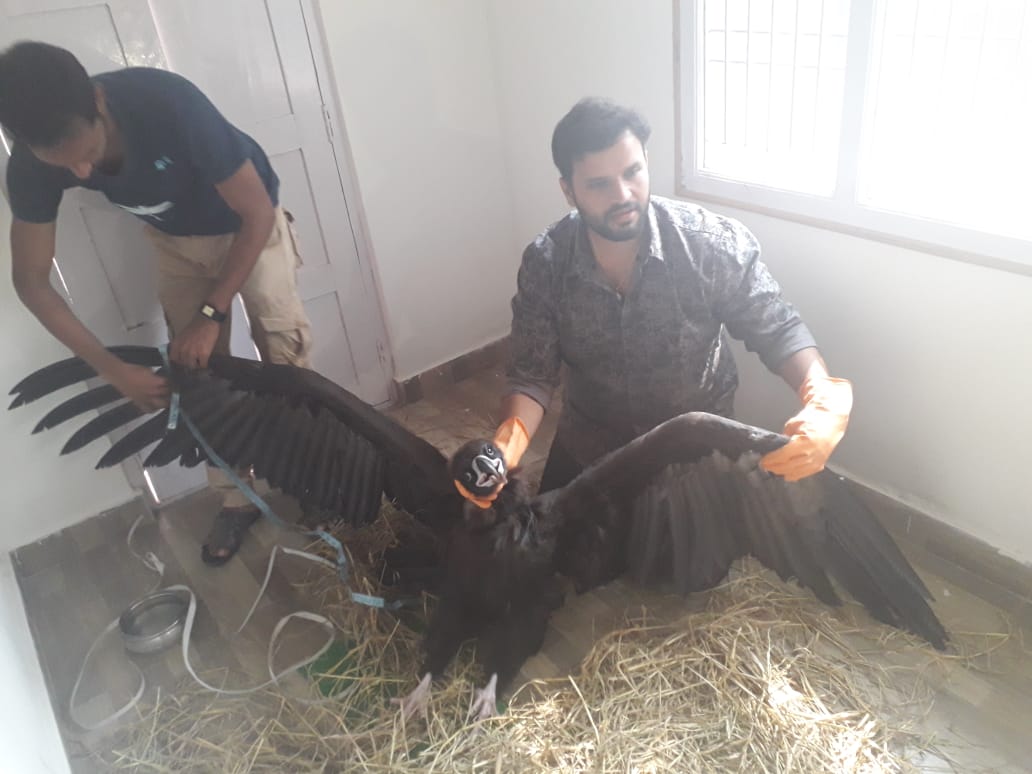 ---
Also Read: 32 Years Without a Weekend Off: This Elephant Doctor Treats 700+ Jumbos Every Year!
---
(Edited by Saiqua Sultan)
Like this story? Or have something to share?
Write to us: contact@thebetterindia.com
Connect with us on Facebook and Twitter.
We bring stories straight from the heart of India, to inspire millions and create a wave of impact. Our positive movement is growing bigger everyday, and we would love for you to join it.
Please contribute whatever you can, every little penny helps our team in bringing you more stories that support dreams and spread hope.
Tell Us More