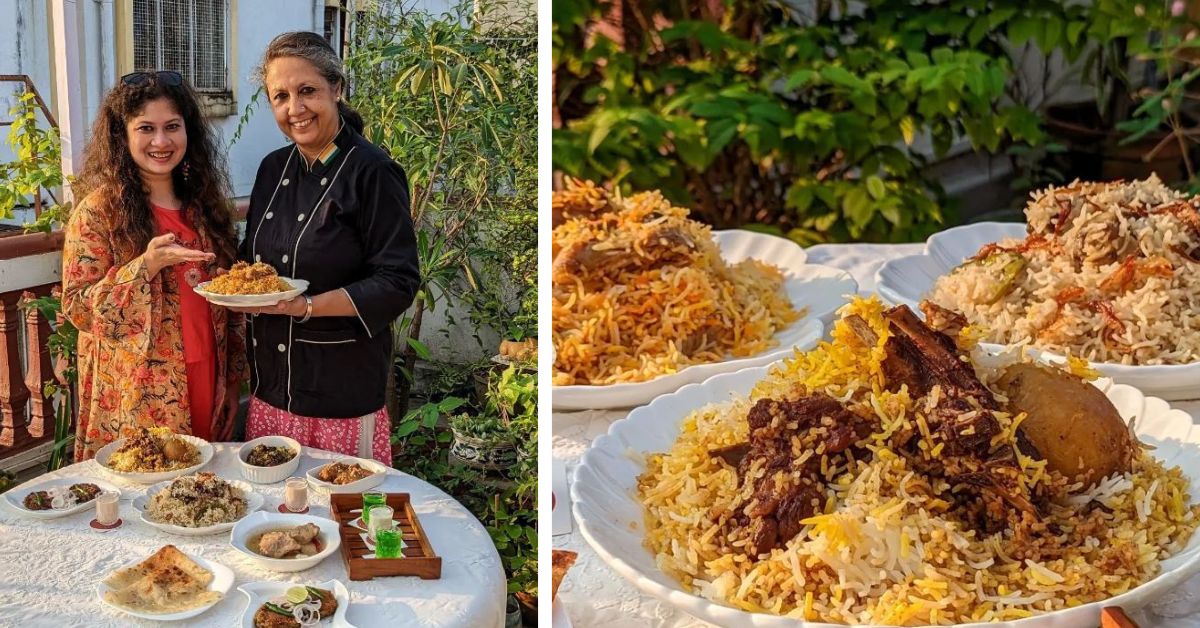 The descendant of King Wajid Ali Shah and Begum Hazrat Mahal, Manzilat runs a home diner that keeps a number of royal delicacies alive, in particular the Kolkata Biryani, which she says has deep roots in the region of Lucknow.
In 1856, King Wajid Ali Shah, the last nawab of Lucknow, was exiled by the British to Metiabruz, a suburb of Calcutta (now Kolkata). Heartbroken to leave behind his dear city, the king established a 'chota (miniature) Lucknow' in Metiabruz to keep the sense of familiarity and the memories of his city alive.
This move would go on to influence Calcutta's local culture in numerous ways. For one, Wajid Ali introduced sports like kite-flying and cock-fighting, as well as poetry in the region. Among these notable contributions was food, namely, biryani. So what has been embraced today as Kolkata biryani in fact has its roots in Lucknow, the city of nawabs.
As Manzilat Fatima, the great-great-granddaughter of the king, tells The Better India, "You have the characteristic of Awadh biryani in the Kolkata one. They are like cousins of one family."
For the last five years, the 55-year-old has run Manzilat's, a home diner to keep the legacy of royal delicacies alive. We sat down with her to understand the history and relevance of the food brought to the city by the nawab.
Royal cousins
Wajid Ali Shah was a patron of art, music, poetry, drama, and gastronomy – the art of cooking and relishing good food. "Although he was not a Badshah (emperor) anymore, Wajid Ali Shah was born a nawab. His love for gastronomy shaped the Lucknowi biryani after he came to Kolkata. With the introduction of potatoes, it became what we today relish as Kolkata biryani," says the 55-year-old.
During that time, potatoes were considered a nayab (exotic) delicacy. Although common people could not afford them, the vegetable was introduced in the royal kitchens. "Since it has the capacity to absorb all aromas of spices, it enhances the flavours when it's added to the dish. It was readily accepted by the King and the people. After his death, when his mulazims (workers) were jobless, they went to cities and this biryani was spread in Kolkata city and became popular," says Manzilat.
She explains what sets the Awadhi and Kolkata biryani apart from the rest. "Since nawabs were of nazuk mizaz (delicate nature), spicy food did not suit their palate. This makes the Awadhi food delicate and light, as well as extremely flavourful and aromatic, compared to Hyderabadi, Muradabadi, and southern biryanis. Others use a lot of spices and ghee. We feel full even after eating one or two lukma (mouthfuls). There is a class in Awadh food!" she says with pride.
Speaking about the unique species and cooking methods she uses to cook Kolkata biryani, Manzilat says, "First I prepare korma, which I add as a layer in the utensil. After this, I add a layer of boiled potatoes savoured with ghee, salt, and spices. Lastly, I add a layer of boiled rice and add the flavouring of ghee and saffron. When you cook in logs and matkas (clay utensils), it gives a smoky flavour."
"I cook biryani with regular spices like kebab chini, nutmeg, shah jeera, mace, cardamom, and clove. In some Awadhi delicacies, I use specialised Awadhi spices and herbs like paan ki jad, khas ki jad, patthar ke phool (herbs). They are more aromatic. The only secret I have is the proportion of spices to be used, it makes a lot of difference," she smiles.
Other than the biryanis, Manzilat's menu offers a wide range of delicacies including Lakhnawai Mutton Yakhni Pulao, Chicken Nawabi Chaanp, Ulta Tawa Paratha, Fish Chatpata Handi Kabab, Chicken Lazeez Shami Kabab, and Shahi Badam Firni.
Learnt cooking through letters
Manzilat recalls that when she started cooking at the age of 10, she was not interested at first.
"I was living with my father in Aligarh. At that time, ordering food from outside was not as relevant as it is today. So I had to cook along with a helper and would serve kacha pakka (half-cooked) food to my father. Sometimes, there would be more water in khichadi and sometimes rice would be half-cooked. I would fail to make a perfect meal," she laughs.
Often, her mother would come to her rescue. "She used to write letters to us from Kolkata. In those letters, she would write a recipe and cooking method for me in Urdu. During vacations when we would be home, I used to learn from her. The first thing I learnt from her was shami kabab. My father relished it," she recalls.
After getting married, Manzilat settled in Kolkata. She loved to host guests of her husband and friends of her children. Through cooking over the years, she developed an immense interest in food. "But I never knew that I would build a career in it," she smiles.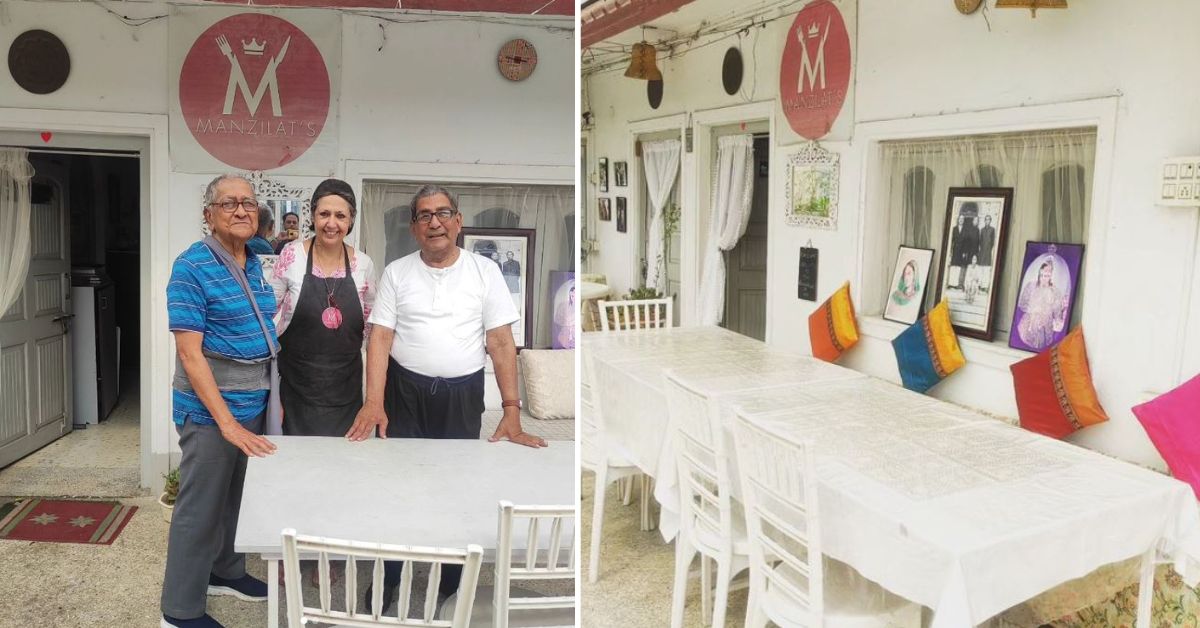 In a bid to keep the legacy of royal delicacies alive, she set up Manzilat's home diner in Kasba of Kolkata in 2018. "All the nawabs were very fond of food and Awadhi cuisine is very popular but not so popular outside Lucknow. People even in Lucknow and Metiabruz do not know the history associated with the food. I wanted to contribute towards carrying the legacy of my family before the world forgets our lineage and the relevance of food," she says.
Manzilat manages her home diner with the help of four workers and caters to foodies from across the world, including Japan, China, Abu Dhabi, Toronto, New Jersey, and Singapore.
"My mission is not to earn from a commercial set up, but to spread awareness on the history of Awadh, its last King Wajid Ali Shah, freedom fighter Begum Hazrat Mahal, and our family history. For this, I get immense love, honour, and respect, which is priceless. That is my real earning," she says.
Edited by Divya Sethu
We bring stories straight from the heart of India, to inspire millions and create a wave of impact. Our positive movement is growing bigger everyday, and we would love for you to join it.
Please contribute whatever you can, every little penny helps our team in bringing you more stories that support dreams and spread hope.