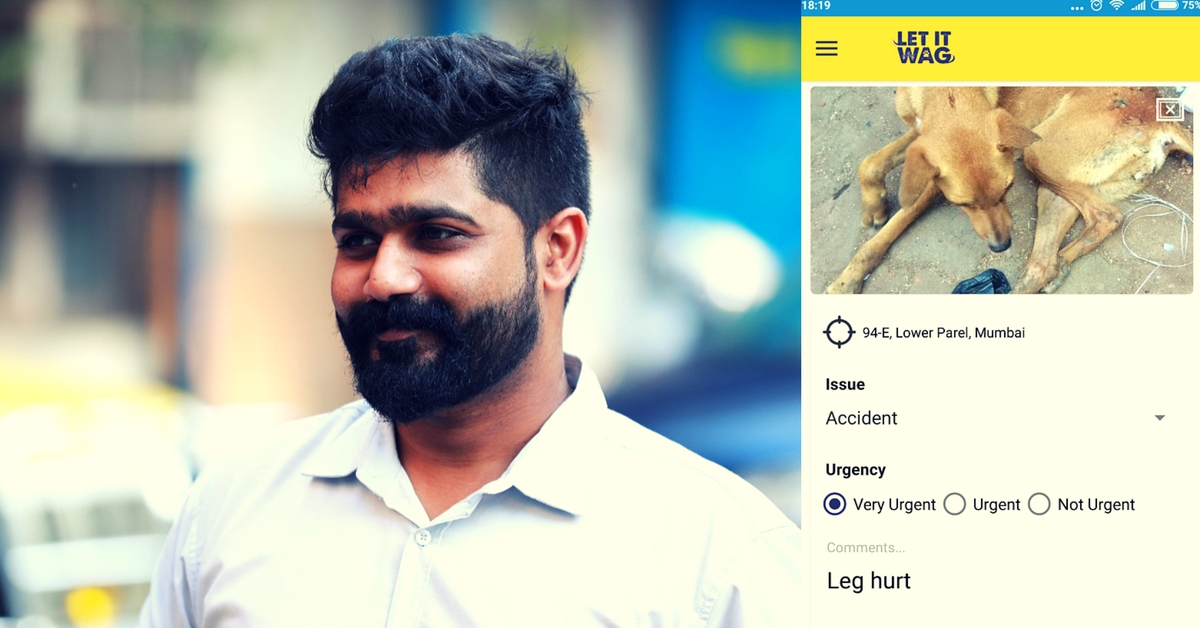 Despite putting a call for help on social media, the fact that support didn't reach in time irked Yash. He also realised there was a massive void in the animal care space and there was no platform that connected animal lovers during such exigencies in real time. This lead to Yash's brainchild, the 'Let it Wag' app.
It was an ordinary day when 26-year-old Yash was looking out of the window of his Matunga home when he heard painful cries on the street below. When perturbed Yash decided to see what was wrong and arrived at the spot, he realised the mewling cry belonged to a stray dog whose leg had been crushed after a vehicle ran over it.
Yash immediately dialled the number of the local vet, who was nowhere to be found. He even called the Parel ambulance service, but was informed that they were 'unsure of the time it would take for them to arrive' — a euphemistic way of telling him to look for other alternatives. It only after a few hours that another college student in the vicinity volunteered to call a paid ambulance and split the bill of ₹ 800 for conveyance with Yash.
Despite putting a call for help on social media, the fact that support didn't reach in time irked Yash. He also realised there was a massive void in the animal care space and there was no platform that connected animal lovers during such exigencies in real time. This lead to Yash's brainchild, the 'Let it Wag' app.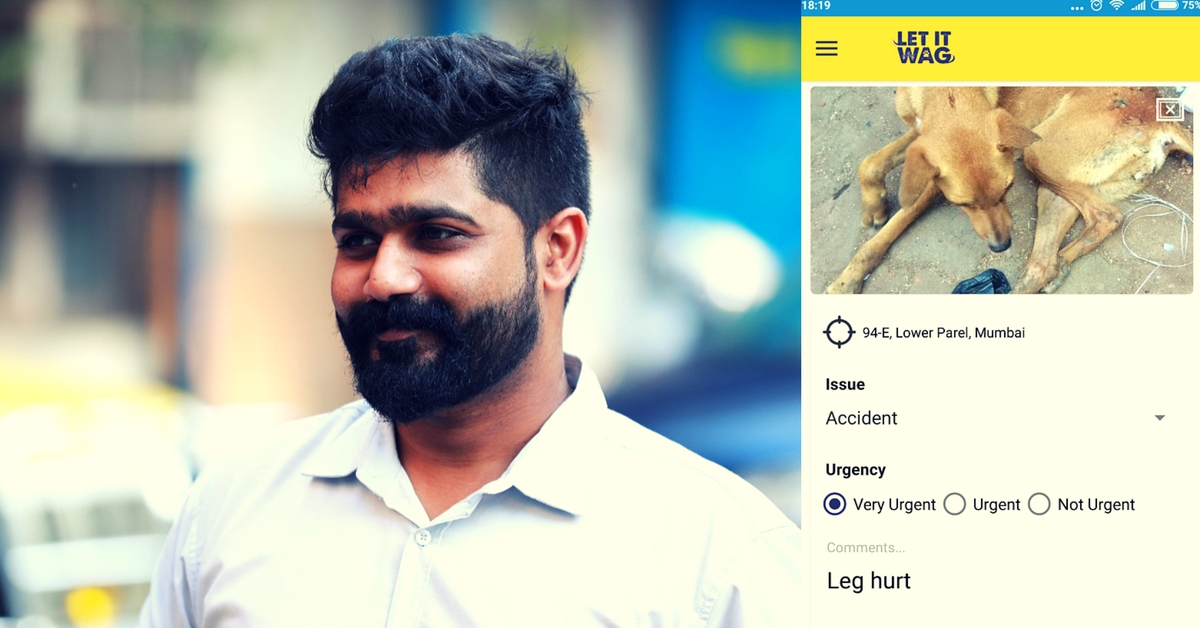 "When you put up a call for help on social media, there are six levels of tagging. But even when that tagging happens, you cannot be sure if the people being tagged are in the same location as the animal in distress. So, I wanted to create an app that would connect animal lovers, rescuers, vets, and NGOs in real time to offer immediate help. With Let It Wag, it doesn't matter where you stay, all that matters is your current location and your will to help a furry friend in distress at that moment," he tells The Better India.
There are close to a million strays in India, and over 100 of them meet with accidents every single day. Most of these die a painful death because help doesn't reach on time. The other factors that contribute to the rising mortality rates include lack of ambulance facilities to transport injured animals, the geographic discrepancy where animal welfare organisations are scattered across cities, and the fact that shelters have limited capacity.
Here is what the Let it Wag app will help you do:
Rescue Stray Animals: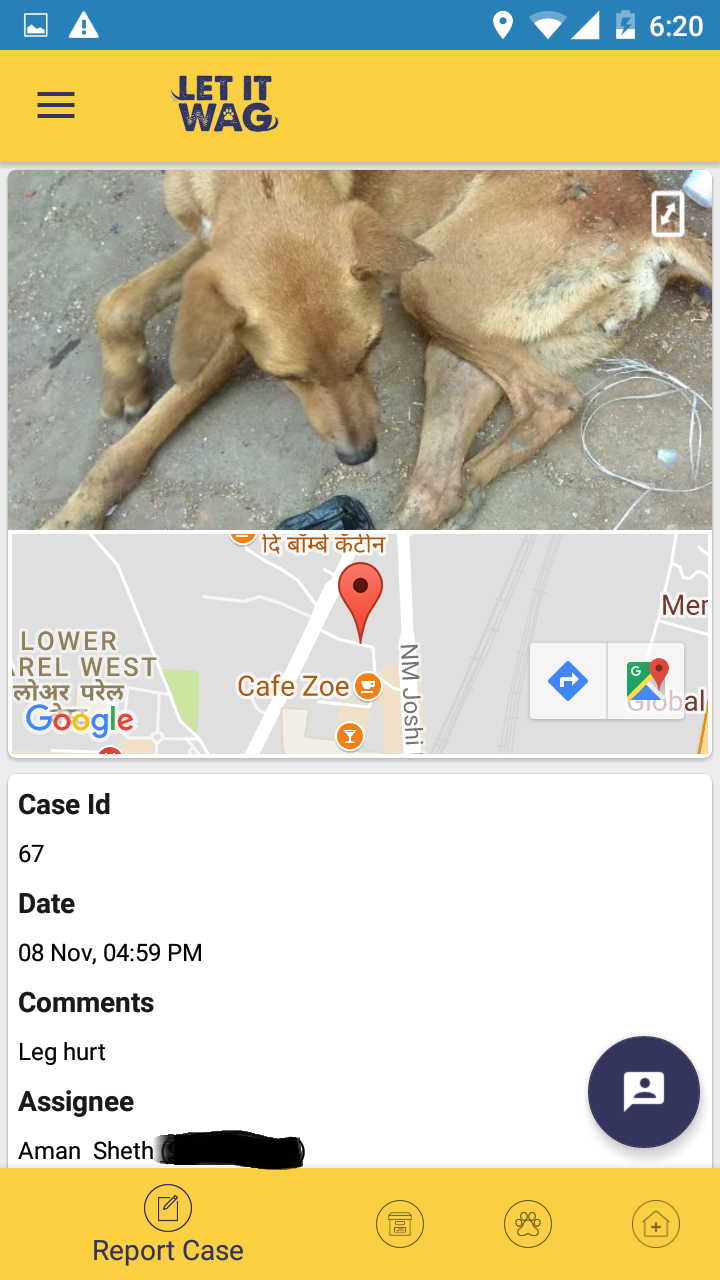 If you see an animal in distress, all you have to do is click a picture on the app and create a case with what kind of injury it is. You can immediately get in touch with vets, ambulances and NGOs in real time to help the animal. While most might argue, that contacts can even be accessed with a simple google search, it is important to note that most contact details that pop up, are part of paid promotions and are often outdated. Besides the search results on the app, instead of a haphazard or random order, are listed according to your location.
Adopting pets:
When one talks about adoption on social media, duplications are the most significant issue. Many times there is absolutely no mechanism to track the status of pets that are up for adoption.
"It is a pity that nobody documents this adoption. Let it Wag allows you adopt, but also generate an 'Adoption Document,' a MoU of sorts between two parties, the rehoming family/individual (who put the pet for adoption ) and the Adopting Family/Individual," he says.
All the user has to do, is add quick details including names, breed of the pet, any distinct mark that the animal has, its colour, etc. and in less than five minutes, one can create and print a copy for future reference.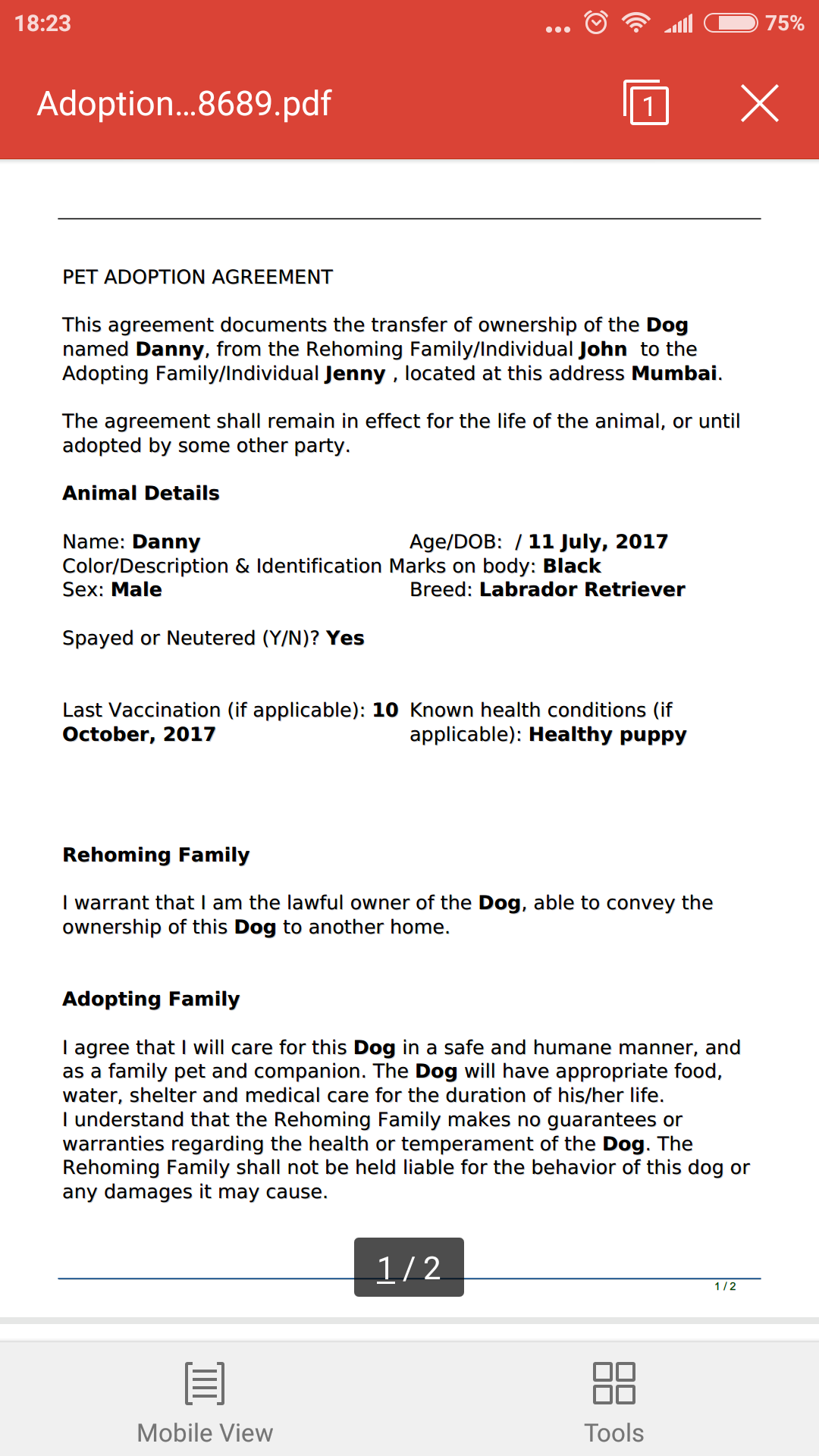 "While it is only a MoU and cannot be challenged in the court of law, it is still a small attempt to start documenting things," he says.
While the app is currently working on a Beta version with the above live features, Yash wishes to incorporate a lot more new initiatives. Till date, Yash has spent over a 6-figure amount only in the development of the app, all from his own pocket as a full-time working individual. He is need of more funds to make his vision a reality.
Features in progress include creating a local community of animals lovers, pet owners, behaviourists and dog trainers to make adoption process robust, where the profile and behaviour of not only the pet but also the adopting family/individual can be analysed carefully for the right match.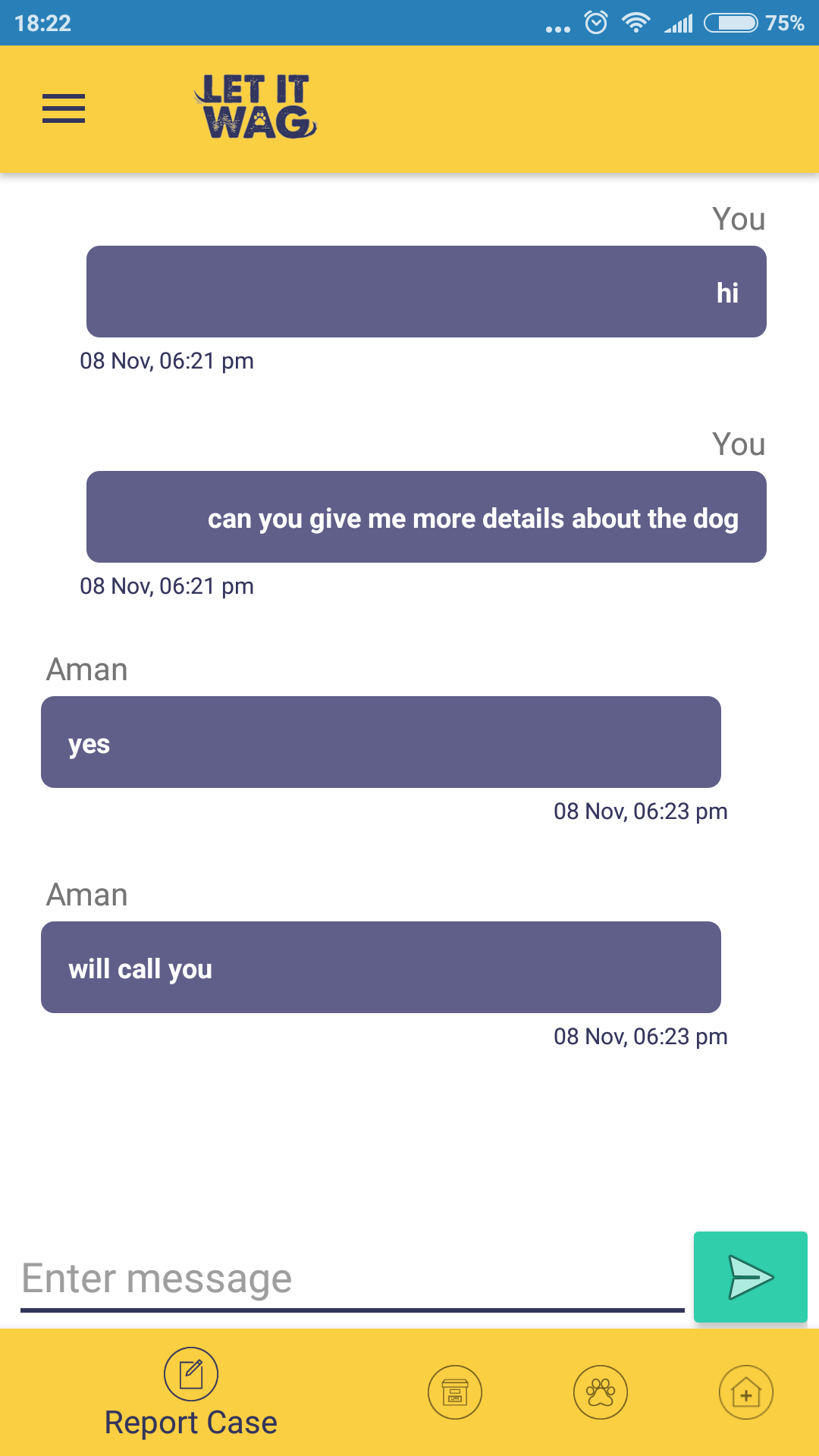 Another feature is raising funds for feeding, medical cost, hospital bills, ambulance transportation, etc. To address the issues caused due to paid breeders which leads to grave problems like puppy mills and illegal trade of newborn pets, Yash aims to incorporate a feature where pet owners can connect to fellow pet owners and mate their pets. They can later mutually decide to keep the newborns or put them up for adoption too.
When a stray is treated for some injury, it is advised rest and utmost care for at least a week, because leaving them immediately on the streets makes them prone to terrible infections. Also, while there are animal lovers who may not have pets at home, but are willing to take care of these animals for a while. The idea is to connect with such animal lovers who would volunteer to shelter them temporarily.
The app also aims to find lactating mothers for puppies and blood donors for injured dogs in need. Pet parents who wish to donate their pet's blood will be able to save another distressed animal through the feature. "Dogs can donate blood three to four times in their lifespan," says Yash.
To tackle the issue of the lack of ambulances, another feature in the process is arranging local transport for animals to take them to nearby hospitals/vet clinics. "The number of strays outnumber available ambulances. So, we intend to connect with animal lovers who would allow their cars to be used to transport a distressed animal in their current route," says Yash.
Animal lovers volunteering to offer their transport will save not only time but also conveyance resources or costs. There is always a chance that he/she may even pay for the treatment of the animal. They are also working on a mechanism to report animal abuse and missing pets.
---
Read more: Surya & Anju Singh Overcame Despair to Run a Shelter Home for Over 85 Stray Dogs!
---
Currently, Let It Wag has a network of 500 vets in Mumbai, a few dog trainers and behaviourists and 70 active users. They have successfully rescued 21 dogs, two cats and two owls. Since it has a limited reach and the marketing is pure word of mouth, Yash hopes to gather resources to scale the app, through crowdfunding and CSR.
"Today we may have 70 active users, but if we decide to scale the app, adapt it to iOS, and increase the users to say, 1000 or 10,000, the app will crash with the same infrastructure. We have to invest in more server space, hosting, develop the back-end etc. It is no one-man's show. You have to get all the stakeholders under one roof and work together," he concludes.
If you wish to help Yash, spread the word and develop the app further to save your furry friends in need, donate at http://www.catapooolt.com/letitwag
Connect to Yash at ysheth02@gmail.com and 9773803293
Volunteer at http://bit.ly/feed_liw
Like this story? Or have something to share?
Write to us: contact@thebetterindia.com
Connect with us on Facebook and Twitter.
NEW: Click here to get positive news on WhatsApp!
We bring stories straight from the heart of India, to inspire millions and create a wave of impact. Our positive movement is growing bigger everyday, and we would love for you to join it.
Please contribute whatever you can, every little penny helps our team in bringing you more stories that support dreams and spread hope.