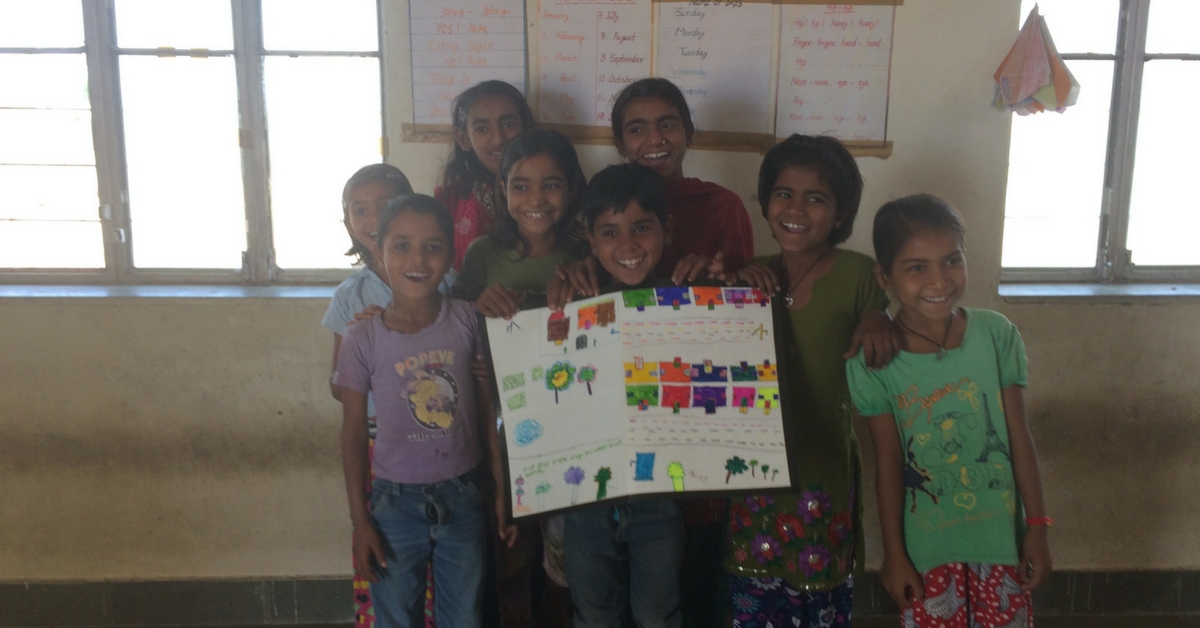 When Avital (Tali) Datskovsky came to Rajasthan as part of the William J. Clinton Fellowship for Service in India to work on a project conserving local knowledge and traditions at the verge of extinction, little did she know that a tiger conservation project in a nearby forest had a crucial role to play.
When Avital (Tali) Datskovsky came to Rajasthan as part of the William J. Clinton Fellowship for Service in India to work on a project conserving local knowledge and traditions at the verge of extinction, little did she know that a tiger conservation project in a nearby forest had a crucial role to play.
Relocation of villages is a common topic in Sawai Madhopur, the district where Ranthambore National Park is located. Since the 1970s, when Project Tiger, a prominent tiger conservation project, was launched by the government, approximately 15 villages have been moved out of areas considered critical tiger habitat in Ranthambore National Park.
I've just returned from a week of workshops with my host organization Gramin Shiksha Kendra's school in Girirajpura, a village that is composed primarily of two previously relocated villages, Mordungri and Padra. The point of these workshops, which we conducted with children at the school, was to create materials for an exhibit that will tell the history of the villages and show people's relationship to the forest.
When I hear about relocation, the main characters in the discussion are the environment—the forest and the animals.
I've rarely heard discussion about how the people living there were affected, how their lives have changed. Girirajpura has been touted by the Forest Department as an example of successful relocation. But in interviews I've conducted, it's clear how disruptive the relocation was.
Many of the adults I interviewed talk about how they miss their pastoral lifestyle. Prior to relocation they kept buffaloes; now they are agriculturalists. The adolescents I interviewed talked about missing their close friends whose families relocated to a different village and who they haven't seen in five years. Many older people talked about the connection they felt to the village they had been relocated from. It is their Janmbhumi, several said, their birthplace.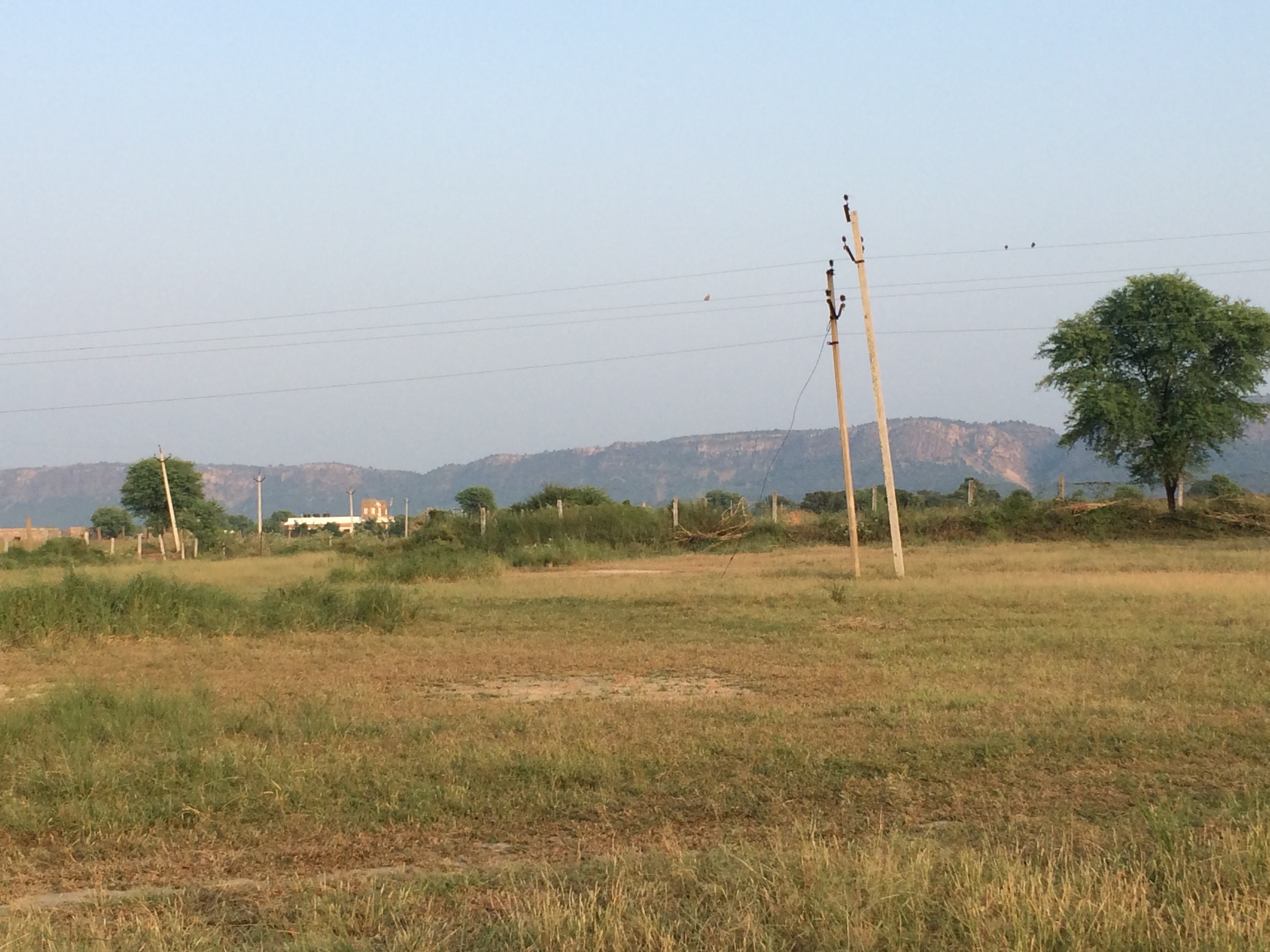 Economically, and from an infrastructure standpoint, relocation has not been advantageous for the communities. In interviews, many people told me that they earn less than half of what they earned when they lived in the forest. The Forest Department promised to provide a primary health centre, a school building, a temple, construction of a bore well, wire fencing, and several other facilities. Many of these promises have not been fulfilled yet.
Furthermore, the agricultural land the community has been given has not been transferred in their names, so the community is unable to use agricultural schemes that would make life more affordable in Girirajpura, schemes like the kisan credit card (which allows better loan rates for farmers) and subsidized fertilizer.
Why am I telling you all of this? I had this realization a while back. For the longest time, I was struggling to connect the dots. In the interviews I was conducting, the events I was participating in—in this research—was there any topic that stood out? Was there any theme that connected all these different things?
Then I woke up suddenly in the middle of the night with the realization that it had been staring me right in the face.
It's the forest! The forest plays a critical role in so much. Women collect wood daily from it for cooking, it contains the clay and stone used in certain art forms, provides plants used for medicinal purposes, and is the location of multiple shrines. It is part-and-parcel of people's daily life.
When I started my fellowship, I knew that I would be documenting culture in Sawai Madhopur, attempting to preserve what is being lost. I was vaguely aware that there was a tiger park in the area. What I didn't realize was how much this park—how much external forces—played a role in the rapid change of people's lifestyles and the loss of their cultural practices. Of course, culture isn't static. We shouldn't expect it to be, nor romanticize it as such. There is no doubt that conservation of endangered species is important.
How can we navigate the need for conservation of animals such as the tiger, with the rights of those living in the habitats of these animals? It's a tricky question.
I've been reading a lot on human-wildlife conflict, and I'm not even sure that relocation is always necessary. To what extent do communities living in the forest actually exert pressure on the forest? What about the thriving tourist industry and the pollution it produces in the area? What should their responsibility be?
While I don't have the answers yet, all of this makes me think about narratives. The narratives told about the forest, about Sawai Madhopur, seem to be defined by the tourist industry, and seem to focus on the tigers. What about the humans living in the area and their relationship to the forest? How would they tell their stories? This is what I'm focussing on for the remainder of my project here.
Aside from collecting stories, I'm also thinking about how we can implement stories of the forest and people's relationships to the forest into the curriculum for students, and how we can share them with the larger public.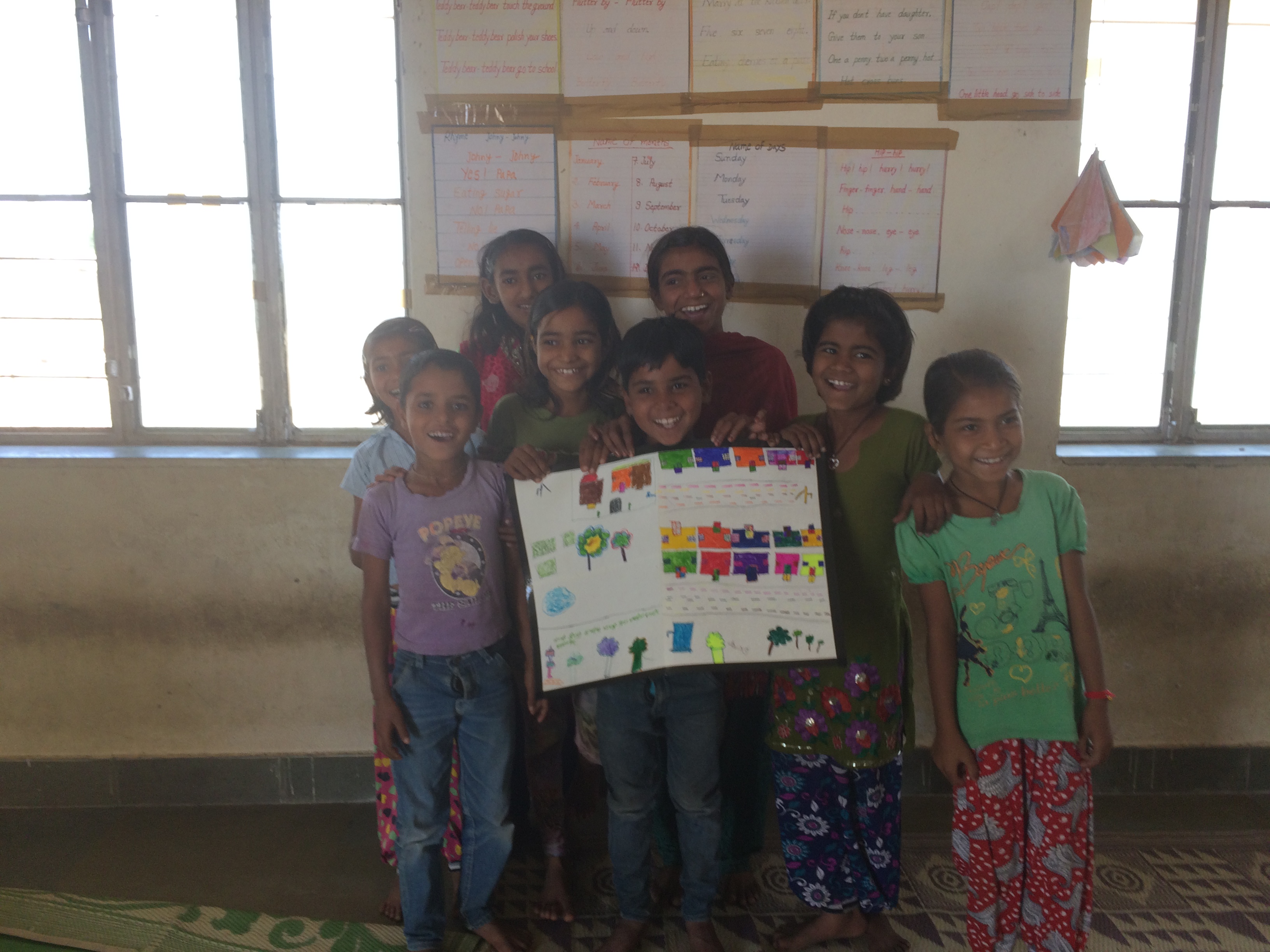 Together with colleagues, I conducted workshops with students in Girirajpura that tell the story of the previously relocated villages of Mordungri and Padra from the perspective of the community, from the perspective of the children.
The workshops were incredible! The children produced some of the most amazing stories, poems, and artwork. For example, on the day that we did a mapping workshop of the villages, parents and big sisters came by and helped the students (many of whom were very young during relocation) design the maps. Parents also eagerly participated in the interviews we encouraged the students to conduct on their own, answering their questions about livelihood, environment, and language.
I've decided to write this for two reasons. First, I want you to see some of the incredible works the children have produced, so I'm including some photos of what the children have done, as well as a poem one of the students wrote. Second, I want you to know about the adverse effects relocation has had for this community. The community is actively trying to gain ownership of the land they've been guaranteed, visiting both local and national government offices. In several of the interviews, the people I spoke with talked about taking their story further. Theirs is a story that needs to be told, that needs to be known.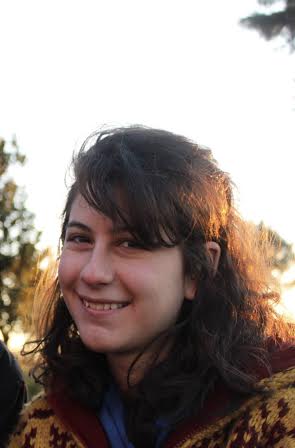 The following is a poem by student Aarti Gujjar:
कविता: शेर और आदमी 

शेर आया, शेर आया।

सभी आदमियों को धमकाया।

तालाब में नहाया और कूदा।

एक आदमी को खाया।

सुबह फिर धमकाया।

उसका भोजन अच्छा बना।

तौरिस्त (tourist) नहीं आया।

शेर आया, शेर आया।

Poem: Tiger and Man

A tiger came, A tiger came,

Threatened everyone,

It bathed and jumped in the pond,

And ate a man,

In the morning it threatened everyone again,

It had made a good meal,

The tourist didn't come,

A tiger came, a tiger came.
Find out more about Gramin Shiksha Kendra and how you can help here.
Like this story? Or have something to share? Write to us: contact@thebetterindia.com, or connect with us on Facebook and Twitter.
NEW: Click here to get positive news on WhatsApp!
We bring stories straight from the heart of India, to inspire millions and create a wave of impact. Our positive movement is growing bigger everyday, and we would love for you to join it.
Please contribute whatever you can, every little penny helps our team in bringing you more stories that support dreams and spread hope.