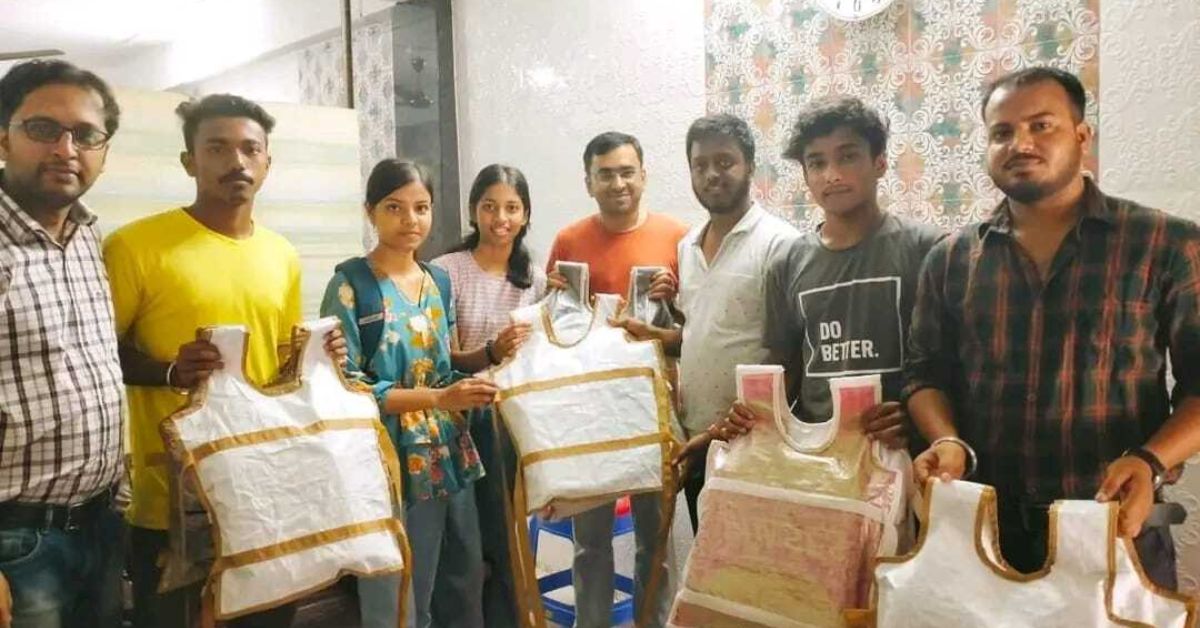 Anusweta Deb, an 18-year-old, was moved by the devastation caused by the Assam floods in 2019. With her friend Pooja Das, she created affordable life jackets using plastic bottles and sacks. In 2022, they distributed 200 jackets to rescue teams during the floods in Silchar, free of charge.
Anusweta Deb, a compassionate and curious 18-year-old, was passionate about lending a helping hand from a young age. With her scientific mindset, she constantly brainstormed ideas. And as a diligent student, she couldn't ignore the alarming climate changes and frequent floods in her hometown of Assam.
In 2021, she had a brilliant and innovative solution — repurposing plastic bottles and sacks to create affordable life jackets that could assist people during floods.
This innovation won her several awards and recognition. She won a silver medal at the India International Innovation and Invention Expo (INEX 2022), competing with students from all over the world.
"For me, the life jacket idea was an outcome of two things that I really care about. First, the need to conserve the environment and reduce carbon emissions. Second, to help people in need," Anusweta tells The Better India.
The life jackets are crafted using 100 percent upcycled plastic materials with a production cost of approximately Rs 150. Available in small, medium, and large sizes, these jackets have the capacity to support up to 110 kg of weight while floating on water.
A conversation that gave birth to an idea
Born and raised in Hailakandi in Assam, Anusweta grew up hearing about how floods had been affecting the neighbouring areas. But this became a reality for her in 2019 when her hometown, too, was affected by the flood.
"I was in Class 9 when my district was flooded. The water entered the first floor of our house. It was a terrifying and devastating experience. Three people died in the district," she recalls.
While things got better and life went back to normal, the horrors stayed with her. During a conversation with her tuition teacher, she realised that there was something she could actually do.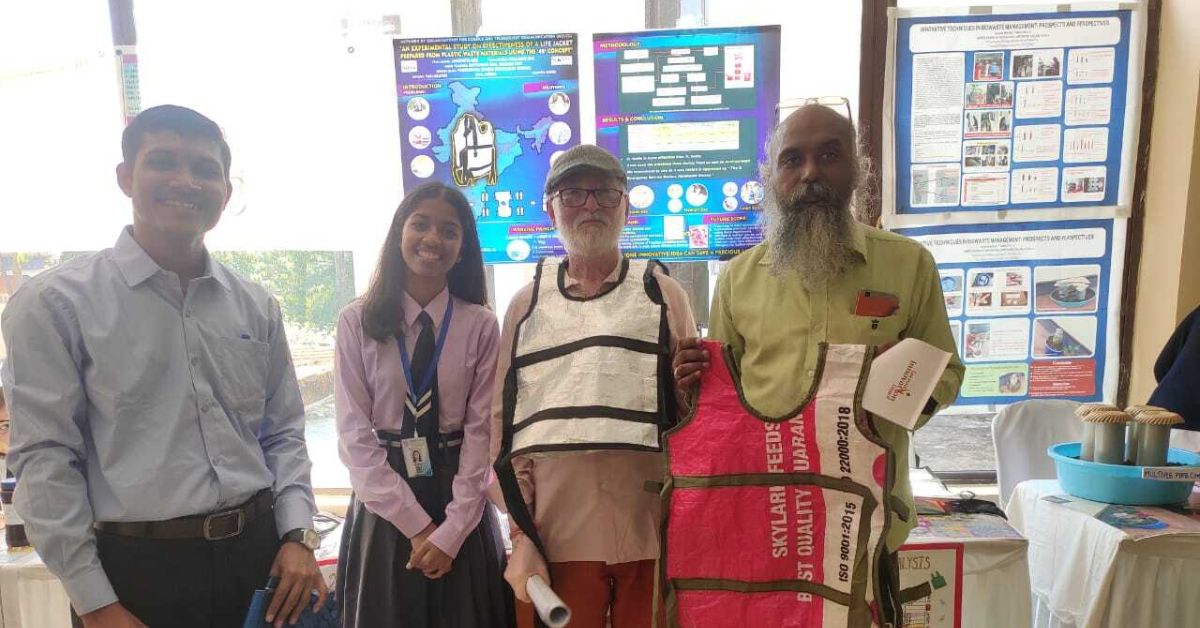 "My tuition teacher and maternal uncle, Satyapriya Das who is also a government school teacher, used to help me in my studies. After the floods, we were having a discussion on how it can be prevented, and he kept asking me various questions," she says.
"His questions like 'What can you do to save someone stuck in a flood?' and 'Are there resources around you that can help in that?' made me think. This laid the seeds for the life jacket. Back then, it was just an idea that we discussed, and I decided to draw some prototypes," she adds.
Satyapriya had always known Anusweta's potential and wanted to push her to use her talents. "She was always a curious kid; eager to learn and grow. When she started talking about a life jacket made out of plastic, I could see the potential of the idea," he says.
However, with board examinations, the discussion could not leave the room for a while. It was in 2021 when she regained interest in her idea.
"My teachers told me about a national-level science competition, and I decided to participate in it along with my friend and partner Pooja Das," she says.
They started brainstorming and the duo tested and failed numerous times. "I tied 15 bottles to myself and went into the water to see if it works. To my surprise, it did, and I was floating. This made me realise that a plastic bottle that we usually throw away can be so useful and save a life," she exclaims.
"Additionally, we see plastic waste increasing everywhere and thought that this might be a better way of reusing them," she adds.
Anusweta and her partner Pooja participated in the National Children's Science Congress and made it to the state level. They also went on to win a silver medal in the India International Innovation and Invention Expo (INEX 2022).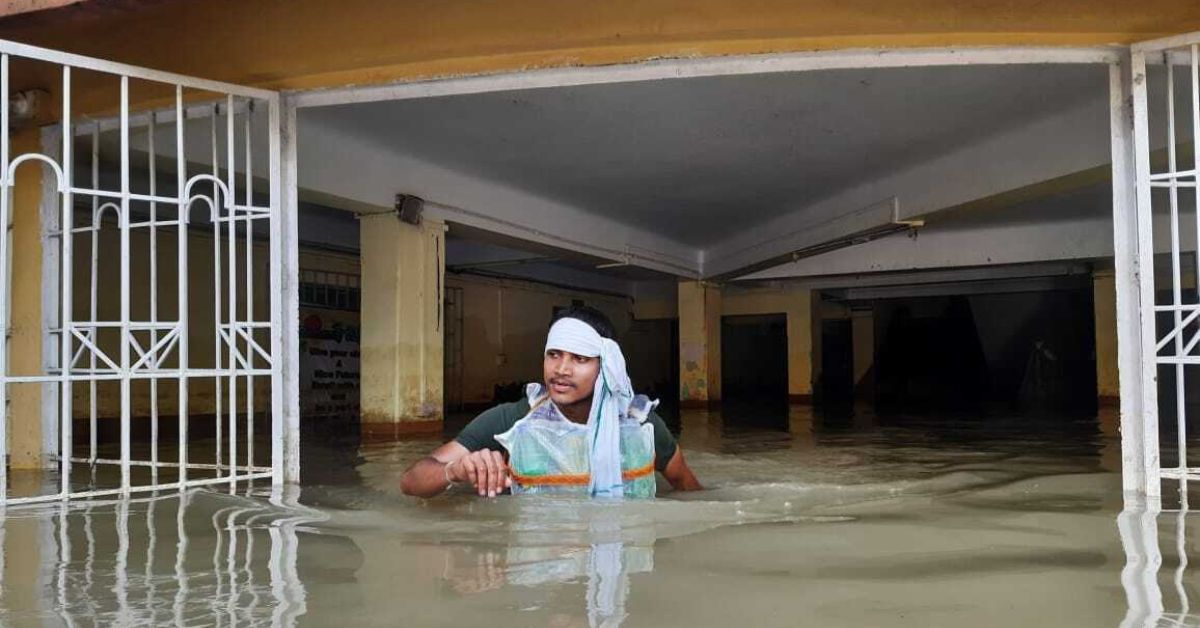 Using plastic bottles to save lives
While the innovation was hugely applauded by her school, friends and family, Anusweta did not feel that it was serving its purpose.
"The real test of my jacket came along in 2022 when our neighbouring district Silchar was hit by the flood. There were rescue operations going on everywhere and I wanted to help too," she recalls.
Anusweta and Pooja, along with Satyapriya, asked the students and teachers at their school to help them to make these life jackets in bulk. They then sent it over to the rescue teams.
"We made 200 life jackets and distributed them for free to the people stuck in Silchar. Our friends and teacher came in unison to make it happen. The rescue team themselves tested the jackets first and took it to the people only after verifying its utility," she says.
She also contacted several NGOs who were also working on rescue operations. Soon word spread and several other volunteers reached out to her for the jackets.
She upcycled 400 plastic bags/sacks and more than 1,000 plastic bottles to make the 200 life jackets.
"This was the real test and achievement for me. While the awards and recognition matter, it was not my aim. My motive behind this was always to help people," says Anusweta.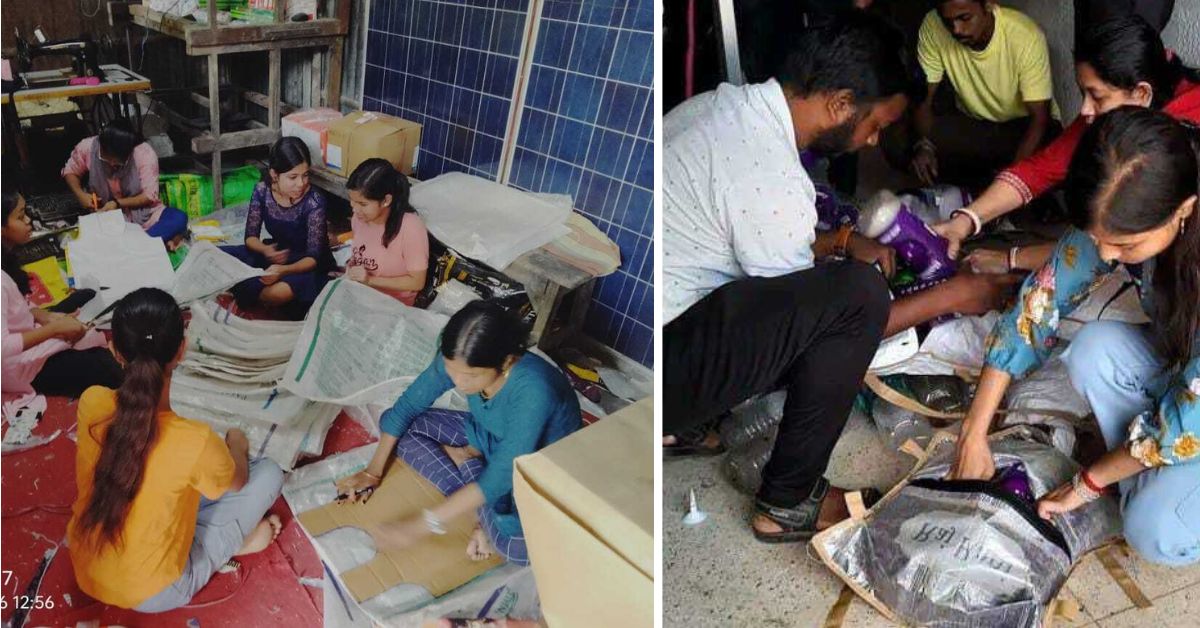 Talking about the materials used in the jacket, the young innovator says, "You will need four things to make the jacket — a plastic bottle, plastic sack, thread and a needle. These can be made at home without any hassle and will not cost more than Rs 150."
The small-size jackets require six one-litre plastic bottles, the medium ones require eight, and the large ones require 10 bottles. Only one plastic sack is needed to make a small-size jacket, whereas, for medium and large sizes, two are needed.
For the 200 life jackets that she distributed, she took the help of the local municipality to arrange the plastic bottles.
"I was among the rescuers who went to the Silchar district during the floods and distributed the jackets. Initially, people looked hesitant, but then with the help of the rescue team's assurance, we were able to convince them," explains Satyapriya.
Among the various volunteers who used Anusweta's life jackets was Abhijit Dey. "I volunteered to distribute food in the Silchar area. With so many people stuck, there was an acute shortage of life jackets. That's when we heard about two girls in the Hailakandi district who were distributing life jackets. It was quite unbelievable, so I decided to contact them myself," he recalls.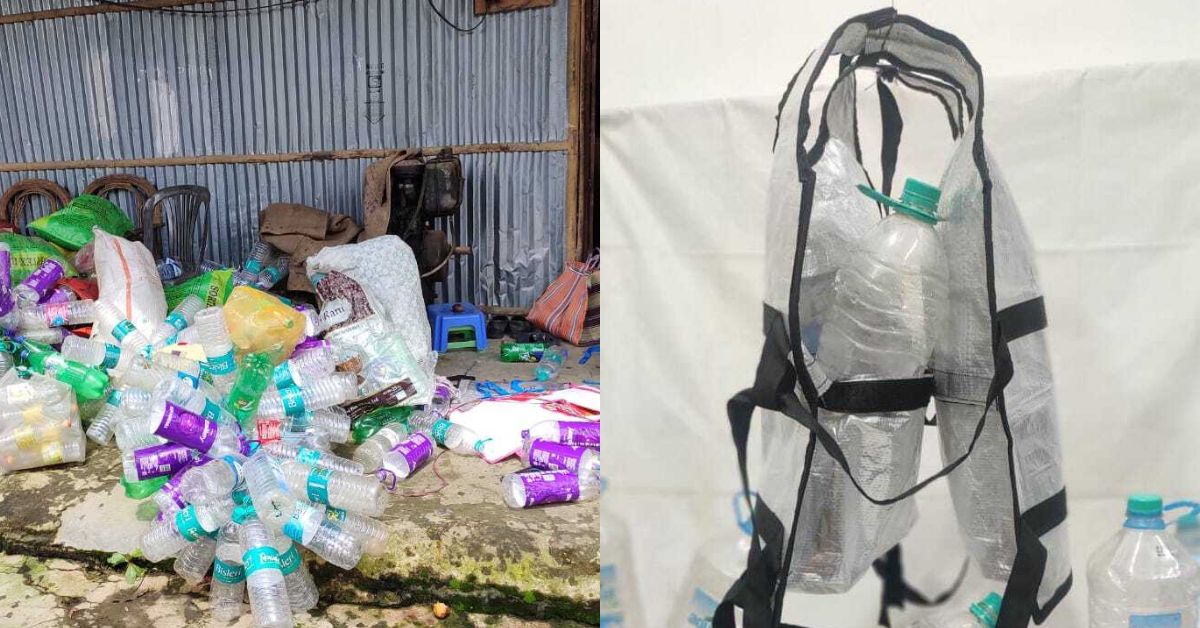 "The jackets were made out of plastic bottles and were very safe to use. They safeguarded us and the people stuck in the flood. The weight-carrying capacity was good, and the best part was that it was a very low-cost alternative. It was a wonderful idea and executed equally well," he adds.
According to the teacher, the large-sized jacket can keep up to 110 kg of weight afloat.
"There were a lot of calculations, trials and failures involved in the process, but the best part is that the jackets helped people. I am looking to expand more on the idea, and I am also trying to find ways in which the jackets can be made more easily available in flood-prone areas," says Anusweta.
Edited by Pranita Bhat
We bring stories straight from the heart of India, to inspire millions and create a wave of impact. Our positive movement is growing bigger everyday, and we would love for you to join it.
Please contribute whatever you can, every little penny helps our team in bringing you more stories that support dreams and spread hope.