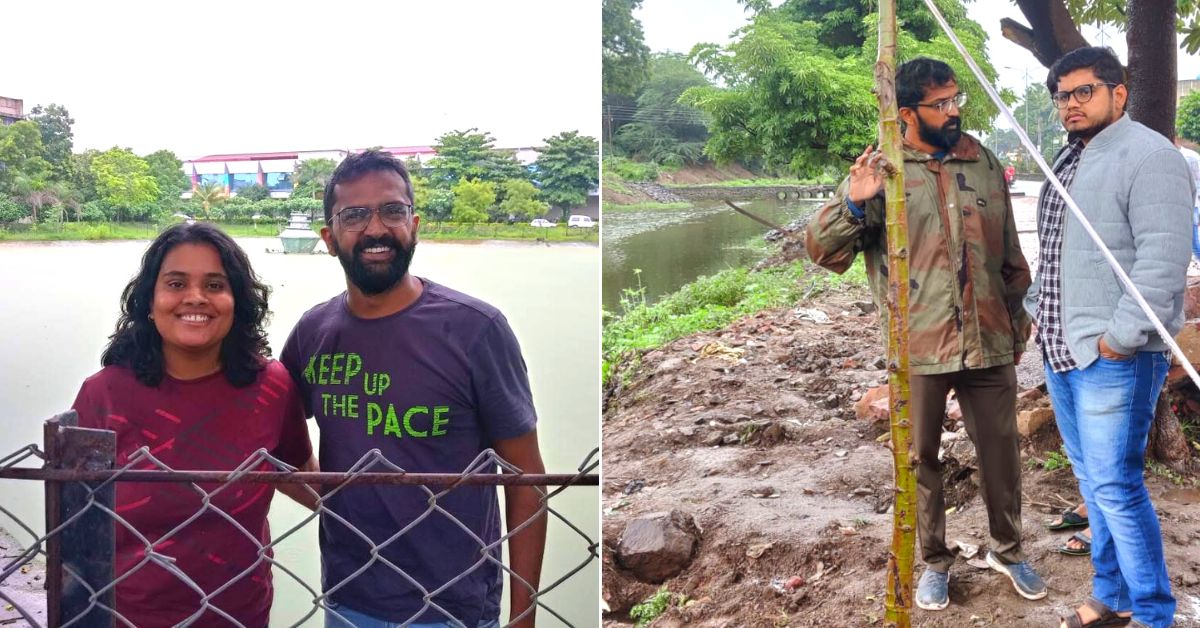 Lemnion Green Solutions, a startup inspired by duckweed's potential for wastewater treatment, facilitates the ecological rejuvenation of nullahs and rivers. It employs biological systems to treat wastewater of capacities ranging from 1 KLD [kilolitres per day] to 3,000 KLD.
Dr Prasanna Jogdeo, a marine biotechnologist, first learnt about duckweeds while pursuing his master's degree from the University of East Anglia in the United Kingdom back in 2009–10.
"As a part of the course, we were supposed to do a six-month research project. I chose to do a project with Professor Keith Waldron at the Institute of Food Research (IFR), Norwich. The project was titled 'Starch Optimisation in Lemna minor', a species of duckweed. Upon learning about duckweed, I understood its magic, potential for wastewater treatment and as a protein supplement. Duckweed was something which hooked me on to the subject of phytoremediation," says Jogdeo, speaking to The Better India.
But what is phytoremediation? According to the Nature journal, it refers to the "use of plants and associated soil microbes to reduce the concentrations or toxic effects of contaminants in the environment." In duckweeds, which float on or just beneath the surface of still or slow-moving bodies of freshwater and wetlands, he found a nature-based solution for the growing requirement of wastewater treatment and rejuvenation of dying water bodies.
Following his master's, Dr Jogdeo came back to his native Pune as a lecturer at the renowned Fergusson College in 2010. Here, he met his student Pooja Tendulkar and introduced her to the duckweeds. Their shared fascination with duckweeds prompted a couple of collaborative projects in Pune and extensive research on how they can be used for wastewater treatment.
In 2013, Prasanna went to Nanyang Technological University (NTU), Singapore to pursue his PhD. Despite spending the next four years working towards his PhD, the collaborative work and discussions with Pooja continued, and soon the idea of Lemnion took birth.
This collaboration eventually resulted in the creation of a startup in 2018 called Lemnion Green Solutions. The name 'Lemnion' comes from a family of duckweed called Lemnnaceae.
"We started the company based on our shared fascination for duckweed and its potential for wastewater treatment. However, we went ahead and acquired more exposure. When we went beyond just wastewater treatment and into the ecological rejuvenation of water bodies, we realised that duckweed was only a part, albeit important, of the process," explains Jogdeo.
Today, the Pune-based startup provides a range of services including ecological rejuvenation of water bodies (rivers, nullahs, ponds) and biological systems to treat wastewater.
Lemnion works with both businesses and governments, and has completed about 30 projects which include ecological rejuvenation of targeted stretches of nullahs and rivers ranging from 100 m to 2,000 m, and biological systems to treat wastewater of capacities ranging from 1 KLD [kilolitres per day] to 3,000 KLD across multiple geographies, particularly in Maharashtra.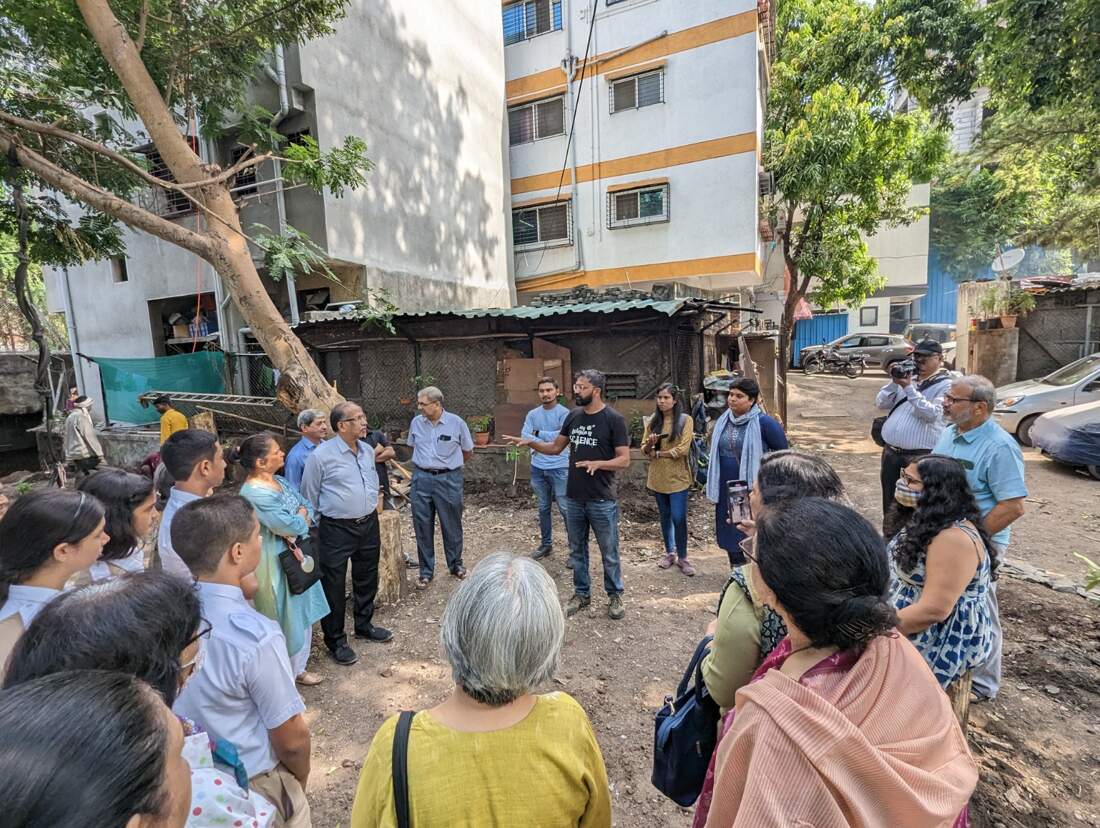 Employing duckweed
"Use of duckweed can be one of the many interventions employed in the rejuvenation of water bodies. Ecological rejuvenation is a holistic and multidisciplinary process," says Tendulkar.
Duckweed is an excellent phytoremediator (plants that uptake nutrients from wastewater). It's the smallest angiosperm, which grows/floats on the surface of the water and accumulates nutrients through the roots. It also grows really fast, doubling its biomass in 48 to 96 hours. They also accumulate nutrients from wastewater and convert them into protein. "Duckweed contains up to 40% protein, a composition similar to that of soybeans," she adds.
"When employed for treatment of wastewater, the system is designed with enough retention time (approximately four days) of water for efficient treatment, and duckweed is inoculated in the system. As duckweed covers the entire water surface in the system, around 75% can be removed every other week after use, and employed as manure for the garden," says Dr Jogdeo.
Where do they source duckweed from? Usually, duckweed is sourced from local natural water bodies.
"Out of a total of 37 species found worldwide, about four or five are found in India. Once obtained from the environment, we prepare pure cultures of the available species and use them. There are some species that show really fast growth but are less robust; some which are excellent phytoremediators and accumulate a lot of protein; some which are used as polishers," he explains.
To address the problems of wastewater and polluted water bodies, however, Lemnion doesn't depend on one specific type of system or fixed parameters. They provide solutions based on a "proven toolkit" which can be configured for specific cases.
"Basic principles involved in such work include water flow regulation, nutrient balance, improved biodiversity and stakeholder participation. For wastewater treatment, the technology involved is phytoremediation where specific phytoremediat-ing plants with specific microbial cultures are employed for effective wastewater treatment. In addition to duckweeds, we also use canna, taro, sedges and grasses like vetiver and pampas," explains Dr Jogdeo.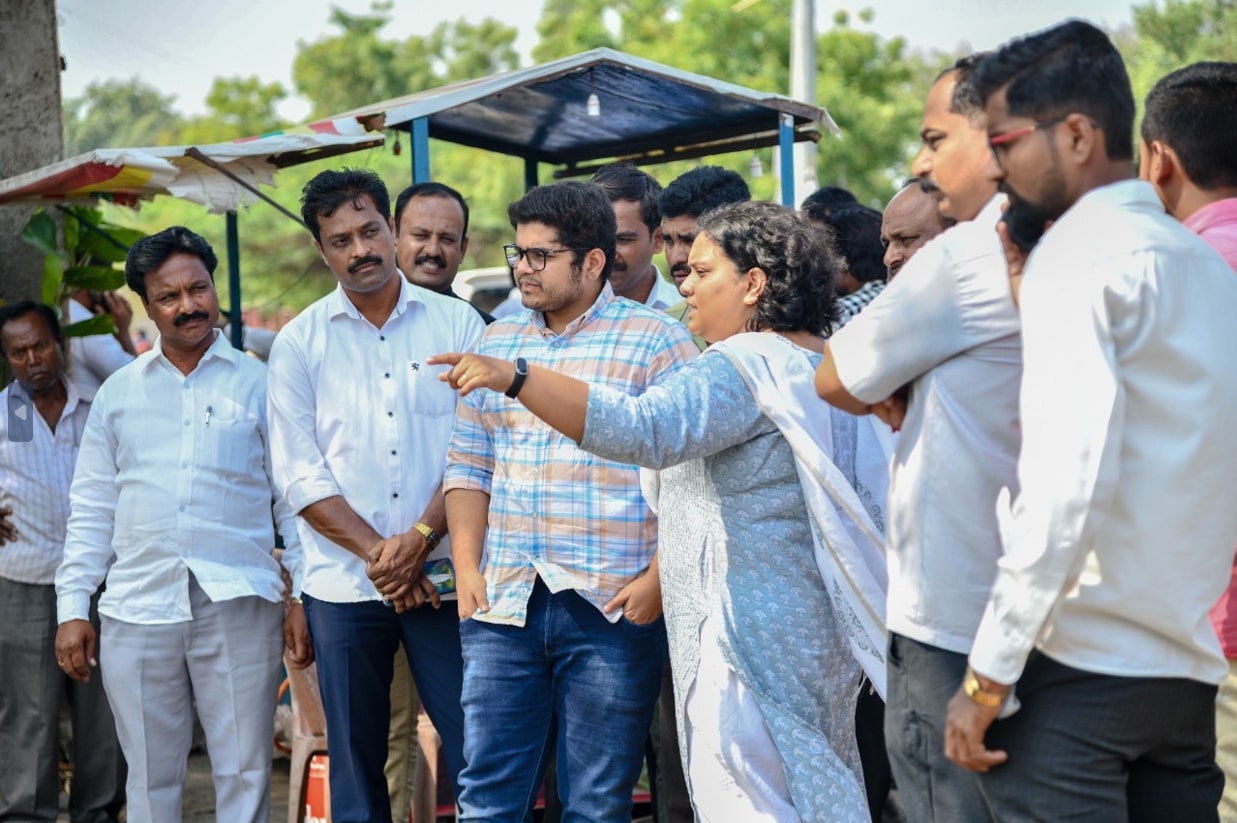 Rejuvenating a water body
The first major ecological rejuvenation project Lemnion worked on was the Kamandalu river located in Sangli district, Maharashtra. Located on the banks of this river is a village called Kavathe Mahankal which has a population of about 25,000. From planning to execution, it took seven months starting from March 2022.
"When we saw the river for the first time and spoke to village residents, they didn't know that the river even had a name. They thought it was just a stream and referred to it as an odha in Marathi. Residents had little knowledge of the river's historical importance and religious significance. According to folklore, a shepherd found an idol of Goddess Mahankali in the bed of this river. Hence, the village was named Kavathe Mahankal. The river, which used to be healthy, had become a small and neglected stream over time," says Jogdeo.
This project was organised in partnership with a young politician, Rohit Patil, son of the elected MLA from the Tasgaon-Kavathe Mahankal Assembly constituency.
These were some of the challenges Lemnion encountered:
1) There are nine to ten temples along the river. Waste from religious rituals was one big challenge including flowers and other types of offerings.
2) Solid waste was a big problem as well. People kept throwing plastics, wrappers, and mattresses, and the Lemnion team even found used condoms in the river. Solid waste was dumped into the river and sewage was discharged from the village, resulting in a polluted river.
3) Human encroachment was another concern. Half the width of the river was converted into a road. Before the encroachment, the river was about 150–180 feet wide, of which half had been encroached upon. Also, due to the erosion of surrounding land, silt deposition increased. Overall, the water-carrying capacity of the river decreased.
To execute the project, most of the financial contributions came from local non-profit organisations like the RR Patil Dnyan Prabodhini and Agrani Rurban Development Foundation. And the excavation machinery for the rejuvenation project came from the Naam Foundation.
Here's a brief summary of the project: "Solid waste, accumulated silt and unbounded growth of Typha (tall reedy marsh plants) were removed from the river, and water was finally visible. To improve the quality of this water, it is necessary to treat the sewage entering the river. For this, natural systems were set up to treat approximately six to eight lakh litres of sewage every day. It reduced foul odour and stopped mosquito breeding," explains Jogdeo.
"Various indigenous/native trees were planted to stabilise the banks and prevent soil erosion. Stone pitching and coir lining were done to stabilise the banks. Moreover, bunds and instream structures were built in the riverbed for water flow regulation. Structures of loose boulders were created as required. As a result of this work, the river started becoming healthy again," he adds.
Around 250 students and 100 villagers contributed to this project. About 60 workers were given employment for three to four months due to this project. Today, the river is alive. Aquatic life, including fish, crabs and other aquatic plants have come back. Birds too started coming back.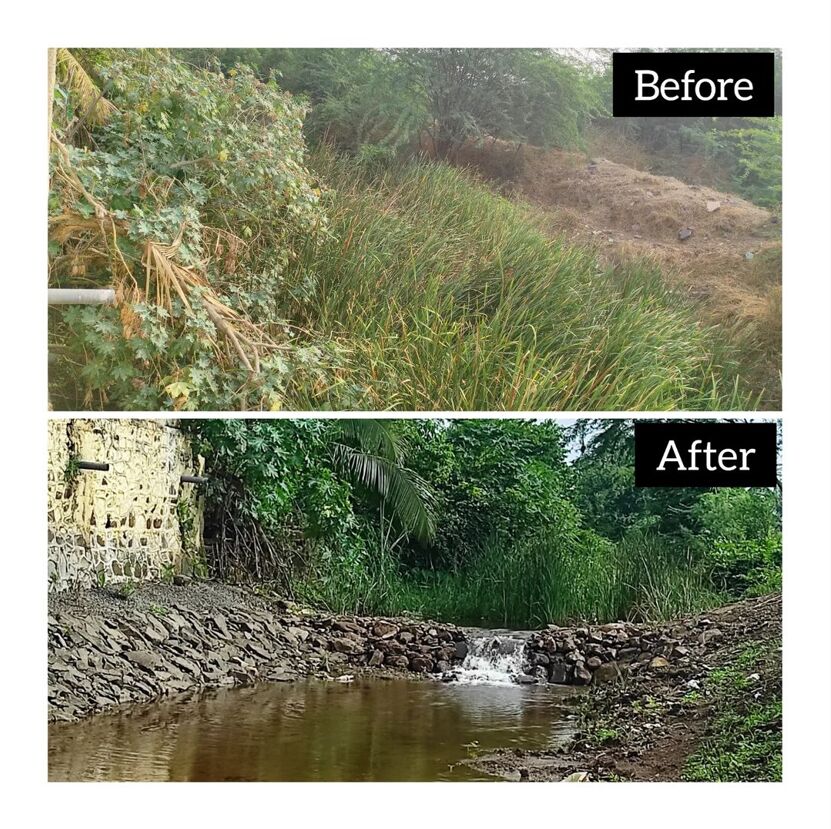 "Structural work took about four or five months which included a clean up of the solid waste and excavation of the deposited sludge. When we work on such streams, we do not take away the sludge. We use the sludge in the river itself to stabilise the banks. This sludge is very fertile and we use that on the banks, do coir lining on it and develop plantations," explains Dr Jogdeo.
"For any river ecosystem, the water flow has to be regulated and needs good riparian vegetation (which we normally see along rivers in its natural form). This riparian vegetation helps in holding the soil, mitigating floods, etc. There are many ecosystem functions attached to riparian vegetation. Our main target was to get those ecosystem functions back," says Tendulkar.
What specific role did duckweed play in this project? Duckweed has a lot of advantages and disadvantages as well, according to Jogdeo. One of the biggest disadvantages is that it covers the surface of the water very fast, and thus its use has to be restricted.
"When we are doing something in a restricted area, it's better to use duckweed. The best thing about duckweed is although it covers the surface of the water, it does not hamper sunlight penetration. Usually, duckweed is falsely compared to water hyacinths, which are very detrimental to aquatic ecosystems. However, fish can swim through the duckweed. Duckweed also doubles up as good feed for fish as it produces a lot of protein. Duckweed accumulates all the nutrients from the wastewater and produces protein for marine life," he explains.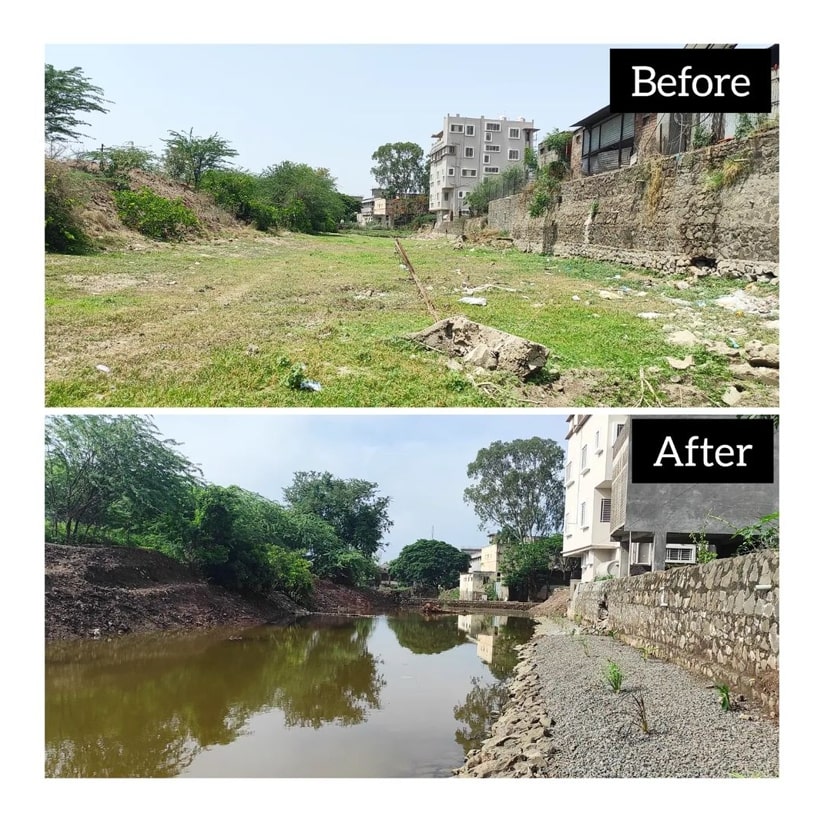 Along a big stretch of the river, there were about five bridges. Between two of the bridges, Lemnion confined that area for duckweed use.
"In this project, duckweed played the role of treating the wastewater or improving the water quality. Since we do all the work in summer, the water flow is less. Since most of the rivers in Central India are monsoon fed, there is less water in the river. Most of the water flowing through the river was wastewater coming from nearby villages. That water had to be treated. Duckweed played the role of phytoremediation or treating that wastewater," explains Tendulkar.
Another key aspect of ecological rejuvenation, however, includes behavioural change and awareness among local stakeholders.
"In the past four years, we have learnt that unless you get all these stakeholders on board, we cannot have a sustainable rejuvenation project. That makes a lot of difference in any project when you have support from local people. That's what happened in Kavathe Mahankal. After completing the project, the village celebrated the Navratri festival. On that day, a temple in the area sees about 8,000 to 10,000 tourists pay their respects to the local deity. That's when we saw the behavioural change we wanted. We saw temple folk stopping tourists from throwing garbage in the river. They felt a renewed sense of belonging with the river," he says.
"Through innovative techniques and sustainable practices, Lemnion successfully transformed a once-polluted waterway into a thriving ecosystem. "This river rejuvenation project serves as a shining example of environmental stewardship, inspiring us all to protect and restore our precious natural resources," says Rohit RR Patil.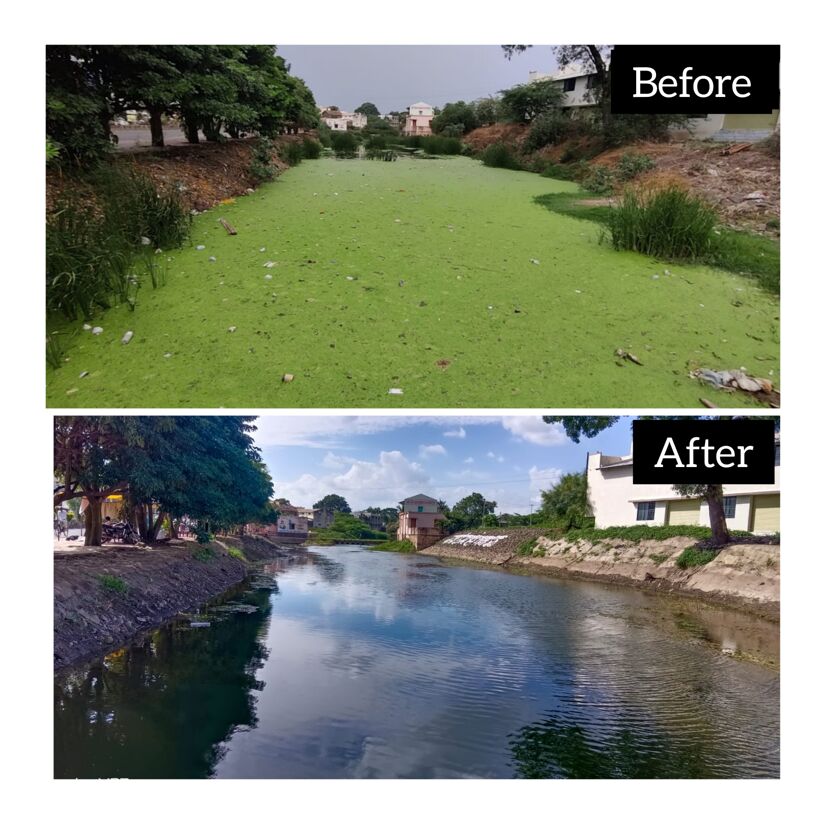 Wastewater treatment
The first wastewater treatment project Lemnion worked on was a duckweed-based wastewater treatment system for a bungalow in Wanwadi, Pune. The capacity of the system was 7,500 litres per day. Lemnion did the designing and supervision during execution. The implementation of this project took almost a month. "The most challenging part was appropriate plumbing since this was our first project, to ensure efficient treatment," recalls Tendulkar.
For treating wastewater, the key is the regulation of water flow and retention time required for treatment. The roots of these plants [specific phytoremediat-ing plants] penetrate into the natural media (gravel, stones, etc). The roots with biofilms on them penetrate through the natural media, following which the water passes through. These biofilms do the work of getting the nutrients from the water and transferring them to the plant for their growth.
Some people call this process the constructed wetland system (or terrestrial system). Similar to natural wetlands, constructed wetlands also act as a biofilter and/or can remove a range of pollutants.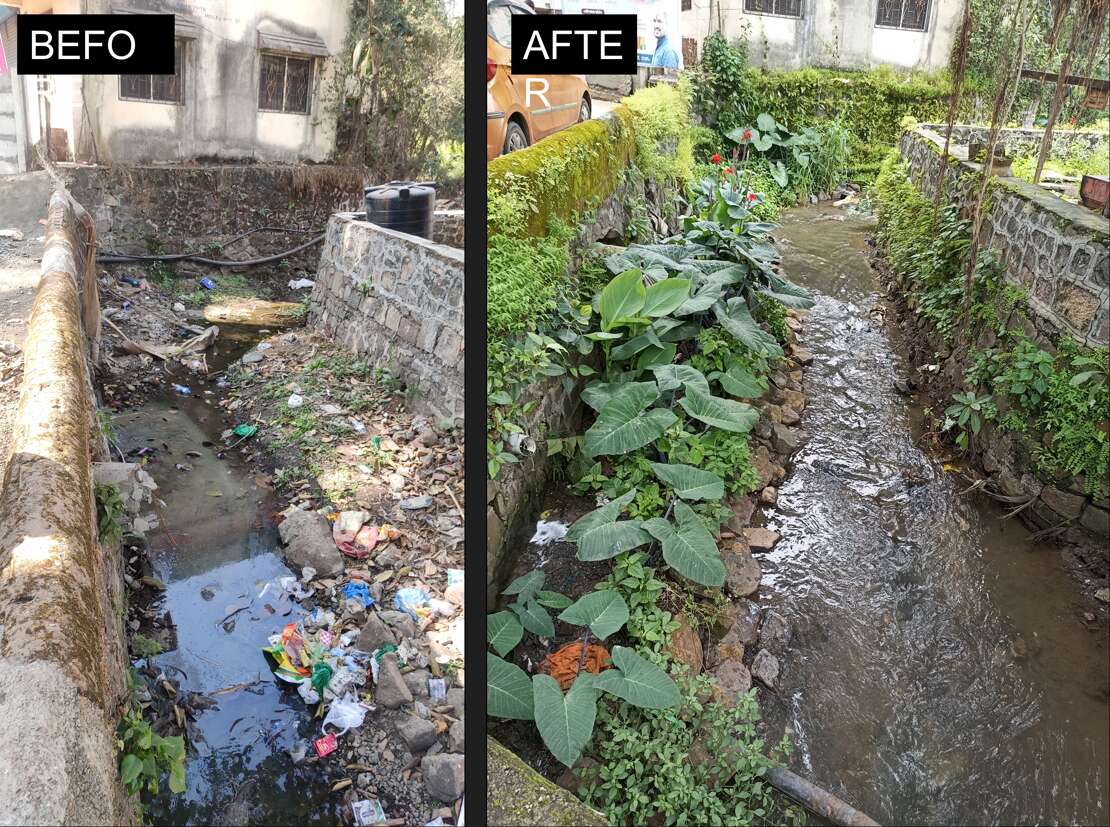 "We also have an aquatic system, where we use duckweed. Water comes into one tank. On the surface of the tank, we have duckweed growing. Since duckweed grows on the surface, we have fish in it so the circulation of water and nutrients keeps happening. Here, the water flow is regulated. Depending on the quality of the water, we provide enough retention time for the water to get treated. Towards the end, the water is pumped and used for gardening," explains Jogdeo.
The aquatic system has duckweed growing on the surface. The wetland system has natural media with plants in it. There is no duckweed involved. Usually, what Lemnion employs during wastewater treatment is a hybrid system. For example, in the first two tanks, there are media and plants. In the third tank, which can also be used as a reservoir, they use duckweed in it.
Sahil Kanekar, a senior program associate (Urban Planning) at the World Resources Institute (WRI)-India, a major research organisation, is currently working on a pilot project with Lemnion at IIT Bombay, where they are rejuvenating a stretch of stormwater runoff.
"Their solutions seemed technically sound from an environmental engineering perspective — a lake and nullah rejuvenation or wastewater treatment with an ecological approach. However, operations and maintenance post-execution for public water bodies has been my concern. Solutions like these require coordination across multiple departments like gardens, stormwater and solid waste, and it can sometimes be difficult to identify who takes ownership and responsibility to maintain them after the project is handed over," says Kanekar.

The pilot at IIT Bombay is currently in the final stages of implementation.
"The project aims to treat water in a stream flowing through the campus and retain a portion of it to use to meet the watering needs of the campus, partially offsetting the current water demand. The aim is to also improve access of the campus residents and visitors to the local stream. We will be monitoring and assessing this project over the coming year," he says.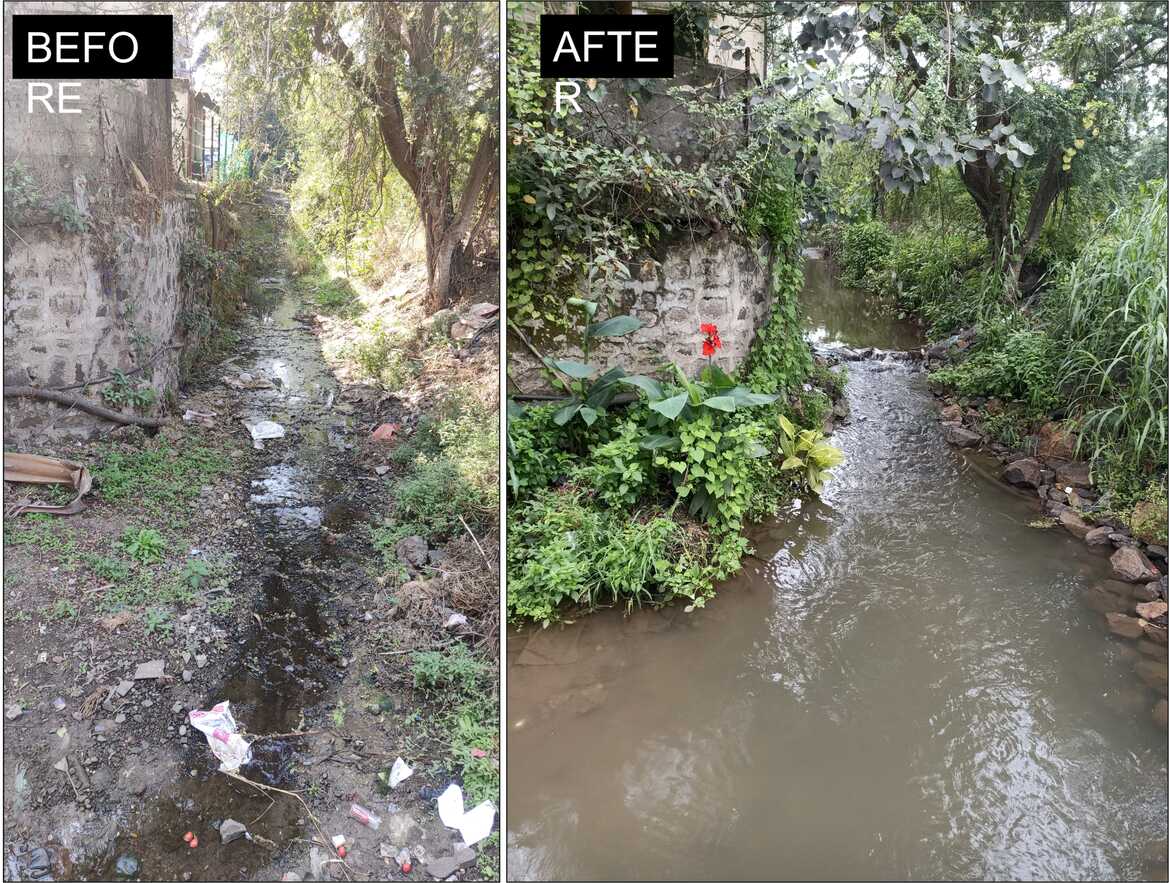 Are their solutions scalable? Kanekar urges caution.
"For smaller streams, which have moderate to no concretisation along the edges and the nature of pollution discharged is domestic only, these ecological rejuvenation solutions can be feasible, cost-effective and bring co-benefits like biodiversity and community resilience. However, if the stream or nullah is heavily concretised with retaining walls or has a heavy industrial effluent discharge, there could be limitations to these solutions," he says.
"Moreover, governance is a big challenge in terms of scalability. Such solutions require coordination across various departments and need a strong champion to successfully execute and shape the protocols for operation and maintenance," adds Kanekar.
(We have received information for this article in collaboration with WRI India, an independent charity which provides objective information and practical proposals to foster environmentally sound and socially equitable development.)
(Edited by Pranita Bhat; Images courtesy Lemnion Green Solutions)
We bring stories straight from the heart of India, to inspire millions and create a wave of impact. Our positive movement is growing bigger everyday, and we would love for you to join it.
Please contribute whatever you can, every little penny helps our team in bringing you more stories that support dreams and spread hope.