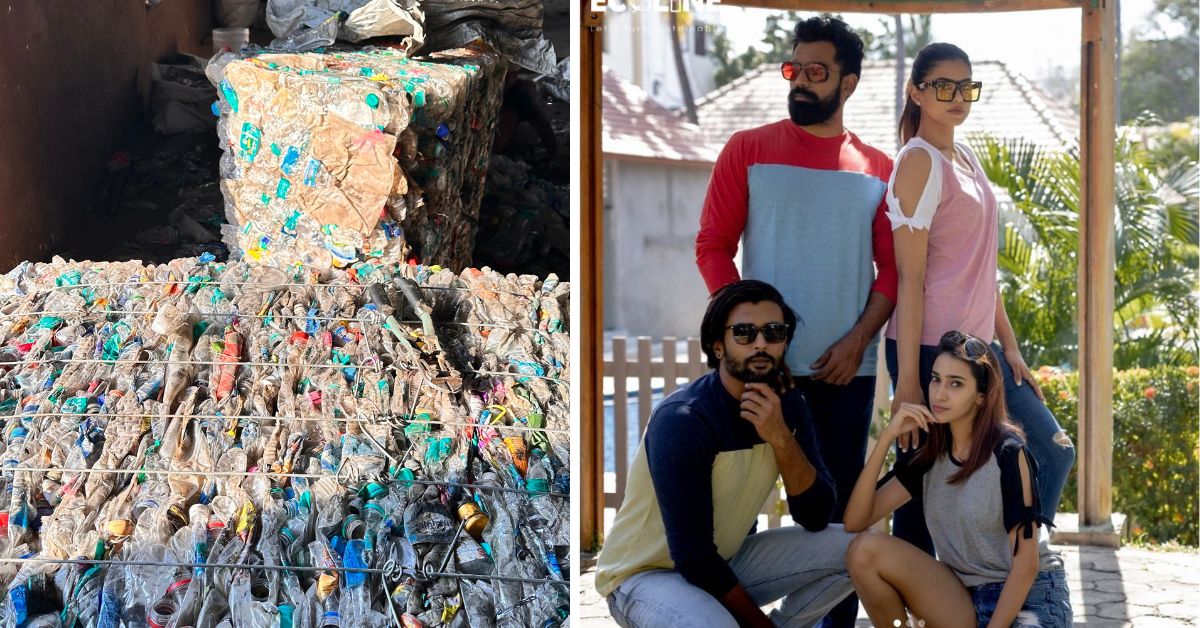 Tamil Nadu's K Sankar and Senthil Sankar manufacture jackets, blazers, T-shirts, and bottoms using recycled PET bottles, saving 15 lakh PET bottles from entering landfills and oceans daily.
Doing their bits to protect the environment are the father-son duo, K Sankar and Senthil Sankar. With their Tamil Nadu-based company, Shree Renga Polymers, they recycle 15 lakhs of PET bottles every day.
The utilisation of PET or polyethylene terephthalate bottles extends to packaging carbonated soft drinks, water, mouthwash, and vegetable oils. However, these bottles often end up in landfills, where they can take a considerable amount of time to break down. To address this issue and promote the repurposing of discarded bottles, the duo is also actively promoting the creative bottle-to-garment concept through their sustainable fashion clothing brand, EcoLine.
At EcoLine, PET bottles are recycled to manufacture sustainable clothing, such as jackets, blazers, T-shirts, and bottoms. "We use around eight PET bottles to make a T-shirt, 20 to make a jacket, and 30 to make a blazer," Senthil, the managing director, tells The Better India.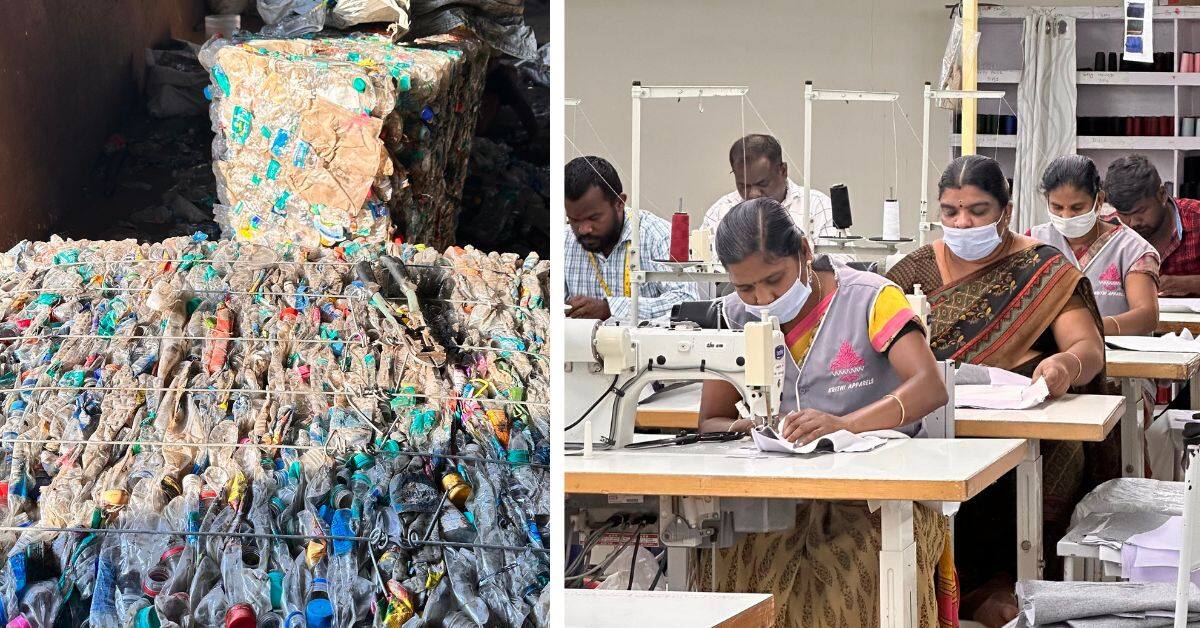 The clothes travelled from Tamil Nadu to the Parliament
After working for nearly three decades in India and abroad, K Sankar came back to India with a vision to tackle the growing problem of plastic waste.
He says, "I used to observe the indiscriminate use of plastic and how it would be thrown to landfills and oceans contributing to pollution. I wanted to find a better way to use discarded plastic and help clean the environment."
So, he founded Shree Renga Polymers in 2008. Since then, the B2B company has been manufacturing yarns and fibres from discarded plastic waste for the automotive and textile industries to make products like carpets. The company has an annual turnover of Rs 100 crore.
Like his IITian father, Senthil also wanted to explore entrepreneurship. "After graduation, most of my peers settled abroad. It did not ring well with me. I did not want to settle abroad and pay taxes to a foreign government. I was not patriotic just for cricket matches; I wanted to give back to my country," he shares.
So, after working with an IT company for three years, he quit his job.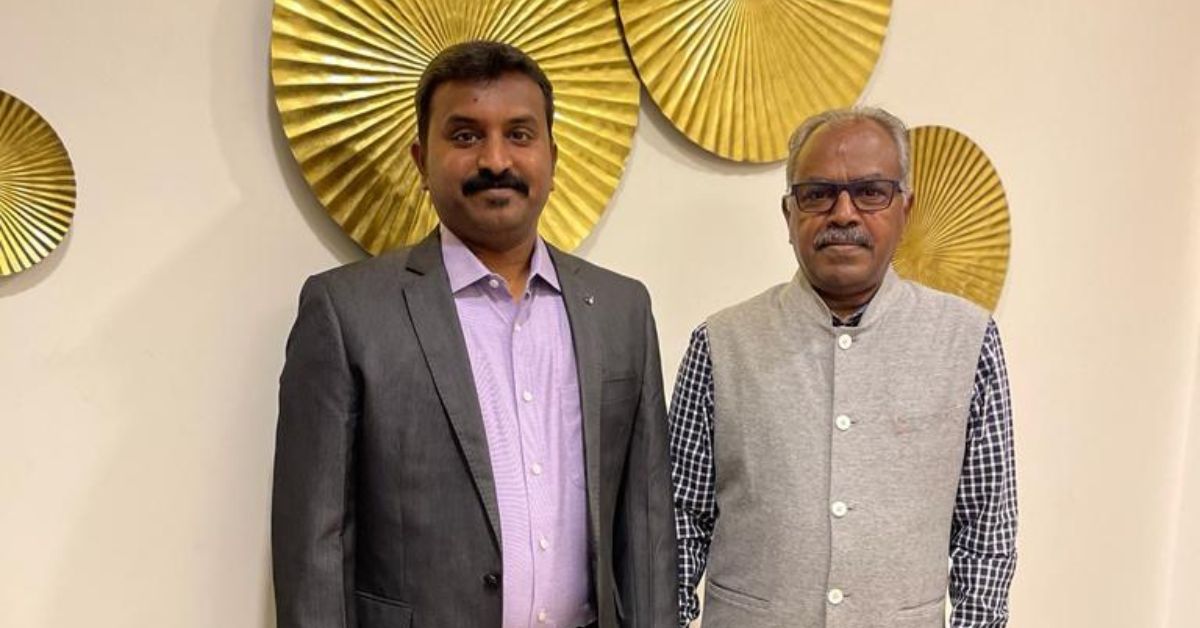 Using the manufacturing strength of his father's company, Senthil decided to take a step further and started EcoLine — a sustainable fashion clothing brand — in 2021 to make clothes from PET bottles under the parent company.
"The consequences of climate change are going to be disastrous. Any development needs to consider its impact on the Earth. To gauge this sentiment, we wanted to sensitise consumers to embrace sustainable fashion," says the 37-year-old.
He continues, "Today, we drink water from use-and-throw PET bottles, which end up at landfills within a day. There it takes years and years for them to degrade. But when we convert these bottles into sustainable clothing, it takes a much longer time to reach the landfill."
Senthil says, "We are India's first fashion brand to recycle PET bottles to make end-to-end products. We want to take the concept of sustainability worldwide and sensitise people about sustainable fashion."
In February 2023, the brand received widespread acclaim when Prime Minister Narendra Modi wore the company's blue sadri jacket to Parliament. "The jacket was made from 25 PET bottles. The Prime Minister wore it in the Parliament as well as in Japan and Australia. We felt very elated that we got national and international recognition for the hard work we have put into the brand. Post this event, we observed a boost of 25 percent in our sales," he adds.
Priced anywhere between Rs 500 and Rs 6,000, Senthil says they manage to get at least 20,000 orders per month for their unique garments, and that EcoLine clocks an annual revenue of Rs 12 crore.
The company gets most of its orders from Karnataka, Andhra Pradesh, Tamil Nadu, Maharashtra, and Uttar Pradesh.
Dyeing without water
The brand collects PET bottles through a network of 50,000 ragpickers across Andhra Pradesh, Kerala, Karnataka, Tamil Nadu, and Puducherry.
Explaining the process of transforming trash into useful products, Senthil says, "The collected bottles are compressed in the form of cubes and are then supplied to us. We sort them, remove caps and wrappers, and crush the PET bottles into flakes of 3–8 mm in size. These flakes are then further dried to reduce the moisture content."
"We then melt the flakes at 300 degrees Celsius in an extruder, and then the molten fibre is cooled. Thereafter, polyester fibre is stretched out of the material. This fibre is converted into yarn, which is knitted to make a fabric and tailored into garments," he adds.
Senthil points out that conventionally, textile dyeing requires 2.4 trillion gallons of water every year. However, the company uses dope dye technology, which doesn't require a single drop of water in the process.
"In conventional methods, yarns are made and dyed later which requires water to clean them. With dope dyeing, colour is added when the polyester is being made from PET bottles. We do not need a single drop of water to colour the fibre. We are not the only ones in India to use the technology, but we are the only company which is using it for end-products," he says.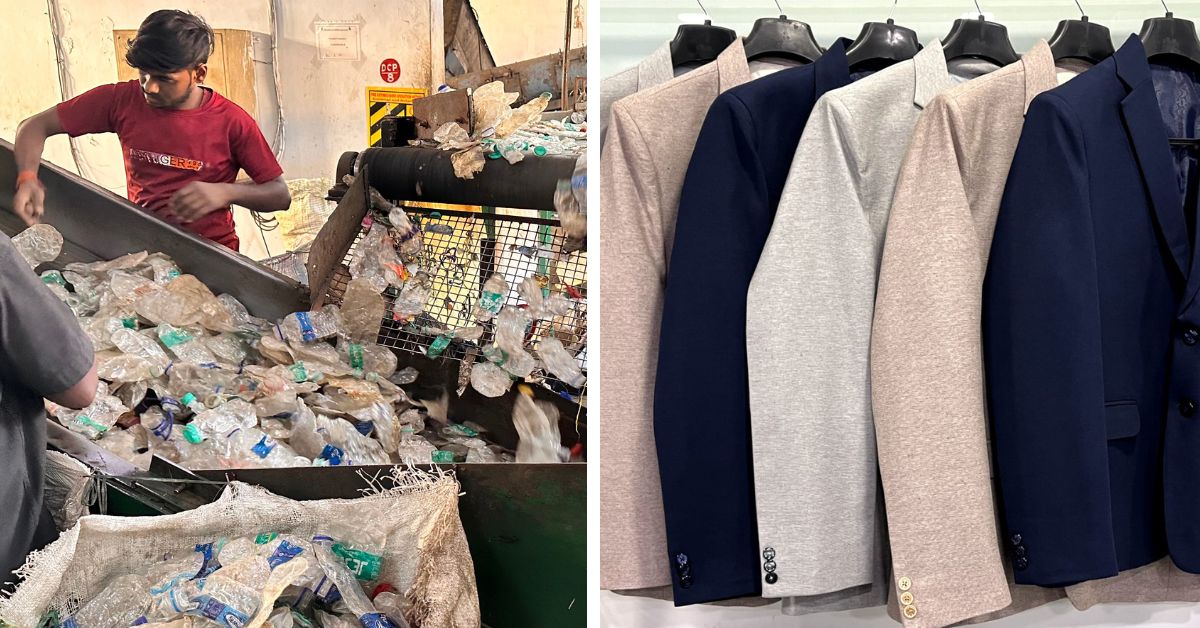 Senthil says the biggest challenge in the work has been changing the consumer mindset.
"Wearing luxurious expensive products has become a status symbol today. In such a scenario, how do we convince them to wear a product made from trash? It is a psychological point of view. But with time, we believe we will be able to change mindsets. We wish that customers should wear such eco-friendly products and take pride in contributing towards saving the planet," he remarks.
For Senthil, entrepreneurship has not only earned him fame and money but has also given him a chance to give back to society and the environment.
"We have been able to save millions of PET bottles from entering oceans and landfills, and thousands of rag pickers have also been empowered in the process. This is a positive social impact; I could not have gotten this satisfaction if I was still working in an MNC. I'm glad I took the right choice of quitting the job, just like my father," he says.
Meanwhile, Senthil's father takes pride in his son and the brand. "It is fantastic to see how he got into the same field and is passionate to continue the work. It is also satisfying that we are able to further the cause with which we started the company," says K Sankar.
Edited by Pranita Bhat
We bring stories straight from the heart of India, to inspire millions and create a wave of impact. Our positive movement is growing bigger everyday, and we would love for you to join it.
Please contribute whatever you can, every little penny helps our team in bringing you more stories that support dreams and spread hope.
Tell Us More