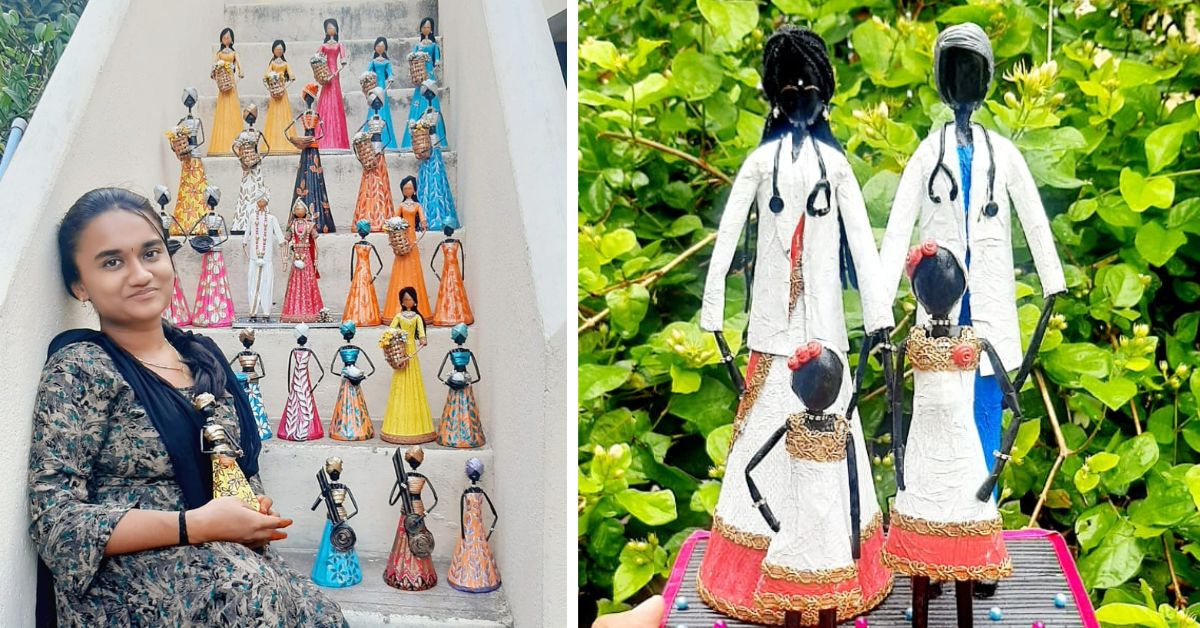 Coimbatore's Radhika JA upcycles newspapers into dolls, which have found orders from across the world. She shares how her diagnosis led her to this successful business.
Life was on tenterhooks for Coimbatore's Radhika JA when she came to know about her brittle bone disease at a young age. Year after year, the disease made her prone to bone fractures without any exertion. As a result, she had to drop out of school.
"I started living in fear that even if I walk, I may break a bone. I stopped walking. I used to sit all day on my bed. Those were challenging times for me. I did not have friends to communicate with. From my window, I'd watch children playing on the streets, going to schools in the morning and to tuitions in the evening…For me, going to hospitals was the only outing," Radhika tells The Better India.
Without a schedule like other children her age, she developed an inclination towards art. "At 14, I started drawing and painting. I'd watch MAD [a children's TV programme] and feel inspired to replicate those crafts. This made my life a little intriguing."
This inclination is what eventually paved the way for her tryst with entrepreneurship. Today, the 23-year-old upcycles old newspapers to make unique and intricate dolls — from caricatures of newly-wed couples to musicians carrying the sitar and trumpets dholaks; medical professionals with white coats and stethoscopes, and black-coloured idols of Krishna, Ganesha, and more.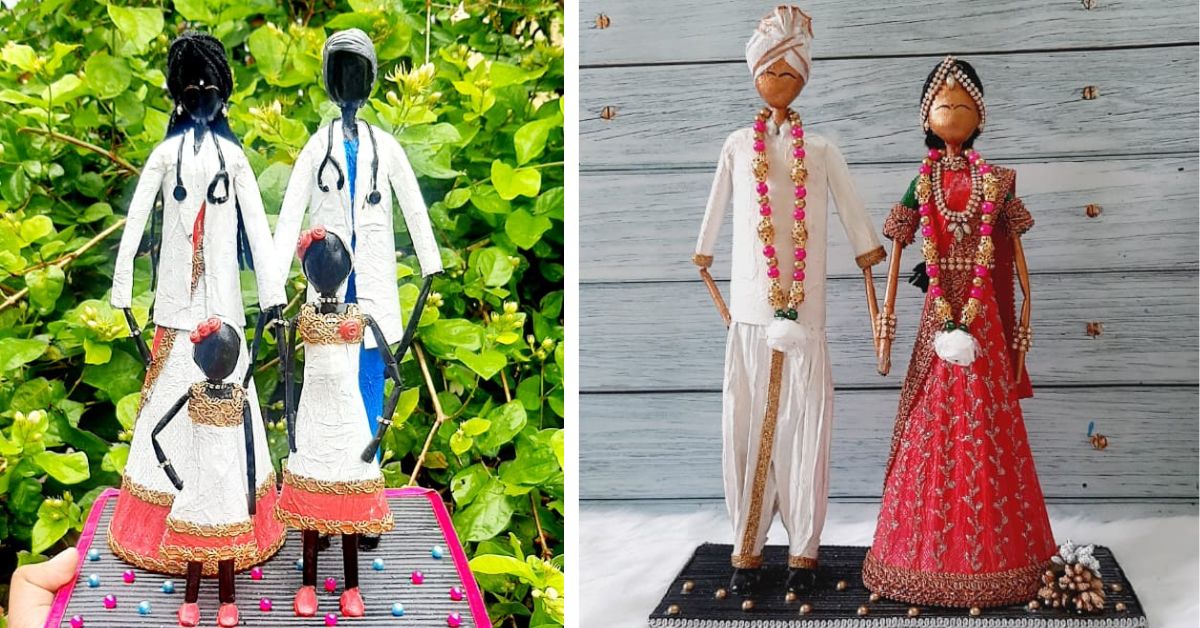 "This work requires concentration and prolonged sitting. Earlier, I would not be able to sit for two to four hours at a stretch. But I'm able to do so now with small breaks in between. When I am focused on rolling the newspaper, and shaping and painting dolls, I forget about my disease," she says.
7 surgeries & a 'lifelong lockdown'
At the age of five, Radhika had her first fracture, which required surgery. Post-surgery, she was asked to take bed rest for three months. Within nine months, she suffered another fracture on the same leg, and then, a year later, another.
By the time she was 12, she had undergone seven surgeries in all. After lower-kindergarten, her education was discontinued.
Osteogenesis Imperfecta, or brittle bone disease, refers to a group of genetic or heritable diseases in which bones fracture or break easily, many times without an obvious cause or with minimal injury. This is a rare hereditary bone fragility disorder, and could be mild or severe. "Some forms," noted clinical geneticist Dr Sheetal Sharda to The Indian Express, "are so severe, an individual's mobility may get affected and they may have to use a walker or wheelchair." This condition does not have a cure.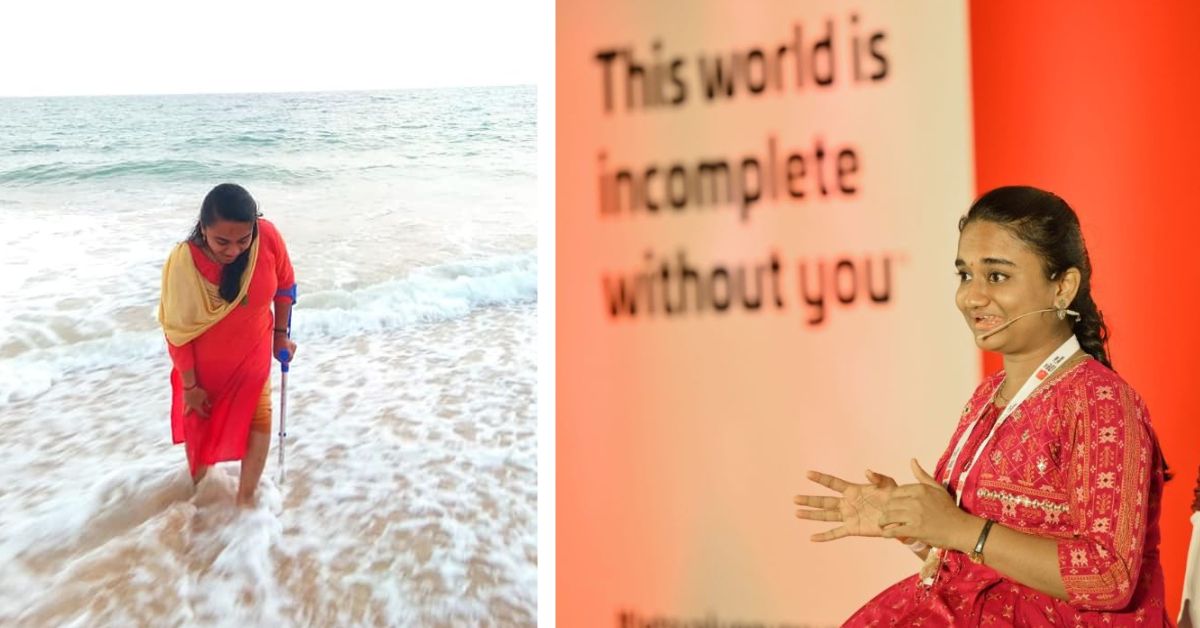 "During the [COVID] lockdown, people were getting anxious sitting at home. My entire childhood was a lockdown. I was unable to understand what was happening to me. Watching TV was my only source of entertainment. But because of prolonged sitting, I also developed a problem in my spinal cord. It became slightly bent," she says, adding that this meant another surgery.
When Radhika was a teenager, she thought her life was over, she says. Her brother Rajmohan recalls, "While going to the operation theatre, she told our father to kill her. She asked him to give her a medicine that took her life at once, so she does not have to go through the pain again and again. It was a very difficult time for us."
Each surgery cost the family Rs 35,000 — almost a year's salary of their father, who worked as a supervisor in a textile mill. After surgeries, the family homeschooled Radhika till Class 12. Today, four metal plates are attached to the bones in both her legs with screws. She walks with the help of a stick.
'My dolls have travelled across the world'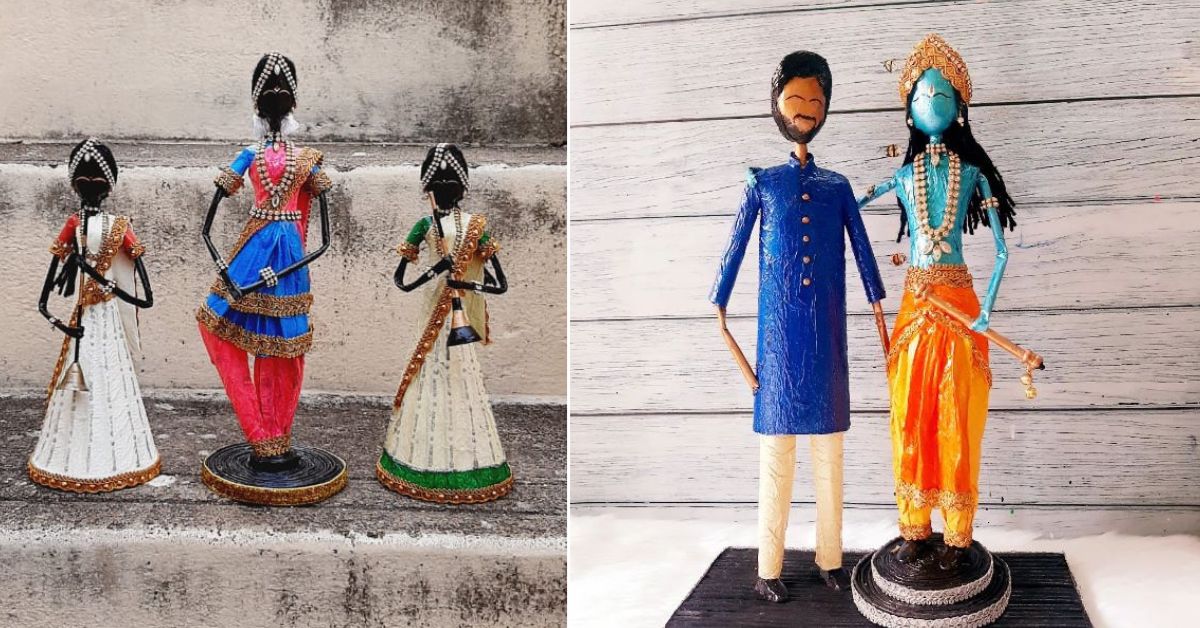 When Radhika found avenues like art to keep her busy, Rajmohan, seeing her interest, showed her a video on YouTube that used old newspapers to make African dolls. She, too, started using old newspapers, metal wires, and her brother's used colours to make the dolls. Her neighbour purchased one such doll from her, "and that was my first sale," she smiles.
With her pocket money of Rs 200, she bought fresh colours and started transforming her hobby into a business. One time, her brother's friend offered to display her dolls at his stall. "On the first day, I gave him five dolls. The next day, he asked to send five more. Later, he asked me to make 15 more dolls. Within a week, we sold 25 dolls priced at Rs 150. It was a very happy moment for me," she says.
Since then, there has been no looking back. In 2018, she started selling dolls through her Instagram, Facebook, and LinkedIn. Recalling her first big order, she says, "Through social media, I received an order of 25 dolls from a hotel owner in Ooty. He asked me to make 3.5 foot dolls. While I could not travel to Ooty, it was such a happy moment to see the hotel was decorated with my dolls."
"The more I sold the dolls, the more I started getting orders through references. I never invested in paid advertisements. I have established a social media presence by posting regularly. My brother and I dedicate all our Sundays to photoshoots of the dolls. We keep updating our regular customers with new products. My skills have evolved with customising new dolls as per customer requirements. From regular African dolls, my collection has expanded to family dolls, couple dolls, etc." she adds.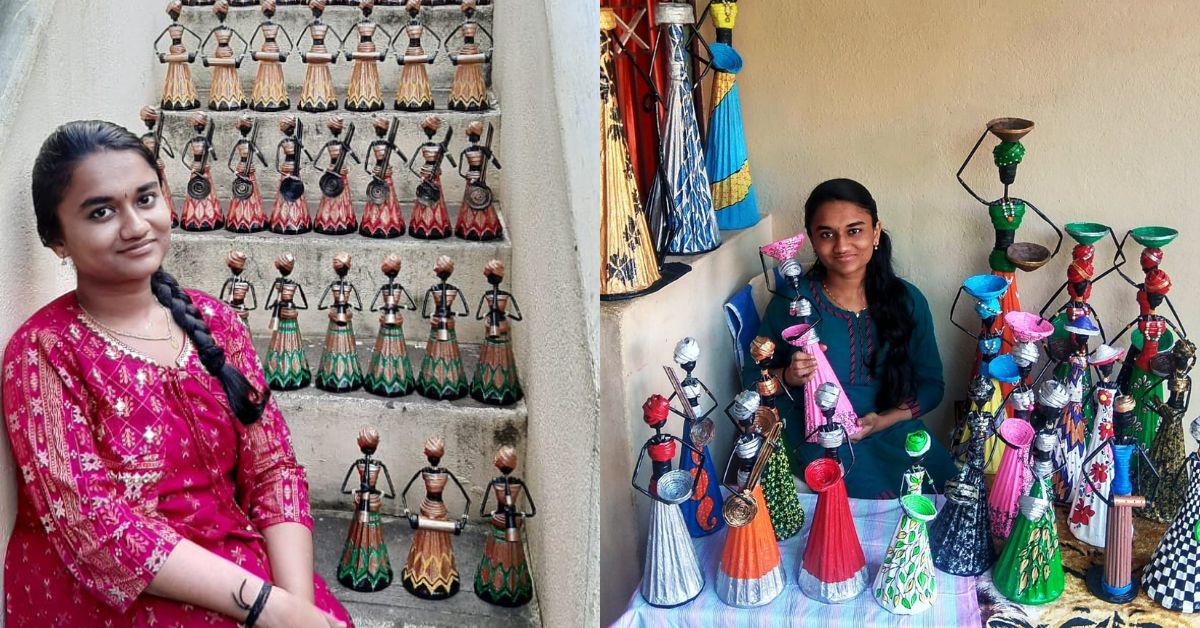 For Radhika, her ability to sit for a prolonged period and monsoons — which result in a longer drying period for the dolls — pose some of the biggest challenges. "Although my regular days do not affect the work and I try to deliver products on time, I have to take a rest on at least two days when I return after travelling for work. This sometimes affects my business. In such a situation, I inform the customer about the delay, sometimes they understand, sometimes they do not," she adds.
"It takes 3-4 days to make a doll. Since I use newspapers, which I buy from the paper market in bulk, I have to ensure that my dolls are not brittle," she says.
Today, Radhika gets between 30-50 orders a month and earns about Rs 15,000. Her customers come not only from across India, but also all over the world — USA, Australia, Canada, Sri Lanka, and UAE.
"I cannot travel anywhere to an event without anyone's help. But today, my dolls have travelled to 24 states of the country and six countries across the world. I hope that other girls going through the same phase believe in themselves. Because if I could do it, then they too could," she notes.
Around three years ago, she also got an opportunity to meet Chief Minister MK Stalin. "Because of the media visibility, I got a chance to meet the CM. He was amazed to find out that the dolls I gifted him were made of newspapers. It is because of these dolls that I was able to meet him, and am also invited to colleges and schools to give motivational speeches. There was a time when I was denied admission in schools because of my condition. I want to tell society to not look at people like me with pity, we are not less than anyone," she adds.
Edited by Divya Sethu
You can order handmade dolls from Radhika through her Instagram, FaceBook, LinkedIn.
We bring stories straight from the heart of India, to inspire millions and create a wave of impact. Our positive movement is growing bigger everyday, and we would love for you to join it.
Please contribute whatever you can, every little penny helps our team in bringing you more stories that support dreams and spread hope.