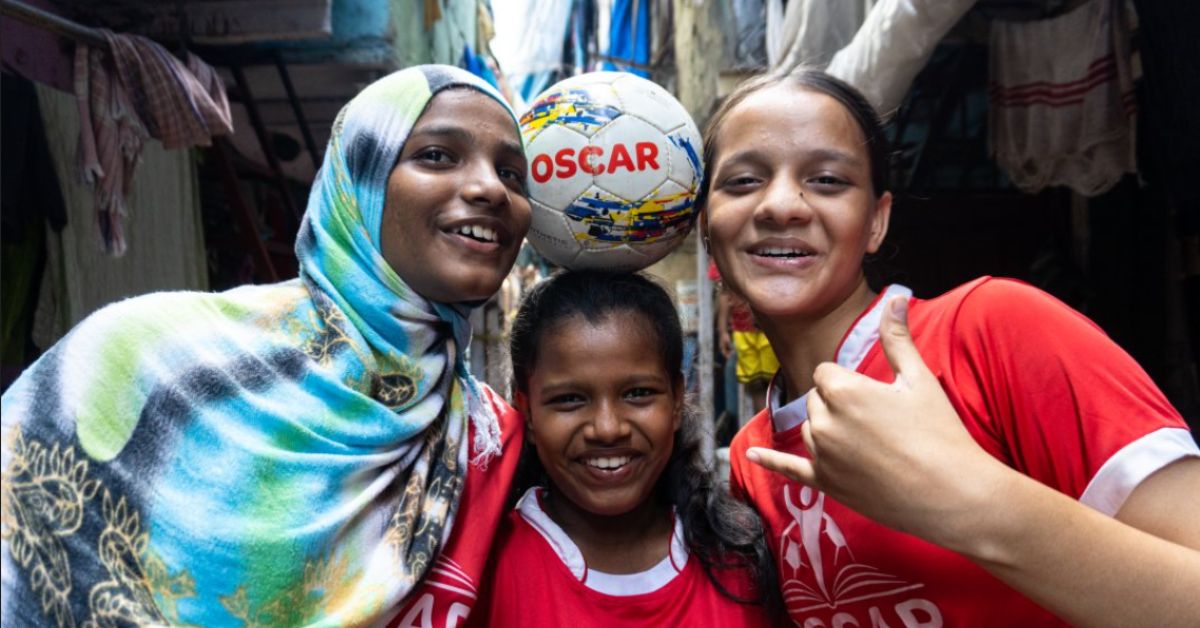 Alarmed by the rate at which his friends were dropping out of school to earn a living, Mumbai resident Ashok Rathod decided to train children in football as a means to help them stay in school with his NGO, Oscar Foundation.
Growing up in a slum area in Ambedkar Nagar, Mumbai, Ashok Rathod saw many of his friends drop out of school to work in the nearby Sassoon Docks. His own father, however, threatened to evict him from the family home if he joined them, he recalls.
So around 2006, while attending college and coaching football at the NGO Magic Bus, Ashok wanted to offer guidance to some of the children in his neighbourhood. He knew a few children who had dropped out, and wanted to convince them to go back.
Rather than lecturing them, however, he wanted to "bring them together", he says. He chanced upon the idea of using sport as a hook.
So he decided to coach them in football. He arranged to meet around 18 boys at Oval Maidan at 4.30 pm one Saturday. He wasn't confident they would all show up, but they did. The boys had a good time and they agreed to do it again the following week.
Initially, some of the children refused to play with others because of caste, religion, or regional differences. Ashok decided to group those children into the same team and instituted a rule that when a player scores, the whole team has to celebrate, or the goal would not count.
"In one year, they forgot about caste, religion, etc," the 34-year-old says. "I also noticed a change in them. They stopped using bad language and had more discipline."
He also insisted that if they wanted to keep playing football, they had to go to school. Some of them had dropped out, so he enrolled them in a local NGO to improve their reading and writing.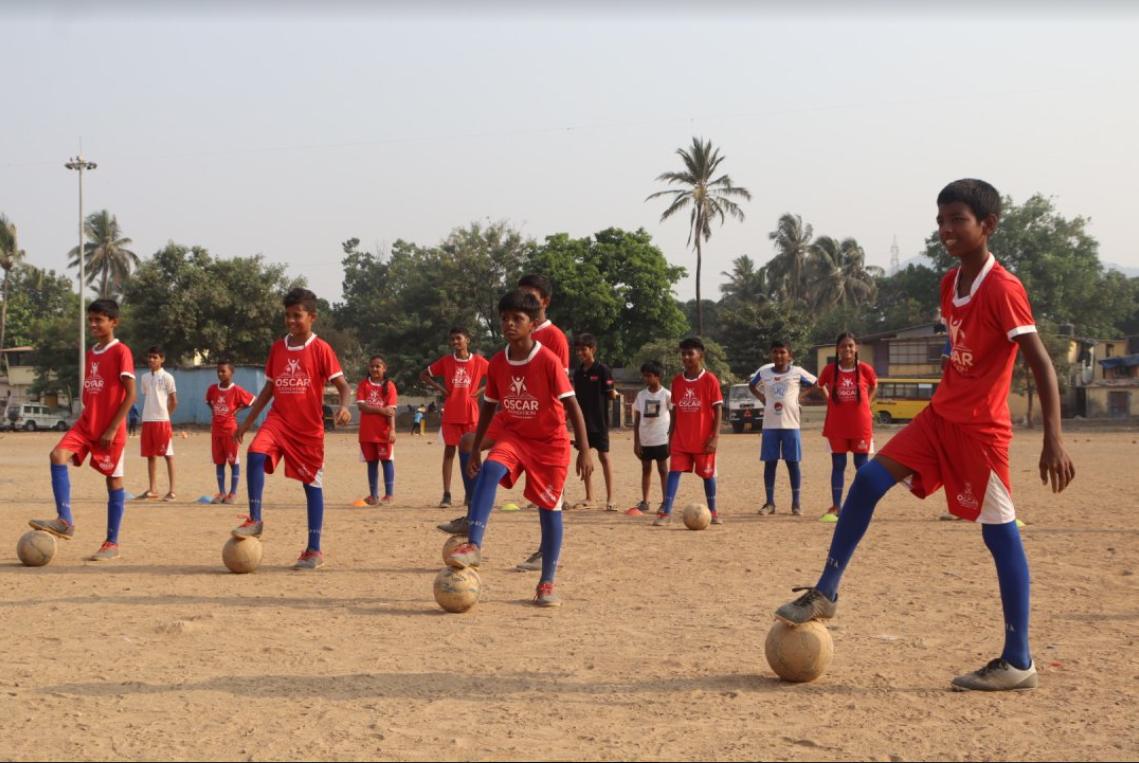 'Magnificent, aspirational'
Over time, the original group of boys began to bring their friends along. "They thought if we can change, their other friends can also change," Ashok says.
It was hard for him to manage the growing numbers financially, but in 2008 CNN-IBN gave him the Real Hero Award, which came with a cash prize of Rs 3.45 lakh. Ashok used that money to buy new equipment and uniforms, and also rented a community centre in Ambedkar Nagar for the kids, which remained open 24 hours. The centre is still operational today.
By 2010, the programme had 300 children. "I was trying to support everyone, but then the money got over," he recalls.
When Ashok approached people for funds, he was asked if he had a bank account and was a registered NGO. "I said, 'I don't want to register. I just want to do it.' But people wanted their tax deduction."
He realised it would be difficult to support the children without registering the NGO, so in 2010, the Oscar Foundation was formally instituted.
The name was inspired by the Academy Awards, with the idea being that the Oscar is something "magnificent and aspirational". The name stands for 'Organisation for Social Change, Awareness and Responsibility'.
However, this didn't immediately solve Ashok's funding woes. When he would approach a corporation, they would always ask if he had any existing corporate support. When he said no, they would demur too. "[Getting] the first one was very difficult," he said.
It eventually took a bit of subterfuge. A few employees from the Indian Hotels Company (Taj), who had heard about Ashok's initiative, visited the ground in their personal capacity during a training session. Here, he took some photos with them.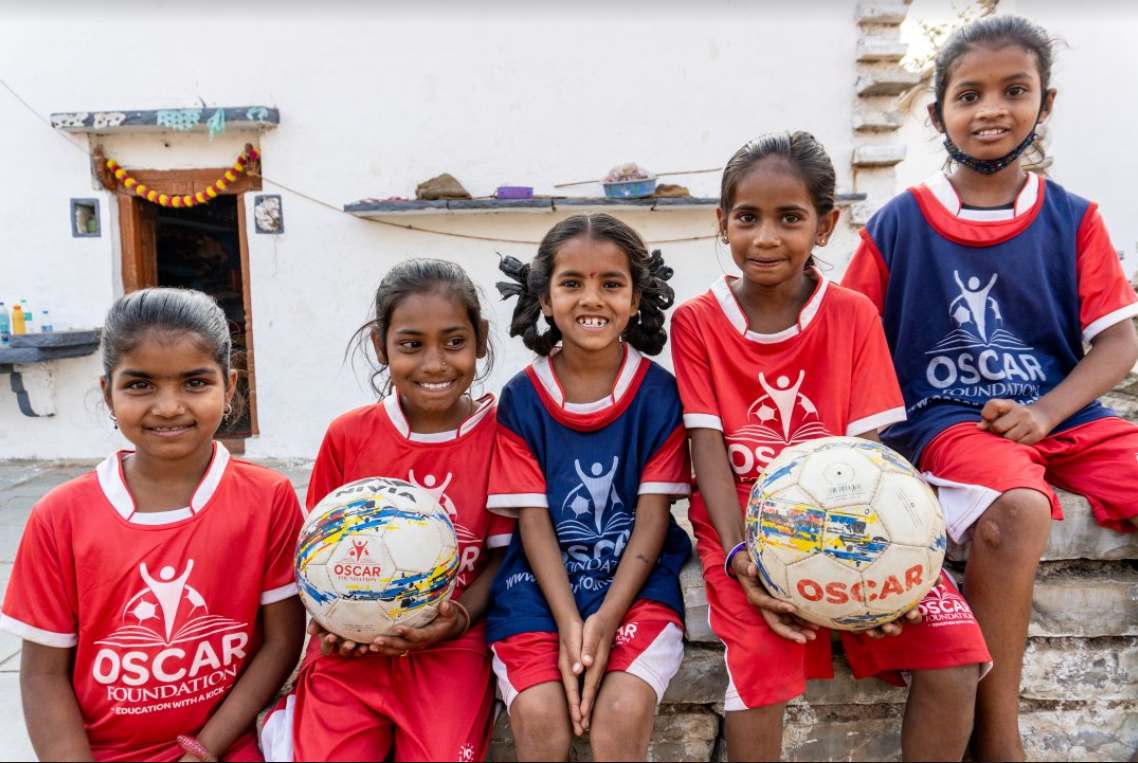 Around the same time, an article about Ashok had appeared in Readers Digest and based on it, he managed to get a meeting with the CSR team at IDBI Bank. He showed the IDBI team the photos of him with the Taj employees. The IDBI team assumed that Taj was a sponsor and agreed to support him. Then Ashok went to Kotak Bank and told them about IDBI, and they agreed to support him too. "Now I am not using Taj Hotels," he laughs
With an eye on the goal
Govind Rathod, now 29, was one of Ashok's original 18 boys. He was raised in Ambedkar Nagar and knew 'Ashok bhaiyya'. His parents worked in the fish market and he attended a local school. When he was 12, however, he dropped out and moved with his family to Panvel, where he worked in a small canteen and then in construction.
Two years later, during a visit to Mumbai, he met Ashok, who convinced him to start playing football. By the time Ashok introduced his 'no-school, no-football' rule, Govind was hooked.
"I was totally addicted to football … I told my parents that I want to stay here only and want to study," Govind says. Fortunately for him, his elder brother supported him and helped him get readmitted. To pay his fees, he sold magazines and newspapers at traffic signals and washed toilets in a few buildings.
Over time, Govind picked up life skills from the football practices as well. "I learned about confidence building, the importance of education, and why we need to stop child marriage," he said.
Child marriage was personal for him, he says, for his parents had already chosen a girl for him. "I fought with my family to not get married," he says. "No one in my family had completed Class 10 — I wanted to be the first."
In his time with Oscar, Govind travelled to Brazil in 2014 during the FIFA World Cup, to South Korea to attend a United Nations Youth Leadership Camp, and to Vietnam to attend an Adidas Football Exchange Program.
He also went on to finish college and earned a scholarship to study sports management in Germany. In one of those coincidences that make you think fate must be at work, Govind's interview for the scholarship was at the Hoechst House in Mumbai, where he used to work.
"I had my interview on the 10th floor, and I used to wash the bathrooms on the 7th and 8th floors," he recalls. "Somehow, I got selected and went to Germany for five months. I was the first guy in my family to have a passport, the first to fly in an airplane, and the first to speak English."
"I pushed myself, but Oscar Foundation gave me the opportunity and helped me to reach that level. From zero to hero. I can say that," he laughs.
Most recently, Street Football World (an organisation using football for social change on a global level and supporting Oscar Foundation) invited him to attend the FIFA World Cup in Qatar, where he watched England play against Iran.
Given all these accomplishments, it is not surprising that there has been a marked change in his community's attitude towards Oscar Foundation. "In the start, the community would say I am just wasting my time," Govind notes. "For this reason, in the beginning, a few of those 18 left the programme. They didn't believe [in it at the time]. Now half of the community's children are part of Oscar's programmes."
As a first-generation Oscar "graduate," Govind has also become a role model for the next generation of kids from the community. "That is a responsibility for me and I think about how to set a good example. I want to tell all the children that nothing is impossible if you have a passion and are dedicated to your goals and dreams."
Kicking stereotypes to the curb
A few years after starting the boys' team, Ashok wanted to start a girl's team as well, but the parents didn't think football was for girls. They were worried about their daughters getting injured or developing darker skin from being in the sun, both of which could potentially affect their marriage prospects.
Ashok finally broke through by threatening to stop teaching the boys if the girls weren't allowed to. "They agreed to send the girls once a week for one hour," he says.
He then resorted to a roundabout way to form an actual girls' team. In 2011, a girls' tournament was held in Cooperage in Mumbai, and Ashok convinced a few girls to show up by telling them it was a picnic. The girls had never played as a team before, and didn't even know the rules.
Ashok told them to not use their hands, to listen to the referee, and stop the other team from scoring. "They stood in front of the goal like a wall and just played defence," he says. The girls lost the game on penalty kicks, but gained a huge boost of confidence in the process. The organisers also gave them a uniform and shoes.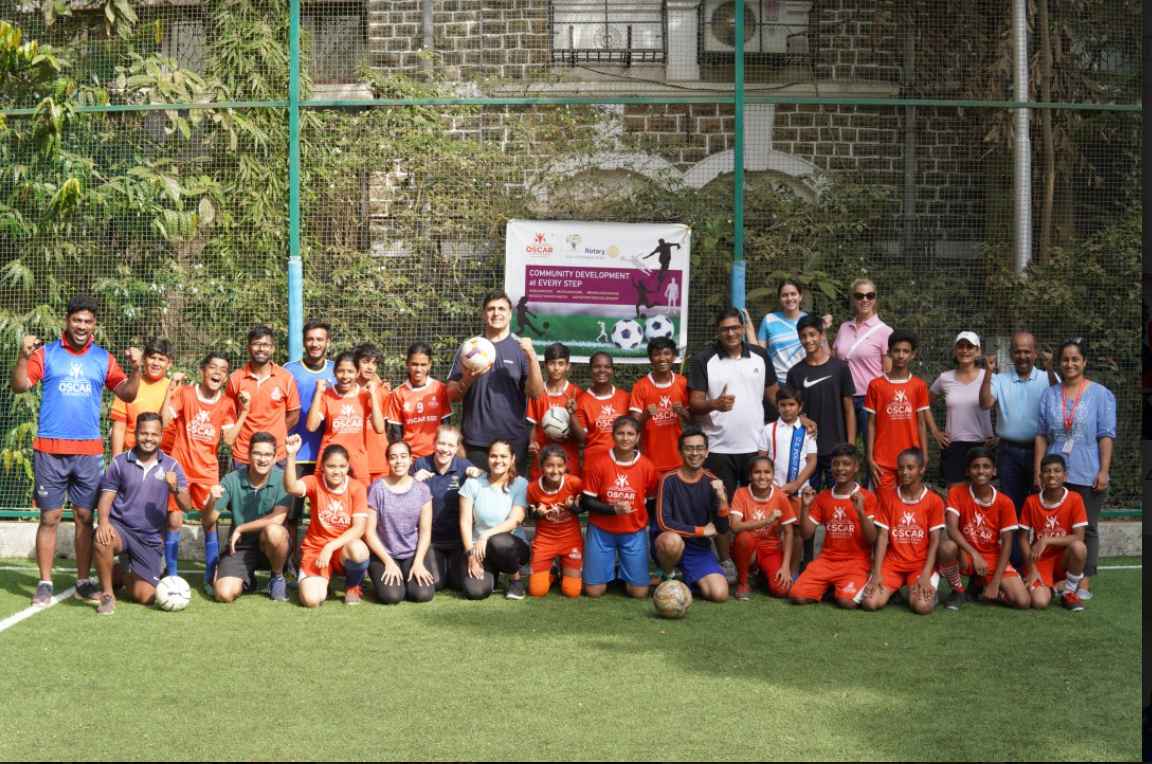 "They told their parents — we got shoes, T-shirts, and many other things. So, parents thought the girls would keep getting stuff and kept sending their daughters. Now we have 1,600 girls in the programme and they have been to France, Denmark, Russia, and England. They even won the Dana Cup in Denmark."
Off the field, the Oscar team teaches the girls about menstrual hygiene and gender equality as well as life skills.
Sonal (name changed), who is 14, joined Oscar Foundation in 2017. She lives with her mother in Bandra and attends a municipal school. Her mother is a domestic worker and is separated from her father.
Sonal says she wasn't physically active before, but now football has become a fun hobby. "I love the vibe on the ground, and get to meet a lot of new people and make new friends. It feels good to participate regularly in physical activity," she explains.
She adds that Oscar has helped her to develop life skills off the field as well. "My coaches take a lot of interest in helping us, beyond football. Learning about life skills and implementing the same has brought a difference in me. My communication skills are much better now."
Thirteen-year-old Renu (name changed) discovered Oscar in 2019, when some of her friends in the community began attending the all-girls football sessions near her house in Badhwar Park in Mumbai. Renu, who wants to become a teacher, says that in addition to football, she likes participating in music sessions and gender training.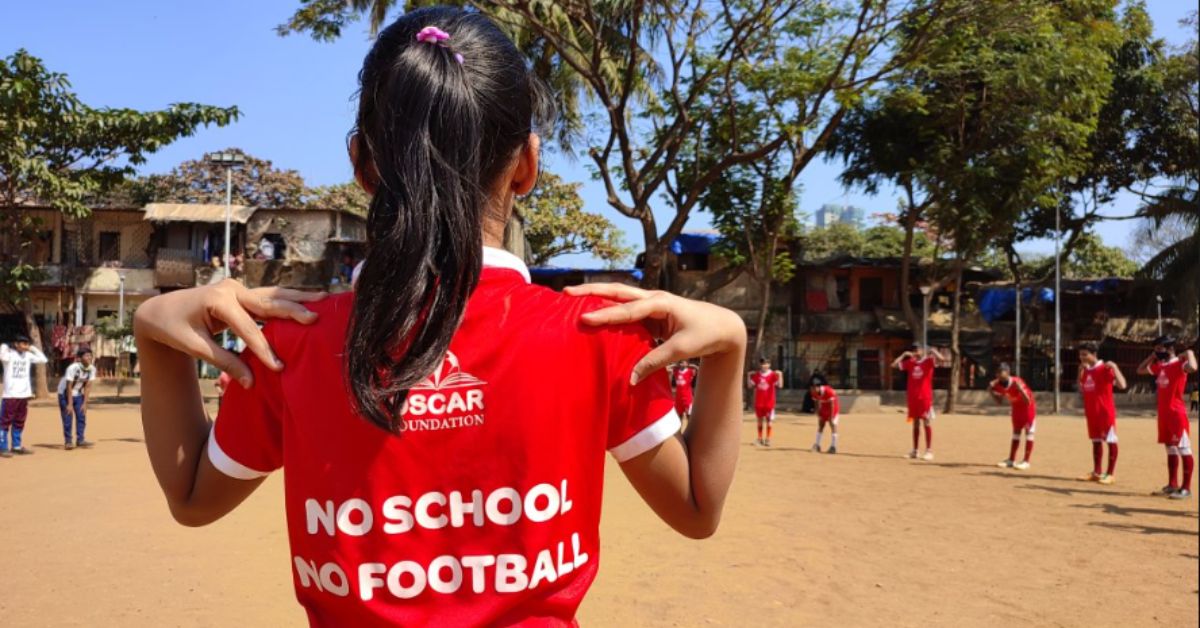 She credits Oscar with bringing these new experiences to her door. "I play football, know how to play the drums and use a computer. I am happy to have such opportunities."
14000 children impacted
Oscar measures the success of its programme in a number of ways. Attendance at football and in school is one of them.
"We know that 90% of our kids passed their Class 10 and 12," Ashok said. "Those that don't pass, we follow up so they don't drop out. Once they fail, they don't want to continue. We counsel them and help them to continue."
They also do pre- and post-testing for life skills such as decision-making, critical thinking, and gender equality as defined by the World Health Organization. They also test football skills and have started checking if any children are at their proper weight in case they need help with nutrition. "We give milk, bananas, and sometimes eggs," Ashok explains.
Today, Oscar operates in Mumbai, Daman, Rajasthan and Karnataka. Ashok's focus for this year is to expand in Daman and Rajasthan. In total, the programme currently impacts 4,200 children, while almost 14,000 children have been through the programme over the years.
What remains a challenge, he notes, is explaining the benefits of sport to those who have never experienced it themselves.
"It is very difficult to explain that sport brings change to the community in a very fun way, but slowly," Ashok says.
Because of this, fundraising for sports also remains a challenge in India. "As many as 90% of corporations give to education; only 0.2% is given to sports for development organisations. So, there is a challenge, but…challenges always teach you [something]."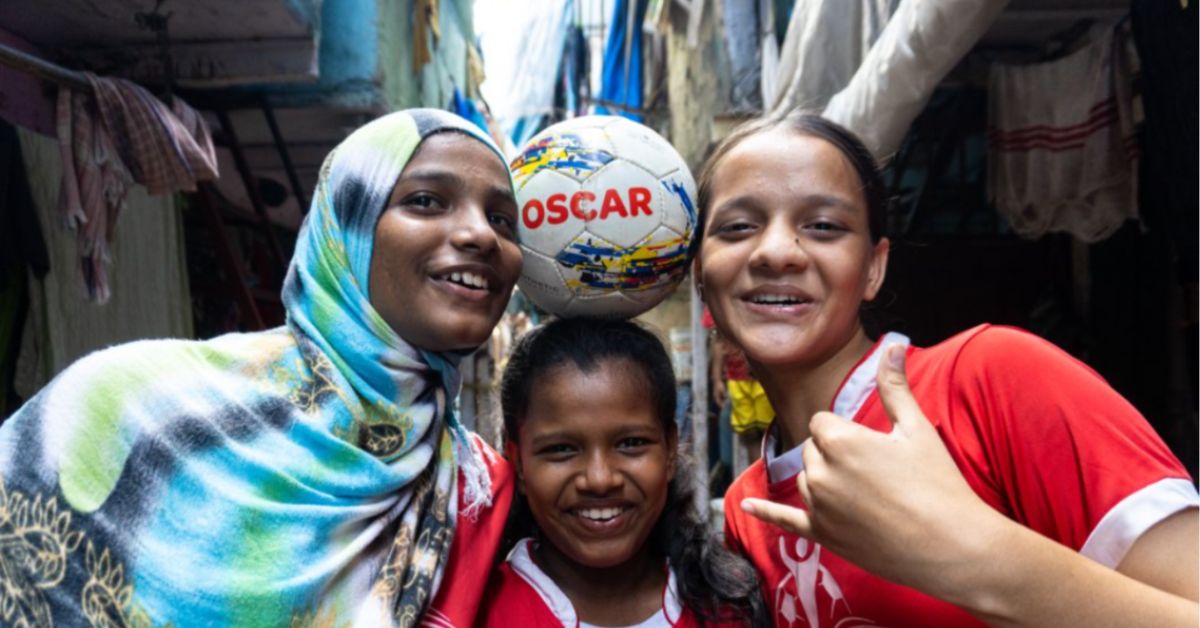 'Something magical must be happening'
When asked about the high points of the programme, Ashok mentions two girls from the programme who played for India in the recent Under-17 World Cup, as well as one who plays for the Maharashtra team. On the boys' side, two have been selected by Bengaluru FC, one by Mumbai City and one by Jamshedpur FC in the Indian Super League.
Outside of football, Ashok says, one of their former students is now a supervisor at one of India's leading health and fitness platforms, while another is doing his MBA in finance from the Narsee Monjee Institute of Management Studies.
"There are many stories like this through this programme," he notes. "These children never even dreamed about playing a sport, but now they are going abroad. They are thinking about getting a job at the corporate level, not just serving as delivery boy[s] or working in a shop."
Ashok is also particularly pleased that many of the youth from the community come back to Oscar to lead their programmes.
"When I reflect, I feel something magical must be happening. It's hard to believe my journey," he says.
Edited by Divya Sethu
We bring stories straight from the heart of India, to inspire millions and create a wave of impact. Our positive movement is growing bigger everyday, and we would love for you to join it.
Please contribute whatever you can, every little penny helps our team in bringing you more stories that support dreams and spread hope.